I am a crocheter through and through, but I am also a sucker for the look of knitted stitches. For today's Scarf Week scarf, it's a blend of both looks.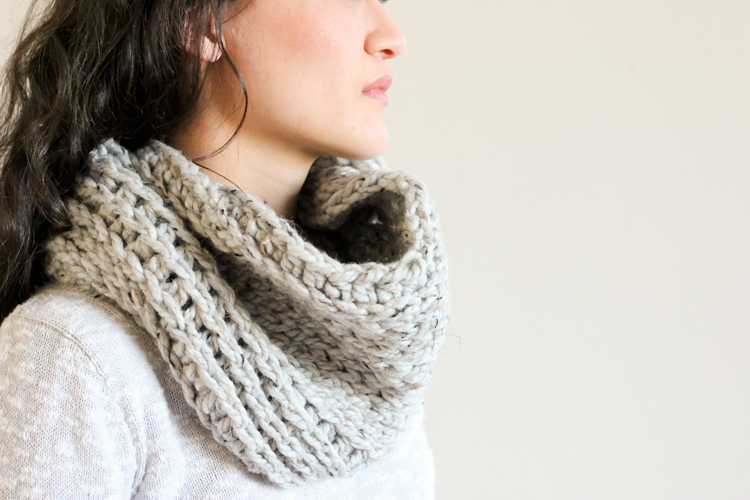 A crocheted scarf, with a knit look.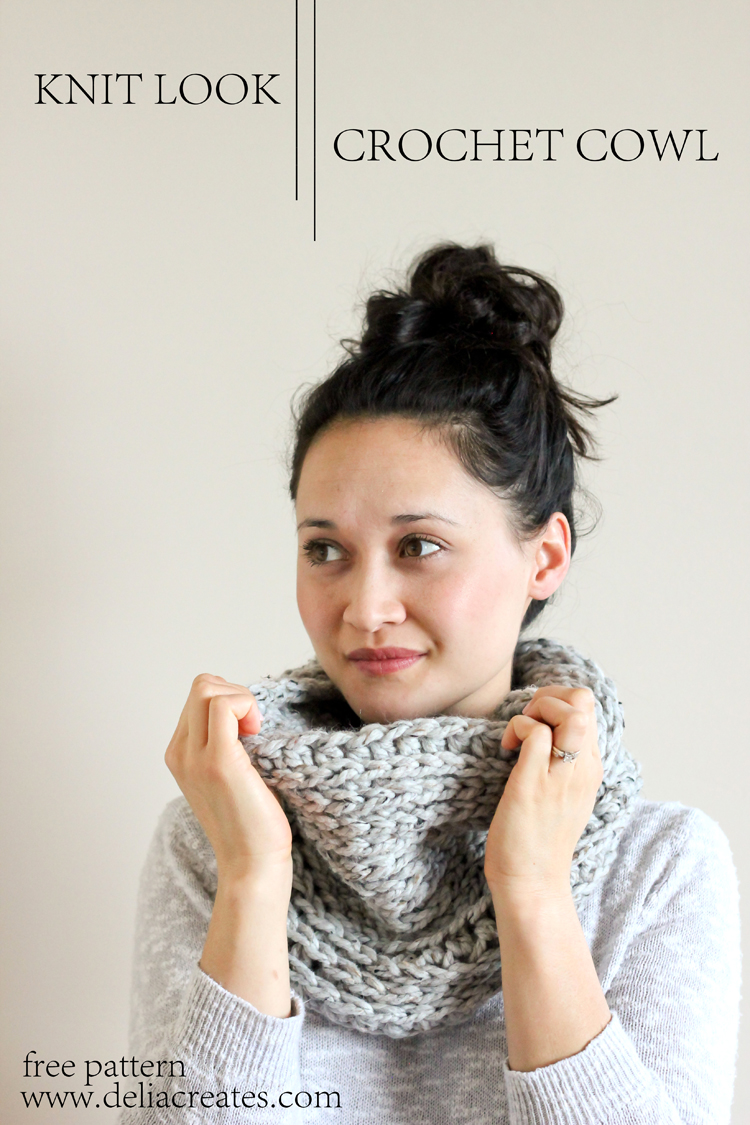 The stitch is called a Camel stitch, and is probably my new favorite crochet stitch of ever. I love it so much, my next two scarves after this one will feature the stitch as well, but with variations.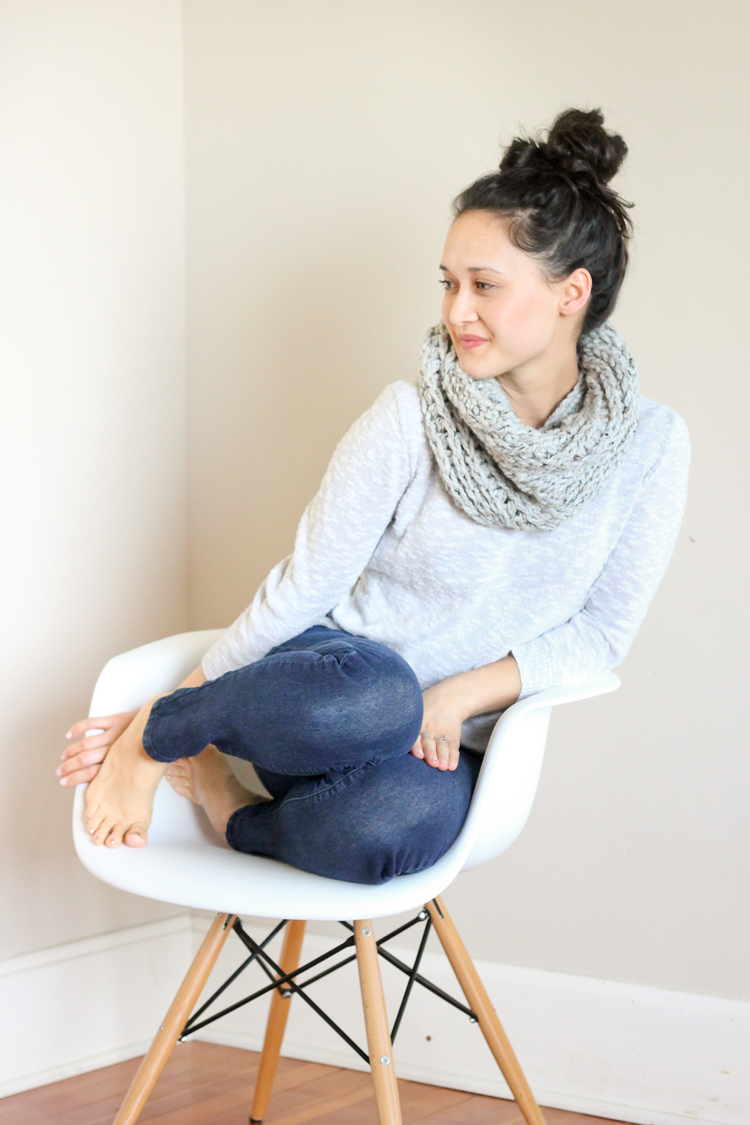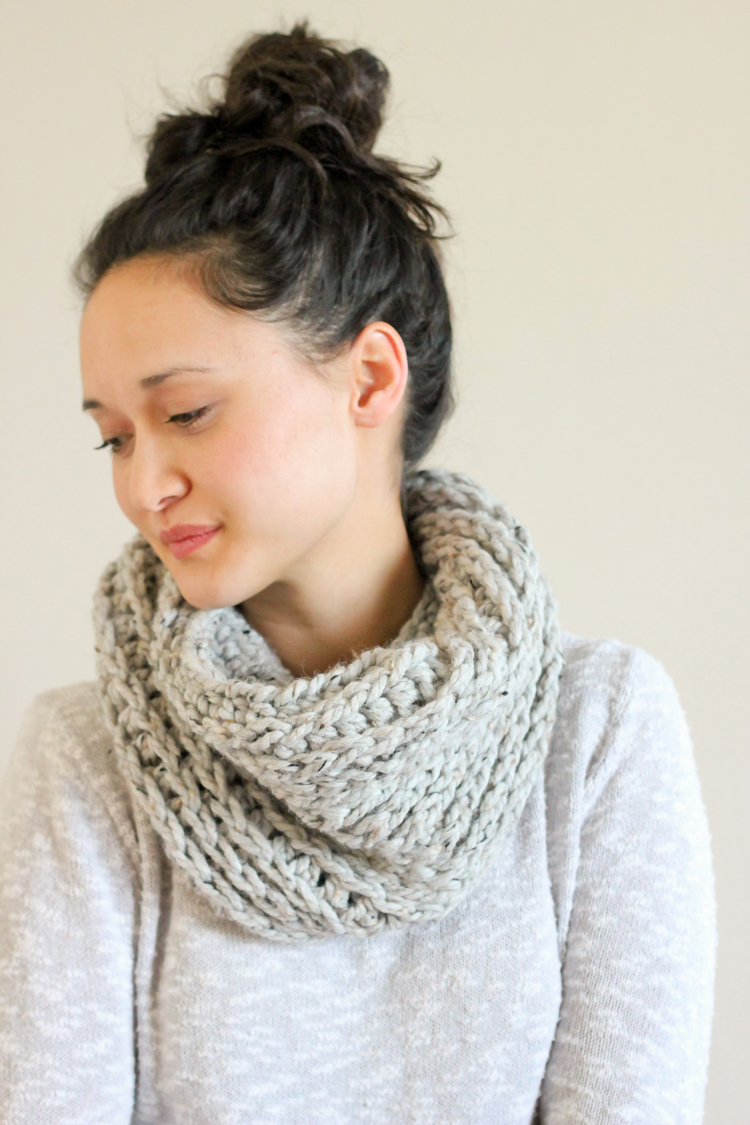 I first learned about the stitch from the fabulous and amazing crochet blogger Stephanie from All About Ami. She provides great instruction on how to crochet in the third loops, which is how the camel stitch comes together.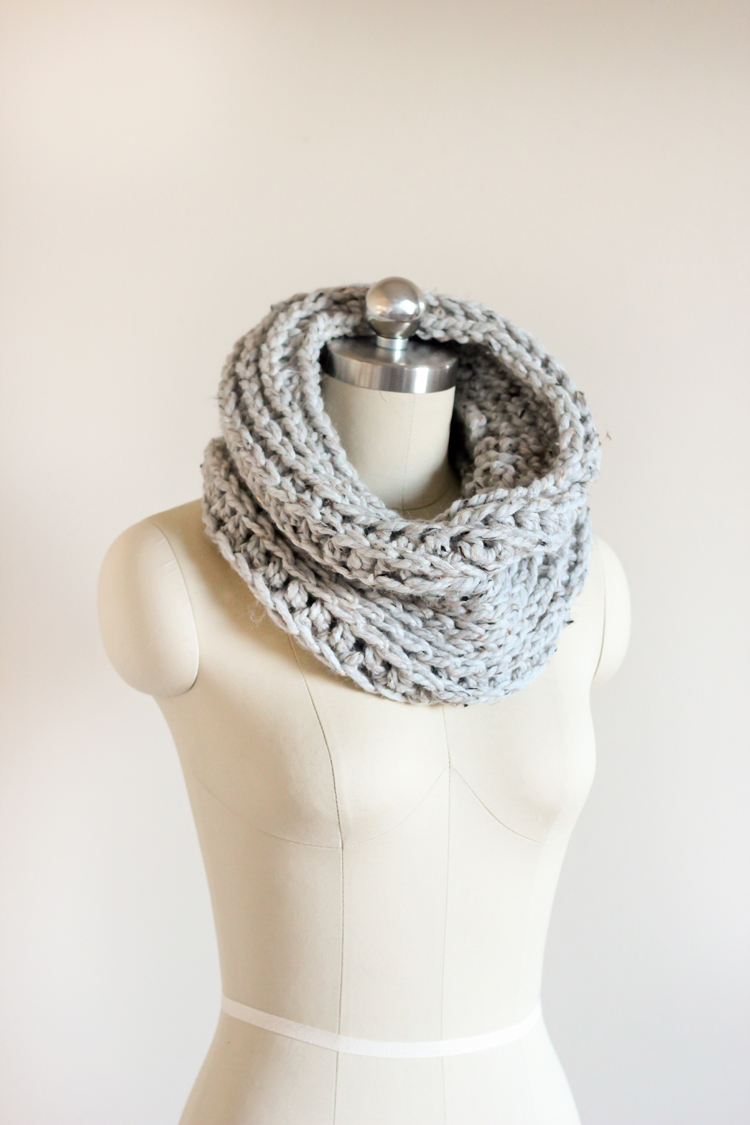 Today's pattern is a smaller cowl version of her Triple Luxe Cowl pattern….which is a must crochet btw. It is gorgeous with a capital G! Once you've learned how to camel stitch from Stephanie, you'll be ready to complete this pattern. (Note: A camel stitch can also be called a knitted- v stitch which is what she calls it…so don't let that confuse you.)
Alright! Let's get going…
MATERIALS
Super Bulky Category 6 Yarn – 2 skeins or about 135 total yards* N15/10.00 mm hook yarn needle   * I used about a skein and a half of  
Wool-Ease, Thick and Quick in Grey Marble from Lion Brand Yarns
.  
GAUGE
4 x 4 inch square = 6 stitches x 6 rows
ABBREVIATIONS
ch – chain sl st – slip stitch hdc – half double crochet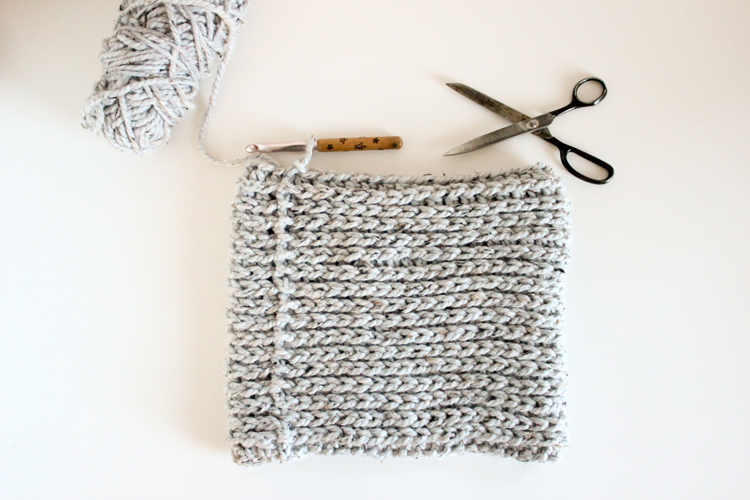 PATTERN
Foundation chain: Ch 45, sl st to the first chain, creating a looped row. (45) Row 1 – Ch 2, hdc in each stitch around, sl st to top of ch 2. (45) Row 2 – Ch 1, camel hdc in each stitch around, sl st to the top of ch 1. (45) Rows 3 through 17 – Repeat Row 2.  Row 18: (optional) sl st around in each stitch (not too tight!). Tie off end and weave in tails with a yarn needle.   
That's all there is to it!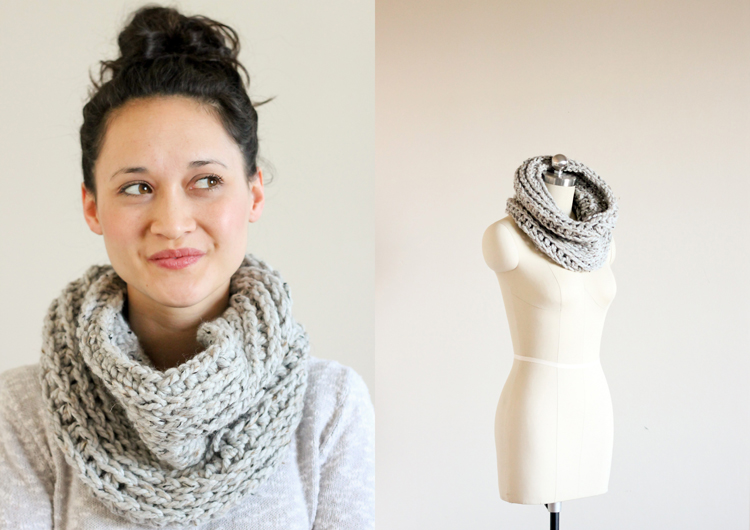 It's a really quick, satisfying project that you can easily complete in one sitting or one movie. I think it's easy enough for a beginner too! It's just a basic hdc but worked in a different loop.
Camel stitches are a cinch to work up, with really pretty results.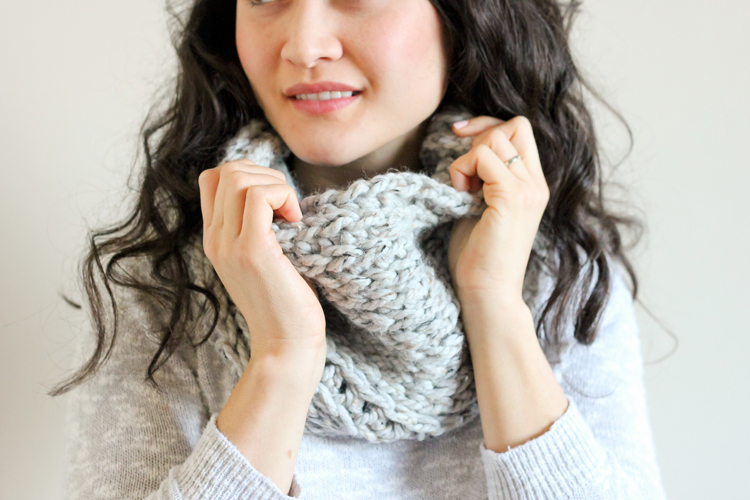 Can you see why I want to camel stitch all the things?
Oh and the back side, or inside, looks almost like purl stitches. I wish I had thought to take a picture of it. Maybe I'll instagram about it this weekend (I'm @deliacreates).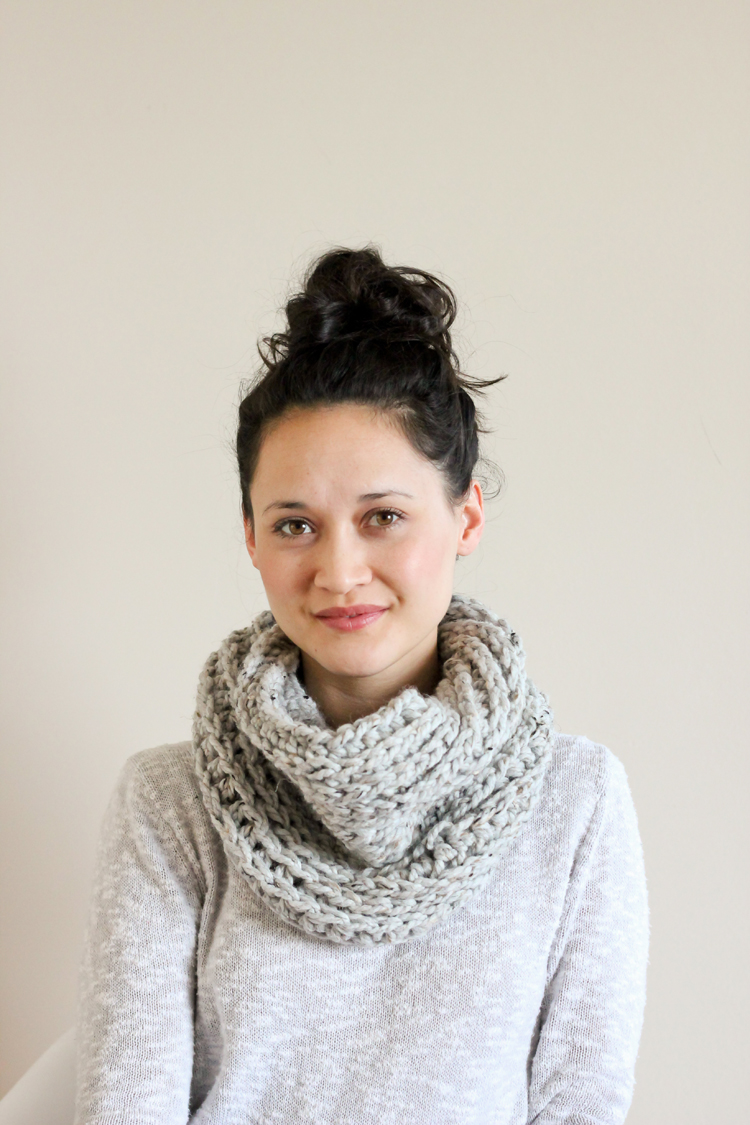 I don't know if you have noticed, but the scarves are getting incrementally more complicated as Scarf Week continues. We started with a fast, chunky infinity scarf great for beginners, a simple fur cowl made from all hdc stitches, and now a slightly more challenging (but still super simple and easy) camel stitched cowl. Come back tomorrow to see how I throw in some color changes and a different variation to this camel stitch!