There is good reason why little black dresses are so timeless and classic. They are flattering for any woman, of any age! I think every girl should have one in her closet.
I have a short sleeve, peplum lace version which I love, but I had been wanting to make a more basic version for some time; one with long sleeves for the cooler weather we usually have up here.
So, when the Pattern Anthology crew asked me to review their new Unbiased collection, the timing was perfect to finally whip one up!
I chose to sew up the Gwen by See Kate Sew.
It's the perfect shape…simple, pretty, but with options to add small details.
I chose the long sleeve version, of course, and added in some vegan leather details at the shoulders. Kate offers a small contrast detail and a faux raglan detail. I chose the raglan detail because I wanted the pleather to be more obvious.
About half way in, I was kicking myself for choosing pleather as a contrast, because it was preeeetty tricky to sew into the dress. The neckband was the most challenging part, because the pleather doesn't stretch quite as much as the rest of the knit. I think, if I were to do it again, I would choose a stretchier pleather (like this one).
Pleather troubles aside, or I guess now that I have mostly worked them out, 😉 I am so, so happy with this dress.
It wears great, and is really comfortable. I love the high neckline and longer hem. When it's completely smoothed out it falls an inch or so below my knees (I'm 5'4″). It's a fairly form fitting dress, so the extra modest length feels really elegant. Kate designed this one right on the money.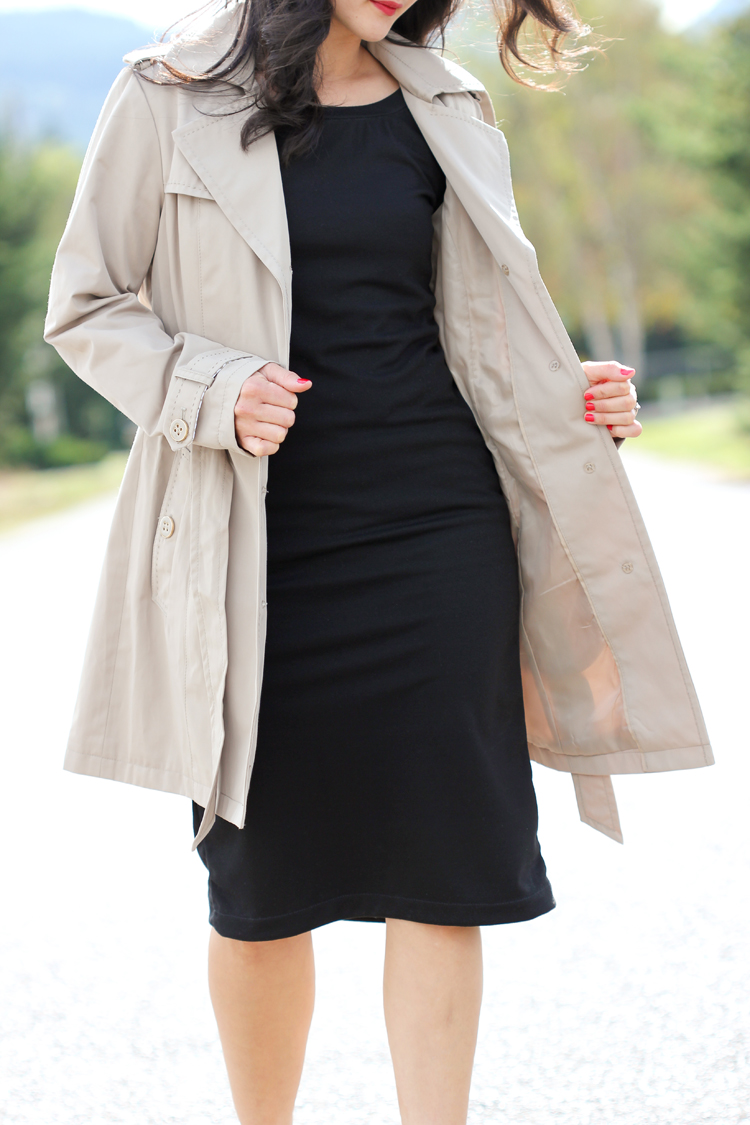 If you're like me, you might be wondering about taco belly… You know when you've had a few tacos for lunch and it shows? 🙂 🙂 🙂 Kate, has gracefully designed it to skim over the middle section pretty well, but for someone with a petite bust, I still had a little issue with the taco belly.  All is not lost though! I discovered that when I add a high waisted skinny belt, it successfully camouflages the taco belly! I know, I know…It seems counter-intuitive, but it definitely works. It helps break up the waist, giving the illusion that your waist is actually smaller, and it lengthens the leg. I didn't wear one in these pics though because I'm still on the hunt for the right belt. (sigh) Make a new dress, and you're going to need all sorts of new accessories to go with it…not that I'm complaining. 😉
Don't forget to check out the rest of the Unbiased collection by Pattern Anthology.
They have thoughtfully, and beautifully designed the collection to flatter ALL sizes from XXS to XXXL! You can get all four patterns in the collection as a discounted bundle right now for less than $30! Plus they throw in a slew of really great coupons so you can get a great deal on your fabric as well. Don't wait too long! The sale only lasts until October 2.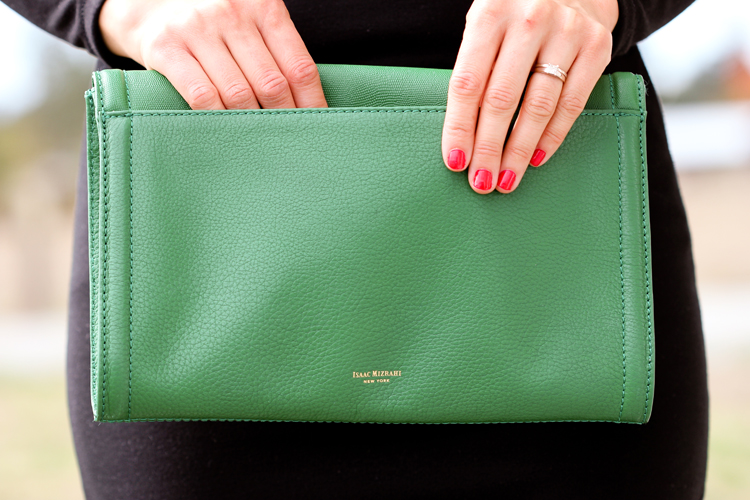 SOURCES: black Ponte knit fabric from Jo-Ann || black pleather (vegan leather) from Girl Charlee || trench coat c/o Isaac Mizrahi (on major sale right now!)|| heels c/o Isaac Mizrahi (seriously <3 them, perfect neutral color, and so well made) || green clutch c/o Isacc Mizrahi (it is sooooo pretty in person and it's also on sale!)
Disclaimer: Sewing pattern and  clothing accessories were provided to me.