Did you knowthat  September is National Sewing Month?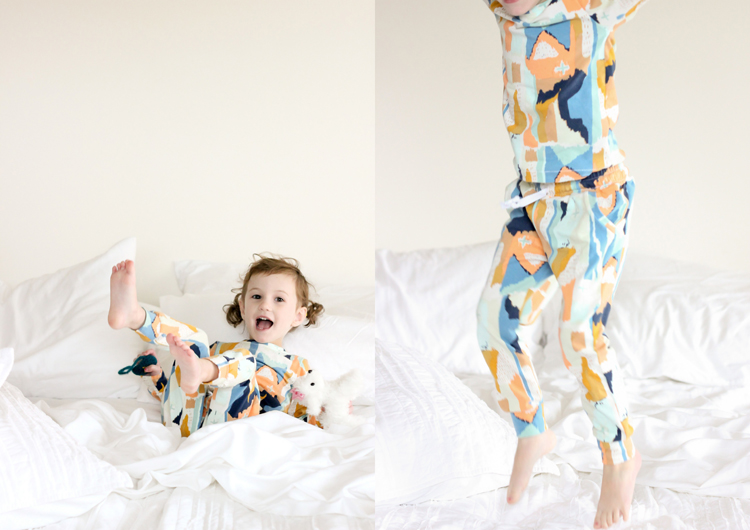 To celebrate the occasion, Art Gallery Fabrics is hosting a 30 days of sewing tour! Thirty sewing bloggers, sewing up some amazing AGF fabric every day this month.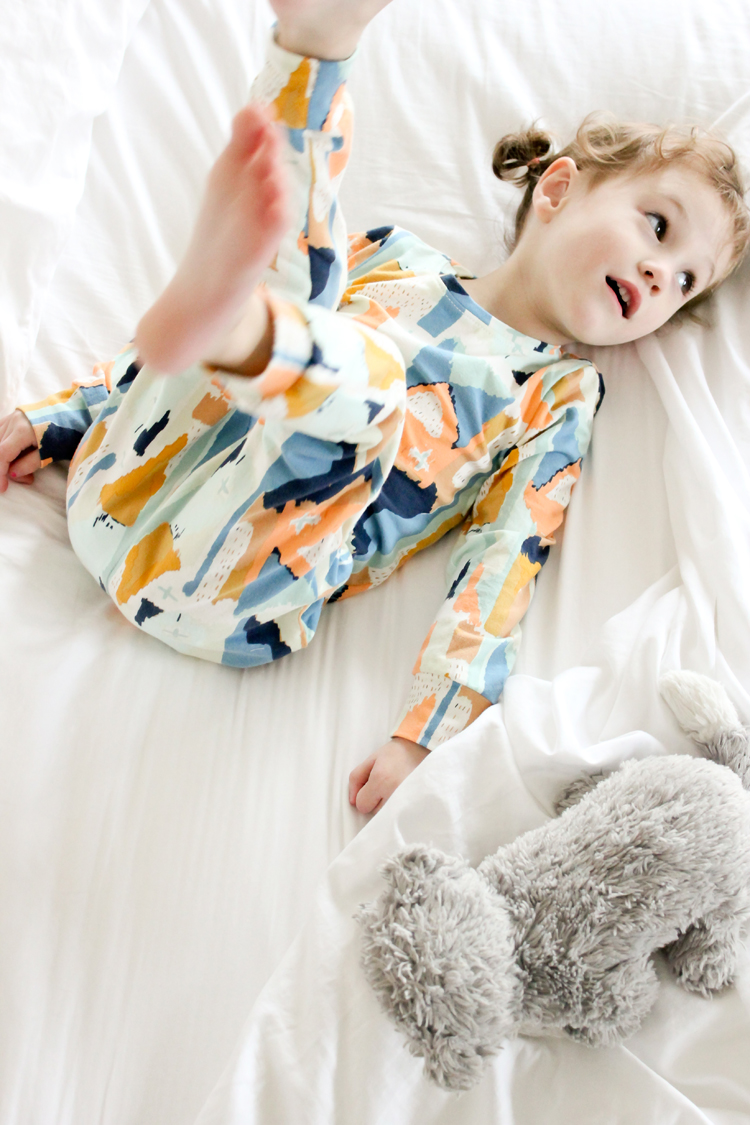 I decided to use April Rhode's lovely Painting Morale fabric from her new Bound collection. It is so fun, and colorful, and has little flecks of shiny gold sprinkled throughout. It's SO pretty! It's hard to photograph the flecks though, so you'll just have to see it in person. 😉
It feels like Fall has settled in early here in the PNW, so some new, warmer pajamas were in order for my preschooler.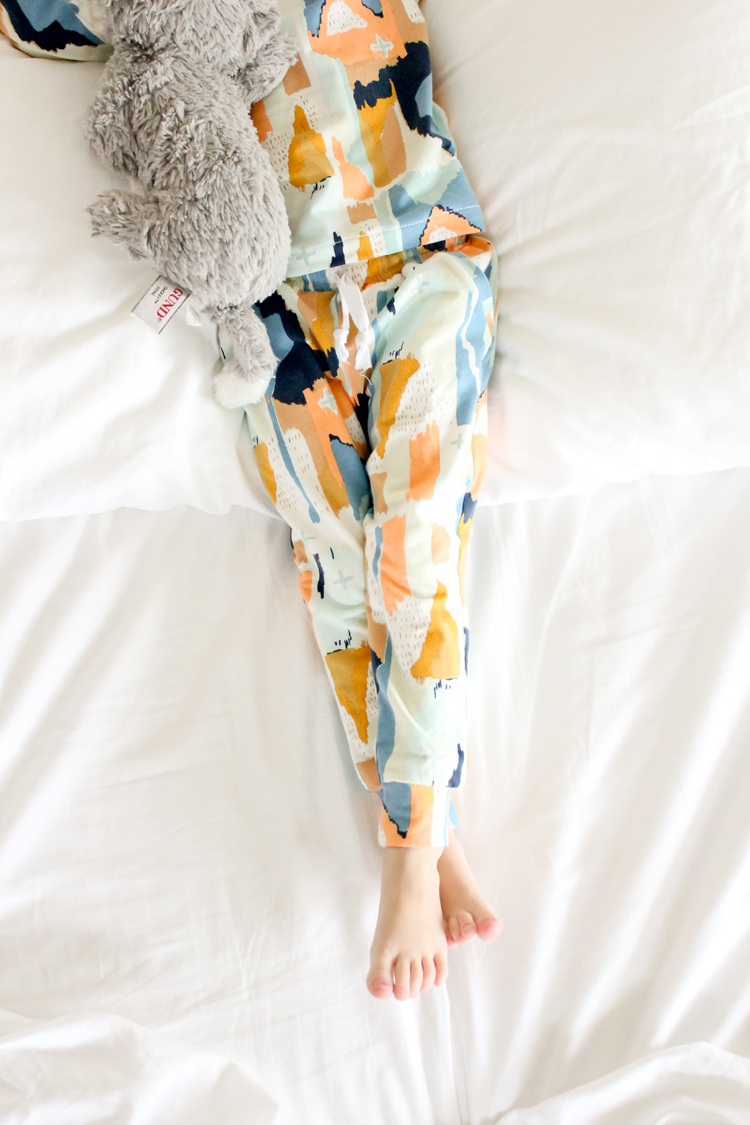 To create this pajama set, I used two of my favorite, favorite patterns (which I had in my stash, they were not provided to me for this post).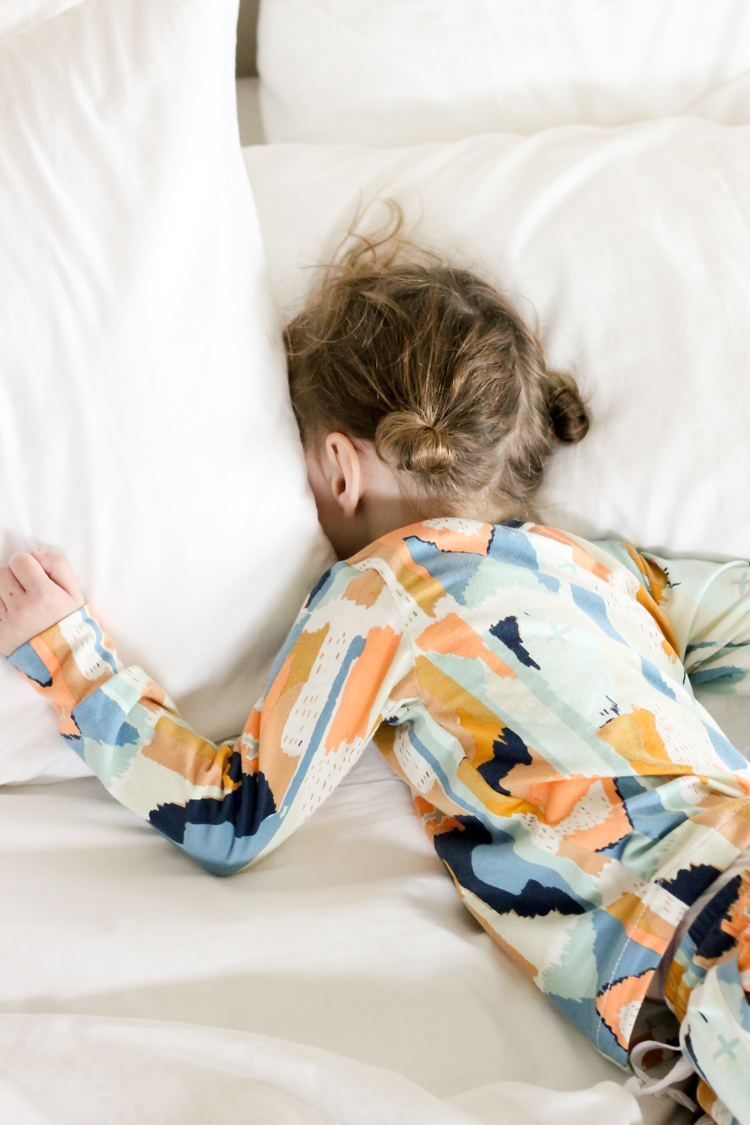 I used Peek-a-boo Pattern's Alex and Anna Winter Pajamas pattern for the top because I knew it would be a perfect sew and a perfect fit. That is what I love about all of Amy's patterns, I can always trust that they'll turn out great. Plus, the paper conservation friendly nature of her patterns is always a huge plus.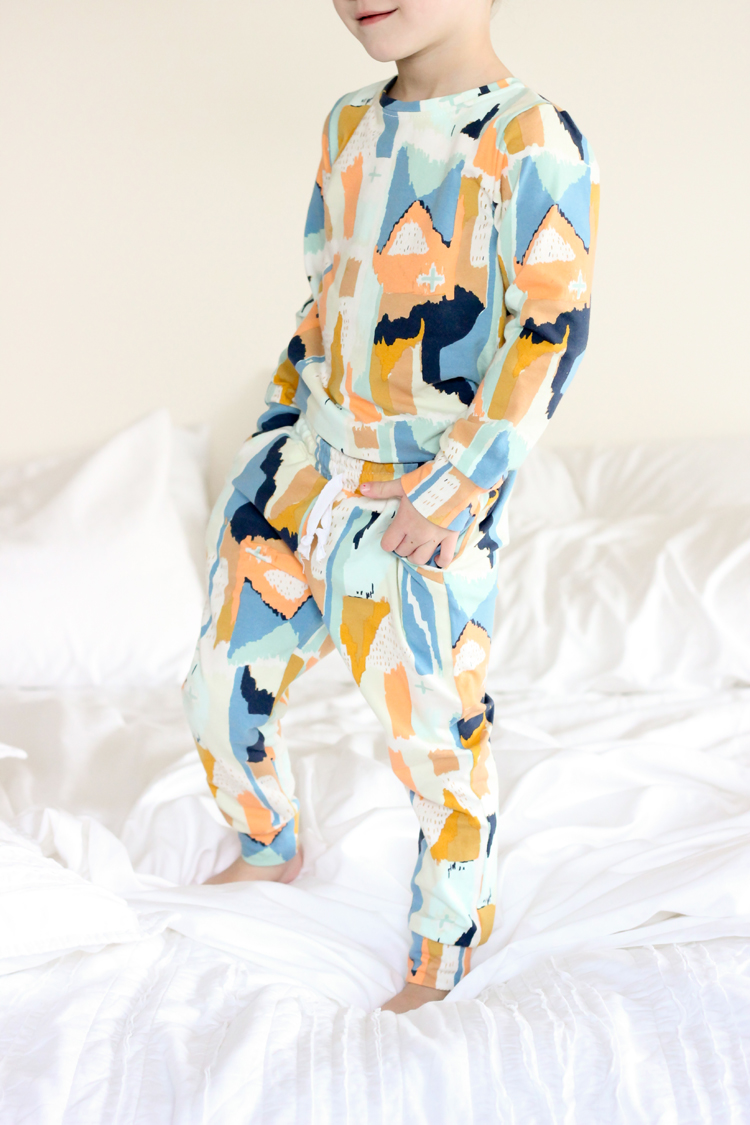 I wanted to add a modern flair to Nat's new pajama set, so I used True Bia's Mini Hudson Pants pattern for the bottoms. I can't say enough good things about this pattern as well. This post, this post, and this post, as well as the two more Hudson pants I have cut, waiting to be sewn should be testament enough though. 😉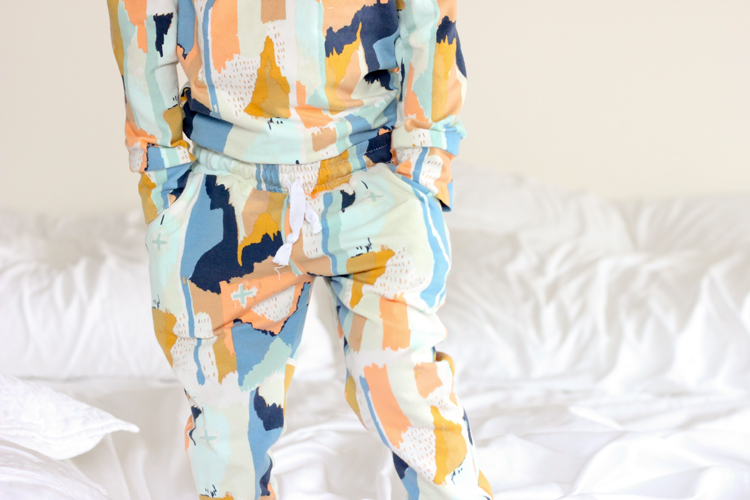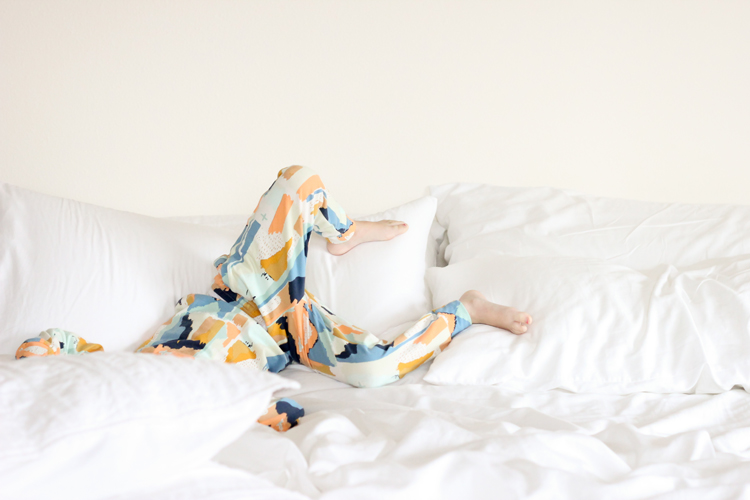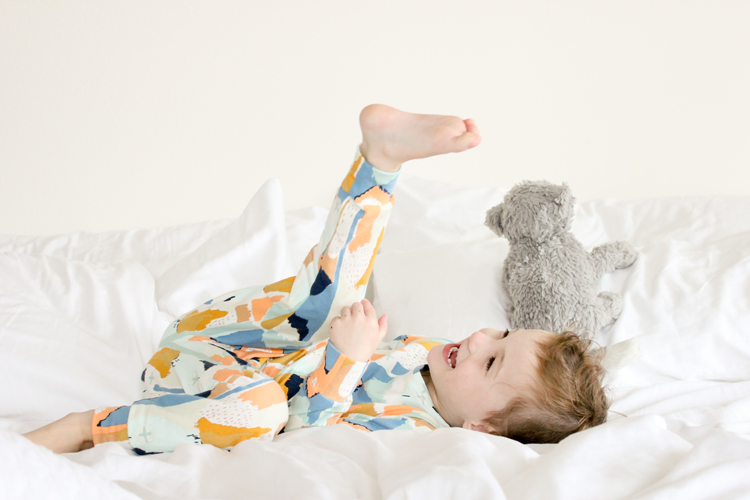 I made this a pajama set, but I like that the fabric doesn't look too pajama specific so that she can wear the shirt or pants out as separates if she wants to. Even if they did look like pajamas, I don't think that would stop her from wearing them out anyway. ha! So this was really for my own benefit. 😉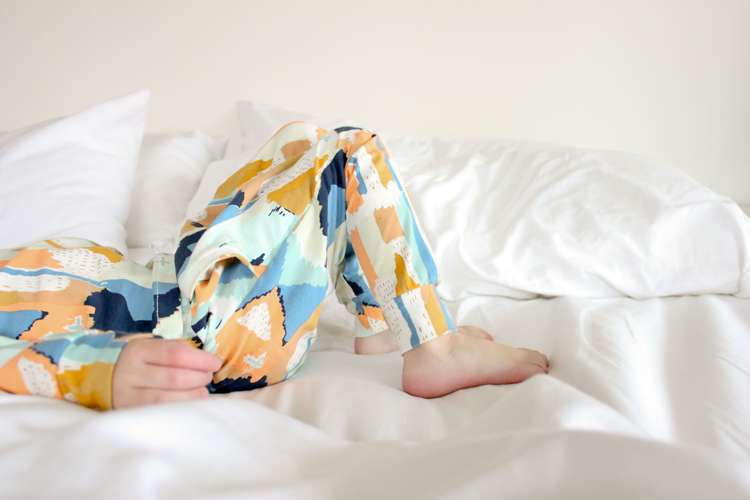 If you have ever had the privilege of sewing with an AGF knit, then you know how soft this fabric is. It never pills, and is an absolute dream to sew!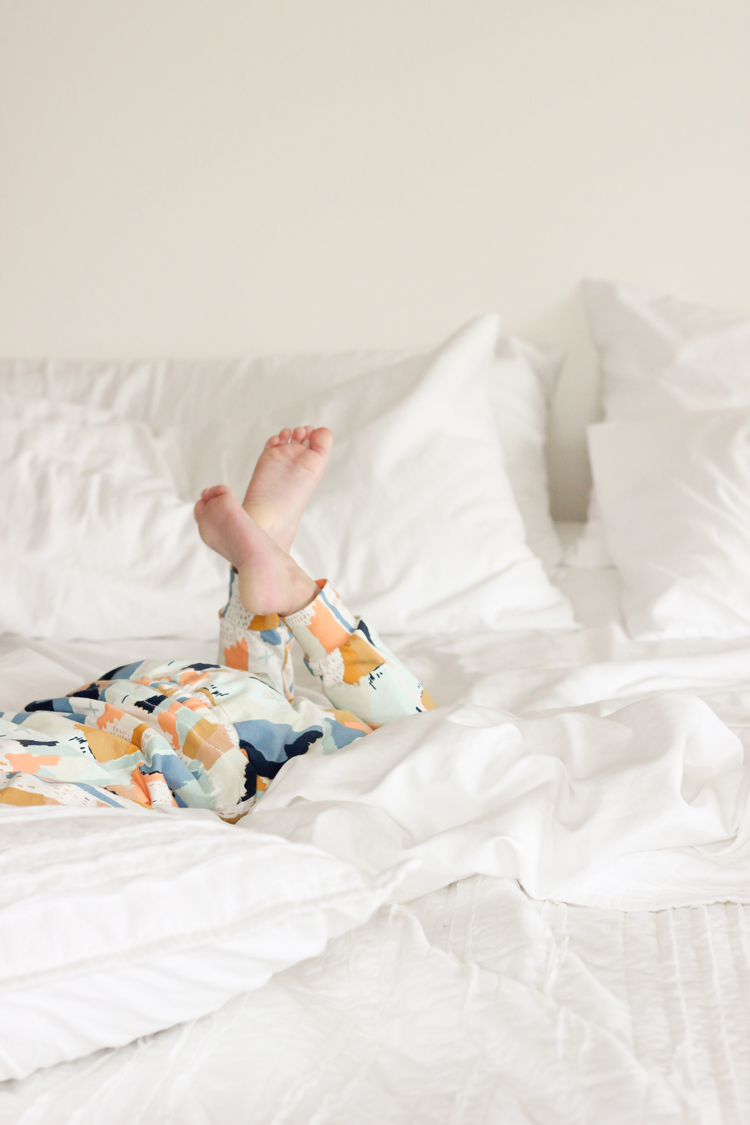 Today, I get to share some of that dreamy fabric with YOU!
Enter in the rafflecopter below to win a yard of knit from April Rhode's Bound collection. The winner will get to choose between a yard of Painting Morale (featured in these pictures) or Path Marker Slate (scroll to the bottom of this site to see swatches).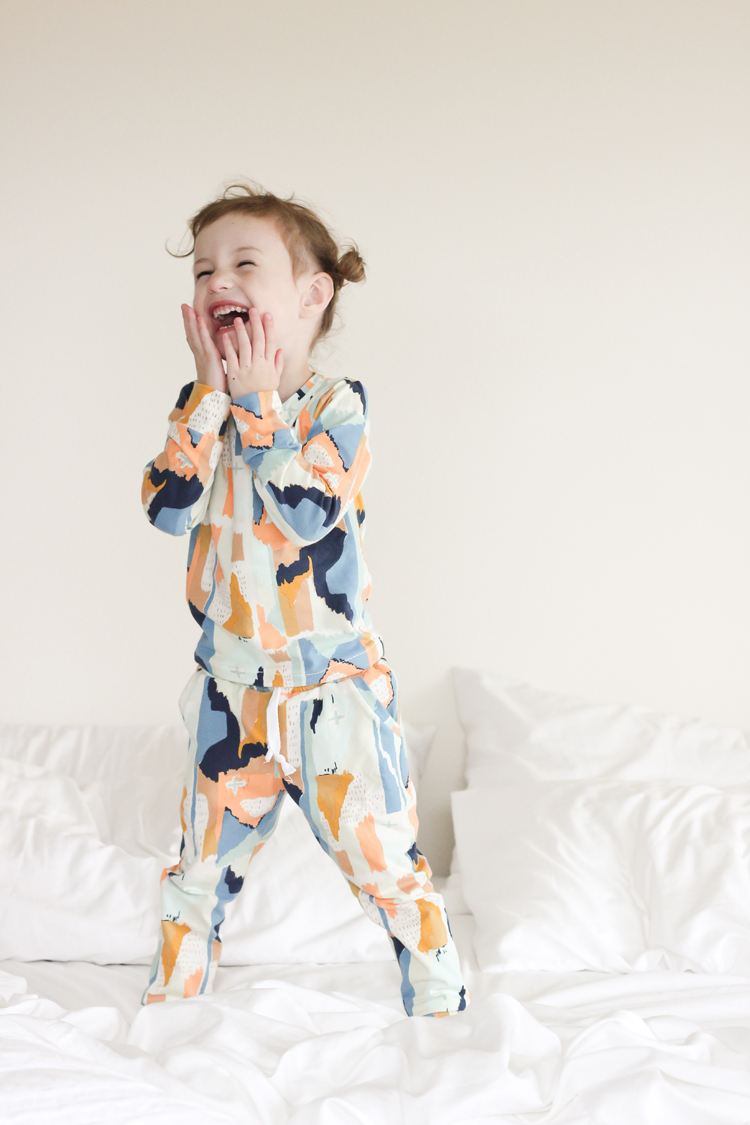 To check out the rest of the Art Gallery Fabrics National Sewing Month tour, head to their blog!
Happy National Sewing Month friends!
Wishing you lots of happy sewing projects this month and all year long! 😉
Sponsorship disclaimer: I was provided AGF fabric to sew up for this tour.