My favorite thing about indie designers is that they create some hip, cool stuff you really want to sew. Like this Mini Hudson Pants pattern by Kelli Ward from True Bias.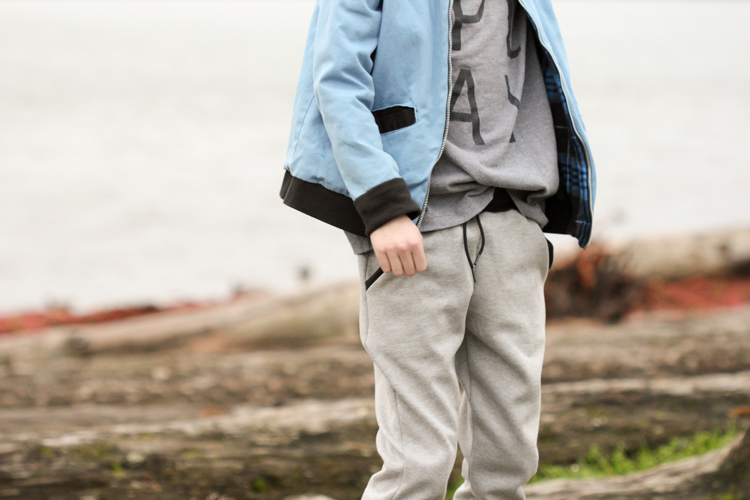 The Mini Hudson Pants Pattern is the uni-sex, kid sized version of her women's pattern.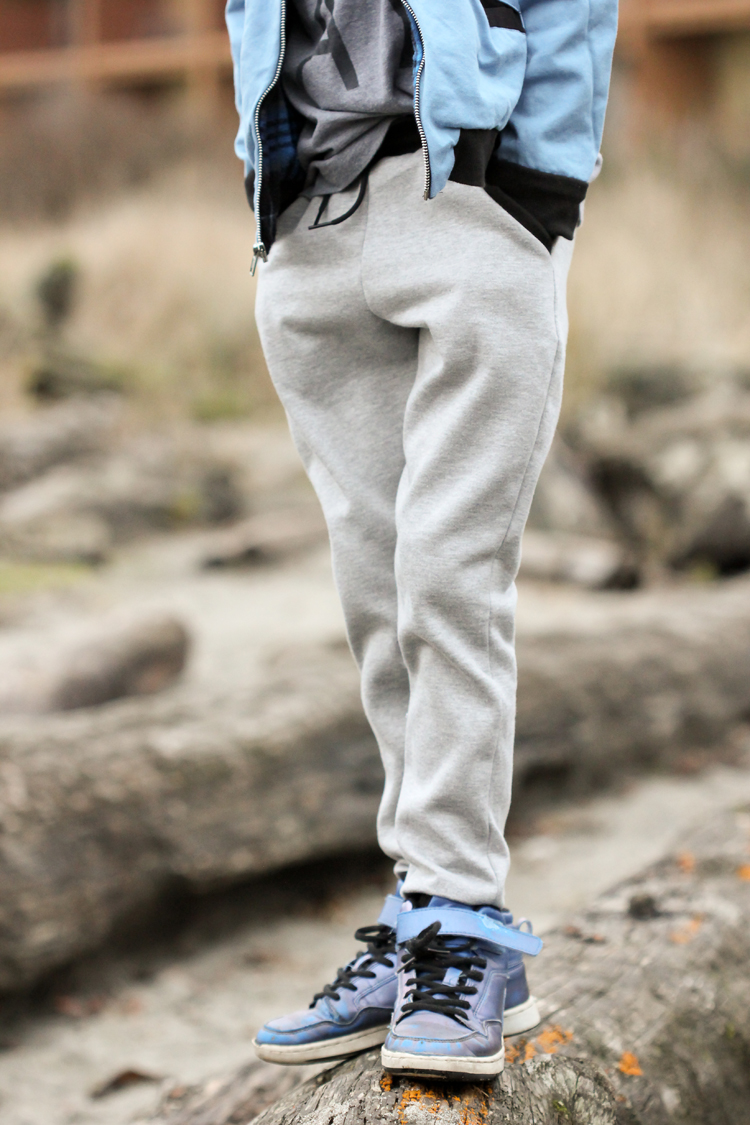 I love it's hip vibe and simple details that make it easy to sew and easy to customize.
Owen is almost ten, so I let him choose fabric colors. The apple must not fall from the tree or he must be tuned into my aesthetic because he chose gray and black. I was already mentally pumping myself up for something camo or neon ;), but I'm glad he went with something that will match most of  his current wardrobe.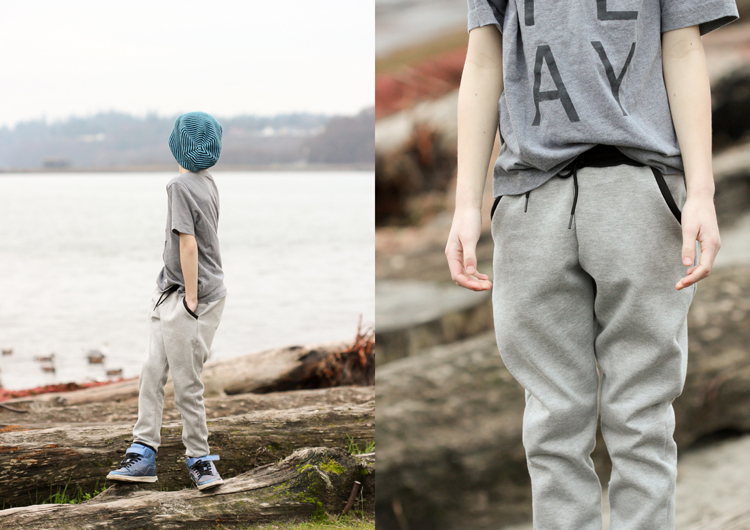 As for sizing, I found the cut of the pants to be really forgiving. He technically falls between the size 8 and 10 (the max size is 10), so I blended the sizes for him. After having sewn it, I really think sizing up to the full 10 would have been just fine or even better since it wears well baggy on boys.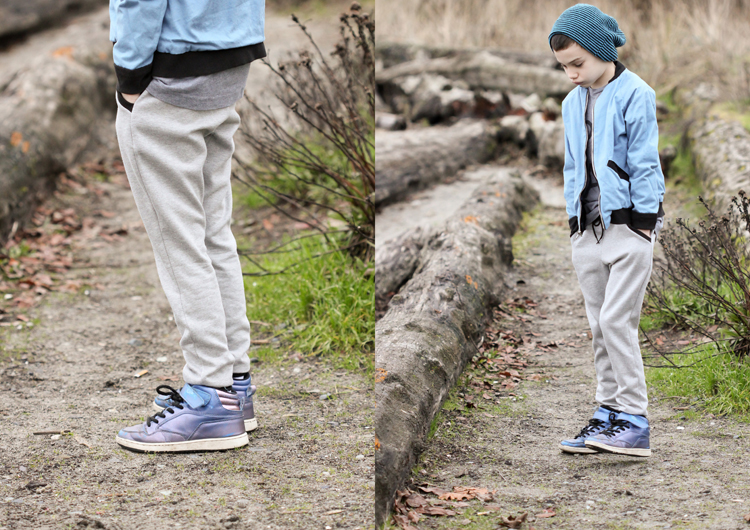 The pattern calls for a medium to heavy weight knit with a certain amount of stretch, so at first I went with an interlock knit fabric. When he tried them on however, the fabric was a little too drape-y and just didn't look quite right on his tall string bean stature. It actually kind of ended up looking a little too feminine on him.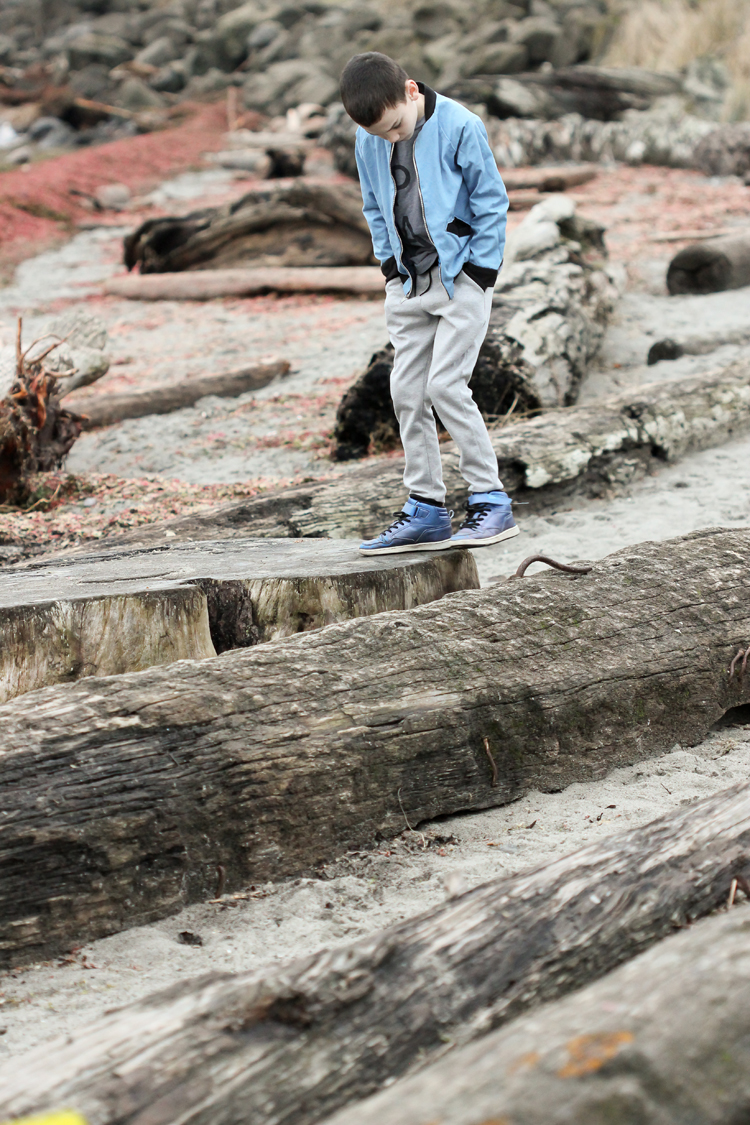 Lucikly, I had juuuust barely enough sweatshirt knit leftover from my Popover Poncho to try again. Even with pretty much no stretch in the fabric, my second go around with the sweat shirt knit turned out perfectly. I had to use black interlock knit for the cuff and waistband so he could you know…get the pants on ;), but I was planning on doing that for design reasons anyway.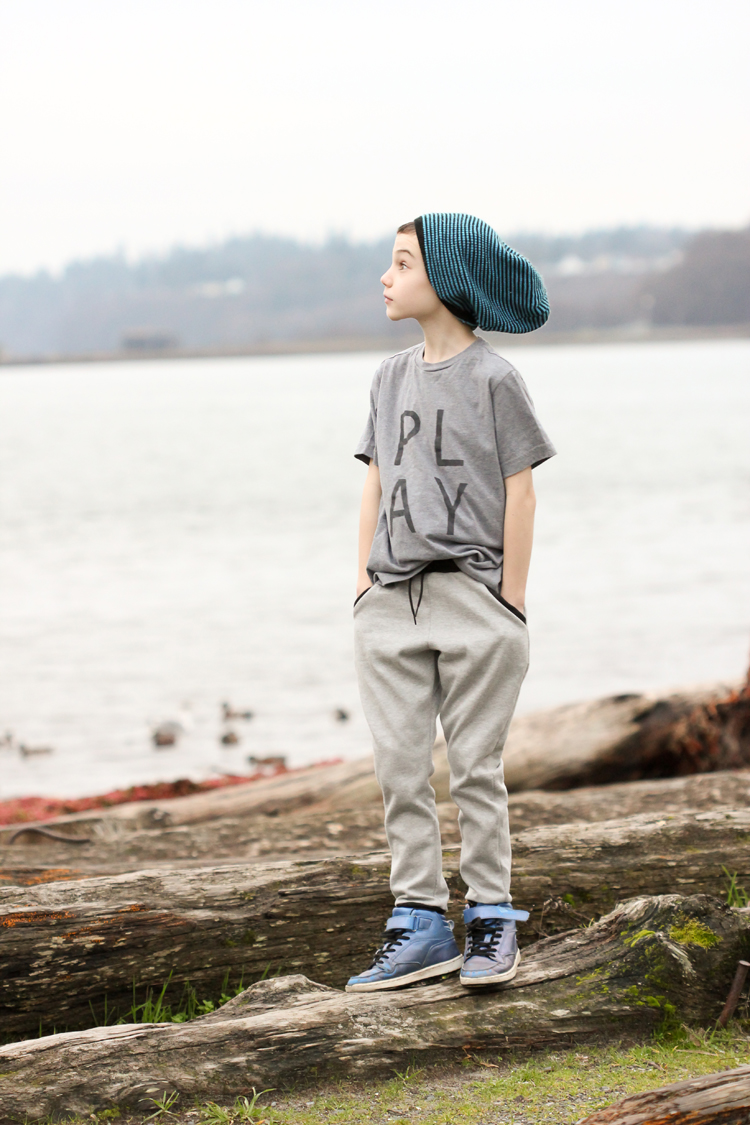 Using a thicker fabric with a little more substance added just enough, for a a lack of a better word, "manliness" to the look, which I think becomes more important as you get into the older sizes. After checking out the #minihudsonpants hash tag on instagram, I learned that French Terry seems to work really well for boys as well.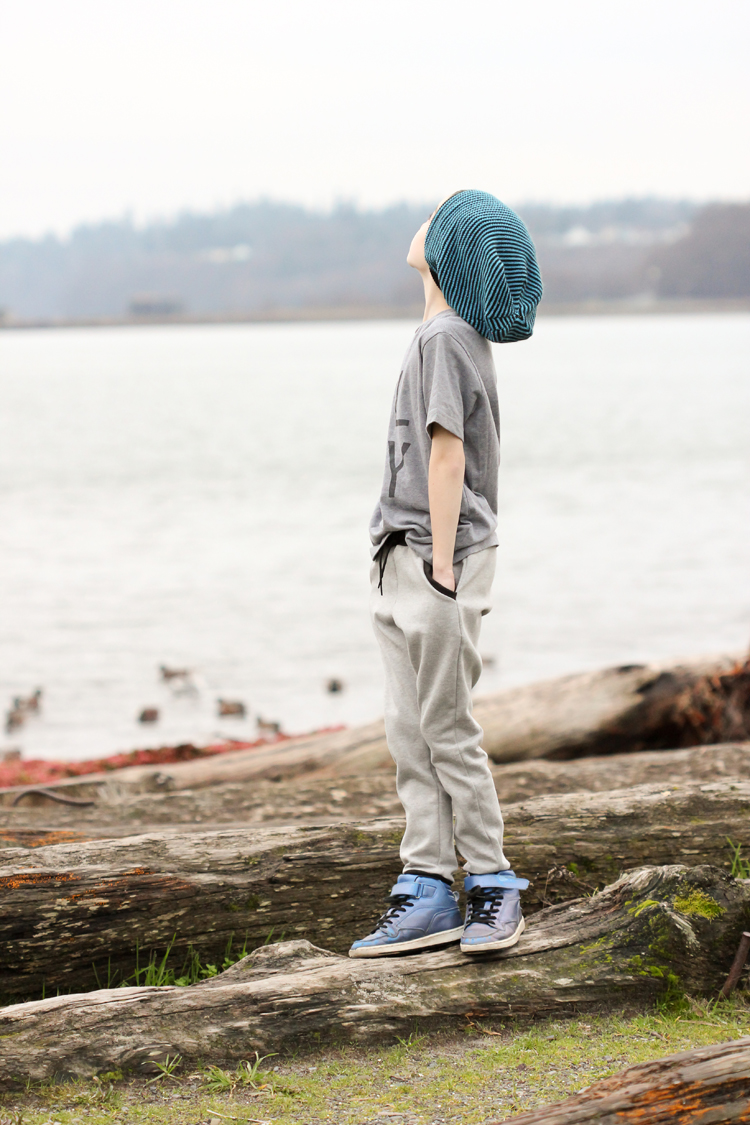 I'll for sure be on the look out for some French Terry so I can sew up more of these. Little brother is feeling a bit left out and wants a pair now too. 😉 I'm sure I'll make some for my daughter, Nat while I'm at it as well. I really love that this pattern is great for both genders and has a size range that fits all of my kids right now.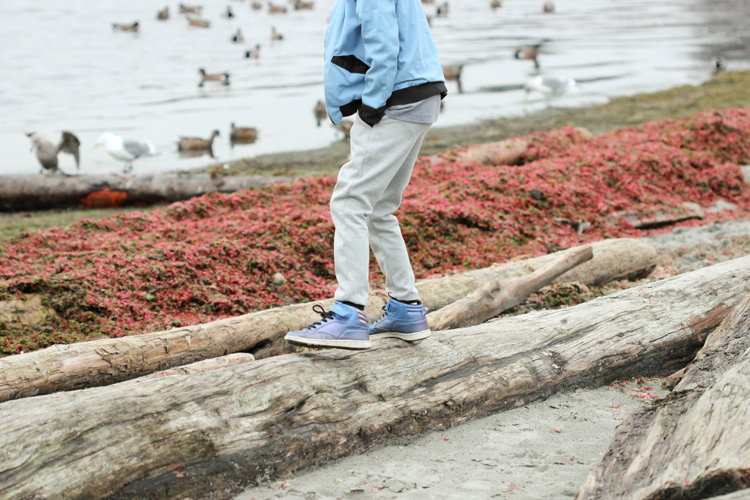 I should mention that the Mini Hudson is a FUN sew too, which is not always the case with patterns I like. I often love the outcome of most patterns, but it's rare to find a pattern that you enjoy every step from start to finish. It's probably because there is no hemming or gathering. 😉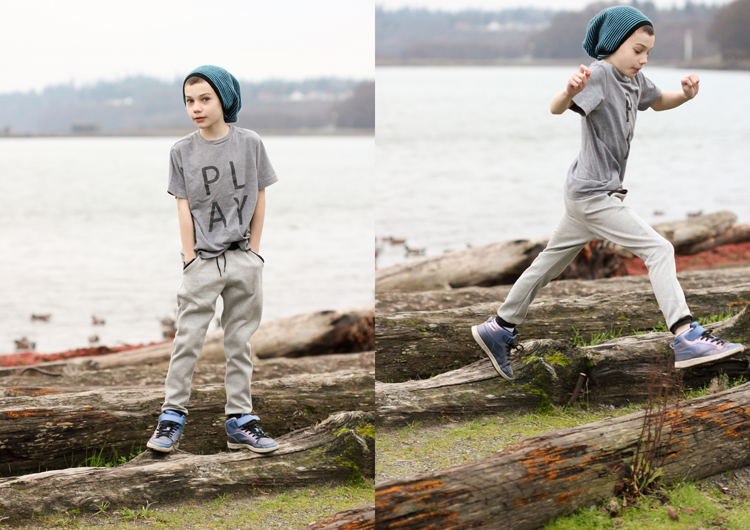 It's always helpful to get lots of opinions on sewing and styling a pattern. Check out my blog tour counterpart, Kristin from Skirt As Top, to see how she sewed the Mini Hudson up for her cutie patootie daughter! I love the fabric she chose, as well as the pop of color she added to the pockets.
And check out the other bloggers on tour to see their notes on the pattern and to check out their amazing inspiration:
Sources: Sweatshirt knit and black interlock knit are both from Jo-Ann || drawstring tie is a black slim shoe lace I found in my stash (I know…helpful, but I think you can find something like it at any place that sells shoes) || His ridiculously slouchy hat is store bought (Walmart forever ago…I think?) but I have a crochet pattern for a similar looking slouch hat || shirt is from Old Navy but painted on by me || Jacket was made using Go To Patterns Study Hall Jacket. I posted about it a couple of years ago. As you can tell it barely still fits him! || sneakers are from H&M
Disclaimer: The pattern was provided to me for free as a participant in the Mini Hudson Pants Pattern Tour, but my opinions are unadulterated pure honesty. You'll love this pattern, for freaking sure.