Graphic tees are really big as of late. I guess…when are they not though? Am I right…? 😉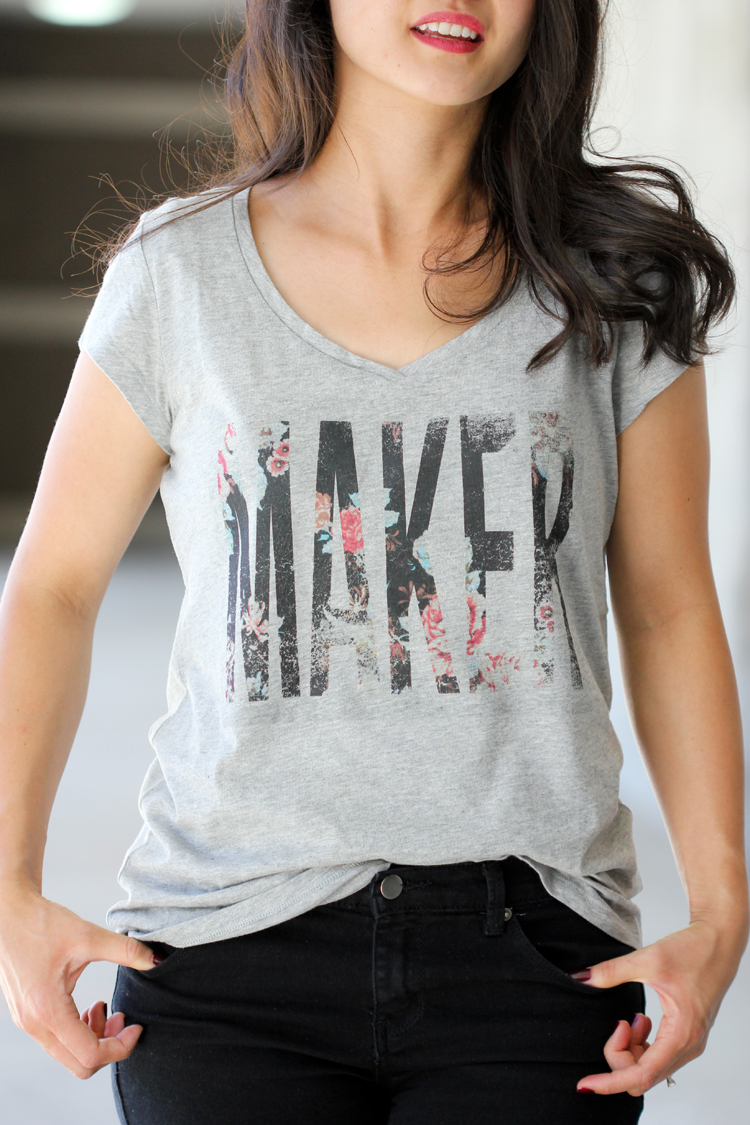 I really love the simple, bold graphic tees that are popular right now. I've been wanting to buy some but it's hard to find one that says something that I wouldn't mind wearing plastered across my chest…you know what I mean? Especially as a 30 year old woman, I feel like I have to be picker. I know that I only live once, but a big fat YOLO on my shirt feels like I am trying to jump back a generation. And some other sayings I've found are total nonsense/inappropriate.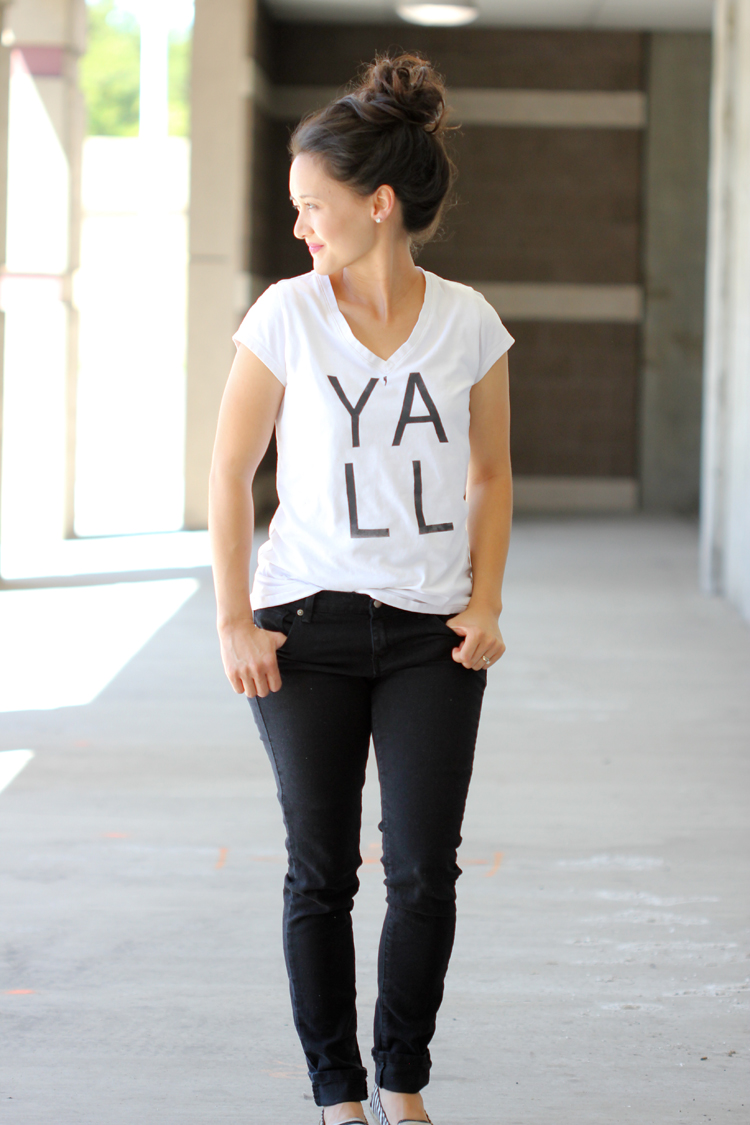 What's a ( 30 year old ) girl to do then…make her own of course!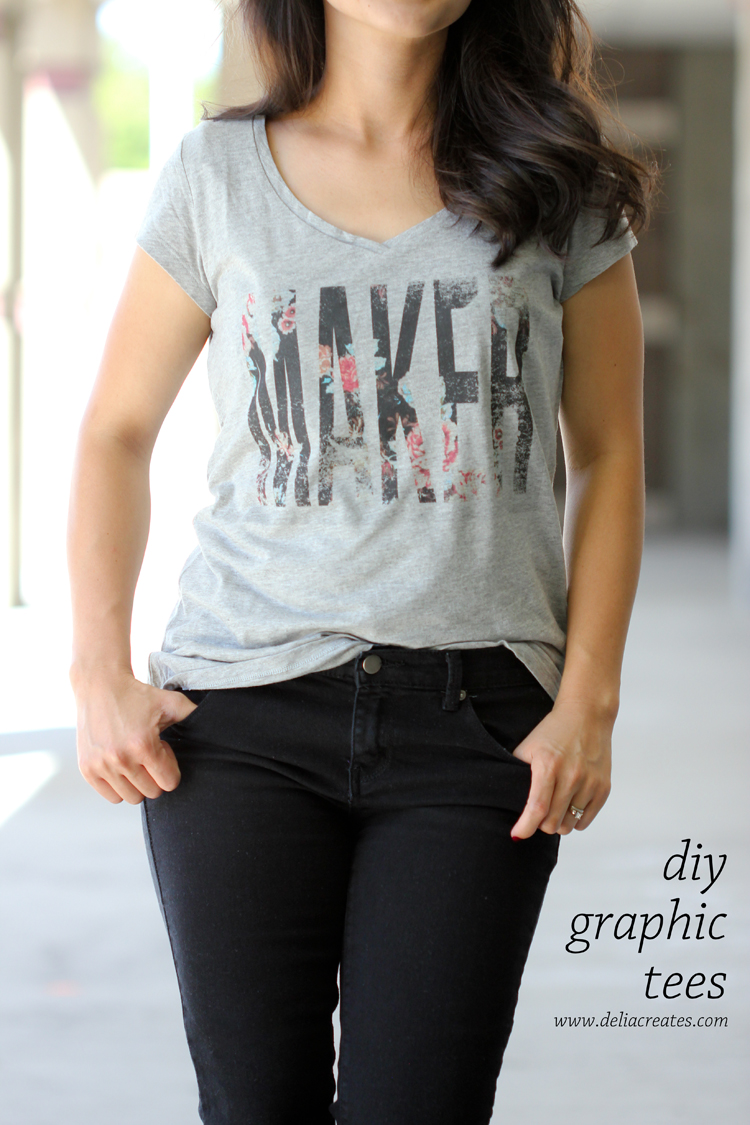 And what is more apropos than "Maker"?
I made one for my son Owen, and decided to put "play" on his. Also perfectly…adorably… appropriate.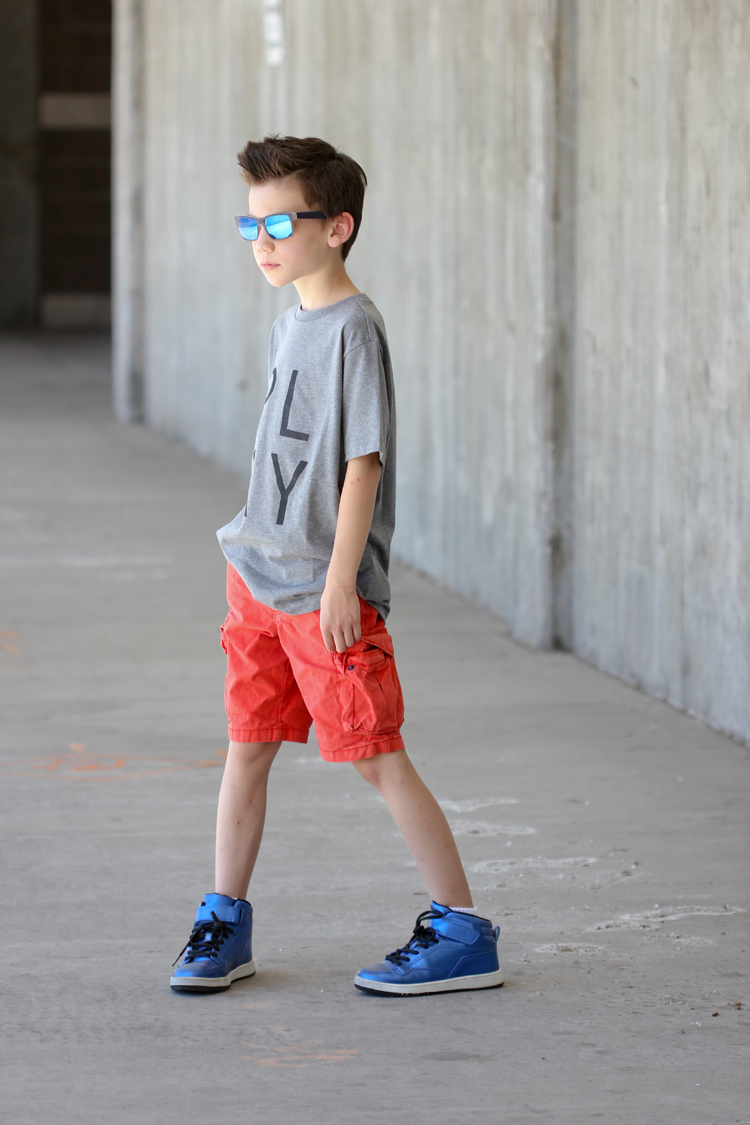 This one was just for fun… 😉 Y'all…
I used two different methods to create my graphic tees.
The first method is good ole freezer paper stenciling.
 It's the easiest, most inexpensive, and most tried and true method.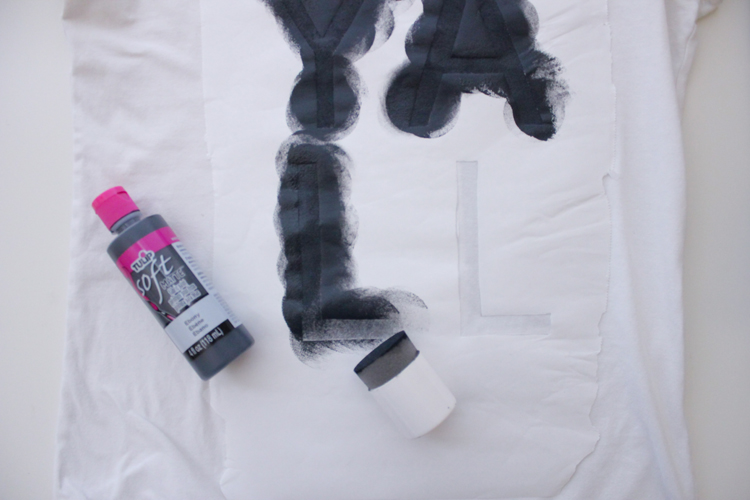 One draw back is that if you don't have an automated cutting machine, the cutting part can get pretty tedious. I don't have a cutting machine, so I took advantage of the simple, easy to cut designs for the Y'ALL and PLAY shirts and used those for this method.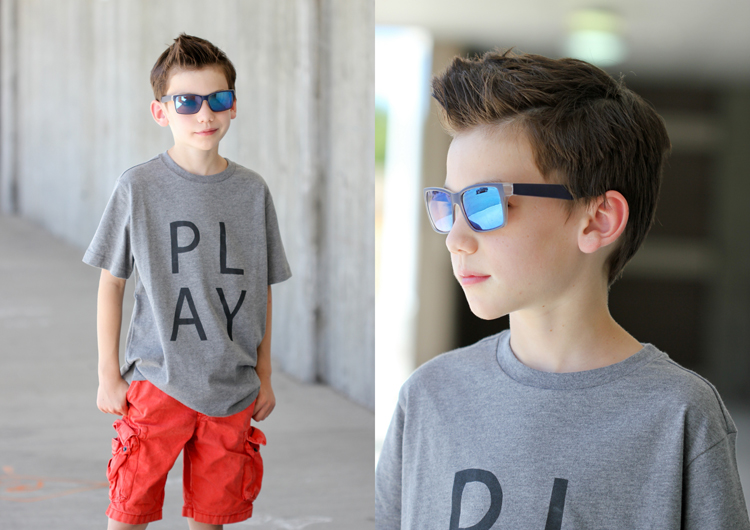 For a full tutorial on how to freezer paper stencil and for more boy t-shirt inspiration go HERE.
Just be sure to use fabric paint and your design will hold up and wash really well. We have shirts that were freezer stenciled years ago that still look great.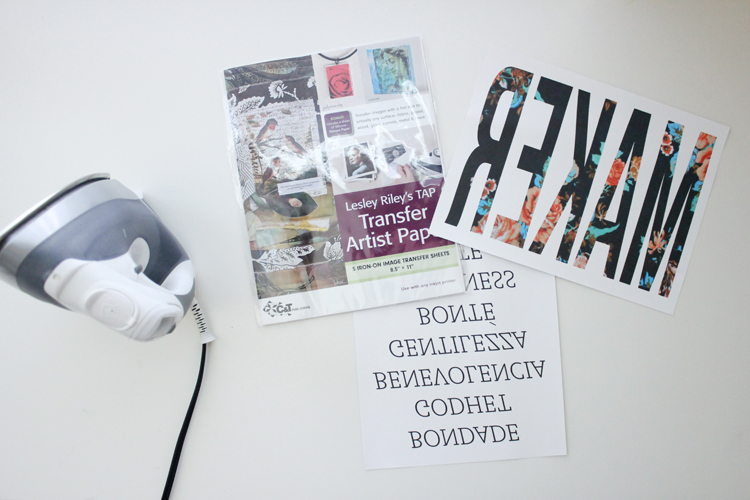 For the other two shirts I used photo transfer paper. You can use any kind you like. I happened to have this kind on hand: Lesley Riley's TAP Transfer Artist Paper 5-Sheet Pack: 5 Iron-on Image Transfer Sheets 8.5 x 11
Now, even though the link above is an affiliate link (which means I get a commission if you use it to buy that product), I am not totally sure I recommend it. I bought because other bloggers so highly recommended it. Their transfers turned out great so I wonder if I just got a bad batch?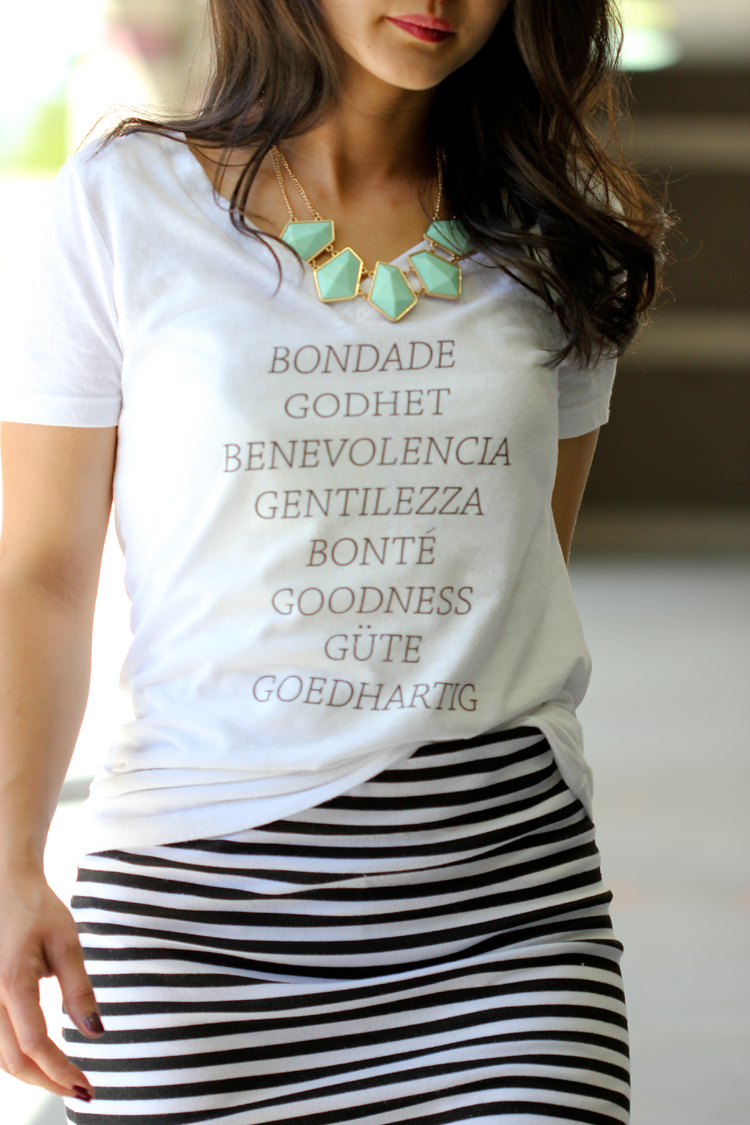 My black and white text image turned out great and has washed well. The color "maker" image transferred spotty and has already faded some with washing. But as I said, I have had other bloggers show me pictures of their T-shirts after lots of washes and their shirts have held up pretty well. So, I guess keep in mind that you can't iron the transfer enough. Iron, iron, iron! 😉
Next time though, I really want to try THIS paper I found on Mingo and Grace the other day. Farrah's transfer is amazingly crisp!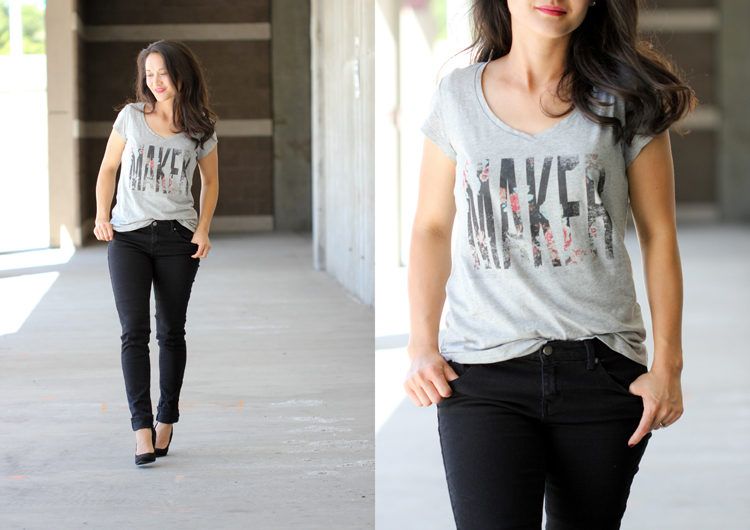 Thankfully, for now the distressed effect works nicely for this shirt. 🙂
For the other transfer paper shirt, I wanted to mimic THIS cute shirt worn and styled by Merrick's Art (love her stlye!) and THIS shirt. But instead of saying kisses. I translated "goodness" into several languages (using google of course!).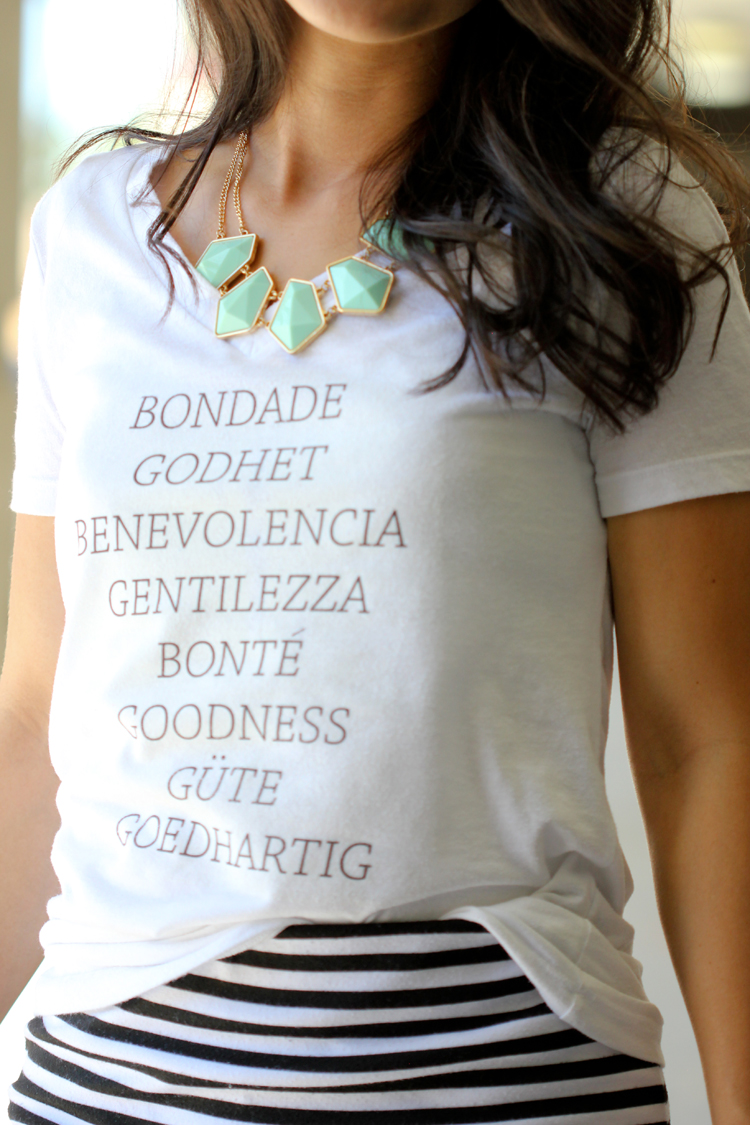 I like that the font is a little thinner and understated as well.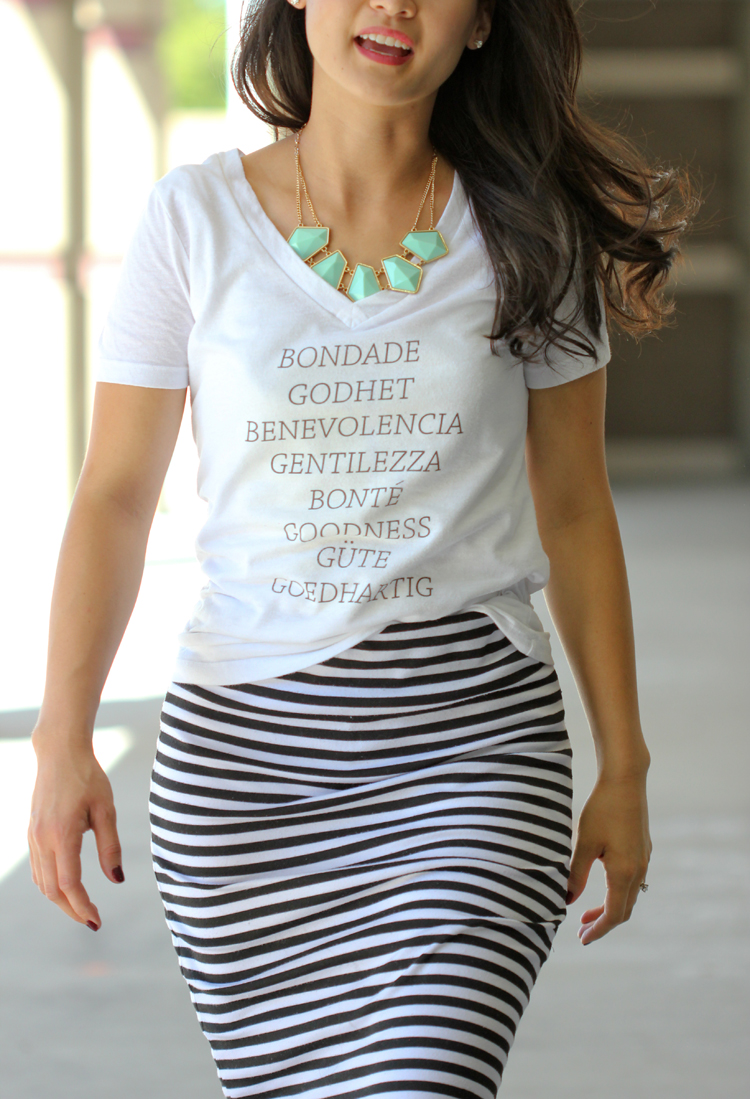 Just in case you like what I've made here and want to make shirts just like them… I am including free printables for all of these tees! Yahoo!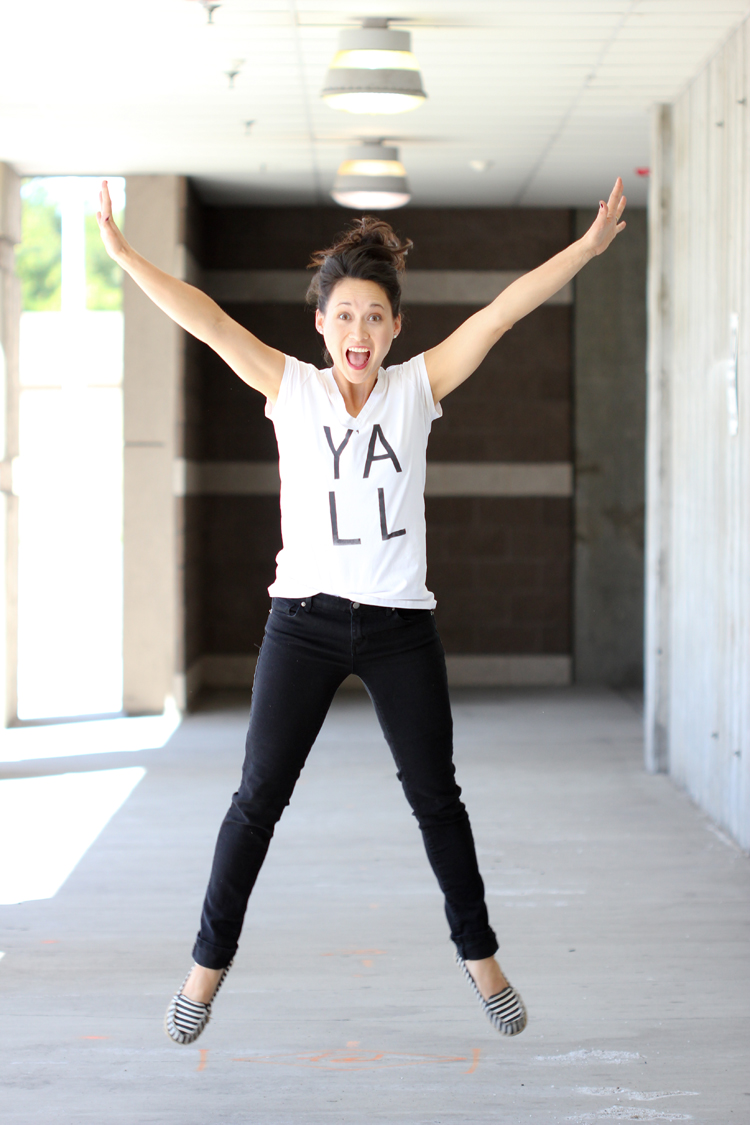 For the freezer paper stenciling you want to print up the image so that it reads normal.
For the transfer paper you want to use the image that is reversed. I have included both versions for each graphic PLUS an extra that I haven't gotten around to using yet! It's in the same format as PLAY and Y'ALL but it's NERD in a floral print.
Click on each link below to get your free printable. All printables are sized to 8.5 x11 inches and are offered through Google Drive. If you prefer I email your graphic to you instead, please email me at delia dot randall at gmail dot com. Please expect 7-10 days for email delivery.
Y'ALL
Y'ALL reversed
PLAY
PLAY reversed
Goodness
Goodness reversed 
MAKER floral
MAKER floral reversed
NERD floral
NERD floral reversed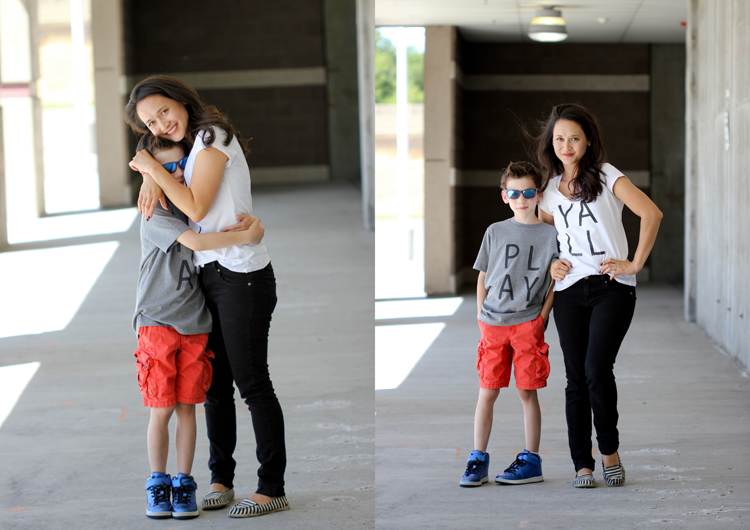 I got a few shots with Owen and I posing together. They are my favorite!
Have fun and play y'all! 😉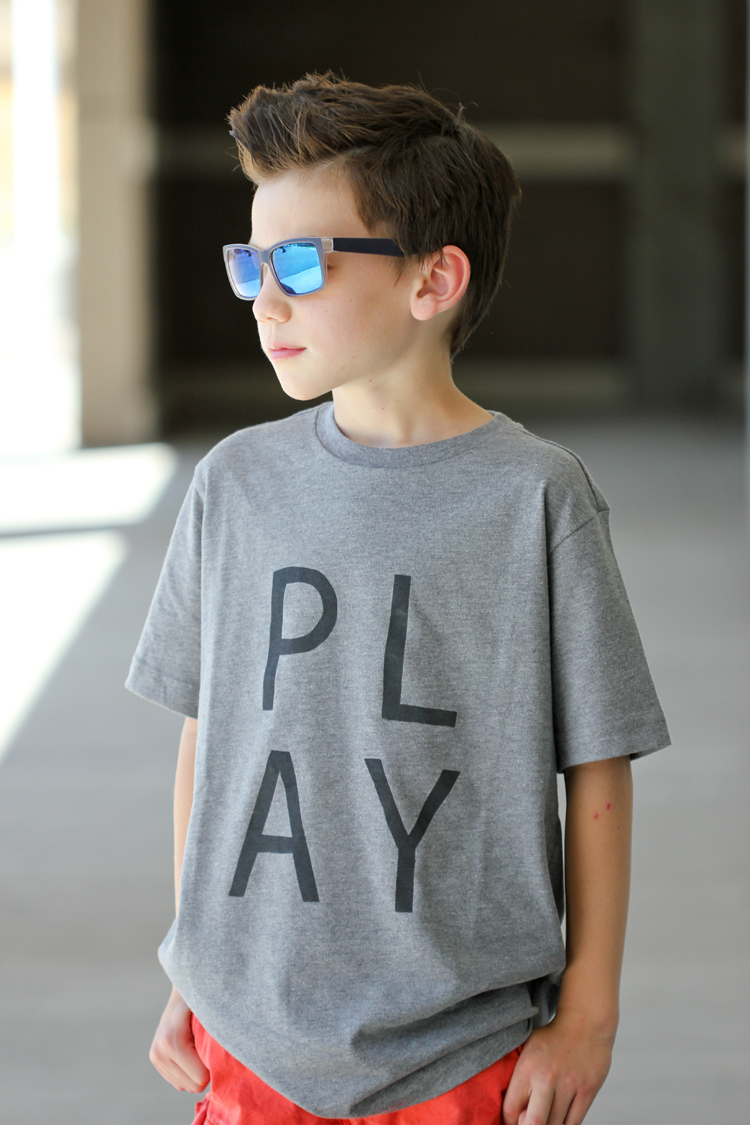 Sources:
All t-shirts  – Old Navy || Fabric paint – Jo-Ann || TAP Paper – Amazon ||
black jeans – Forever 21 || black and white striped canvas shoes – Walmart || black and white striped skirt – see sewing tutorial
HERE
 || teal and gold necklace – Rue 21 black heels – Head Over Heels || boy's coral shorts – H&M || blue metallic boy's  high tops – H&M || boy's sunglasses – Children's Place