One of my favorite things about sewing is seeing a piece of fabric transform into a beautiful garment!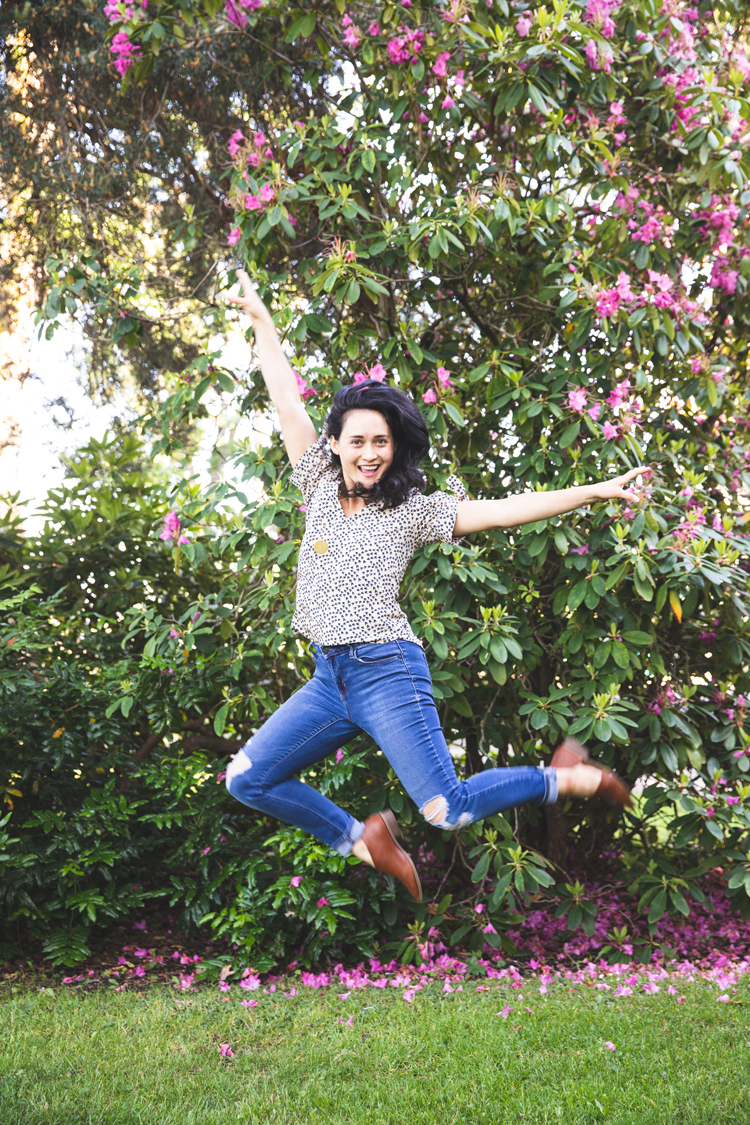 Usually I take foooorrreeevver to decide on patterns and fabric, and then I take another long while to actually make it. Not so with this Lucerne blouse from Hey June Handmade.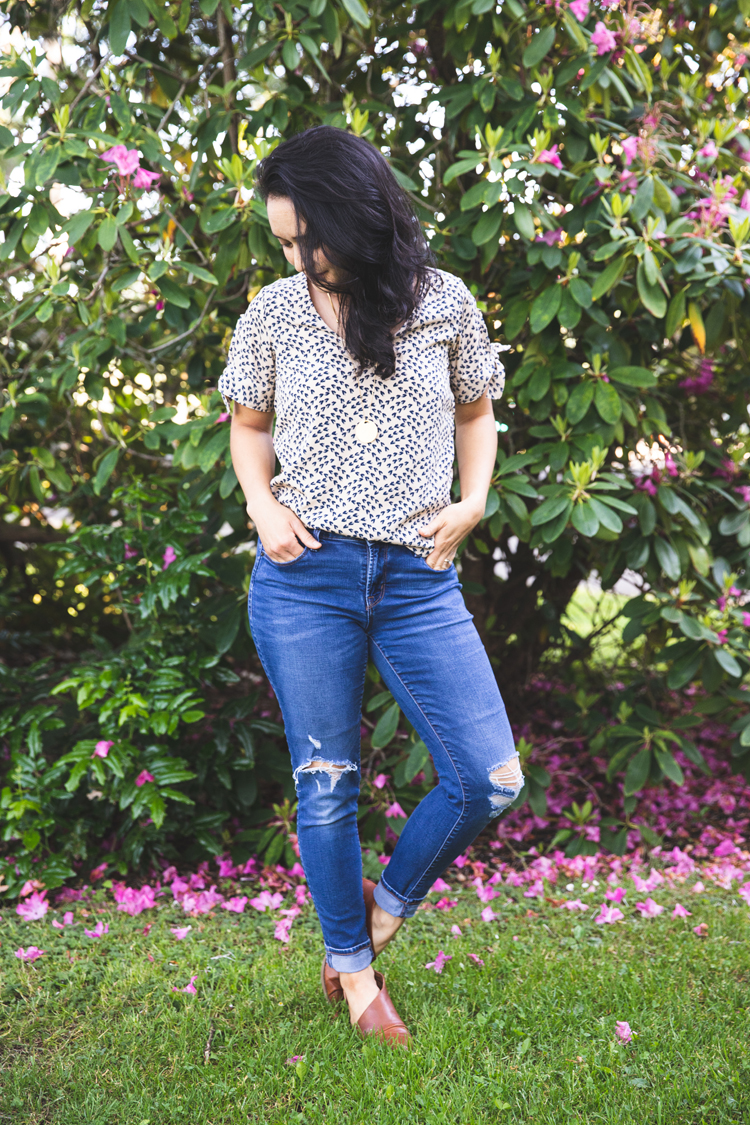 Within a day of getting it, I had printed it, pieced the pattern (old school pdf style! woot!), cut and sewn it, had worn it for date night AND took pictures of it. Phew! If you know me, this is NOT normal. I was gobsmacked at how it all came together so seamlessly…pun intended. 😉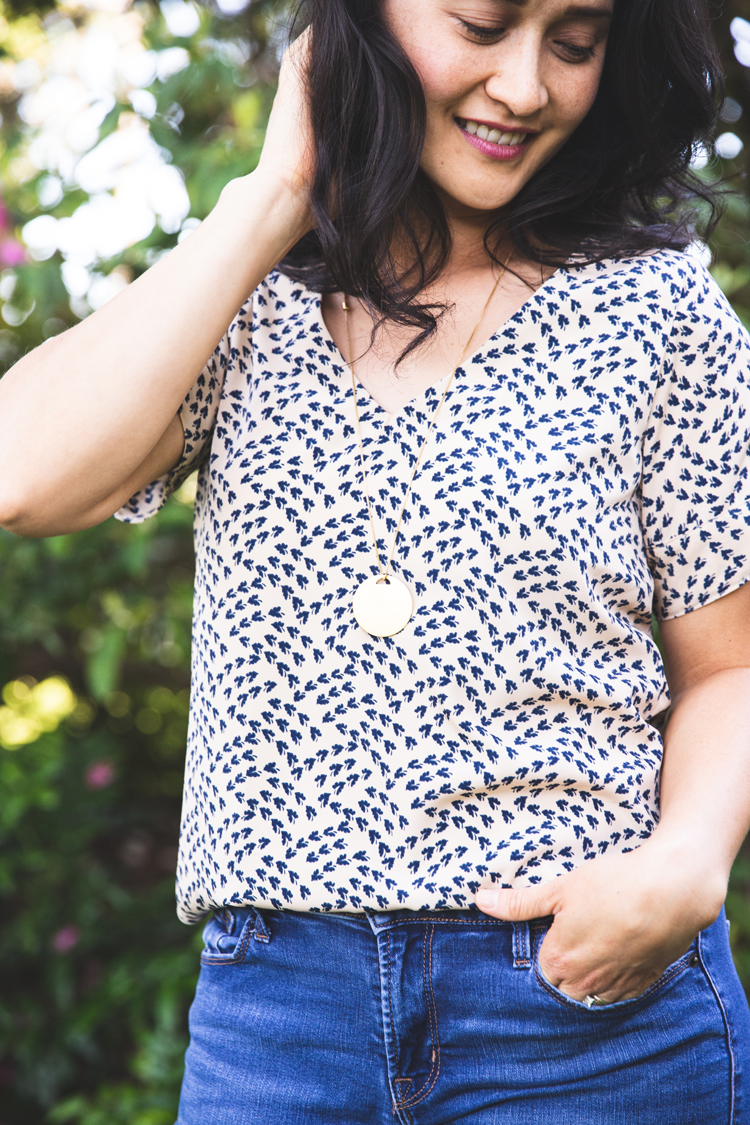 I had this rayon blend fabric in my stash long enough to not remember from where I got it (so sorry!). I loved it enough to keep it through several fabric purges over the years, but just didn't know what to make with it. It was as if it was waiting for the Lucerne.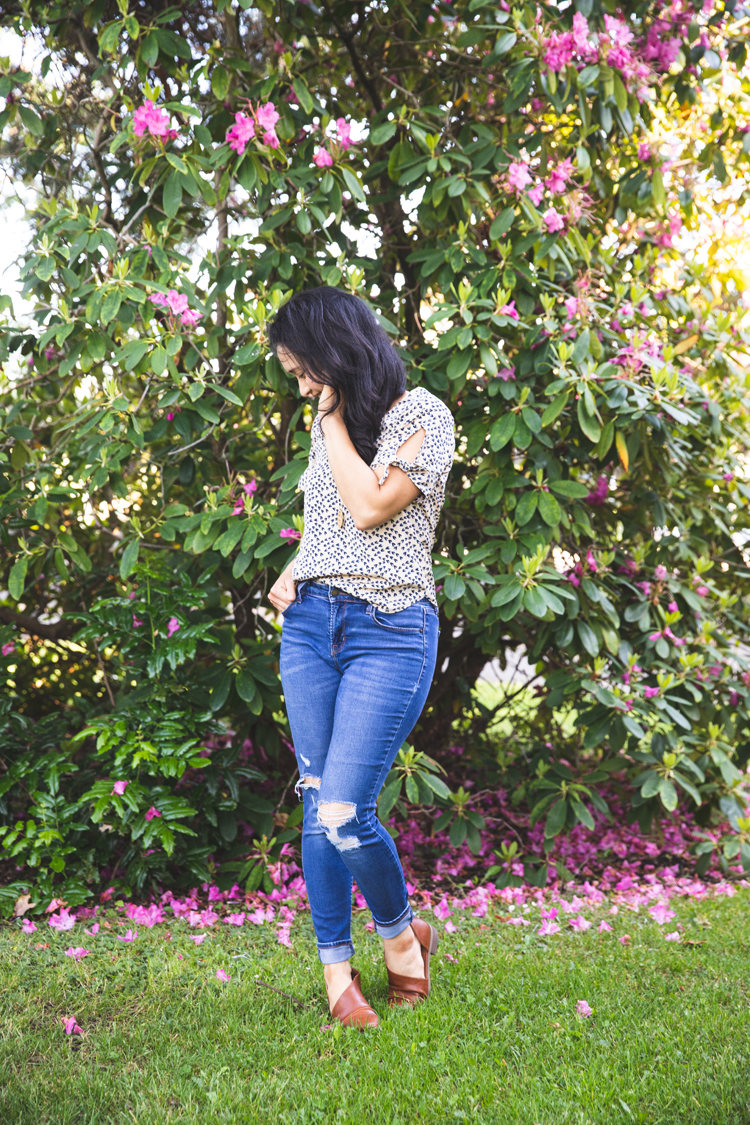 Match made in sewing heaven.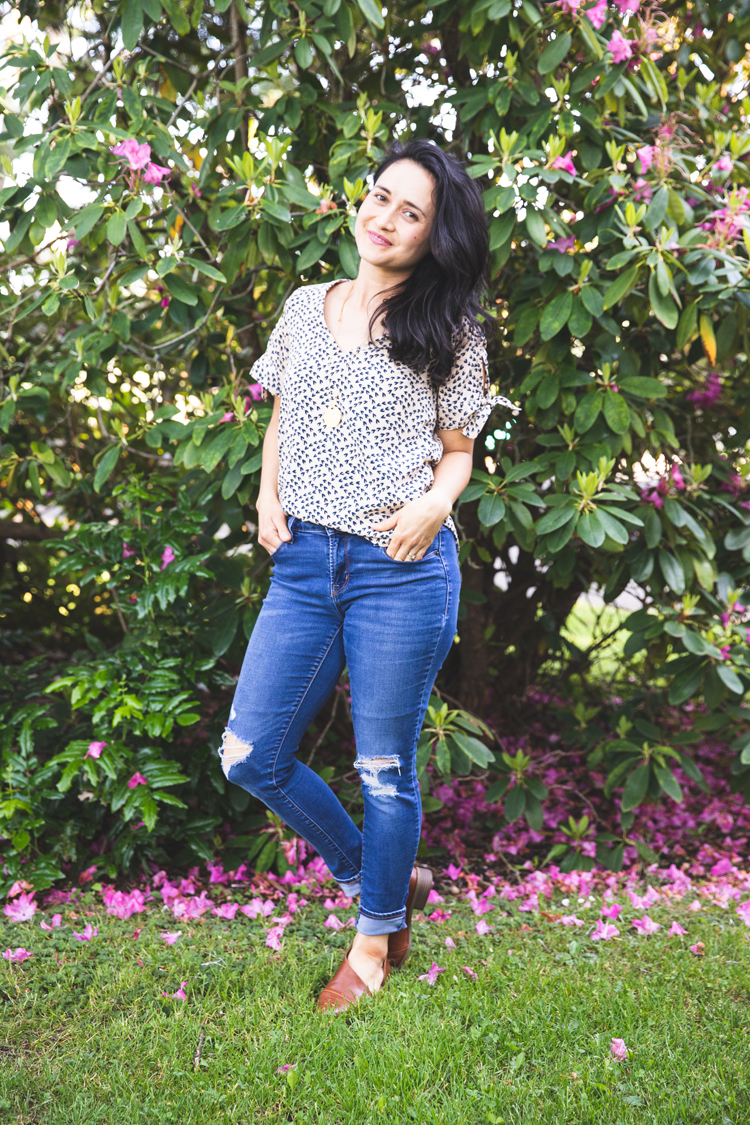 I sewed up the size 4, V-neck, and tied sleeves with no changes. My measurements don't usually fall perfectly under any one size in most sewing patterns, but they were all closest to the four. It fit really well. There's no gaping around the shoulders or back when I move around. That said…I think when I sew it again, I may size up for a looser/billowy fit. I have my heart set to try the petal sleeves next too.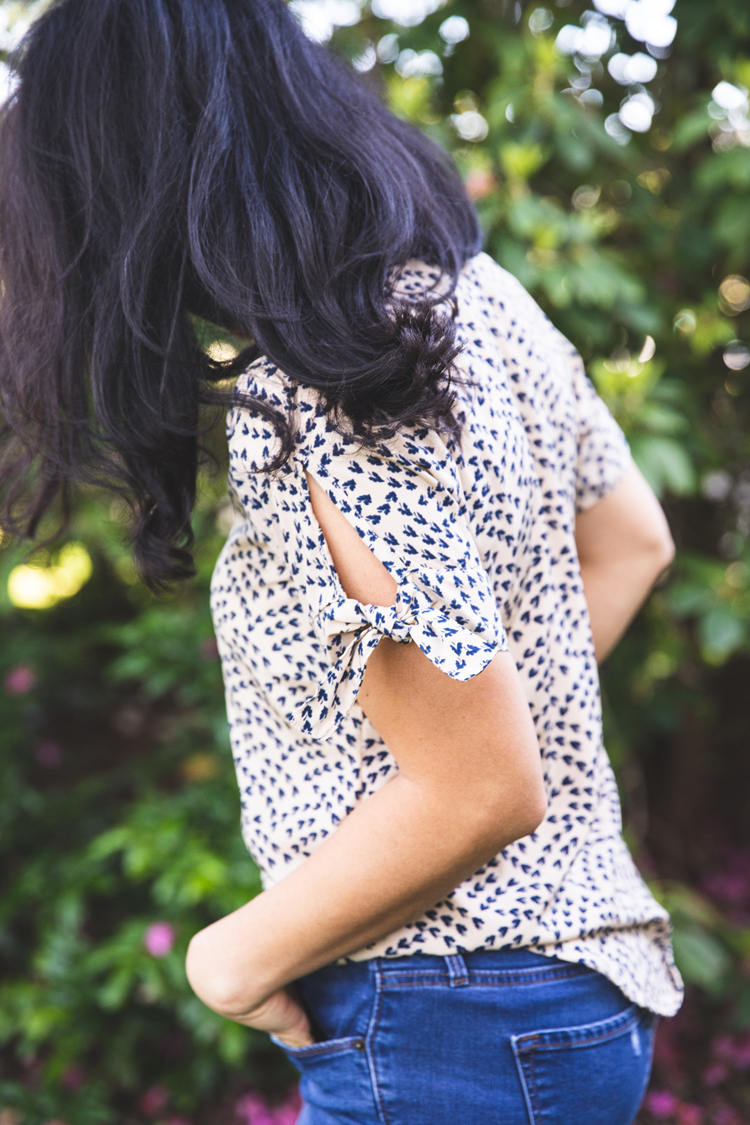 The tied sleeves though are SO cute. The construction of them is so clean and clever. It's my favorite part of this blouse!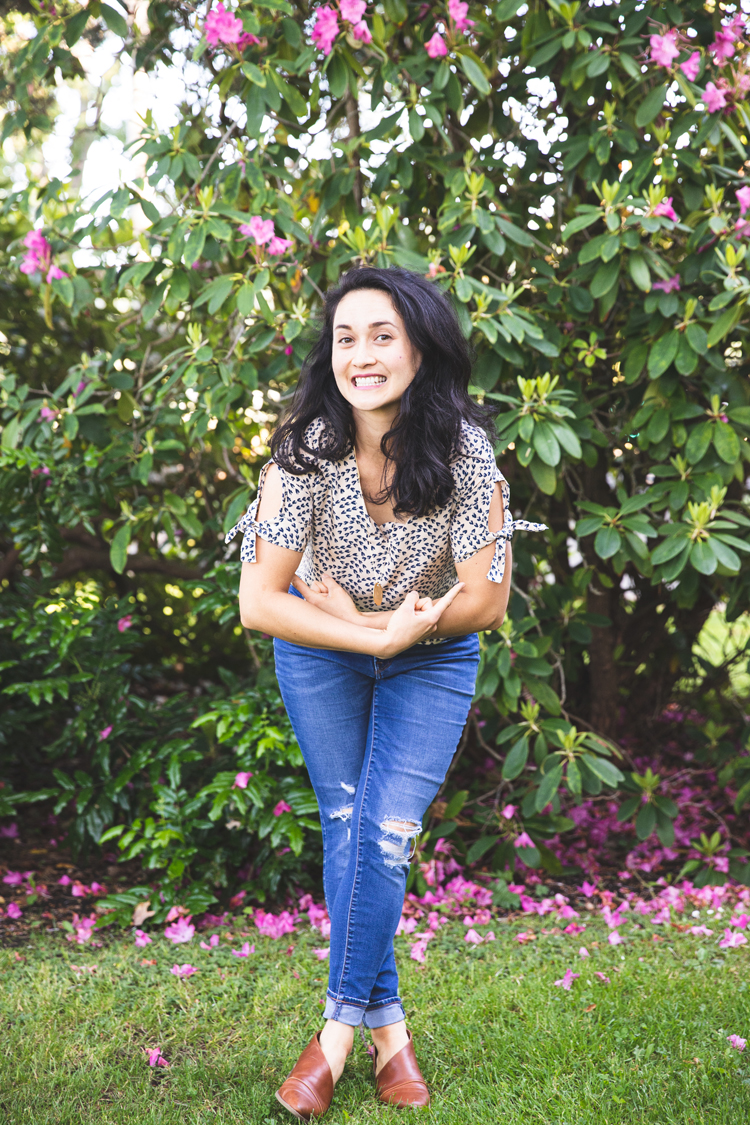 The rest of the blouse came together without a hitch. To make hemming the blouse easier, I folded the bottom up 1/4 inch and then sewed a basting stitch along the fold. I then folded it a second time at the machine to sew the hem, pulling the basting stitches in a slight gather at the curves to make sewing the curves less fussy.
I only under stitched the facing so it sticks to me a bit when I lean forward, which also serendipitously blocks the view down my shirt. Ha!
Overall…I'm a big fan of the pattern. Adrianna so perfectly strikes the balance of creating classic, well fitting clothes you'll want to wear again and again, but that still offer fun details that allow you to make your garments special with a uniquely handmade touch.