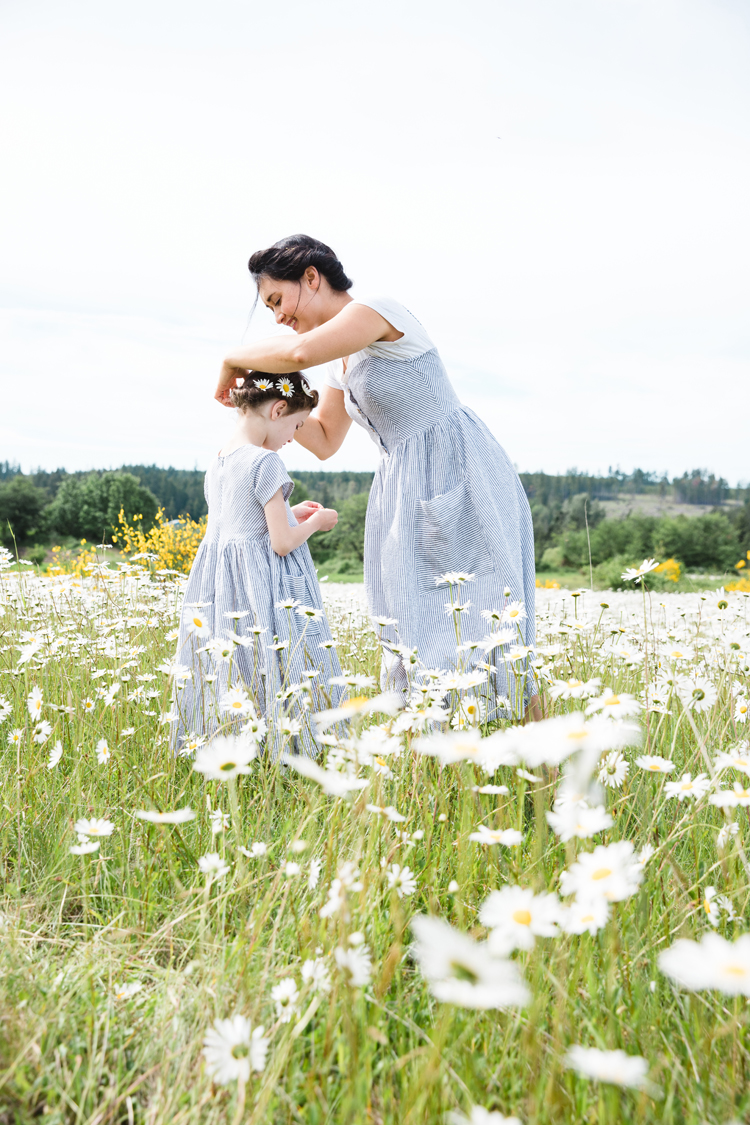 Spring means new dresses and daisy season! I am obsessed with daisy season here in Washington state. Just ask my kids. They'll give you a "she's so crazy" eye roll about how obsessed I am. Ha!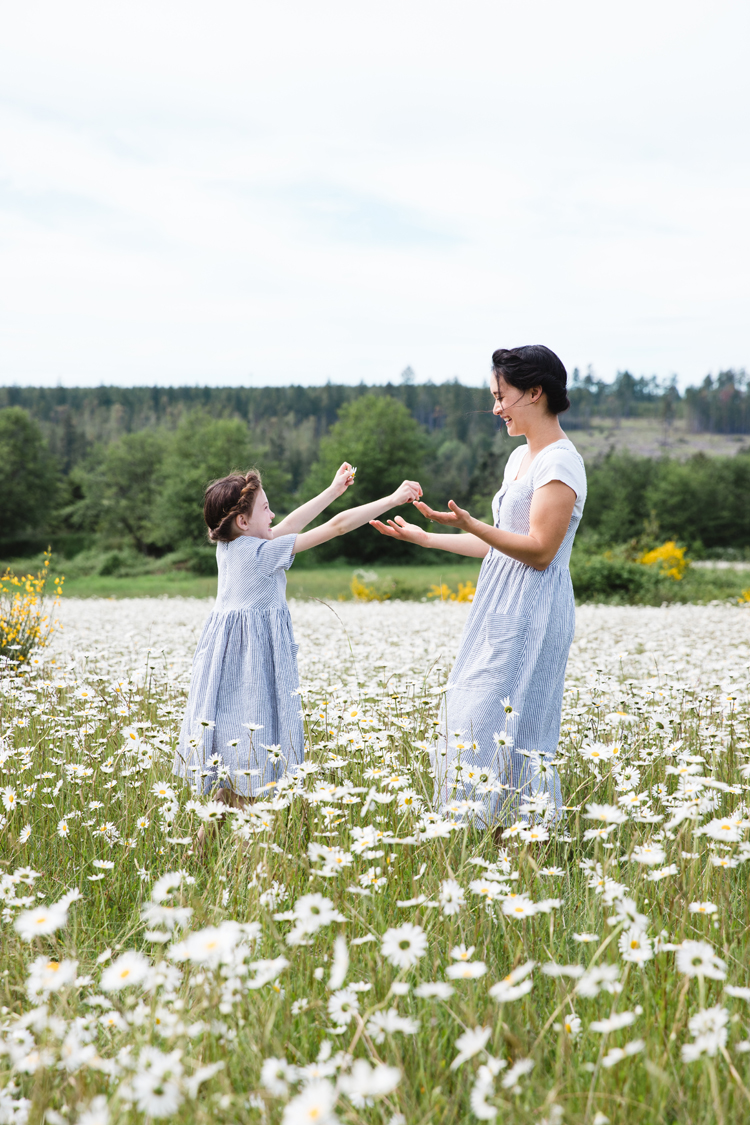 To celebrate my favorite flower season, I have started making something special to take pictures in them, and this year it was new dresses for my daughter and me. (Last year it was a basket backpack —-> click here.)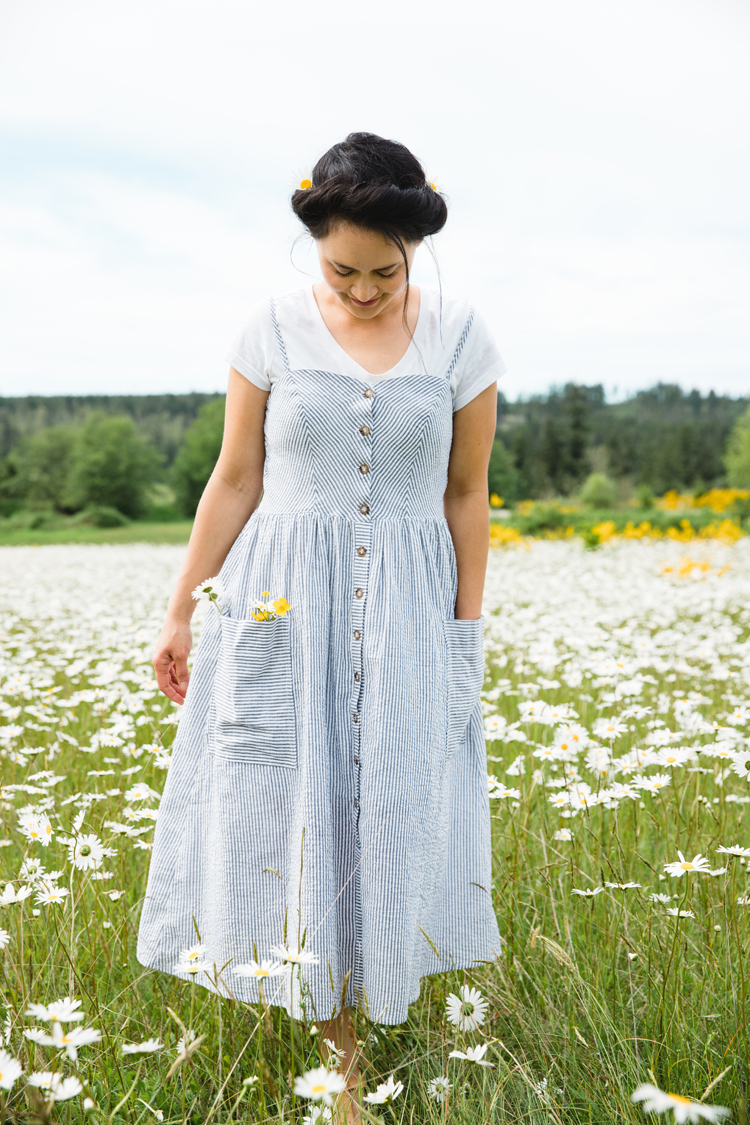 For my dress, I finally sewed up the Jessica Dress pattern from Mimi G Style. I snatched it up awhile ago and have no idea why I haven't sewn it until now. It is soooooo good! It checks all the boxes: it's comfy, flattering, and perfect for summer.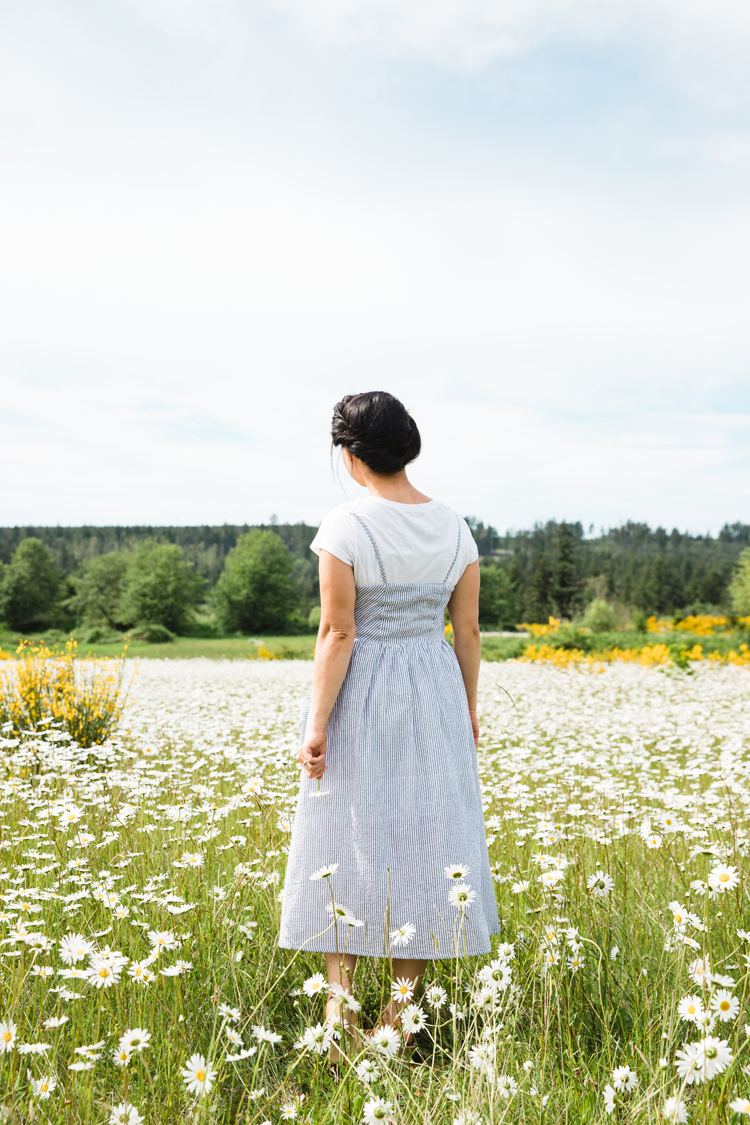 My measurements didn't fit one size range on the pattern chart, so I blended the bust (smaller) and the waist (larger) to fit my measurements. I'm not sure if it's because I cut my bodice pieces on the bias so that the stripes make a "v" pattern at the seams, but it ended up being roomier at the waist than I anticipated. I plan on making this again and using just the size that fits my bust.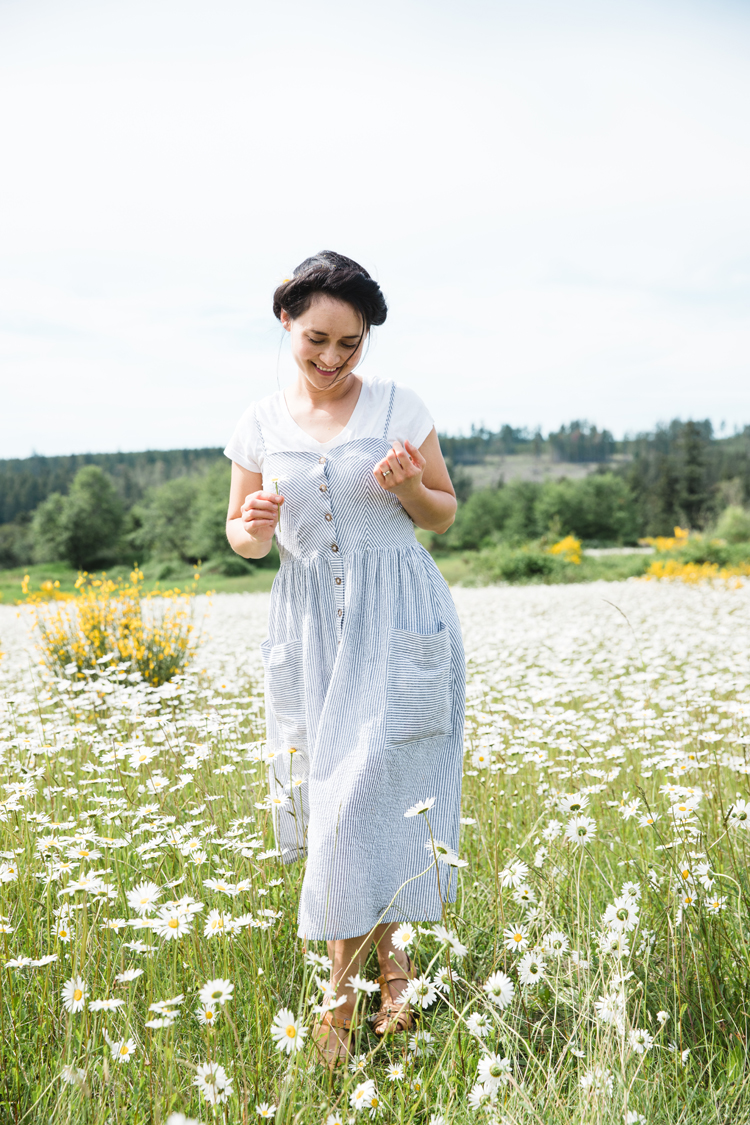 I also shrunk the pockets just a little to suit my preferences. I almost left them off, but am so glad I didn't because a dress with pockets is always better! Amiright!? I may try inseam pockets next time if I want a more streamlined look.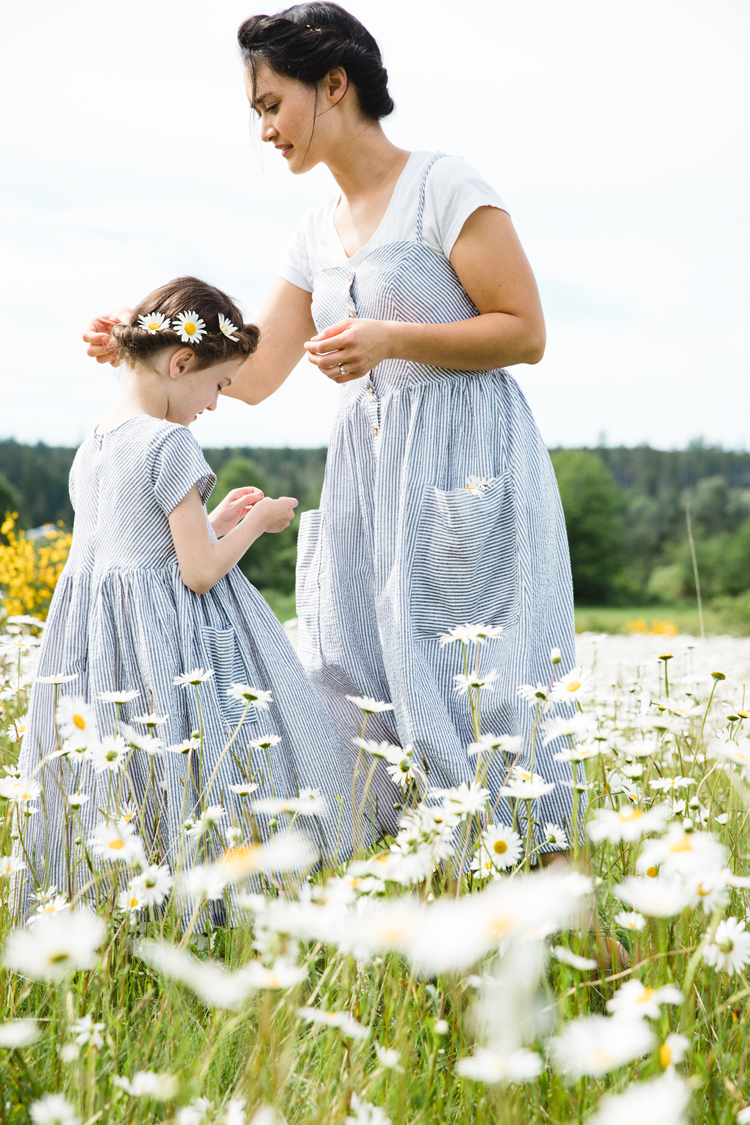 I chose this gray cotton seer sucker from Jo-Ann. I was a little nervous with it being so light weight/slightly see through, but it ended up being perfect for me since I don't wear sleeveless tops and it will always go over a shirt (except I need to get one without a pocket that won't give me a slight square boob look…face palm). For the skirt portion I just wear a slip. If I were to make this to wear alone, I would probably omit the facings and just fully line it.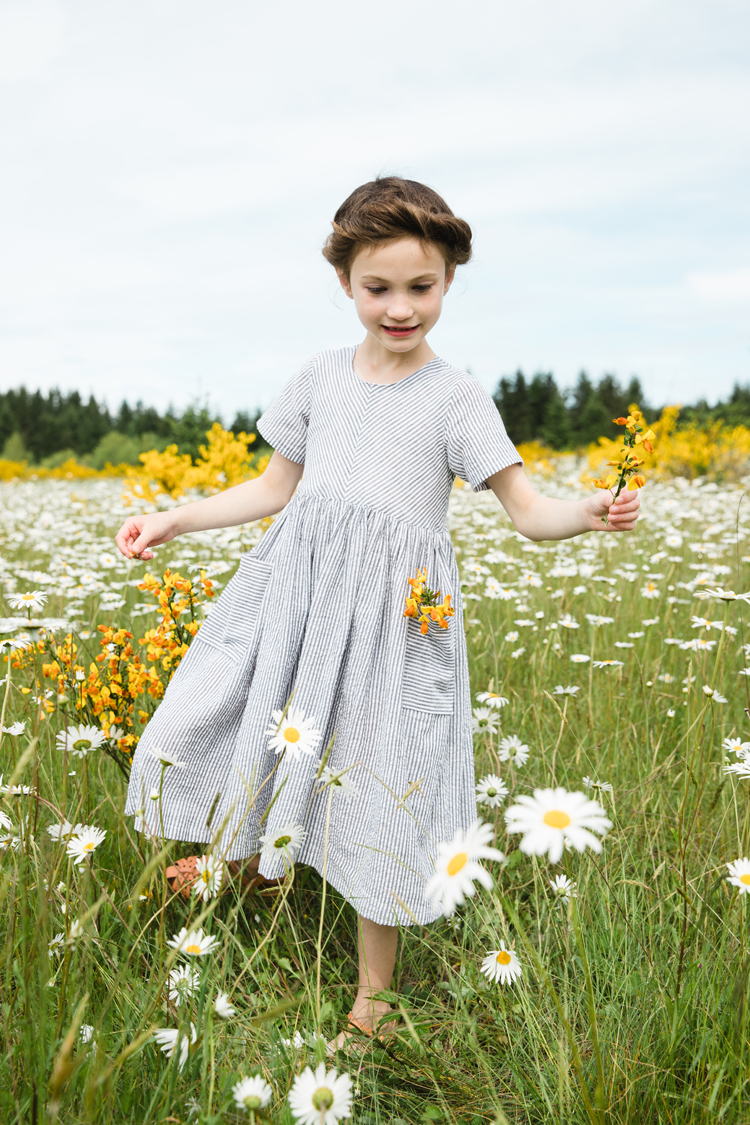 For Natalie, I went with my favorite tried and true girl's dress pattern, The Geranium by Made By Rae. The top is already fully lined and I added more fullness to the skirt so the seer sucker sheerness isn't a problem at all. She always wears shorts underneath as well.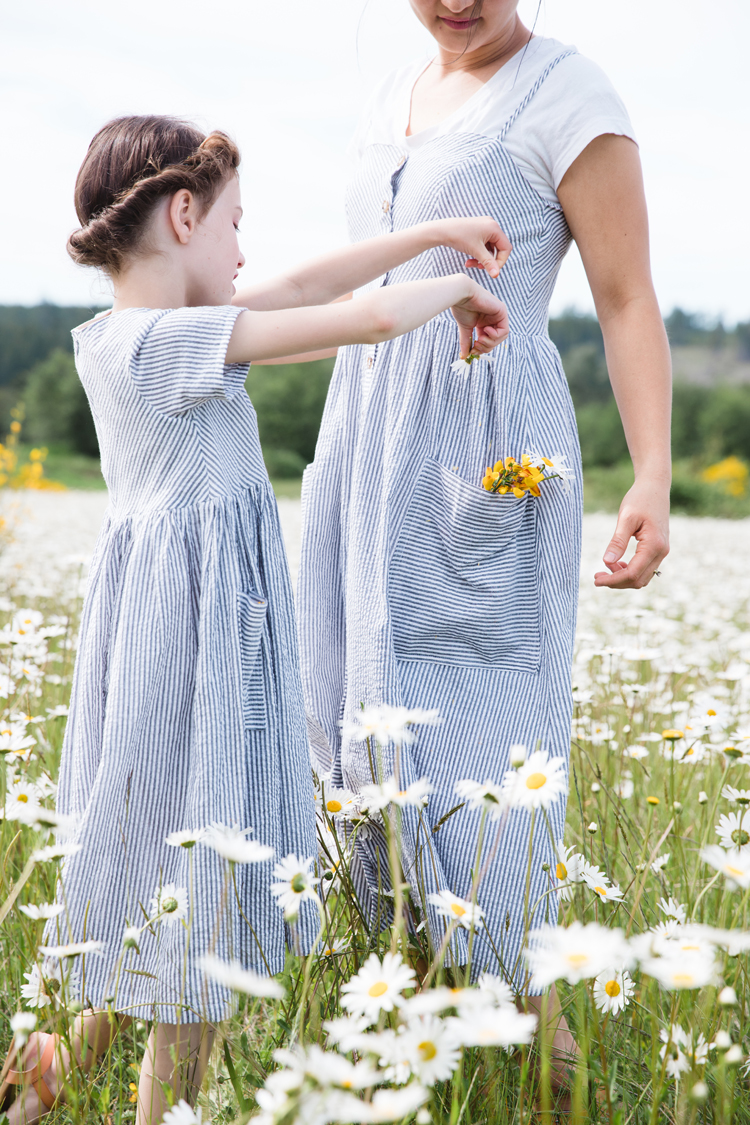 I cut the bodice on the bias like I did with my dress so it would have the same "v" patterns at the seams. My favorite part is that it v's at the side seams and her shoulder seams too. I won't boast that they all match up perfectly, but without close inspection you can't tell and that's good enough for me! 😉 Ha!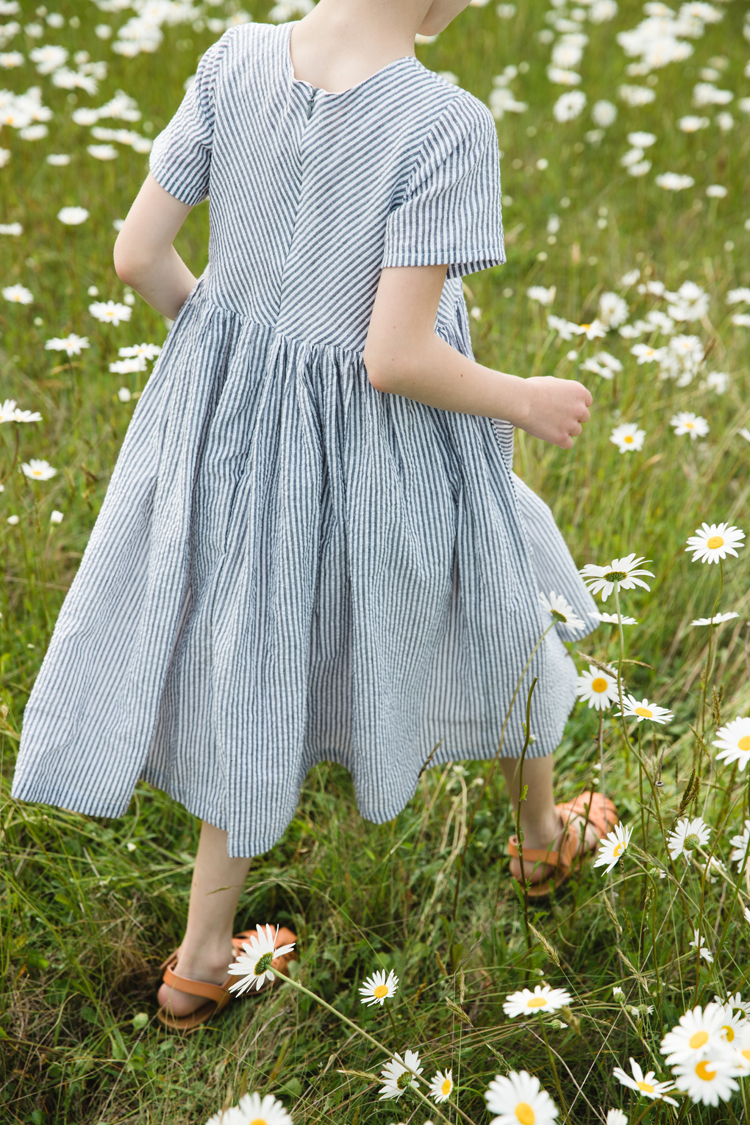 I added the extended bodice, short sleeves, and zipper option from the expansion pack. Instead of a standard zipper, I traded in an invisible zip to keep the v pattern clean.
I also made the skirt midi length so she could match me, but most importantly, so she can wear it for a loooong time. That's my favorite part about all her Geranium dresses. The fit of the bodice seems to grow so well with her so she can wear her dresses sometimes for years! I simply size up one size according to her measurements. The larger size still looks great on her…not baggy or noticeable at all. She is just about to grow out of the original NB-5T size range (yeah she's tiny) so I will definitely snatch up the 6-12 size pattern by next year. I'm hoping she'll let me keep up the tradition of making one for her every year until she grows out of it.
She also got big rectangular pockets like mine, so we could be twins….and matching hair too, of course!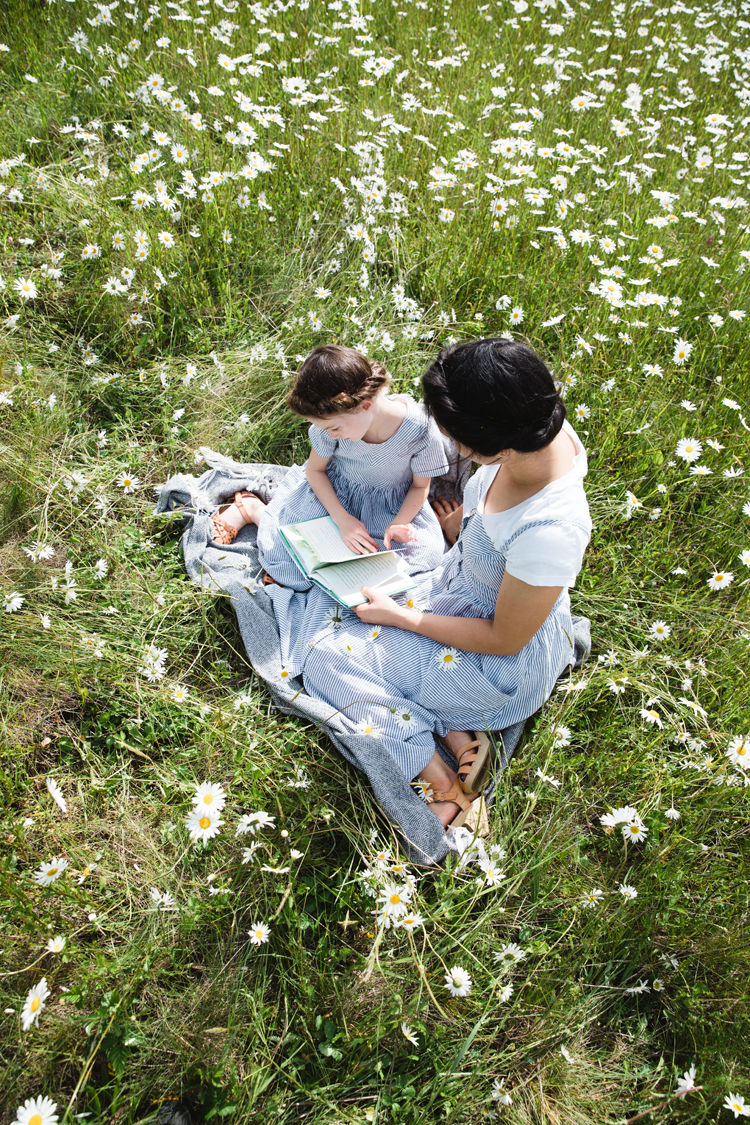 Now get ready for a daisy field photo dump…sorry not sorry. 😉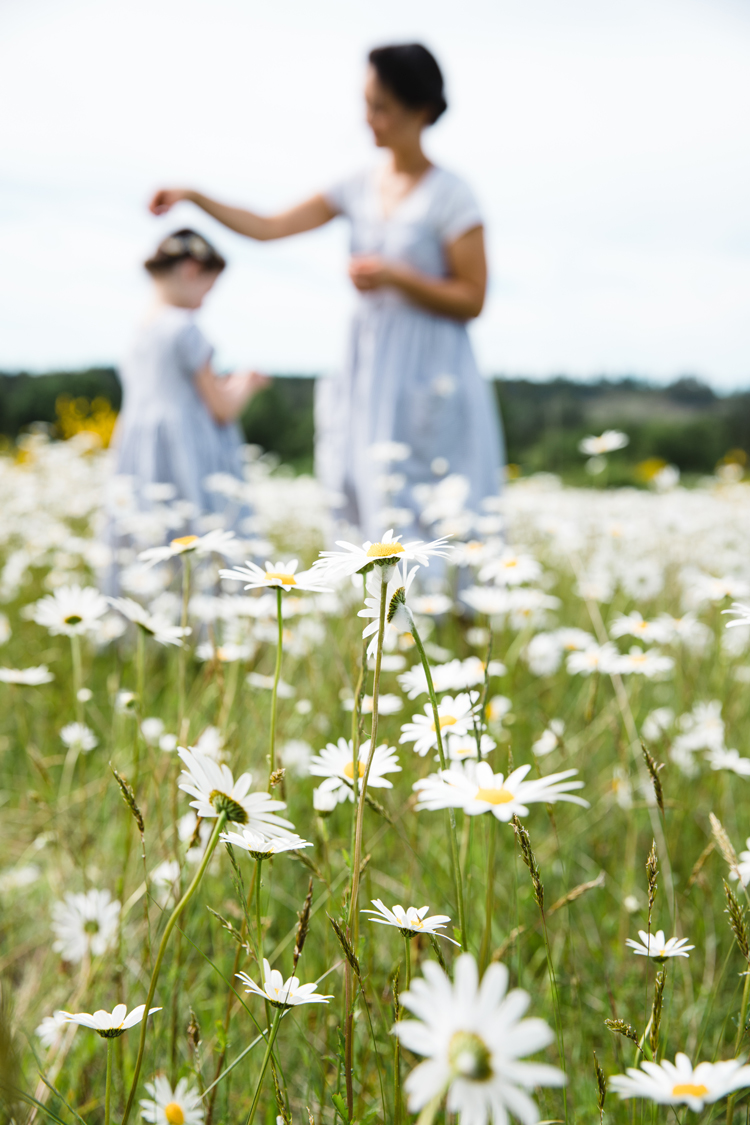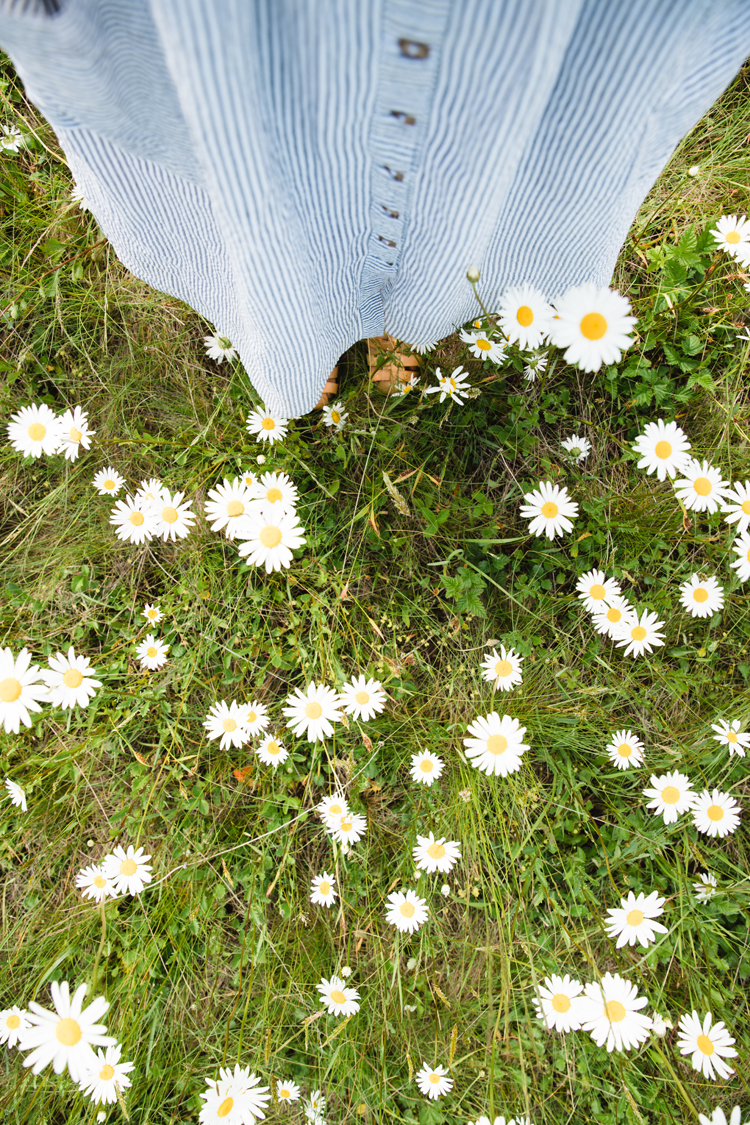 She has really become a reader this year. I love her little grumpy looking concentrated face.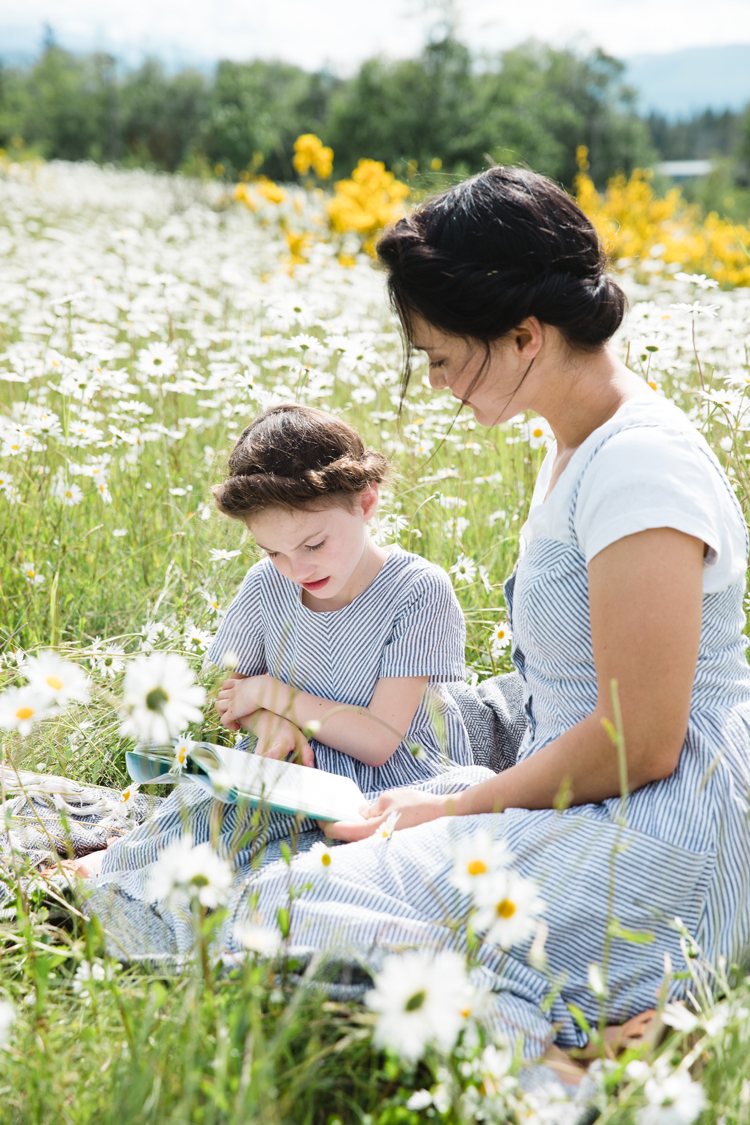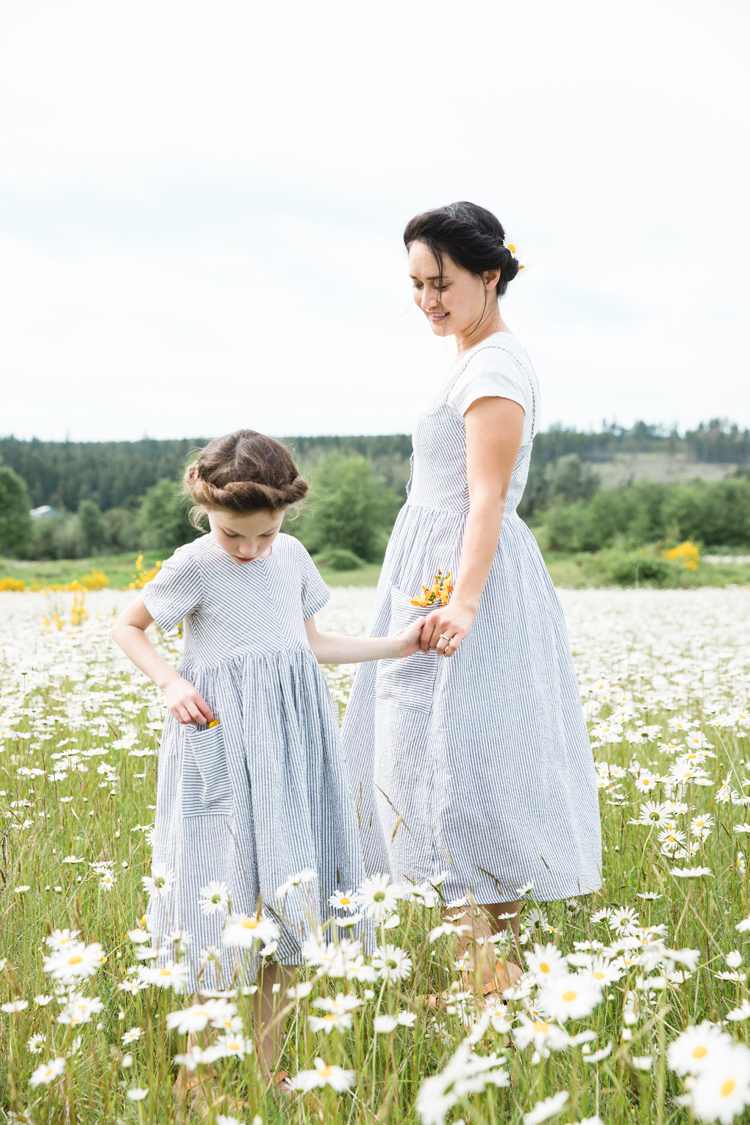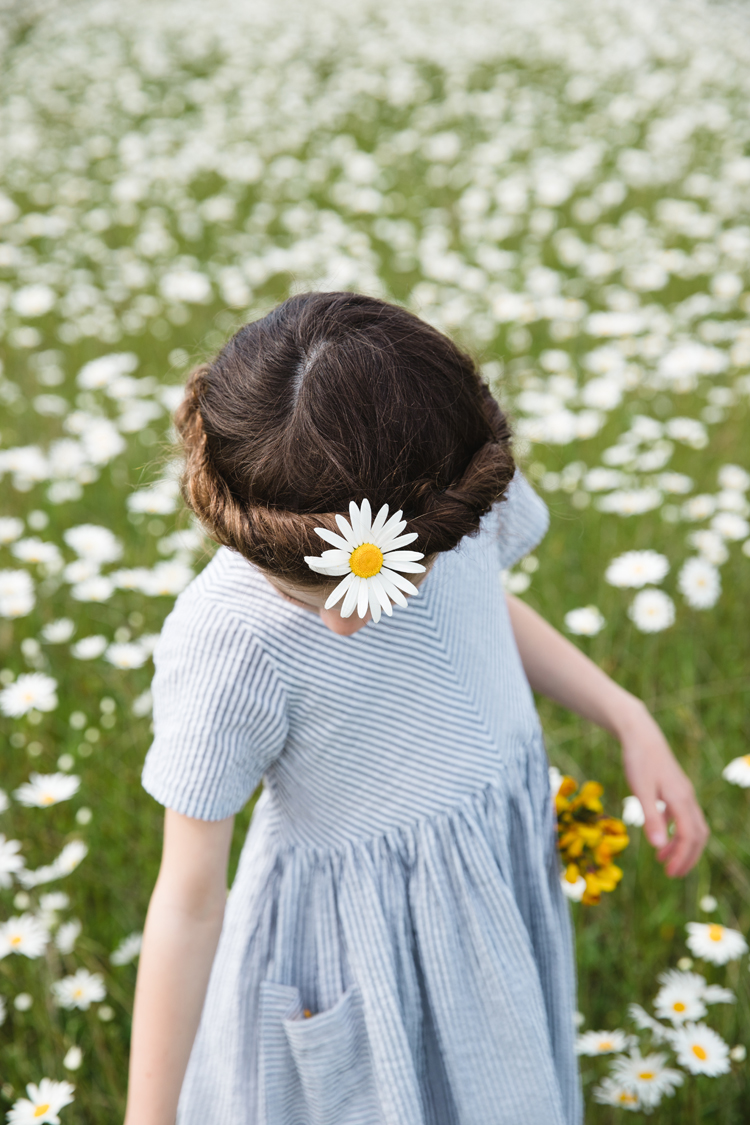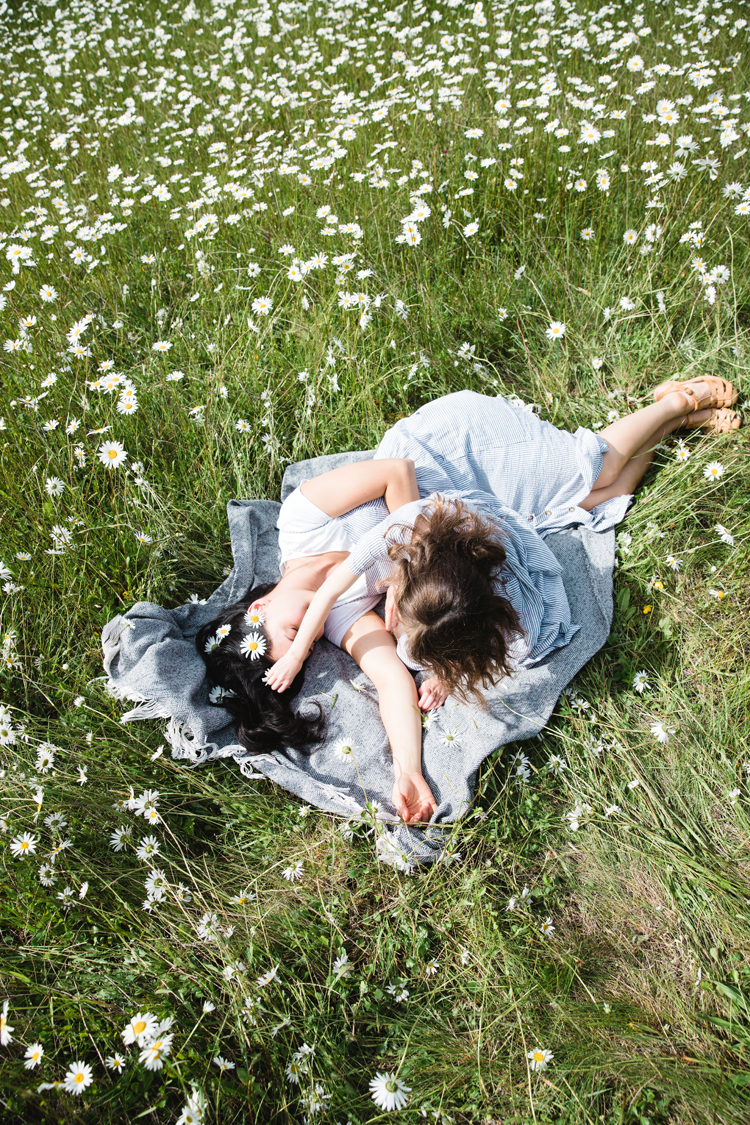 Inspecting each one for bugs before she puts them in my hair. Feels all dreamy laying in a daisy field until you feel your hair moving. 😉