When it comes to sewing I either buy fabric and let it sit in my stash for about a year+ before I sew it (let's be honest, if I sew it at all ;)) or I buy it and sew it within a few days. There is not a lot of in between with me. Ha!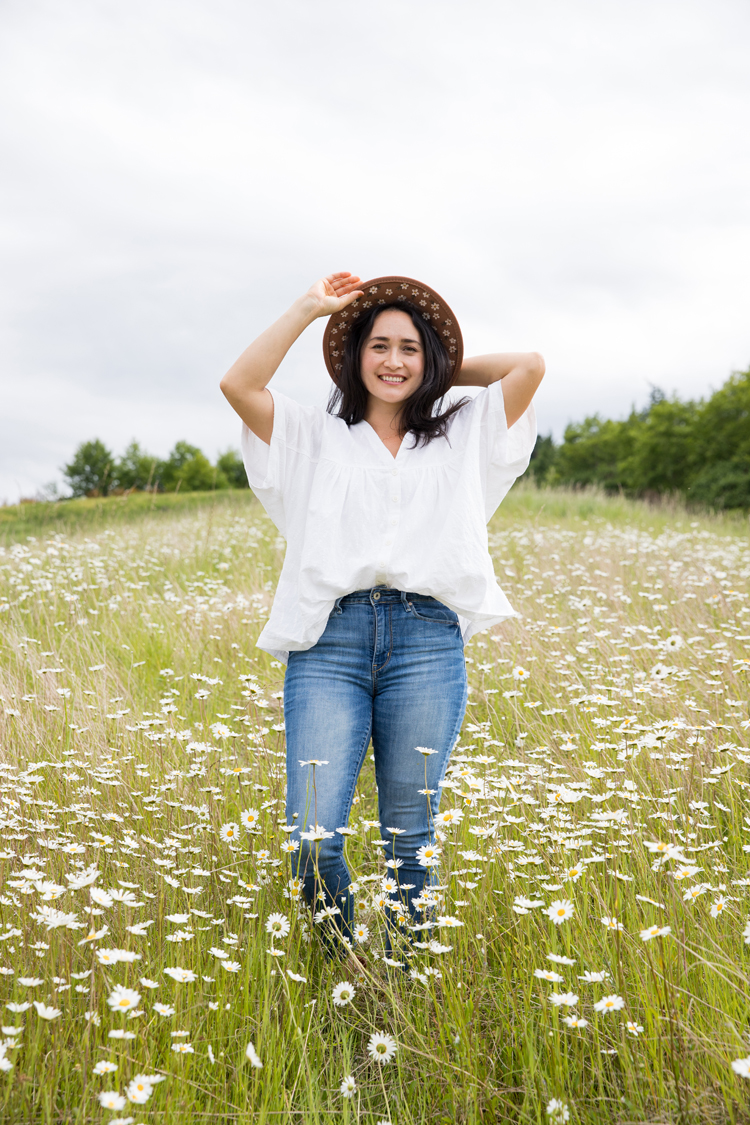 This blouse falls in the latter category except I got it sewn in less than 24 hours. It's probably a personal best for me! See, I needed a blouse to go with this hat I painted and I couldn't get the Meadowood Blouse from Straight Stitched Designs out of my head. I knew I needed to make it!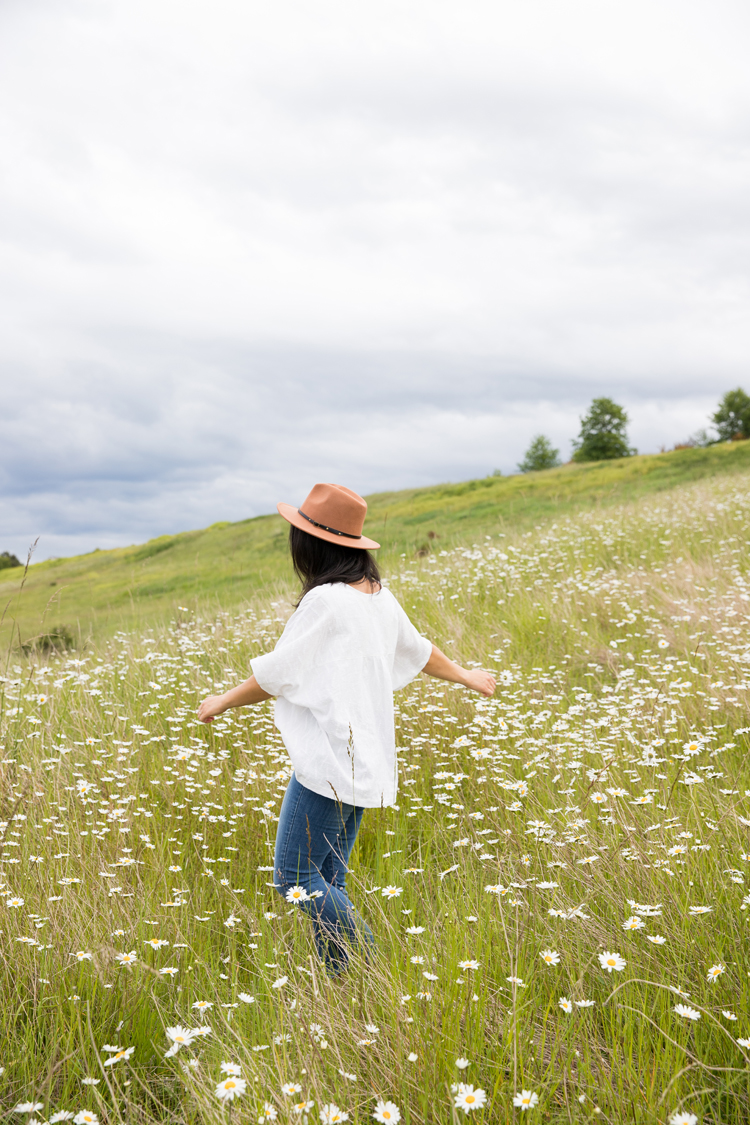 So I picked up this cotton/linen blend fabric from Jo-Ann and had it washed, pieced the pattern and had it sewn in time to go tromping around in some daisy fields the next afternoon.
FABRIC
I originally wanted some double gauze fabric, Jo-Ann calls it "Bubble Gauze," but they didn't have it in white. Luckily this white shirting was right next to the gauze and it was perfect! It has a dotted raised pattern of what I thought were lighting bolts? all over it, but the listing calls it updated chevron. And it was like 40% off! With the buttons, I made this top for about $25. Not bad.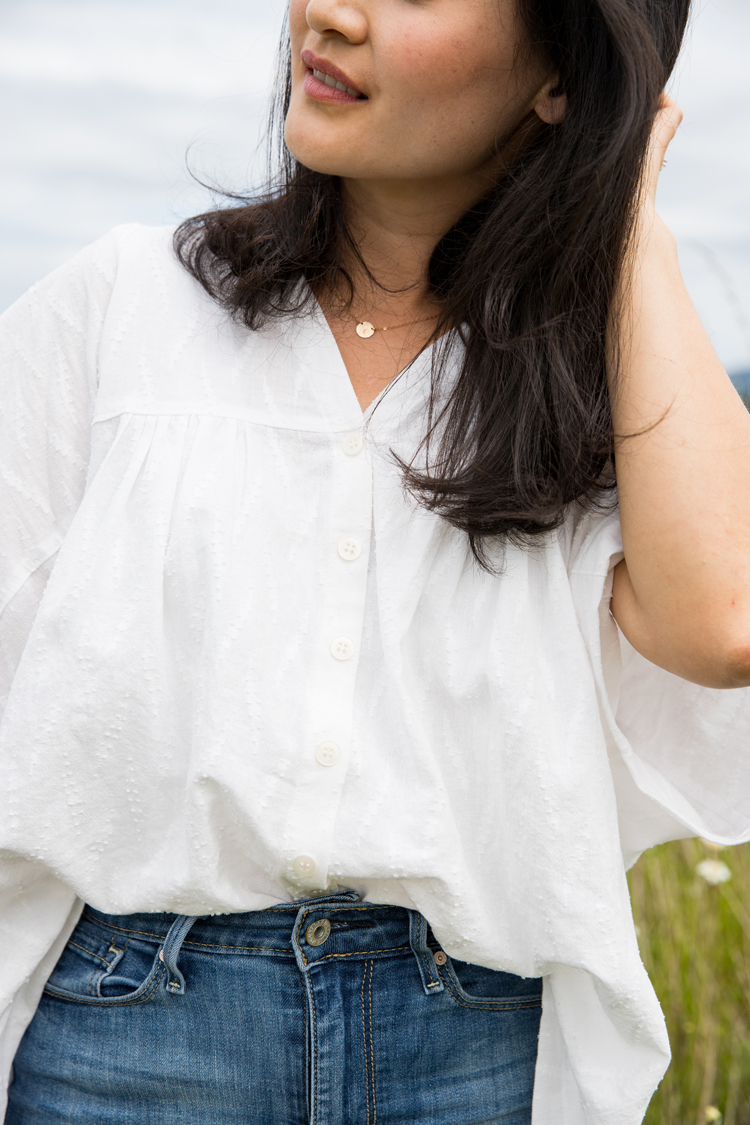 It's a little sheer but still has relatively good coverage compared with any other white shirt I've owned. The wash instructions say to hand wash and line dry, but I washed it in warm water and dried it like normal before sewing it so that I wouldn't have to worry about it shrinking or having to be careful with it later. I assume it will wear down the raised dotted pattern a bit, but I don't mind.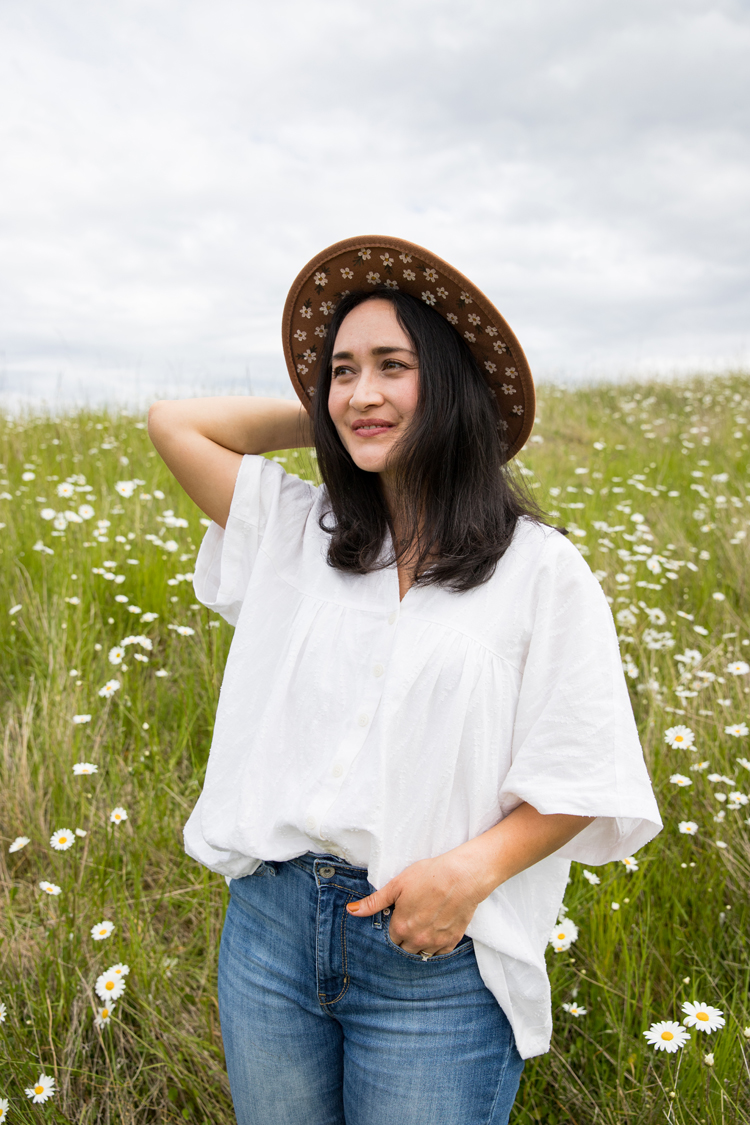 PATTERN
I had been wanting to sew Straight Stitched Design's Meadowood for some time now and I was not disappointed. It's a billowy, roomy top and super comfortable.
It was a pretty straightforward sew and construction was not difficult. Everything matched up like…chef's kiss. The button guide saved me so much time and guesswork.
I chose go with the faux button placket, with the buttons sewn into both layers and no buttonholes, because I knew I would never wear this blouse unbuttoned anyway and it fits over my head no problem. The only thing I was annoyed with is having to make my own bias tape which is just a personal dislike of mine. I know, I know…some people love it and I'm weird. Ha! This bias tape was less painful though because I didn't have to fold and iron it in place before sewing it. So thumbs up for that.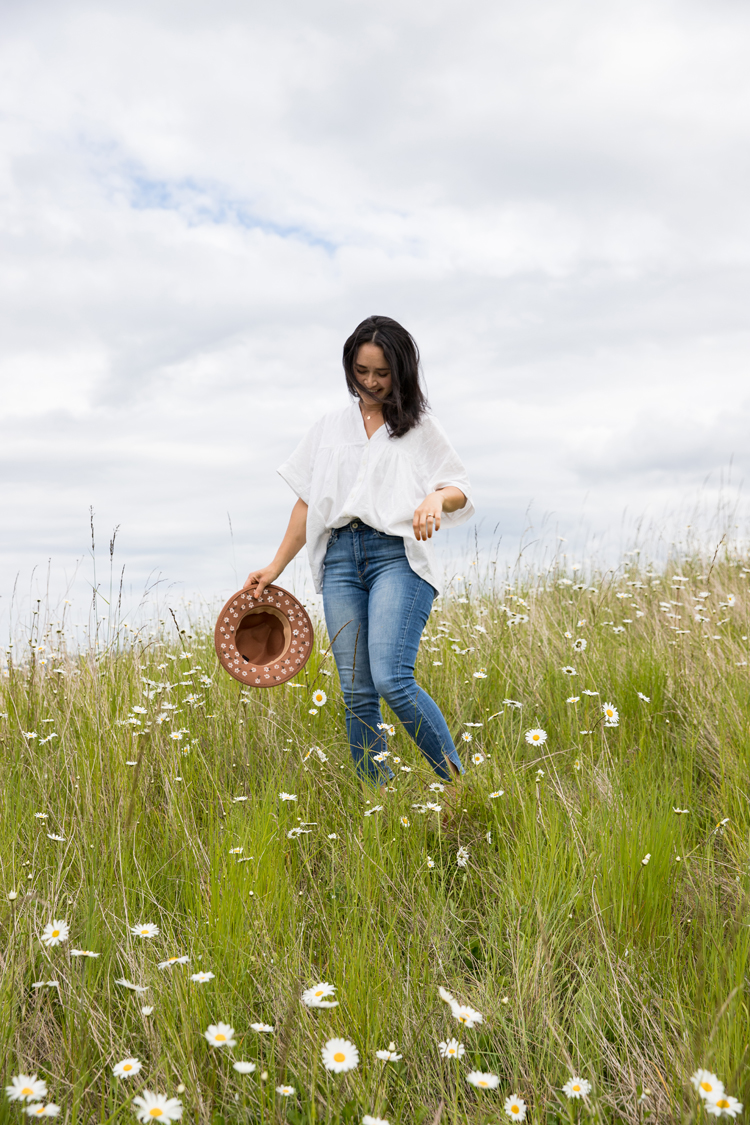 As for the fit, I was going for a super relaxed, "oversized" look and it ticked that box off perfectly. I really like the dolman sleeves because they don't pinch or bunch around my arm pits like some woven tops do (I've always had bigger arms). But they are also not so large that I feel like I'm giving a peep show if I lift my arms.
My measurements were sort of in between two sizes but much closer to the bigger size so I used that size with the B cup and no adjustments. I really think I could have gone the other way and sized down instead and been happy as well. I'm debating on whether to do that the next time, or just use the shortening lines so I don't have to print and cut a new pattern. I like the fit of the sleeves in the bigger size already, so I'll likely just adjust it.
I like to wear the front of the Meadowood tucked in, otherwise it's really boxy looking on me. So I don't know that I would wear it with anything other than fitted pants or shorts.
I really want to make it again in double gauze. Dreamy!
To check out the hat project that I made this blouse to go with, go HERE.