Dipping my foot in the bougie sweatsuit trend just in time for the weather to warm up. Pretty typical timing for me…ha!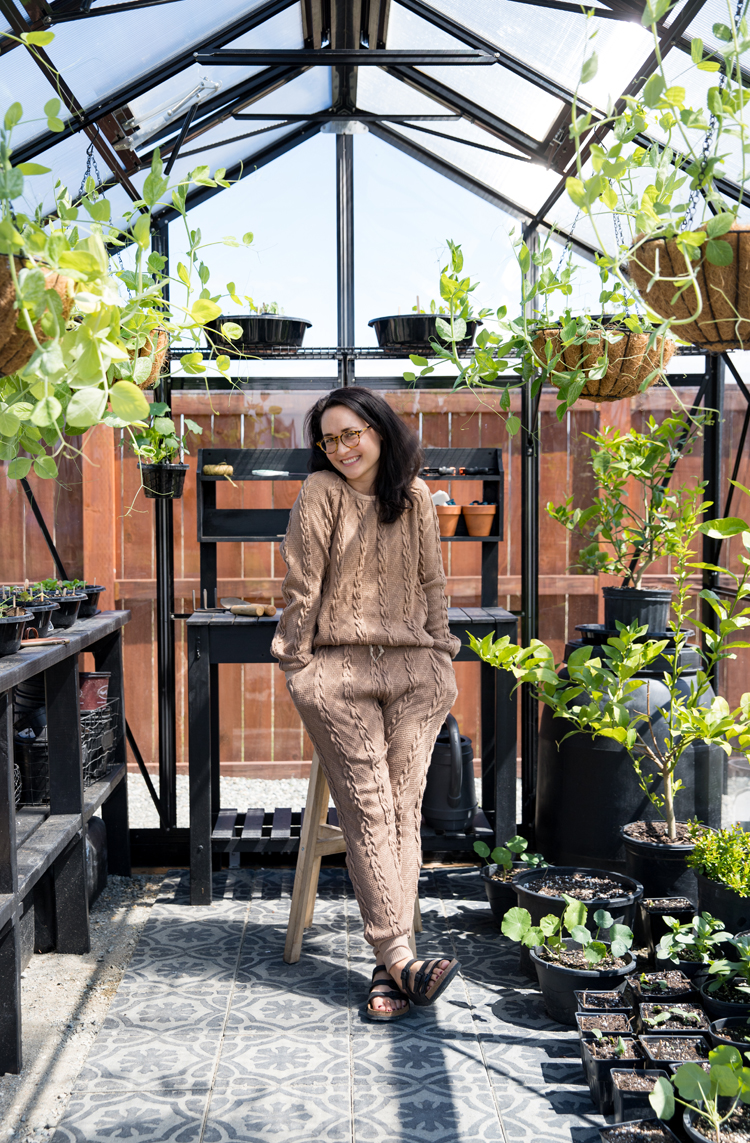 I got this cabled sweater knit from Style Maker Fabrics in Mocha with plans to make another Carrie Cardigan. But then I dug into my patterns stash to see if I had enough fabric to eek out a leisure wear set and I just barely did! Like I have just a few little odd shaped triangles of fabric left. Phew!
Patterns
The two patterns I used were the Hudson pants pattern from True Bias and the Linden Sweater pattern from Grainline Studio.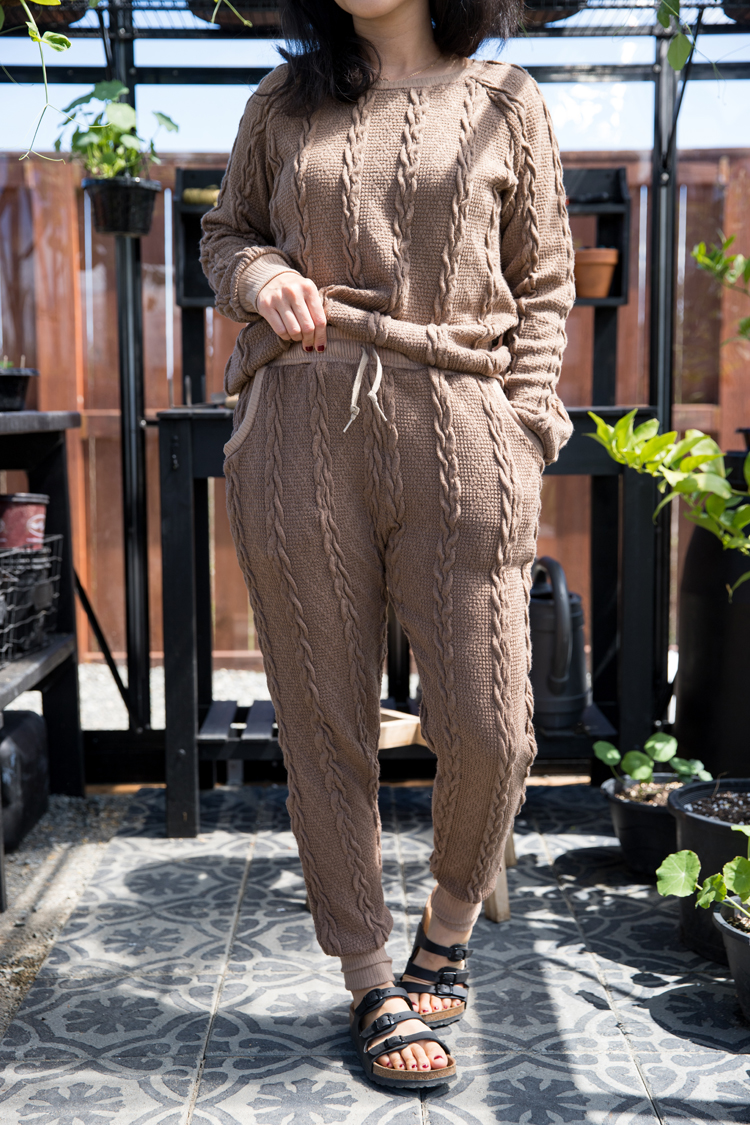 I sewed view A of the Hudson pants pattern and added about two inches of rise because I wanted the pants to be a little more high waisted. Which….is not the full story. The real story is that I actually originally added four inches of rise (I don't know what I was thinking either) and it came up to my chest (it was hilariously awful), so I cut off the waistband and two inches from the top, then reattached the waistband. It has made the waistband hem a little bulkier than I wanted but the band hits me at my belly button now, which is what I was going for.
I do like the Hudsons with more rise, so I think I will add two inches of rise the next time I make it too.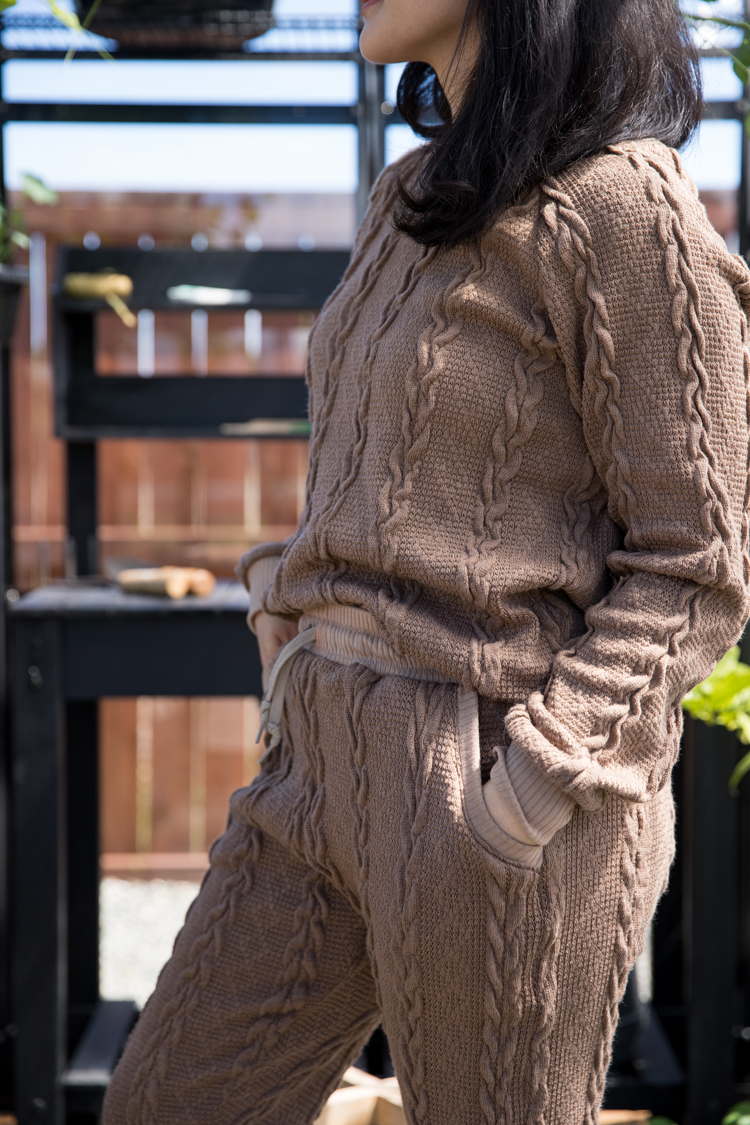 For the Linden Sweatshirt, I also sewed View A…no changes. No complaints. It's my third Linden and is always an enjoyable, quick, easy sew. It will for sure make it into regular rotation with my jeans too, I'm sure.
Fabrics
My fabric choices were a bit of a splurge, but I think worth it.
The Soft Cable Stripe Sweater Knit is super cozy, soft to wear, and nice and warm. I was for sure sweating in the green house (haha), but it was the only bit of filtered light I could find to take pictures in. As for sewing with it, it had good recovery and I didn't feel like I needed a walking foot to keep it from stretching too much as I sewed. That said, I absolutely needed to use a new jersey/knit sewing needle, otherwise my machine struggled, even with a lengthened stitch.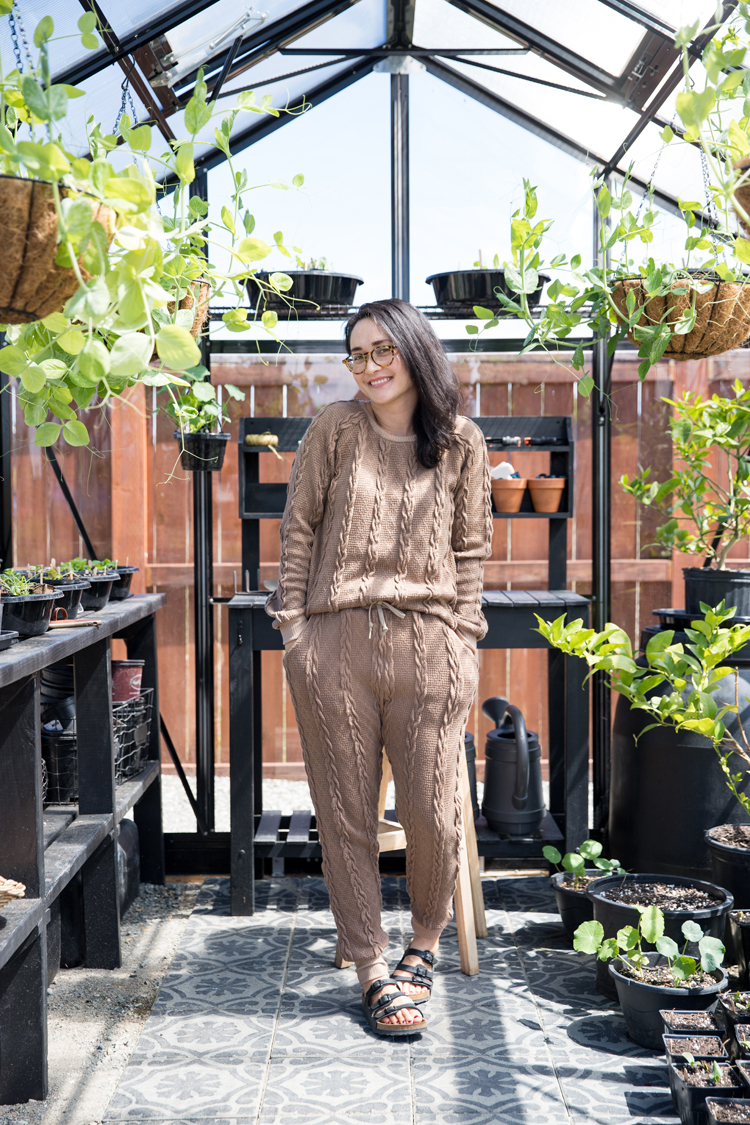 One thing I might do differently next time is to make sure the cables don't meet up at the center seam of my Hudsons. I don't think I need to elaborate, do I? Hahaha. The cables also add a bit of bulk and accentuate my pear shape a bit. I was sort of expecting that though.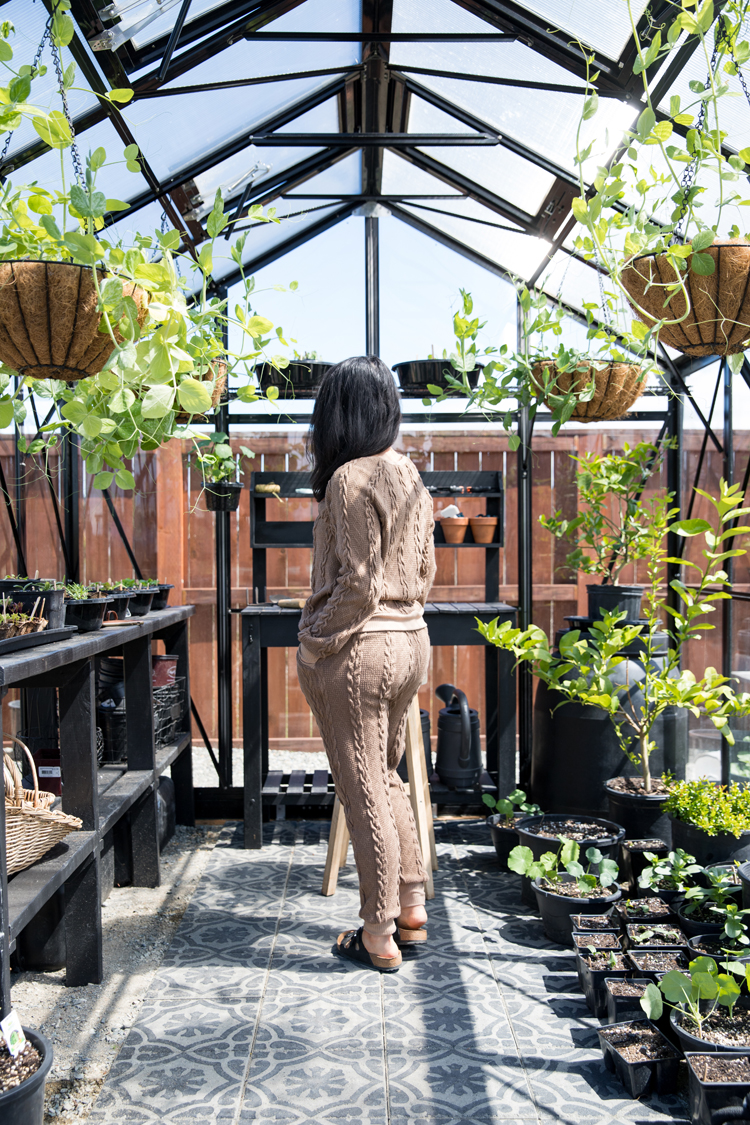 For the ribbing I used Luxury Plush Rib Sweater Knit in camel. It wasn't an exact match but close-ish. I think the cable knit comes in a caramel color as well that might be an exact match. I was a little worried that the listing photo made the fabric look shiny. It does have a bit of a sheen, but it's not too shiny in person and it's really beautiful to work with. I would actually love to have a Linden made in just this ribbing. It's soooo soft, has 100% stretch (!) but also very good recovery.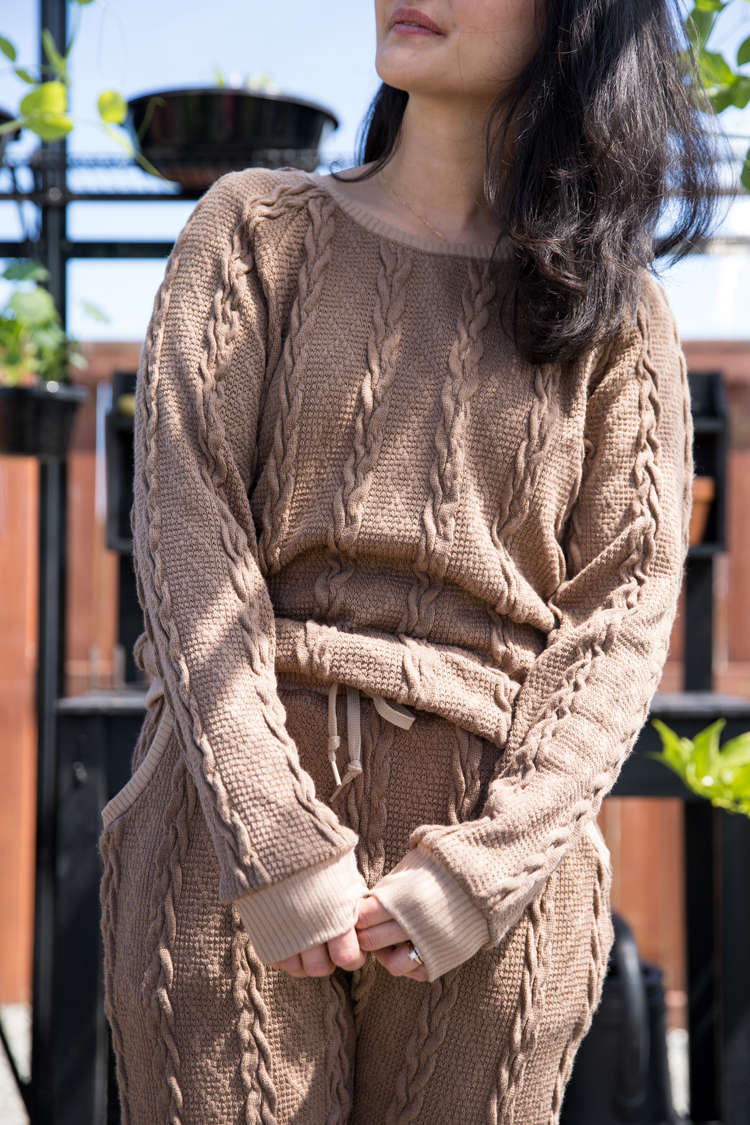 Overall, I'm really happy with the set. The Hudson and Linden patterns make a great pair and it's super comfy.
That said… if I'm being totally honest, now that I've tried it, this leisure wear trend is going to take me some getting used to. I'm the kind of person who doesn't think twice about going to the store in leggings and a sweater, but when I actually wear this, not when I look at from the outside because when I look at these pictures it doesn't bother me, I feel like I am wearing straight up pajamas. Like they are almost too comfortable.
It was also funny to hear my kids comments when I modeled it for them for the first time. Phrases like "giant teddy bear" got tossed around. Bahahaha.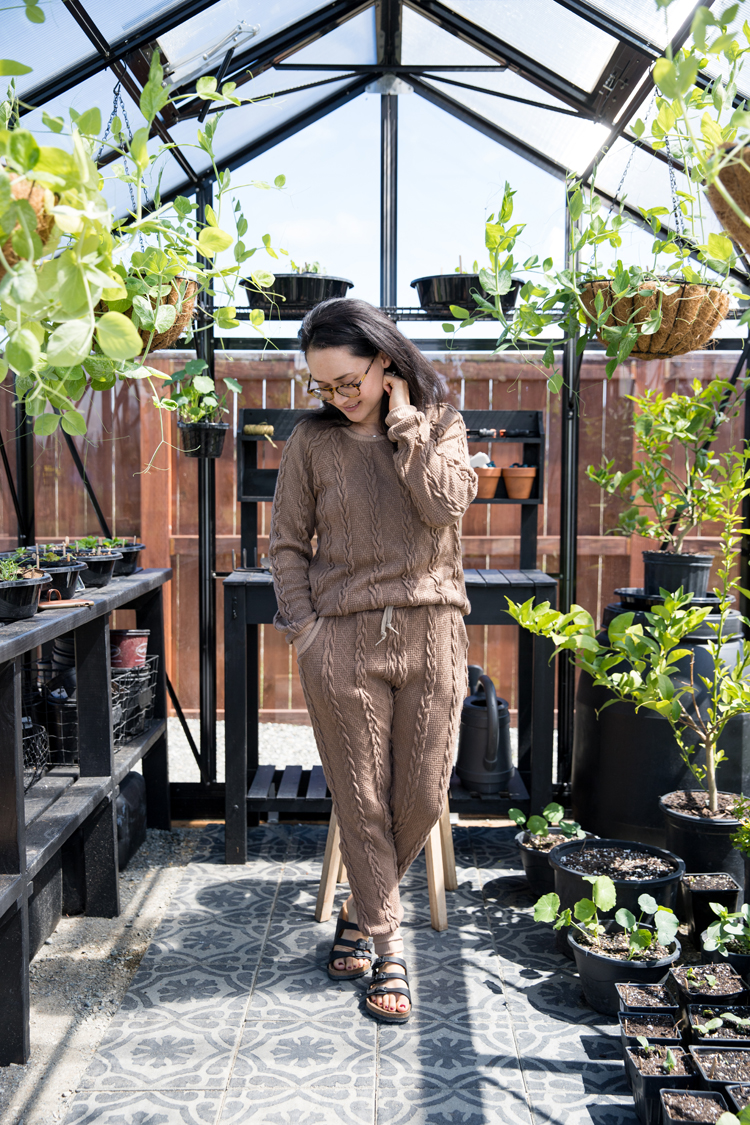 But hey, if it's trendy to wear fancy sweats, I'll be too comfortable to be uncomfortable with it for too long.If I make another set, I will probably try to go with something less flesh and teddy bear colored though. 😉