This post was created in partnership with Michaels. 
I know that title makes it sound like we're making a salad. Ha!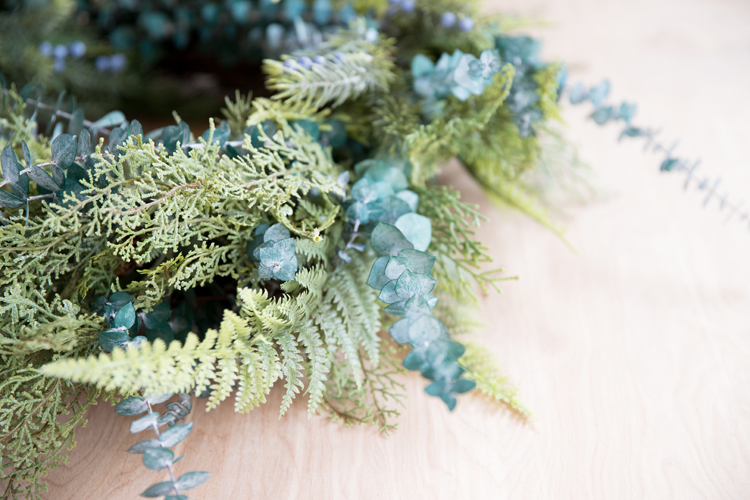 But these mixed greens are for an unique take on a traditional holiday evergreen wreath.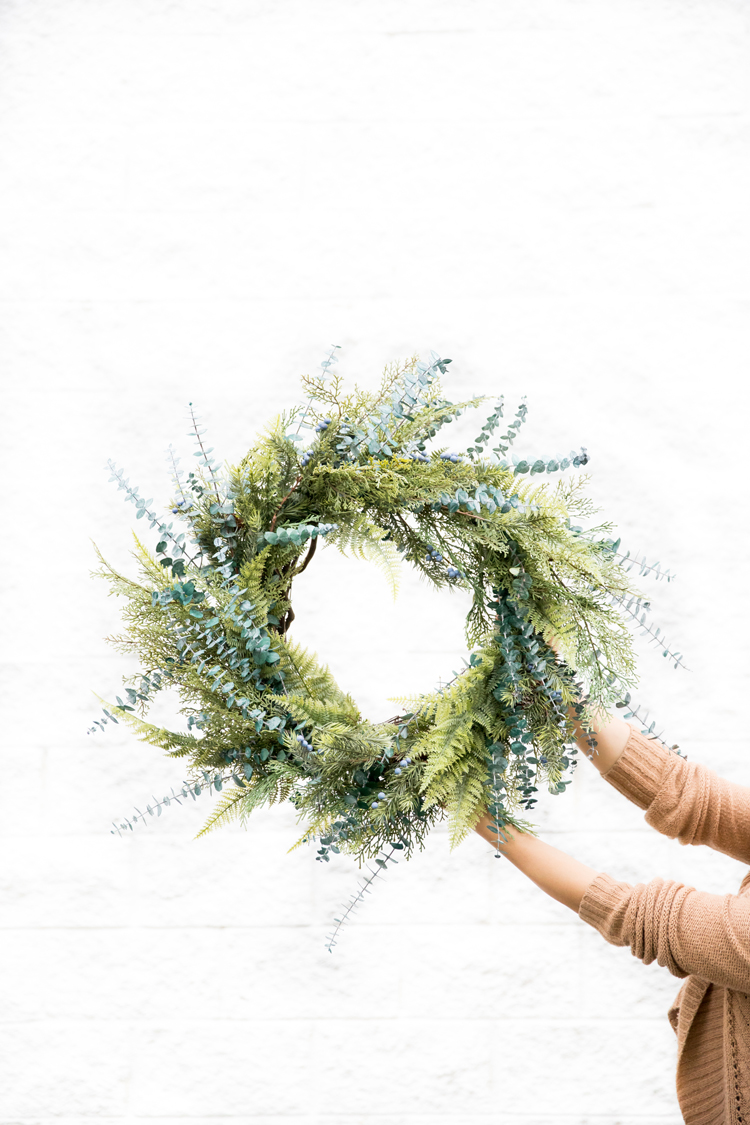 Usually I make a fresh wreath from clippings I buy by the pound at the Christmas tree farm. But we are going fake this year. (gasp!) I know, I almost can't believe it myself either. I am usually all real, all the way.
Stringing 10 strands of light on our tree last year about did me in though, so I'm giving fake a try and giving myself permission to go back to a real tree next year if I miss it too much.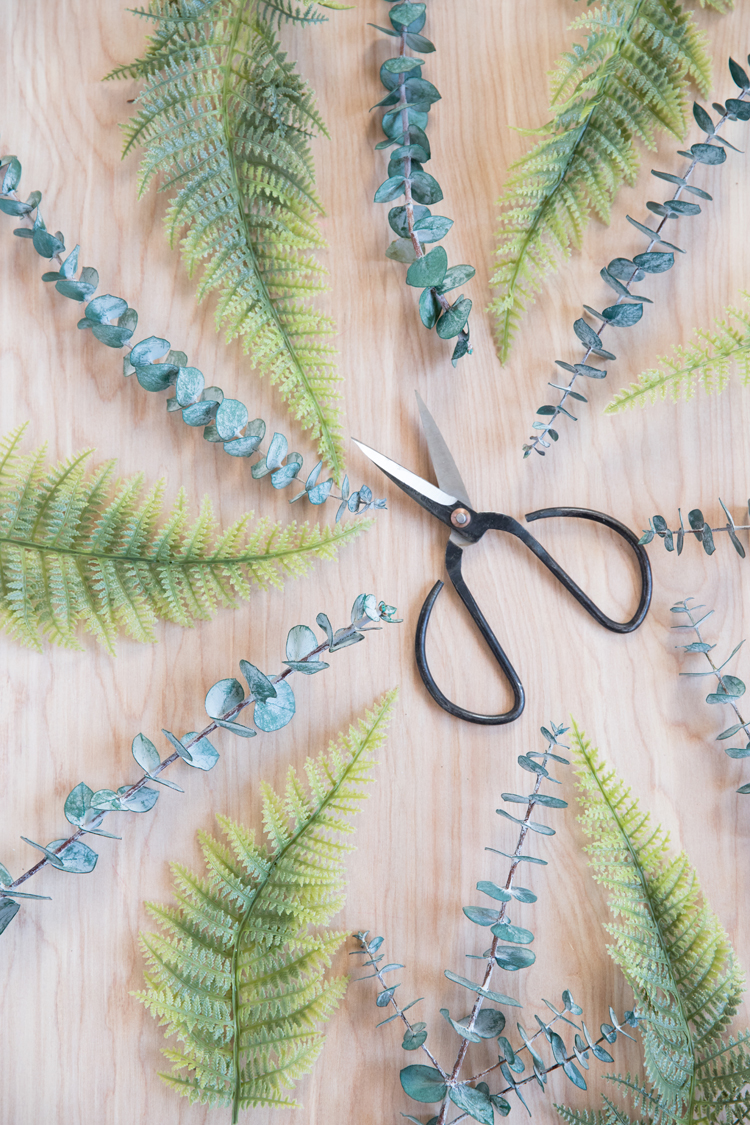 Since I won't have clippings for wreaths, I thought I would go fake in that department too and make an evergreen wreath for my Michaels Makers post this month.
One perk about going fake is that it really opens up the possibilities. I figure, why limit myself to just pine branches? Why not try other kinds of "evergreens" too!
So, I grabbed some ferns, dried eucalyptus…which is ironically real, but "preserved"… and then a mixed variety of pine branches.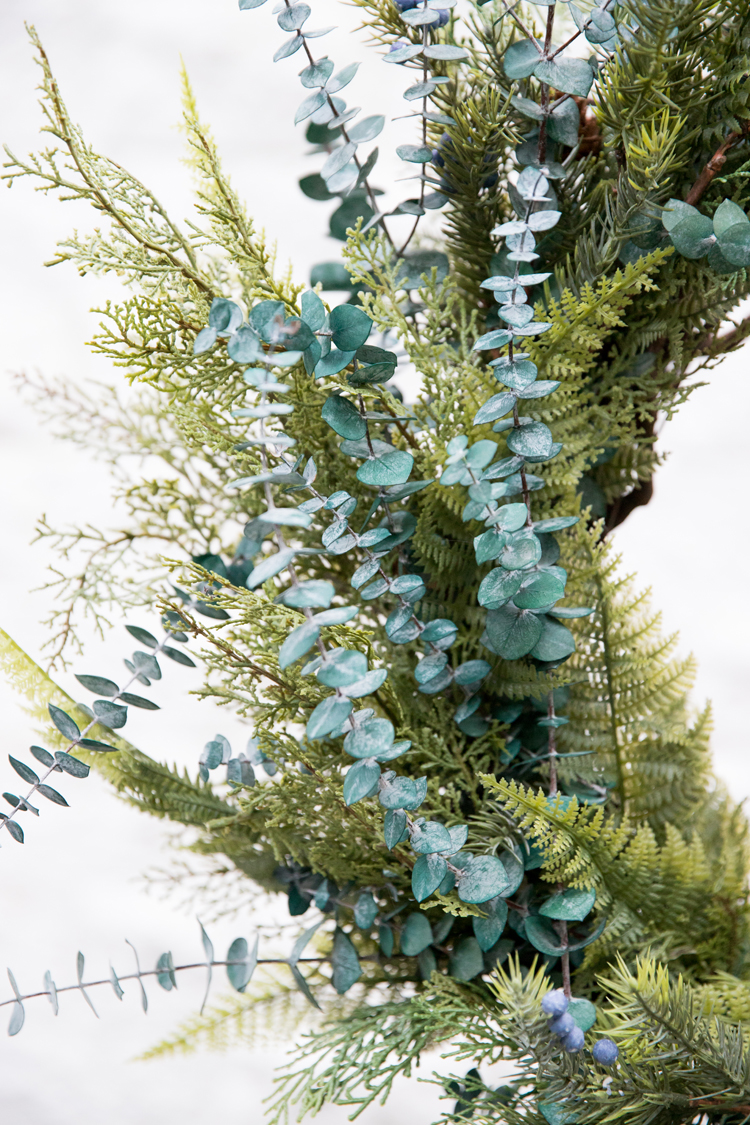 Now…it's important, at least to me ;), that you get your branches from the floral department because that's where all the more realistic looking stuff is. There seems to be more options as well. I opted to go with a natural green look, but they had some sage-y, dusty green looking leaves, and frosted leaves that were also really pretty.
Materials
Variety of greenery floral picks*
Floral wire
Grapevine Wreath**
Wire cutter/pliers
*I always err on the side of getting too much and taking back what I don't use. For a nice full wreath, I'd estimate that I used about 5-6 pine picks, 2 accent pine picks, 1 fern bouquet, and 1 eucalyptus bouquet. And I had none left over.
**You can use a floral wreath, but I find that the grapevine wreath adds fullness, so that I don't have to use as much greenery.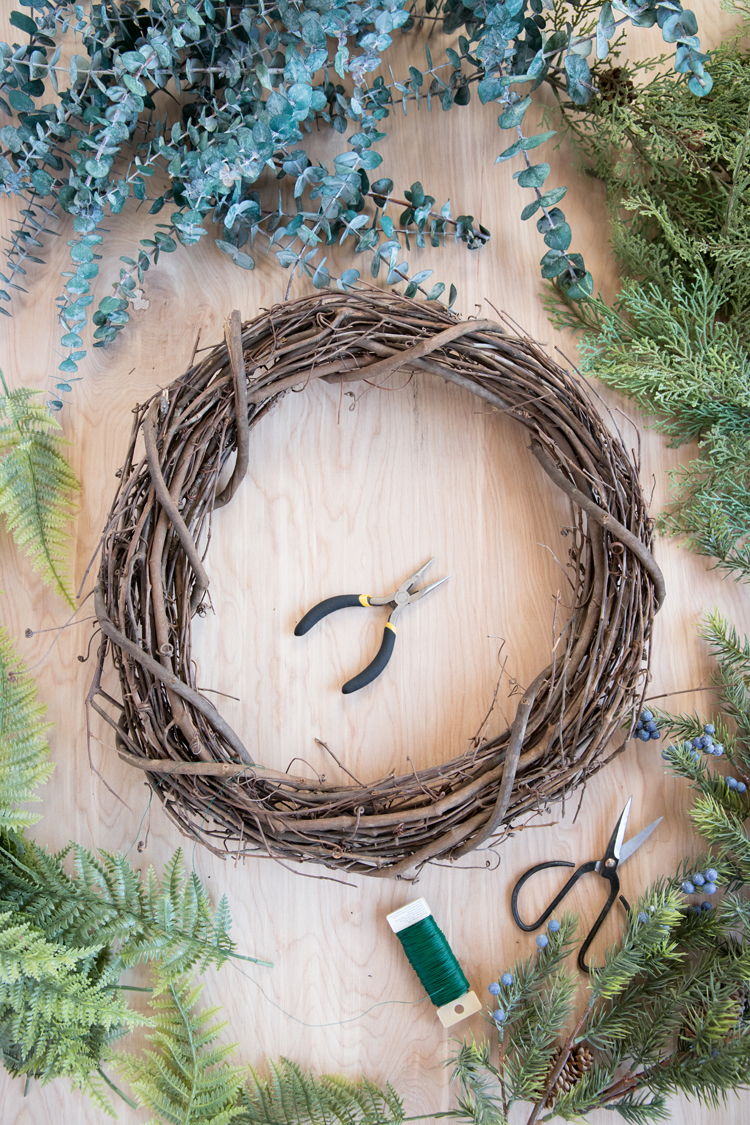 TUTORIAL
1. Pull your greenery picks apart into smaller pieces.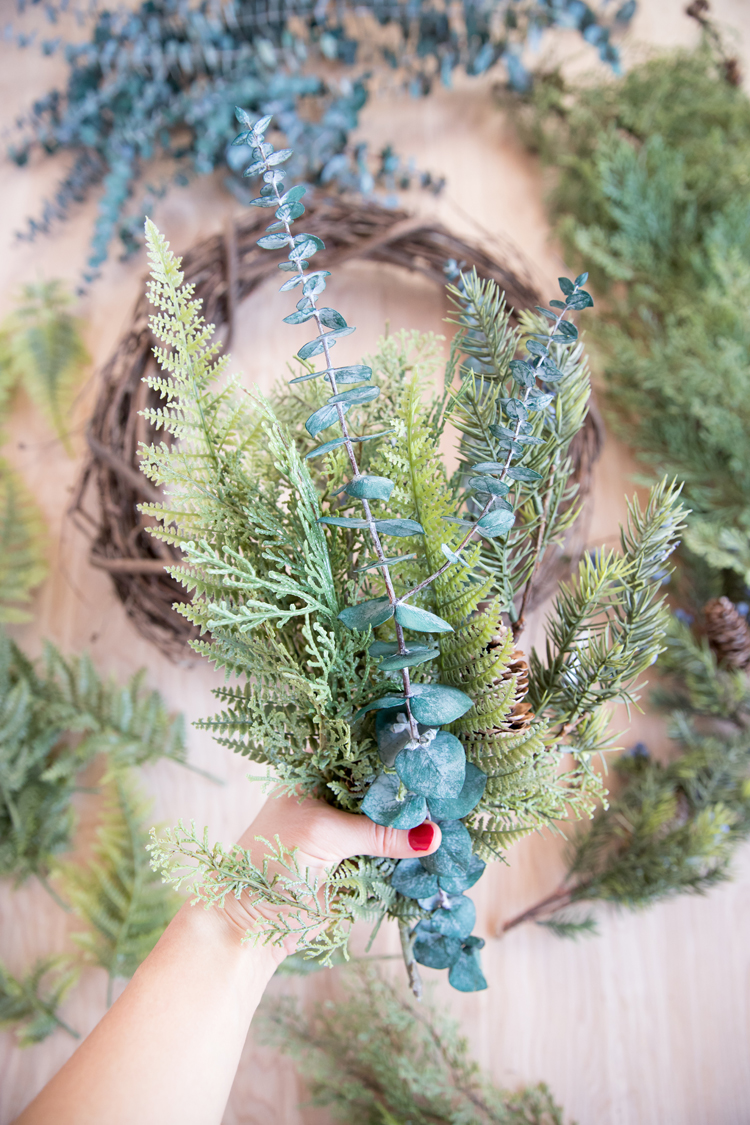 2. Create mini bouquets using a mixture of greens and bundle them together at the stems with wire. Set aside extra smaller pieces.
TIP: Be gentle with the eucalyptus leaves. They aren't too fragile, but because they're real, once they break you can't just stick them back on like you can with the fake leaves.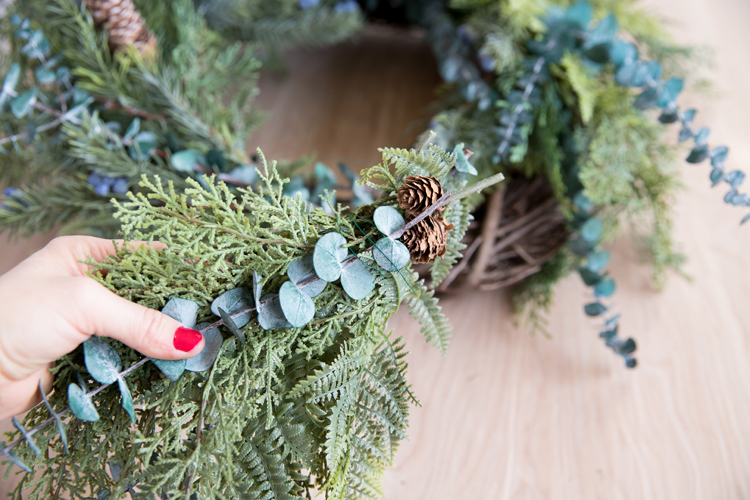 3. Attach the bouquets to the wreath with floral wire, one at a time, overlapping the greenery part over the stems of the previously placed bouquet.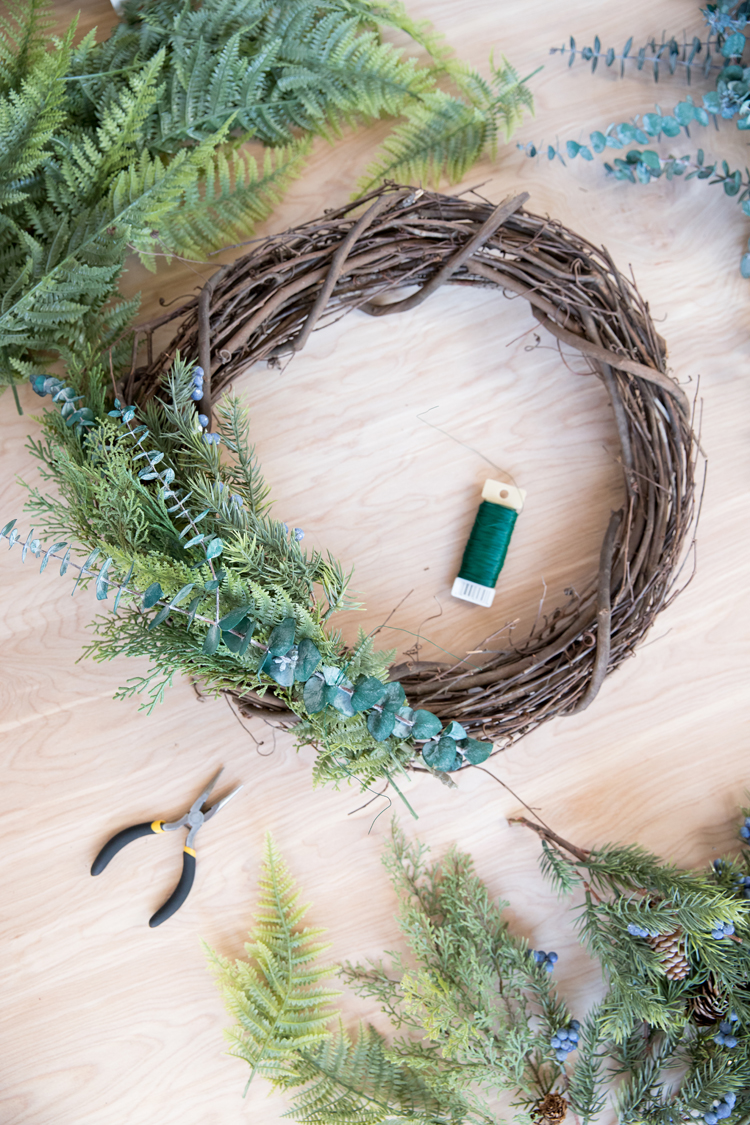 When you get to the last bouquet, lift up the greenery part of the first bouquet and slide the stems underneath. The stems should now all be covered up and you should have a nice full wreath.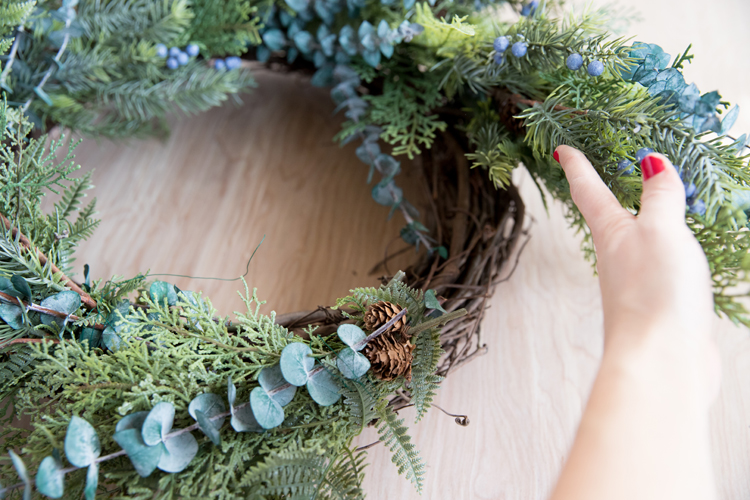 4. Fluff up the wreath and add in any leftover greenery pieces from step 2.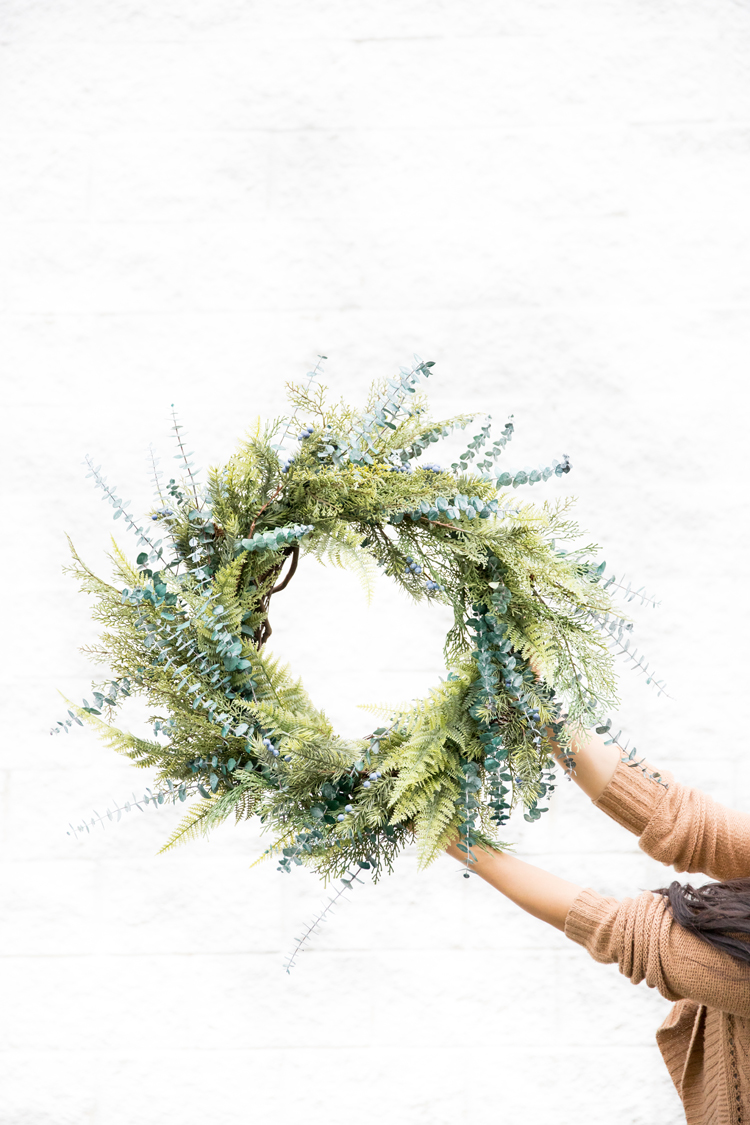 Bam! A beautiful "evergreen" wreath, that will stay forever luscious and green, true to it's name.
If you're feeling ready to do more holiday crafting, Santa's MAKEshop is open at Michaels! From holiday décor to trimmings for your tree to DIY necessities, you can find everything you need to make your holiday magical!