Hey-o! Have you checked out April Rhode's latest fabric line from Art Gallery Fabrics? It's called Observer and it's completely gorgeous!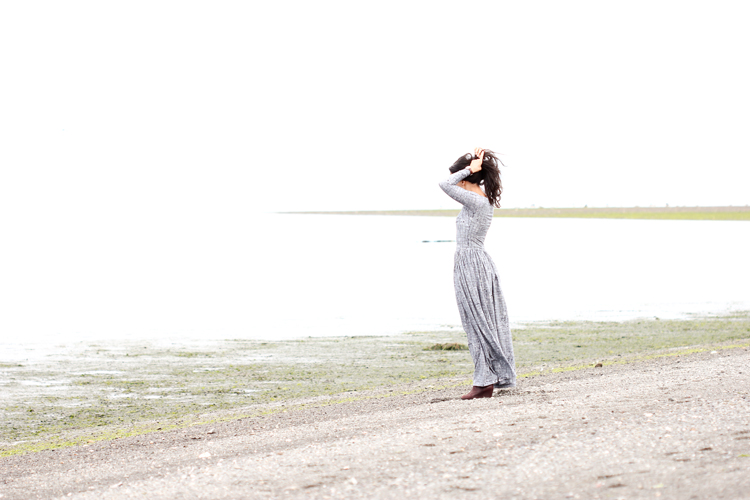 It has a navy theme to it, which is totally on trend this Fall. It's a bit hipster, but also classically beautiful. With Shibori like prints, paint flecked fabric, and other art technique inspired designs…I'm in love. April is simply a creative genius with textile design.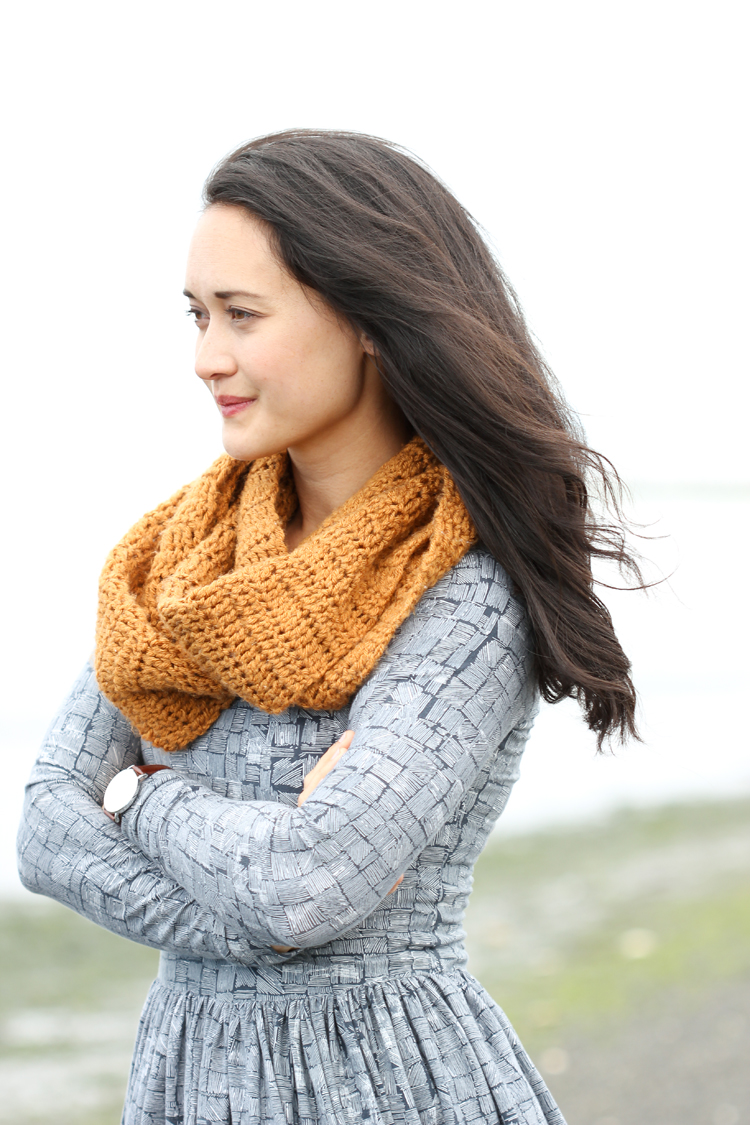 And I'm so happy that she has stuck with Art Gallery to host her fabric lines because, without hesitation, Art Gallery Fabrics hits the top of my favorite fabrics list. Anything that I have made with Art Gallery Fabric, especially their knits, has held up the best and felt the softest out of most things I've sewn. I am genuinely a huge fan.
April originally reached out to me about being on her tour at the beginning of summer when we were having the most winter/autumn like summer I have ever experienced. This turned out to be a great thing because I was in Fall weather mindset enough to choose to sew this maxi and order enough fabric for it (3 yards).
Mind you, by the time I was sewing it, summer had arrived in earnest and I was questioning whether I was going to be able to get through pictures without sweating right through it. Ha! But, my slow track, procrastination sewing habits paid off for once, and by the time we finally got to pictures, our brief heat wave had ended. I was actually almost too cold in these pictures. The scarf was definitely a necessity. (Free crochet pattern found HERE)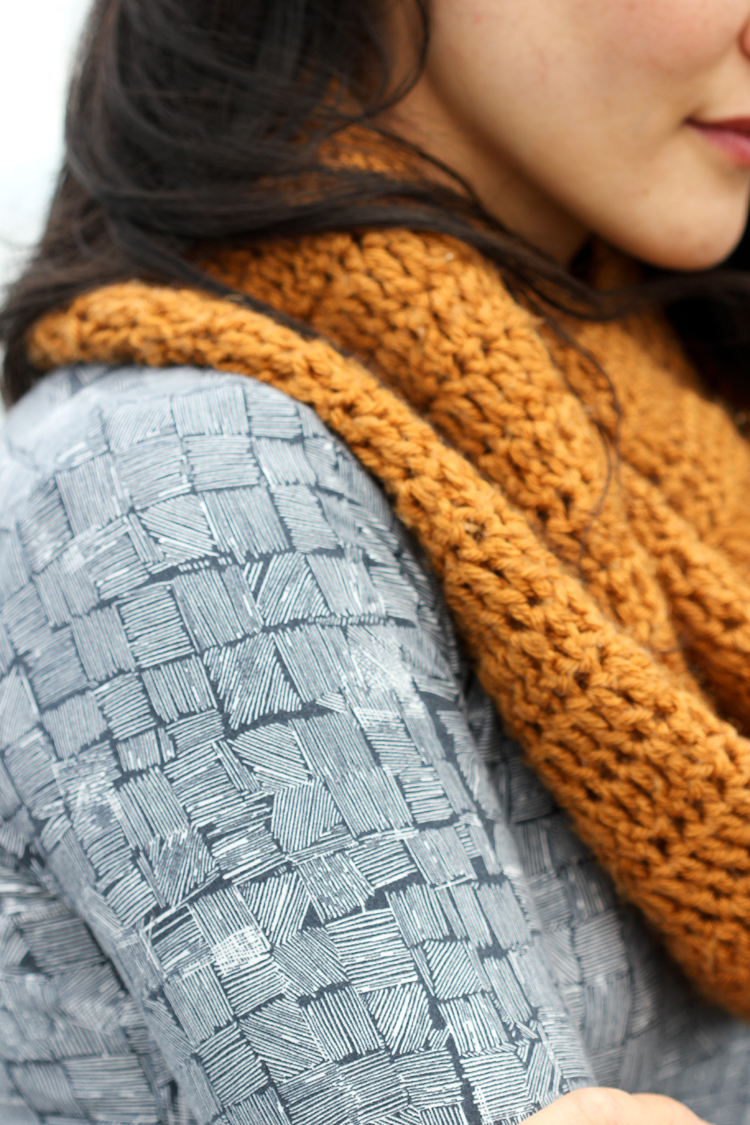 I say slow track sewing but what it really is, is slow track blogging. I haven't blogged probably the last 5-6 things I've sewn. GASP! I know! As a blogger, it feels wildly impractical to not blog everything creative I do, but I think the rebel factor is what has made it feel so fun. Just call me Billy Idol….in a maxi dress. Pfffft. 😉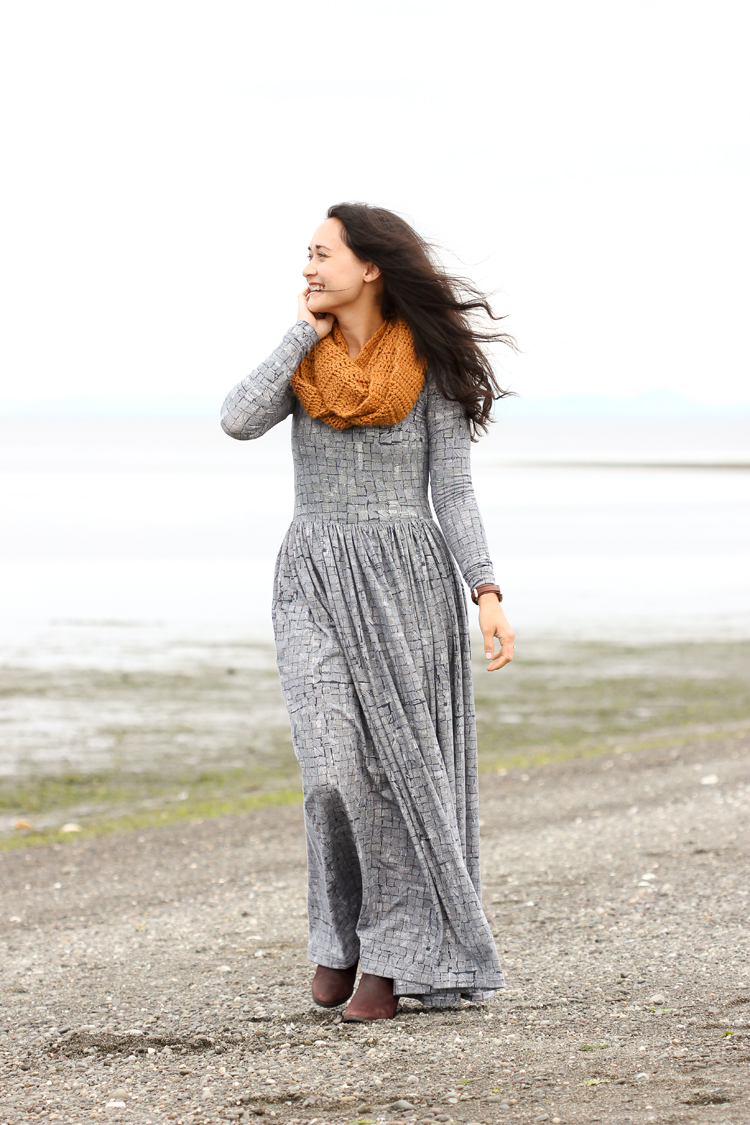 And boy do I love a good maxi dress. They are just SO comfy! Plus, the little girl in me likes the princess at the ball feeling they evoke.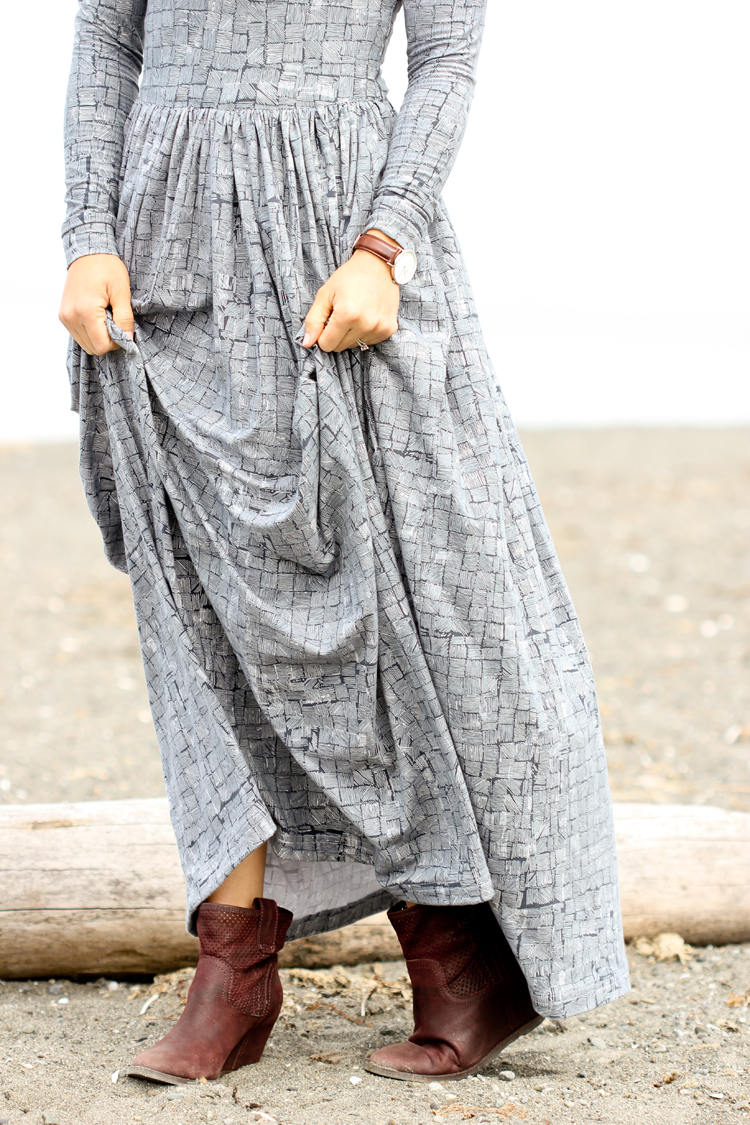 I decided to use Kitschy Coo's Lady Skater pattern for this dress. The fit is perfection and it's such a satisfying sew.
One change I made, was to add some 3/4 inch elastic to the waist band instead of clear elastic. I used almost two yards of 60 inch wide fabric in just the skirt portion alone, so it needed a little extra lift to keep it from sagging from the weight of the skirt.
Fun fact, it is exactly three years ago today that I first reviewed this pattern. I swear up and down, that was not planned at all, but it's a fun flashback coincidence.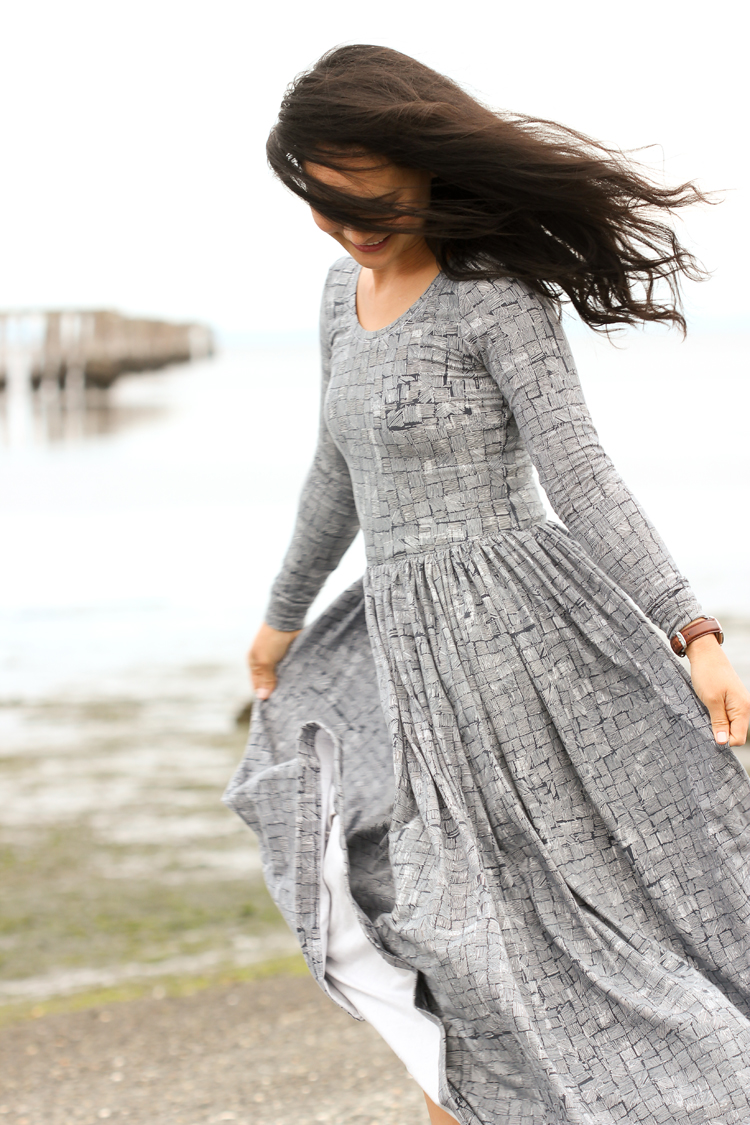 The fabric I chose is called "Mesh with me worn" in knit. The scale on this design is just right for an almost head to toe garment.
I think this dress would pair really well with a blazer or cardigan for even warmer look. I kept the styling simple for these pictures so you could really see the dress and this pretty fabric!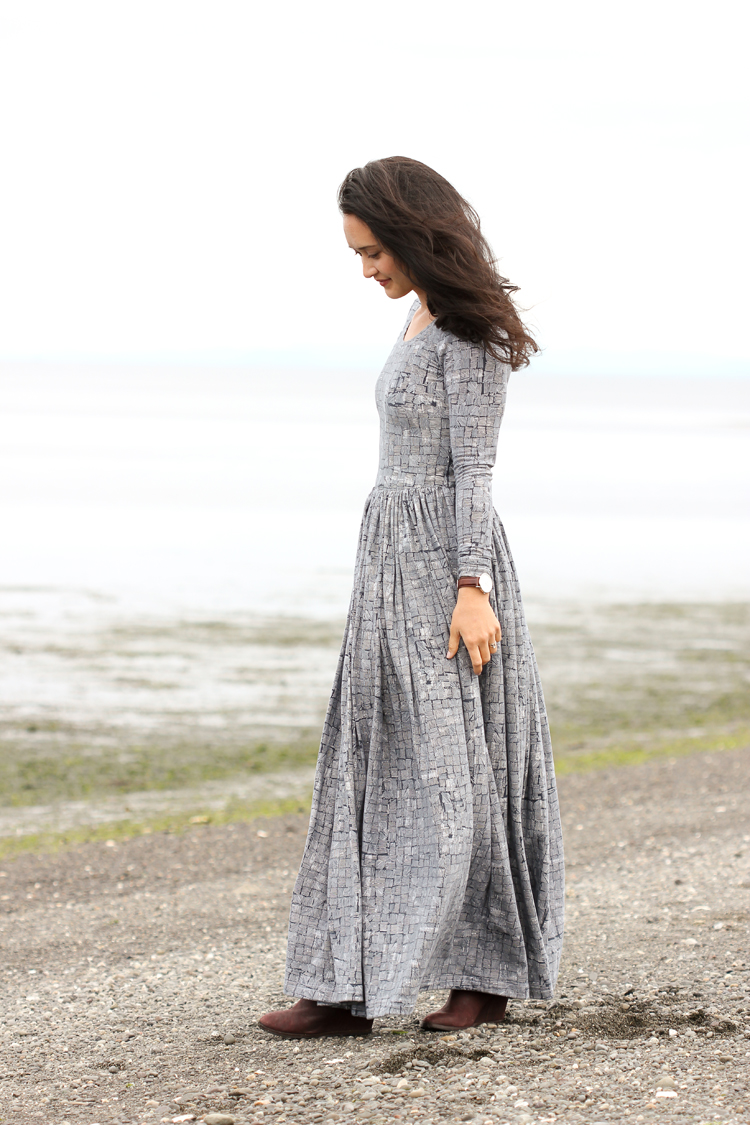 To see more projects sewed up in April's Observer line, check out her blog or hop onto social media and check out the hashtags:
#observerfabrics and #observerfabrictour
 Here's a link to the rest of the tour as well!
Disclaimer: This fabric was provided to me for this blog tour.  All opinions and content are genuinely and authentically my own. I sincerely have much love for April, The Lady Skater Pattern, and Art Gallery Fabrics! <3