Have you seen the new Oliver+S Spring line?  It's adorable!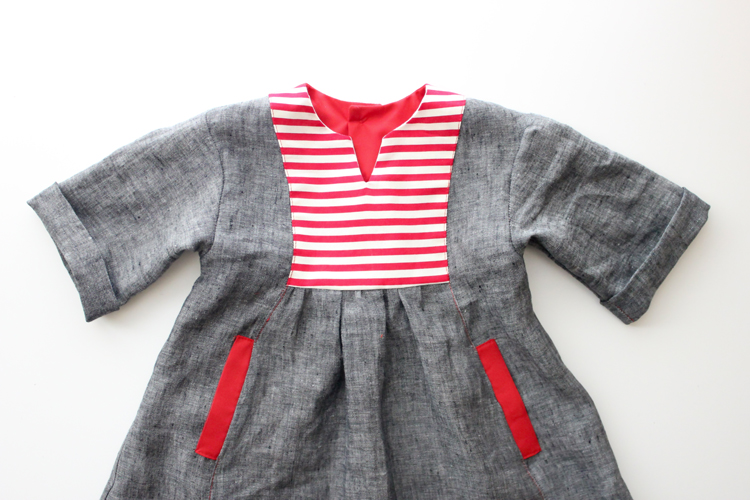 There are two new dress patterns but also a fun new uni-sex baby layette pattern.
I was beyond stoked when Liesl (owner and designer of O+S) asked me to join the tour. When she asked me what pattern I wanted to review, I immediately chose the Hide and Seek Dress. I instantly fell in love with it's modern feel.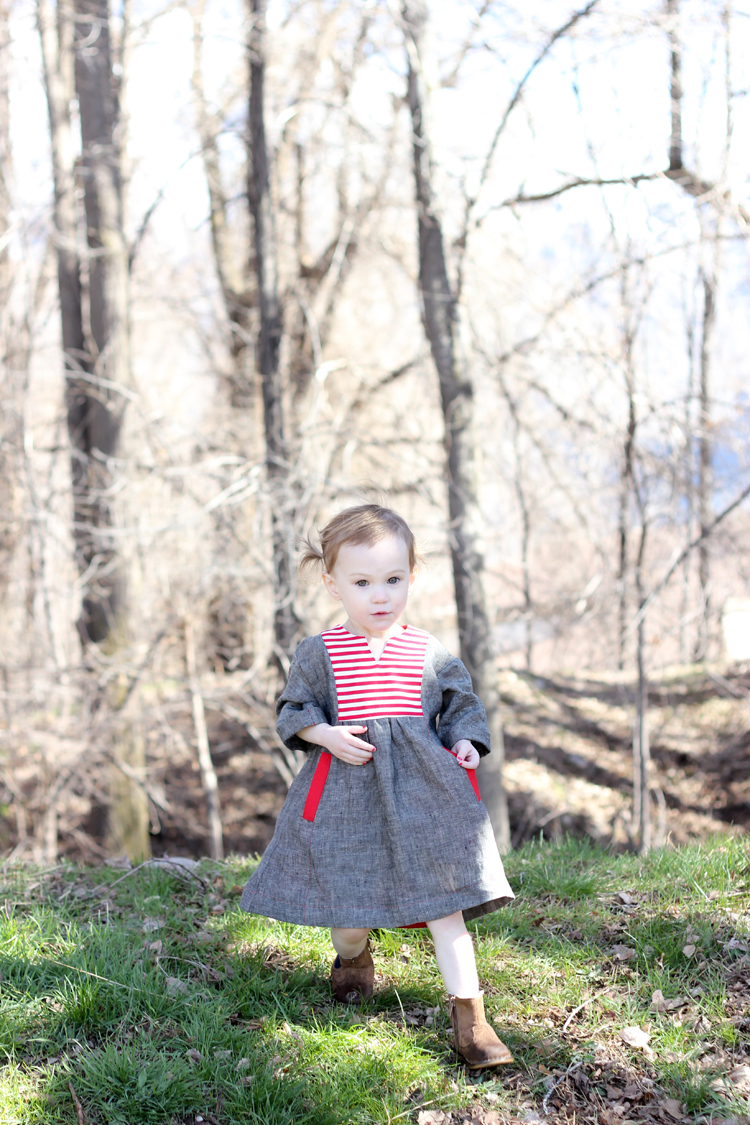 I decided to sew it up in some lightweight black slub linen from Jo-Ann, some red cotton, and a red striped fabric for the front yoke (both red fabrics are from my stash, sources unknown).
I was going for a mod nautical look….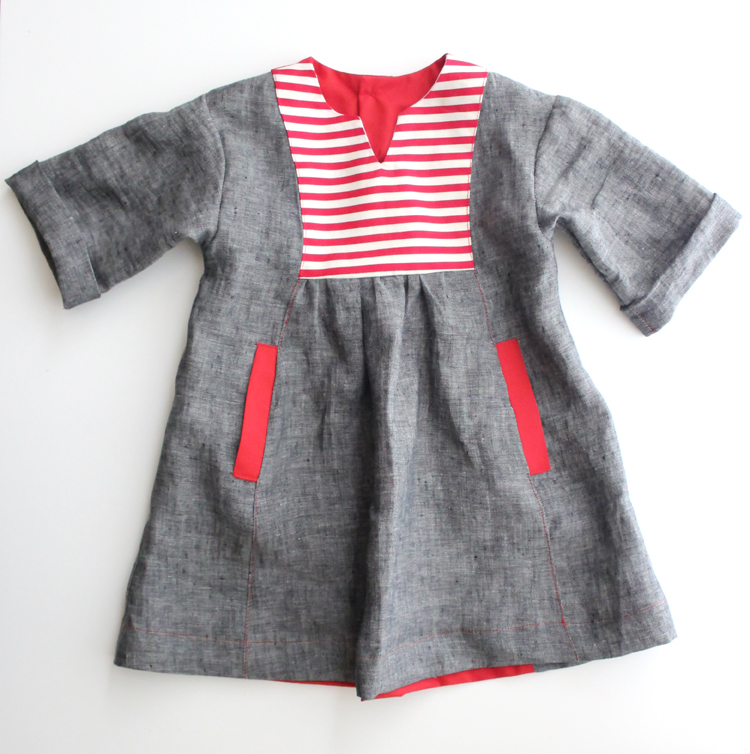 I even took Nat's new Salt Water sandals with me to take pictures with, but it was just too cold. We are already warming up here, but it's not quite sandal weather yet. So… we zipped on her boots and I took her to the trees for a mod red riding hood look instead. 😉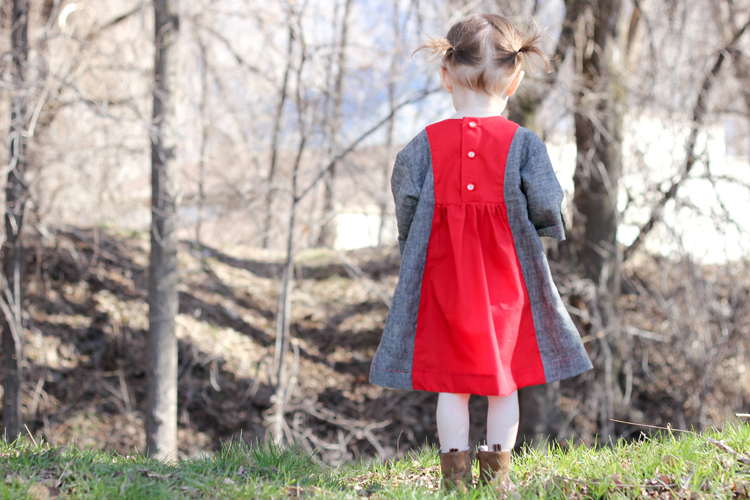 I sewed the dress up in the 12-18 month size which is probably a little big for her (yes, she is a petite little thing!), but I wanted her to grow into it. The cut of the dress is also intended to run a bit roomy and loose.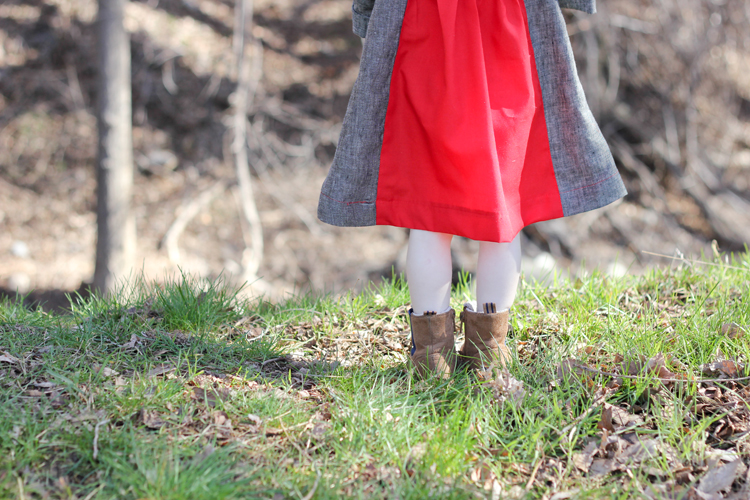 Because I made it a size up, I sewed the hem wide, so that I can unpick it and let it down more as she grows taller.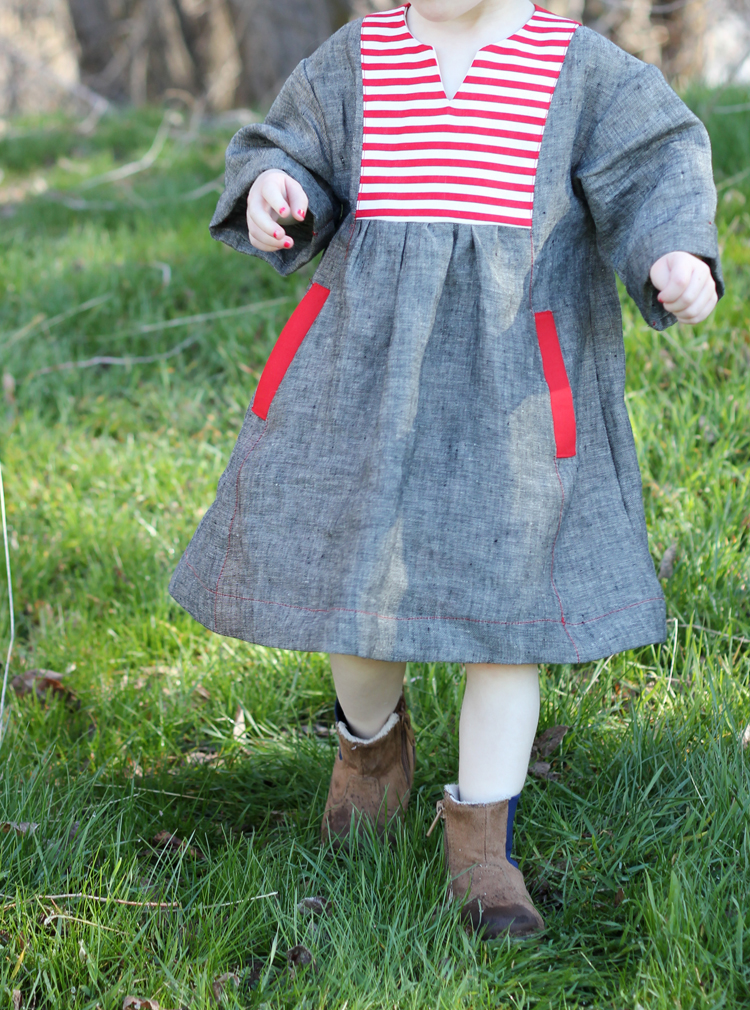 My favorite part about this pattern is all the pieces.
There are side panels, a front and back yoke, and front and back skirt panels which open up so many design possibilities for pattern mixing, color blocking, and adding fringe, trim and piping. It's like a pattern mixing play land! 🙂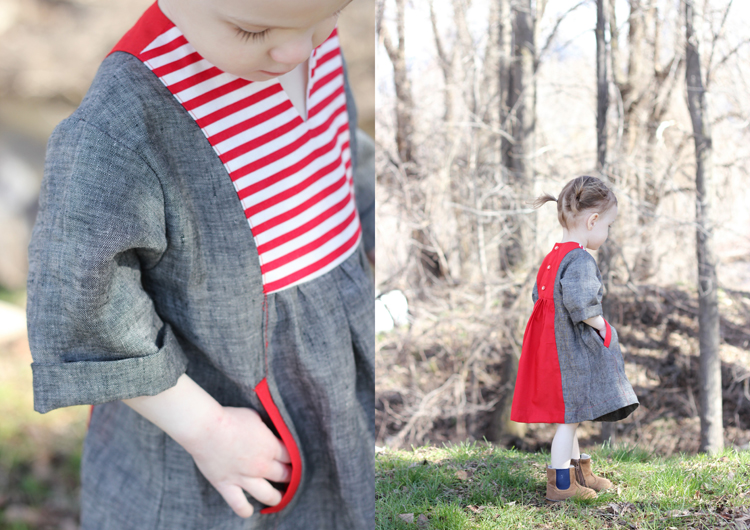 I kind of can't wait to give another go at this pattern to see how I can make it even more exciting and interesting.
…Maybe make it all one color with one side panel in a contrasting color? How about color blocking the middle skirt and yoke in contrast to the side panels? Maybe add trim to the top side panels? There so many fun possibilities!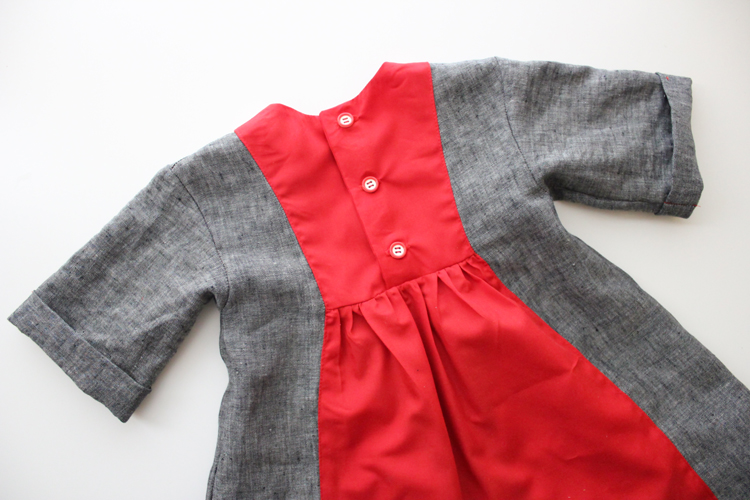 This dress can be a great stash buster as well. The yoke pieces are small enough. You can spice up the sleeve hems and pockets with small swatches too. Too. Much. Fun!! …haha…okay…enough of my sewing geek out session. Back to the details…
For the back, I used some vintage red and white buttons my mom gifted me from her stash. I am guessing they are from the eighties?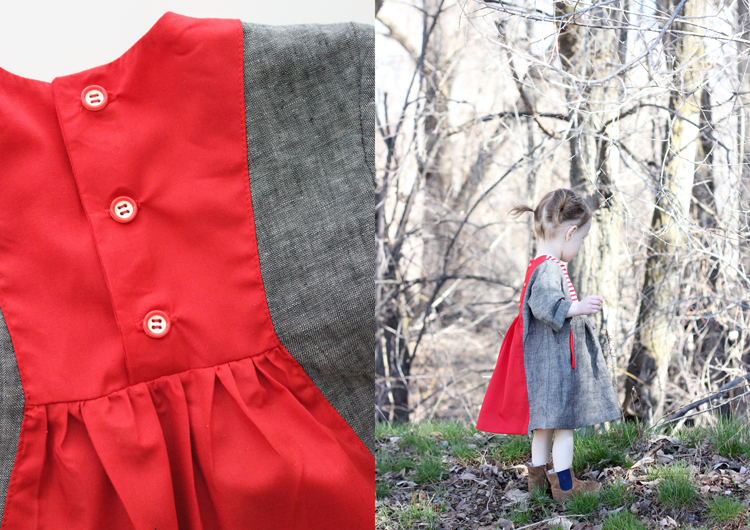 Oh, and I have to mention the welt pockets! They add a really nice touch to the overall look and functionality of the dress.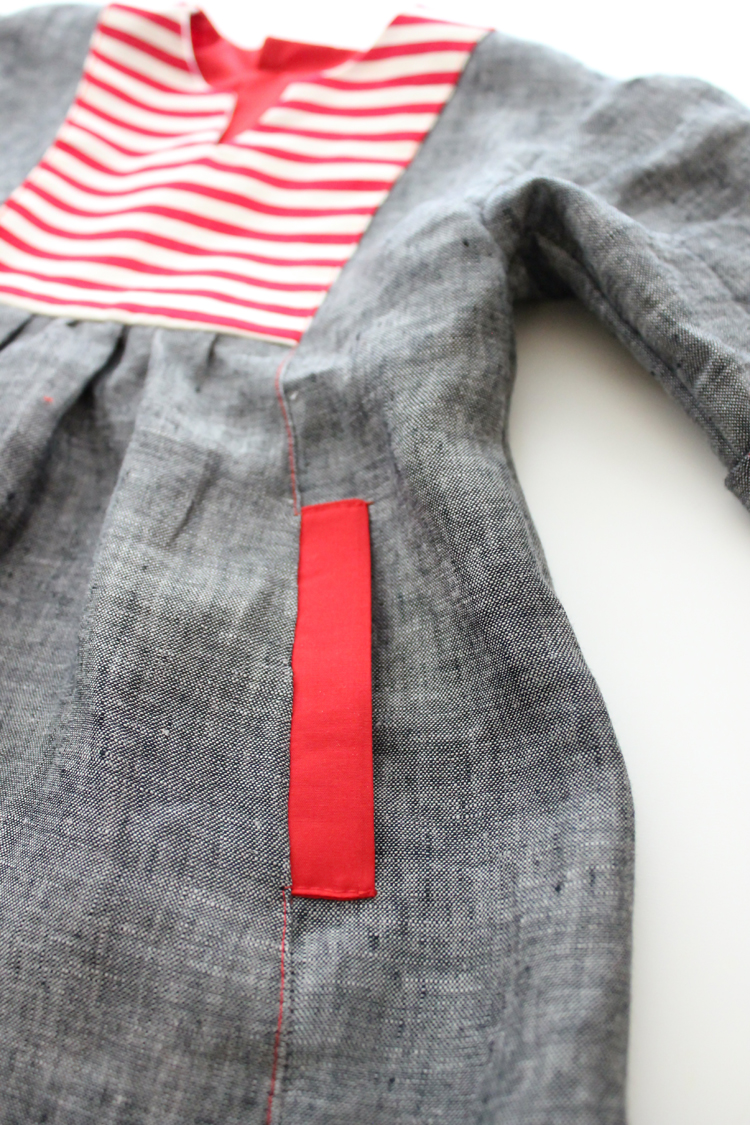 And the way Liesl instructs you to sew them, is so nice and professional. The pockets are optional, but I think they make a great design detail. I couldn't resist including them.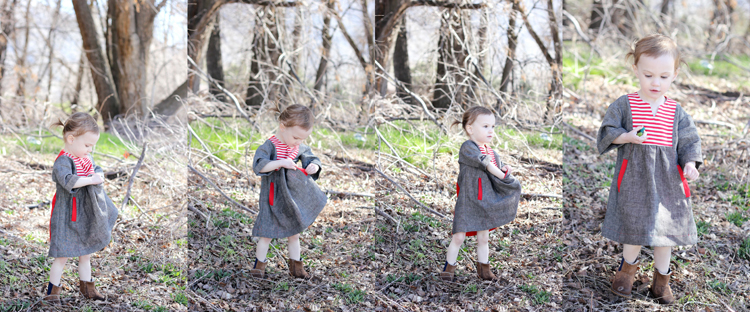 Natalie loves them too. 🙂 For her bribe treat, I stashed fruit snacks inside them. Once she figured that out, she really went digging. hahaha.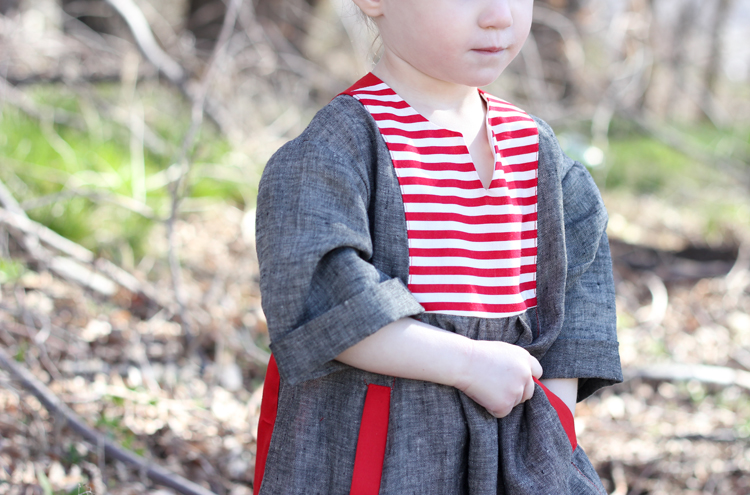 Overall, I love the dress. It was a satisfying sew. Not quick per se, but not too difficult either, and very rewarding. O+S has a reputation for excellent children's patterns and after sewing one I can easily see why. Liesl has you doing everything the proper way…no cutting corners!…and you end up with something admirable and durable.
She is a great teacher too. Even if you already know how to sew, you may learn something from her patterns, and if you're new to sewing, an O+S pattern is a great place to start.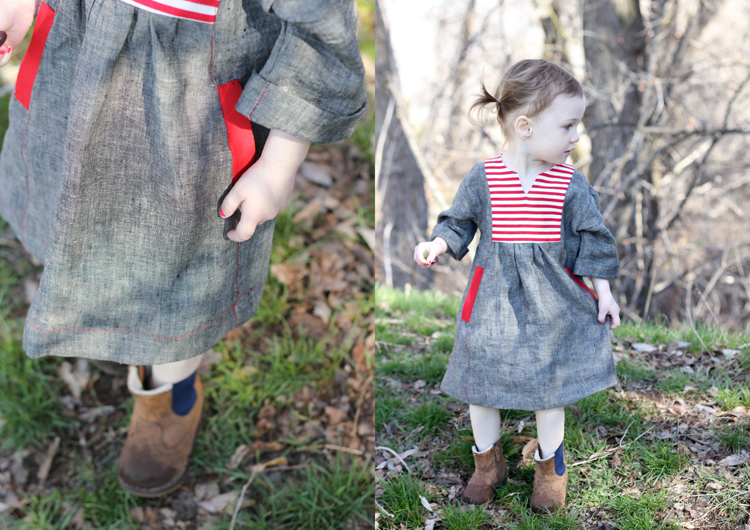 Before I had the pleasure of sewing up an O+S pattern, my bud Kristin told me that it is like putting together puzzle pieces…and was she right! The pattern is very precise and enjoyable to sew.
I do have to add though, that this specific dress is not lined, so there is a lot of time spent finishing seams. Don't skip that part!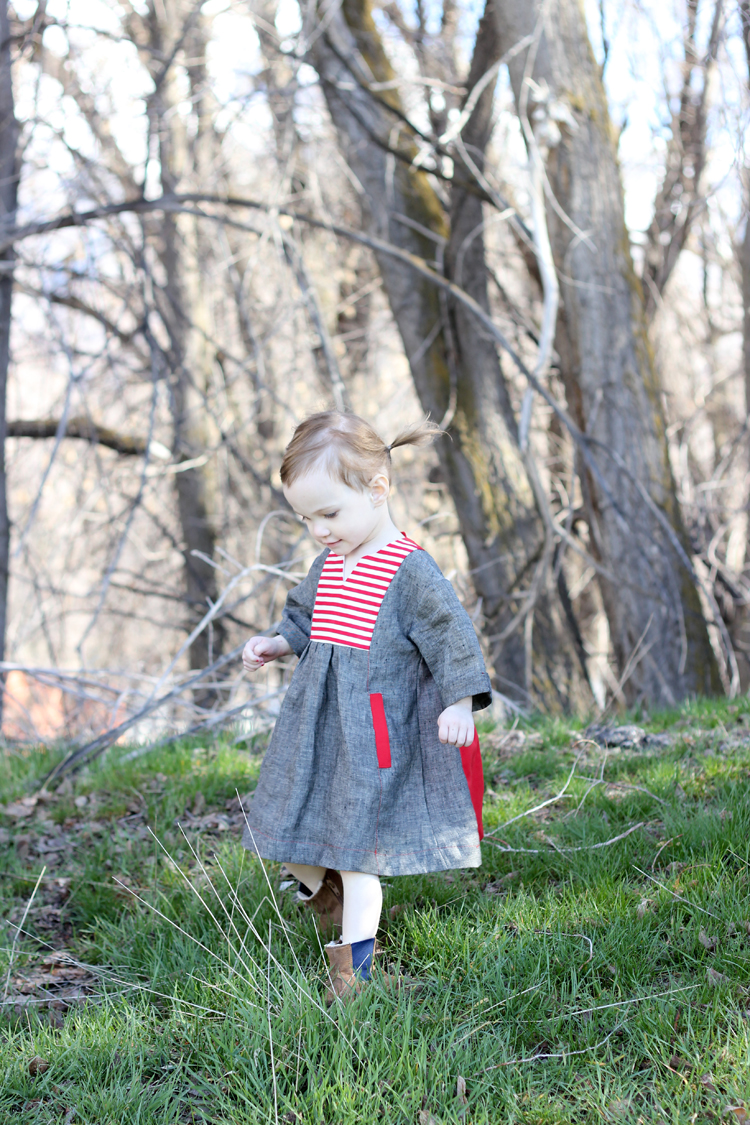 If you want to see more from the new spring line, check out what Skirt As Top has whipped up HERE and the adorable baby layette You & Mie made HERE.
You can of course also go to the O+S website HERE!
Disclaimer: This pattern was gifted to me, but my opinions are sincere. I tell ya like it is.