Have you guys seen the new Pattern Anthology collection this time? It's for women!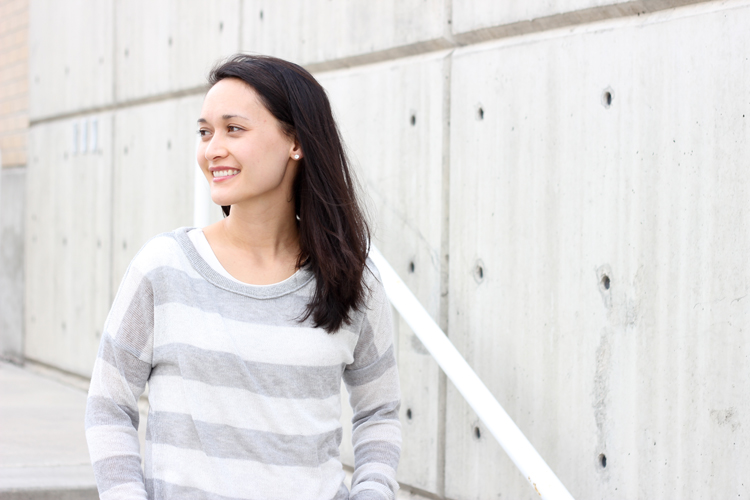 Awesome right?
If Pattern Anthology is not on your radar yet, you can read more about it HERE, and see the other pattern collection tours I have participated in here and here.
The theme of the new collection is Just Add Jeans. So, all the patterns are tops, and, as the name implies,  you just add jeans!
Genius, if you ask me.
I sewed up two of the four patterns in the collection. The Day Tripper and The Parisian.
This is the Day Tripper.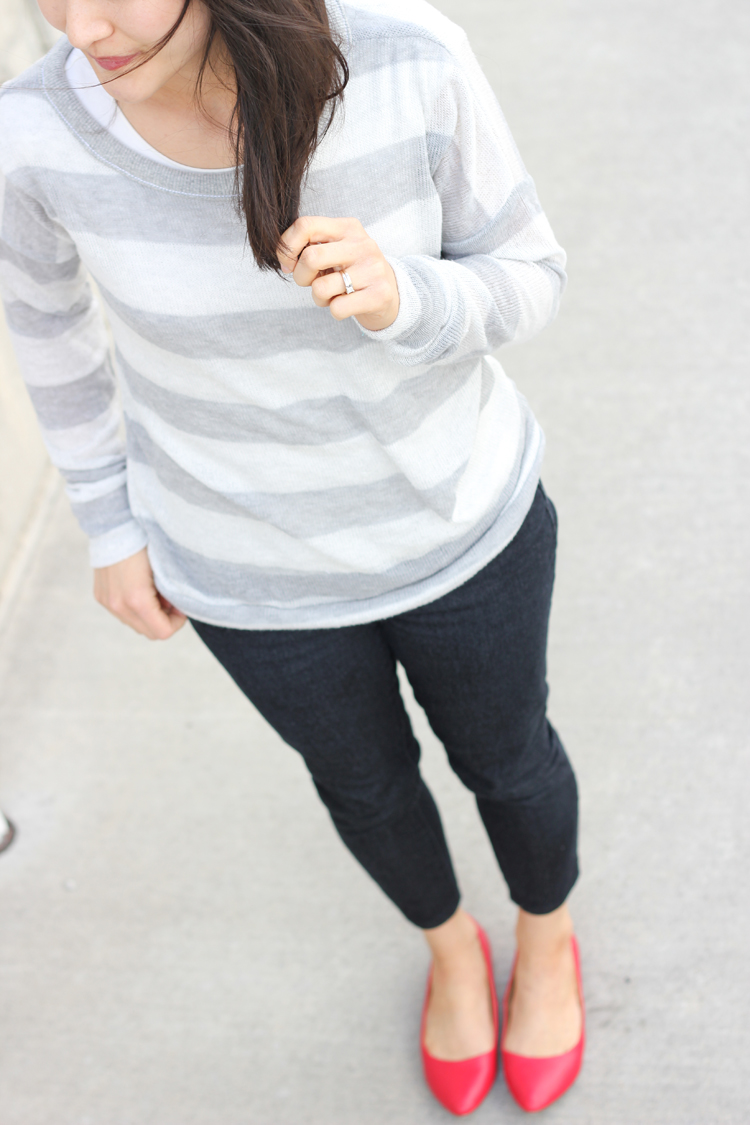 I made the long sleeve version in Hacci sweater knit. This particular knit is pretty see through, so it needed an undershirt.
I also couldn't decide on which shoes I liked for these pictures…so I included both. Day time and party time. 😉 hee.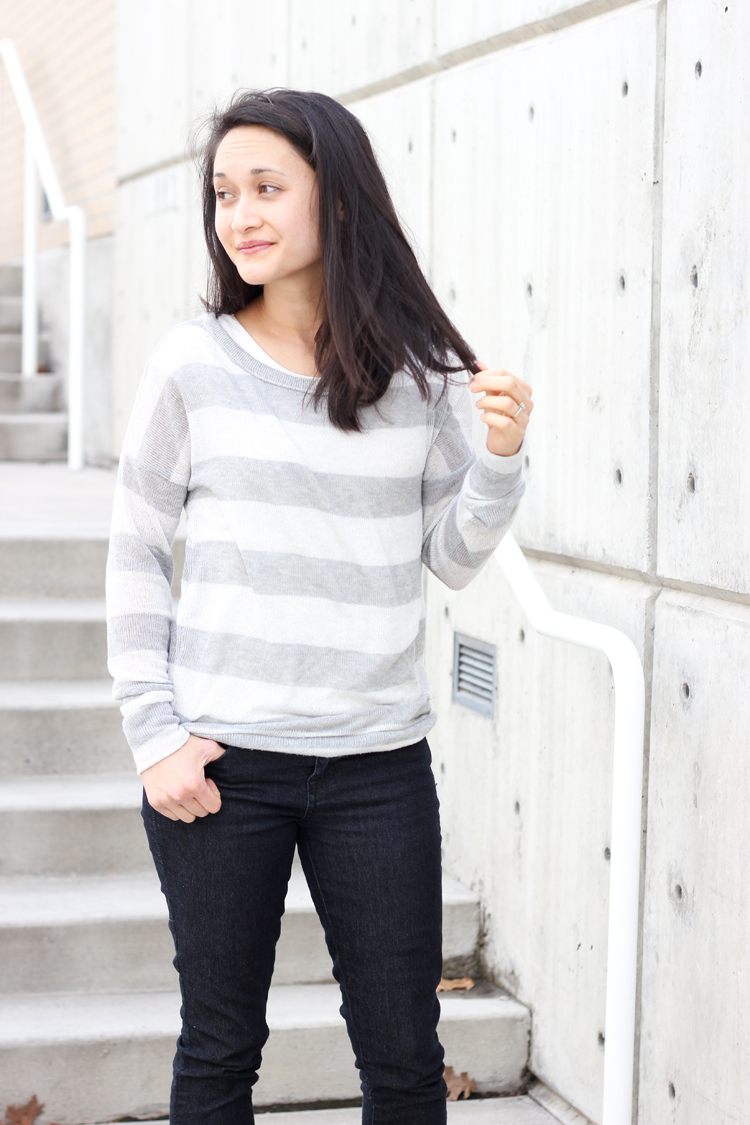 I used Hacci knit for the sleeve and hem cuffs, and used the recommended ribbed knit for the neckline. The Hacci made the hem more relaxed but it also bunches up more…as you can see. It worked great at the sleeves though.
I love, love how comfy this top is. The cut is really flattering and easy to wear too. I already have plans to use some jersey knit in my stash to whip up some short sleeve versions for summer.
The pattern also comes with with a shoulder tab detail and side seam pockets (!), which I didn't utilize this time. It's such a fun pattern! 🙂
The next top is The Parisian.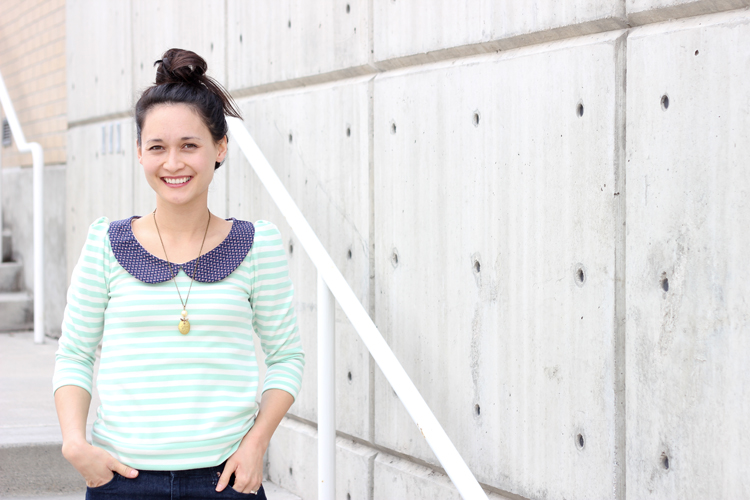 A cute fitted top with a slight puff sleeve, and a peter pan collar.
I got the preliminary version of the pattern, so my version is a bit short. The final pattern comes a little longer. I also kind of have a long torso for how petite the rest of me is, so I when I make this again I think I'll lengthen it just a titch more.
Otherwise, it's a pretty fun sew. I especially like the peter pan collar.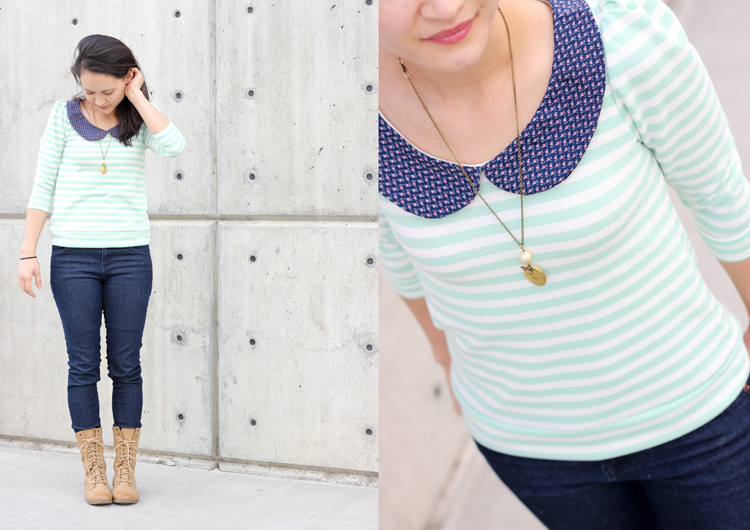 It's the details like that and the gathered sleeve that make it look really polished and pretty. I love how this top is easy to dress up and down.
It sort of has a nice casual feel to it, don't you think? I totally plan on wearing it with a pencil skirt to church.
And isn't that little bee locket fun? (see source below)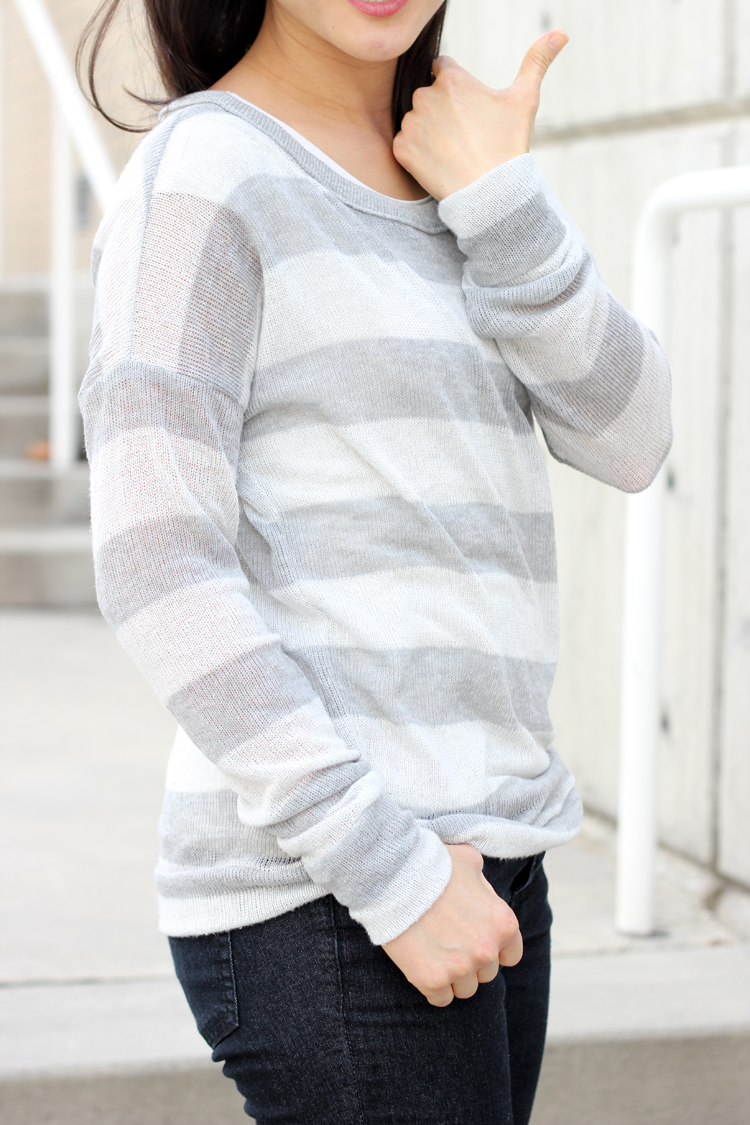 Sources & Sponsors:
Day Tripper: Hacci Striped Sweater Knit from Girl Charlee, Ribbing from Jo-Ann
The Parisian: Mint and Cream Striped Ponte De Roma from Girl Charlee, Eighties vintage feedsack floral fabric from my stash (collar)
Necklace: Bee Locket from Jacaranda Designs
Jeans: Forever 21 (both pairs)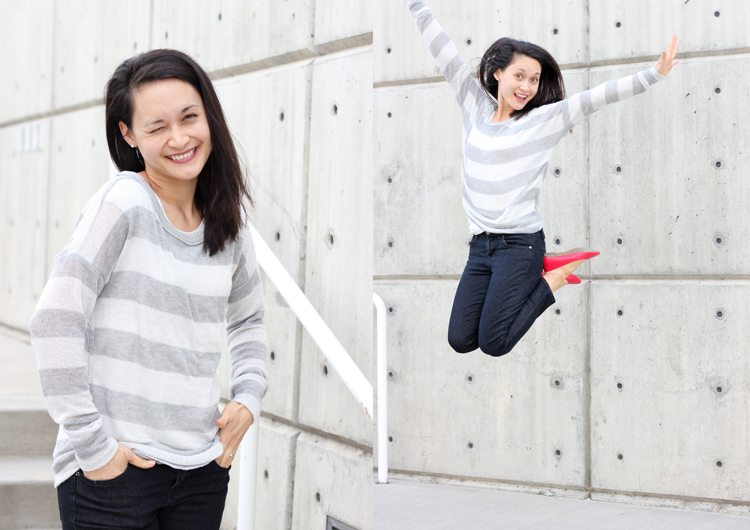 You can buy all four patterns in the collection for roughly $7.50 each (huge discount for a women's pattern!), so a total of just under $30 for the bundle. After the two week tour, they go up to their regular price of $12 a piece. I have some major sewing plans for me and the kids coming up, and they include the other patterns I didn't use this time around. Can't wait to share them!
If you need more convincing ;), check out these other bloggers on the Just Add Jeans tour: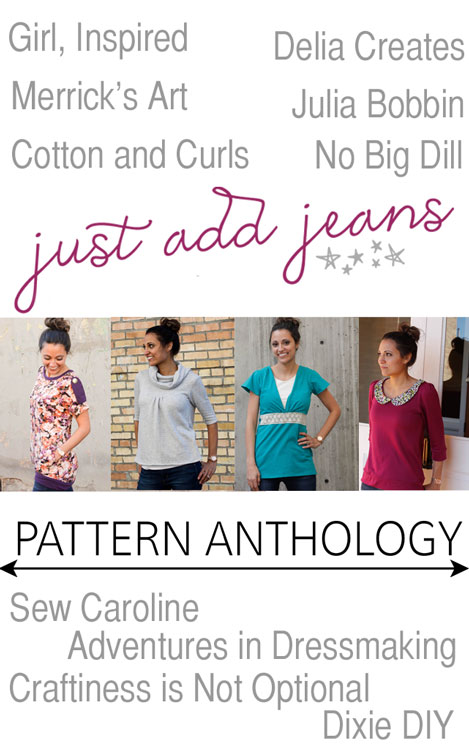 March 11th: Stef – the Girl Inspired
March 12th: Delia – Delia Creates
March 13th: Merrick – Merrick's Art
March 14th: Julia – Julia Bobbin
March 17th: Liz – Cotton and Curls
March 18th: Katy – No Big Dill
March 19th: Caroline – Sew Caroline
March 20th: Suzannah – Adventures in Dressmaking
March 21st: Jessica – Craftiness is Not Optional
March 22nd: Dixie –  DixieDIY