It takes a village…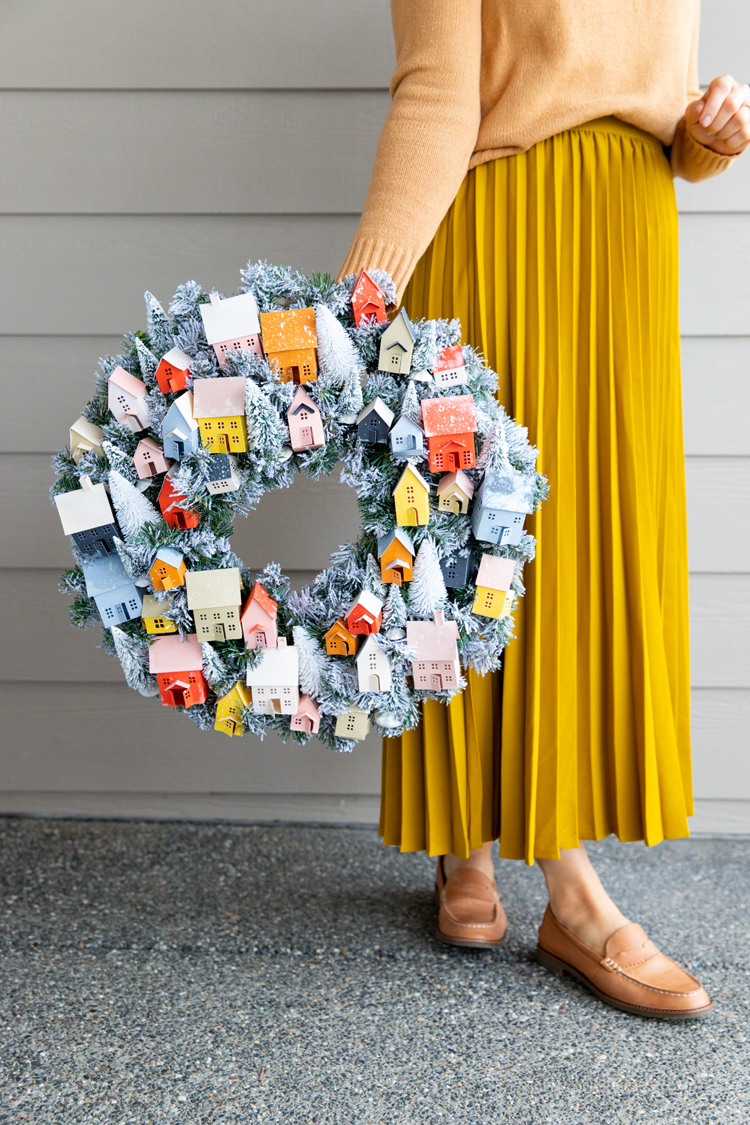 … to make this fun DIY paper village wreath! 😉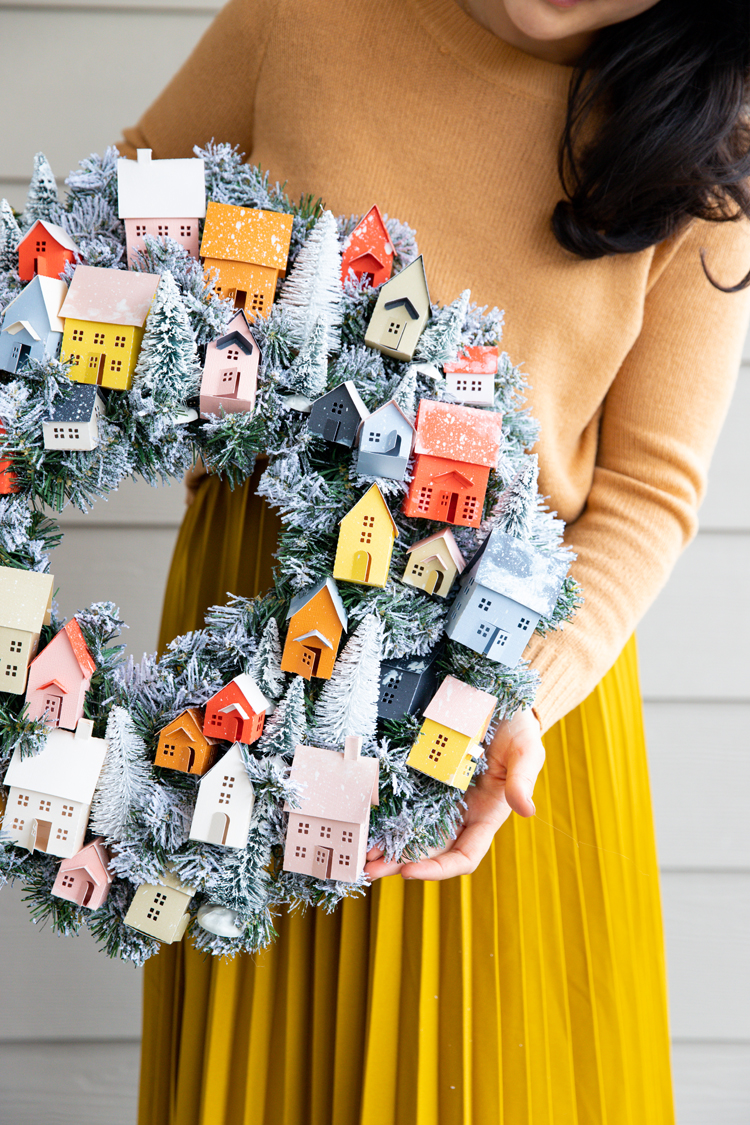 I remember when I first saw the putz village wreath on the cover of Martha Stewart Living in 2014. I wanted to make one so badly! But…sourcing the materials and affording the materials were barriers too steep for me at the time, so I gave up.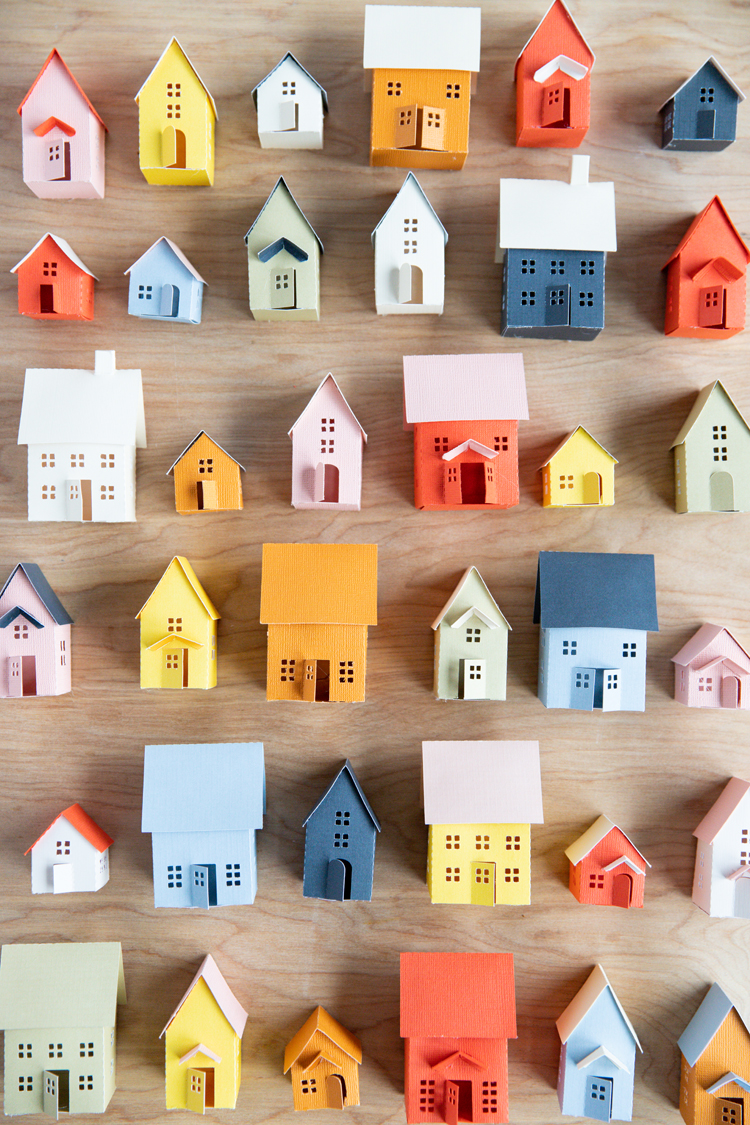 Fast forward to the present, six years later. Bottle brush trees are now super easy and inexpensive to find pretty much anywhere and I have since developed a mini paper house obsession that has inspired me to design my own tiny houses using just card stock.
It's a wreath inspired by Martha, but with its own flair.
It's also very affordable too. I made this wreath for under $20!
Make yours colorful like mine, or stick to one color way. I was very close to making all the houses shades of red and pink, but I couldn't resist making it a rainbow of colors. …this time. 😉
Okay, let's make one!
MATERIALS
Card stock in your choice of colors*
Hot glue
A fake flocked wreath**
Bottle brush Christmas trees (over a dozen from 1-4 inches tall)
White craft paint (optional, but it will help the houses match the flocked trees and wreath)
Cutting tools (either a cutting machine or scissors and exacto knife)
Free cut files (see below)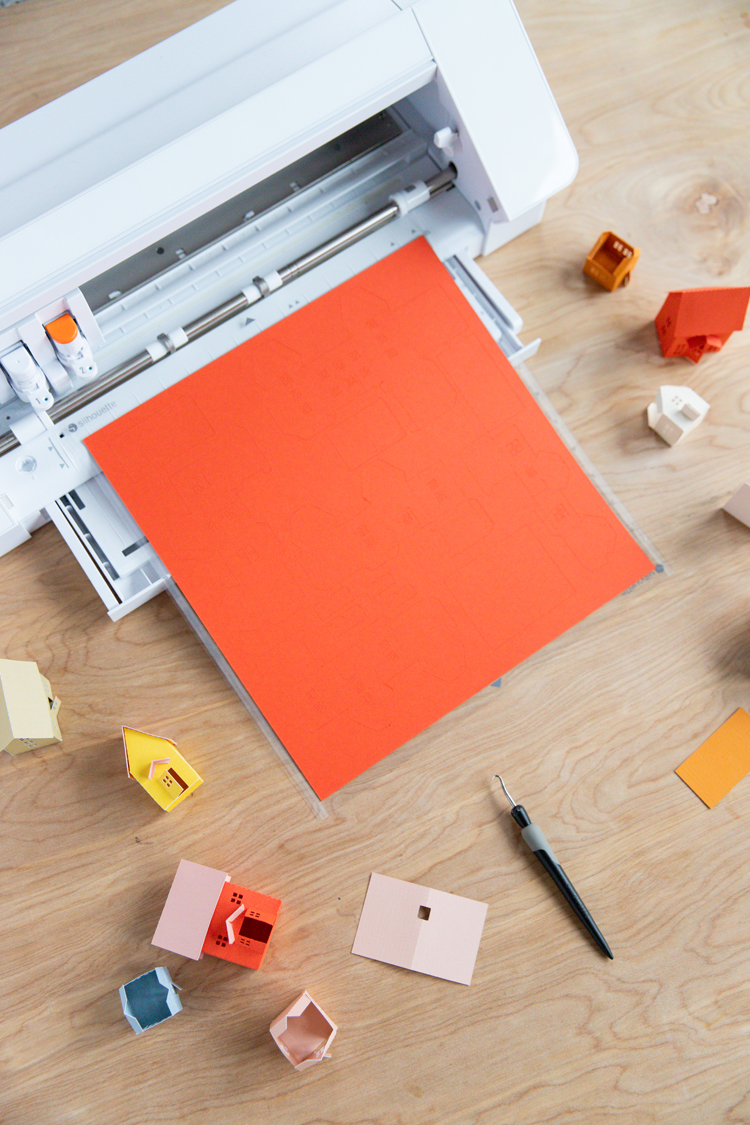 Materials Notes:
*I used 10 pieces of card stock. You can easily get away with using less, I just used more to be able to get the colors and combinations I wanted. If you are using a cutting machine, you will need 12×12 inch card stock paper. If you are printing and cutting by hand, you will need 8.5 x 11 inch card stock. I personally like the color selection and paper quality at Jo-Ann the best.
**I found a 24 inch fake flocked wreath at Jo-Ann for $5.99. It was on sale, but I just checked the price today and it is still that price! You can use a non-flocked wreath, but I find that that the bottle brush trees look best on a flocked wreath.
FREE CUT FILES & TEMPLATES
Cut files for Silhouette and Cricut cutting machines:
*The SVG files work better with Cricut software and paid/upgraded Silhouette software. There were some issues with the files not showing up, but that has been corrected in updated versions I added as of 11/11/22. There are two layer groups. One controls the outlines of the houses which should be cut. A separate group of layers controls the lines that should be scored. Select that group and change it to score lines in the software if needed. Cricut hides the score lines on the roofs (not sure why), but if you hide the outline grouped layer, score the score line group, and then unhide it, they will show up.
**I find that the DXF files work better with Silhouette machine free software. You just have to resize them to get them to the correct size. There is a one inch test square on each page to help you get the accurate file size. You can delete it when you're done resizing. There is no use for it with the houses.
PDF printable templates:
You can print and cut these or use them as templates for tracing. Be sure to print at "actual size" or 100%.
VIDEO TUTORIAL
If it hasn't already popped to the side or top of your screen, click play below to see a short video showing the wreath assembly.
TUTORIAL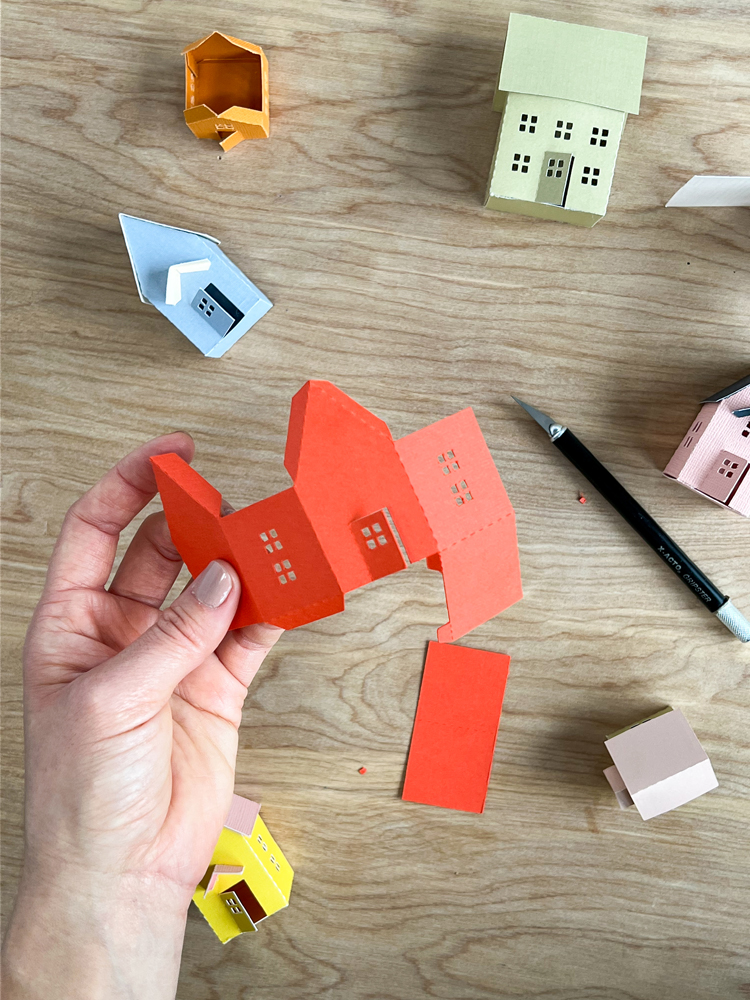 STEP ONE: Cut about two dozen houses with an even variety of house sizes.
There are three different house sizes. Between those sizes, I also switched up the window and door designs on different pages. I personally found that having more of the smaller two houses than large ones, provided a better visual balance to the wreath.
I used 25 houses, but I also stuffed my wreath pretty full.
STEP TWO: Glue the houses together.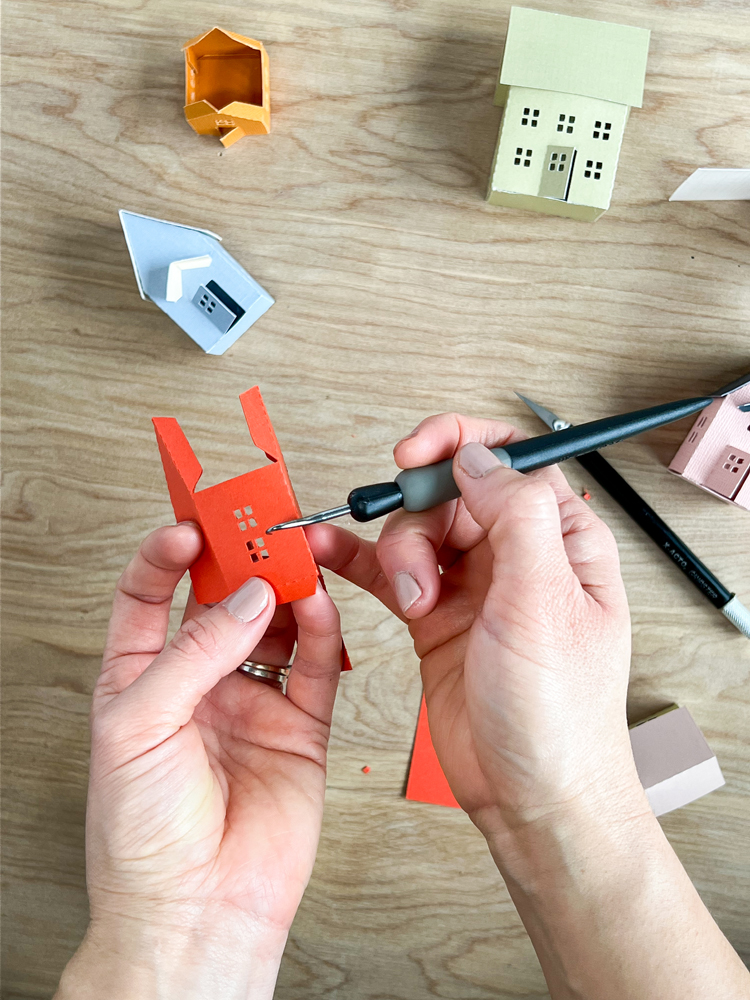 Fold the houses at the dashed lines and glue it together at the tabs.
Take care to glue the tabs on the bottom piece that flank the door. This will keep the floor from sagging as the houses get nestled into place.
Add the roofs one side at a time, taking care that it fits snugly over the pitch.
The roofs with holes at the top are for chimneys. The chimneys are meant to be a very tight fit. Once you assemble the chimney, you may have to squeeze it through the hole of the roof and then pop it back open once it's through.
There are also little portico pieces in two sizes that you can add as details to any of the houses.
OPTIONAL PAINTING STEP:
Water down some white craft paint and splatter the houses to mimic the look of snow. I also painted some onto the houses for bigger clumps of "snow" or to cover up some errant splatters of paint.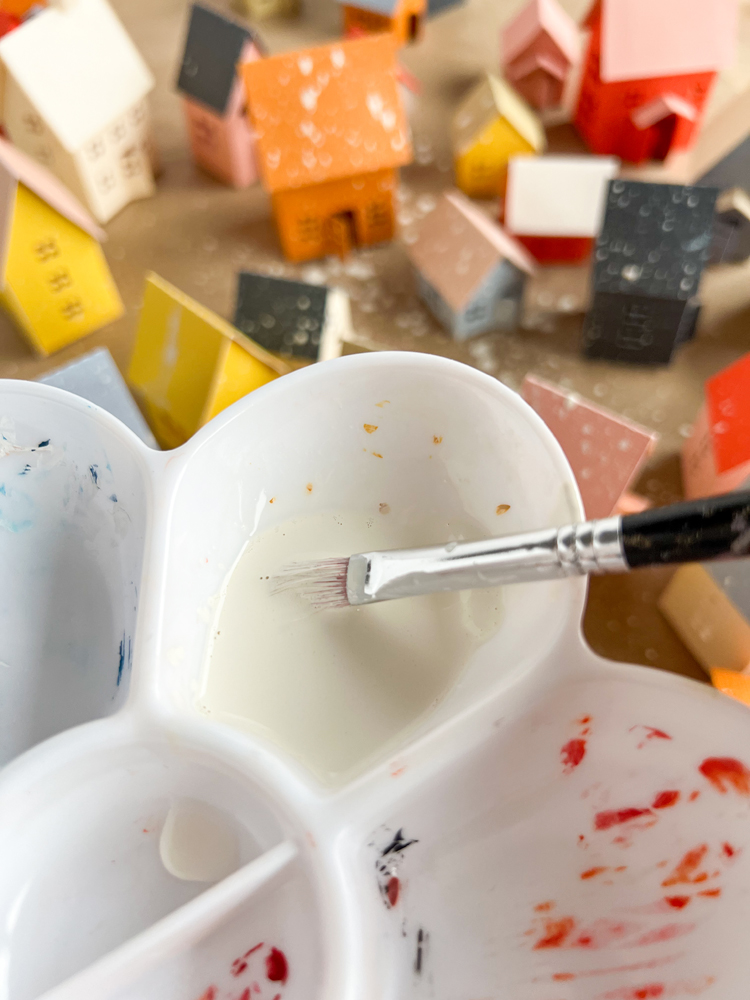 I painted the bottle brush trees with undiluted craft paint as well, so that they would be more thickly snow covered and not blend in so much with the wreath.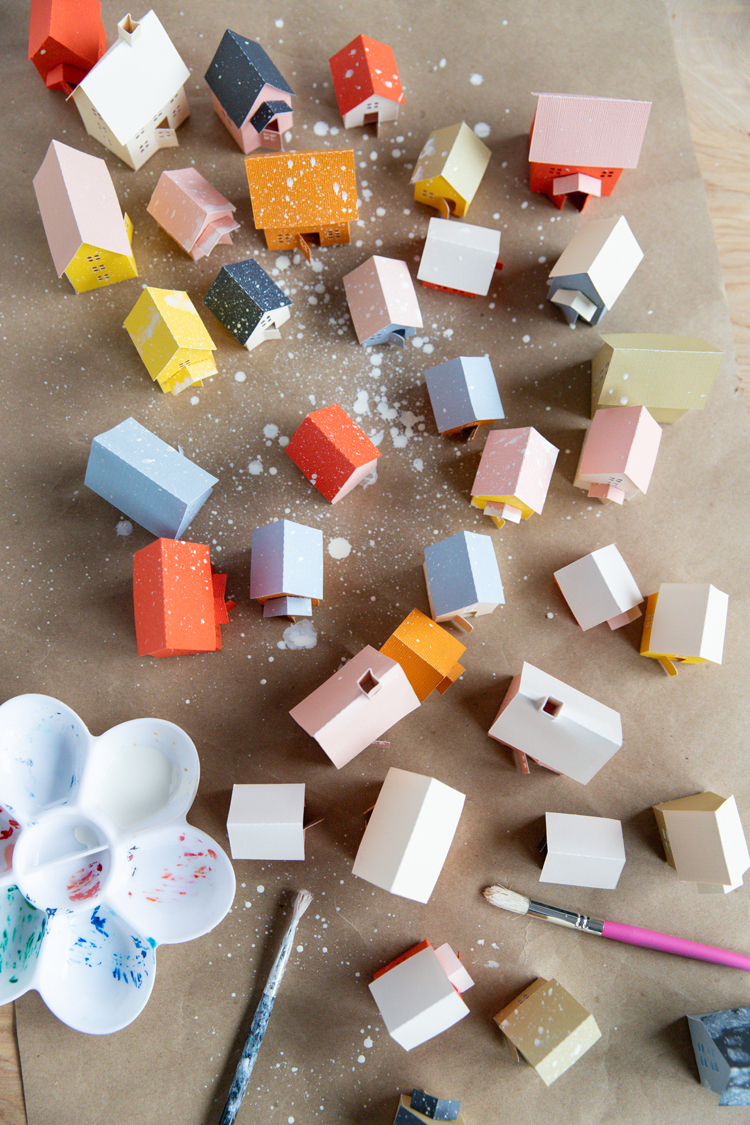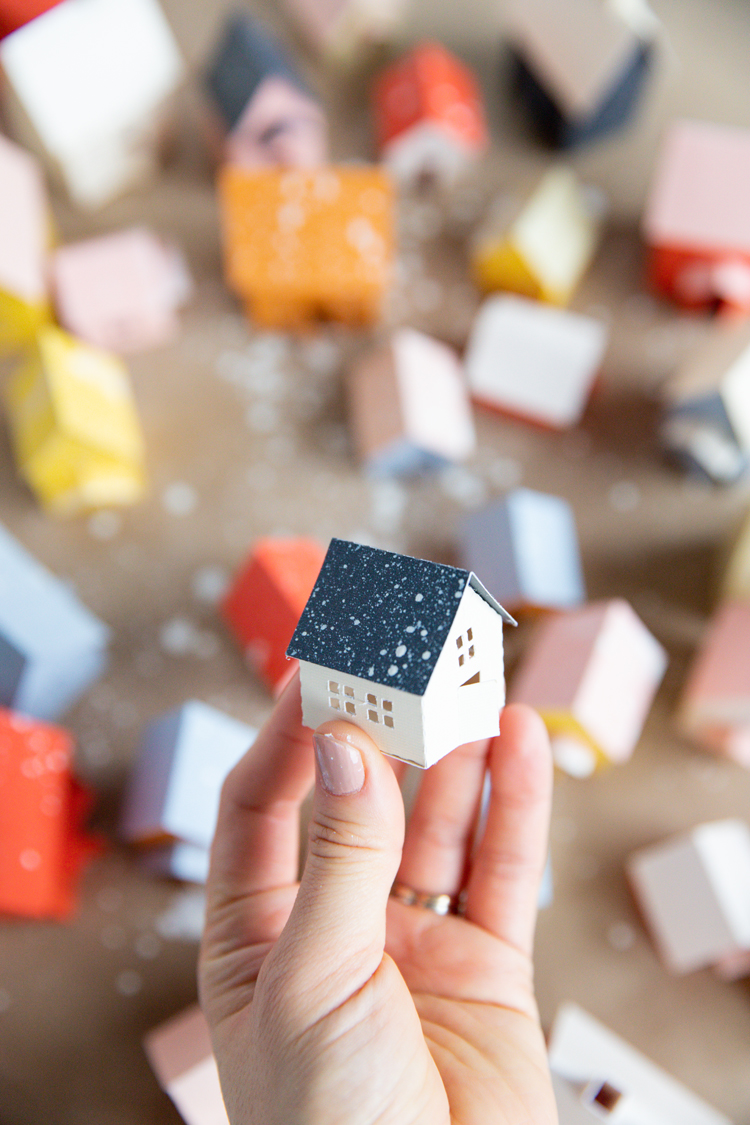 STEP THREE: Place the houses and the trees in the wreath.
Do not glue anything in at this point. Experiment with the placement of the houses and trees, until you get it looking how you want. They should stay put as long as you don't pick up the wreath too much.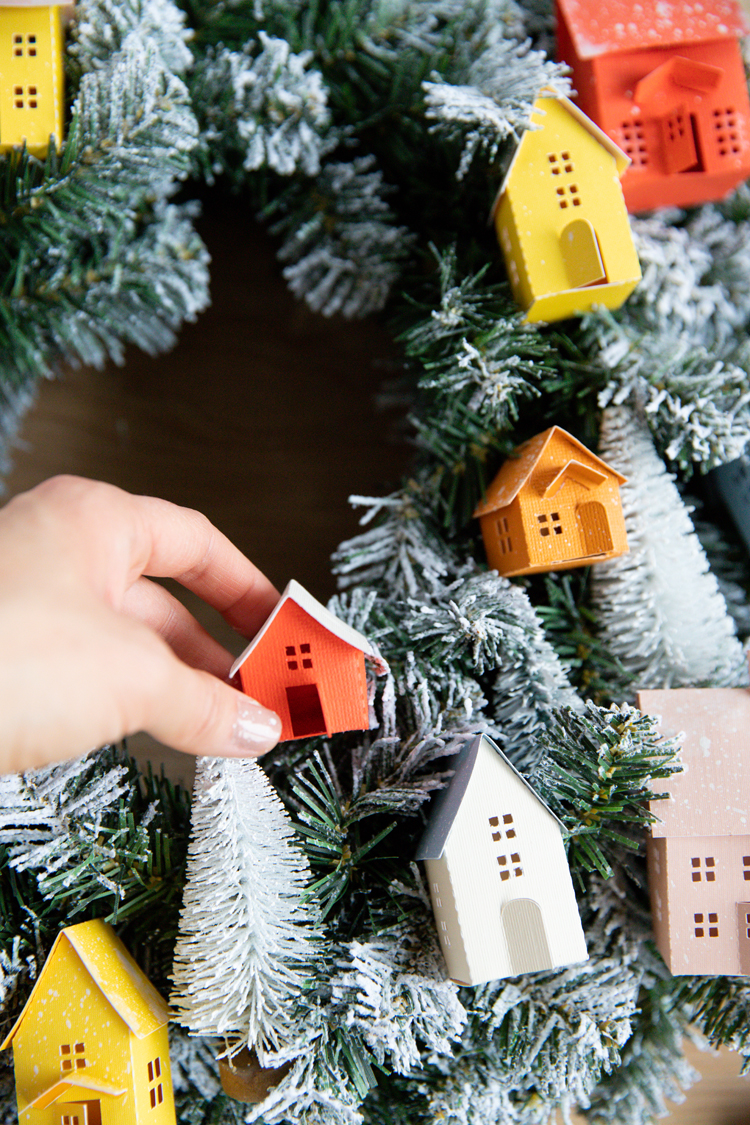 STEP FOUR: Glue everything together.
Once you are sure of how everything is placed, hot glue it to the wreath so that it will be secure.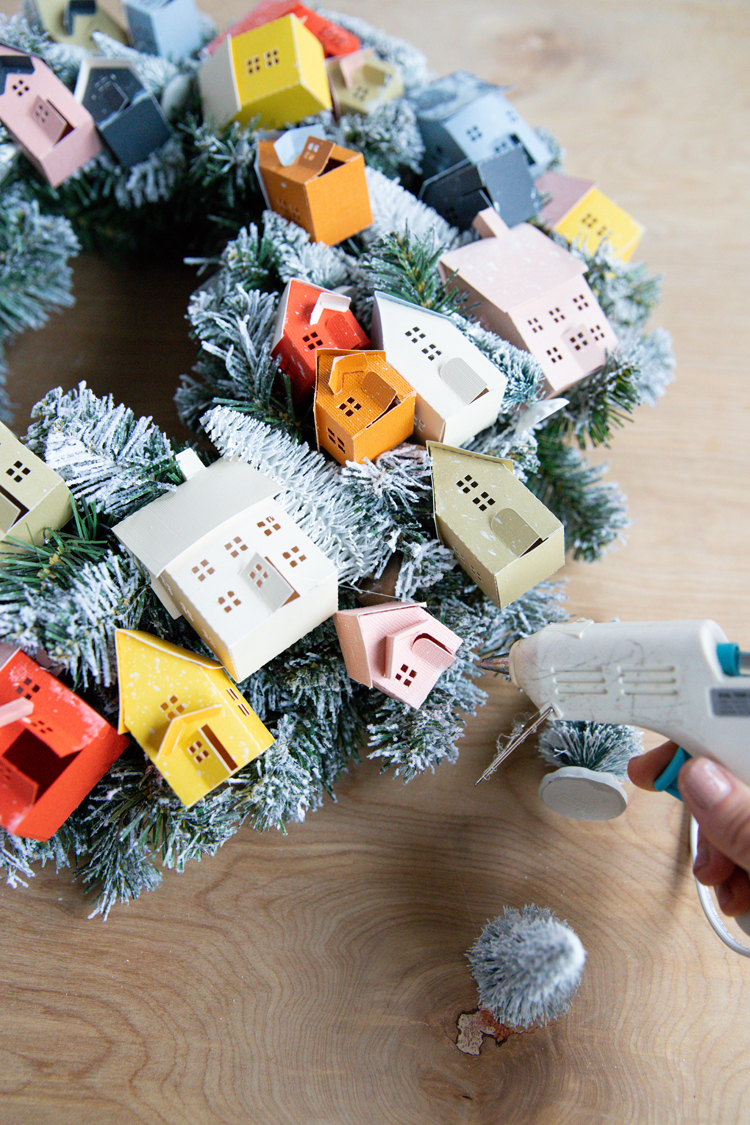 Now it's ready to deck the halls!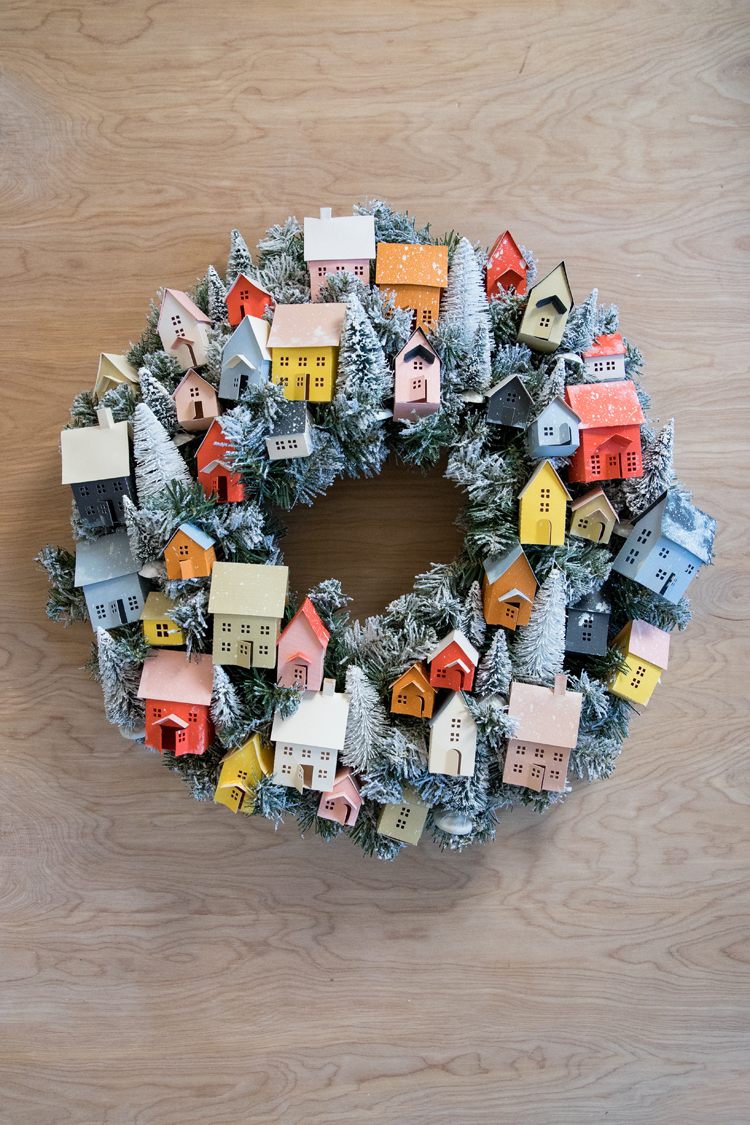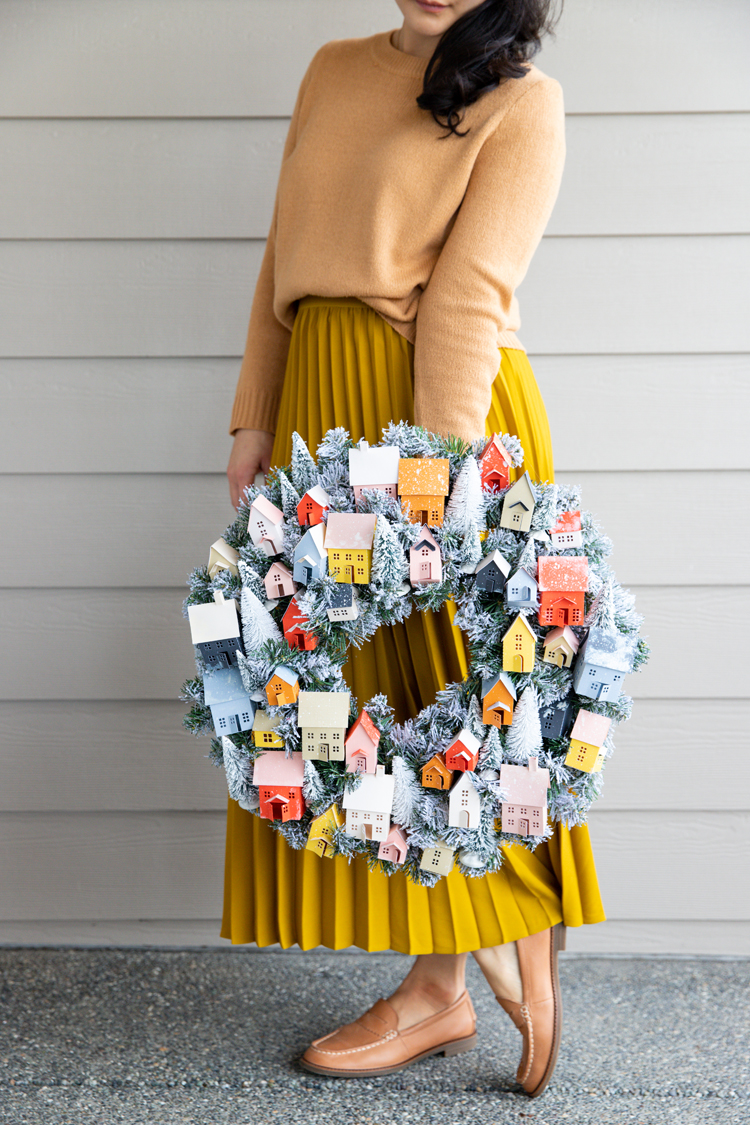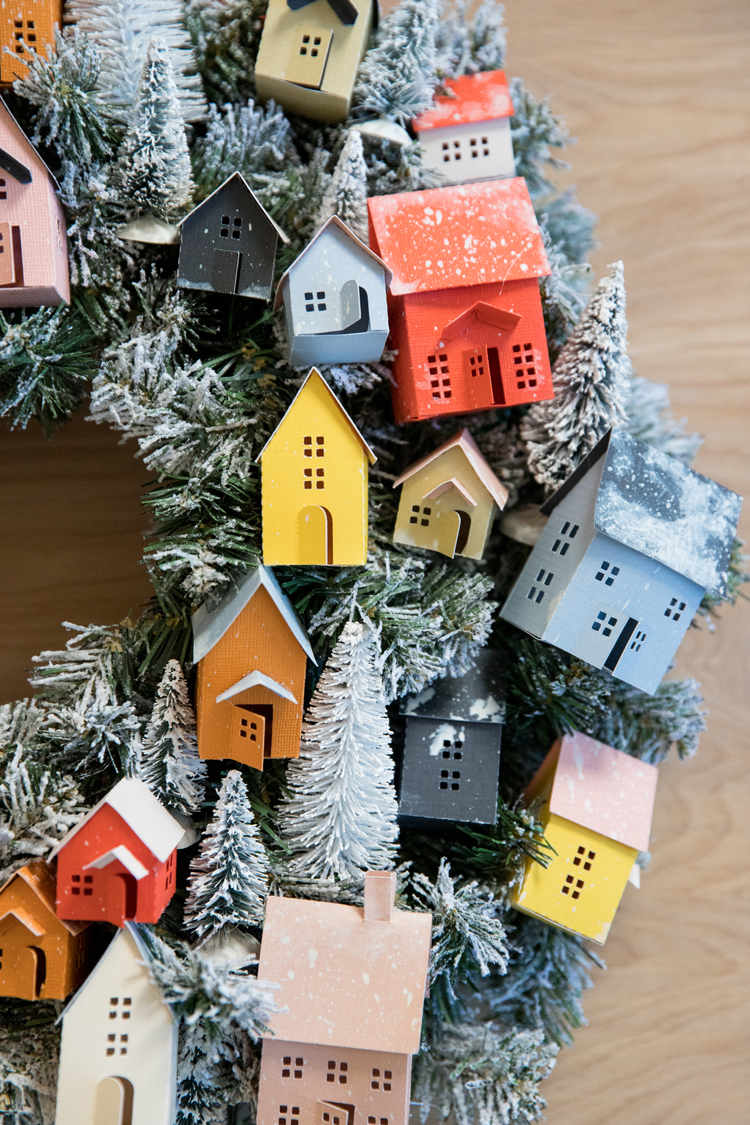 For more mini paper house files, check out these posts.