The always lovely Kate from See Kate Sew has come out with a new women's pattern called the Penelope Peplum.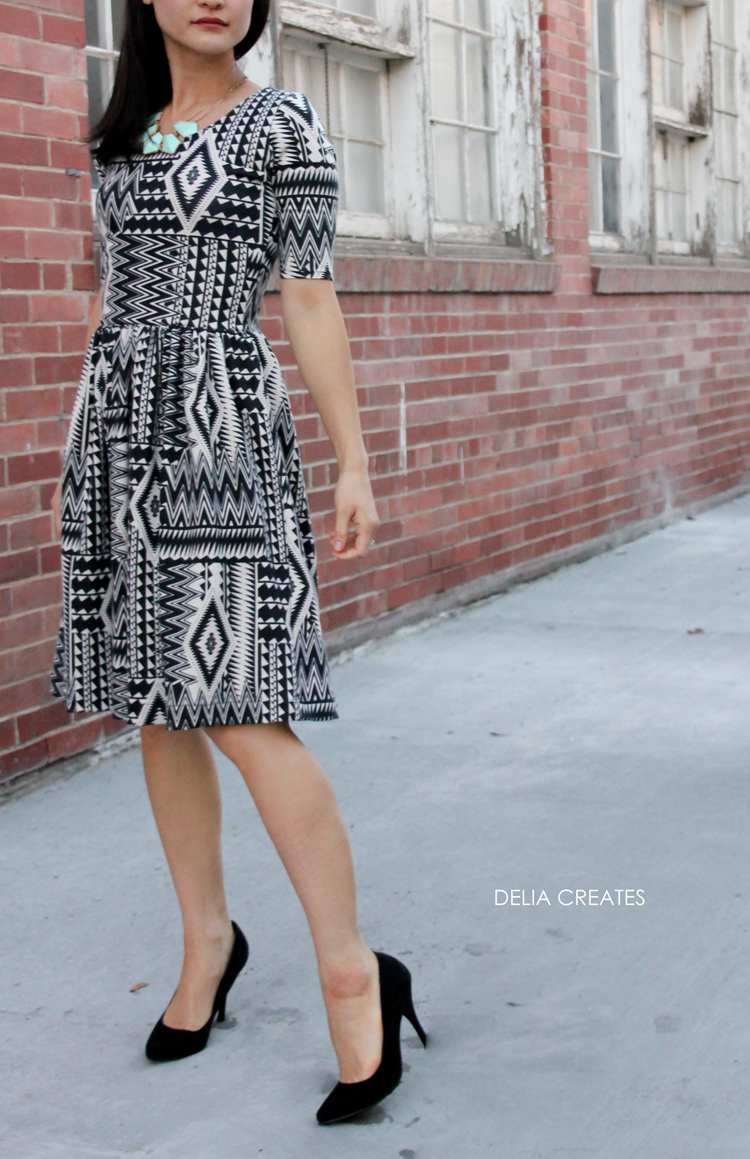 Maybe you've already heard of it? It's sort of taking sewing blogland by storm because well…it's so pretty!
And super comfy.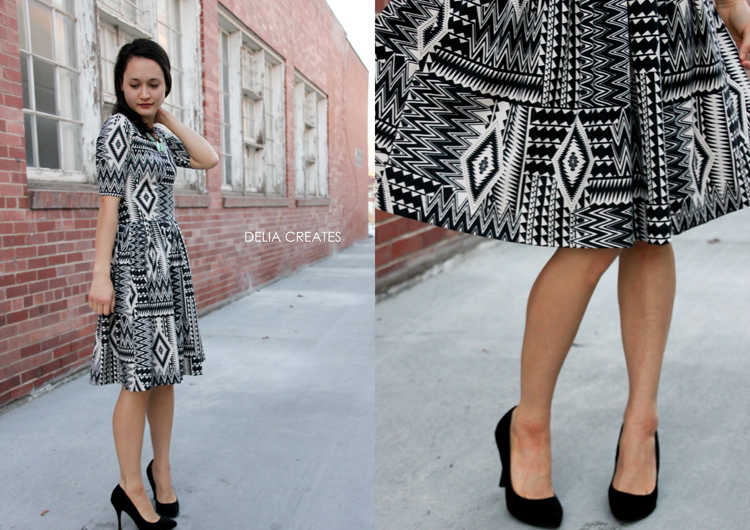 And flattering. 
I love it!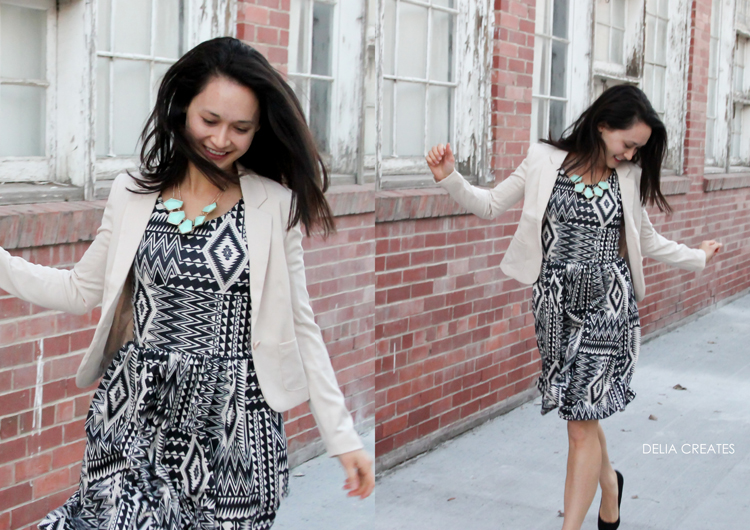 So…you might be wondering by now: Peplum? Looks like a dress. And you're right! Kate just released an extension pattern that includes a gathered dress option, a circle skirt dress option, and a circle skirt peplum option. 
I chose the gathered dress option.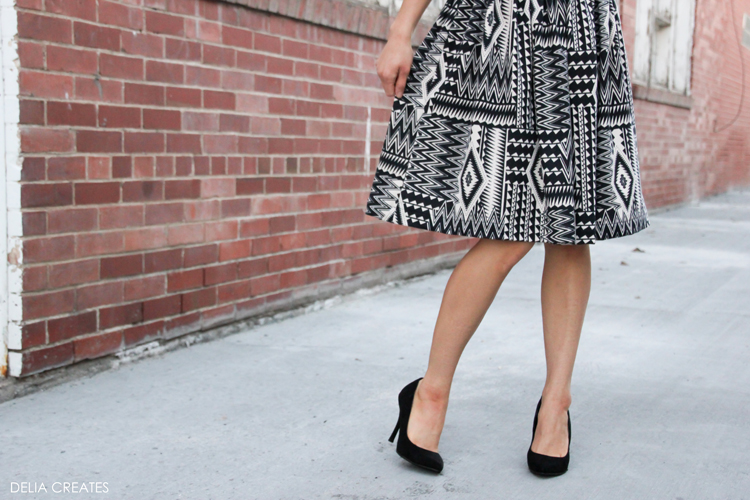 The original peplum pattern also has more options to add to the option party as well. Option, option, I'm saying option a lot. haaa.
There are three different sleeve types and an optional bow. So, you can really shake things up and make a lot of different variations.
My favorite sleeve length for almost any season is the half sleeve. I think it is such a flattering cut on almost everyone and it goes great with this dress.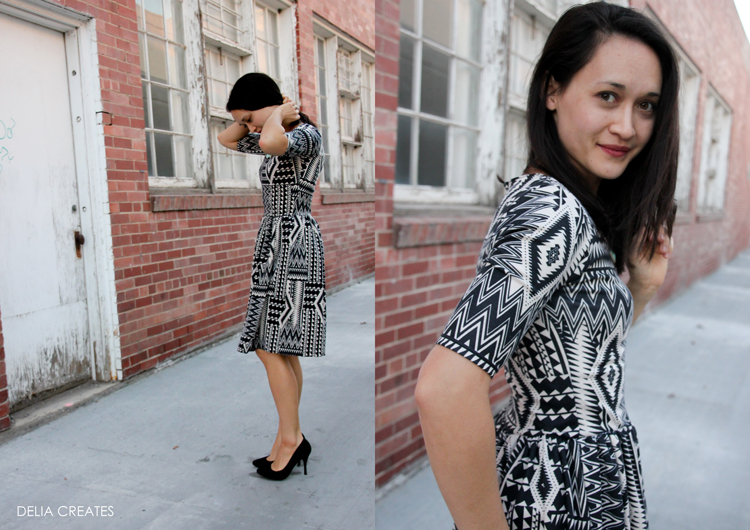 I used this super amazing, lovely Black Cream Diamond Ponte de Roma knit from Girl Charlee (sponsor). I think using Ponte de Roma has spoiled me. I don't know if I can use another type of knit again. Okay, I can, but I will always be pining for more Ponte. I love it so.
It is a thicker knit, with great recovery, and it's nice and smooth. It doesn't curl when you cut it and it sews and wears GREAT. It is really worth the extra couple bucks.  You can find it in the specialty knits section HERE.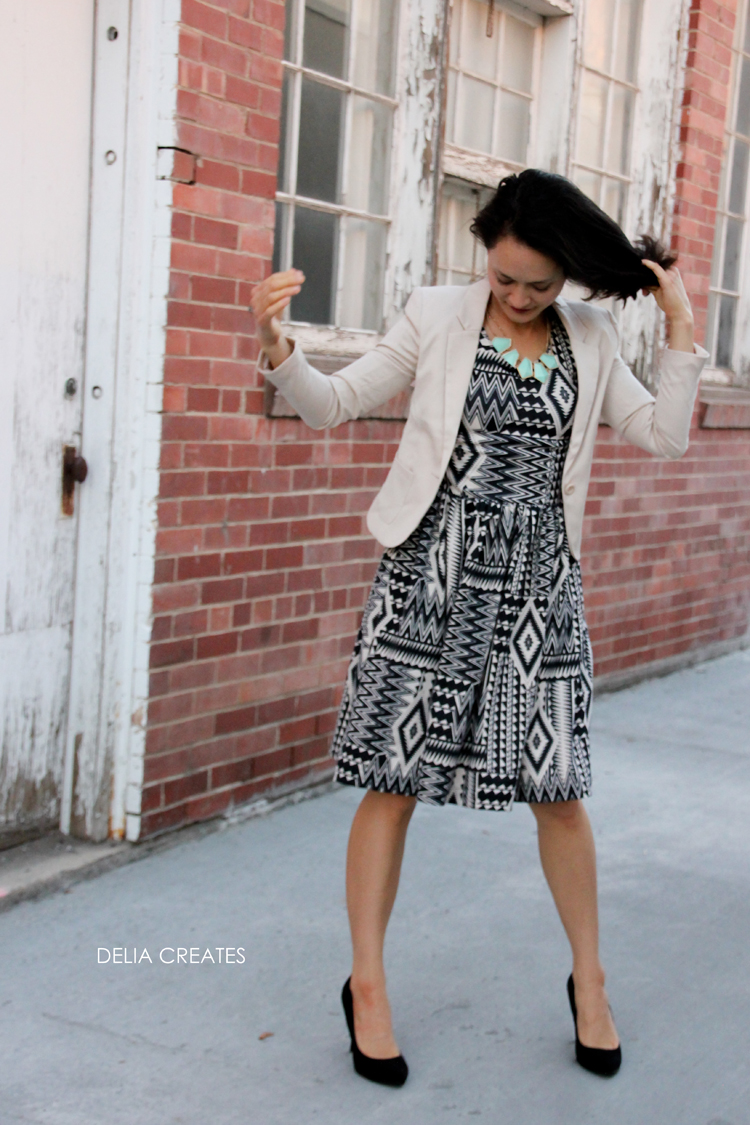 I sewed up a size XS and it fits like a glove. Now…I wouldn't normally buy an XS T-shirt or dress at the store, and this is where the magic of sewing comes in. When we go to the store, we don't know what sizing chart each designer and manufacturer is using. I'm a size small in some brands and a size medium in others. And some brands…just fit me odd in all sizes, which is fine because all bodies are different, but it can make shopping frustrating.
The great thing about sewing is that you use your measurements to find your size, not the other way around. You can then even tweak the pattern if you're in between sizes, to make it work for you. Just remember to check the measurements chart! Don't sew from your typical department store size or might end up with a very different result. Trust the pattern designer.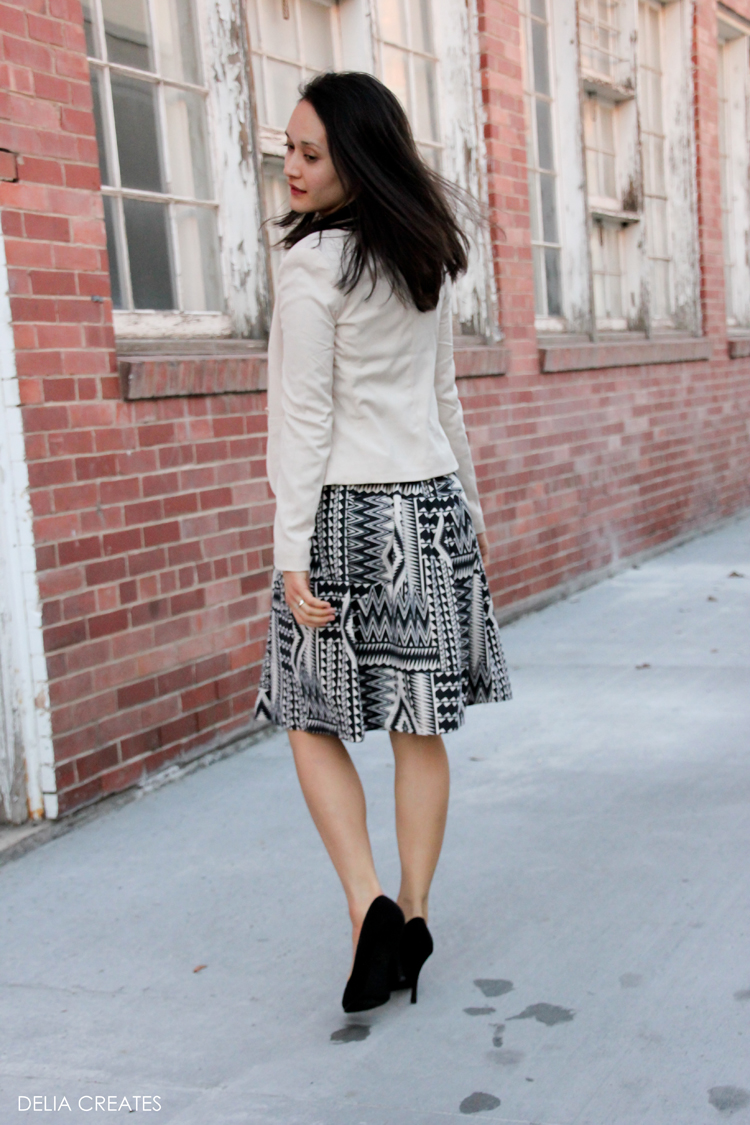 Hmmm…what else?
Oh yes, this pattern doesn't require a serger! I only used it on the waist and I didn't really need to. I used a stretch stitch on everything except for the neckline and the skirt hem.
The reason I didn't use one for the neckline is because I actually started to and it started to distort the fabric. I probably could have pulled out my walking foot, but I just switched to a lengthened straight stitch. Worked like a charm, and I haven't been busting threads pulling it over my head, like I was worried I would.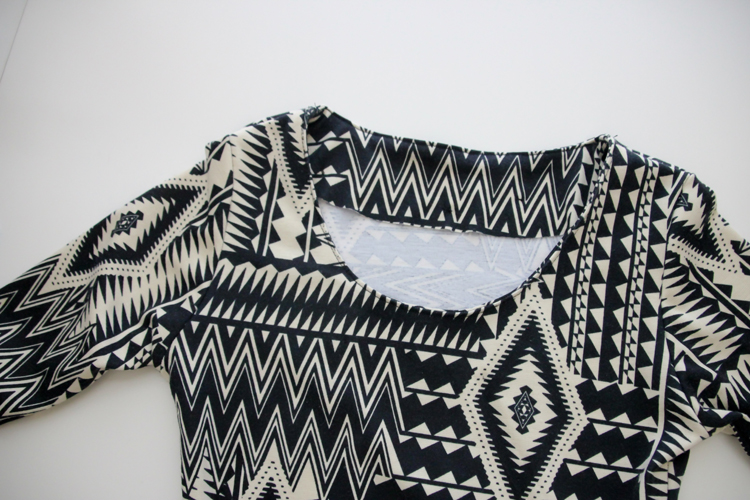 Speaking of necklines, I totally didn't finish the facing raw edge like the pattern told me to. But with Ponte…it just didn't seem necessary. I did however tack down the facing, like Kate recommends. That was important. Otherwise, I had to keep fighting with it to make sure it stayed on the inside of the dress.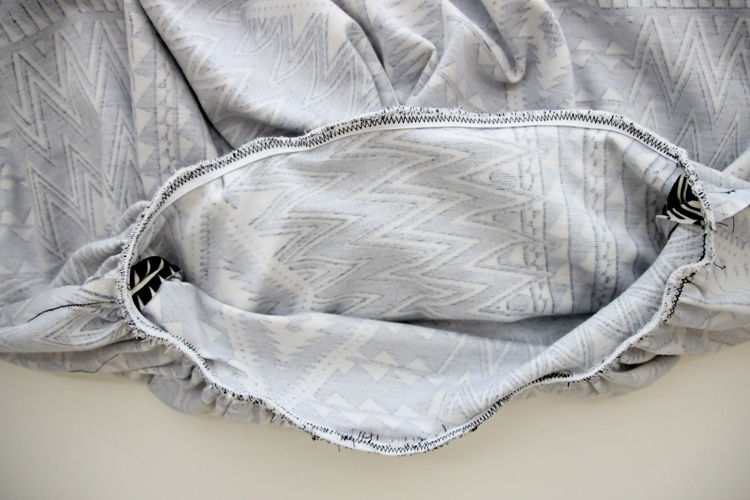 As for the skirt, the only thing I changed was that I added some elastic to it as I sewed it to the bodice. This is because the Ponte de Roma is a little heavier than most knits, so I felt it needed some help.
I took 1/2 inch knit elastic and I cut it almost exactly the width of the bodice. I overlapped it  (so it would end up slightly smaller than the bodice width) as I laid it on top of the bodice side of the seam. I serged everything place, stretching the elastic a little bit as I went, and then sewed with a zig zag stitch all the way around after that, to strengthen the seam.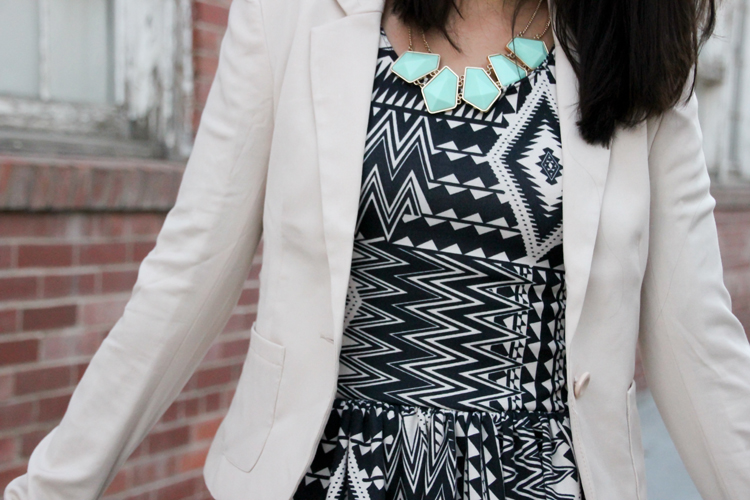 My husband is such a trooper. My camera remote's batteries started to peter out, so he stepped in to take these shots for me after work…while I shivered like crazy! ha! Don't let how I styled this dress fool you. It is below freezing in this picture. 🙂 The things I'll do to get the picture I want with decent light! And the light was only so so, because we had to work fast before the sun went down.
Boy…I usually enjoy Winter, but lately I have been dreaming about Summer… When I have five more hours of sunlight everyday, and I can pair this dress with my gold gladiator sandals and frolick in the warmth…okay, maybe not frolicking … 😉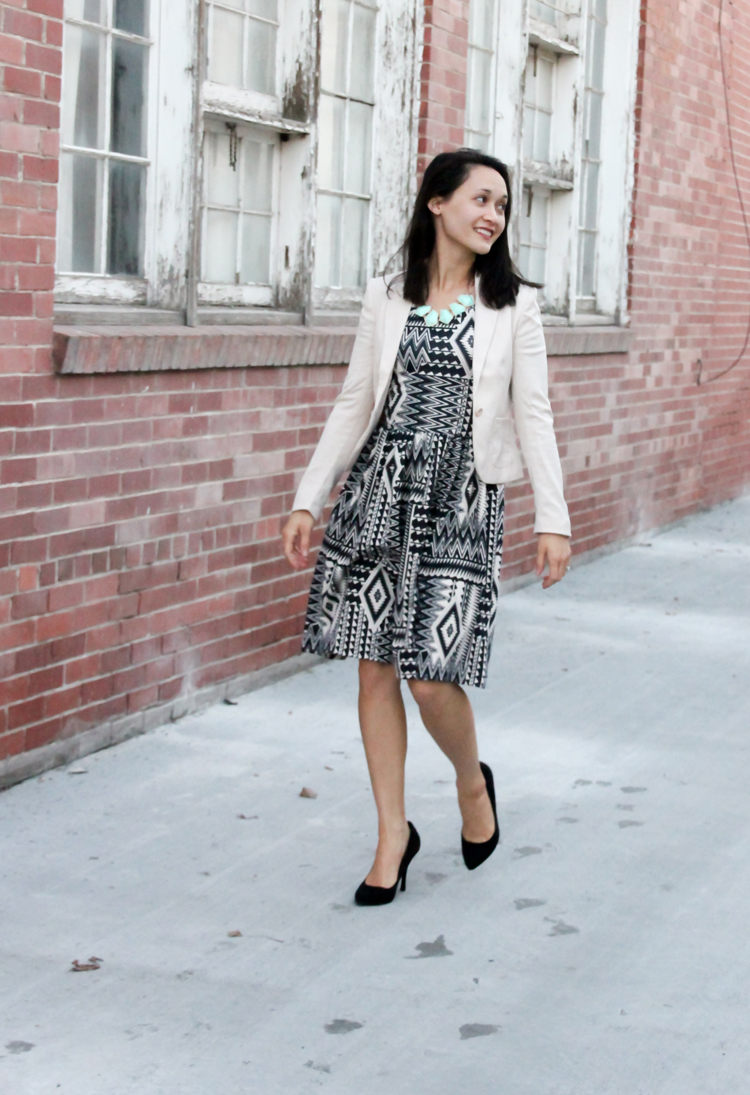 An upside, is I can wear blazers to my hearts content right now. I bought my first blazer last month when I turned 30. I thought it was about time I let my wardrobe grow up. And now…I have three. I can see a blazer addiction forming…. 🙂
Check out the Penelope Peplum Pattern by See Kate Sew Patterns HERE.
She also has a little girl version called the Pippa Peplem (seriously so cute!) HERE.
Disclaimer: I am a part of the Penelope Peplum pattern tour and I received this pattern for free. My opinions are honest and my own. Oh, and the blazer is from H&M. 😀