You've seen these on Pinterest. This is not a new idea. In fact, it was post after post of these cattle panel garden arches that kept popping up in my Pinterest feed that made me finally build my own! So, I'm adding our own into the mix. 😉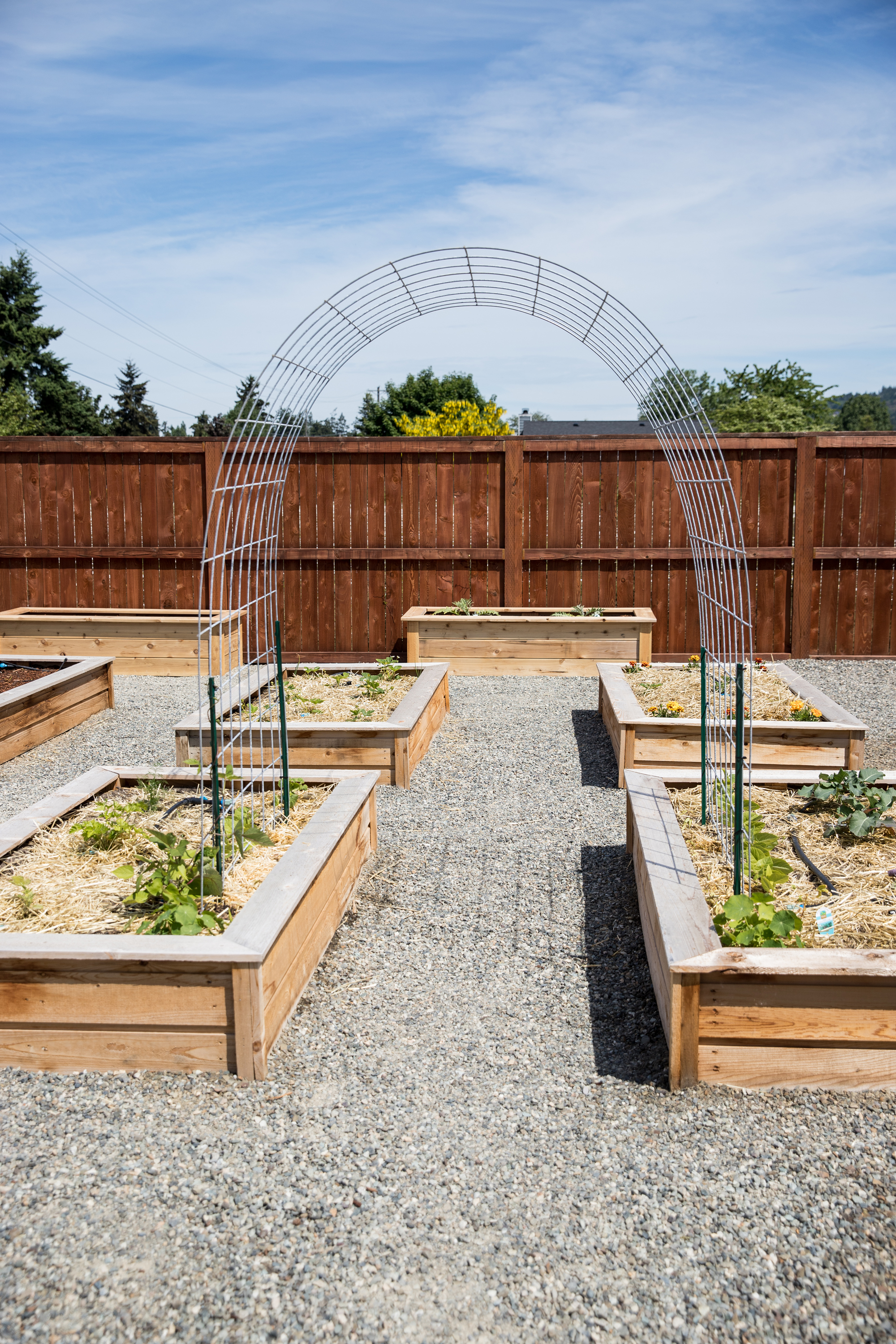 We put in a bunch of raised beds this year and I thought it would be fun to add some trellises to some of them for our climbing vegetables. Scroll down to step 4 to see what we planted.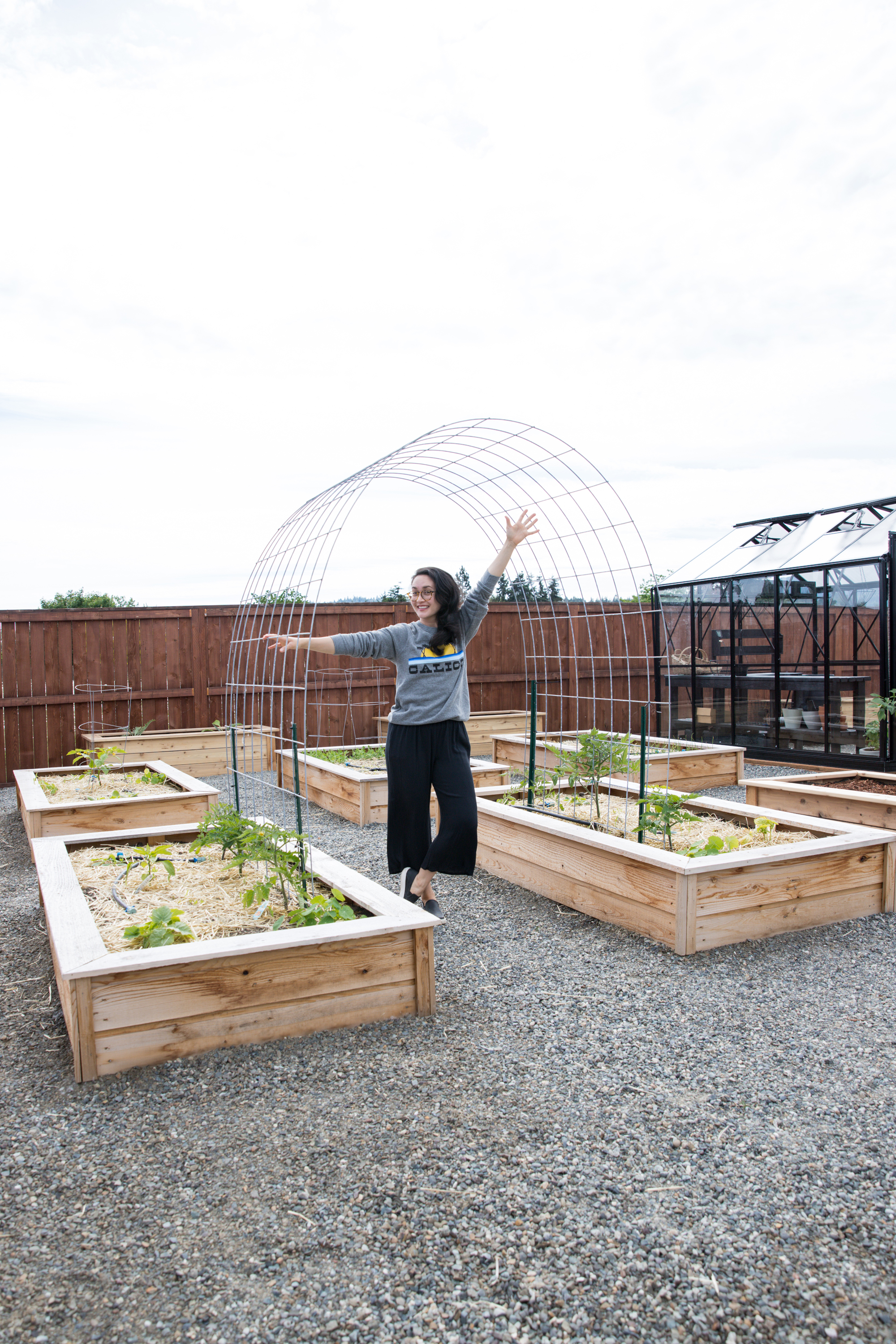 But first, let's talk trellis…arch. Arched Trellis? You can probably see now why my title reads like a list of descriptions. Ha!
My favorite part of this type of cattle panel arch is that it costs around $40 for each arch! So, you can get a lot of wow factor in your garden (once it fills up with plants) for just a small investment.
MATERIALS
4 – four foot tall, medium duty T posts (may also be called U posts), about $4 each
1 – 16 foot long by 50 inch wide galvanized steel cattle panel, we got a 5 gauge panel, about $25
Post pounder
Zip Ties
Raised beds set about 3 feet apart
Material Notes:
I got most of our T posts from Home Depot but they didn't have quite enough for both of our trellises – we built two – so I went to a local farm store. They called the medium duty T posts, U posts.
Our cattle panel was about $25 from Coastal which is chain farm store in the Pacific Northwest. Most farms stores will carry them for about the same price.
We borrowed a post pounder. You only need it for less than an hour, and it can run you $25+, so it's worth asking around to save money.
We had a bunch of zip ties on hand, but I think you can get a bunch for around $5 or use some galvanized wire.
I'm not sure that our method of arch installation would work as well without the support of the raised beds. If you want to put them straight in the ground with raised beds, there are many other tutorials that will provide better info on how to do that probably with heavier duty T posts. Note: I didn't include the beds in the total cost of the garden arch.
HOW TO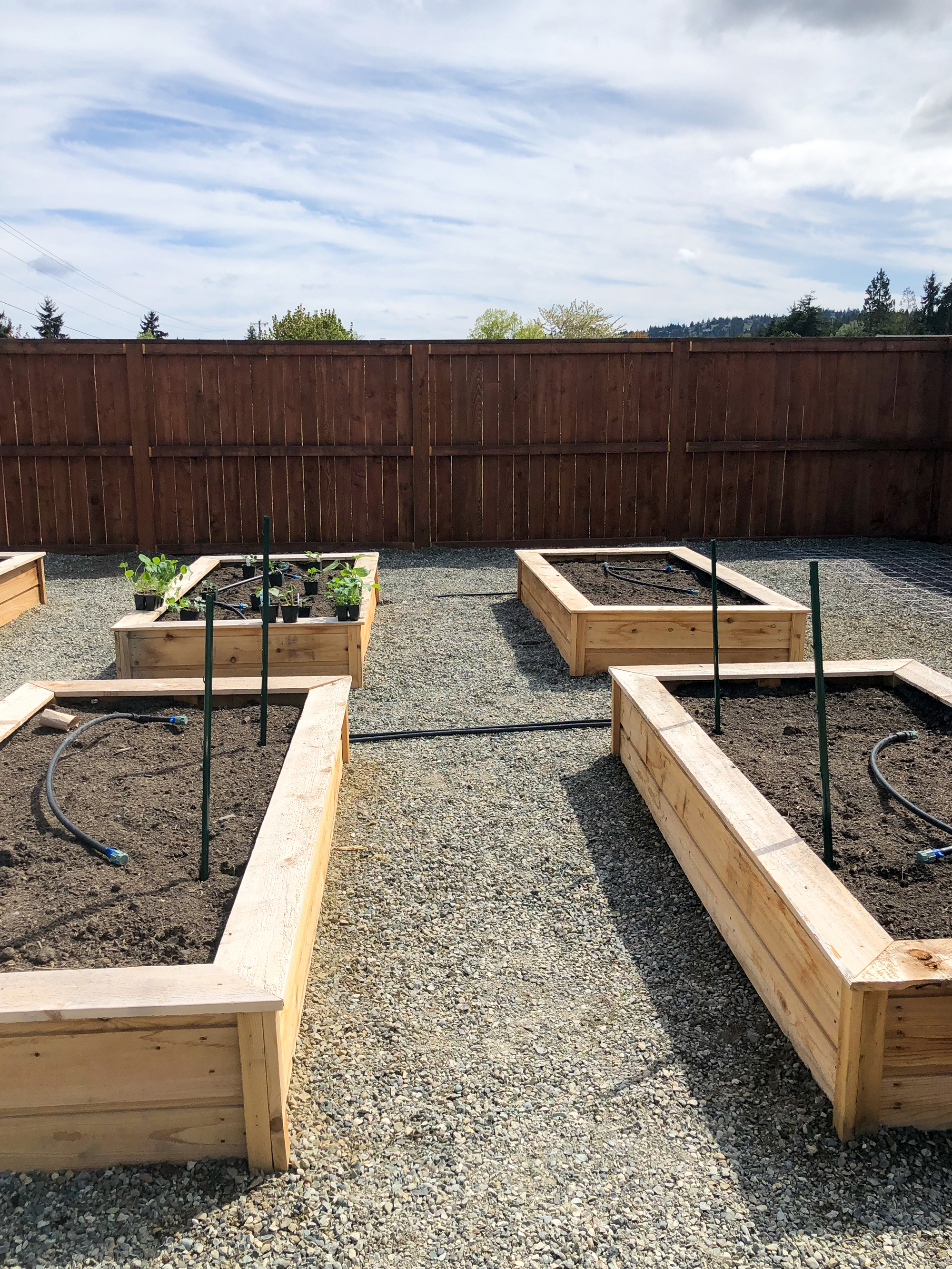 Step One: Install T posts.
Measure placement of the T posts and then pound them in with a post pounder at least a foot below ground level (not including soil in the raised beds).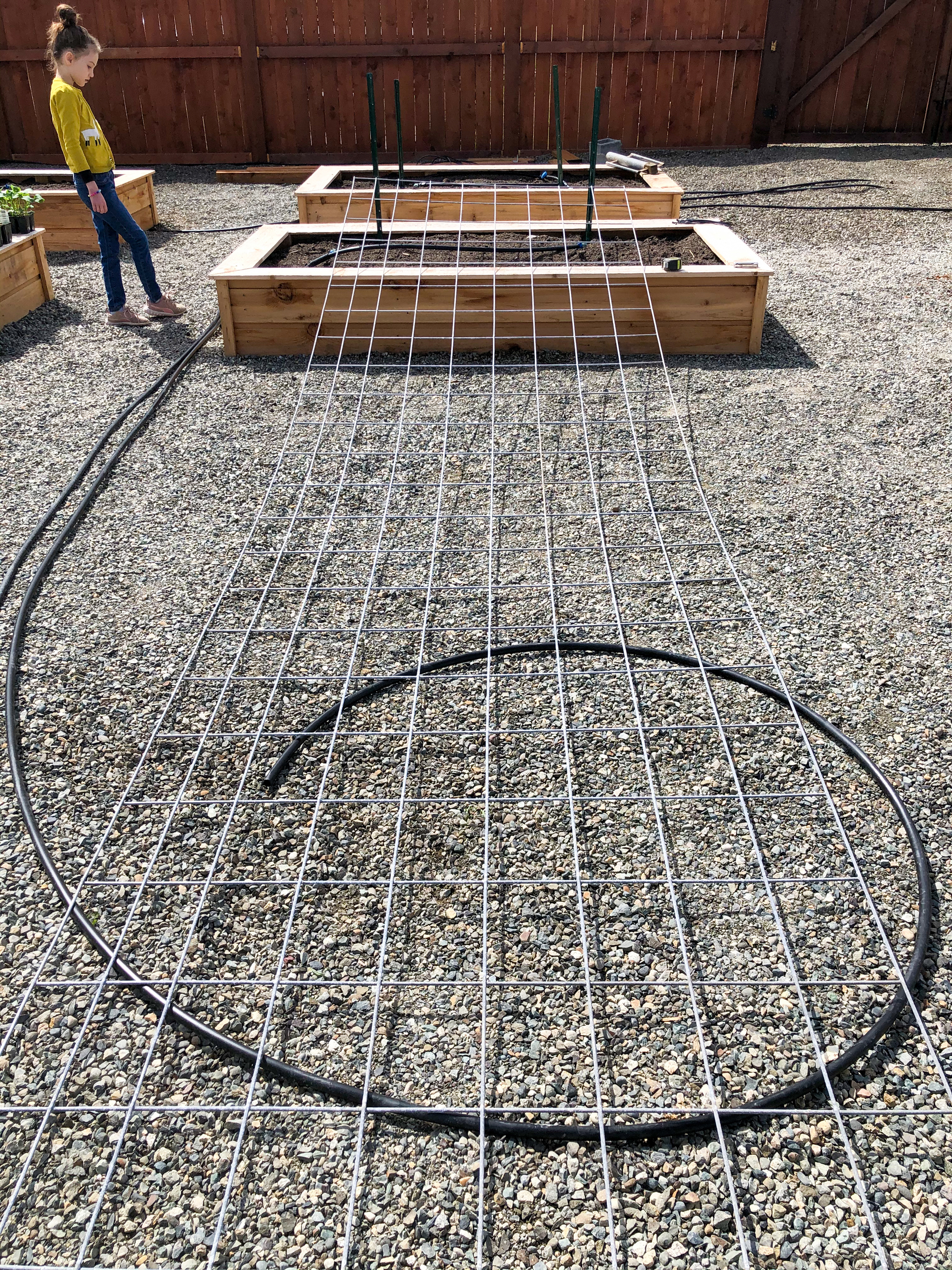 We found it helpful to lay the cattle panel on top of the raised beds to see where we wanted it. One of the long sides of the cattle panel has a narrower spacing between wires as well, so it helps have the panel in place to get the spacing accurate.
Step Two: Dig a trench in the raised beds.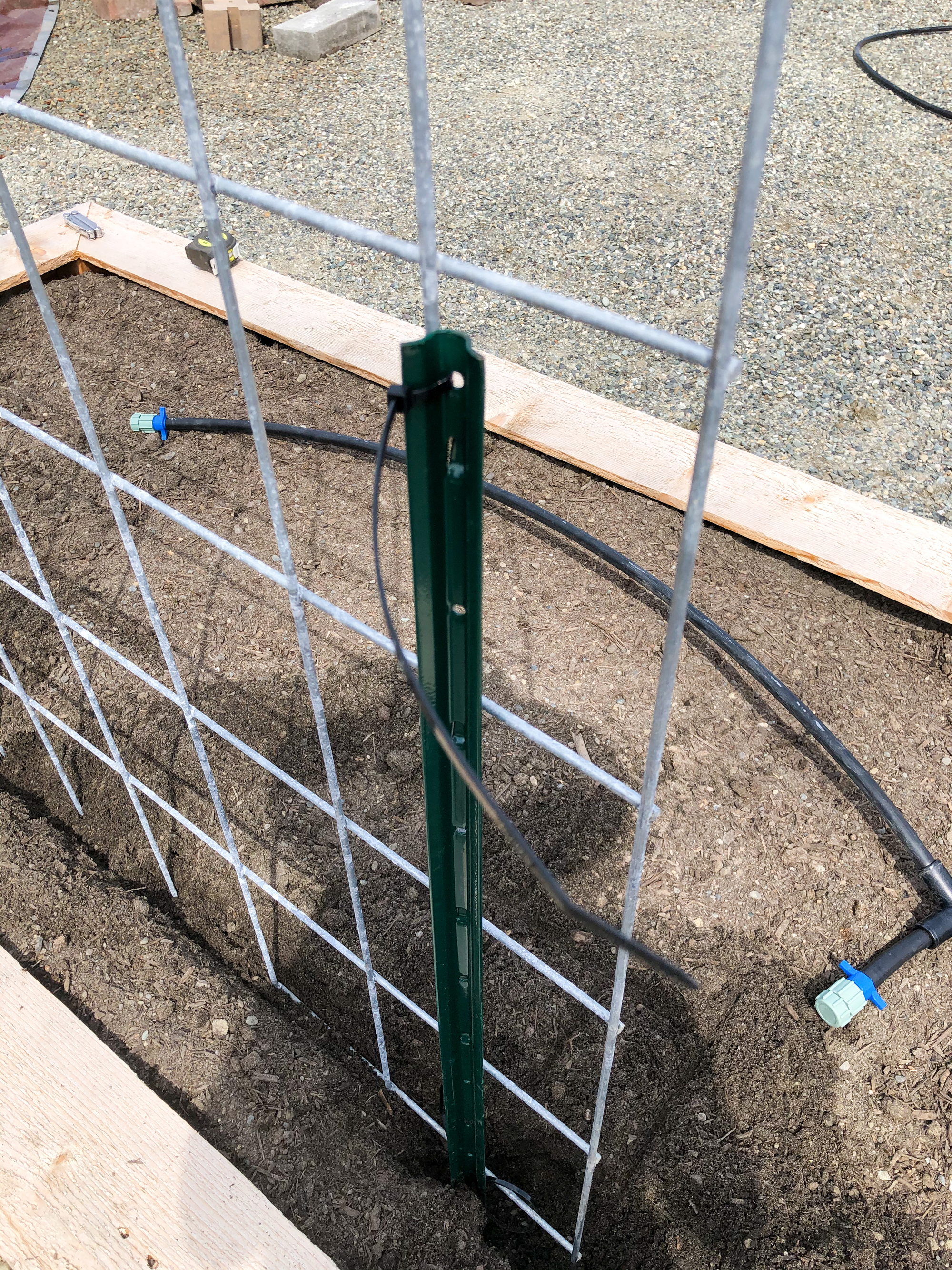 Dig a trench between each pair of T posts in each raised bed where you want the cattle panel to go.
Step Three: Install cattle panel.
Place one end of the cattle panel in one trench and secure with some zip ties while another person holds up the other end of the panel. This project definitely takes at least two people.
Then bend the cattle panel into the other trench and zip tie it in place.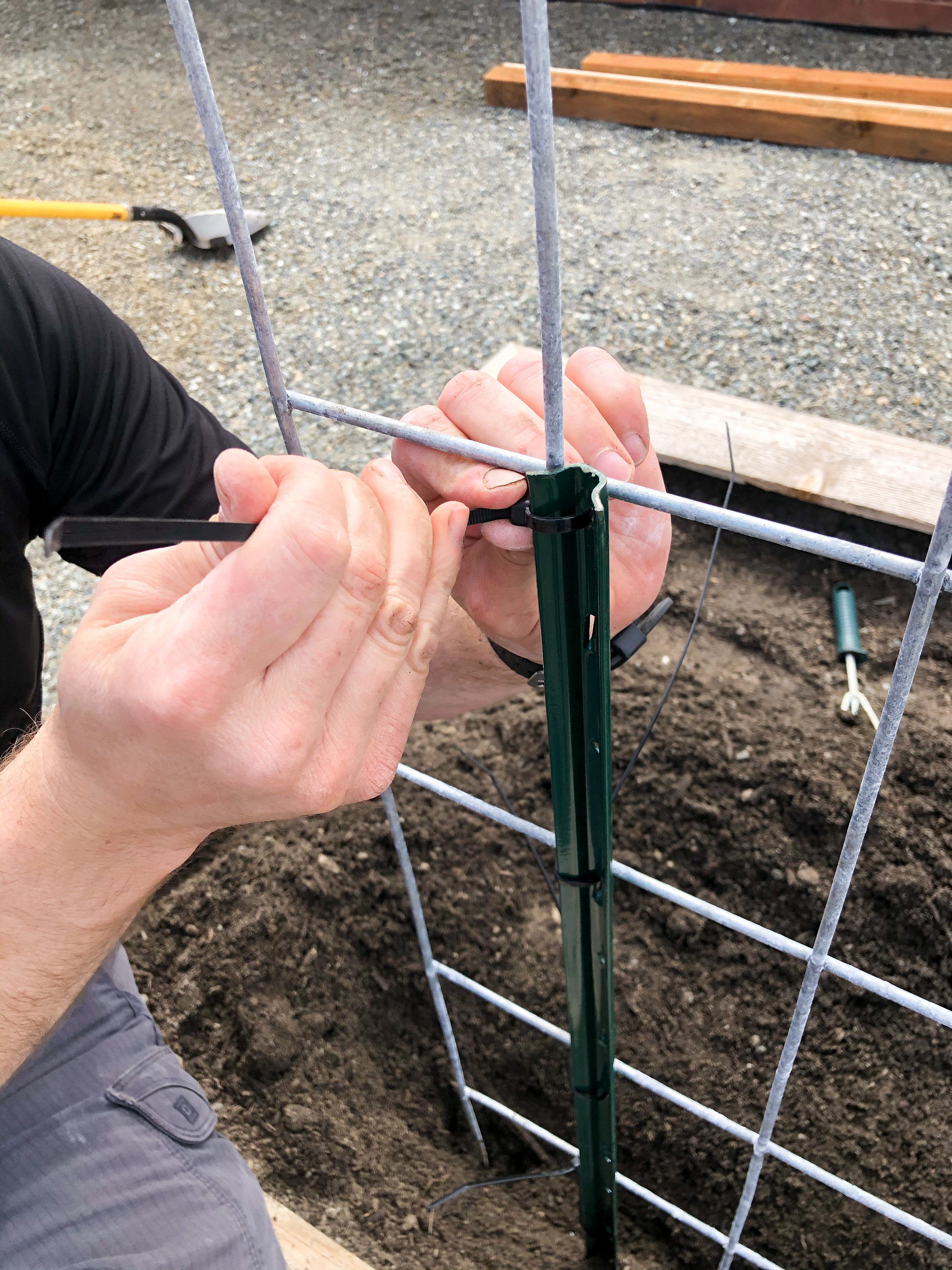 We secured each T post with at least four zip ties, spaced evenly from as close to the ground as possible to the top of the T post. We then cut the excess ends off and sanded them down so they wouldn't be so sharp (well most of them…we still haven't gotten to all of them yet ha!).
Then fill the trench with soil, compressing it as you go, and bury the bottom of the cattle panel to the level of the raised bed.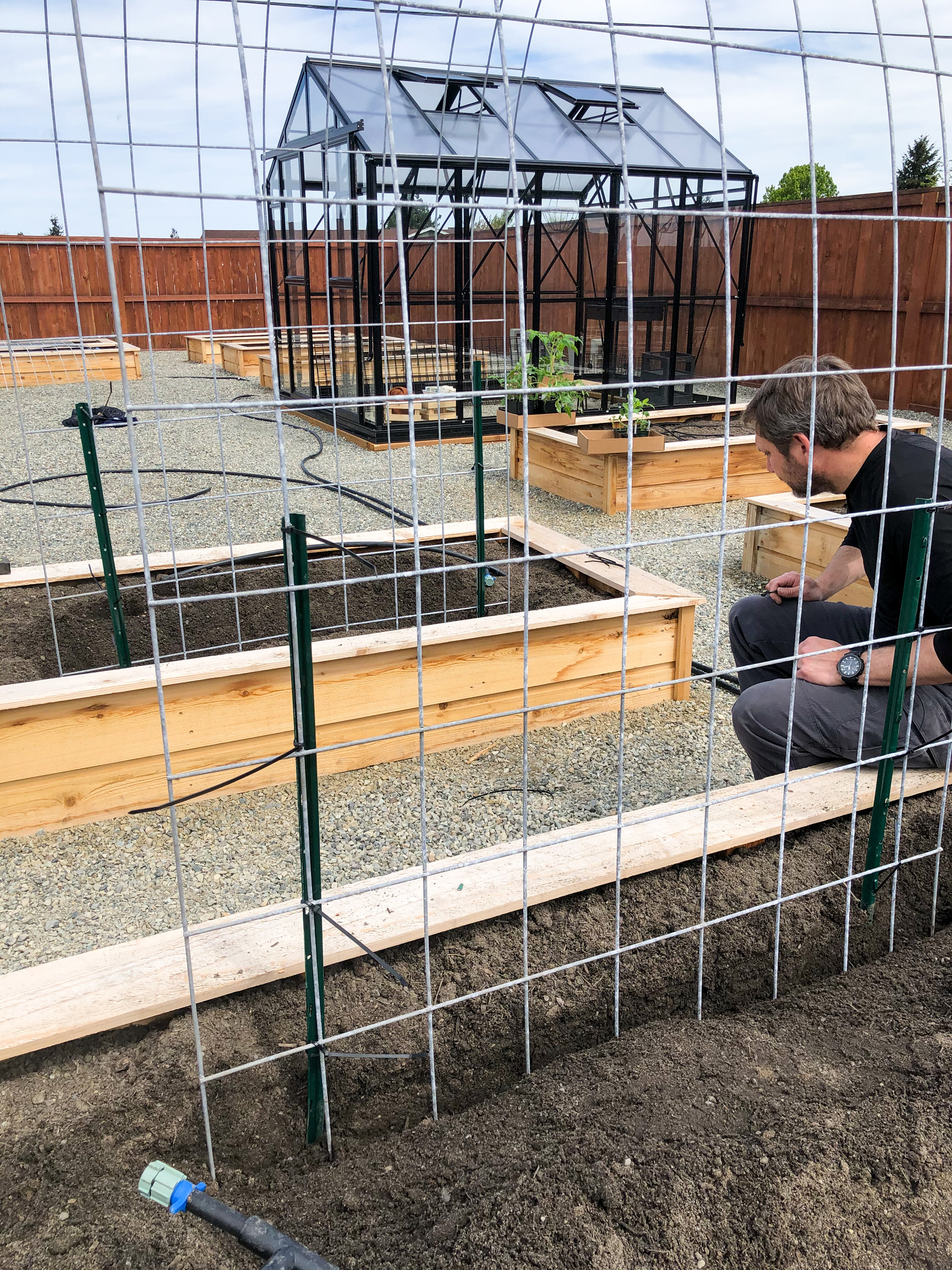 Step Four: Plant climbers.
We built two arches.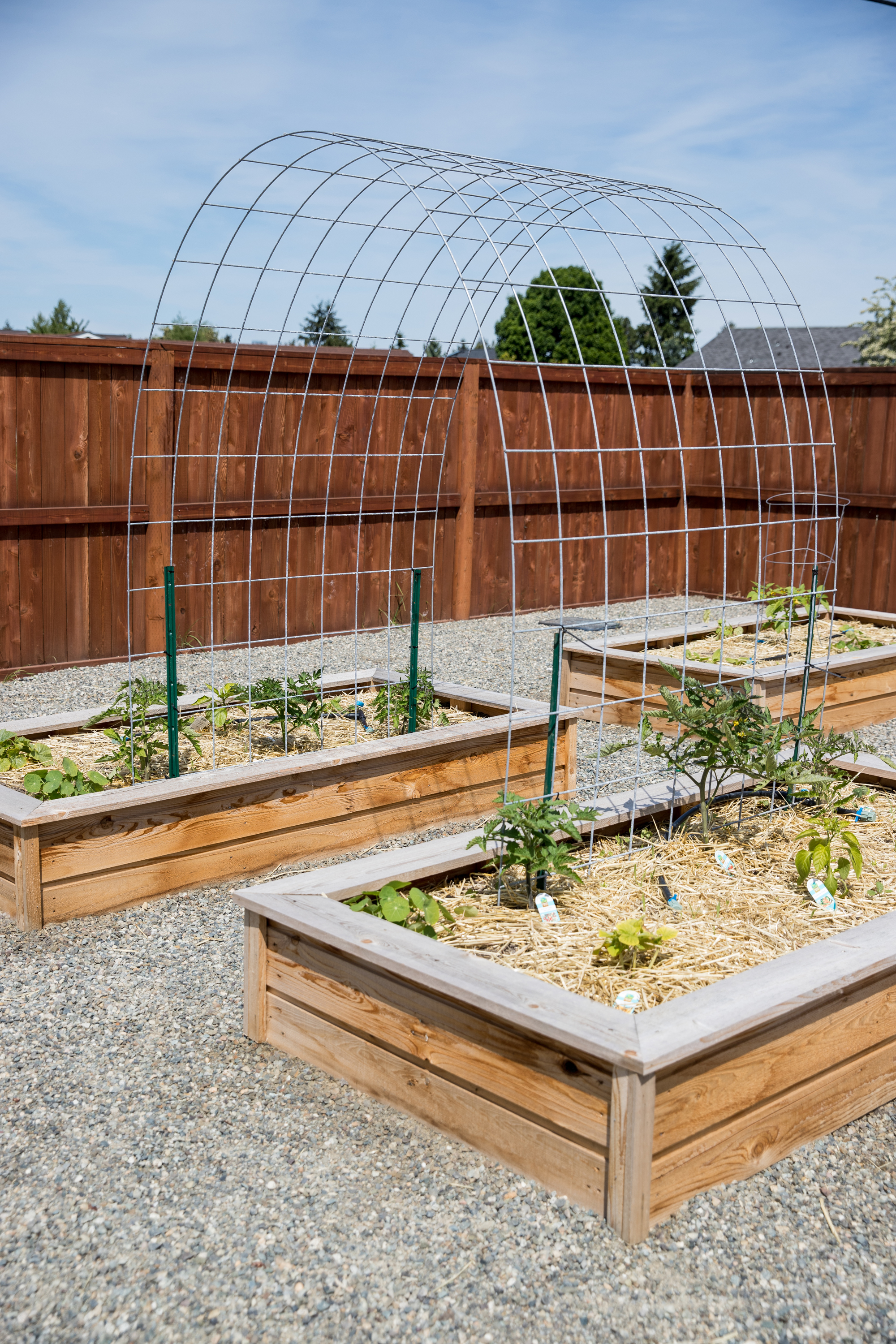 For one arch, we planted a variety of heirloom indeterminate tomatoes on each side. Indeterminate tomatoes, unlike bush or determinate tomatoes, like to vine and climb. We're hoping they grow enough to climb over the top. Fingers crossed! Tomatoes can be a tricky crops to grow in Western Washington. Putting gravel around our beds to add some heat and getting an early start with some larger tomato plants will hopefully help them thrive. We also added morning glories and black eyed susan climbers to help attract pollinators and add more color.
*See the end of this post for updates on how these plants did with pictures!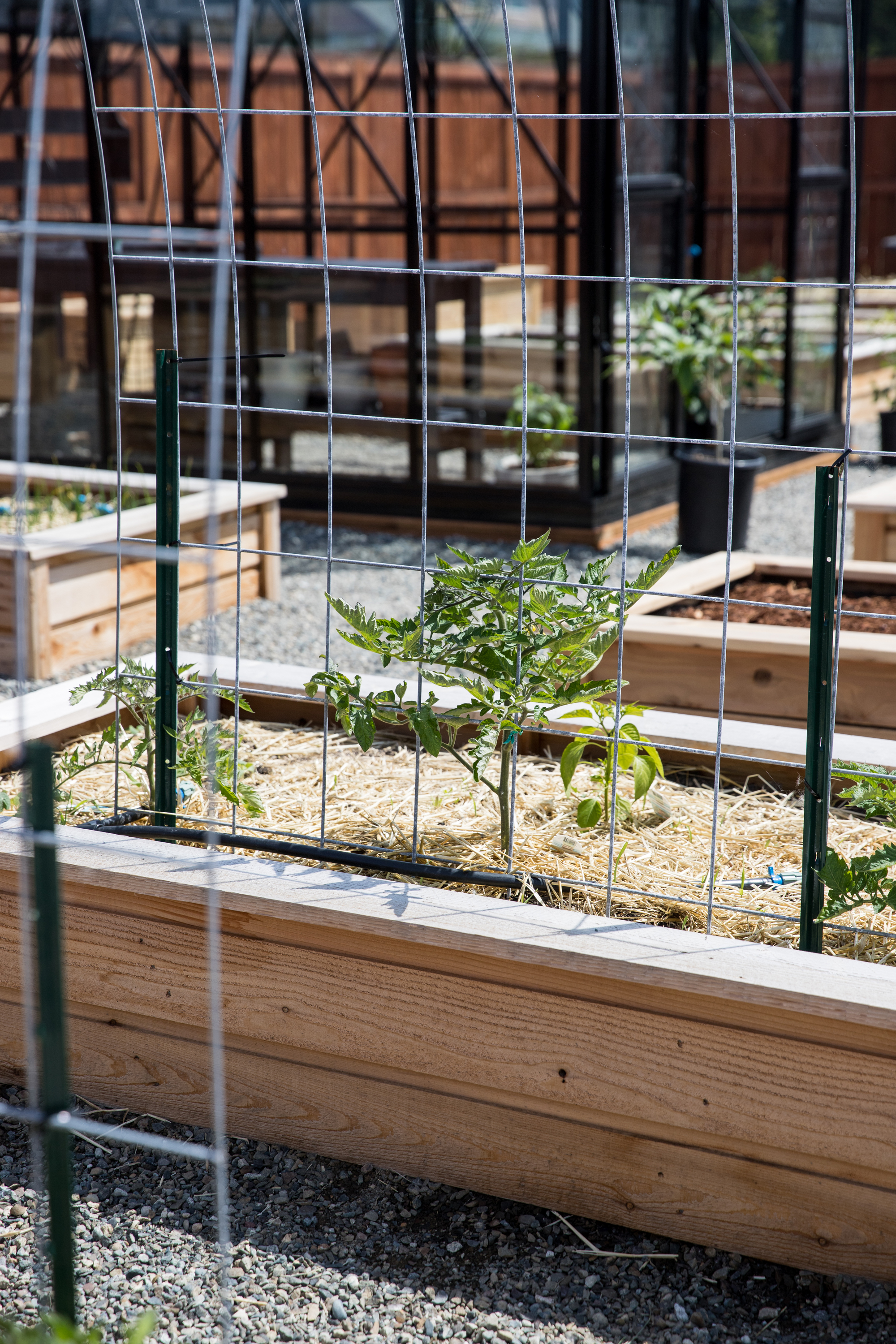 For our second arch, we planted green beans: Scarlet Emperor and Blue Lake, and some cucumbers. We also added some of the same flowers but in different colors.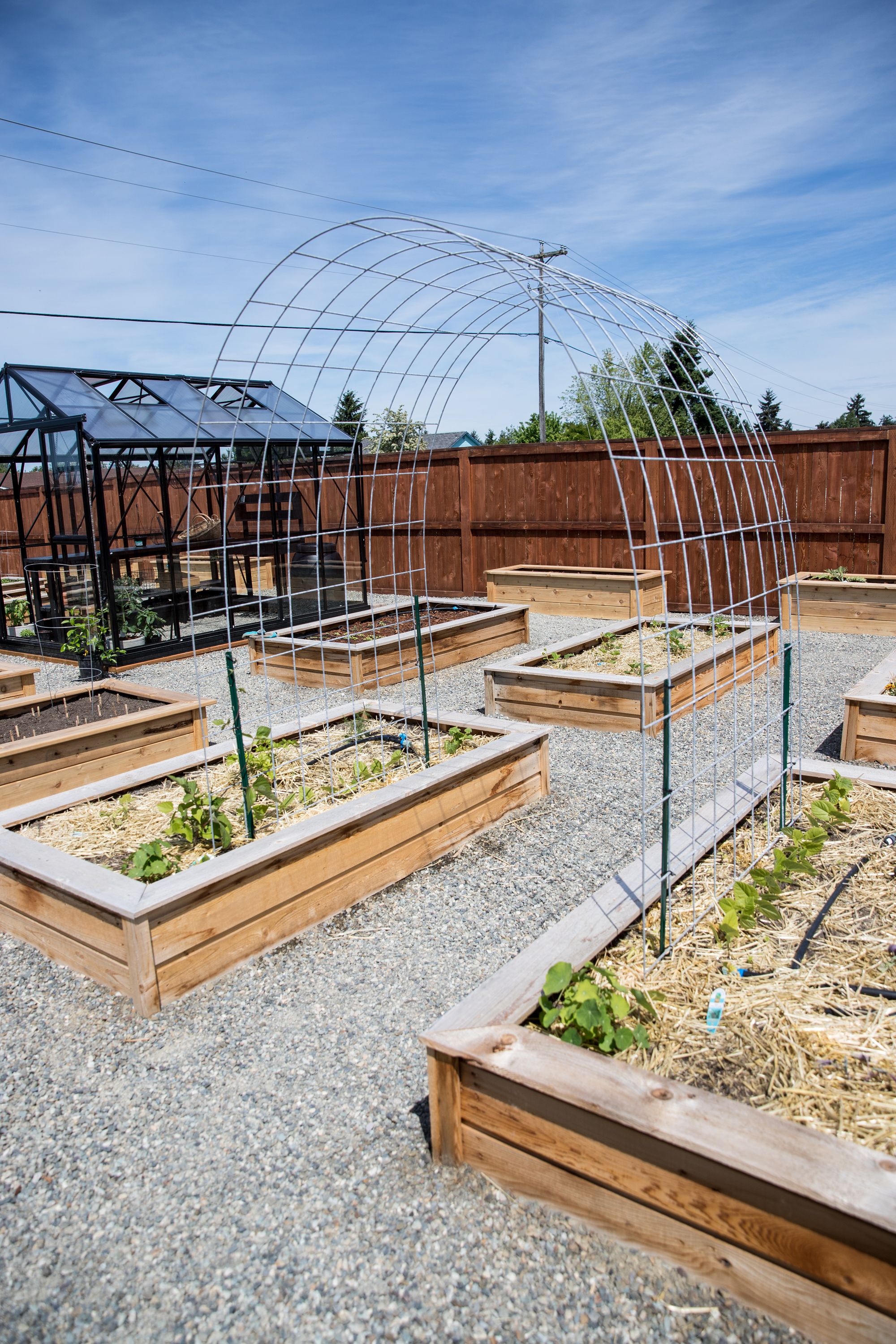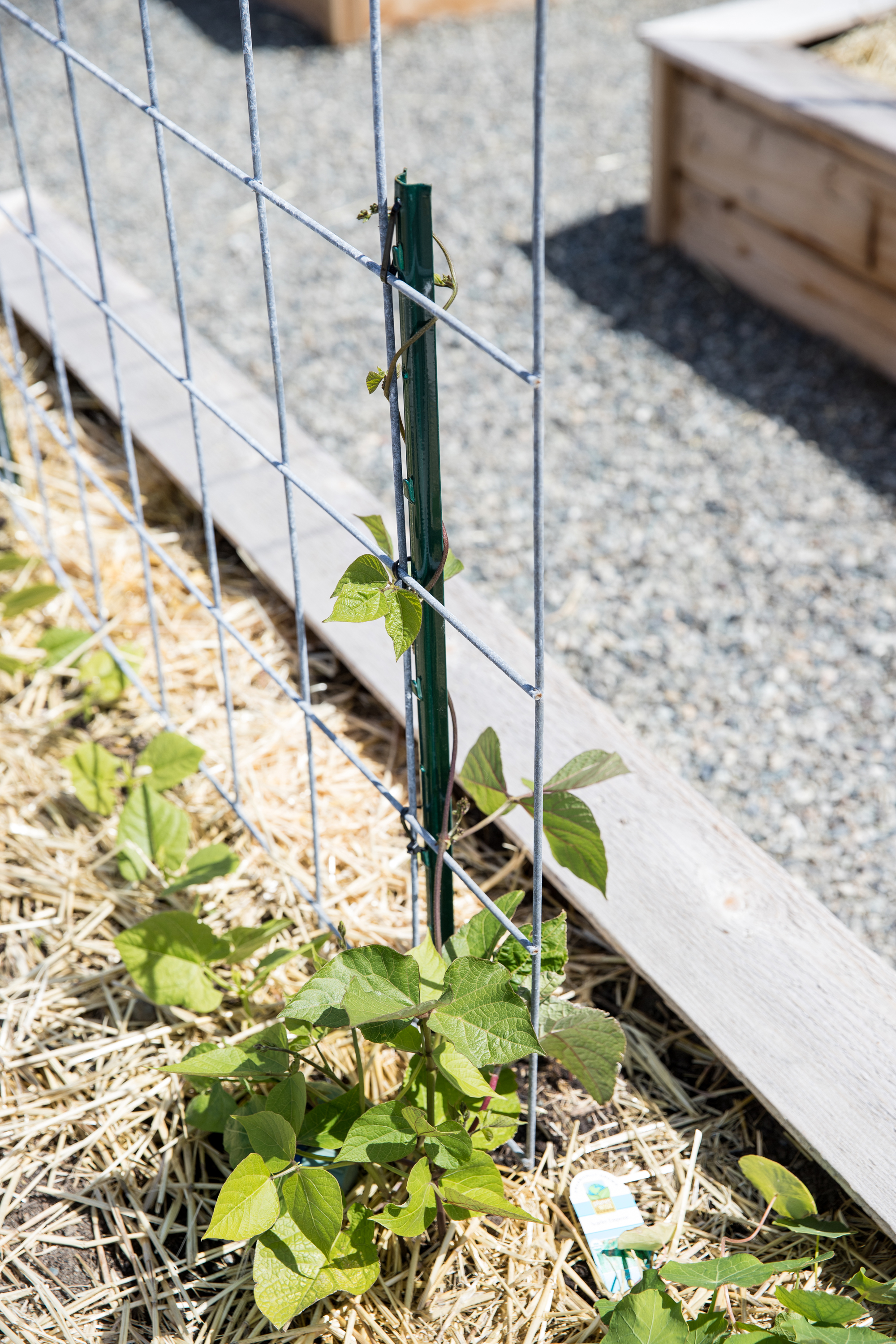 Now will this work? Will the arches fill up with plants like we hope they will? Honestly? I don't know. We've never built and grown something like this successfully, so we'll see. I plan on adding an update picture at the end of the summer either way. —SEE THE END OF THIS POST FOR PHOTOS AND UPDATE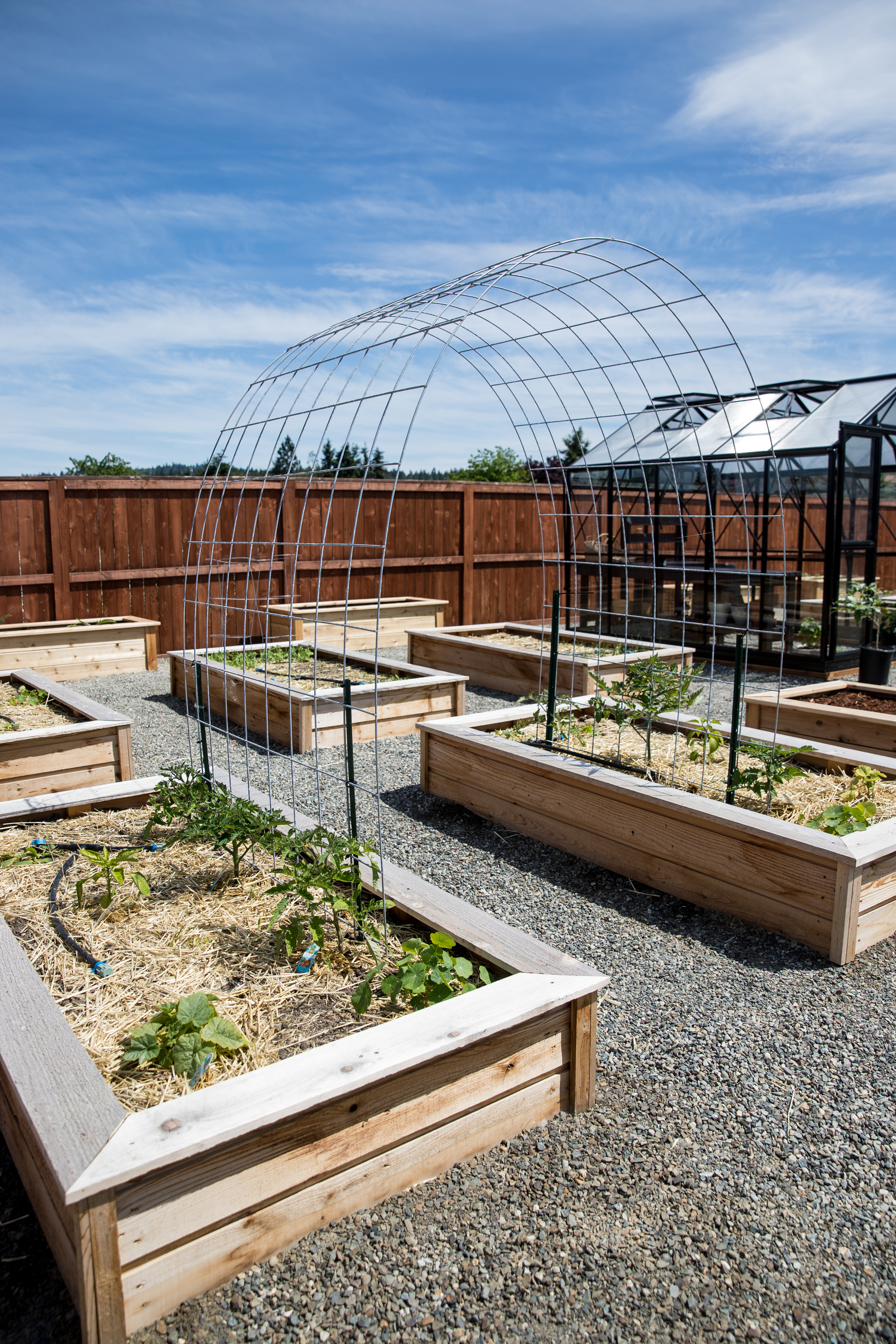 Now the trellis themselves of course work. They are not anything you want to hang from but should be sturdy enough to support a good weight of climbing plants. We live in a windy area and have not seen any movement with either one. I'm sure that it helps that they're big grids of holes at this point. I'll update you as it fills in with plants.
UPDATE: It held up great this year! Even with a full trellis, we had no structural issues. Some swaying happened in a very strong wind storm, but no weakening of the trellis.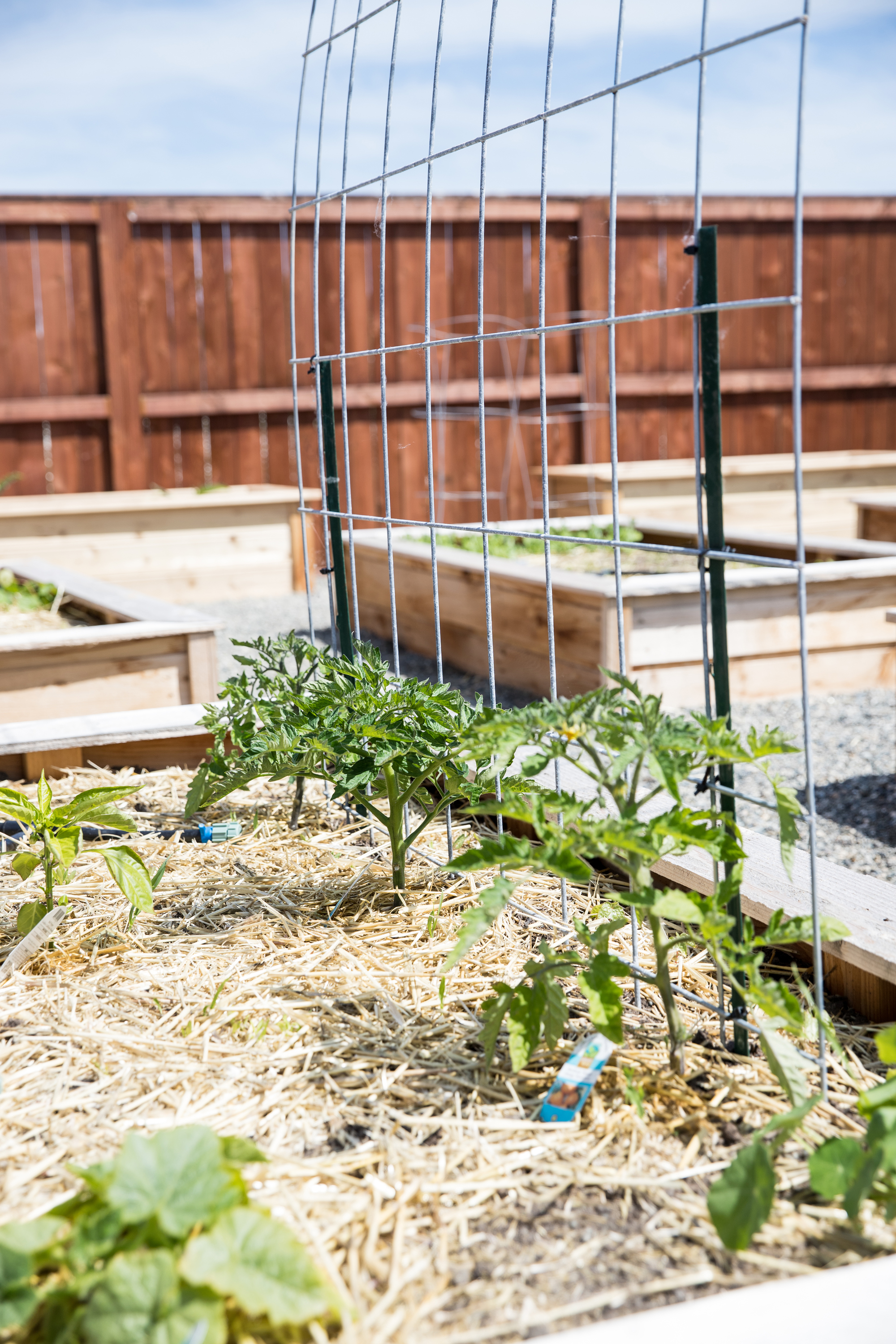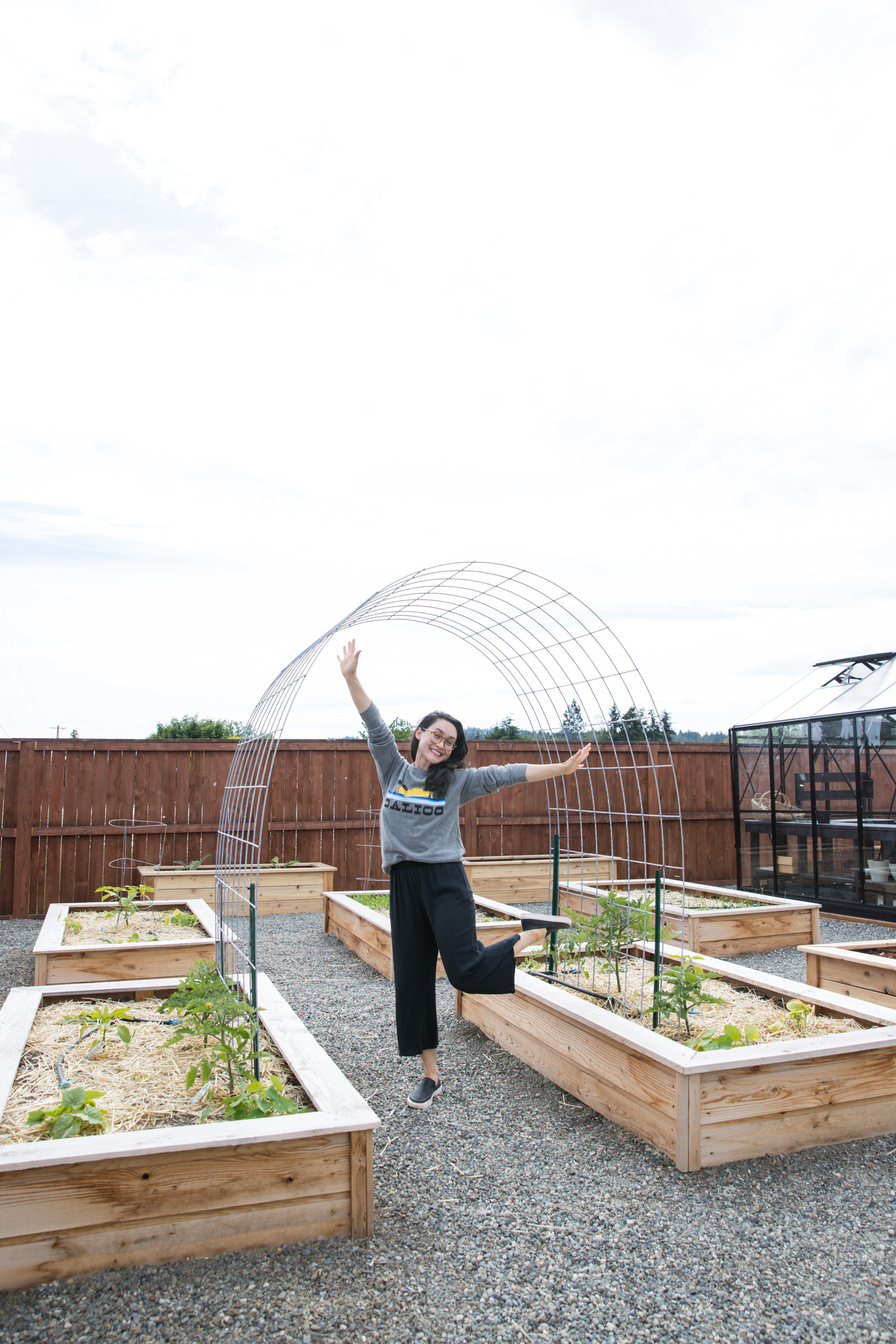 TRELLIS UPDATE
I promised to follow up with how the plants grew and how the trellis held up, so here you go: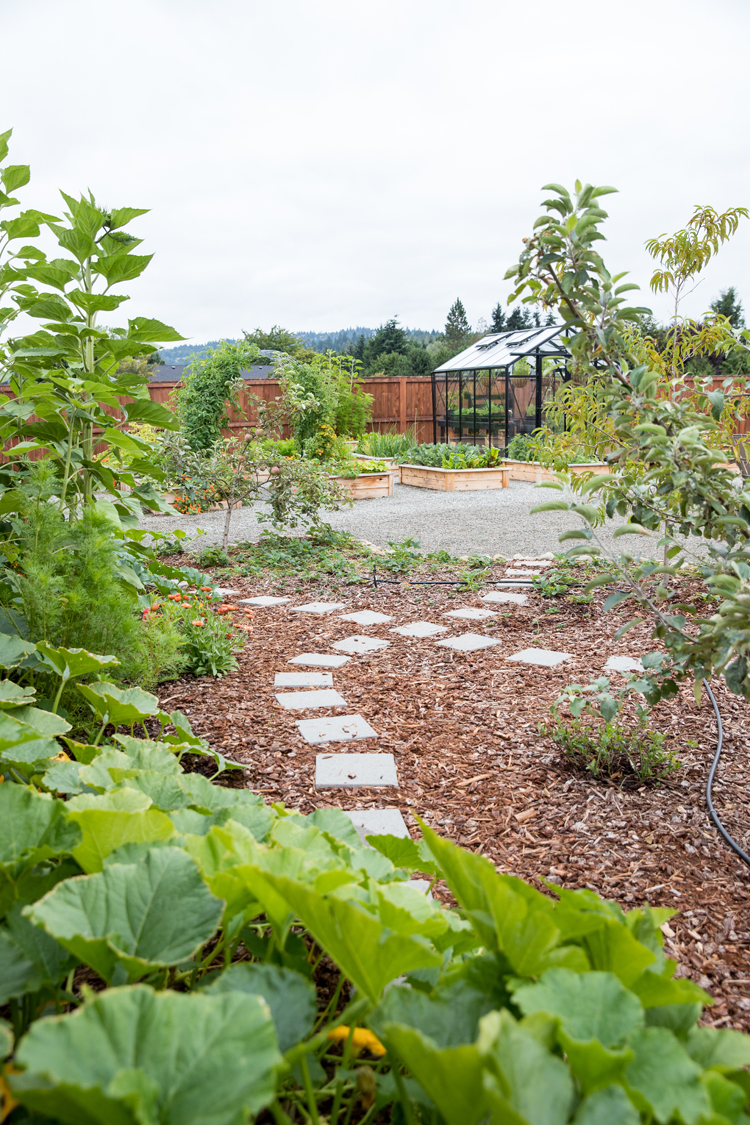 It went great!
The green bean trellis was a smashing success. In fact, as I type this in mid-October, it is still green and producing beans which blows my mind. It's days are numbered though, and we'll probably clean it up in the next week.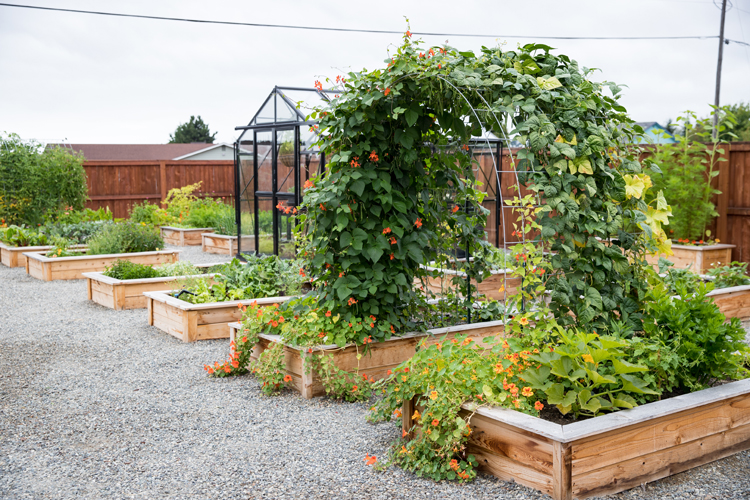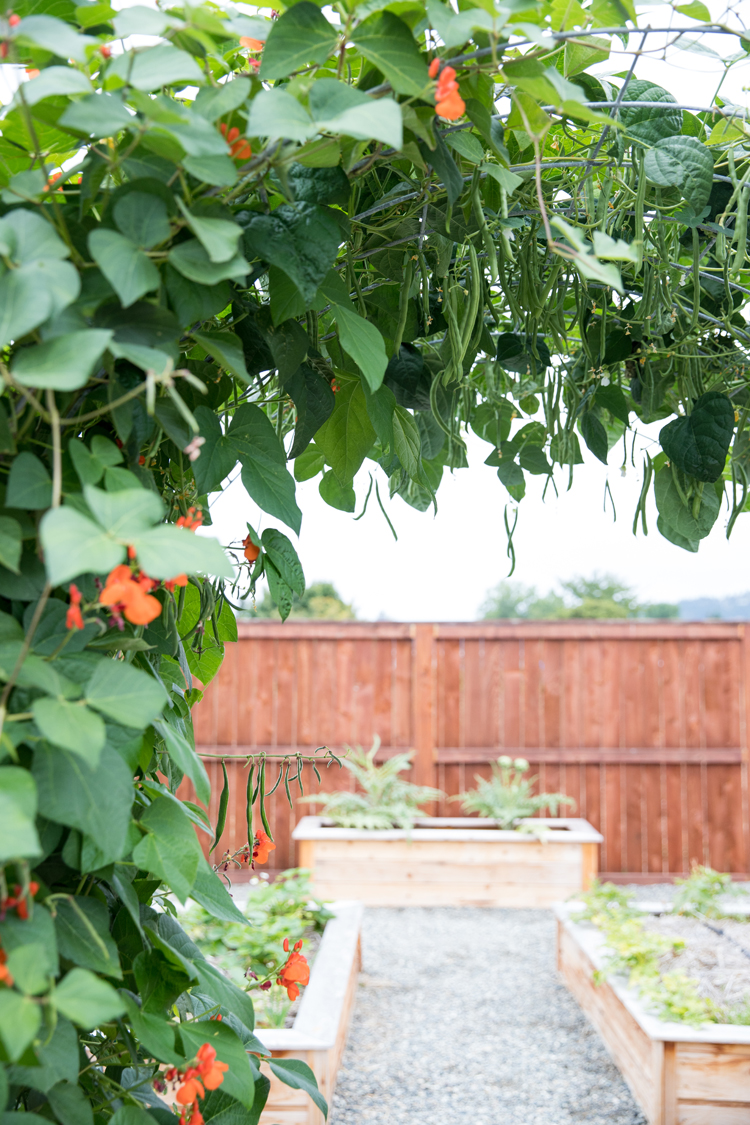 It filled up the trellis at the beginning of July and just got fuller and more beautiful as the summer transitioned into Fall. I added cucumbers at the backside of the trellis and those did okay too. They produced but would definitely not grown to fill the trellis like the beans did.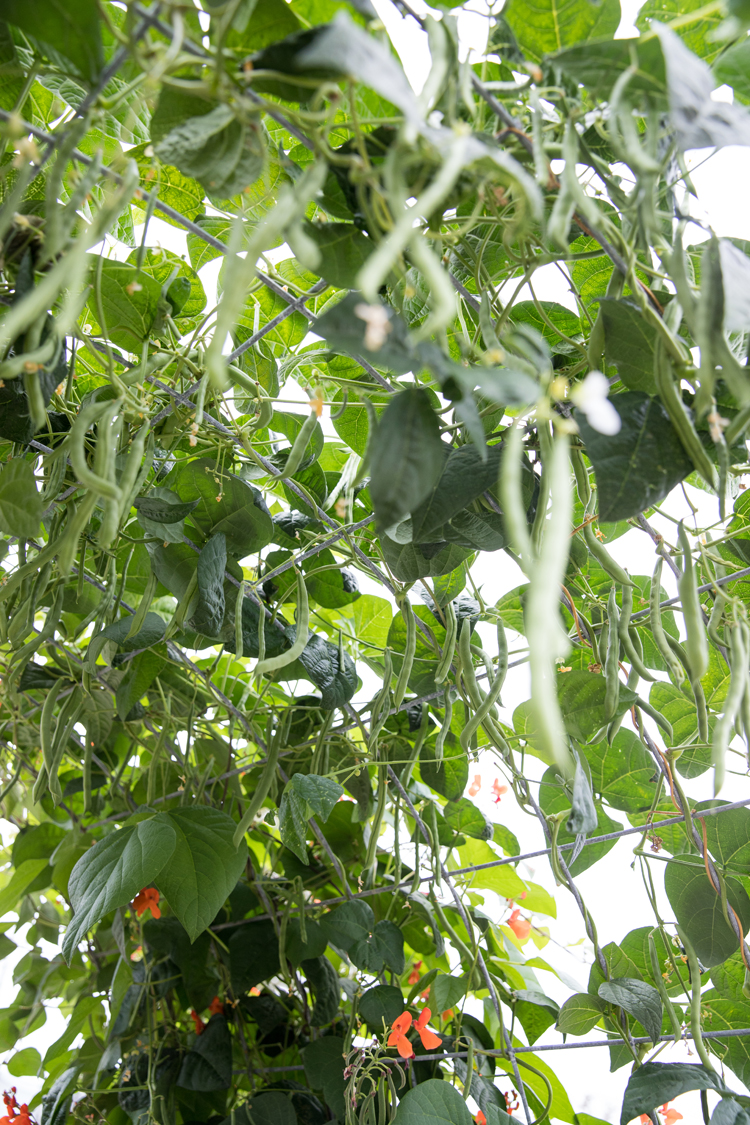 The tomato trellis did succeed as well but it was WORK.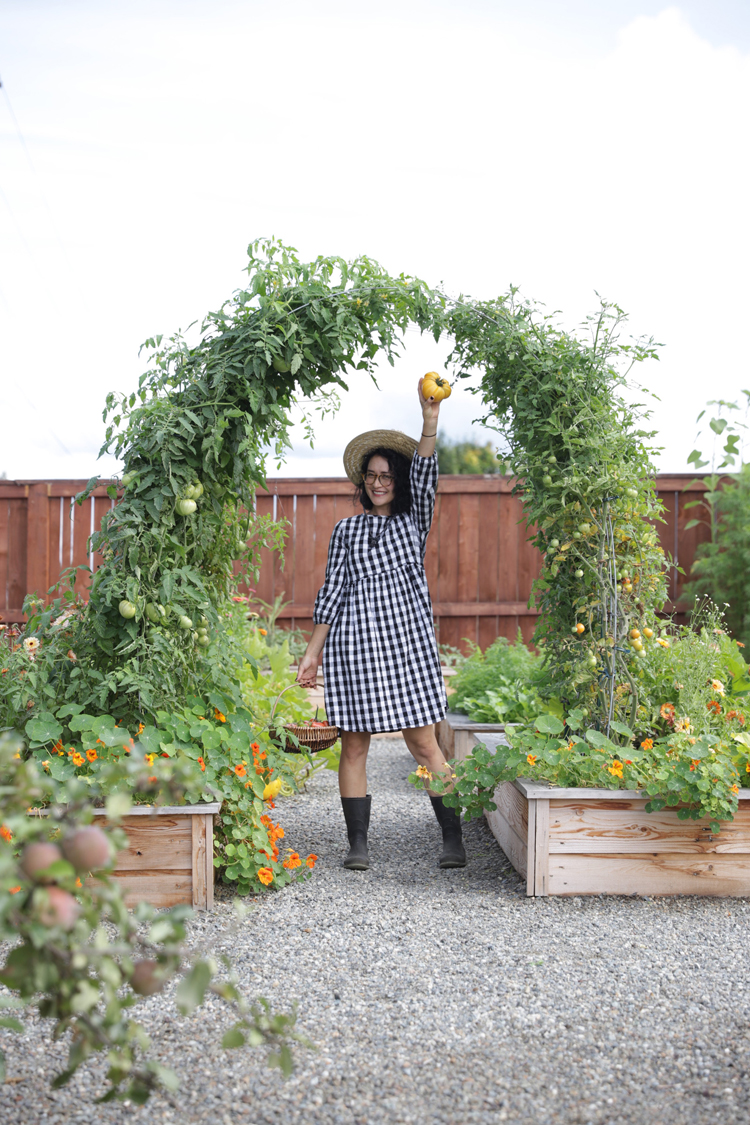 A week after the vines finally touched at the top and started to fill in what I affectionately called it's bald spot, it succumbed to wet weather and fungal issues that I have been battling all summer. I think I will stake my tomatoes next year and try different climber next year…maybe a baby pumpkin or a gourd?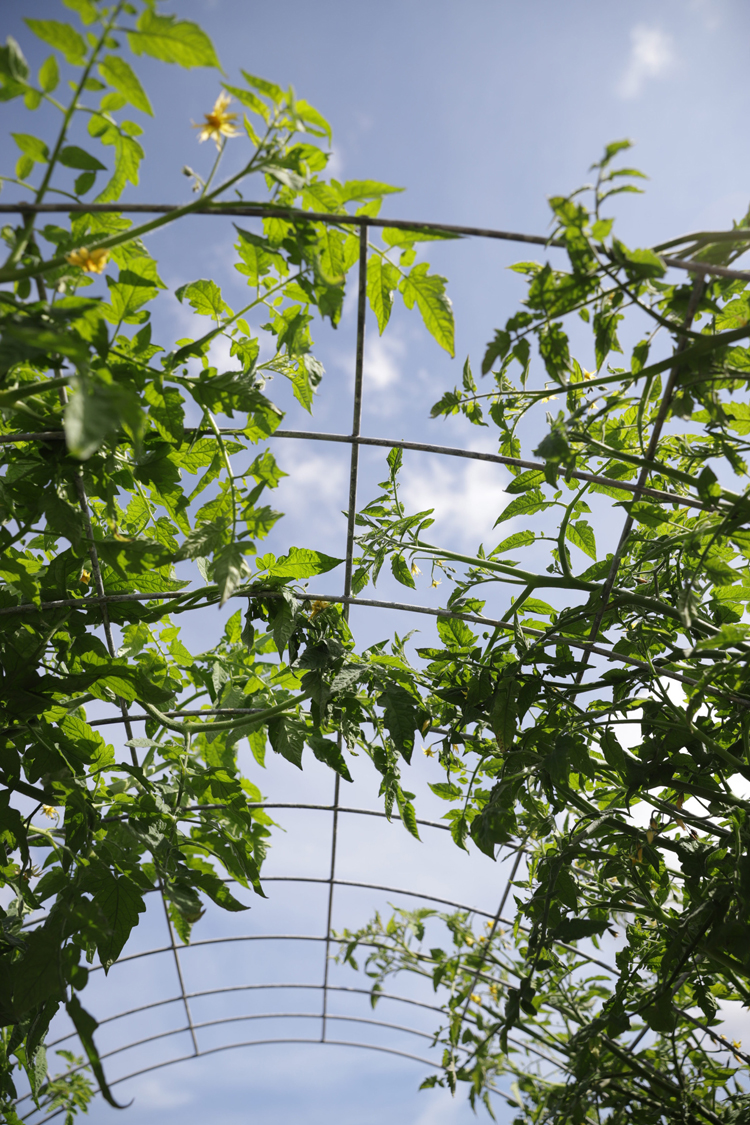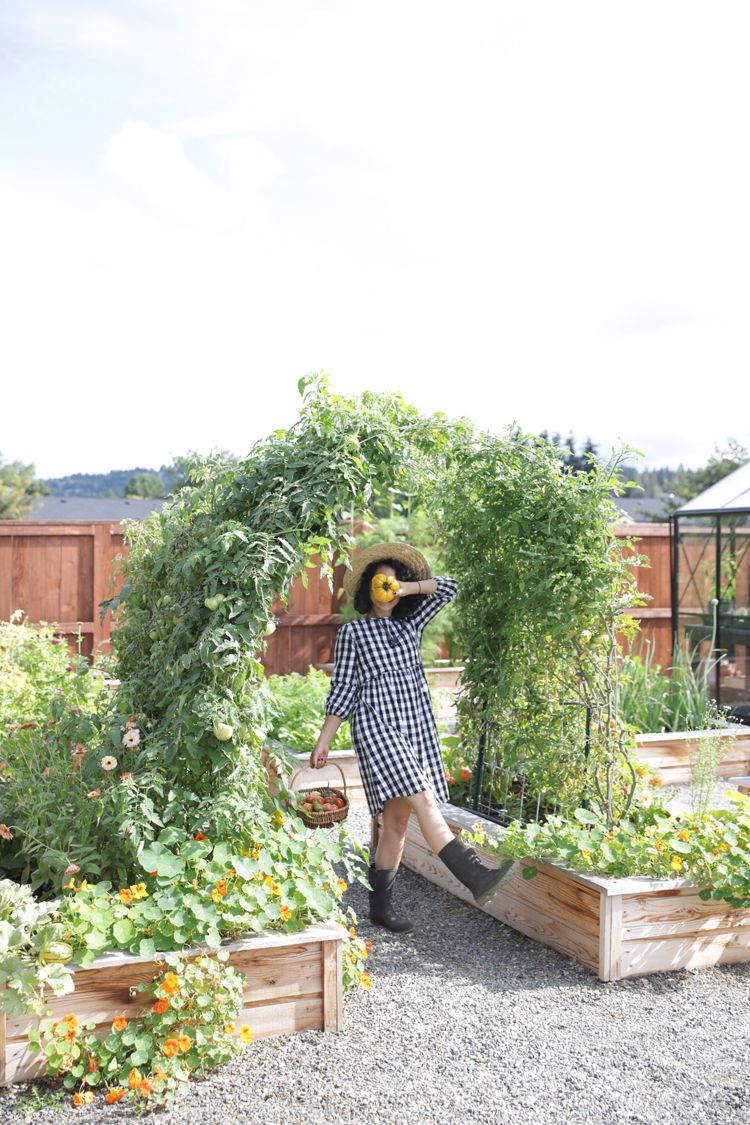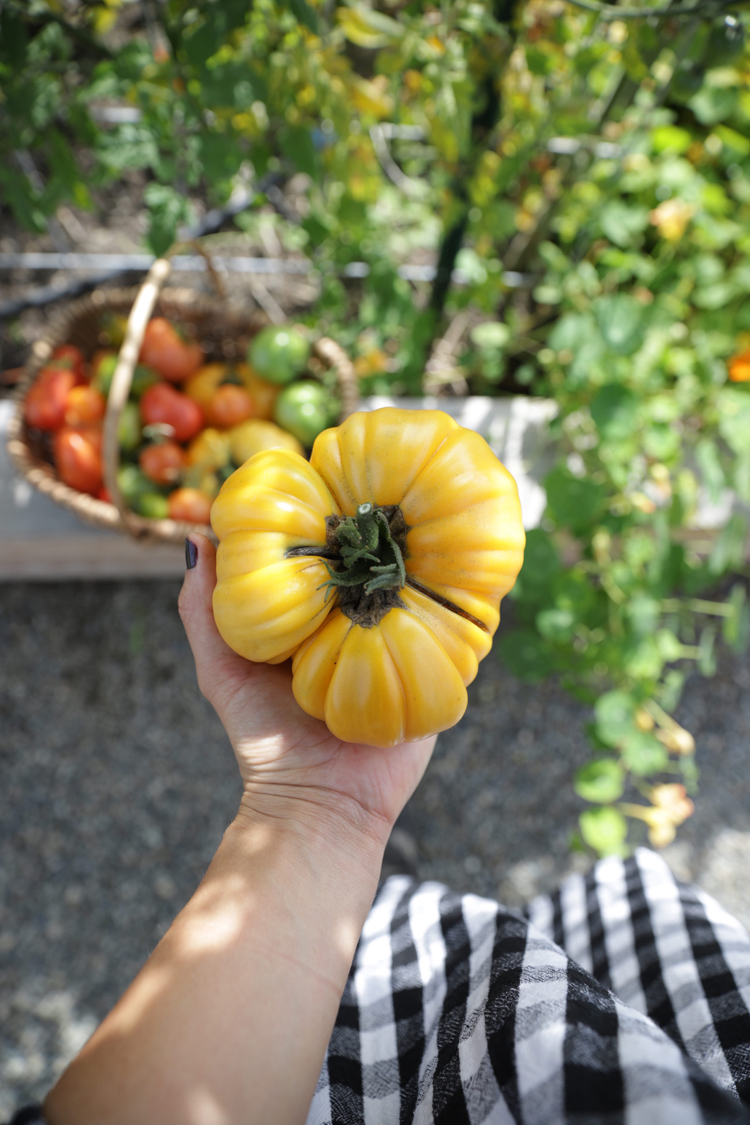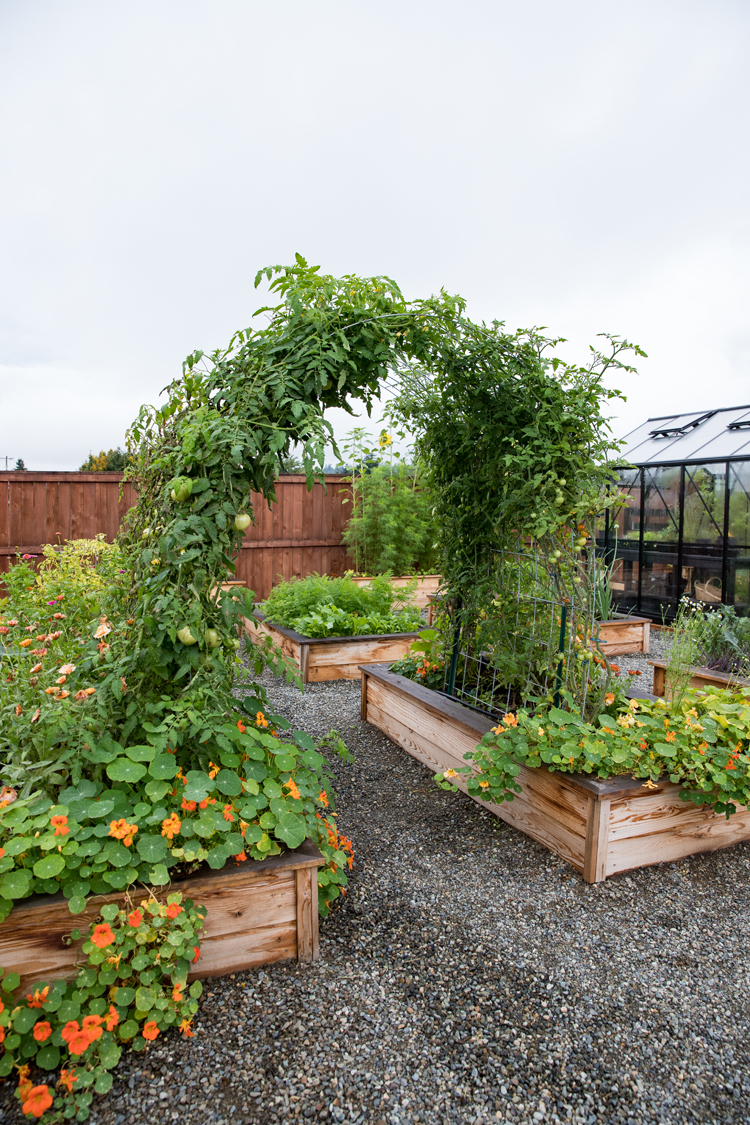 I think I put the plants too close together. I should have had two plants per side, instead of three. That would have helped with air flow and reduce fungus issues. But they also just didn't really start growing or producing until later in the summer, so it looked awkward until the end.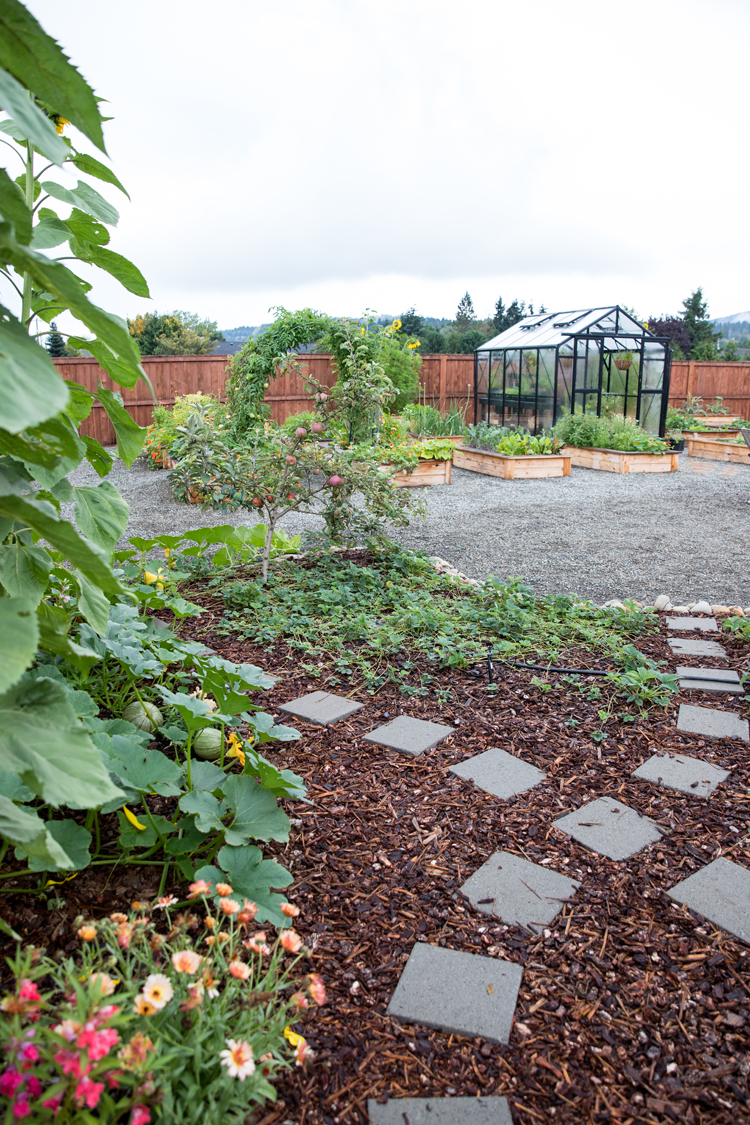 But boy was it fun to try. It was beautiful at the end too.