This is a sponsored post written by me on behalf of Tom's of Maine. All opinions are 100% mine.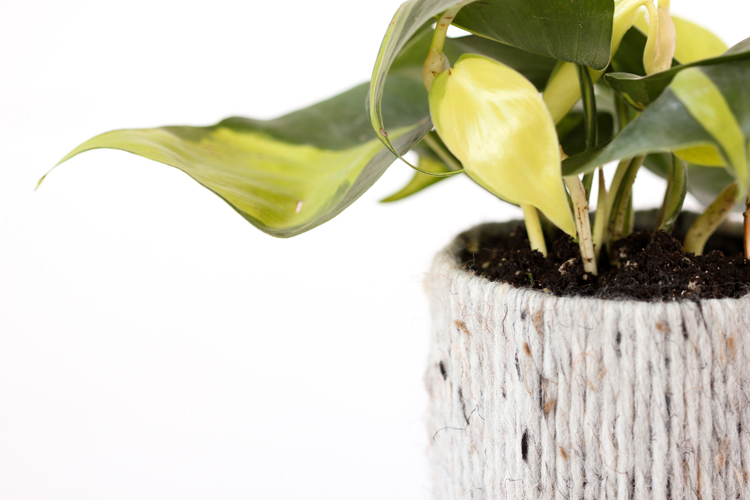 There is a long list of reasons why I love the month of April. Near the top of that list is the start of growing season and Earth Day, which go hand in hand quite perfectly. Kind of like the components of today's project.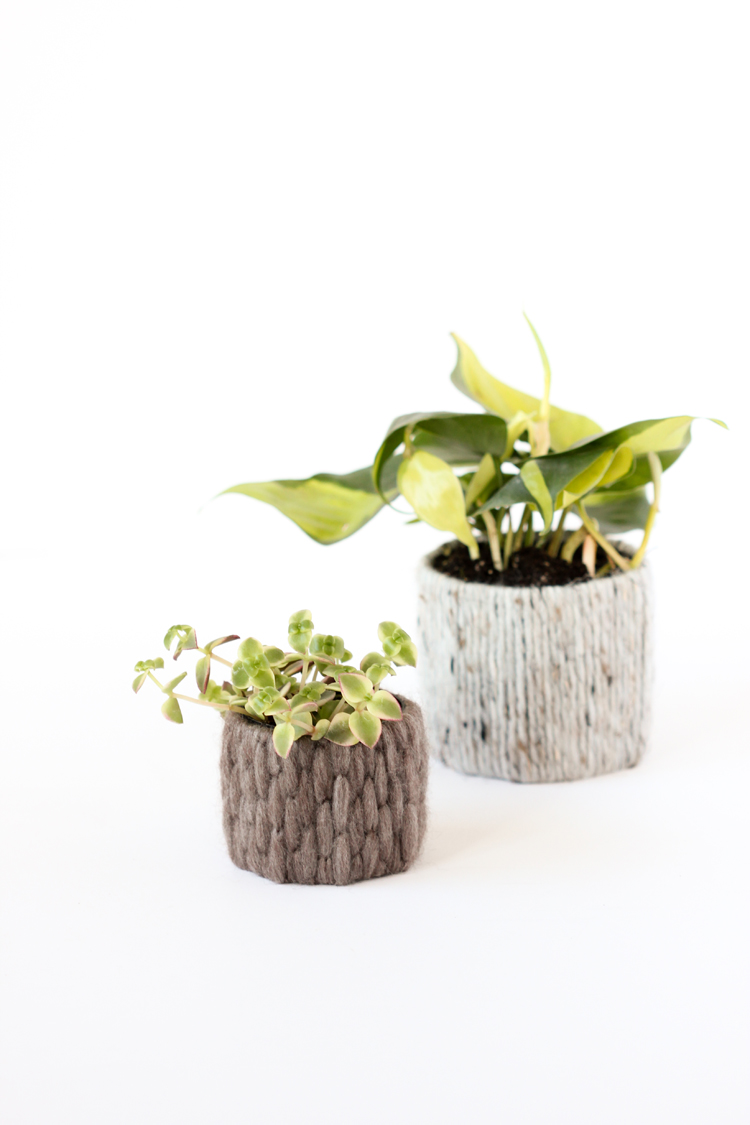 I've teamed up with an appropriately Earth friendly brand, Tom's of Maine, to bring you a fun project in honor of Earth Day…Month, because one day is just not enough. 😉
It's a recycled toothpaste box turned plant cozy!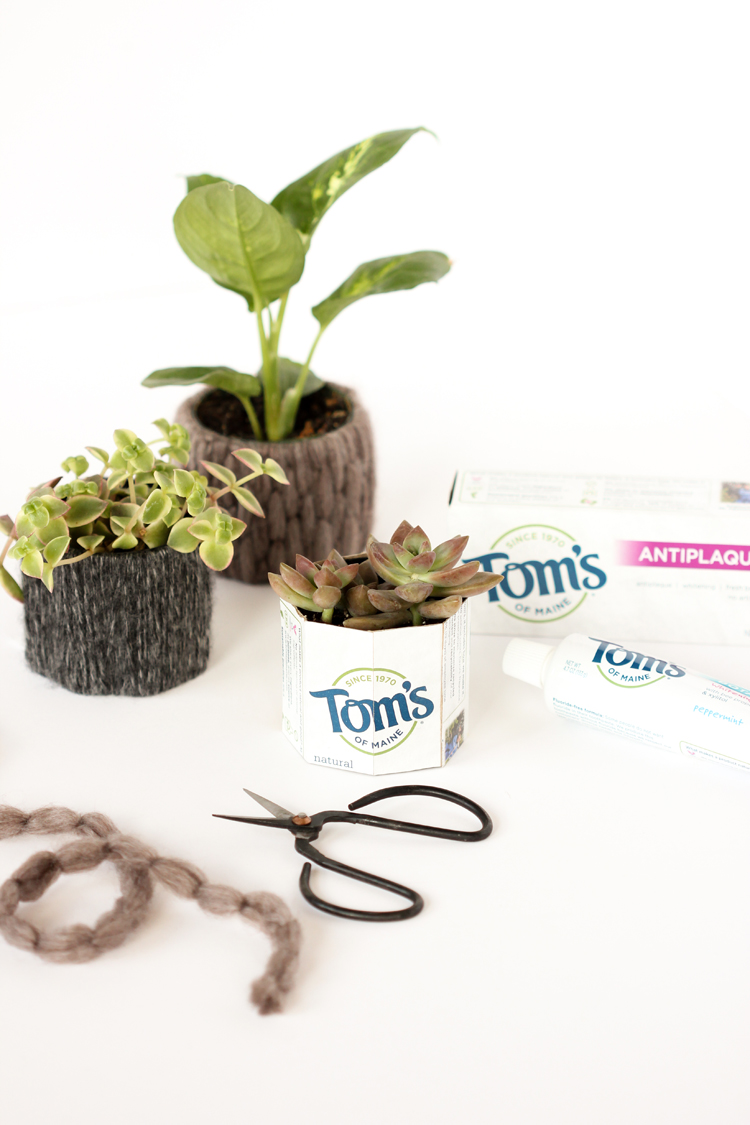 To help celebrate Earth Month, Tom's of Maine has joined Target in the #LessWasteChallenge; a challenge to reduce your waste by 1 lb. a week.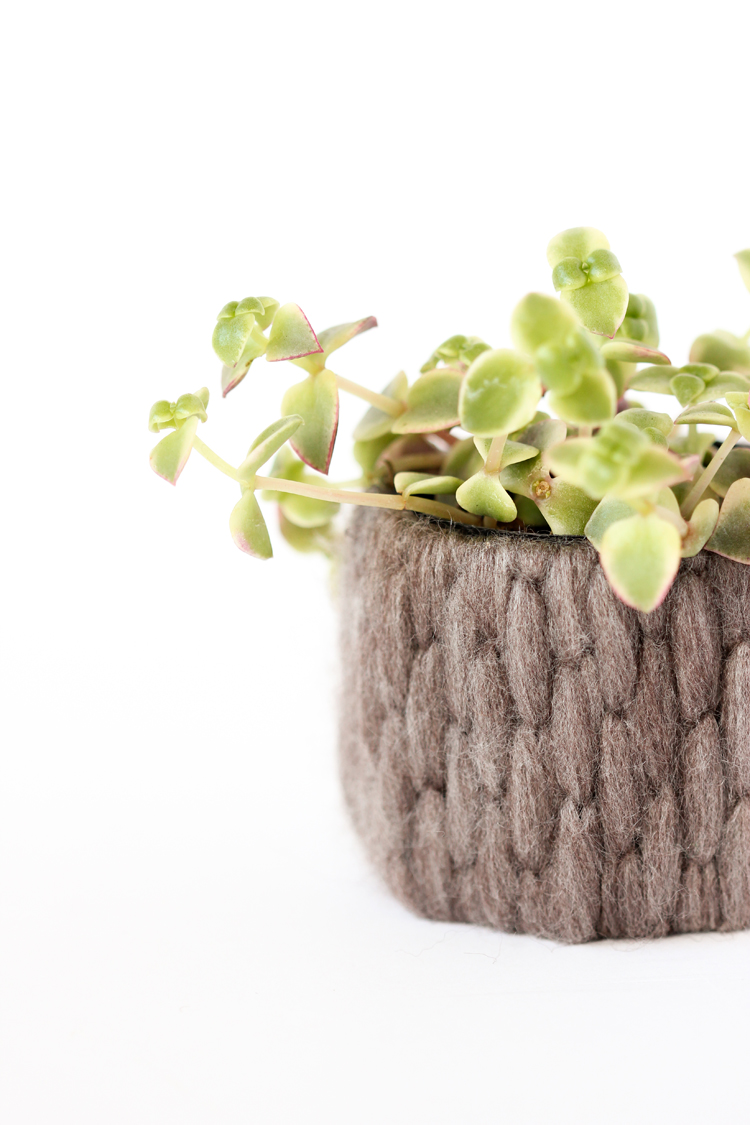 Pledging to reduce your waste by a pound can easily be done in small and simple ways… Like with this project. Instead of going out and buying a new planter. You can transform the unsightly container your house plant comes in, into a cute planter that adds texture and interest to a room; all with just a toothpaste box and some scraps of yarn.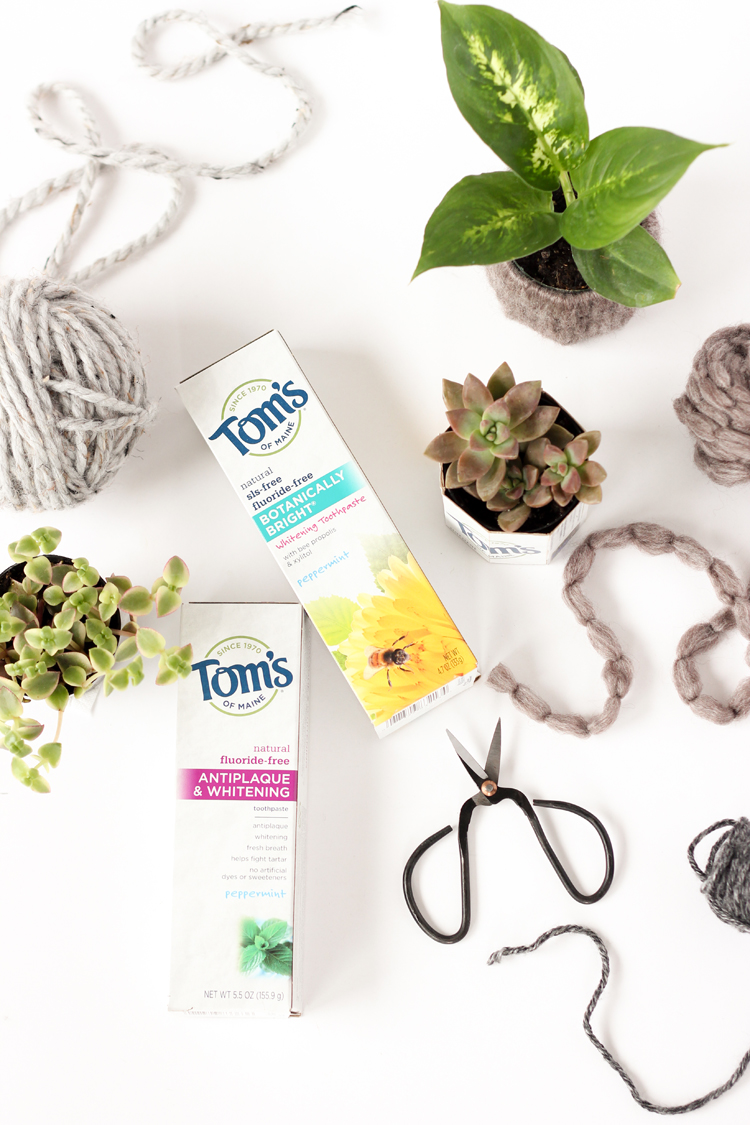 If you ever tire of it, no sweat. I designed it so that you can unravel the yarn and use it for another project. The Tom's of Maine packaging is made from recycled materials and is still safe to toss in the recycling bin yet again because there is no paint involved. This is a truly waste less project!
MATERIALS
Tom's of Maine Toothpaste Box
Exacto knife (I like to use my Pen Blade)
Self-healing cutting mat (or something to protect your surface)
Ruler
Yarn scraps
Clear tape
Clothespin
TUTORIAL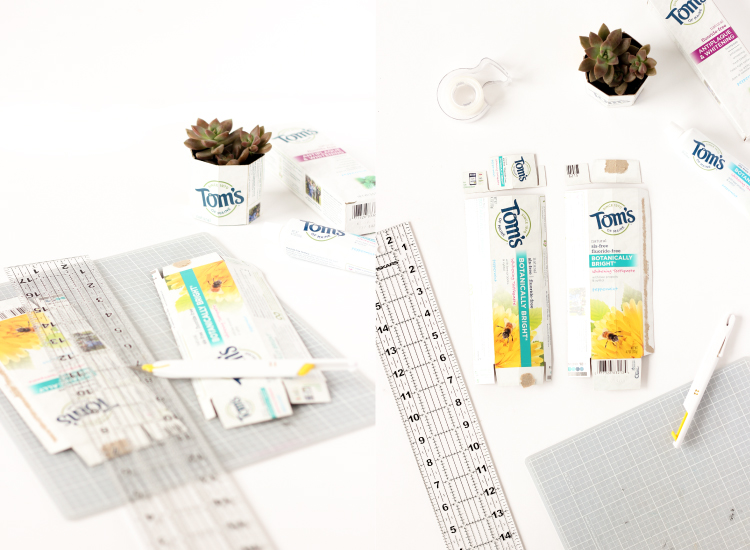 1. Cut box in half.
Remove the toothpaste tube from the box and open it up all the way.
Lay it flat on your cutting surface. Remove the tabs from one end of the box. Cut the box in half, long ways, through the narrower side of the box as you see in this diagram.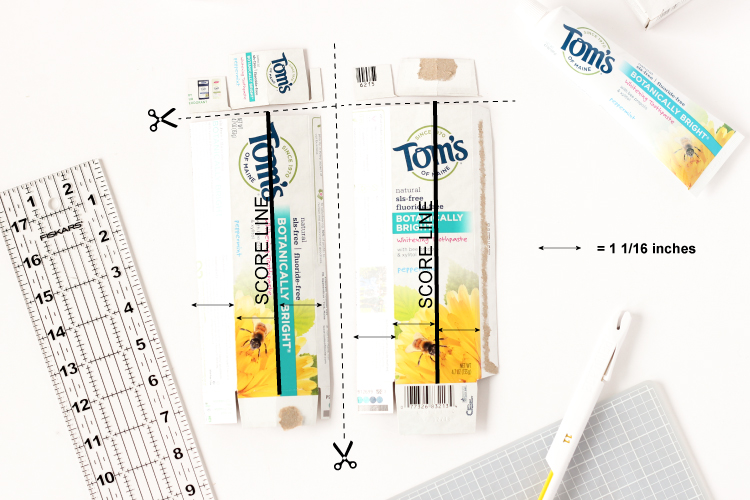 The front and back facets of the box are 2 1/4 inches wide. Score a line exactly down the center, by applying just enough pressure to cut through ONLY the top layer of the cardboard so that it will fold easily.
2. Cut box to size.
Measure the height of your plant pot. If it's in between measurements, round up to the nearest 1/8 inch. It doesn't hurt to have it sit a little taller around the rim of the pot.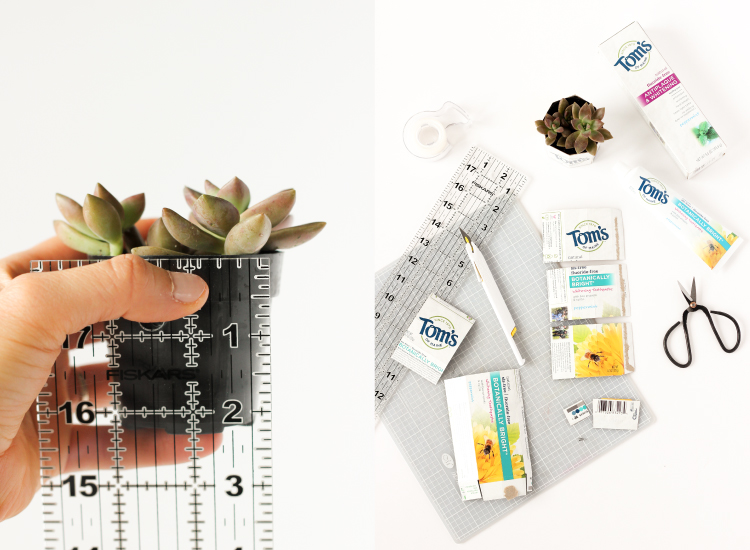 Cut the box, width wise, to the height of your plant pot.
For a small 2 1/2 inch plant, one half of a toothpaste box cut into three equal pieces is just enough to make a plant cozy. Larger 4″ plants require the full box.
3. Assemble plant cozy base.
Tape the cardboard pieces together, end to end, with tabs underlapping the wider sections. Test to make sure it will snugly fit around the plant pot. Then leave it it flat for the next step.
4. Add yarn.
Tape one end of your yarn to one end of your cardboard. Densely wrap the yarn around the cardboard, until you have covered most of it. Be sure to leave about 1 inch of cardboard at each end unwrapped, and take care not to wrap too tightly, as it will warp the cardboard.
Hold the working end of your yarn in place with a clothespin.
5. Complete the cozy.
Overlap and tape the cardboard ends together, forming a loop. Finish wrapping the yarn around the remaining bare spot. Because you have to pass the skein or ball through the center of the plant cozy now that it's a closed loop, you may need to cut it free from the skein to get it to fit. Cut a tail long enough to finish wrapping. Once the cozy is completely covered, snip the end, leaving a small tail. Tape it or tie it in place on the inside of the cozy.

Drop in your plant pots and…Ta da! They have a cute place to stay.
I have all the warm fuzzies for Tom's of Maine. Not only are their products natural, safe and responsibly tested, but they have committed to making their packaging environmentally responsible as well. With 10% of their profits dedicated to human and environmental goodness, they are a company you can feel good about supporting.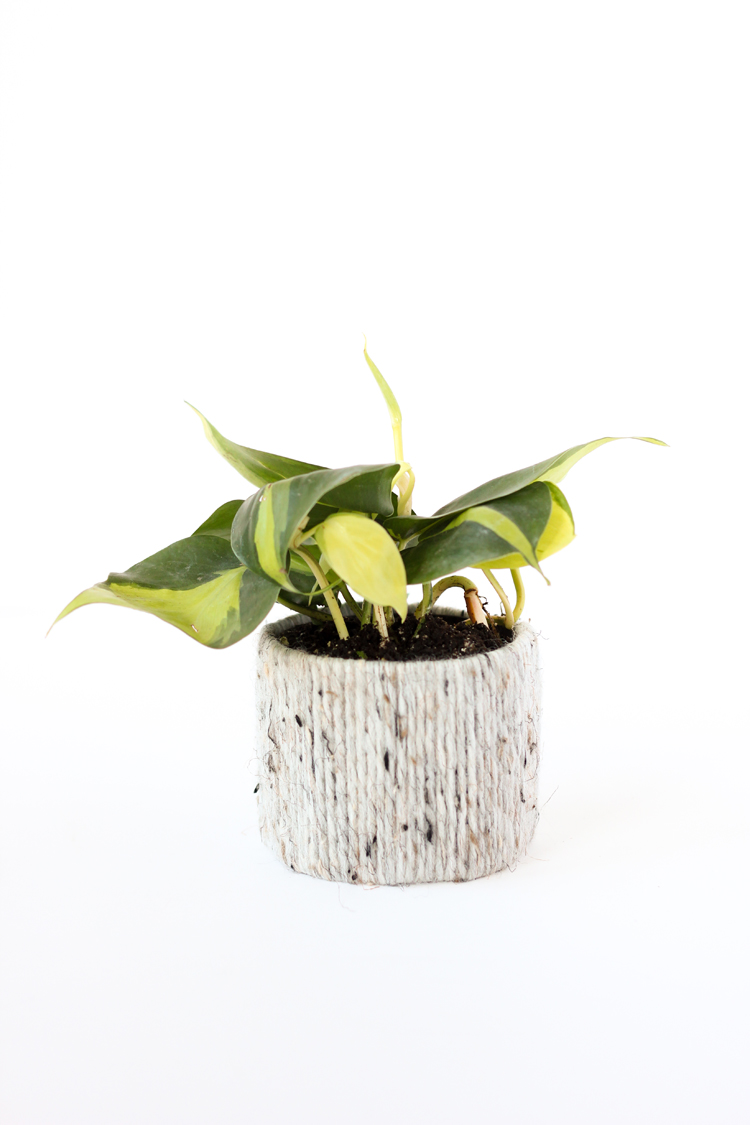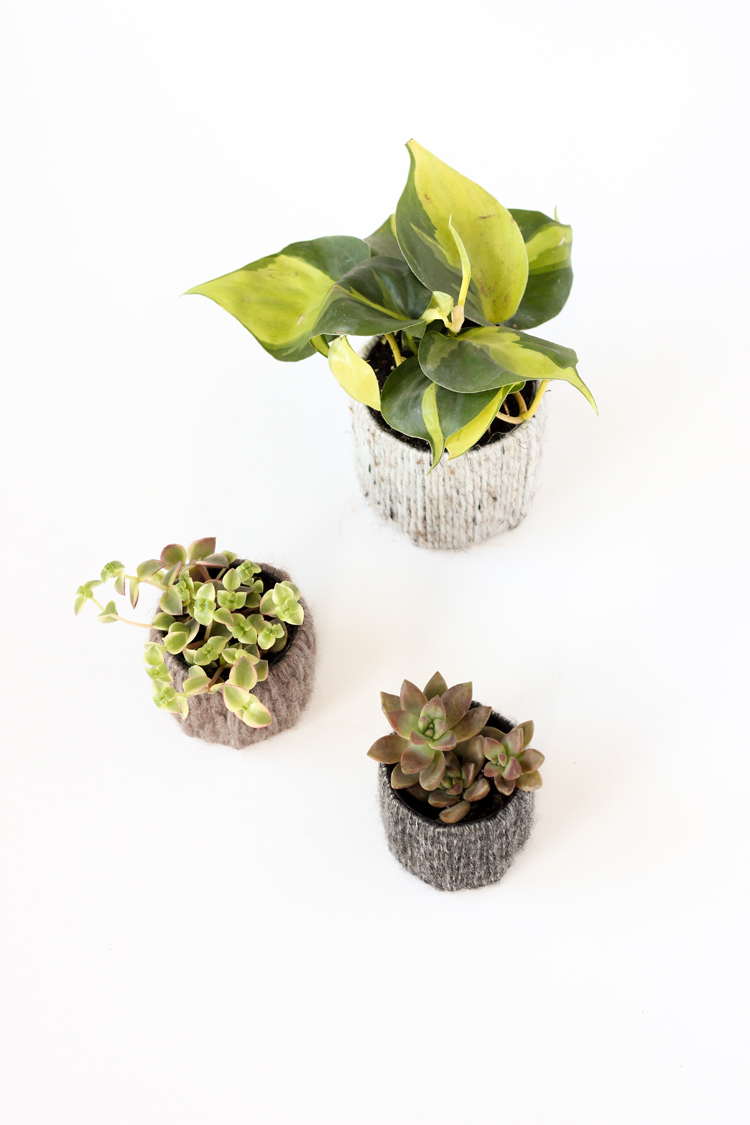 And hey, while you're at Target picking up toothpaste ;), check out Tom's of Maine's fun, Target exclusive kid products, like their Toddler Toothpaste Value Pack. They've even have a Cartwheel offer going on right now!
For more simple ideas on how you can take part in the Waste Less Challenge,  Visit Toms of Maine's website for more information. and check out the hashtag #LessWasteChallenge. It's a small thing, but if we all pitch in a little bit, we can make a big difference for future generations.