Fall is one of my favorite times of the year.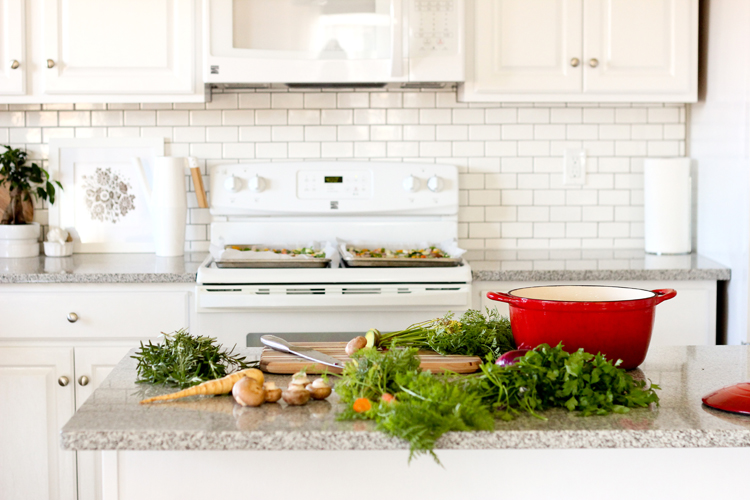 It's the start of soup season (hooray) and my herb and vegetable garden is still producing enough to contribute to those soups (double hooray)!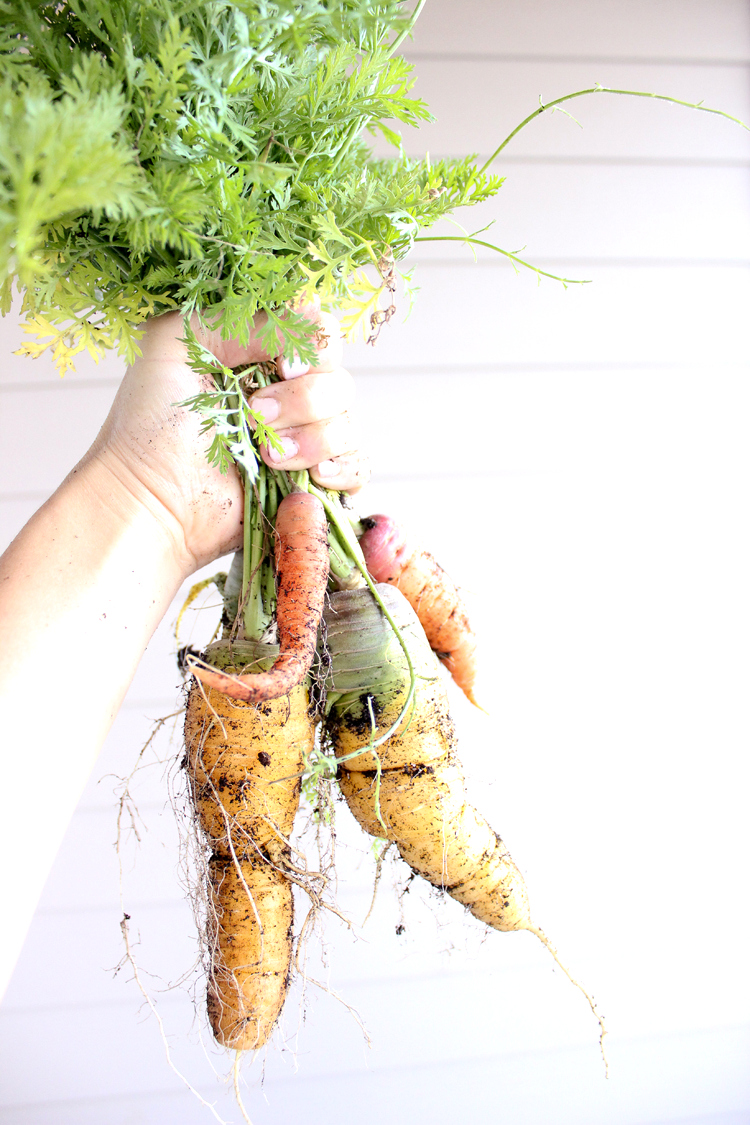 Which is what inspired today's recipe. I've teamed up with Foster Farms to bring you a fresh, healthy twist on one of my favorite comfort foods.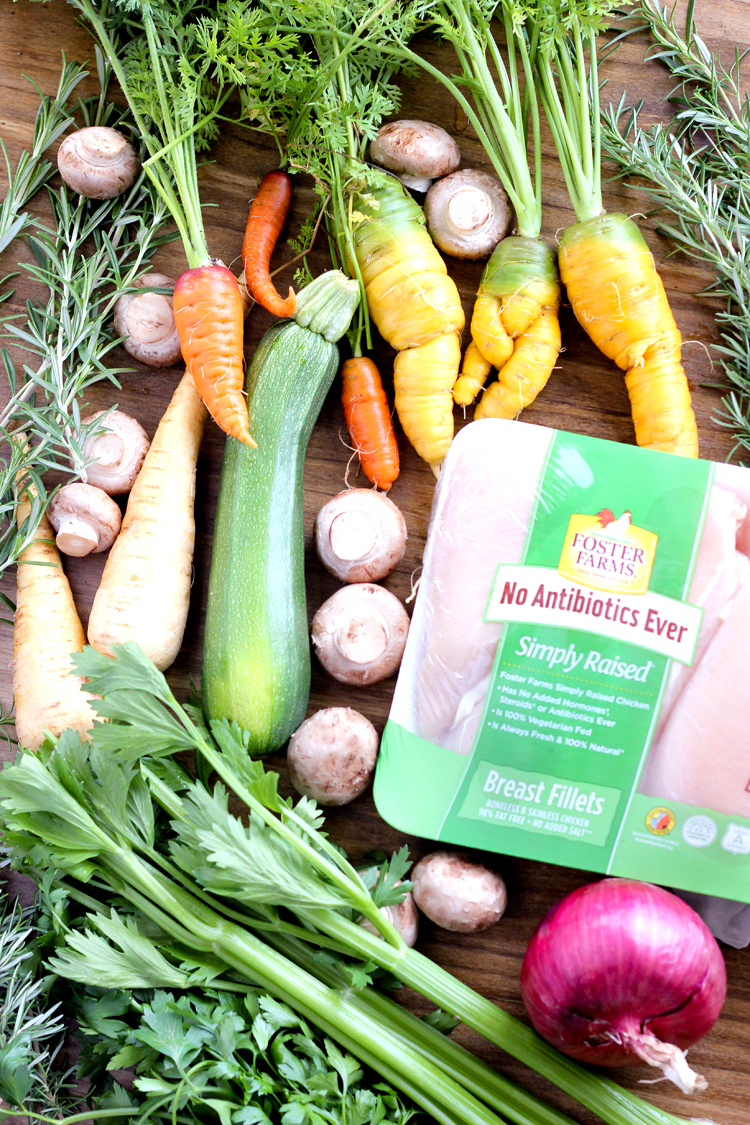 I ended up planting three rosemary bushes this summer, partly because they're so pretty, and mostly because I love rosemary. I actually don't love it dry, but fresh, it's a whole 'nother animal…or herb, I guess I should say. 😉 It adds a nice herbaceous kick to the broth and it adds some immune boosting qualities to boot. (See what I did there?)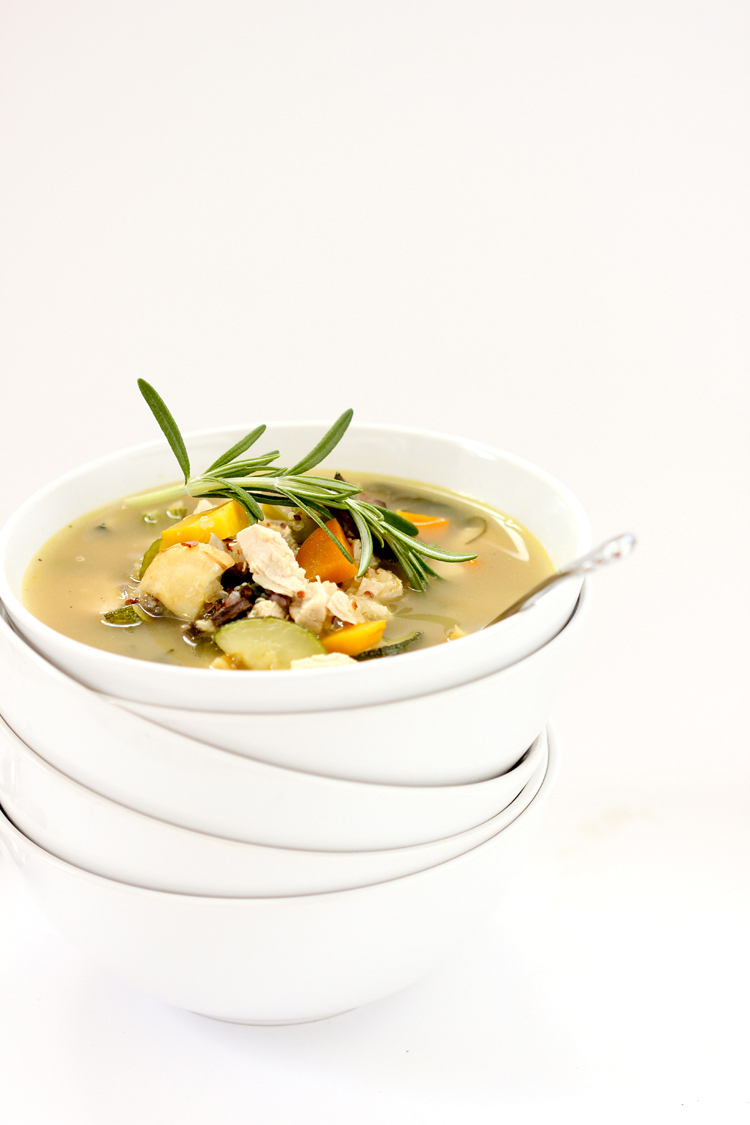 One of the classic soups I always make at least once a season, is chicken soup. It's comfort food to the max, and pairs perfectly with the nip in the air and a case of the sniffles the kids likely picked up at school. 'Tis the season! Normally, it takes me the better part of an afternoon to boil down the boned chicken, make the stock, then simmer the soup to perfection. The recipe in the America's Test Kitchen Family Cookbook is my usual go to. Sometimes I love it for it's heartiness, but sometimes I'm left wanting for something lighter and fresher. You know…a soup that won't make me feel like curling up for a nap right after. Not to mention, one that is a little quicker to whip up on a week night.
That's this soup.

With quinoa instead of noodles, roasted vegetables for extra flavor, and local, antibiotic-free Simply Raised Chicken from Foster Farms. It's a bright, healthy twist on my favorite chicken soup recipe.
Ingredients
5-6 cups of vegetables chopped to similar size*
1 large onion, chopped
3 TBSP olive oil (divided)
4 cloves of garlic, minced
12 + cups of chicken stock (add more if you like your soup more broth-y)
1 tsp salt
1/2 tsp pepper
2 lbs. Foster Farms Simply Raised Chicken, boneless, skinless chicken breast**
2 bay leaves
2+ sprigs of fresh rosemary (add more rosemary for more kick, to your preference)
1 cup of quinoa
more salt and pepper to taste
optional: one large lemon, cut into wedges***
Ingredient notes:
*You can add a variety of vegetables to your liking. I strongly recommend including the standard carrots and celery for a classic chicken soup taste. TIP: Include the celery leaves for extra flavor! I also added parsnips, crimini mushrooms, and zucchini from my garden. The yellow and orange carrots are also from my garden. 
**If you're not concerned with keeping the soup lean, use boneless, skinless, thighs for more flavor and more tender meat.
***Lemon juice complements the rosemary flavor nicely, adds brightness to the soup, and the fresh flavor lessens the need for more salt in the soup. I personally don't eat this soup without it, but my family doesn't have my same love for lemon, so I made this ingredient optional. I highly recommend at least trying it though! 😉
Step One: Prepare vegetables.
Preheat oven to 400 degrees F.
Chop all the vegetables and onion to similar size. This allows the vegetables to cook evenly, and it makes it more pleasing to eat. Toss all vegetables together in a bowl with 2 TBSP olive oil.
Line rimmed baking sheets with parchment paper and spread vegetables out evenly in a single layer. Two baking sheets are recommended to give the vegetables plenty of room to bake properly.
Bake until cooked through and browned to your preference. Approximately 45 minutes.
Step Two: Cook broth, chicken, and quinoa.
While the vegetables are baking, heat 1 TBSP olive oil in a dutch oven or soup pot over medium high heat. When oil is shimmering, add garlic. Cook until fragrant. Add bay leaves and bruised rosemary sprigs (just give them a good scrunch). Turn down heat to medium if needed, to keep garlic from burning.
Add chicken stock, 1 tsp salt, 1/2 tsp pepper, and bring to a boil. A homemade stock offers the most flavor, but if you don't have any on hand, a high quality chicken stock works great. I find that mixing a blend of vegetable and chicken stock adds a variety to the flavor. Sometimes I will also do half stock, and half water + chicken bullion to save money. Bullion is very salty, so you will want to go easy on the salt if you choose to to that.
Add chicken. Keep at a simmer until chicken is cooked through (about 10-12 minutes.) Remove chicken and let it rest. Remove bay leaves and rosemary sprigs. Taste broth and add salt and pepper to your liking. This is important! The broth is really the champ of this soup, so be sure it tastes right before you continue. Leave in rosemary if more rosemary flavor is desired.
Add quinoa, reduce heat to medium and cover. Let cook until quinoa softens and spirals out (which lets you know that it's cooked). Approximately 10 minutes.
Dice or shred the cooked chicken.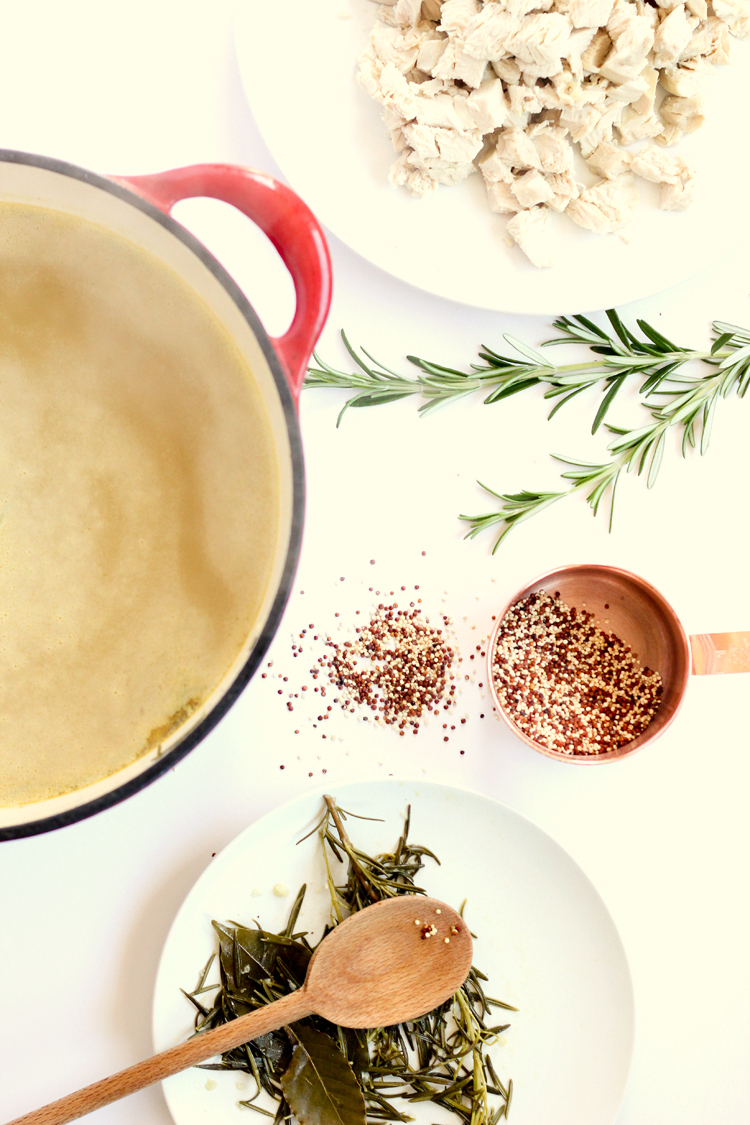 Step Three: Combine chicken and vegetables. 
Remove vegetables from the oven. Add chicken and vegetables to the soup. Heat through.
Serve warm with lemon wedges (optional). Serves 6-8.
I love dishes like this, that are simple and healthy. The ingredients speak for themselves. Like the Simply Raised Foster Farms chicken which uses no antibiotics. ever. And that "Pacific Northwest Grown" stamp lets me know that's it's local too. It makes me feel good knowing I'm feeding my family a healthy, responsible source of protein. To read more about Foster Farms poultry practices check out their story.
I'm chatty in my recipes, so I fear this seems complicated, but I promise it's not. Bake veggies, cook chicken and quinoa in broth, and then mix it all together. Easy! It should take just over an hour, from start to finish.
Also, I must mention that I found a very similar recipe from myrecipes.com here. Check it out for another variation! 🙂
Here's the recipe in printable format:
[amd-zlrecipe-recipe:3]
Disclaimer: This post is sponsored by Foster Farms. All opinions and content are genuinely and enthusiastically my own! Thank you for supporting brands who support this site.