My husband thinks I have too many bags. He's nicknamed me the bag lady.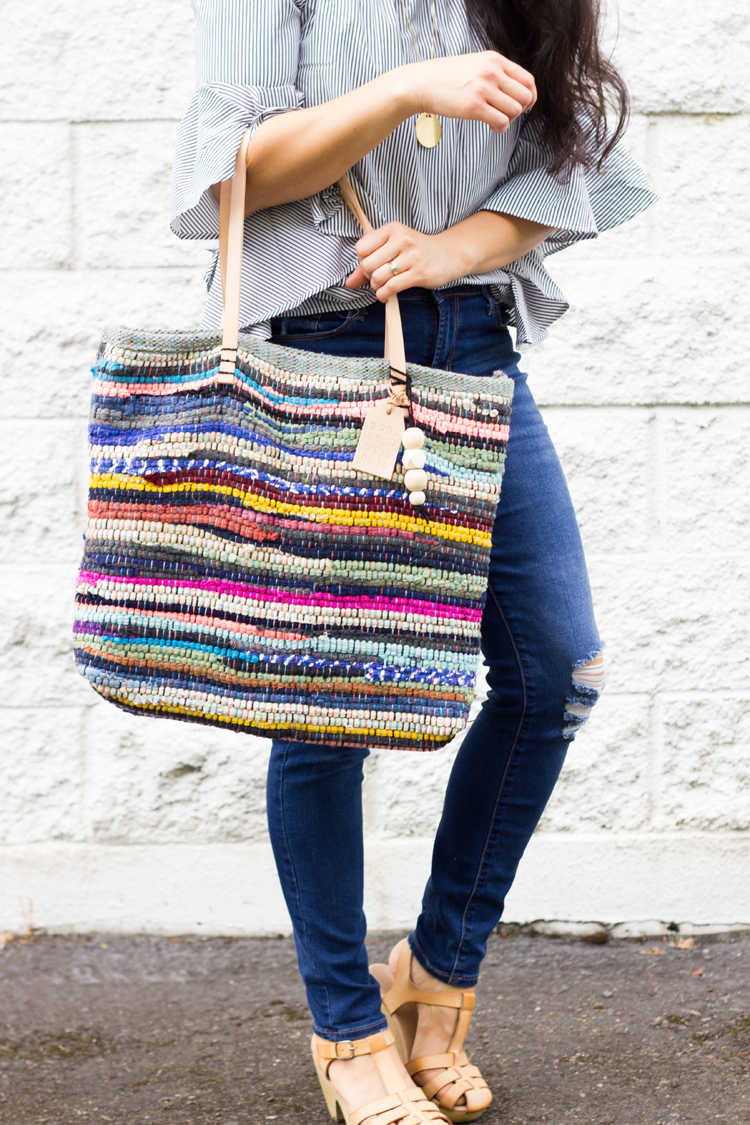 I'll cop to that. 😉 I think it's important to have the right bag for different jobs. Soft totes for grocery bags, zipper totes for flying, and sturdy totes for library trips, picnics… almost everything else!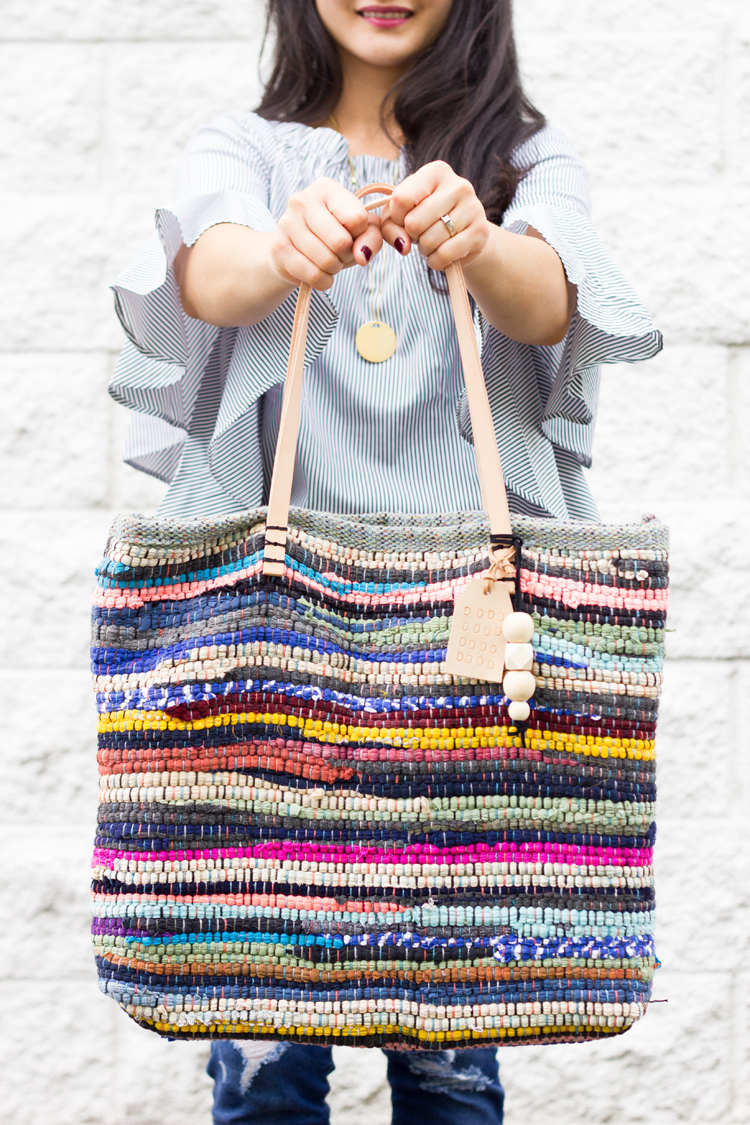 Like this rug rag tote. It's totes sturdy, but it's also soft enough to tuck away until you need it. Come on'….you knew that pun was coming. 😉
It's also a super fast sew. All the edges are finished, so most of the work is done for you.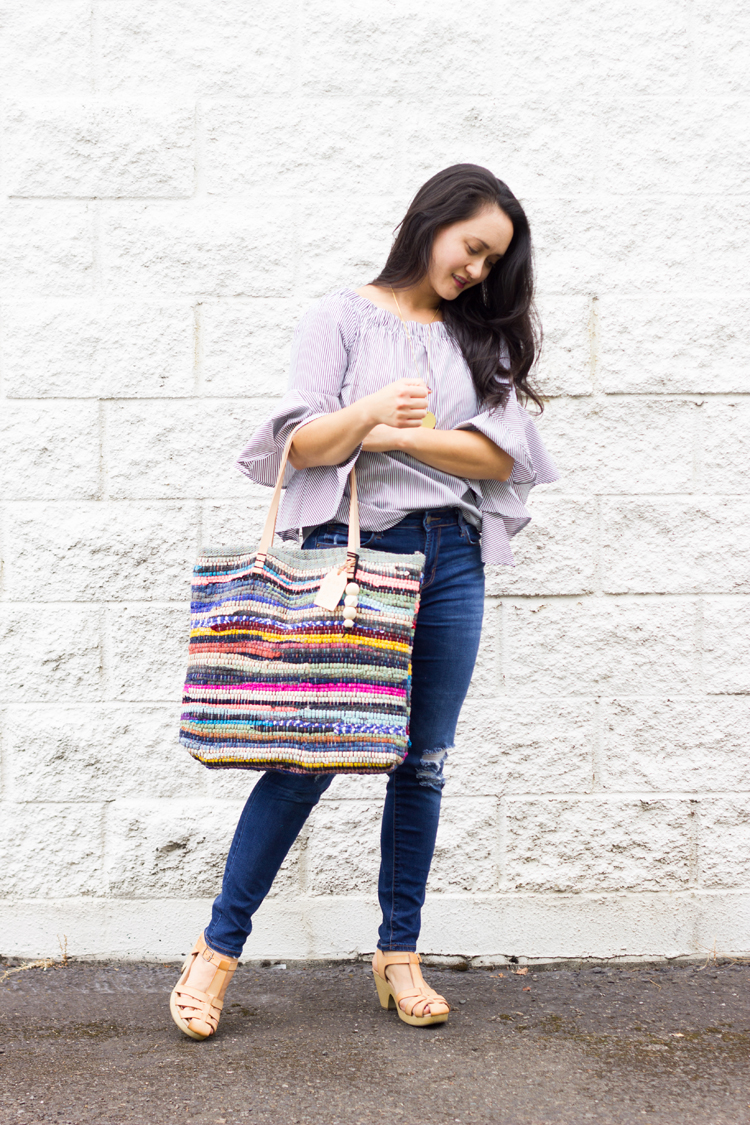 Let me show you what I mean: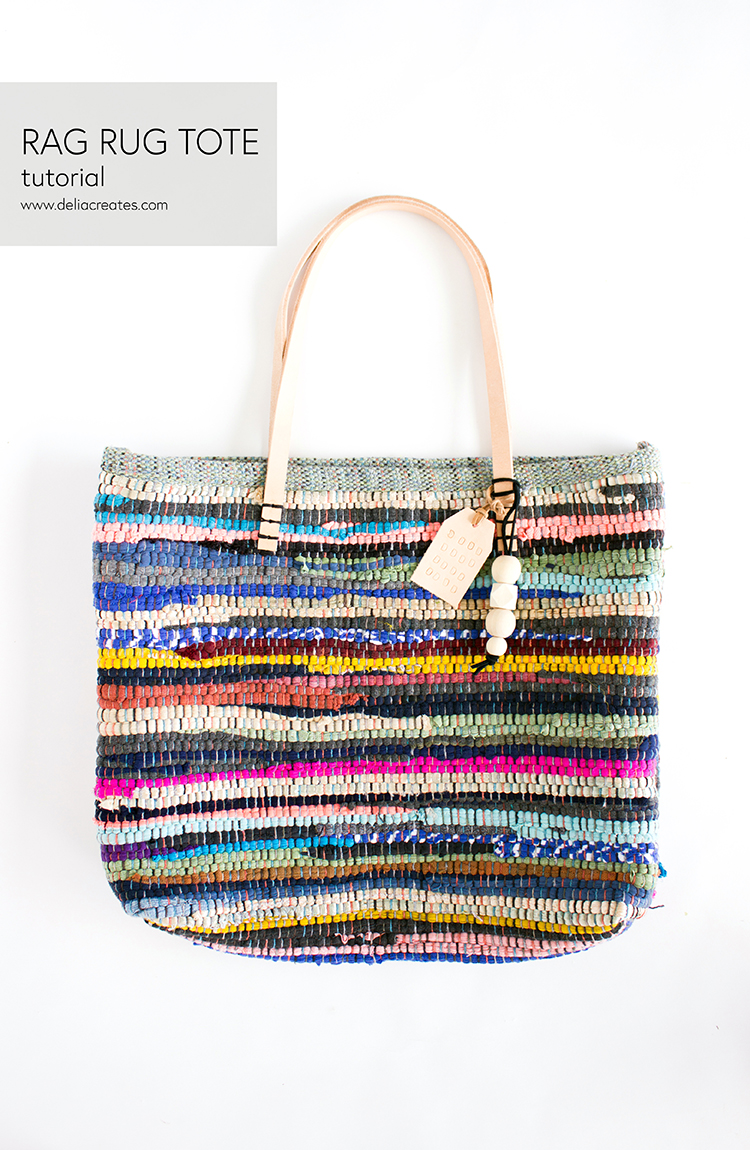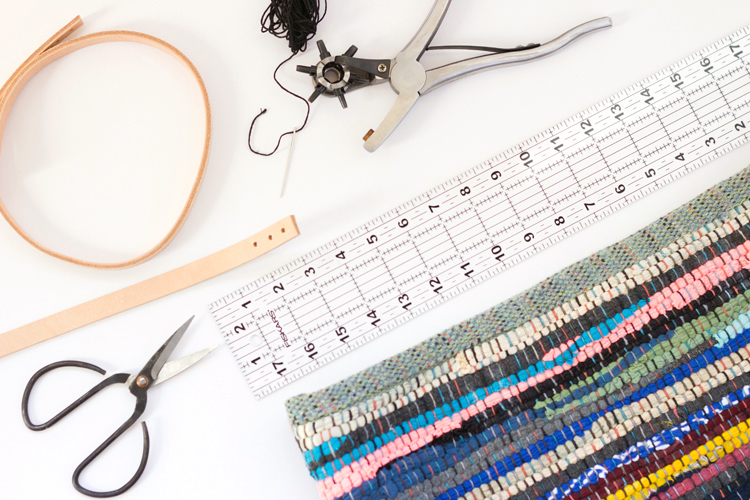 MATERIALS
rug rag*
heavy duty needle (denim or leather needle)
sewing machine
all-purpose thread
scissors
leather handles** about 27 inches long and 3/4 inch wide
leather punch
ruler
yarn needle
waxed cotton cording
Materials Notes:
*My rug rag is 21 x 34 inches and it's the perfect size. I found mine at Walmart for $5.
**I created my leather handles from a vegetable tan leather belt kit from Michaels (coupon!). It comes 1 1/2 inches wide and 42 inches long, so I cut it in half width wise and then cut the strips to 27 inches long. I created a very similar crocheted one last year that explains more of what I mean.
TUTORIAL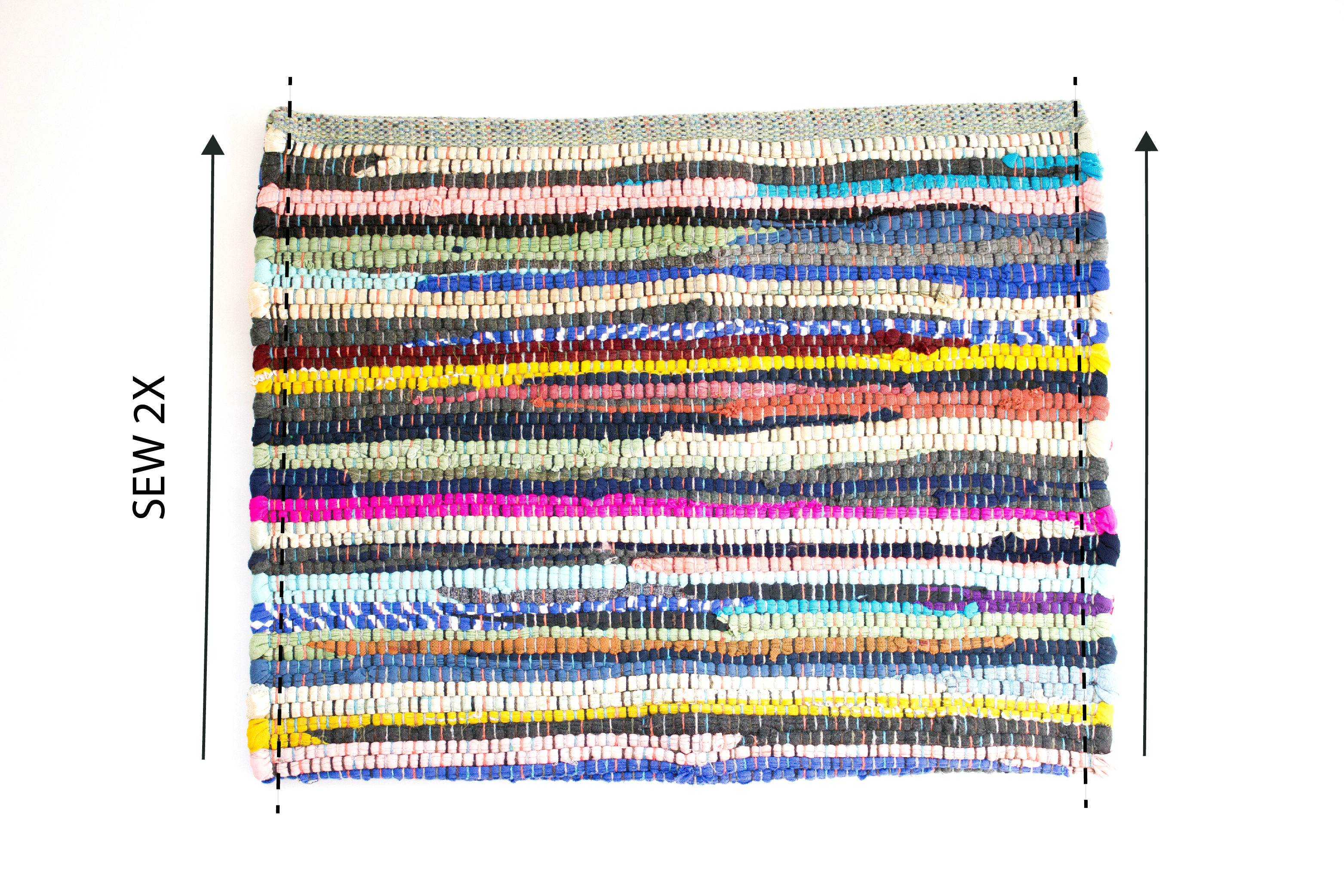 Step One: Sew up the sides — TWICE.
A doubled up rag rug is thick! It's important to use a heavy duty needle that can handle all those layers. Going over it twice, and sewing SLOWLY, ensures that the seam maneuvers around all the nooks and crannies to create a strong bag. You may also have to hand crank through the first seam.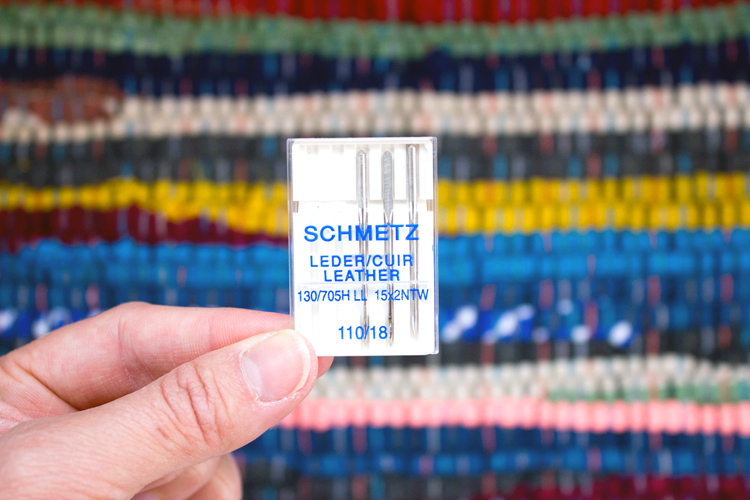 Because it's so thick, it can be tricky to get things to line up just right. 😉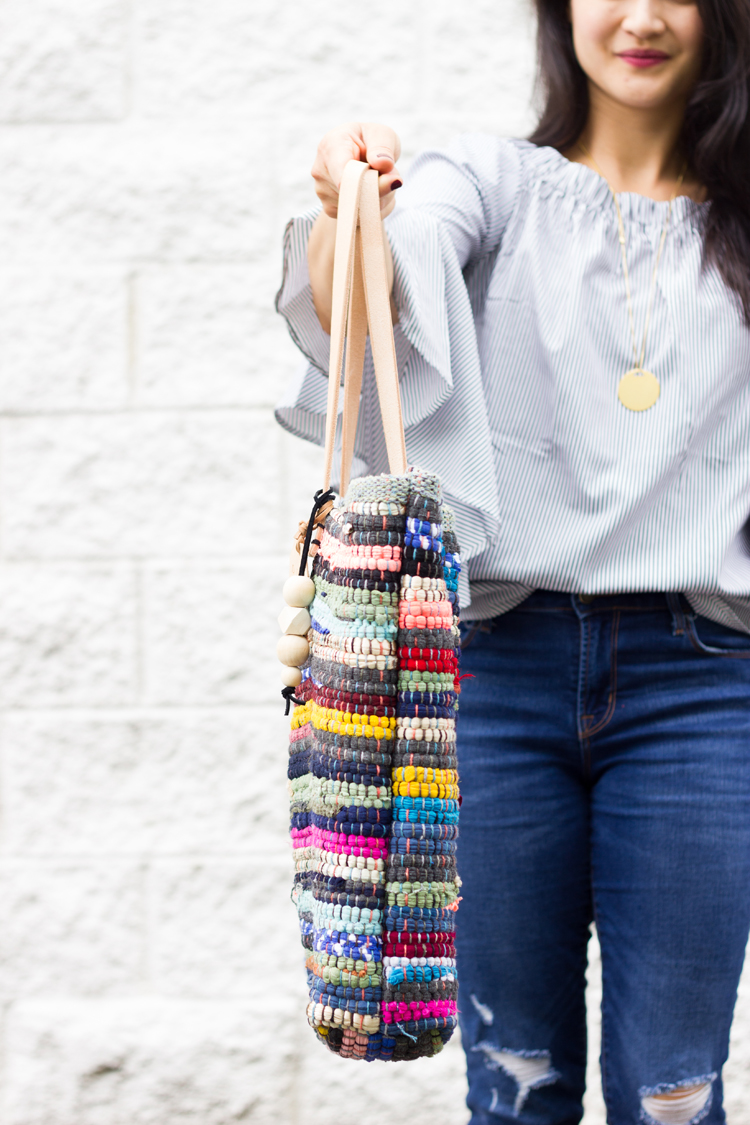 Luckily rug rags are inherently messy looking, and very forgiving.
Step Two: Sew the corners.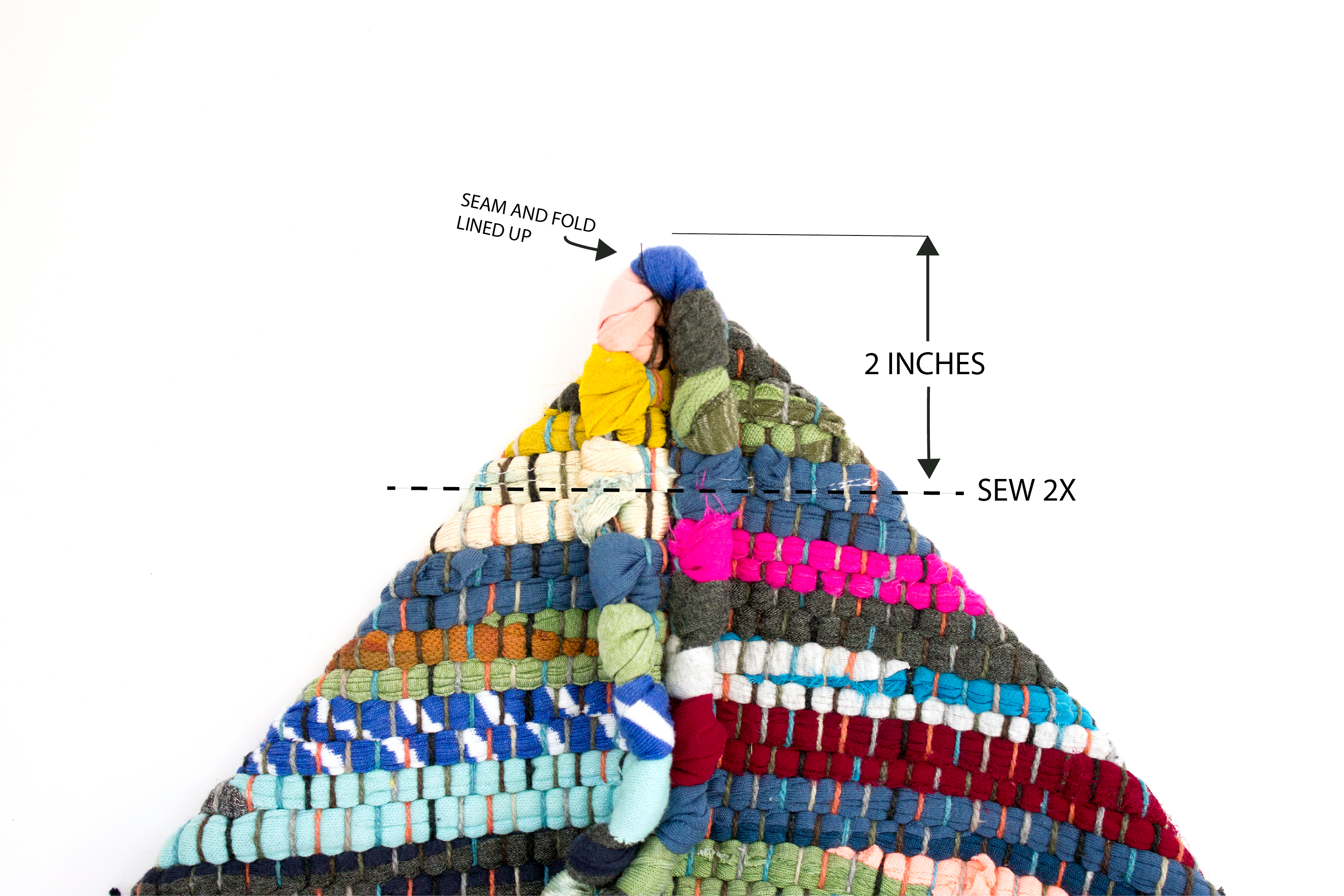 To box the corners and give the bag some depth, fold the side seams down to meet the bottom. Be sure to align the side seam with the center fold on the bottom. Measure two inches down from the tip of the corner and draw a line across the side of the bag, forming a triangle. Sew along that line…twice! 🙂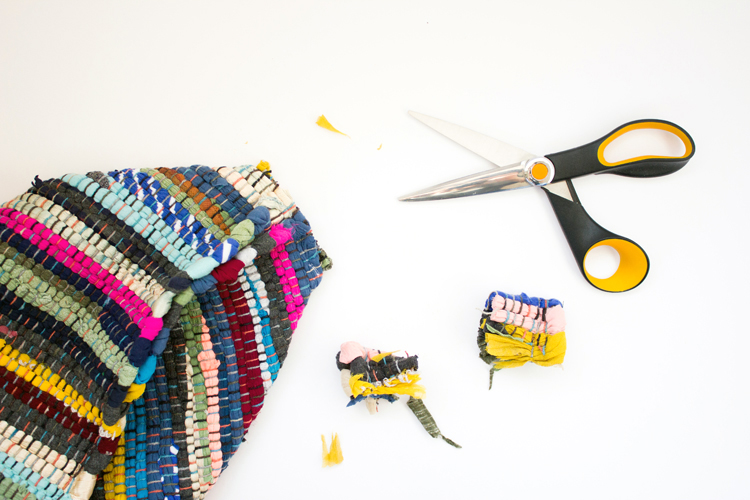 Cut away the excess corner material, being careful to leave at least a 1/2 inch seam allowance (extra material to the right of the seam).  Finish the raw edge with a zig zag stitch if desired. My rag rug is mostly made of knit material which doesn't fray, so I didn't bother.
Step Three: Add handles.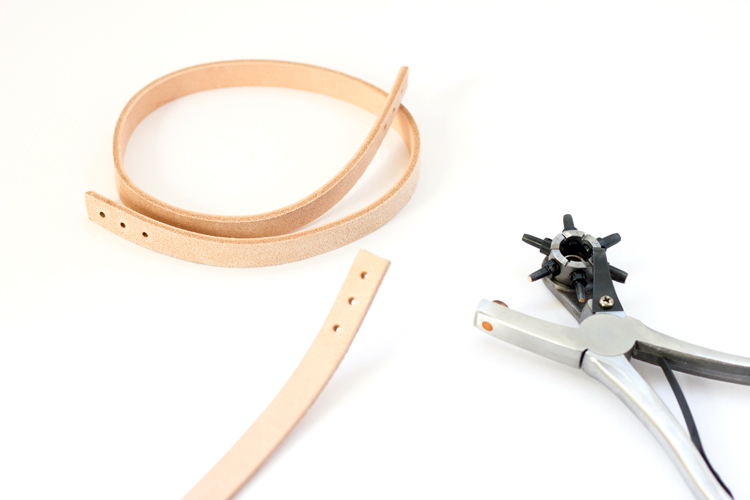 Punch holes in your leather handles. About three inches down from the top of the bag and about 8 inches apart, sew the handles in place with a yarn needle and waxed cotton cording.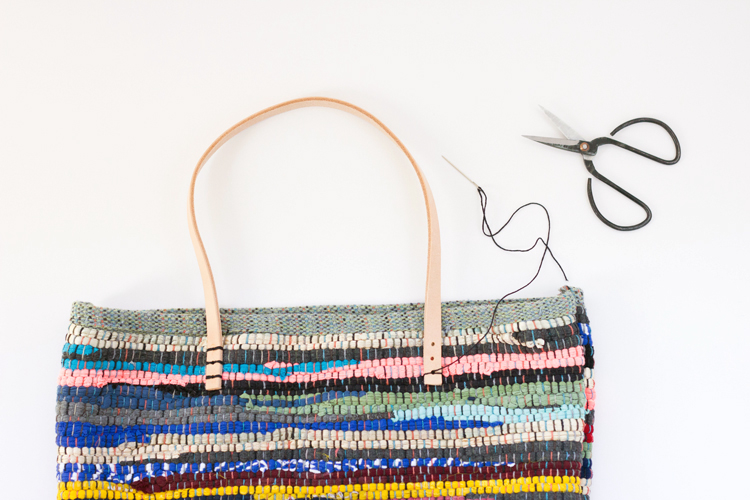 I sewed them through three centered holes this time. I have a crocheted version with the same handles that I sewed on a little differently. See it here. You could also sew X's into the handles, or vertical lines.
I considered, and actually tried, using hardware but it had a tendency to slip through the small holes of the rug rag. Sewing allows you to make sure you are catching each stitch through fabric to keep it secure.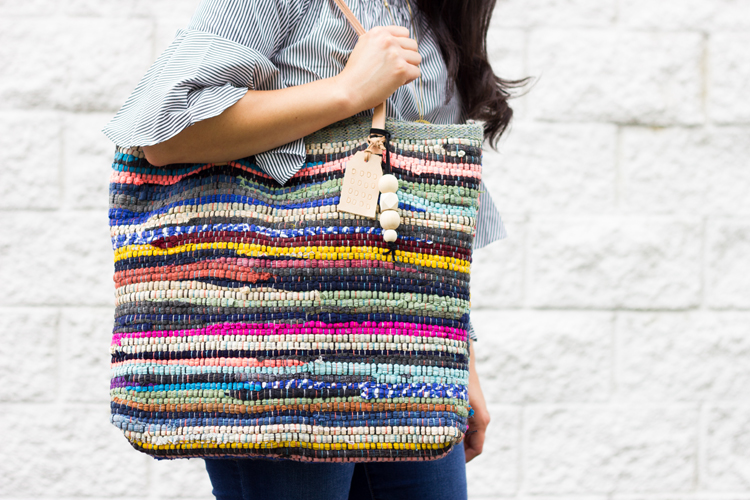 That's it!
I added some extra details, like this wood bead fob, and monogrammed leather tag which I whipped together with some leftover leather scraps and some leather cording.
Pom poms or tassels would be a cute addition as well.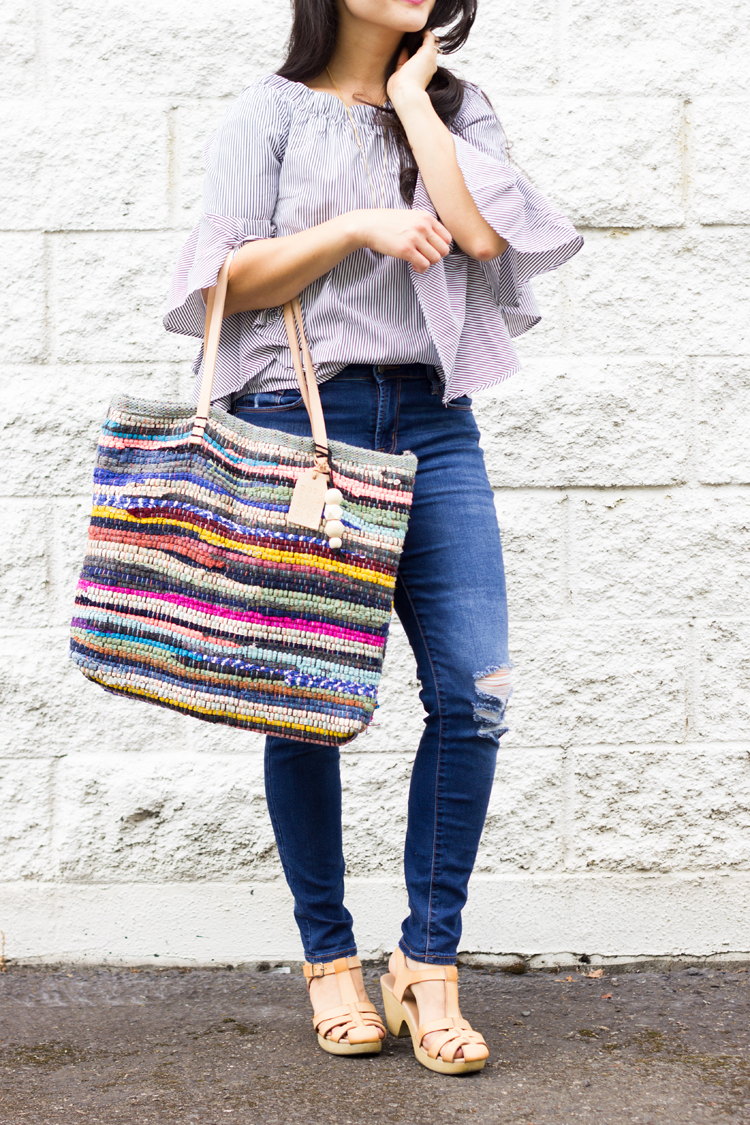 This bag sort of reminds me of those layered sand candles. Remember those!?
Even though it has a colorful, busy pattern, it goes with almost anything. And it's so sturdy! It's my new go to library tote for taking back all our overdue books from the summer. 😉 ha!