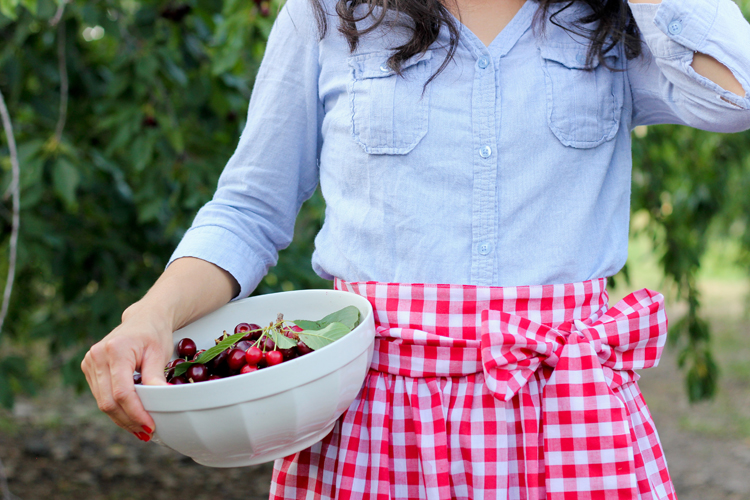 A couple of weeks ago, the kids and I visited a u-pick cherry farm.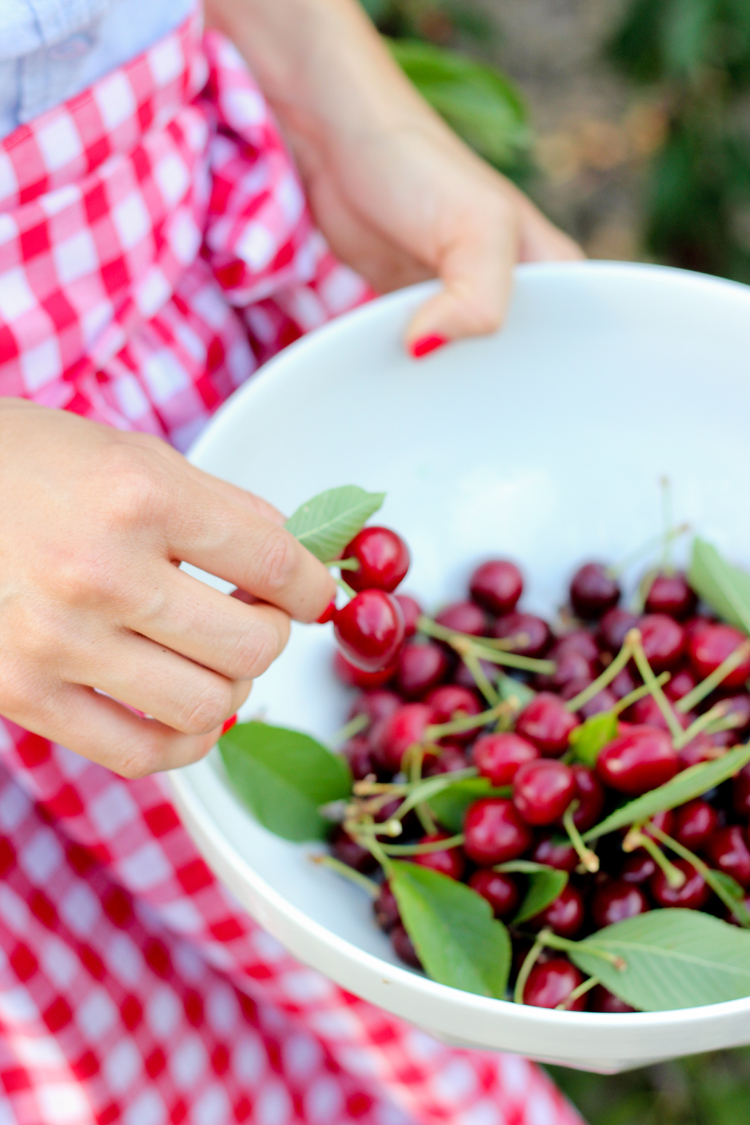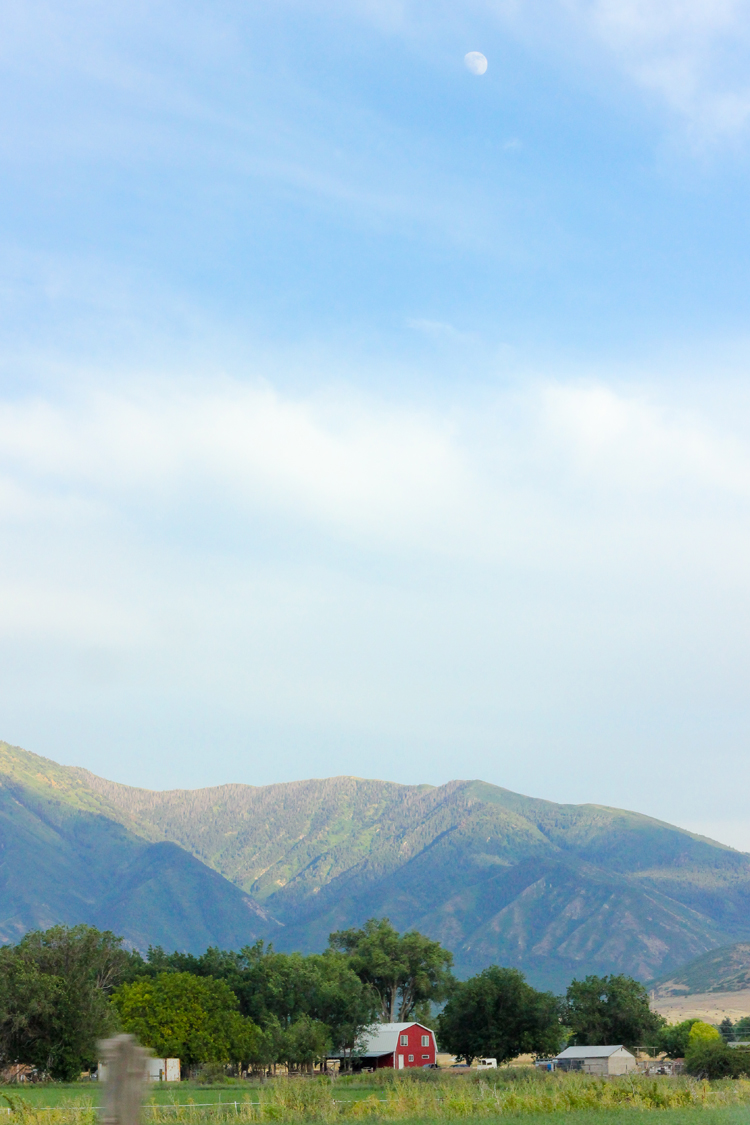 It was so beautiful, and so inspiring, that I dropped everything I was working on to design a project and some recipes around the concept of this cherry farm; including this gathered half apron.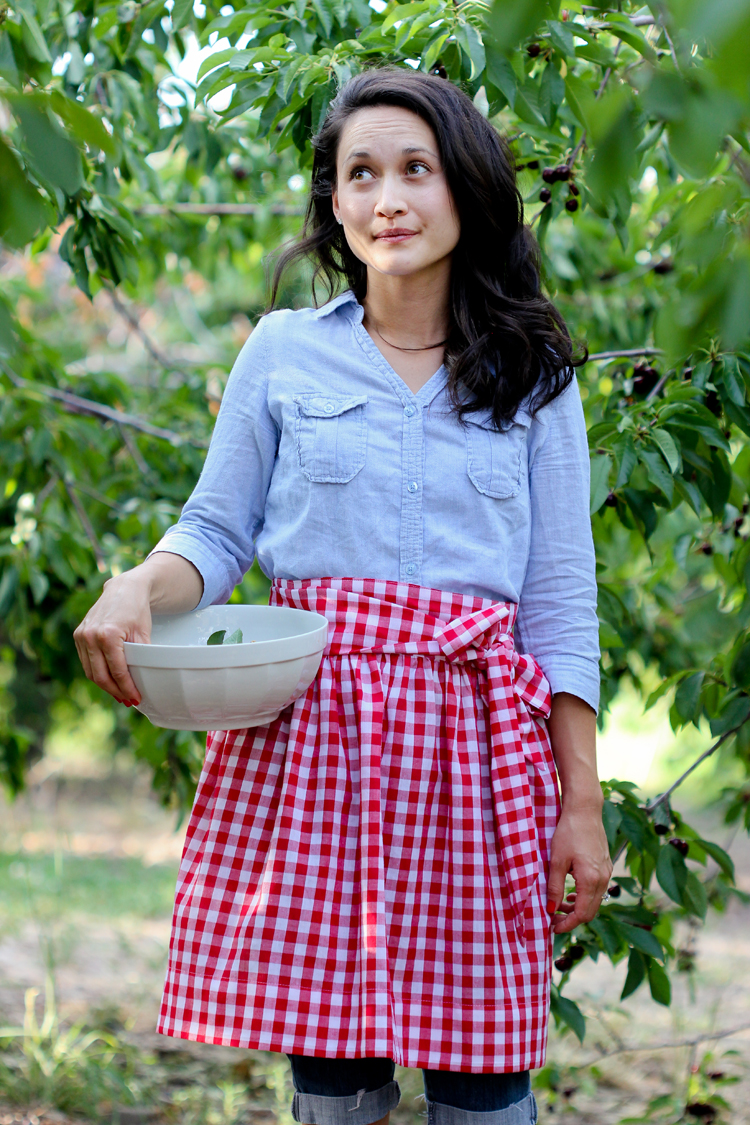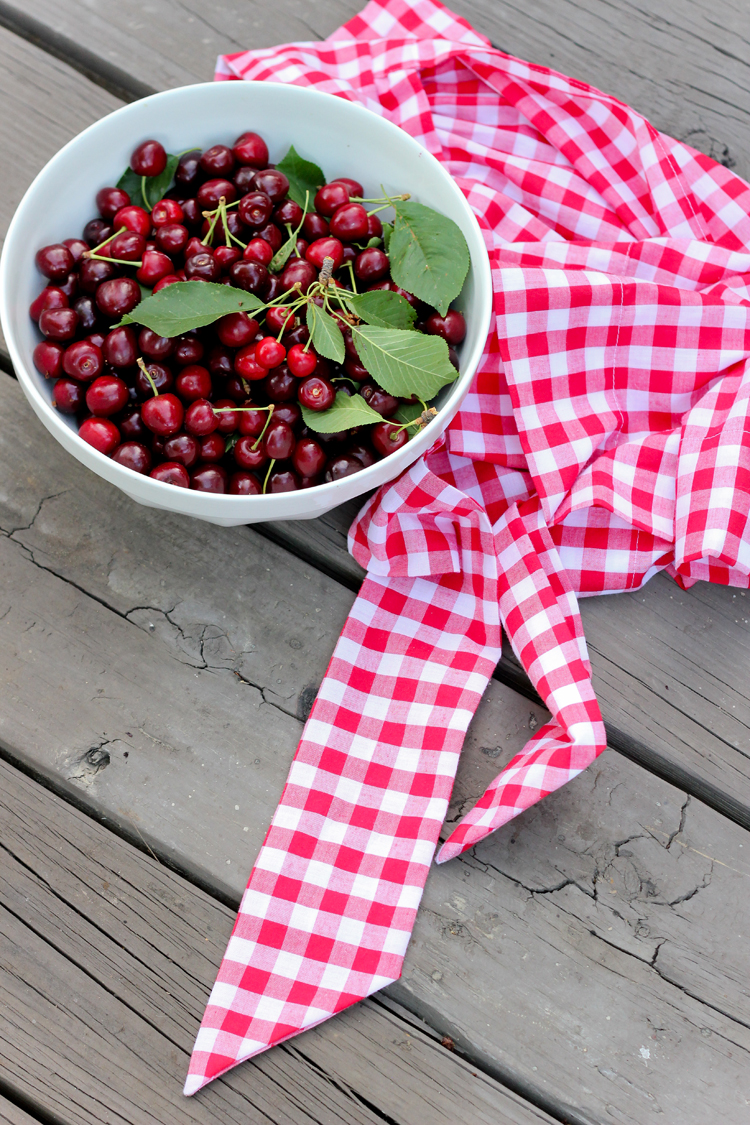 I know? Crazy, right? I just couldn't get this idea out of my head and I was (literally) crazy excited about it.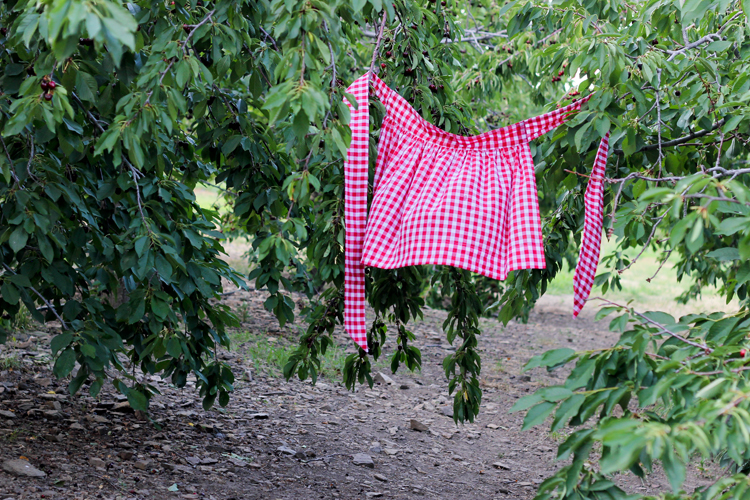 The apron is not crazy though. 😉 It's actually really simple.  This tutorial post is quite long, but that is only because it is thorough.
I designed it so that you only have to make a few straight cuts from 1 1/4 yard of fabric.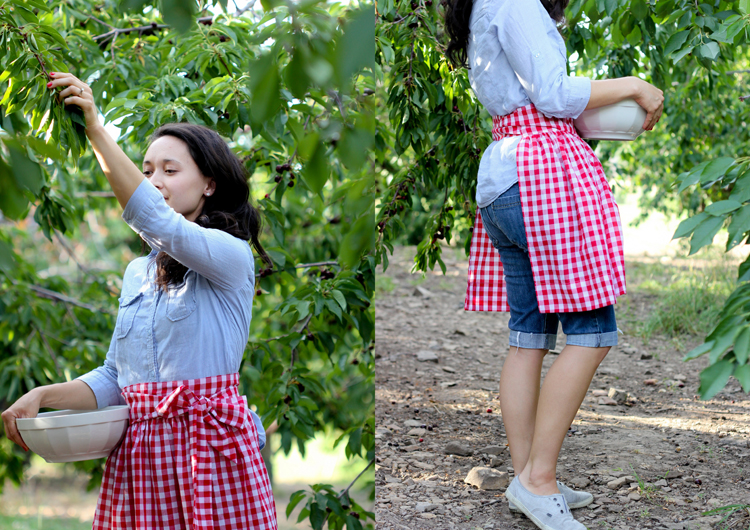 It has no raw edges, so that if you use reversible fabric and wear it wrong side out, no one will know!
It also sports a nice full apron skirt that gives it a feminine flair.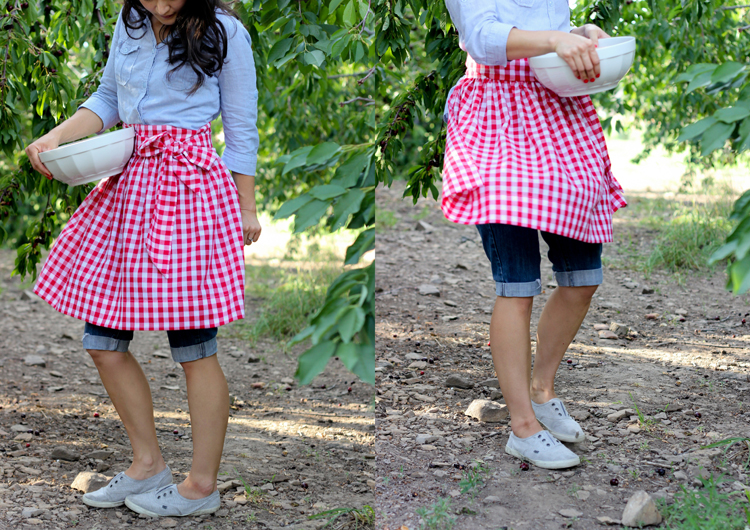 An apron you can twirl in? I'm in.
I should probably make a mini one for Natalie, now that I think of it!
Okay…Let's make one shall we?
MATERIALS
1 1/4 yard of 44″ wide woven cotton fabric* matching thread rotary cutter and self healing mat or scissors ruler iron pins, sewing machine, basic sewing supplies optional: binder clips or clover clips are helpful  
*This apron is sized to fit most people. It should fit RTW sizes 2-6 so that you can double wrap the ties around your waist and any sizes larger than that, by tying it in the back. 45″ wide fabric works fine and will produce very similar results. If you want to double wrap the apron ties and you are a size 8 or more, you can either add length to the apron ties, or buy a wider fabric. Follow the directions in the same way, but use the ratios I provide, not the measurements.
BEFORE YOU BEGIN.
a. Wash and dry your fabric.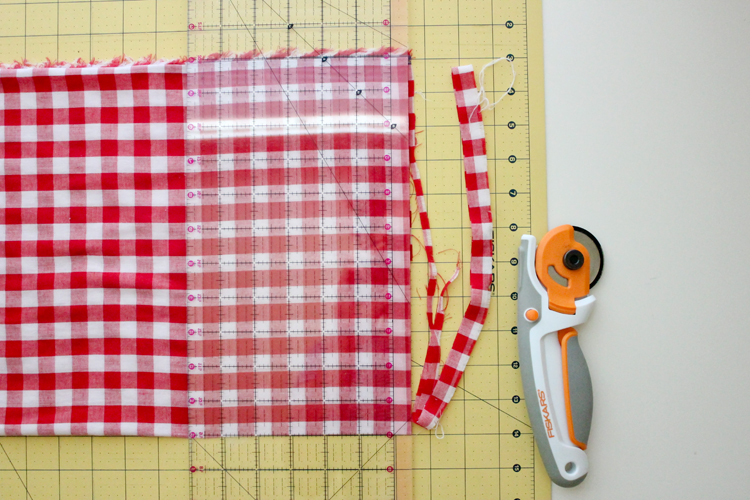 b. Even out the grain. Sometimes, your fabric gets cut off grain at the store. Even it out now before you start to cut into it. Having a repeating pattern can help you determine where the grain is and how to square it off. If you find that you have to cut off as much as a couple inches to fix the grain, don't fret. I have given you about 3 inches of leeway with the fabric requirement for this situation.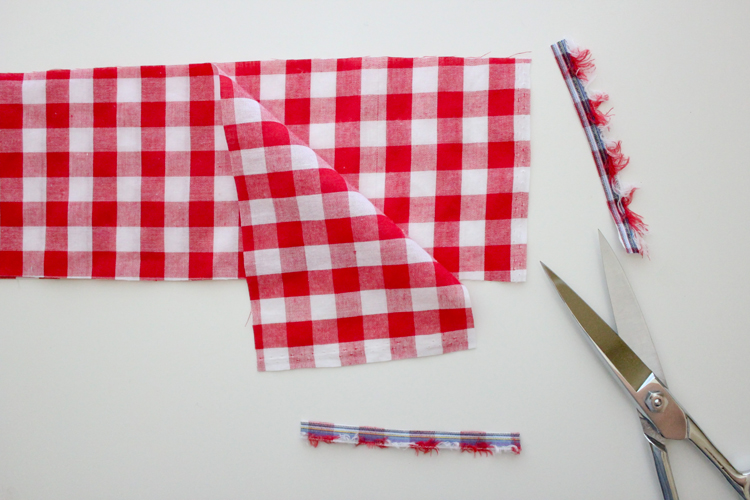 c. Trim off the selvage if desired. Most of it will get sewn into the seam allowance, so you don't need to be too picky about it. I trimmed it off after cutting. You can do it before. Either way… 🙂 Just be careful not to cut off too much, as it will alter the measurements.
STEP ONE: Cut your fabric.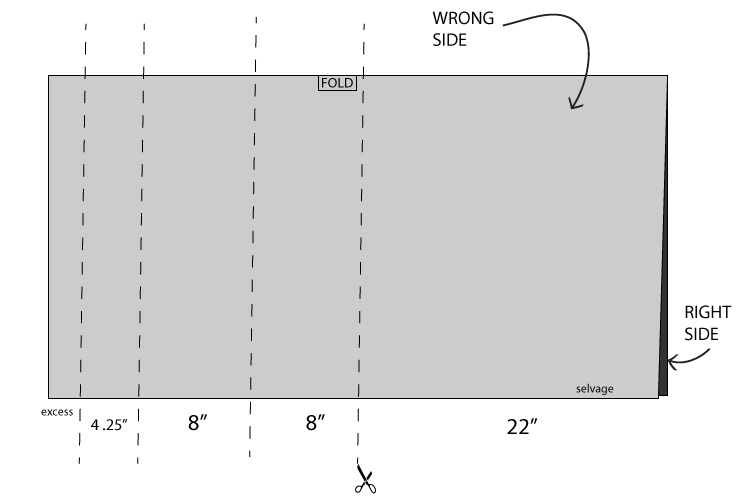 *As you can see, the light gray signifies the wrong side of the fabric and the dark gray is the right side, for the illustrations. The fabric I used in the color photos doesn't have a noticeable right or wrong side. I will signify which side to pay attention to in the written text, when it is not clear in the pictures.
a. Lay your fabric folded in half (or fourths if you don't have a large enough mat) with selvage edges touching and cut according to the guide.
b. These are the pieces you should have when you're done with Step One:
one – 4.25 x 44″
two – 8 x 44″
one – 22×44″
STEP TWO: Prepare the waistband.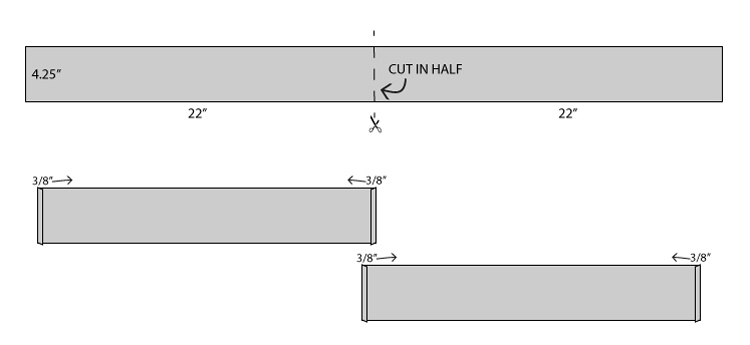 a. Take your 4.25 x 44″ piece and cut it in half lengthwise. These two pieces will comprise your waistband.
b. Press each of the short ends inward 3/8″.
STEP THREE: Prepare the apron skirt.
a. Fold the short sides of the apron under 1/4″ twice, encasing the raw edge. Press in place and then top stitch.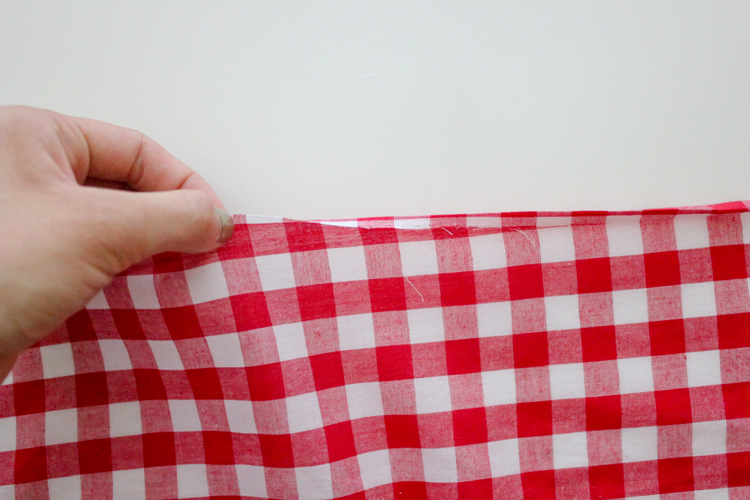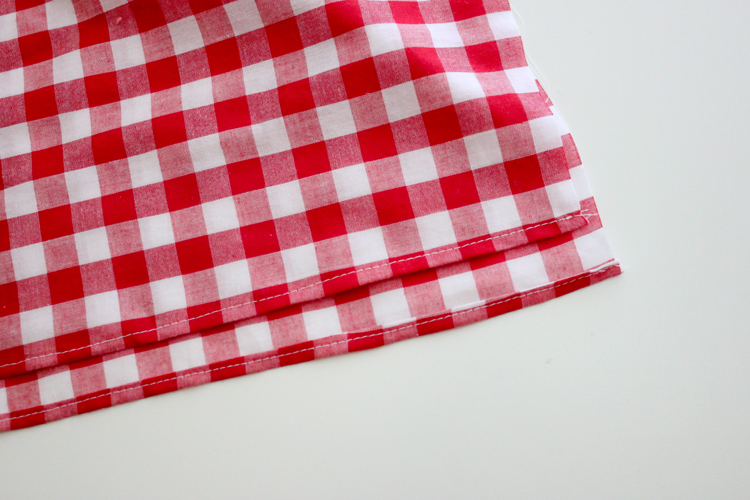 b. Hem the bottom edge under to the wrong side of the apron skirt.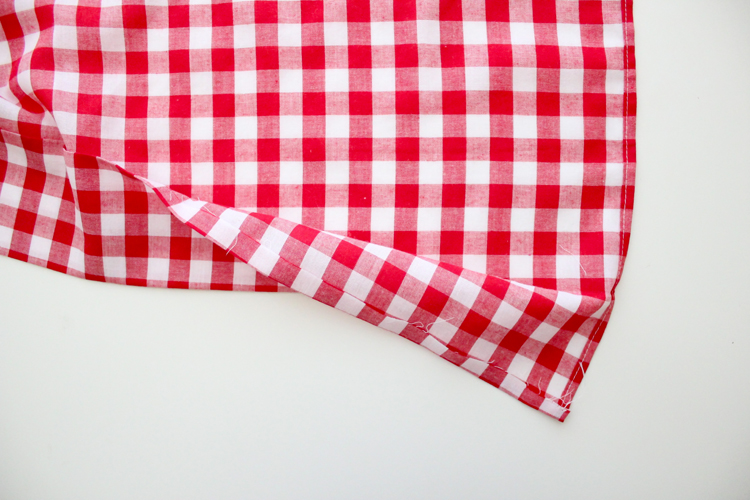 *Note about picture above: the WRONG side is facing up and the hem is being folded to the wrong side.
c. Lengthen your stitch and tighten your tension as long and as tight as you can. Sew two lines of gathering stitches 1/4″ and 3/8″ away from the raw edge of the top of the apron skirt. Pull the bobbin tails to gather the skirt.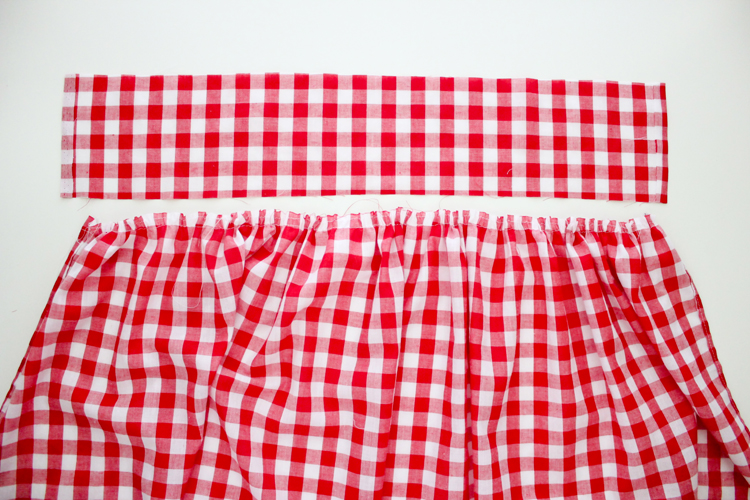 STEP FOUR: Attach waistband to apron skirt.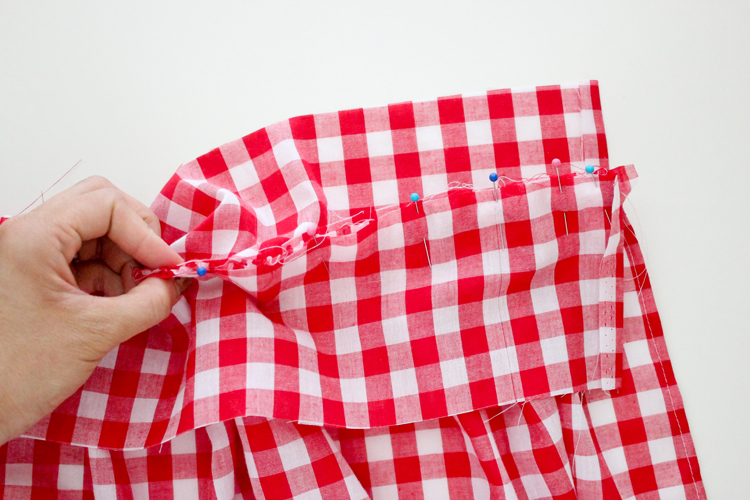 a. Pin the waistband pieces to the gathered edge of the apron skirt. One waistband piece should be right side facing the right side of the apron skirt and the other should be right side facing the wrong side of the skirt. Pin both pieces together with the skirt sandwiched in between.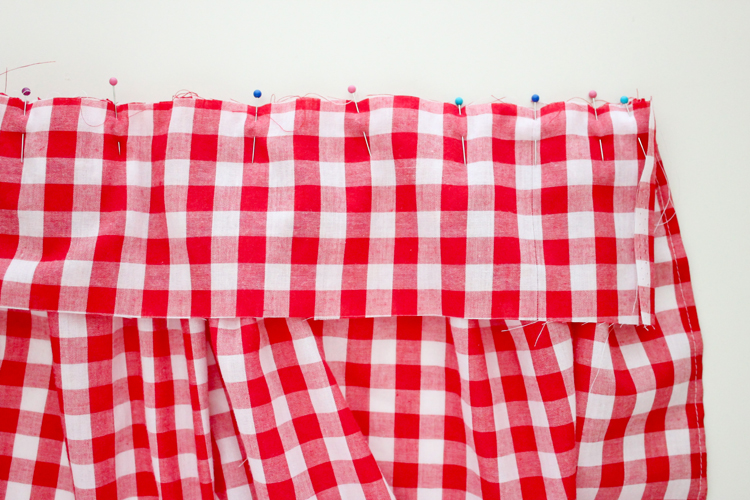 b. Sew together with 3/8″ seam allowance.
c. Now, sew the other edge of the waistband by rolling the apron skirt into the waistband.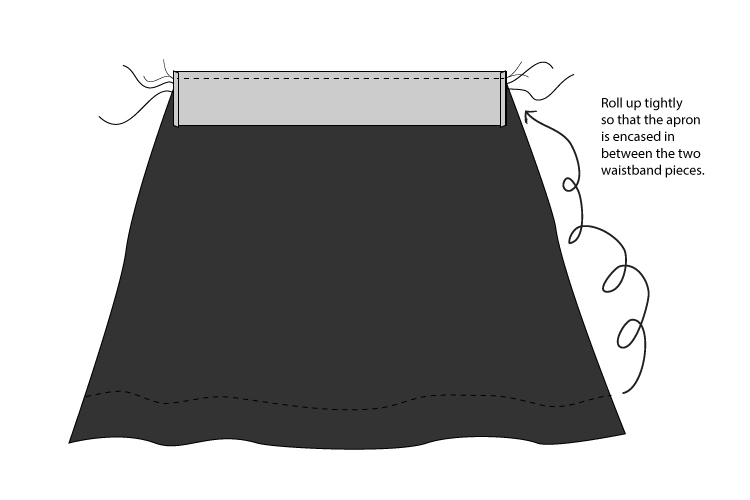 Pin or clip the other two raw waistband edges together, being careful to not catch the apron skirt. I find clover or binder clips to be a little easier to manage at this step.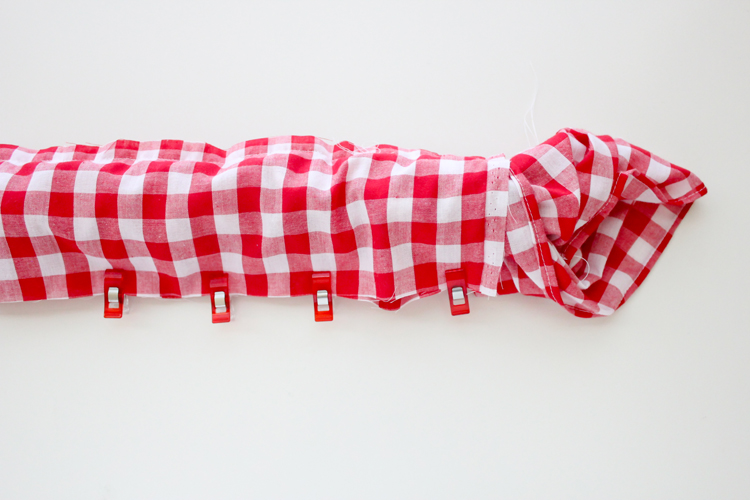 d. Sew along the remaining raw waistband edge with 3/8″ seam allowance.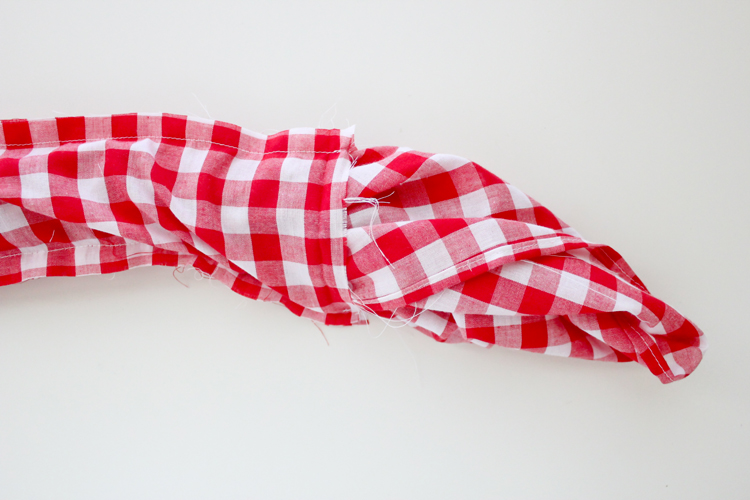 e. Now pull the skirt out through one of the waistband's side openings.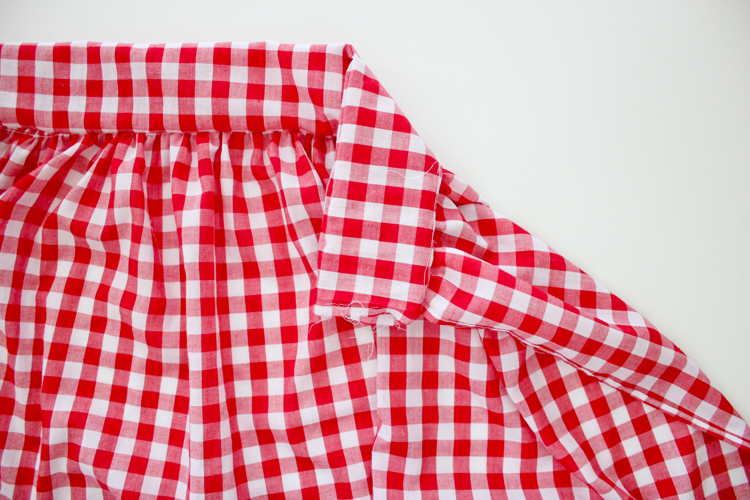 Ta da! No raw edges!
f. Press the apron flat with an iron.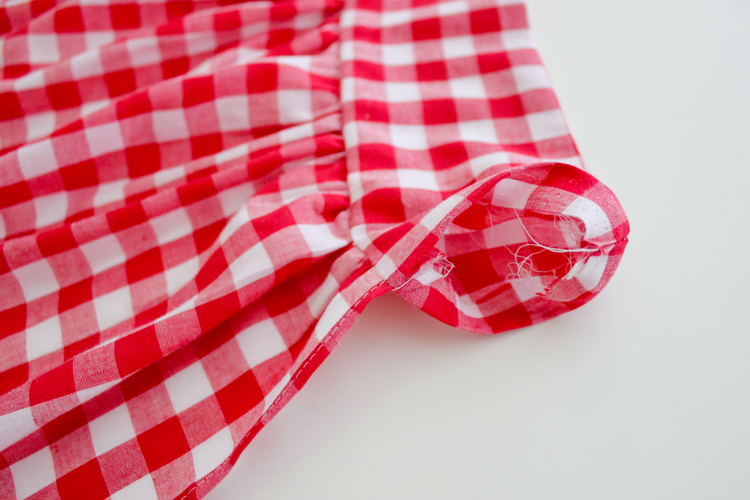 After you pull it right side out, it might look a little sloppy. Remove the gathering stitches since you don't need them anymore and press the gathers. This always makes them look much cleaner. Press the raw short side edges under again as well (as pictured).
STEP FIVE: Prepare the apron ties.

a. Take your two 8 x 44″ pieces and fold them in half width wise, with right sides facing.
b. Optional: Mark a 45 degree angle at one end of each tie.
c. Sew along the raw edge of each tie and at a diagonal at each end, using the 45 degree line guide you just drew. This time, use a 1/2″seam allowance.
d. Cut away the excess at the end of the ties and trim corners to reduce bulk. Turn ties right side out through the un-sewn short end. Press flat with an iron.
STEP SIX: Attach apron ties to waistband.
a. Pin raw edges of ties into the sides of the waistband.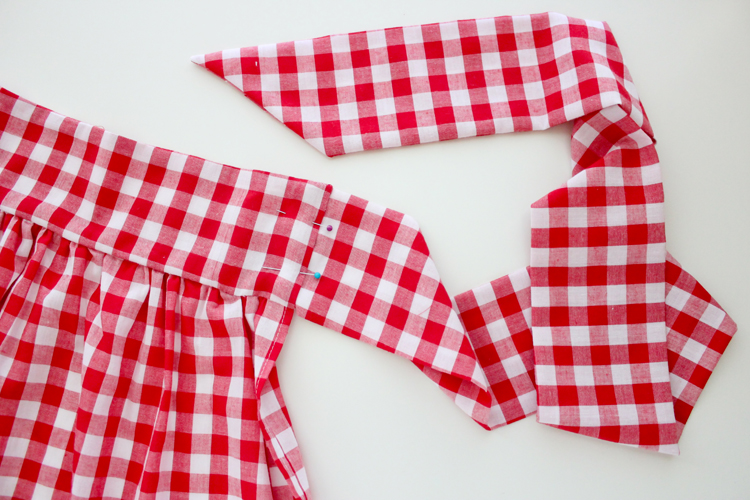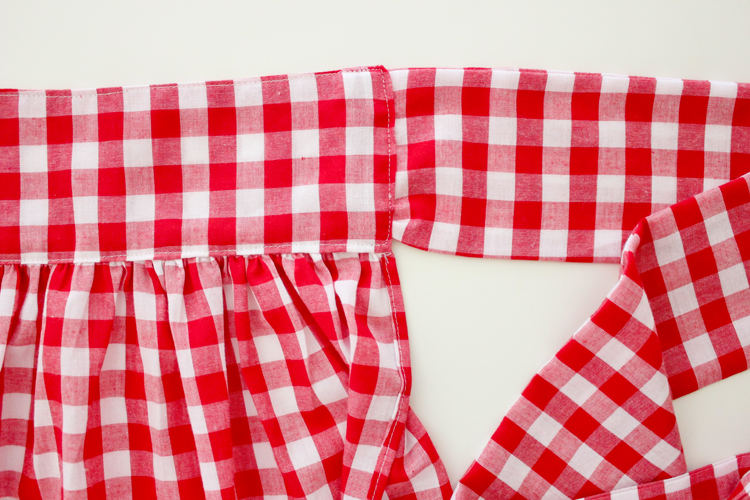 b. Top stitch around the perimeter of the waistband, close to the edge.
You're done!
Go ahead and tie it on…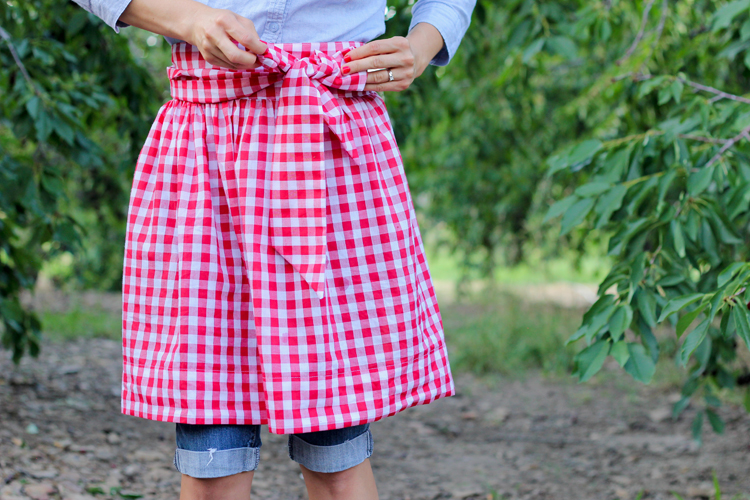 I like to tie it in the front for two reasons:
1. It's waaaay easier.
2. You can slide a dish towel over the ties to keep it handy, like I did with this pin-tucked half apron HERE.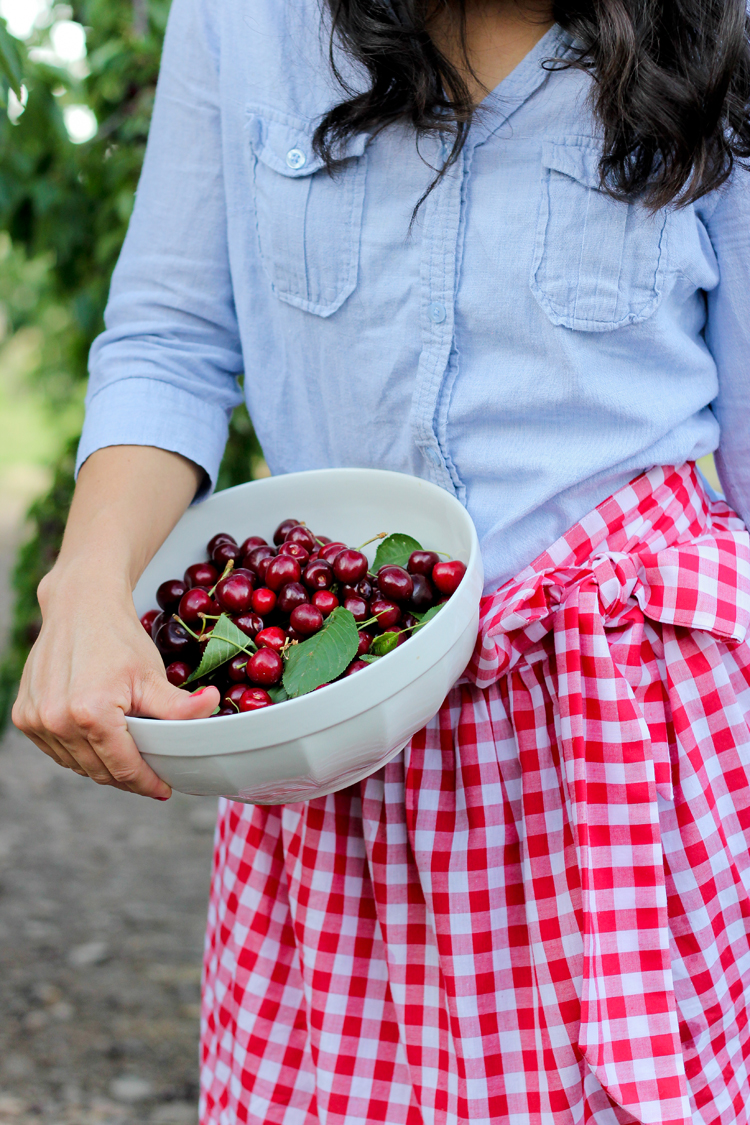 I kept this apron simple, but you can dress yours up with pockets, trim, or contrasting ties… etc.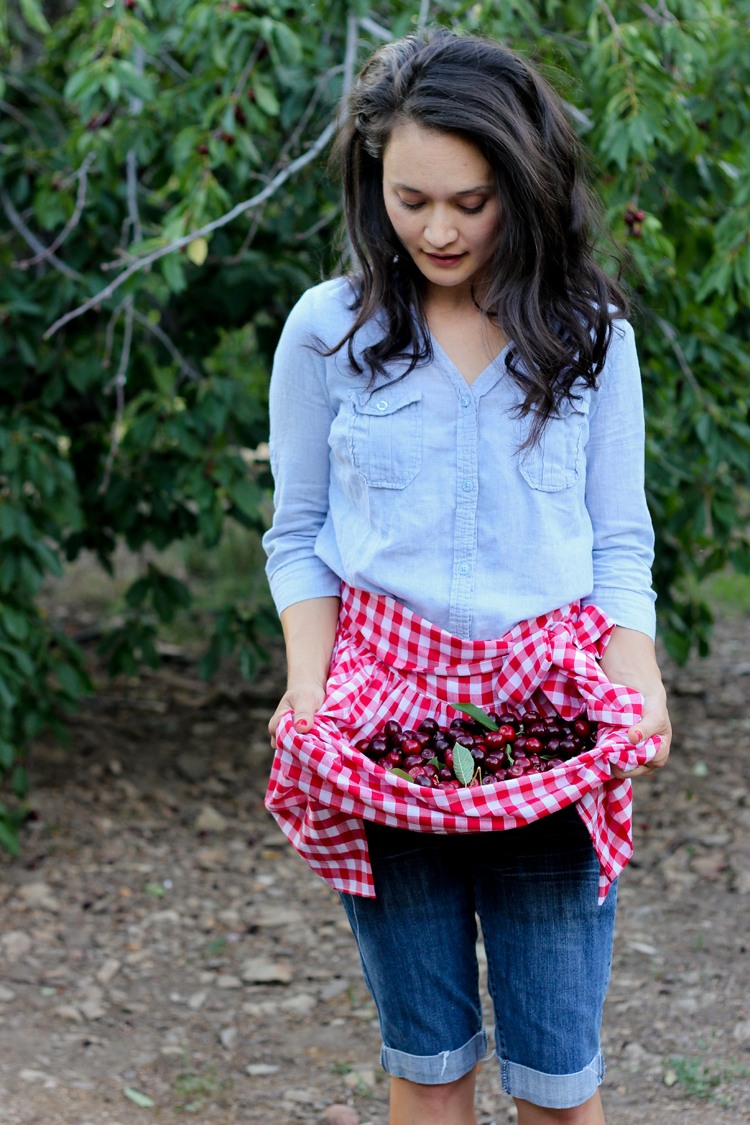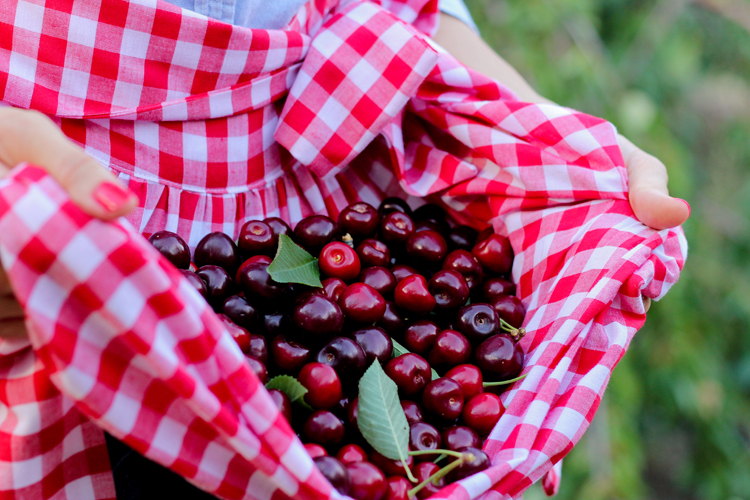 I decided to eventually ditch the bowl and fill my apron with cherries. At 75 cents a pound it was hard not to go on a picking spree!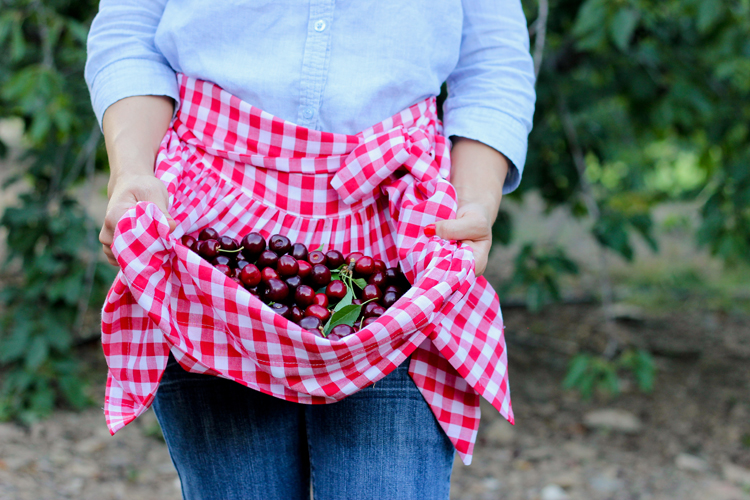 Because I picked SO many, I've whipped up five cherry recipes to share this week. See you back here tomorrow!