Summer is finally here! After a cold, loooong winter I am so ready to air out the house, dig in some dirt, and update the closet!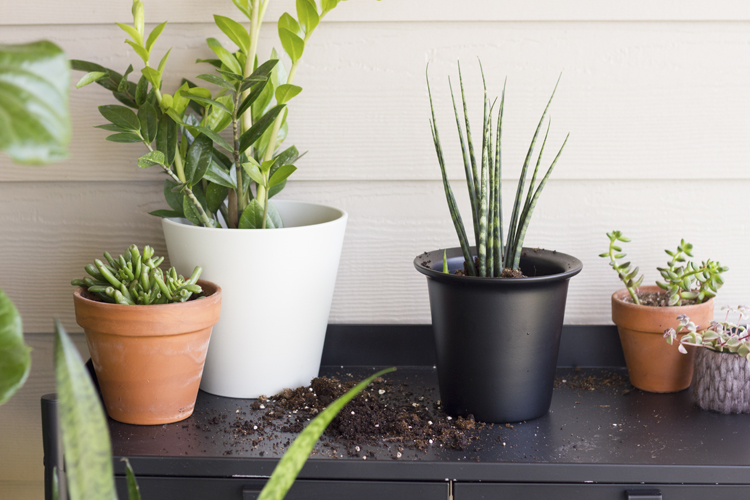 Just as much as I'm ready to refresh for summer, after lying mostly dormant and dusty all winter, my indoor plants are ready to stretch their leaves and soak up all that extra sun too!
Today, I'm partnering with Signature by Levi Strauss & Co. ™ to talk about easy ways to refresh your houseplants and your closet.
Since I pretty much live in denim, I picked up a fresh pair of Signature High-Rise Ankle Straight jeans to add summer flair to my wardrobe.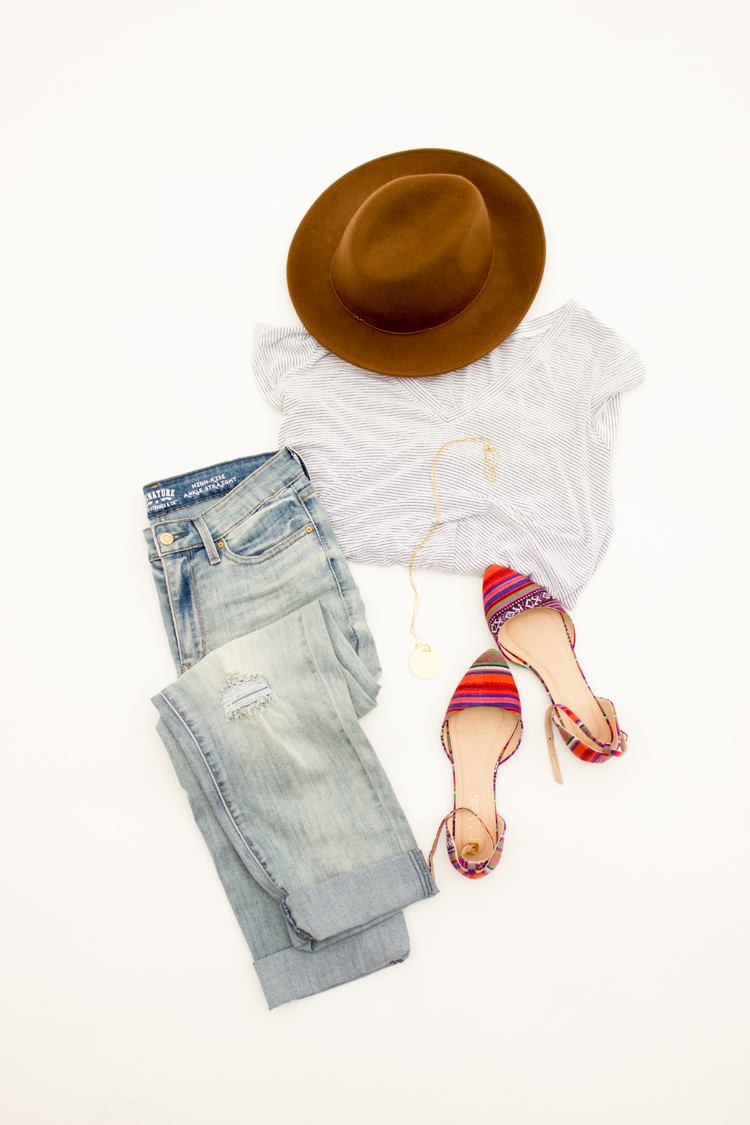 I have been wanting to try high-rise jeans for a while (hello, mom of three tummy) and something a little less skinny jean like. These ankle jeans fit the bill perfectly. I'm short and pear-shaped, so it's tough to find a jean like this that is flattering on me; but these totally work – and they feel amazing. Crafted with premium denim, these jeans are super soft, stretchy, comfy, and definitely feel like they cost more than their $20 price tag (available at Walmart and Walmart.com). Again…the mom of three side of me can't help but love that too.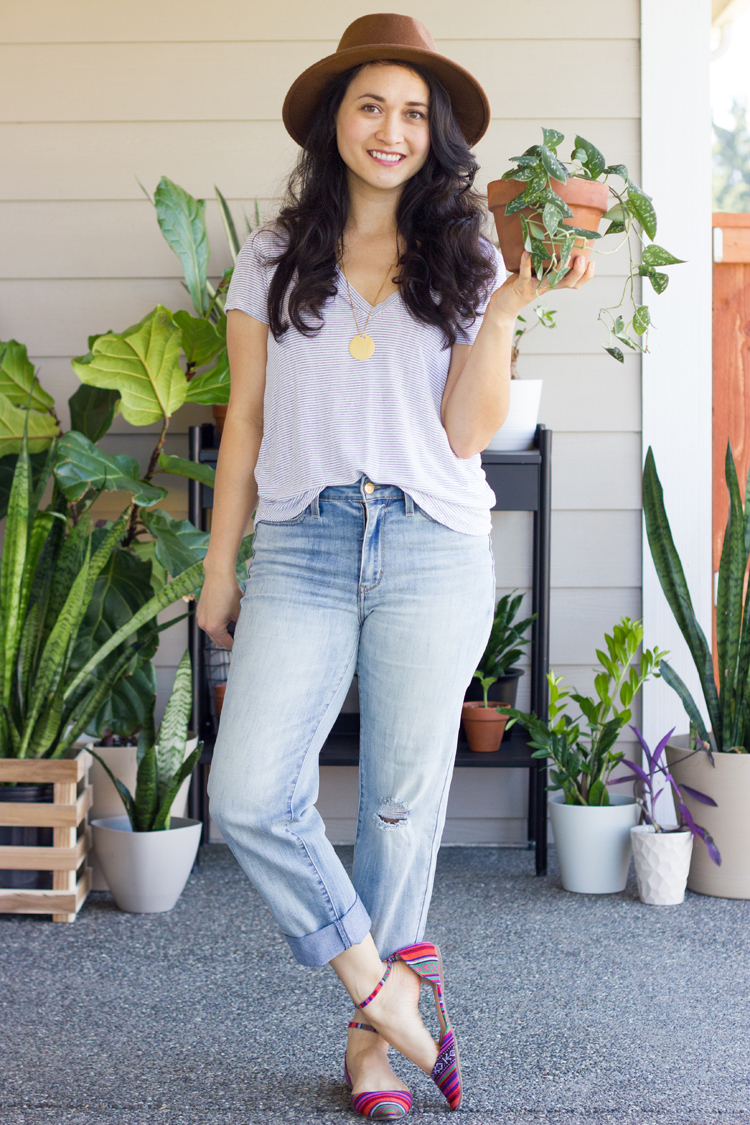 I love a relaxed look so I prefer to style them with a loose, slouchy shirt and a narrower shoe. Since I am going loose on top and on bottom, I find that petite shoes balance the look and offer a slenderizing effect. Even though the raw edge hem of the jeans is super cute, they also look great cuffed, especially on us short legged gals.
They have been so comfy, I've not only been wearing them out and about, but also for activities around the house. Which brings to me one of my favorite household activities…plant care.
Today, I'm share six easy steps to getting your houseplants ready for the season!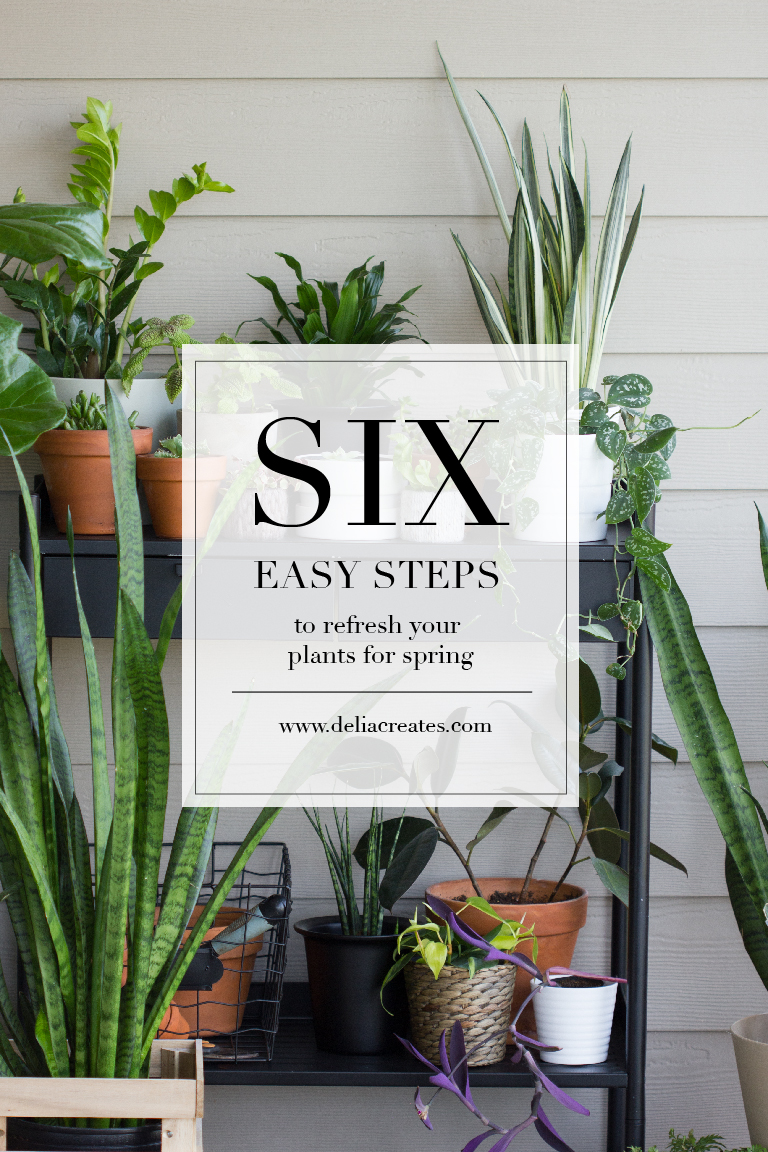 (I know this looks like a lot of information, but it mostly becomes common sense as you get into it. )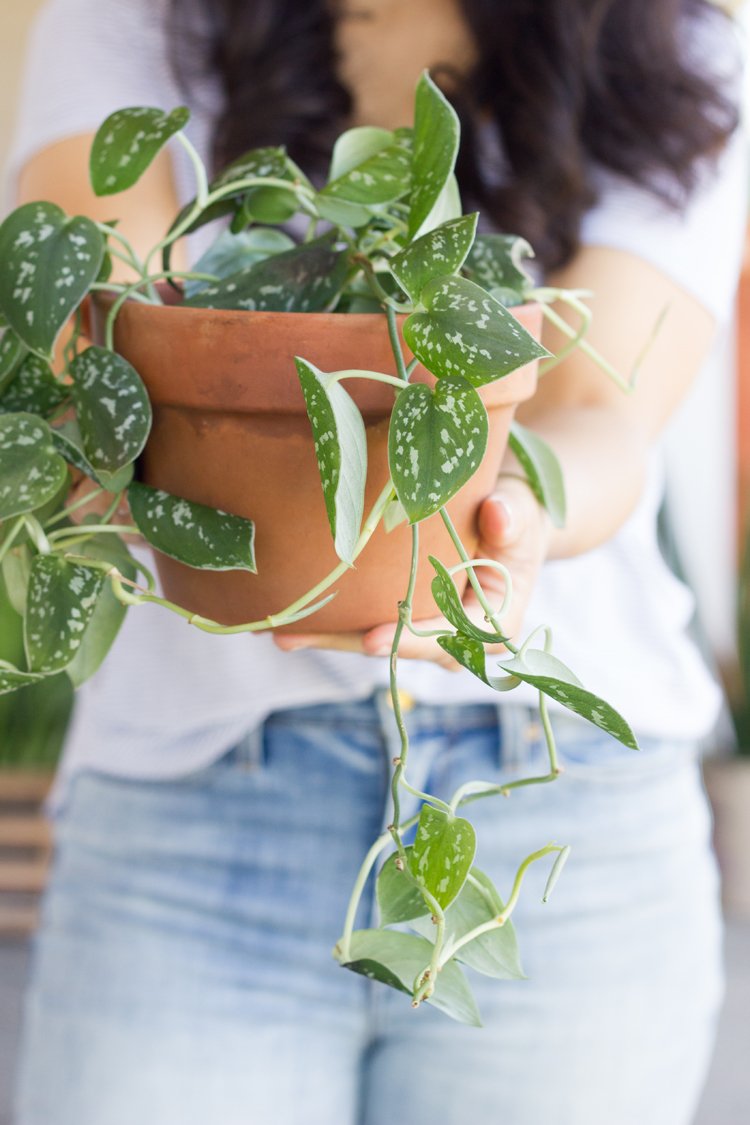 1. Take them on a field trip.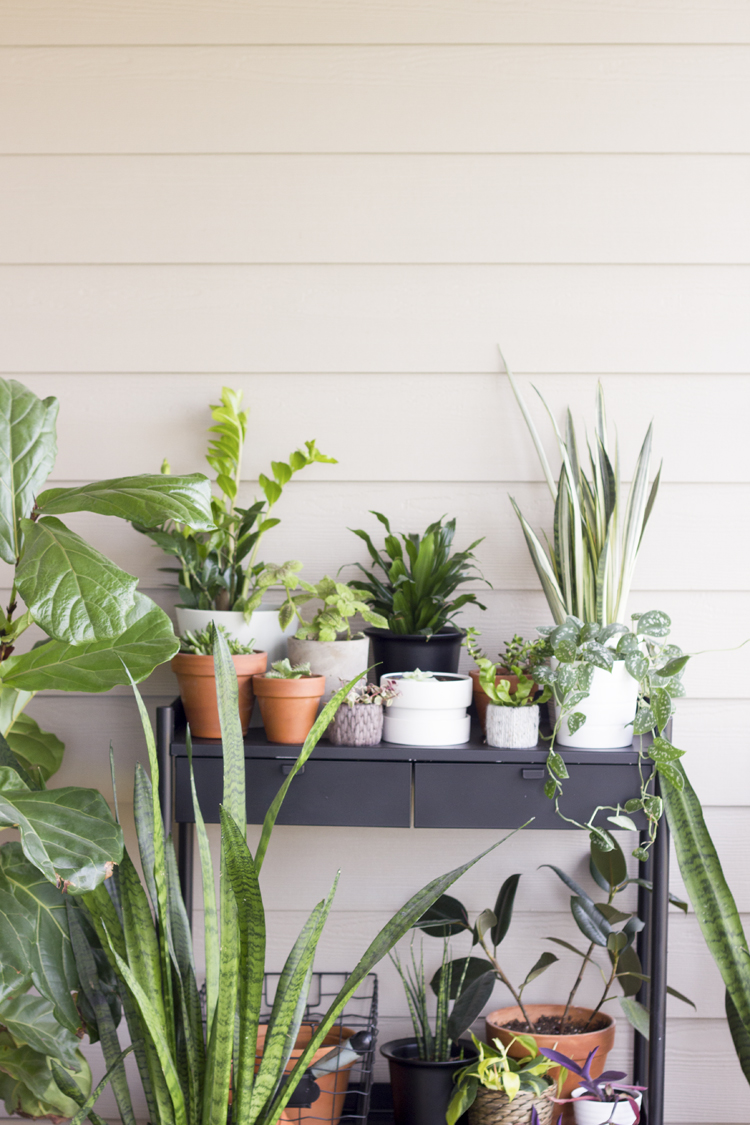 Choose a day, or a time of day, when the temperatures outside are about room temperature, so you don't shock your plants. Gather up all your plants and set them up in indirect sunlight.
Most house plants, with some exceptions, do not do well in direct sunlight. Or, even if they can tolerate direct sunlight, as indoor residents they won't be used to it. If they get too much sun all at once, they can get sunburned. I witnessed this first-hand, when I left my fiddle leaf fig out on the porch a little too long. The direct afternoon sunlight settled right on my porch, and scorched some of its young tender leaves (note: this picture is pre-sun burn).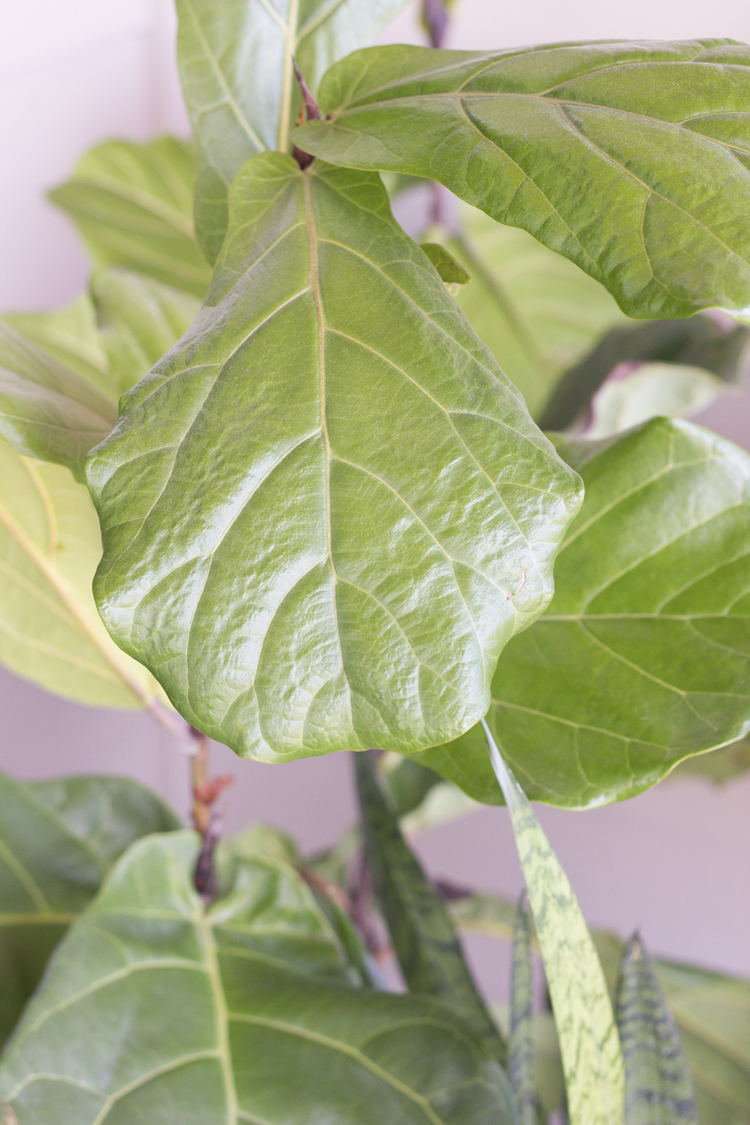 Tip: If it's too hot/sunny or too cold where you are, you may want to take your plants to your garage or bathroom instead.
2. Give them a shower.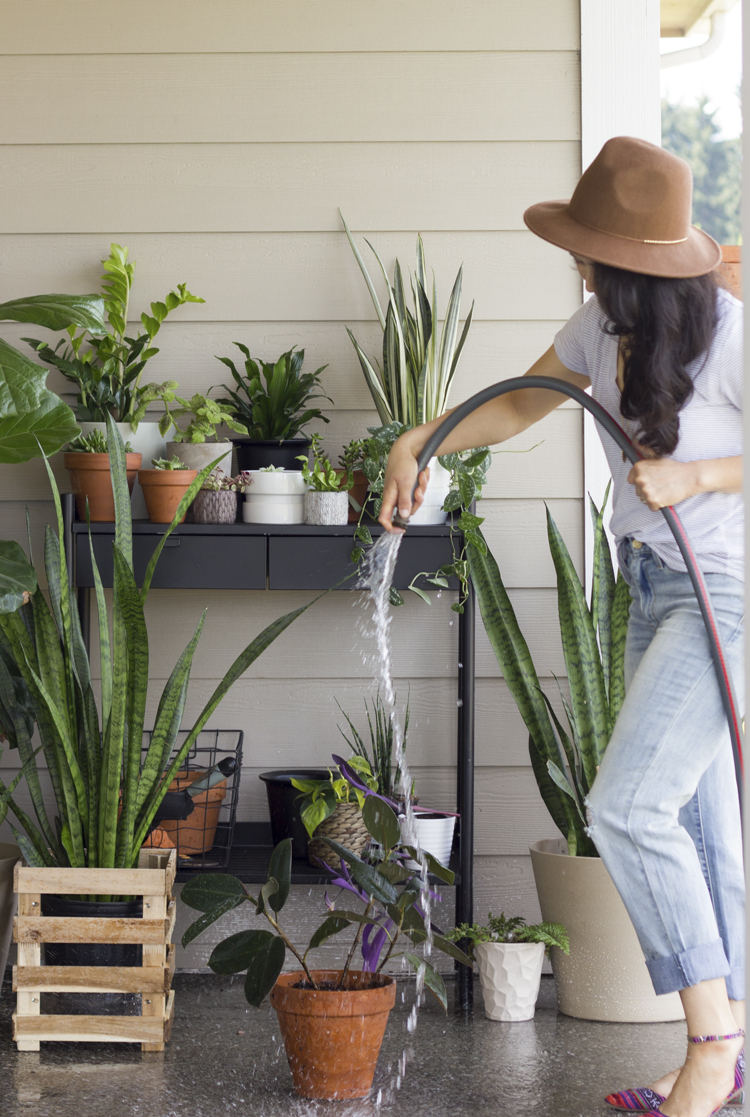 I like to hose my plants off at least once a year. I give the leaves, pot…everything a good rinse, while giving it a nice deep watering at the same time. Then I let it air dry in the nice weather. If you plan on repotting your plant, you may want to wait until after you've repotted it to do this.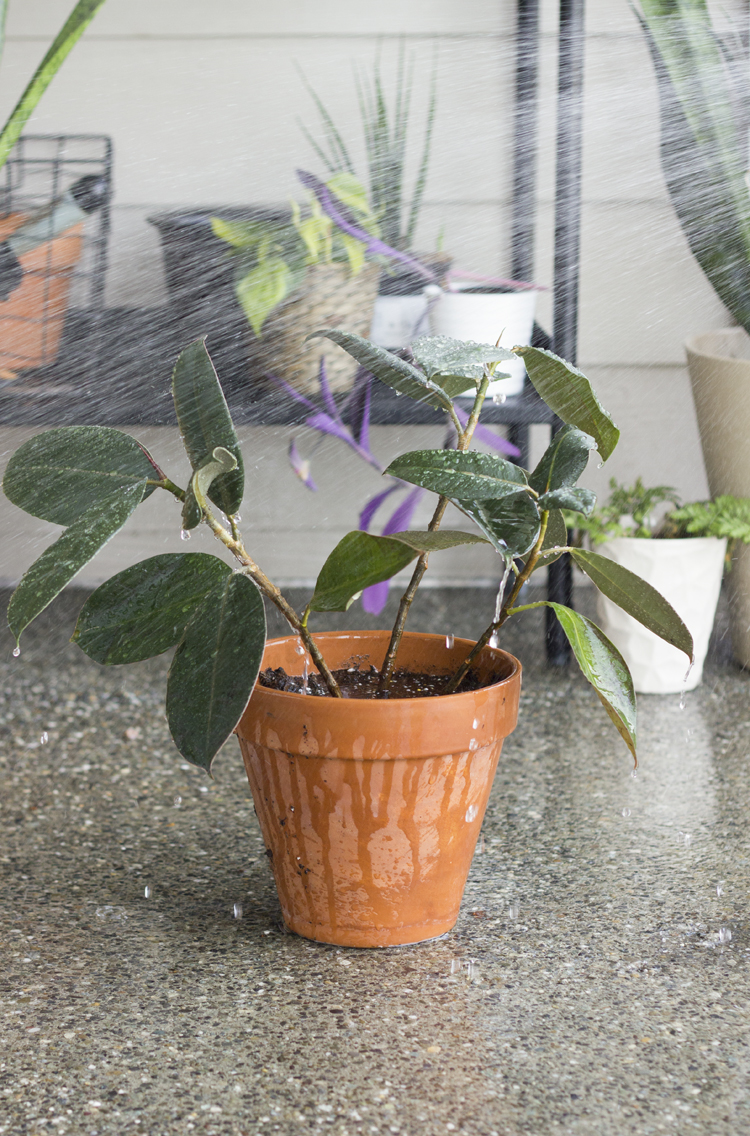 If you can't hose them down outside, you can rinse them in the shower.
3. Wipe them down.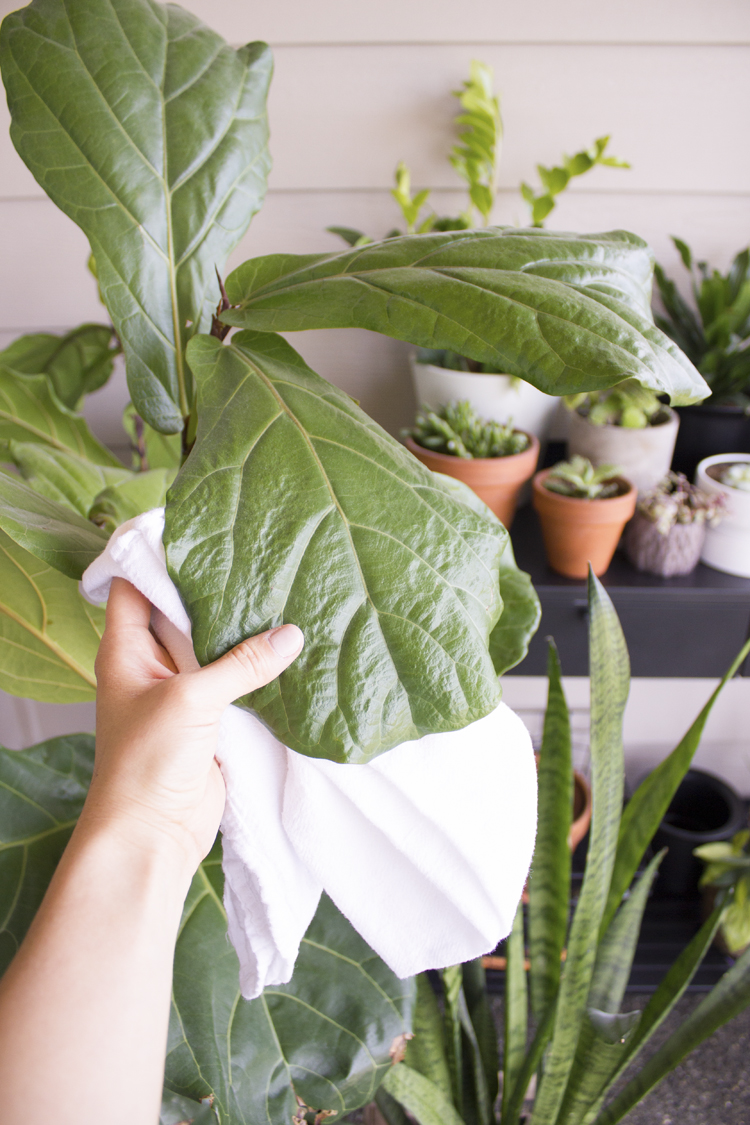 If your plants are too delicate to give them a decent blast from the hose, consider gently wiping down the leaves with a clean, damp cloth. Or if they are particularly dusty, wiping them after rinsing is a good idea. Make sure to get the tops and bottoms of each leaf. This does more than help the plant look nicer. It maximizes its ability to absorb and photosynthesize sunlight, it allows for better airflow around the leaves which helps prevents rot, and it reduces stress on the plant which in turn protects it from disease and pests.
It's a good practice to regularly dry dust the leaves, but at least once or twice a year, a nice thorough cleaning will give your plant a much needed boost.
Note: You can spray a diluted soapy water solution on your plants. I personally only do this when I have a pest problem and I recommend using a mild soap like castille soap.
4. Give them a haircut.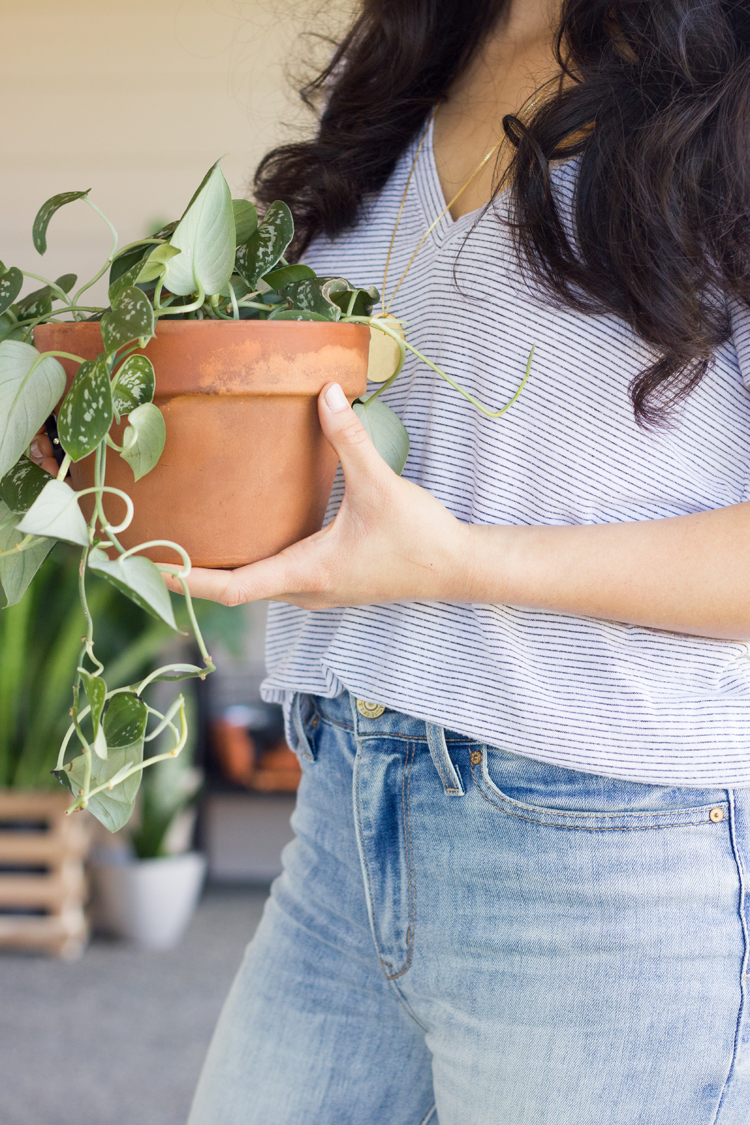 This list is starting to sound like you're getting your plant babies ready for school or something. Ha! What I mean by haircut, is to prune them and trim them.
If your trailing plants are getting a little leggy (more stem than leaves like you see above) and you want a fuller looking plant, pinch off some of those long legs just after a joint or leaf on the stem. The plant will continue to trail, but it will fill in and look more robust.
Pull off any dead leaves, or leaves that are unusually yellow or brown. If a leaf falls off with hardly any resistance, then it's a good sign it's dying and needs to be removed, so that the plant can focus its energy on the healthier leaves.
If your leaves have brown tips, but the leaf resists being pulled off, cut away the brown tips, or if it's too far gone and brown, cut away the leaf close to the stem. Never pull the leaf off, as this stresses the plant out. My fiddle leaf fig had lots of brown tips from being bumped into quite a lot this winter. #kids 😉 Once I cut away the brown tips, it looked so much better, even though the leaves aren't whole.
5. Repot, Prune, Divide or Top Dress.
Now is a good time to evaluate each plant to see what it needs. Most plants do not like to be root bound, but there are exceptions. If your plant's roots are circling back on themselves at the bottom of the pot, there's a good chance it's ready for a change.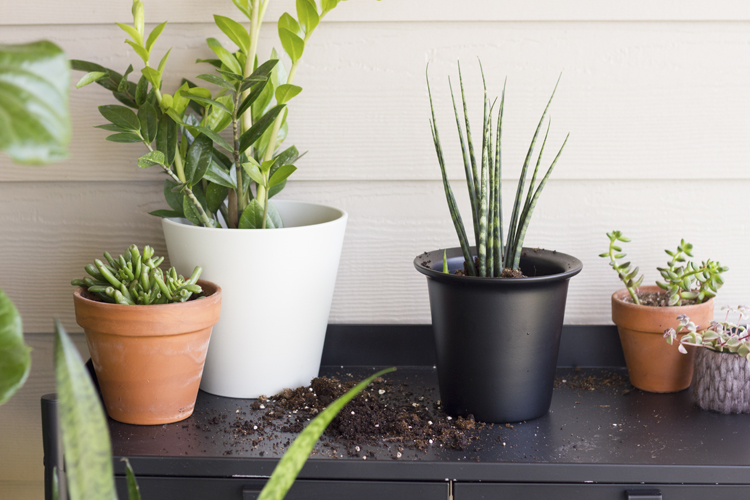 Repot – Remove your plant from its pot and gently tug at the roots to loosen them up. Move it into a larger pot with well-draining soil, but not too large. Putting it into a pot that is too large can encourage rot because the plant cannot use all the available moisture in the soil before mold sets in.
If you are having a pest problem, I have found that repotting your plant in better quality soil, helps a lot. Make sure to give your pot a good scrub before repotting.
TIP: If you really want to use a pot that is just a little too large, consider putting it into a smaller pot (like the ones that come from the nursery) and then nesting it inside the larger pot, until it's big enough to be planted inside it.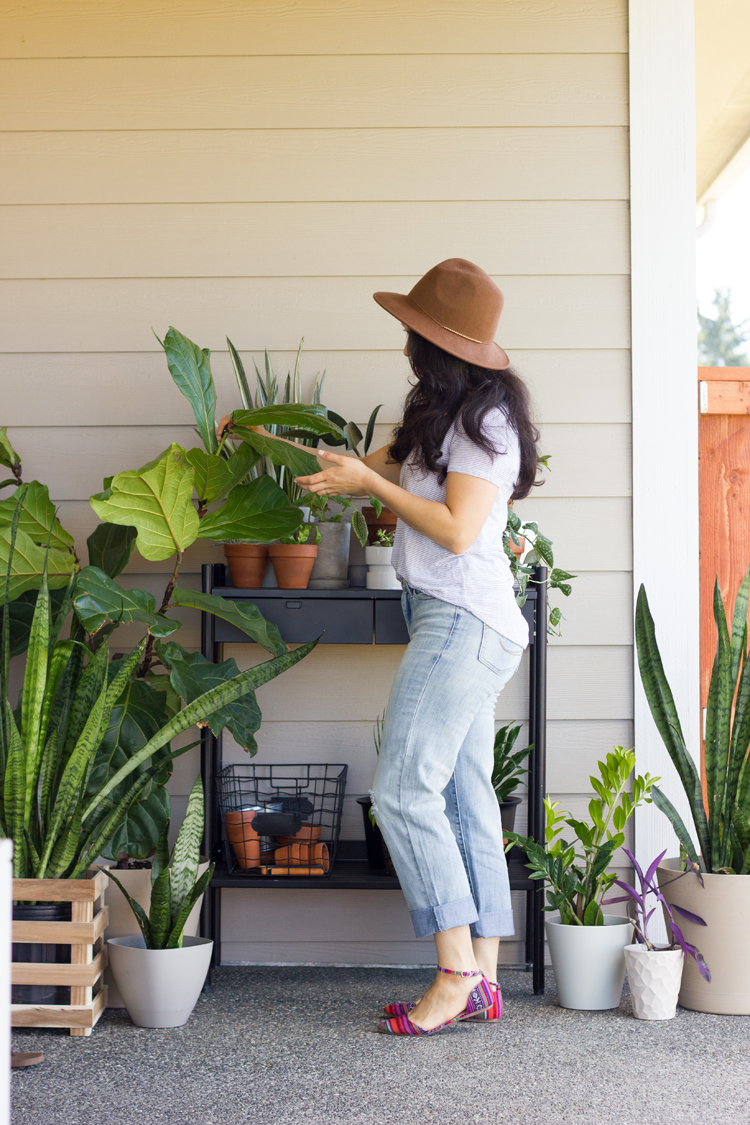 Prune – If you want the plant to stay small, you can prune the roots back. Pull them out of the pot, shake out the dirt and gently pull open the root structure. Cut them back so that the roots extend about an inch away from the main root/stem. Replant it. Only try this on very healthy plants that can endure this kind of stress. (I personally don't like to do this. It makes me nervous!)
Divide – Another way to keep your plant small is to divide it. This is also how you propagate it to create more plants.  If your houseplant grows in a cluster habit, meaning it has many main stems grouped together at the base like a Snake plant, you can pull that cluster apart. You can divide it in half, or pull off smaller babies to put into individual pots. If you don't have room for another plant in your house (pffft…is there such a thing? ;), these make great gifts.
Top Dress – If your plant is looking good where it's at, simply scratch out the top layer of soil (1/2 inch or so) and add fresh soil on top.
5. Feed your plants.
Now is a good time to fertilize your plants, especially since most houseplants don't need fertilizer at all over winter. For indoor plants, your goal is usually to produce nice green leaves, so a balanced fertilizer, with all equal numbers, like "10-10-10," is usually best. If you can, try to use an organic, natural fertilizer, or try topdressing with compost.
Using a synthetic fertilizer is fine, but it can create a salty crust on the top of your soil that is not good for your plant. Plan on top dressing your plants more often if you use synthetic fertilizers.
Warning: Be careful not to over fertilize as this will "burn" your plants and can kill weaker plants. (Unfortunately, I speak of this from experience.) Also consider that many soils have fertilizer mixed in, so you may be able to skip the fertilizer step all-together for the first few months.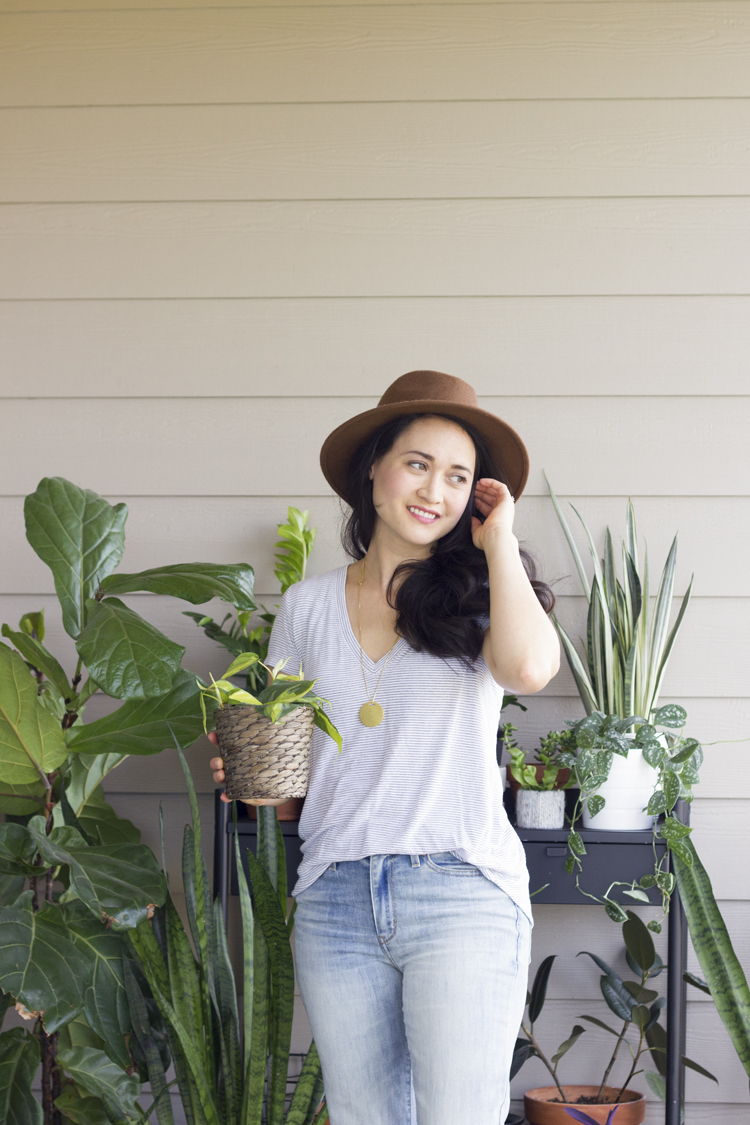 6. Consider rearranging.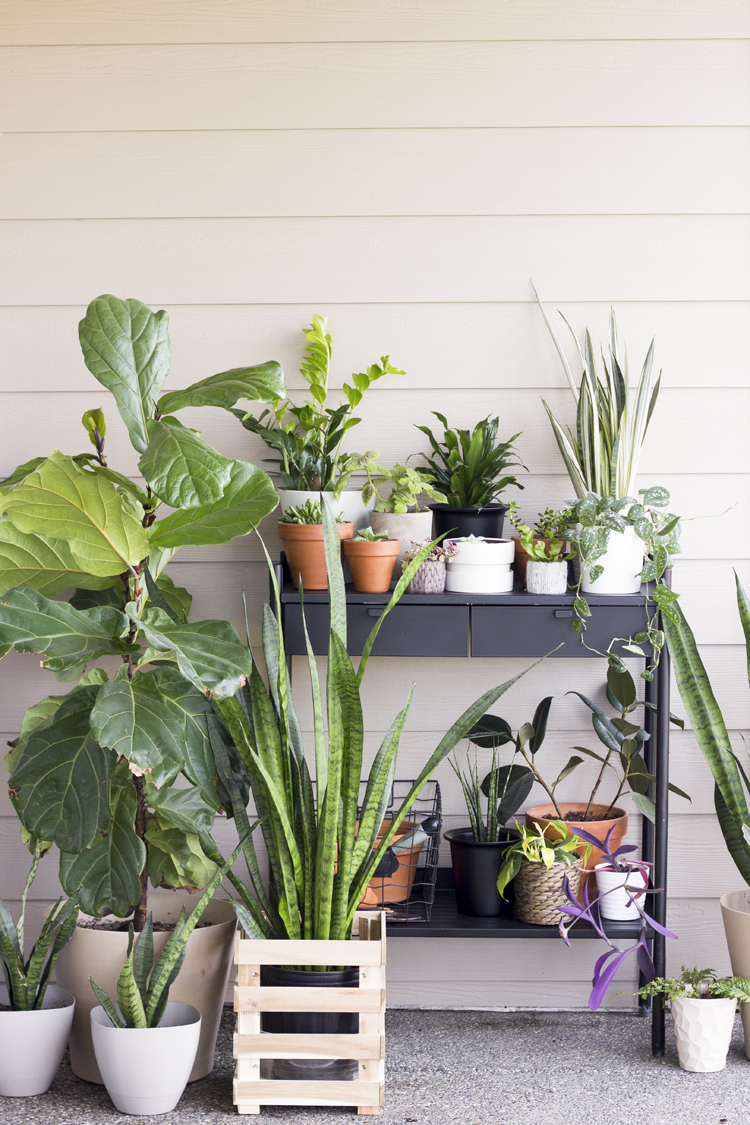 When I put my plants back in the house, I consider the health of each plant and how well it's thriving in its current location. If it's not getting as much sunshine as I had hoped or if it's getting knocked into too often (my poor fiddle leaf), then now is a good time to find a new place for it.
Tip: I try to group plants with like needs together. If plants have high water needs, I am less likely to forget to water them if they are all together in the same location. I also like to put needier plants in the kitchen because I spend most of my time in there, so I am more often aware of them.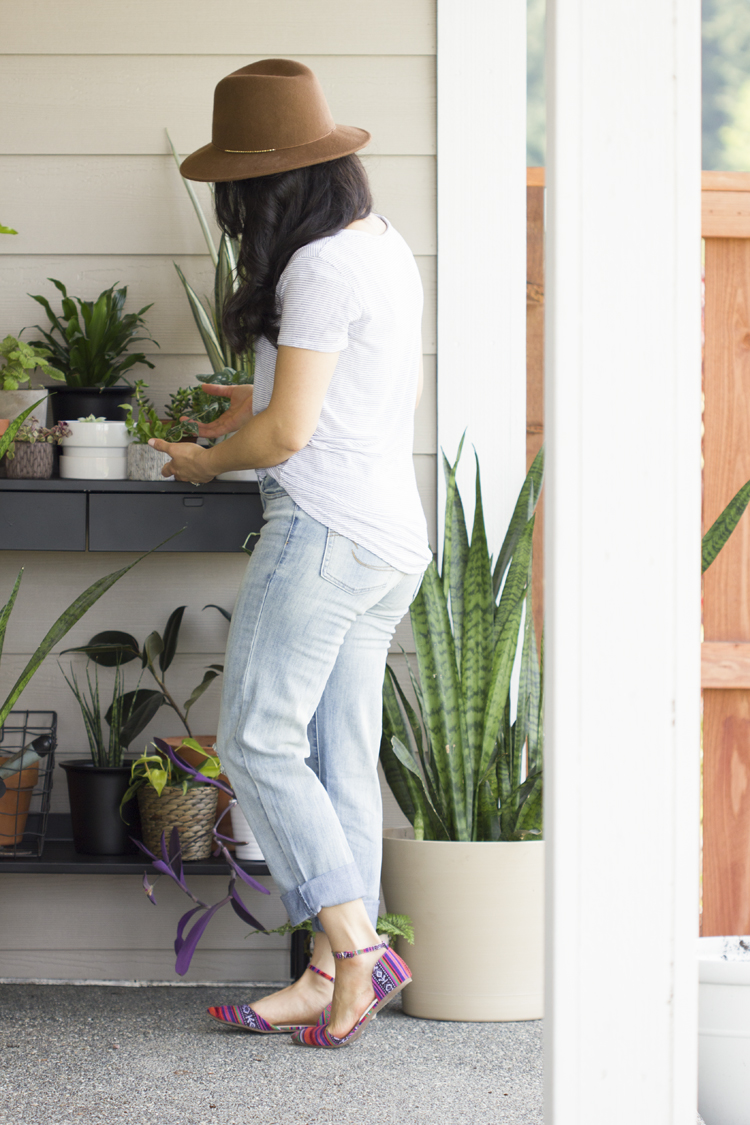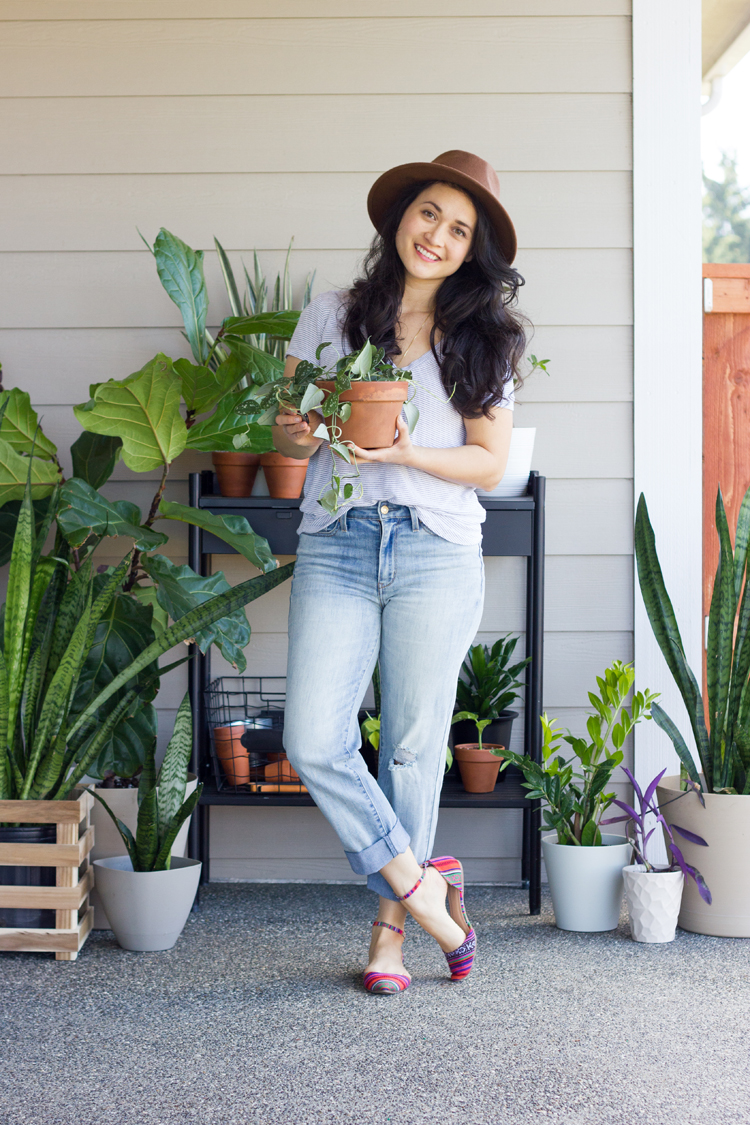 Now that my closet and my plants are updated and refreshed, I totally feel ready for summer. Bring. it. on!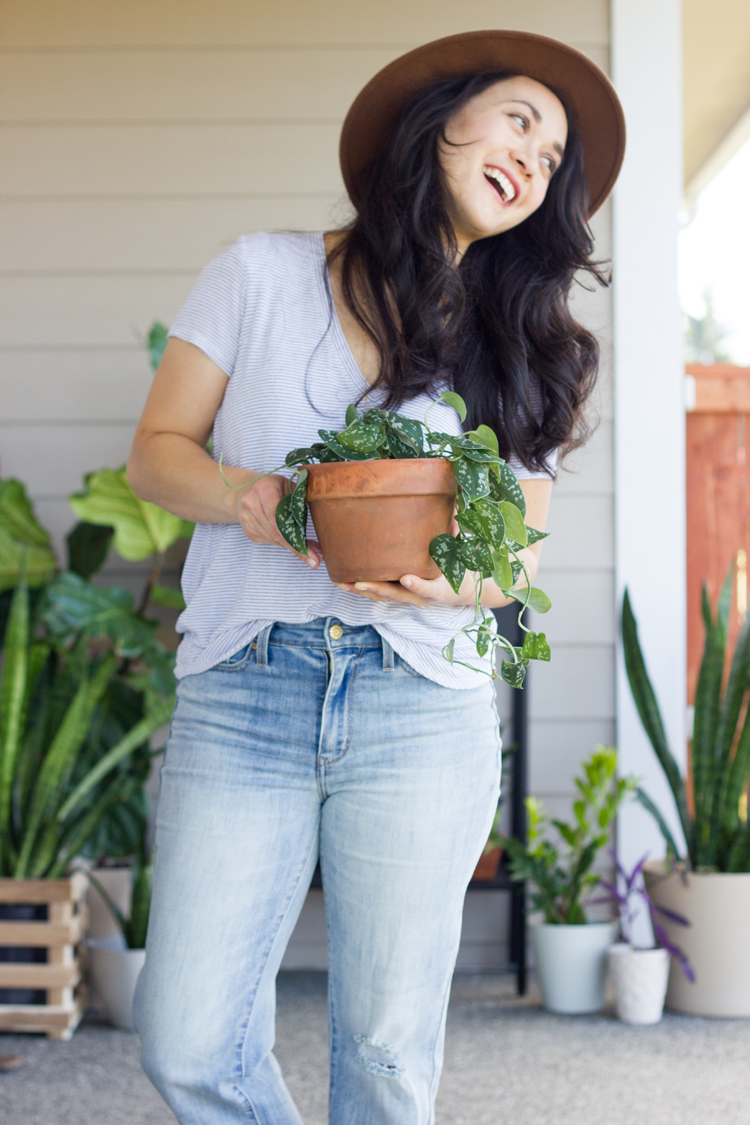 Disclaimer: This post is sponsored by Signature by Levi Strauss & Co. All opinions and content are genuinely and enthusiastically my own. I am most impressed by Signature Jeans' sustainability practices which you can read about here.