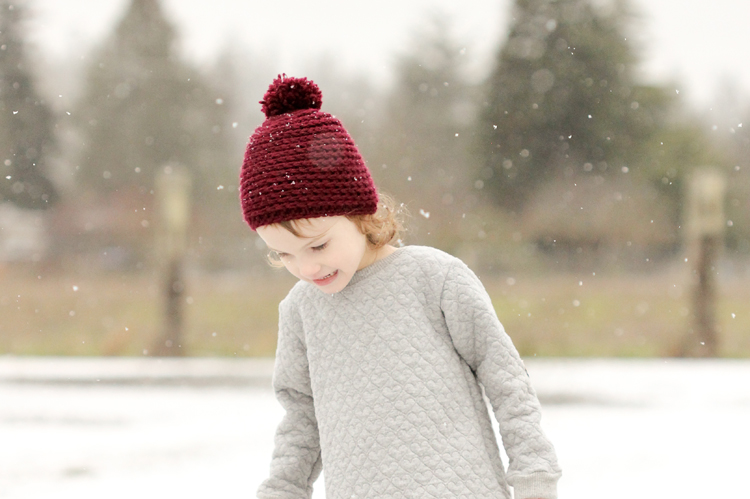 I should really say it was a snow morning because just after lunch time the snow had already melted, but it was magical while it lasted!
As a PNW transplant, I sometimes miss the snowy white winters we had in Utah …but I know it's easy to say that when it's fleeting! ;).
So, when we saw flakes falling, we jumped right outside to play, and to take a few pics of the new outfit I sewed up for Nat over the weekend.
…Then we hopped back inside after 20 minutes for hot cocoa. 🙂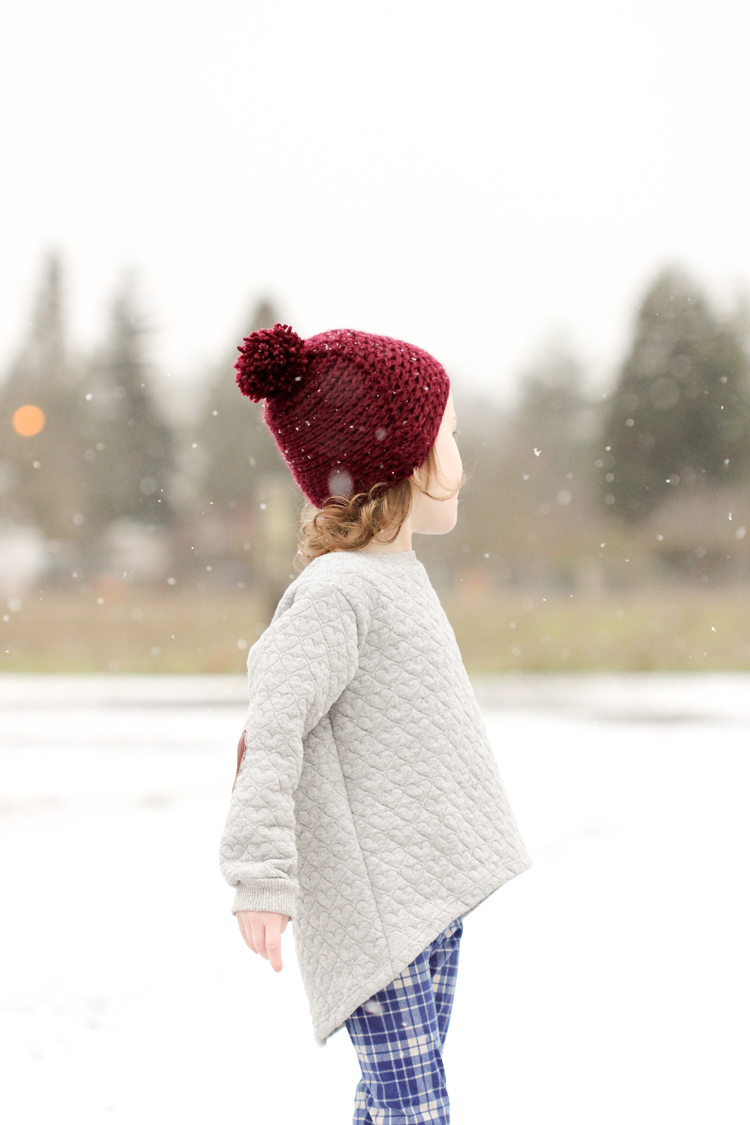 But enough weather talk, let's talk patterns!
PATTERN REVIEW
Megan Nielsen sent me some super cute patterns from her new children's collection to try out: the Mini Briar Sweater and Tee and Mini Virginia Leggings.
SIZE and VERSIONS:
Mini Briar –  version 4, the sweater view, with the heart elbow patches, in the 2/3 size.
Mini Virginia Leggings: version 1, minus the knee patches, in the 2/3 size.  I am pretty much a sucker for elbow and knee patches, but I knew I would be pairing these pieces together, so I decided one set of patches would look best.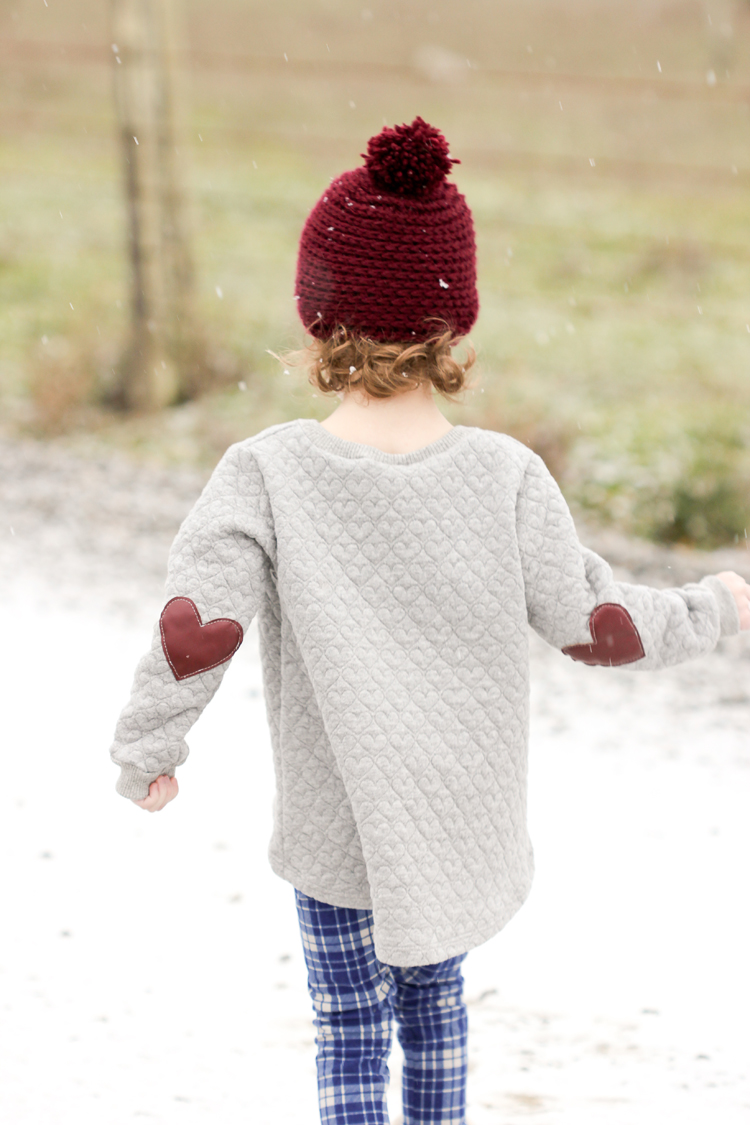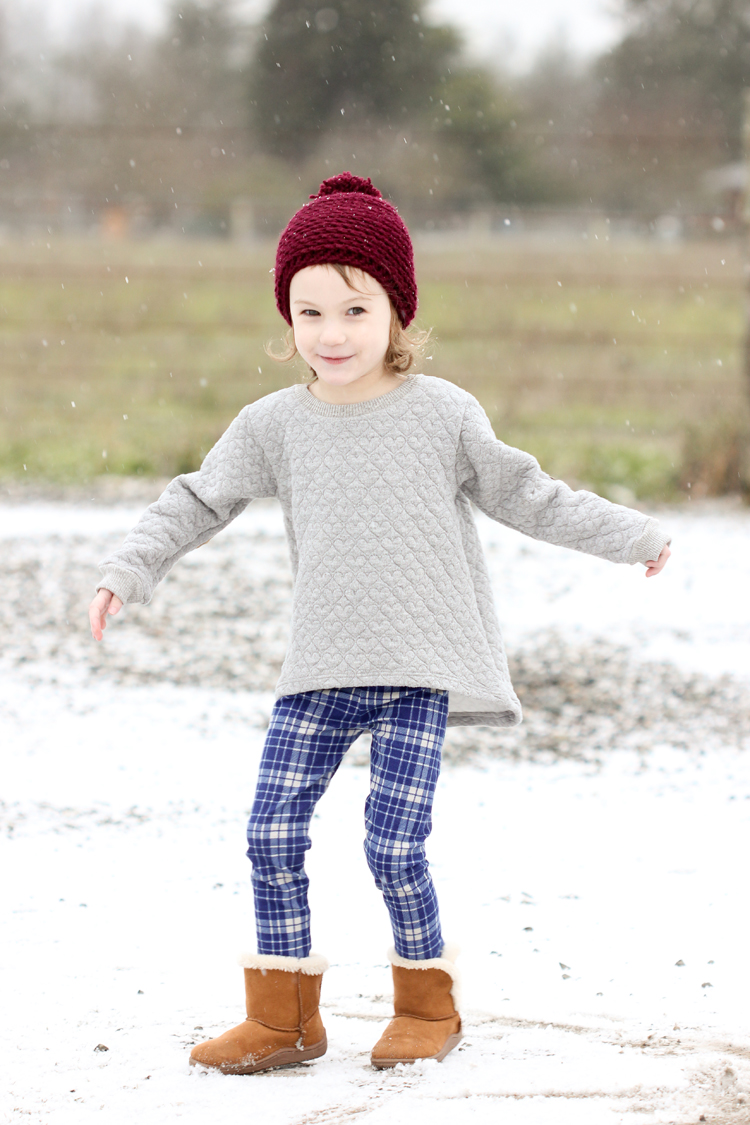 FIT: Just right, according to the size chart. My daughter's measurements are right around the smaller end of the 2/3 size range and both the sweater and leggings fit well with enough room to grow, without being too baggy. The leggings were a little short for her, because she runs tall for her size, but I simply added some length to the leggings. The sweater is almost tunic-ish length, so I kept it as is.
VARIATION: Each pattern comes with 3-4 options to choose from. I really like that each size has it's own set of patches scaled to the appropriate size so there is no guess work. It's also a nice touch to have so many patches to choose from (heart, rounded rectangle, cat).
QUALITY: Great! Everything matched up just right, instructions were good, pattern is well designed…no complaints.
NOTES:
I used the paper pattern version, instead of the PDF, which was nice. It's been a really long time since I have used tissue paper patterns, so it was refreshing to not have to print and piece my patterns together. Everything was laid out really nicely. I especially liked that the different versions were kept separate. I cut out the short leggings version for this summer, so I can make up a bunch of shorts to go under Nat's dresses and skirts.
SOURCES: 
Heart quilted gray knit + gray ribbing (from red tag section a long time ago) – JoAnn || Maroon vegan leather + blue plaid knit – Girl Charlee || beanie – crocheted using my Emerson Beanie pattern! 🙂