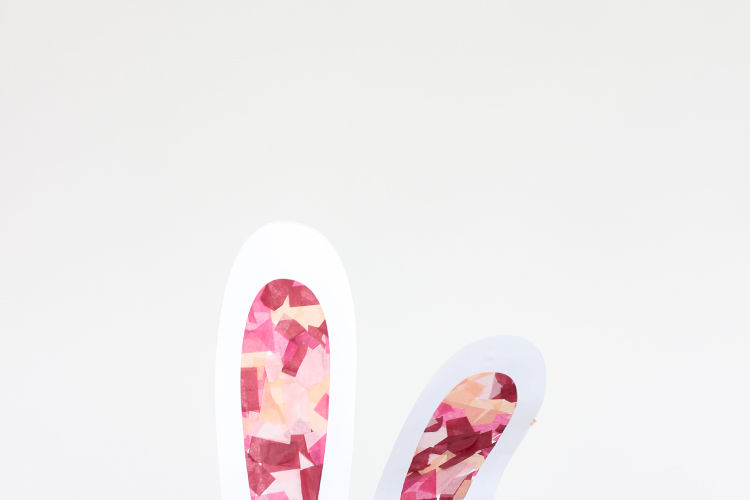 What do you get when you mix two classic kid crafts for Easter?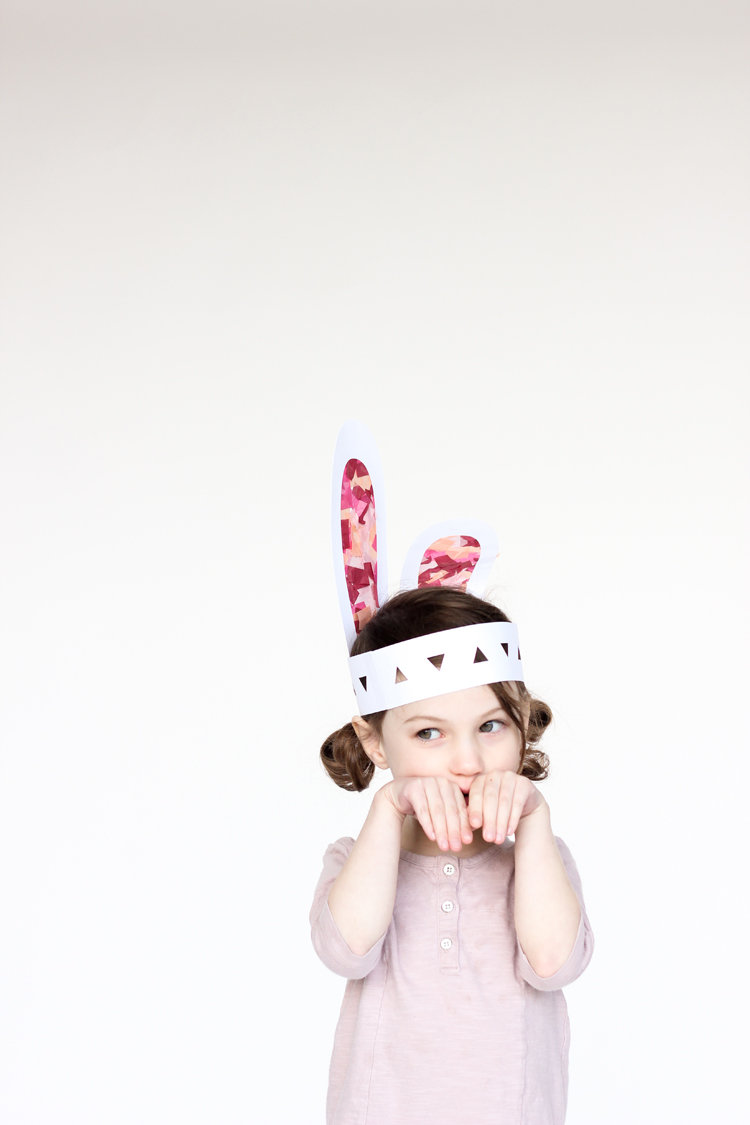 Sun catcher Bunny Ears!
They're cute paper bunny ears when you're indoors, but step outside in the sun, and they become beautiful sun catchers too!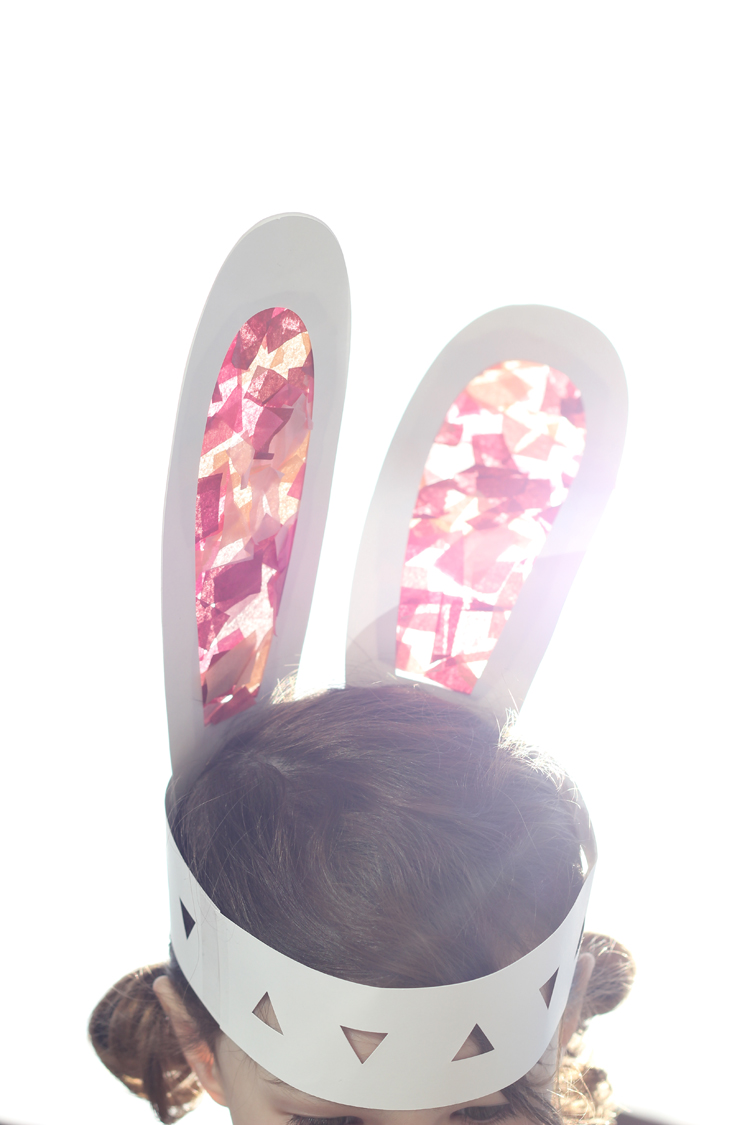 I've teamed up with Michaels today to help you and your kids get your make on this Easter, with a fun, easy kid craft!
It uses all the usual suspects: tissue paper, card stock, contact paper, and glue; and it is chock full of great kindergarten prep tasks like cutting, gluing, and stapling.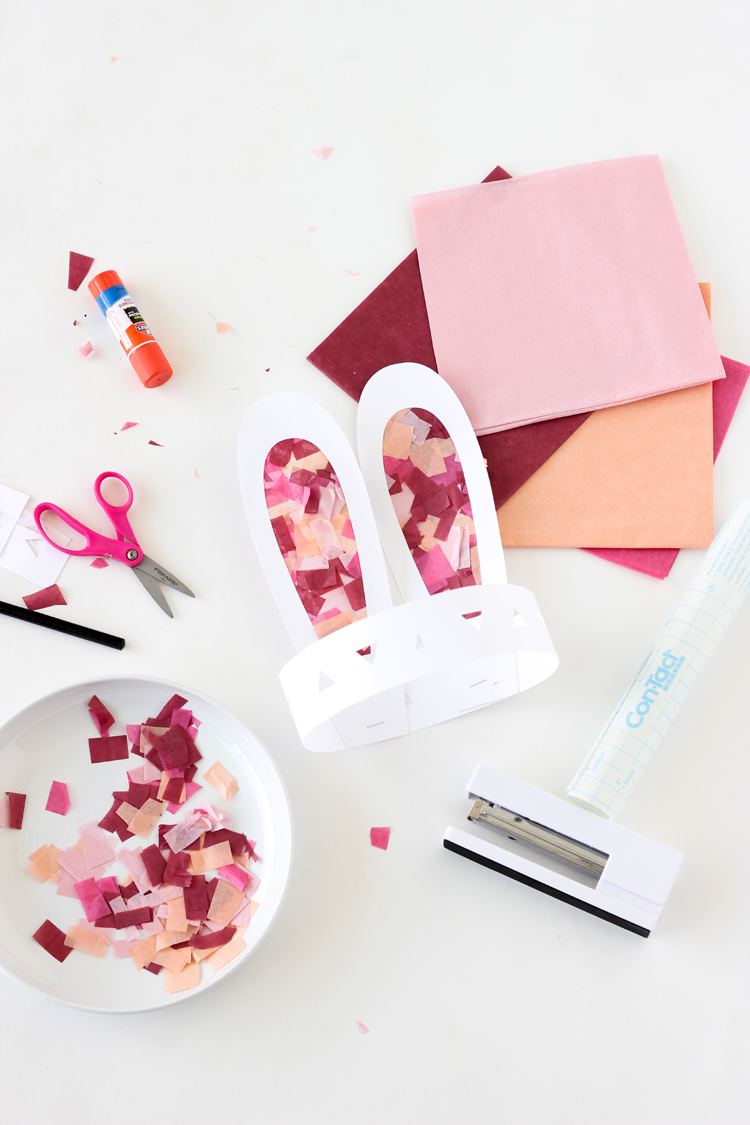 I've also included a cut file for the ears to make things speedy, but you can cut it out with an exacto knife if you don't have a cutting machine.
Let's get to it!
MATERIALS
White 12 x 12 card stock – 2 sheets
Tissue paper 
Glue stick
Clear contact paper
Safety Scissors
Crayon
Pre-cut bunny ears and crown (see next section)
CUT FILES
Download the file you need and cut TWO SETS of bunny ears with a cutting machine or exacto knife.
Sun Catcher Bunny Ears (PDF)
Sun Catcher Bunny Ears  (Silhouette)
Sun Catcher Bunny Ears (.svg)
NOTE: The templates are saved as 12 x 12 inch paper, so you may have to print the pdf at the print shop if you don't have a cut machine. If the file doesn't open at full size, select everything at once, press shift to maintain file size ratio and enlarge it to fit your 12 x 12 inch cut mat.
MAKE IT
Cut strips of tissue paper and then let your child snip them into smaller pieces. 
Tape a piece of contact paper to the table so it won't shift around. Then let your child go to town, sticking pieces of tissue paper all over the contact paper. 
Lay down the inside of the bunny ear template that you won't be using and loosely trace around it or have your child trace it. You want it to be bigger than the template, so that it stays sandwiched between the bunny ears nicely. 
Have your child cut out the shapes.
Have your child glue the tissue/contact paper in between pairs of paper ears. 
Staple or tape your crown together, and staple the ears to the back. 
Alternate steps: You can also lay one half of the bunny ears onto the contact paper and let your child fill in the centers with tissue paper. Glue the second of the ears on, and then cut away the contact paper around the ears. 
TIP: I found a beautiful rainbow assortment pack of tissue papers on the gift wrap aisle at Michaels.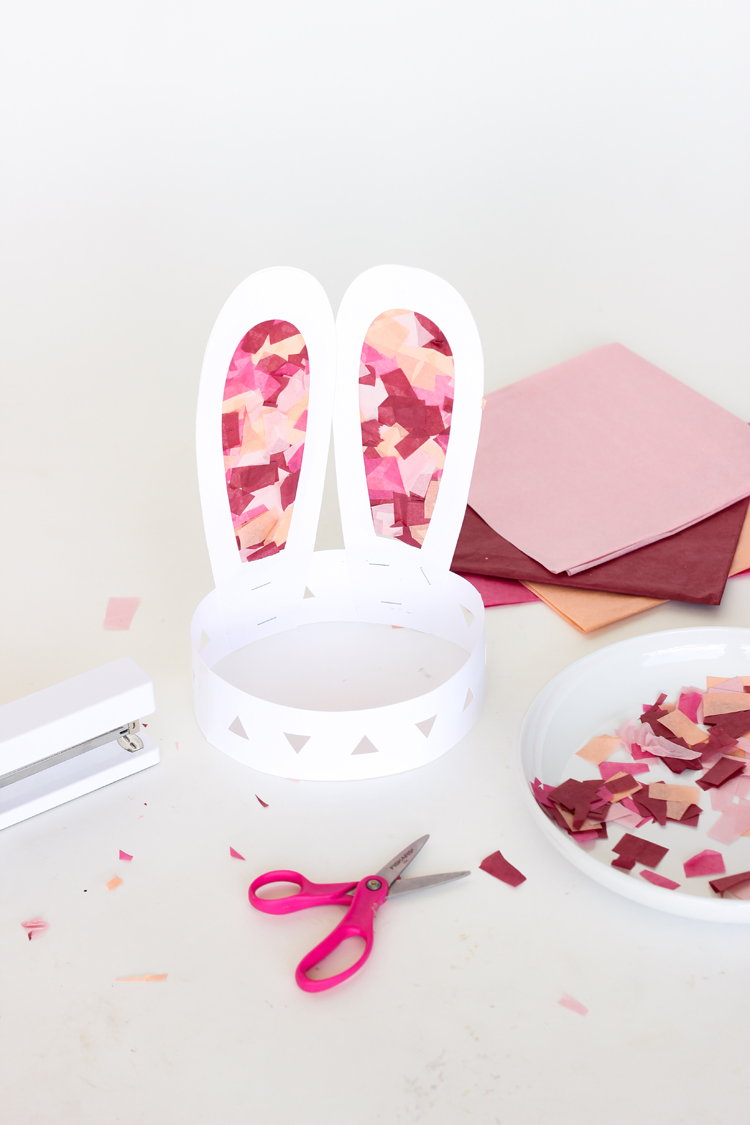 Your child is ready to get hopping!
If you're looking for more Easter goodness, Michaels has the cutest baskets and bunny kitchen accessories right now. And… If you want more fun DIY ideas for Easter, make sure you visit Michaels' blog, The Glue String, to see the rest of the Michaels Makers' Easter project ideas.
Happy Making!
Disclaimer: This post is sponsored by Michaels.