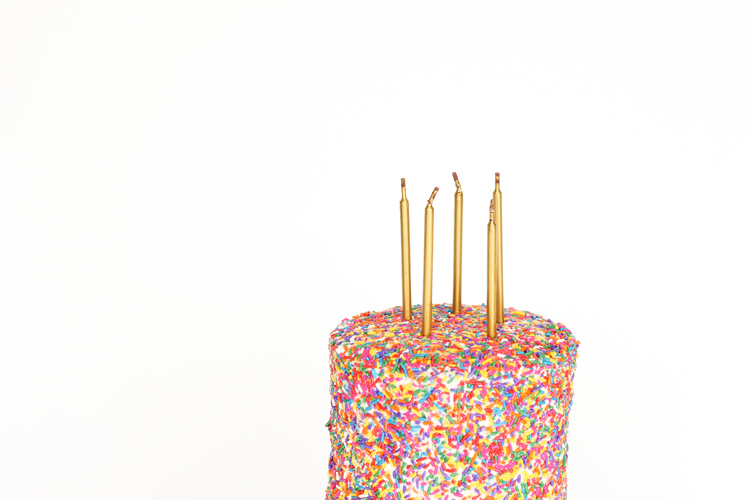 When I sat down with my daughter to plan her 5th birthday party, I made the mistake of showing her Pinterest. After about 15 minutes, she wanted to do all the things and all the themes. Ha! So we took a step back and I got her to commit to one theme which was rainbows. She was adamant…Not unicorns and rainbows, which seem to go together a lot, just rainbows.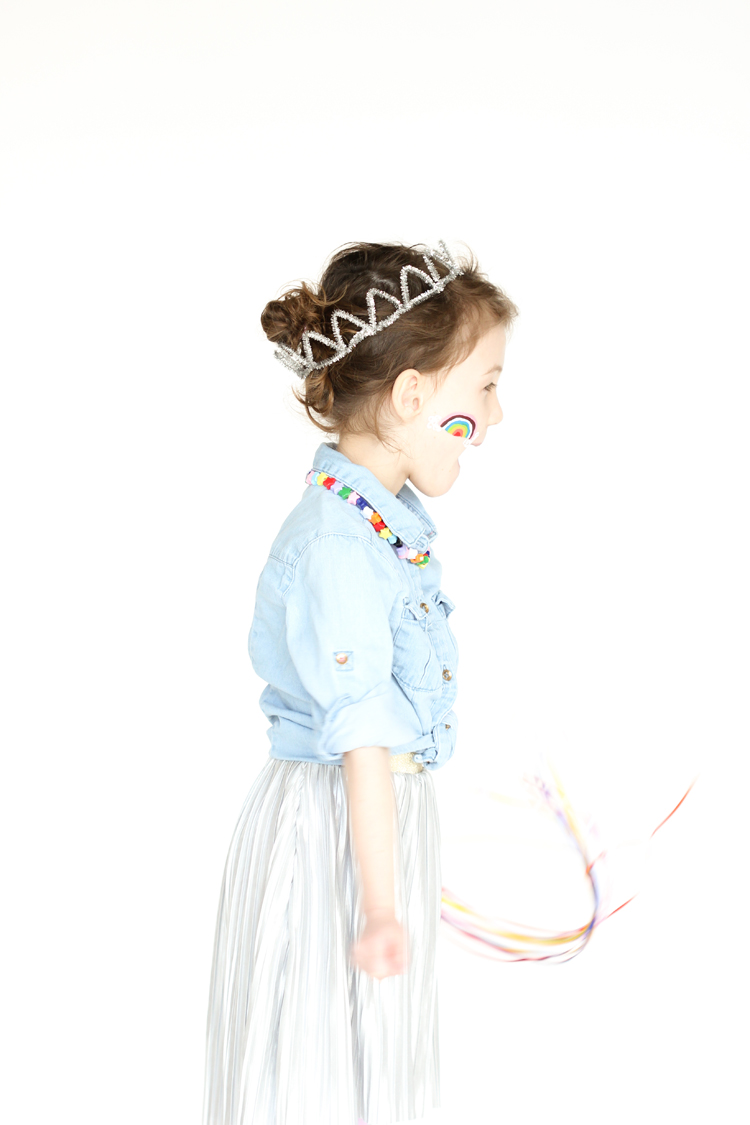 Rainbow sprinkle cake, rainbow party favors, rainbow crafts, rainbow decor…all the rainbow things!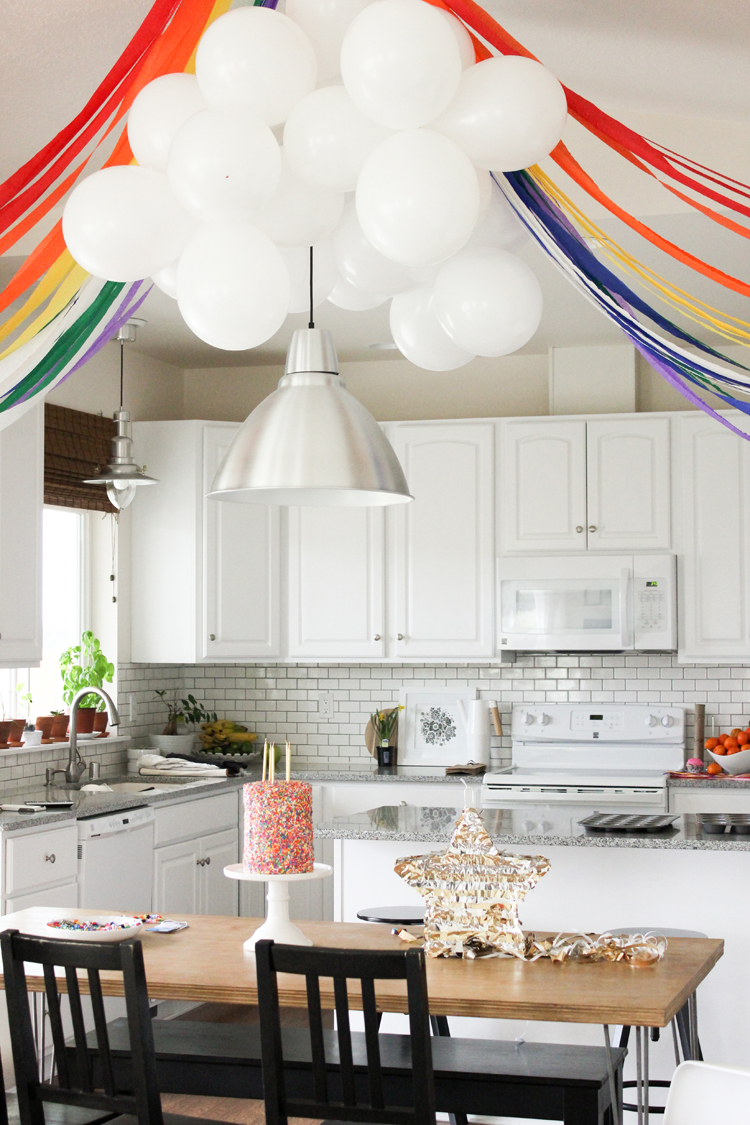 Rainbow cake.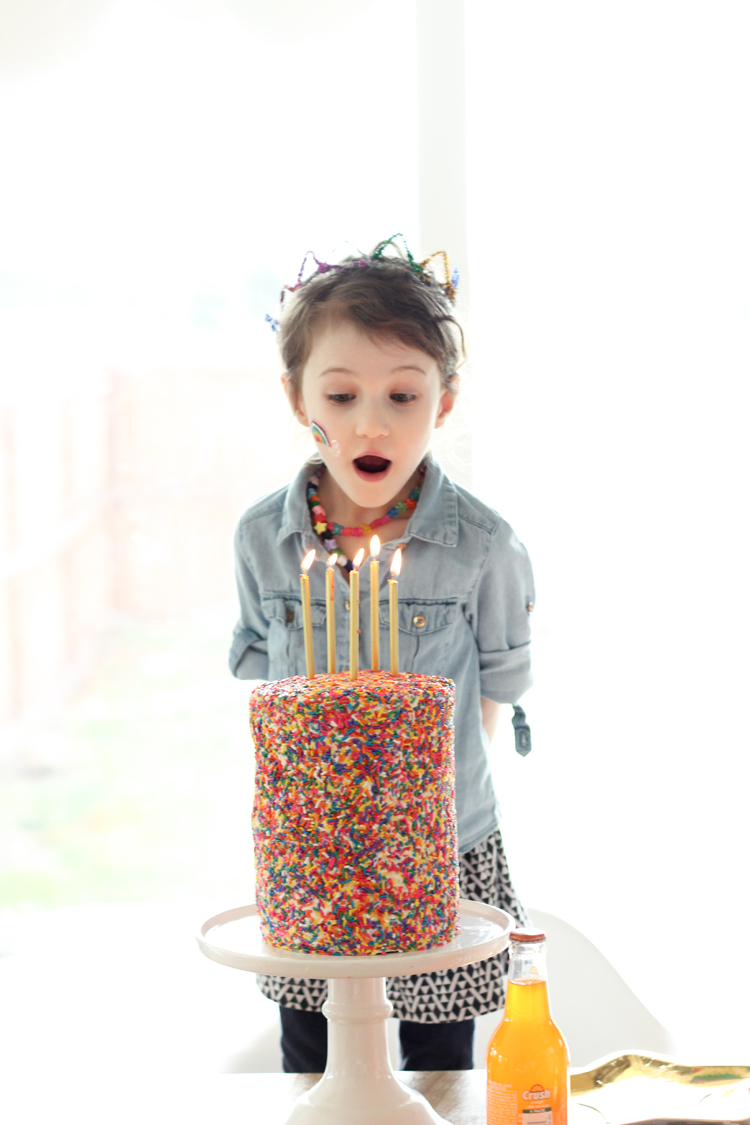 From her Pinterest research, one thing that my daughter was sure of, was that she wanted a sprinkle cake. I had always wanted to try making one myself, so I gave it a shot. It was pretty fun! It was WAY messier than I thought it would be, but easy because the frosting didn't have to be perfect. I just had to vacuum right after because sprinkles went EVERYWHERE. In retrospect, I think I would put the cake in a giant bowl or the sink or something while applying the sprinkles.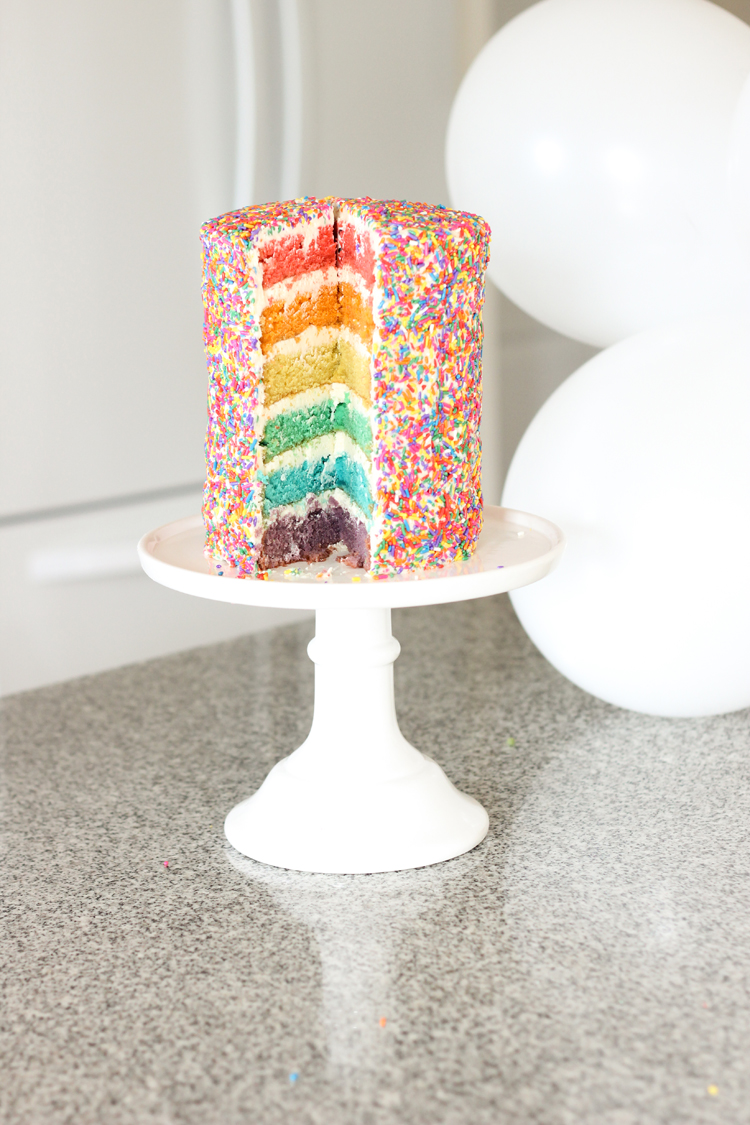 I also made the layers different colors. To get more vibrant colors I got the Color Right gel dyes from Michaels. They add hardly any liquid to the batter so it doesn't change the consistency and with 1-2 drops, you get a ton of color.
All the pro cake decorating sprinkles I found are made in a factory with nuts and dairy, which doesn't fly with my daughter's food allergies, so I picked up Dallies rainbow sprinkles from Walmart, which had no cross contamination issues. As always, I used Milk Allergy Mom's cake and frosting recipes. My secret ingredient, is to add 1/4 tsp. of peppermint extract to the frosting.  I quadrupled the cake recipe and the frosting recipe, and the cake rounds were 6 inches.
The gold star plates are from The Dollar Tree from a few years ago. I saw them for sale there and I pretty much bought them out. 🙂
Rainbow party favors.
I don't know about you, but sometimes I get a regret hangover over all the junk I pass out at kid parties just so I can stick to my theme. So, I've been trying to keep the details simple, yet high impact.
We passed out a rainbow of bubble wands, and then the rest of the favors were handmade or part of our activities.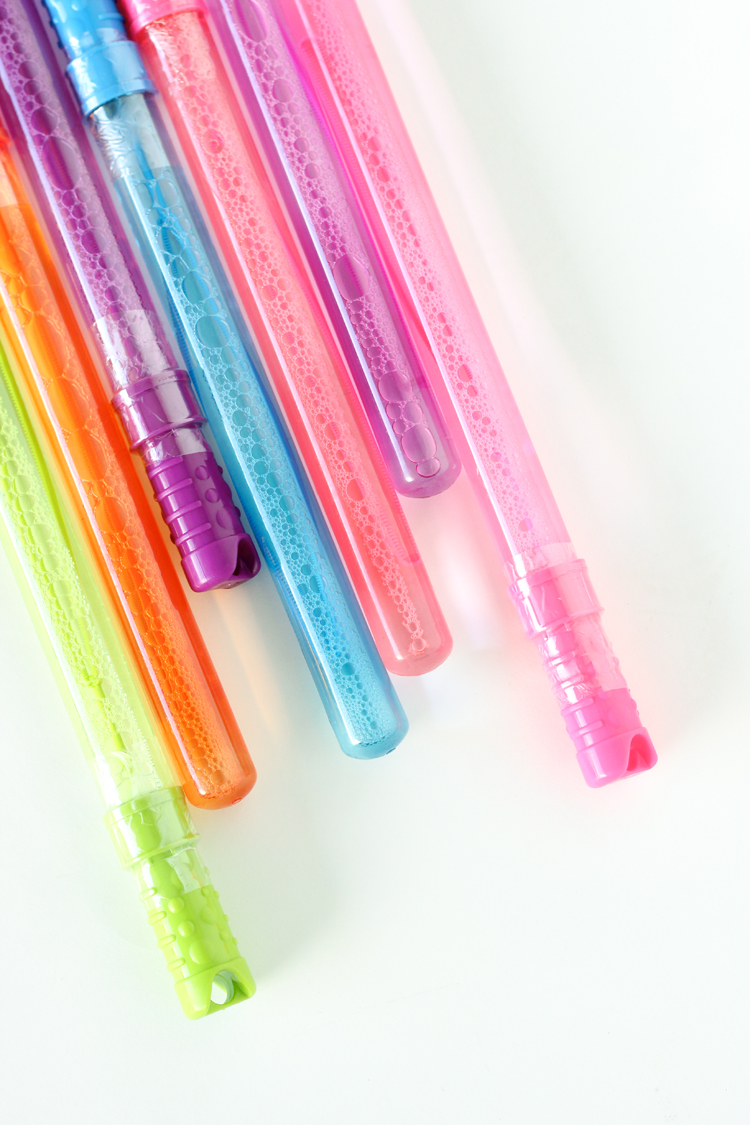 Rainbow Glitter Crowns.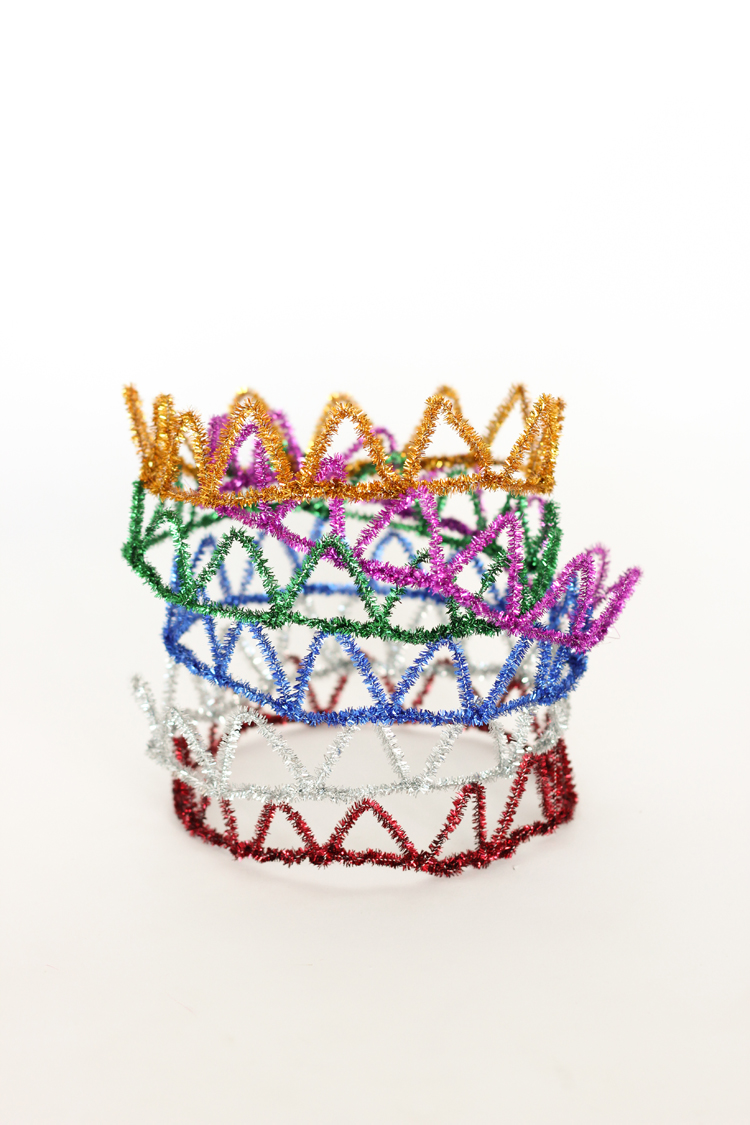 These carried over from when my daughter binged on Pinterest and wanted to do a princess, puppy, kitty, rainbow, glitter, party.  I promised her glitter crowns in a rainbow of colors.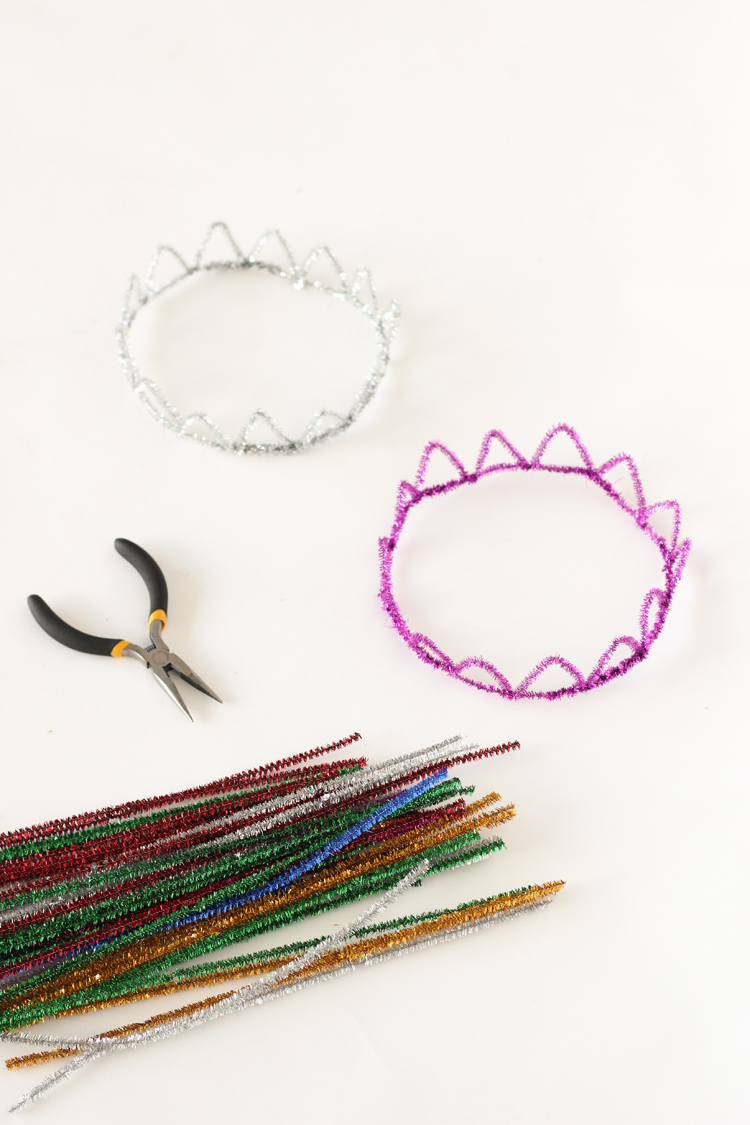 I grabbed a pack of rainbow glitter pipe cleaners and made some simple crowns. It took seven pipe cleaners per crown. I just made a circle shape with two pipe cleaners, and then twisted the remaining five pipe cleaners around the base, creating little triangle peaks as I went.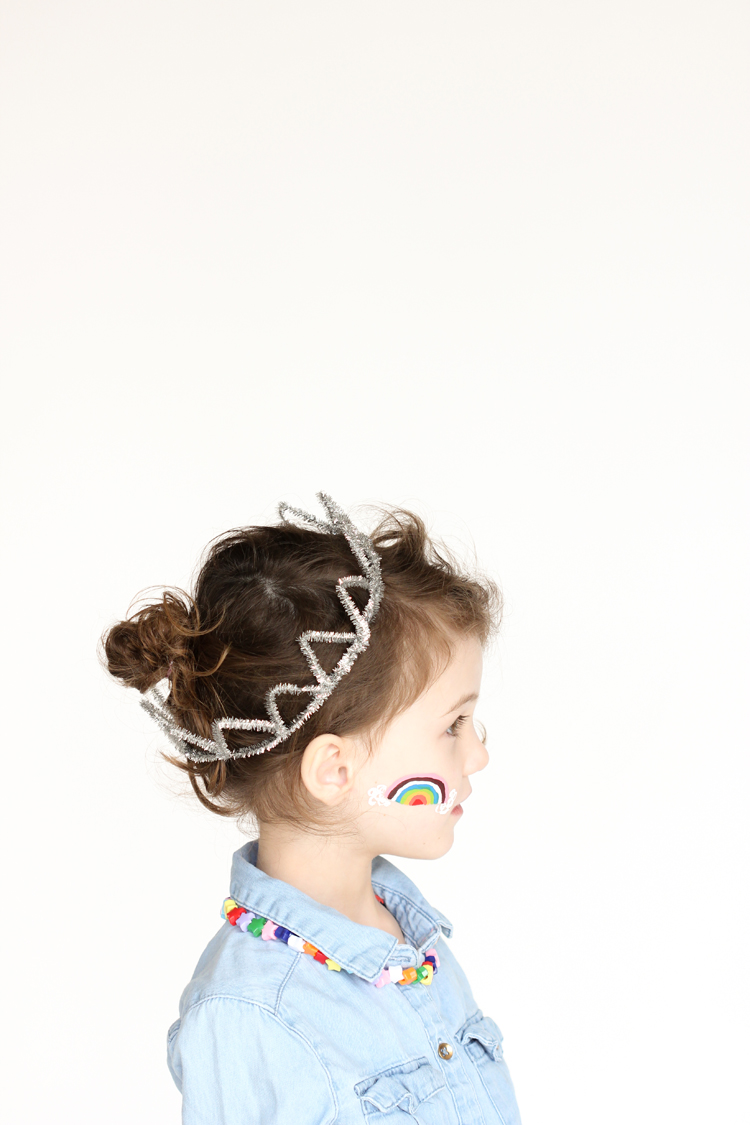 I almost thought about doing face painting for all the girls too, but I was manning the party alone for the most part, so I nixed that idea when I painted her face before the party and realized how long it would take. 😉
Rainbow ribbon rings.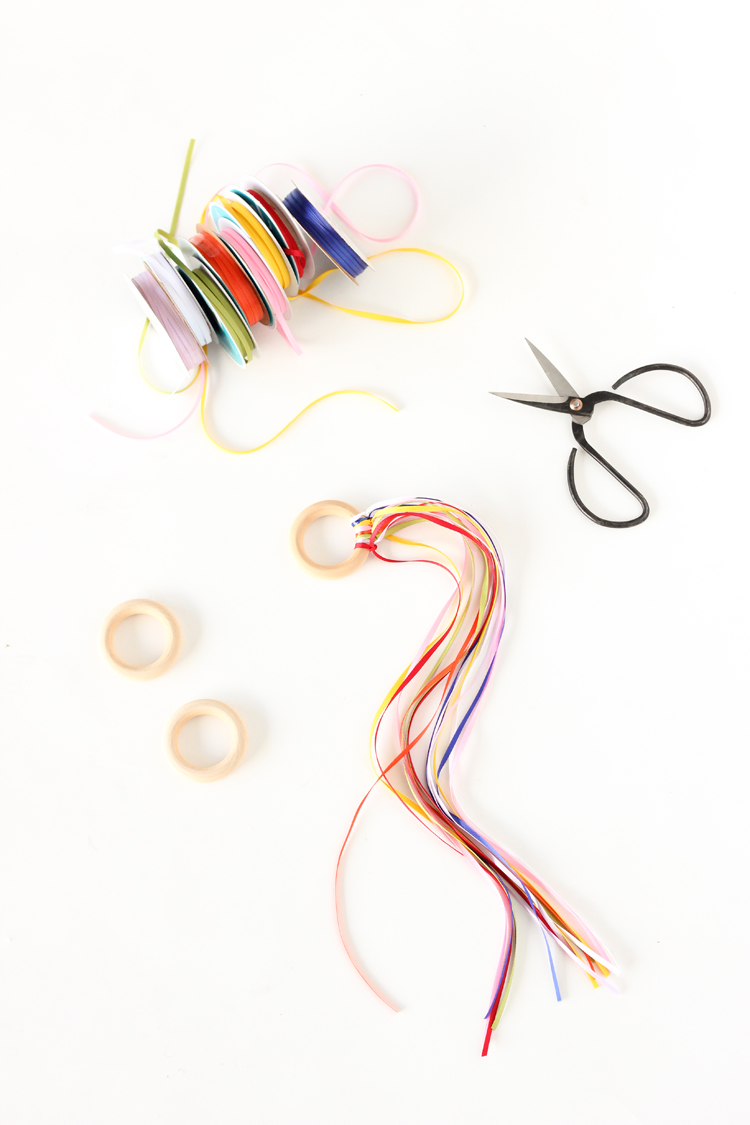 Both a favor and apart of the fun, the girls took these ribbon dancing rings and had a little dance party to music from the Trolls movie, which not only makes the perfect party soundtrack, but pretty much sounds like rainbows, if music can sounds like a rainbow. ha!
I had some leftover wood rings from this baby teether I made. I ordered the rings in bulk, but I've seen them sold in smaller packs at Jo-Ann. I've also made them with elastic, which is easier to find.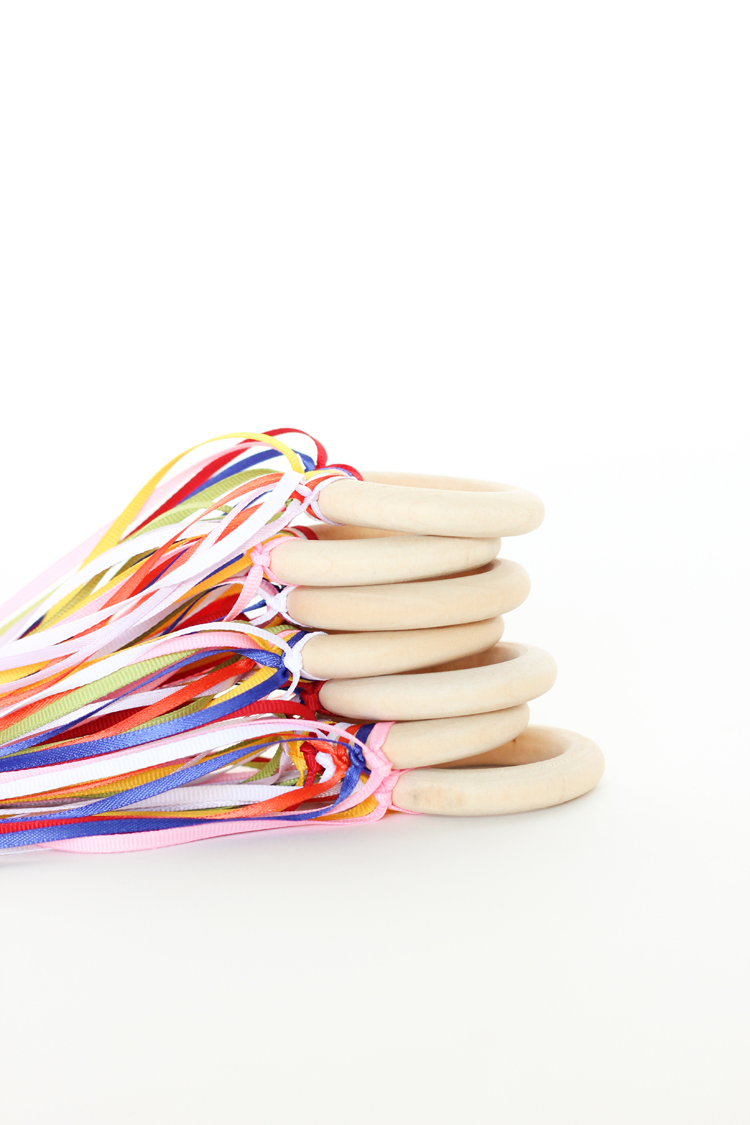 I simply tied on some dollar spools of ribbon. Most of them come in 10 yard spools. I cut a yard of each color and double knotted them onto the rings. Every once in a while, these spools go on sale for 2 or 3 for a $1 too, so if you keep an eye out for a sale, it's even less!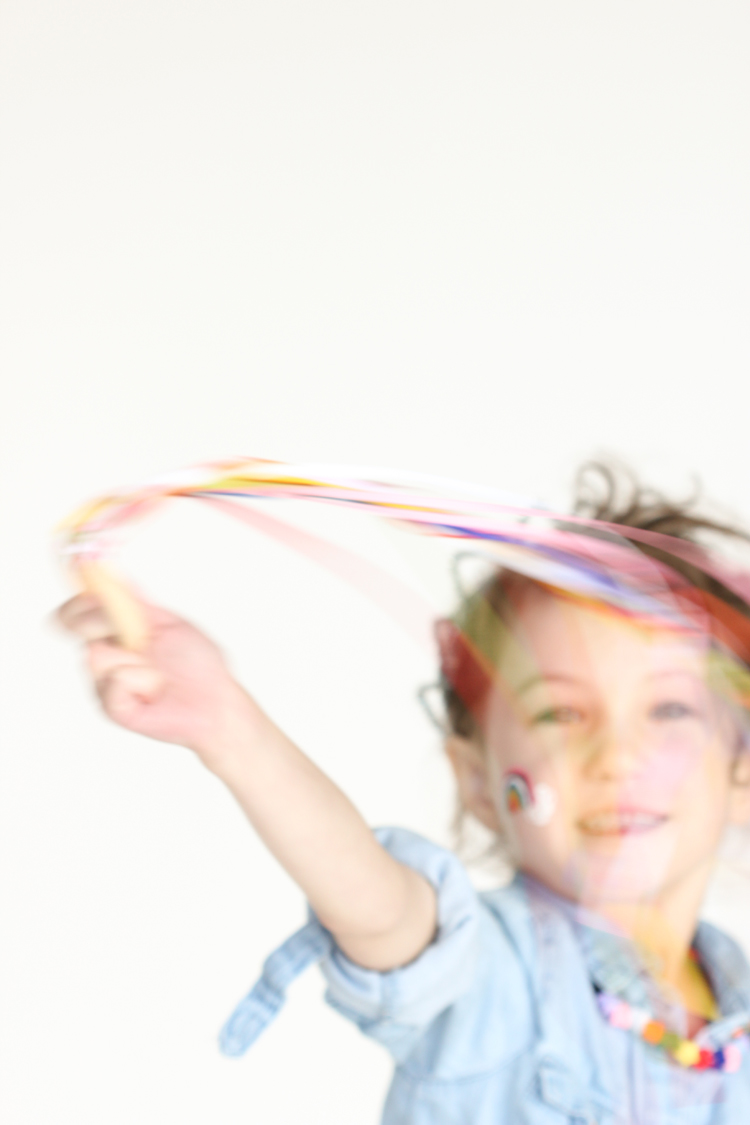 Rainbow candy for the gold star pinata.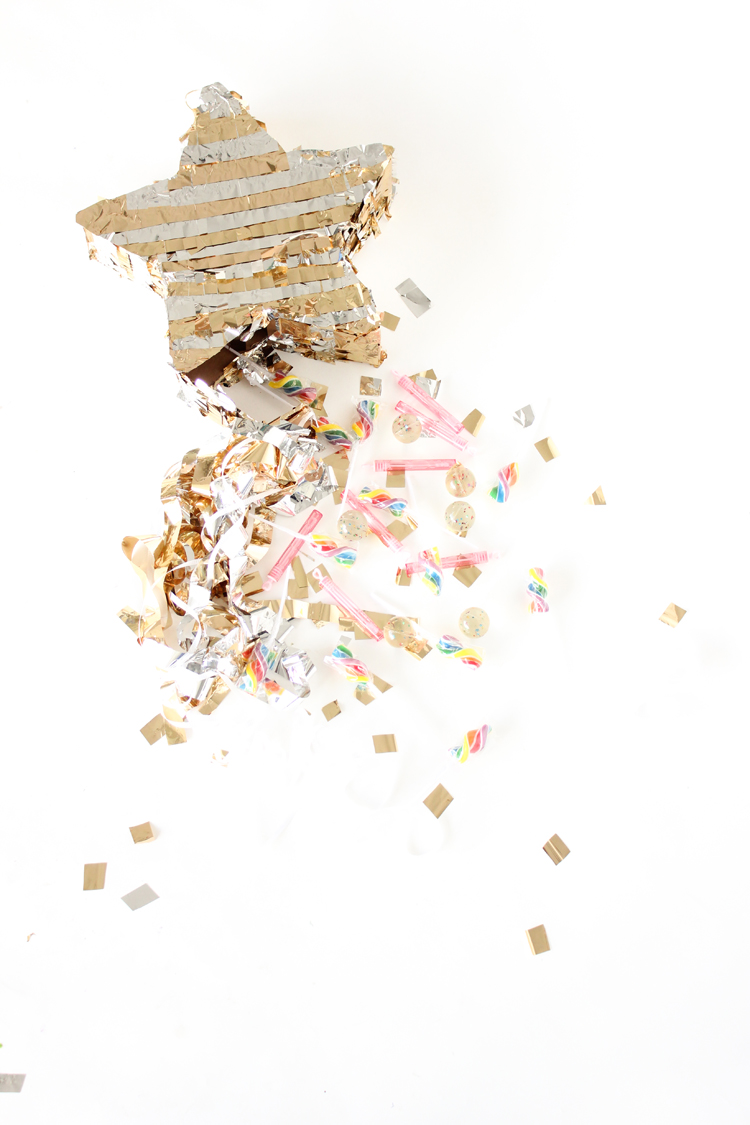 I made good use of our gold star pull pinata (see tutorial here) and stuffed it with just a few simple things I knew the girls would like: Confetti, rainbow pops from Party City, small bubble wands from Michaels, and rainbow glitter bouncy balls from Party City.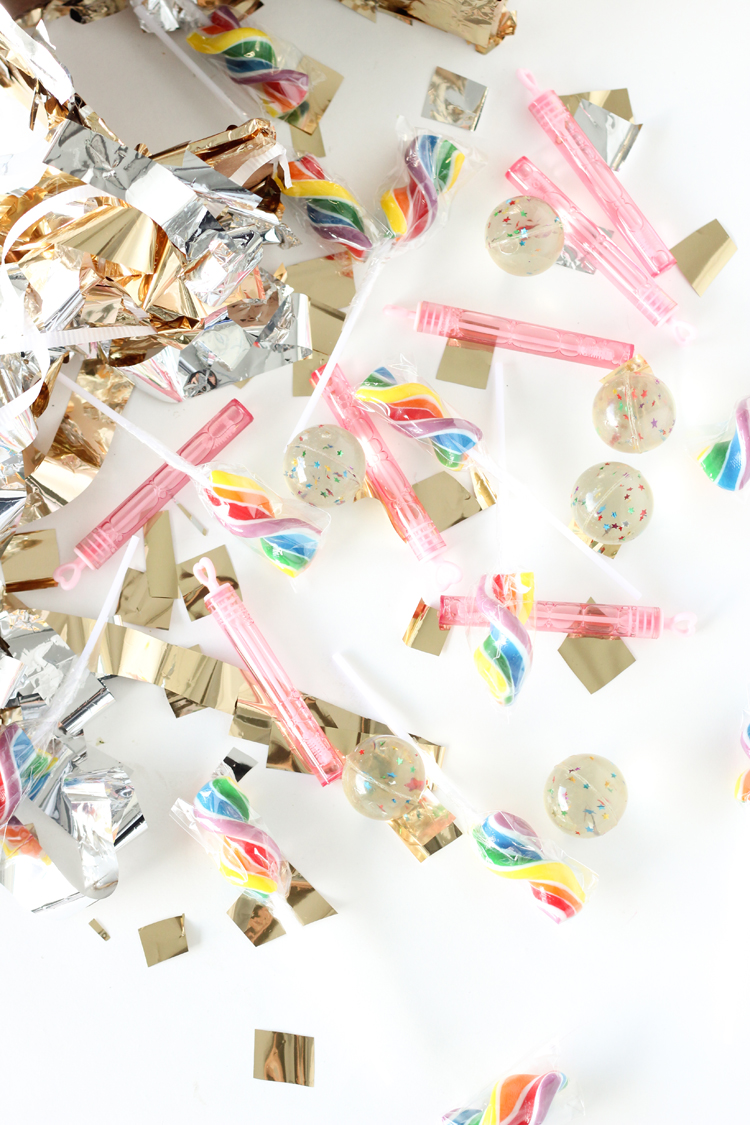 Rainbow necklaces and bracelets.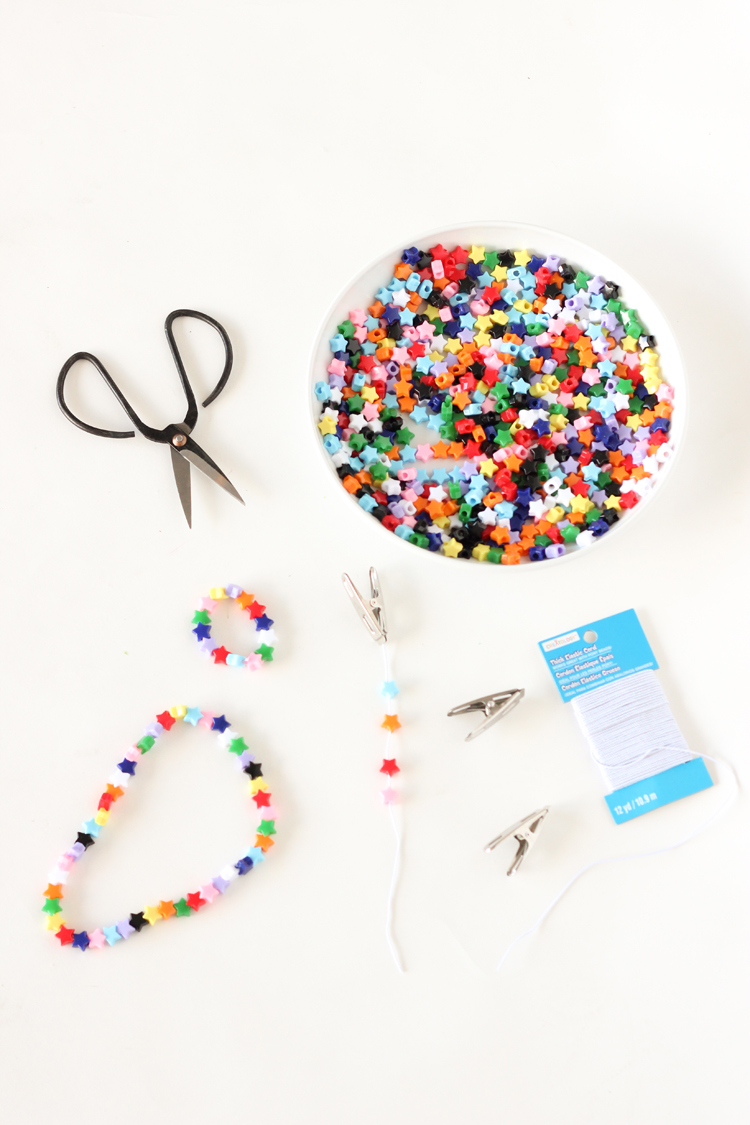 Hands down the hit of the whole party was making rainbow bead jewelry. Some of the girls could have spent the whole time just on this activity. All I did was buy a rainbow assortment of star shaped pony beads from Michaels and some elastic cording and let them go to town.
We clipped the ends of the elastic cording with a little clothespin so the beads wouldn't slide off. To finish off each bracelet or necklace, I gave it a good tight square knot. Having two boys in Boy Scouts paid off. 😉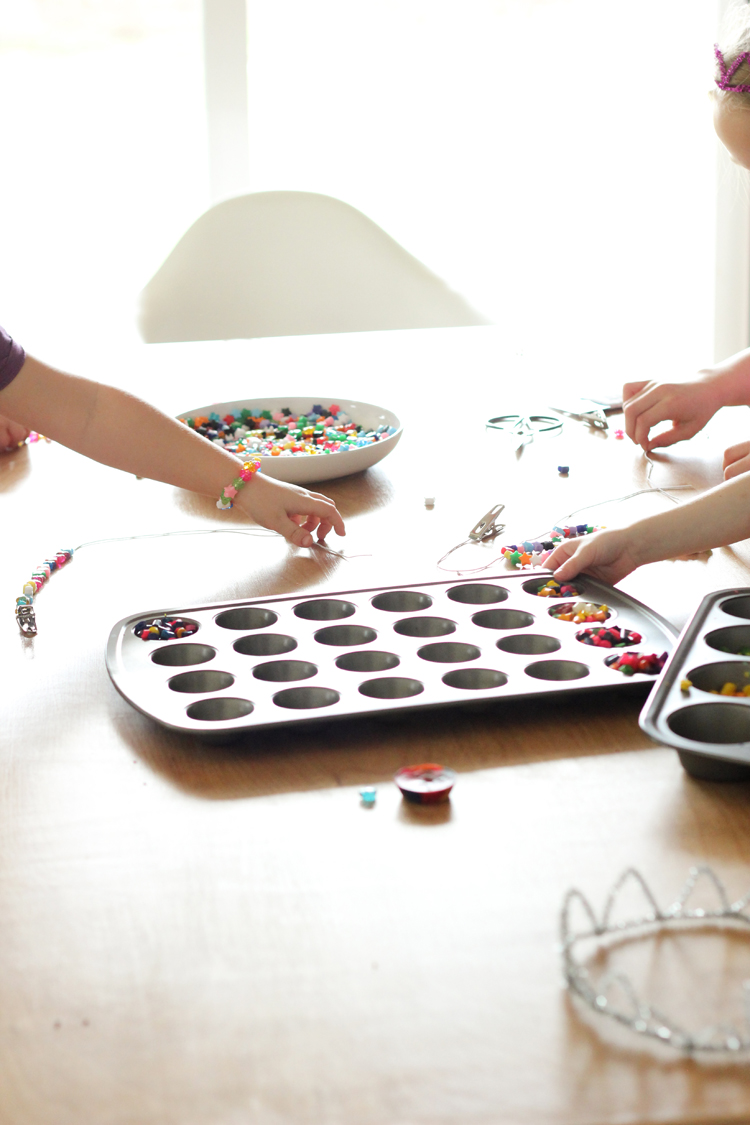 Rainbow crayons.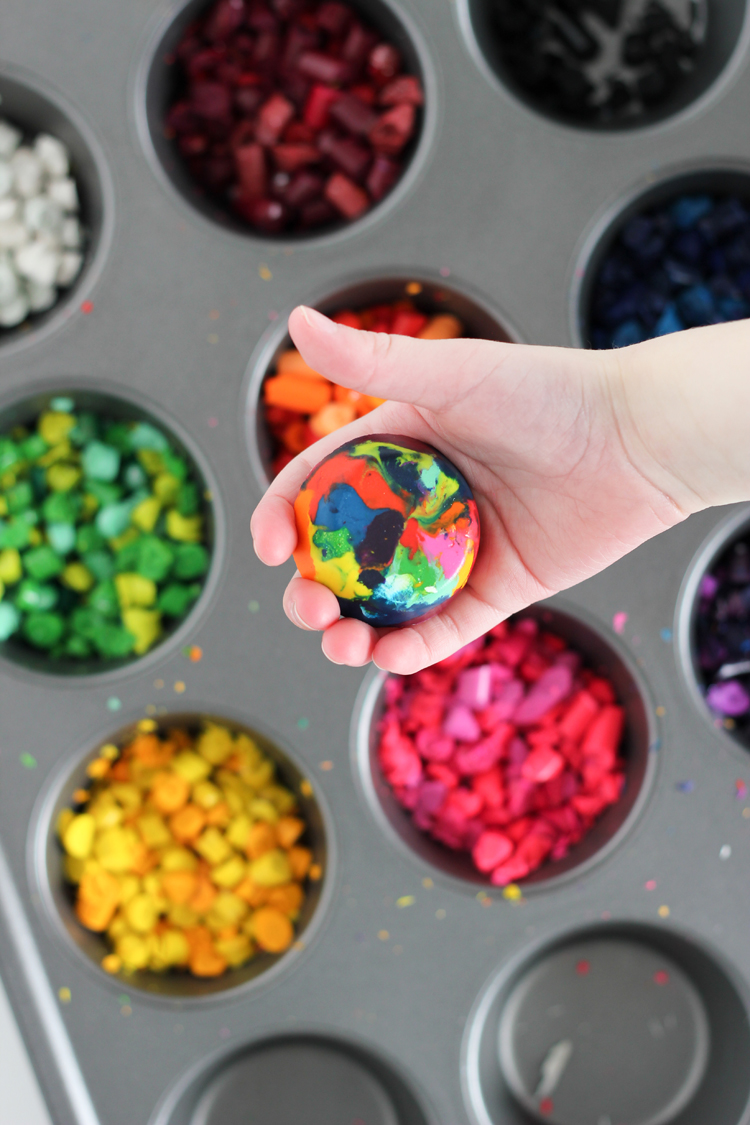 A classic childhood must do, we made rainbow crayons! We made them at the beginning of the party, so they had time to bake, and then cool enough to pop out of the pan.
Rainbow prisms.
I saw this crystal prism at Michaels, and knew my daughter would love it for her room which we are redecorating right now. I thought it would be fun to use it as a prism to refract light and make rainbows during the party too. We stood next to a bright window and let the sunshine cast rainbows around the room. It was such a simple thing, but again, a big hit. It was good a filler activity, while the girls waited for other things to get ready, like the cake.
If you don't want to use a prism, you could easily use a glass of water.
Rainbow decor.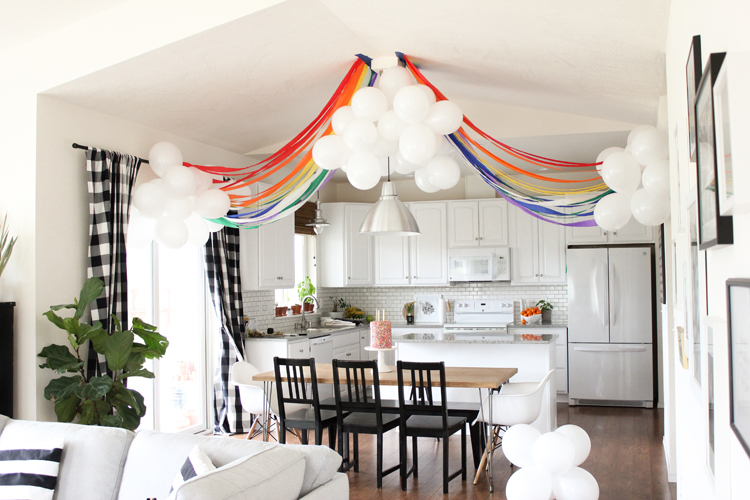 The decor was my favorite part. I taped a rainbow array of paper streamers to the ceiling with painter's tape and then stuck white balloon clouds all around.
To make the balloon clouds, I blew up two balloons and tied them together, instead of individually. Then I twisted pairs of balloons together into groups of four. Sometimes I  made groups of six if the balloons weren't too full. Then I strung them together with fishing line and taped them to the ceiling.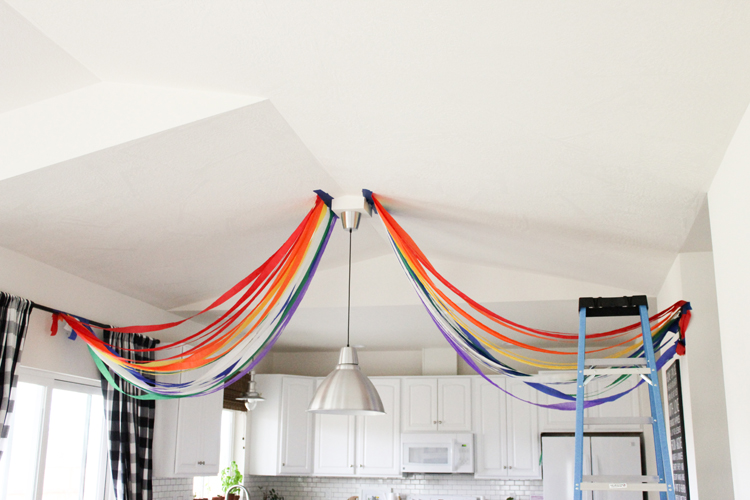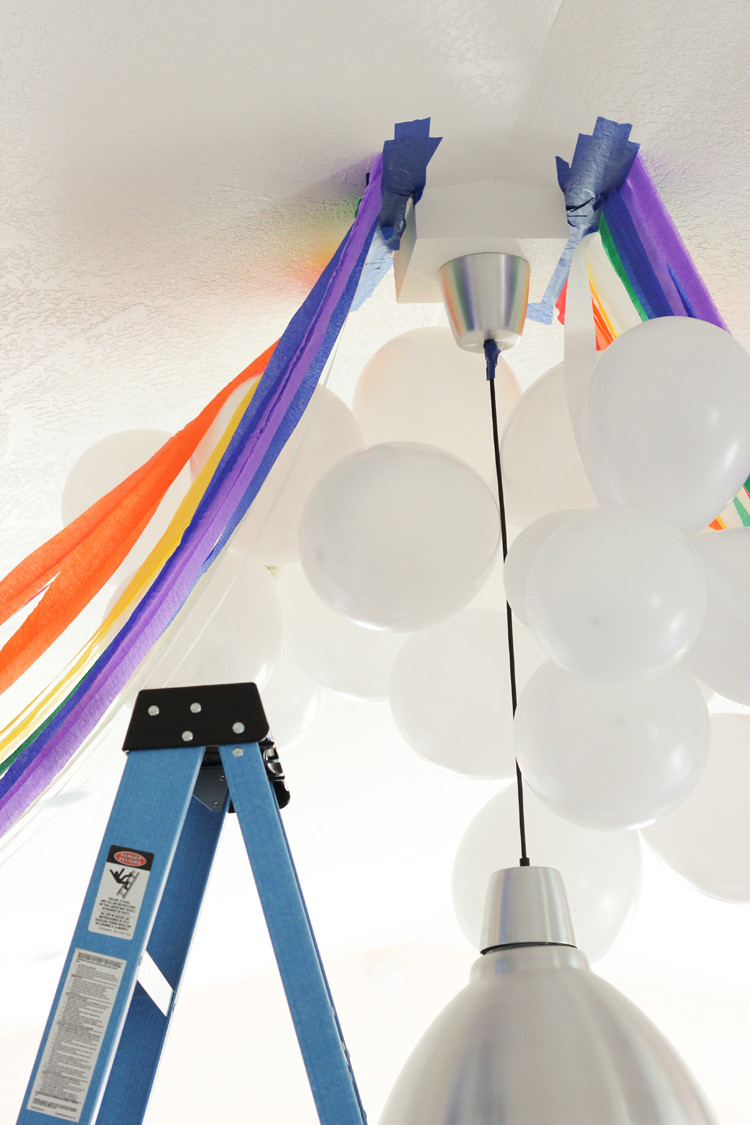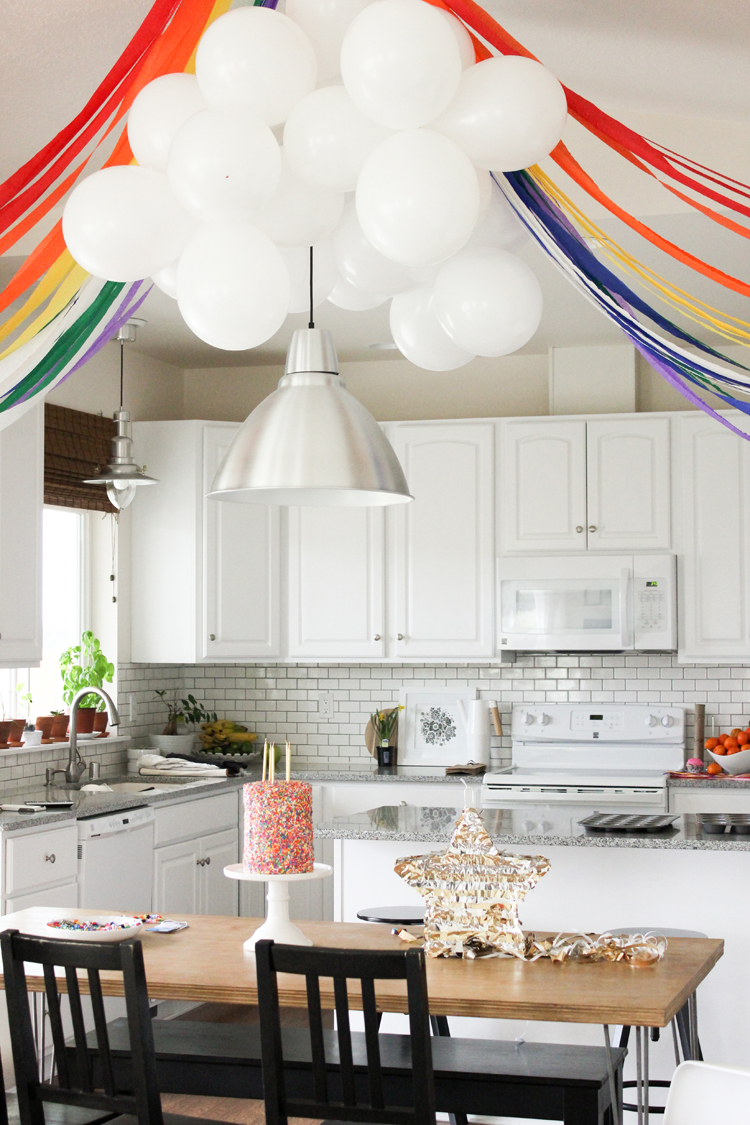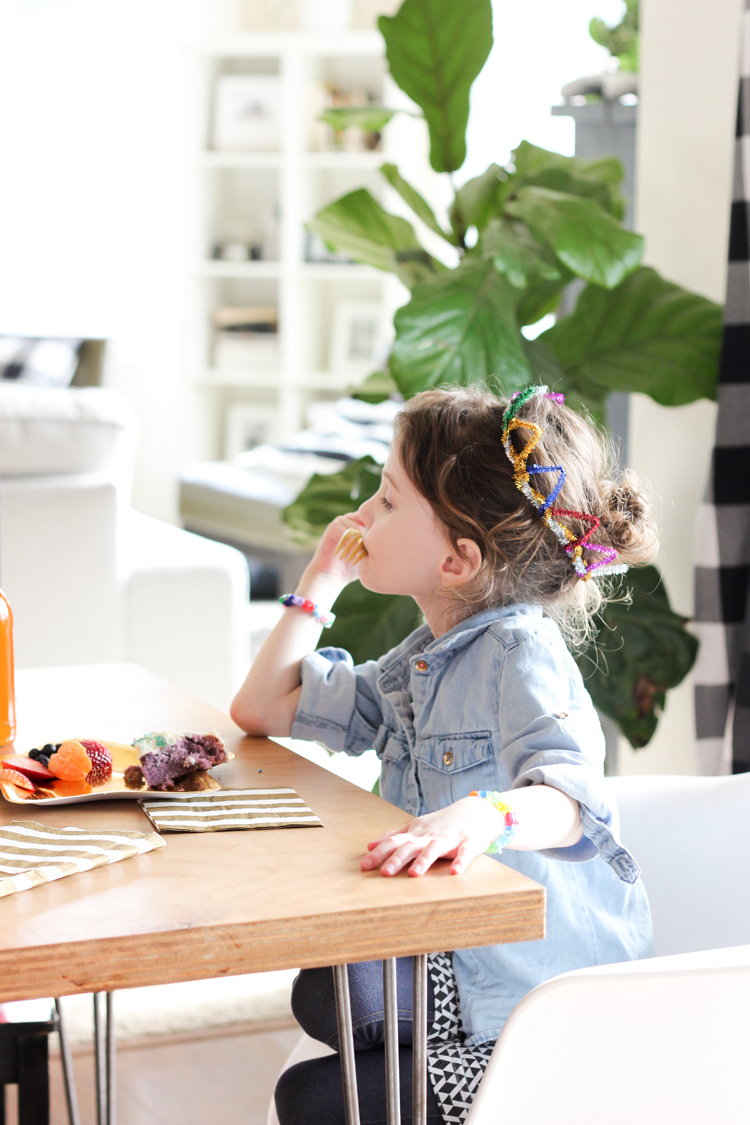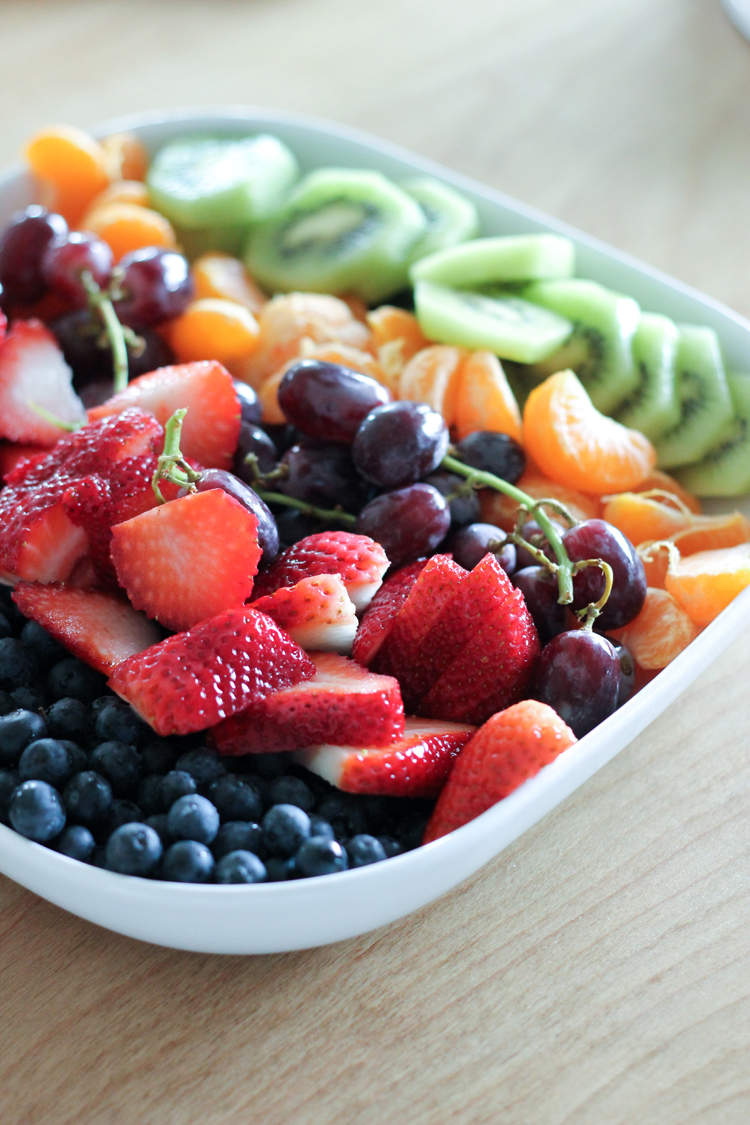 The food was easy, just cake, soda, and a fruit platter. The girls devoured this fruit platter!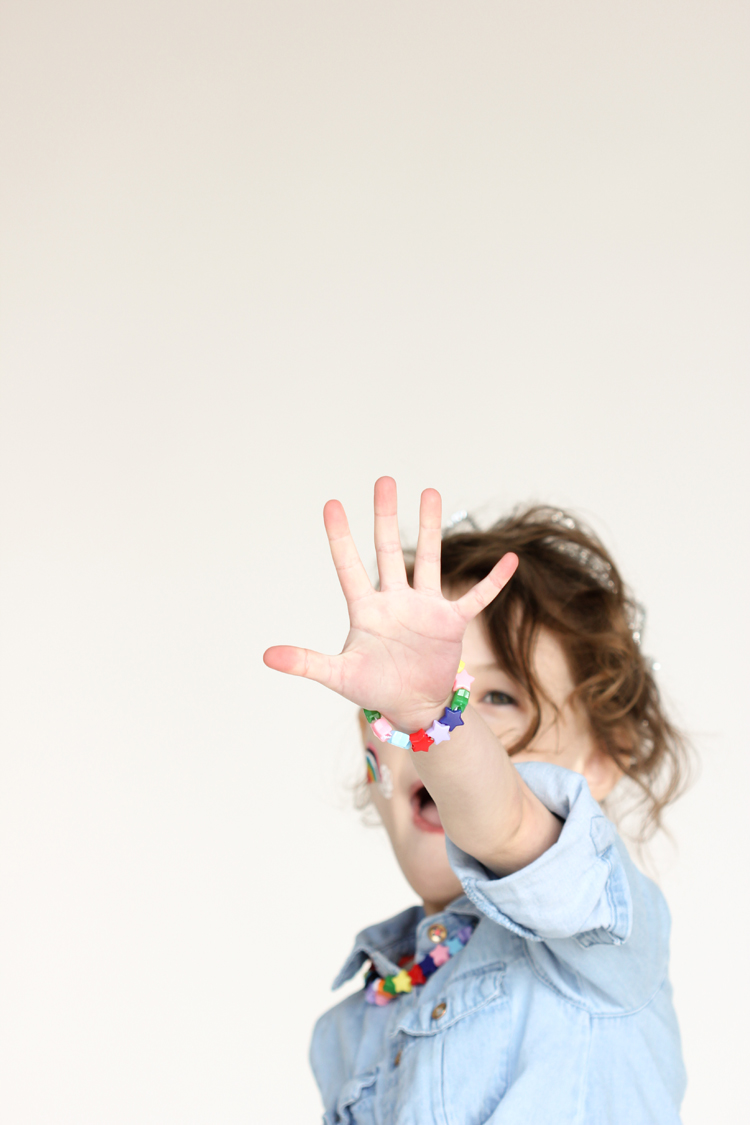 All in all it was a great party. The girls seemed to have a blast and there was almost no lag time. Just lots of fun!