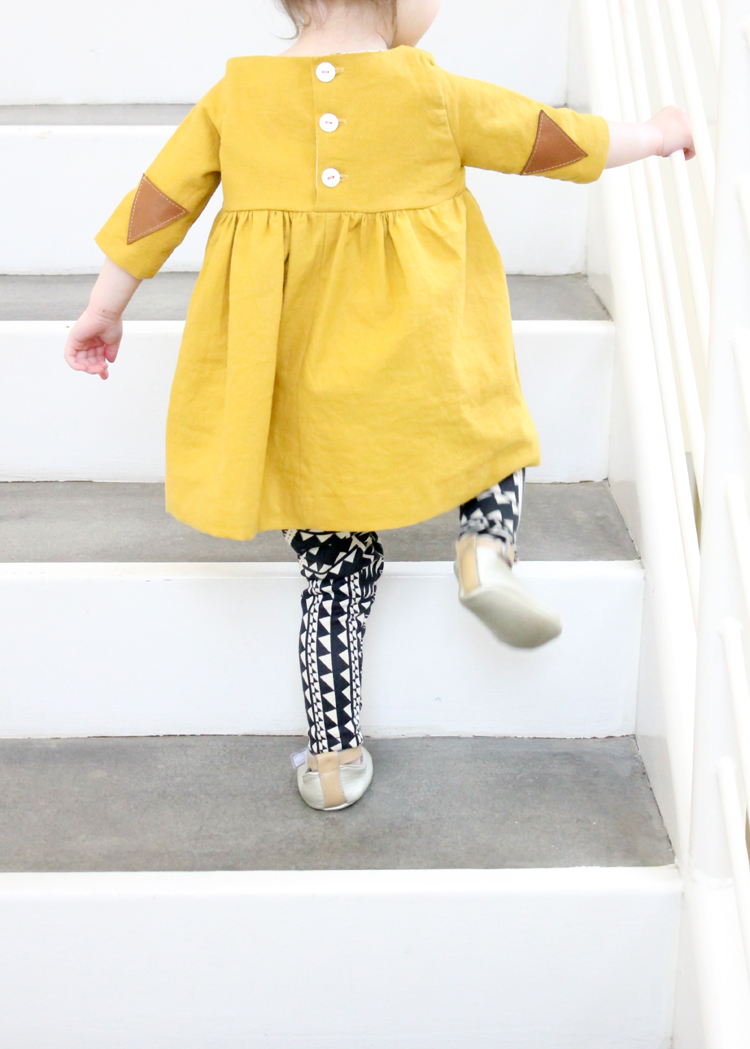 Today, I'm excited to share what I made for Katy's Sew All 26 Series.
It's a series about sewing through all 26 letters of the alphabet, of course, and my letter is T!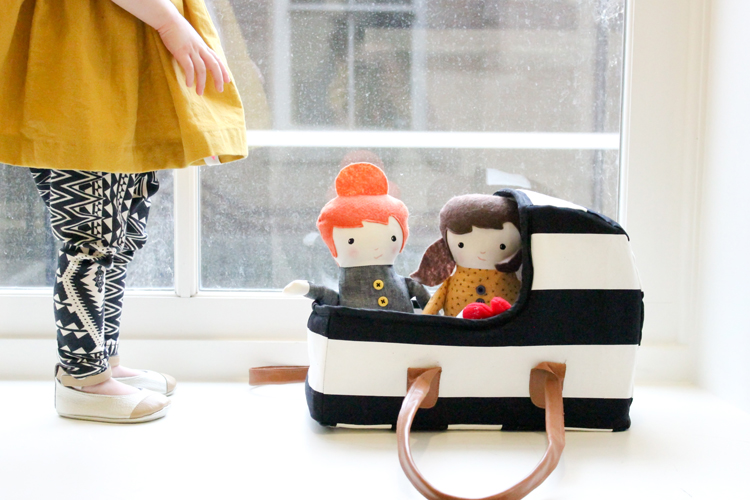 With Natalie turning two in a few weeks, I thought it perfectly fitting to sew this post up for her. So, T is for Two!
(p.s. It's raining outside that window :))
I made her a twirly tunic, which I made using the 5 & 10 designs basic block pattern and free sleeve download found HERE,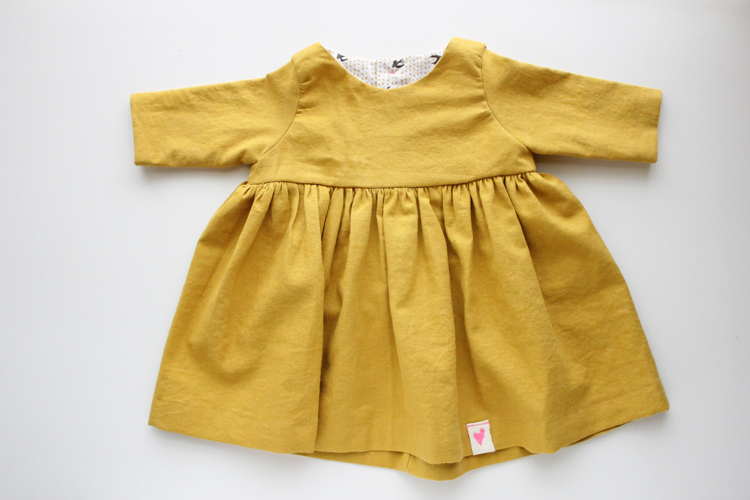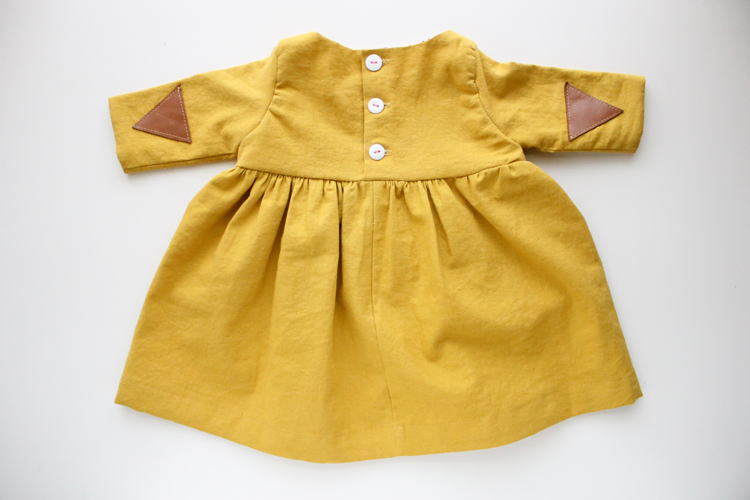 with a twill tape tag and tiny heart, which I punched out with my free motion foot and some hot pink thread…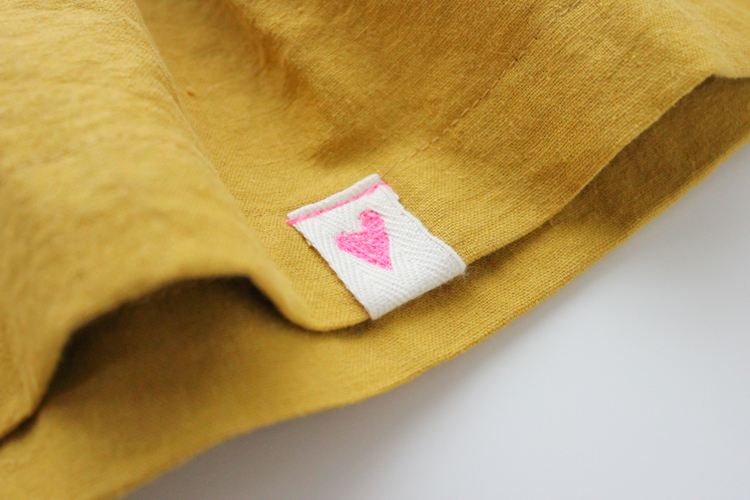 which matches the hot pink thread I used to sew on the buttons…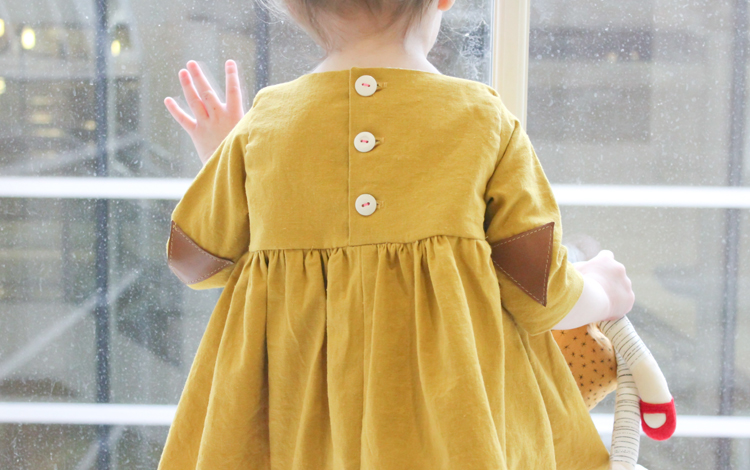 which brings me to the leather triangle elbow patches on her three-quarter sleeves…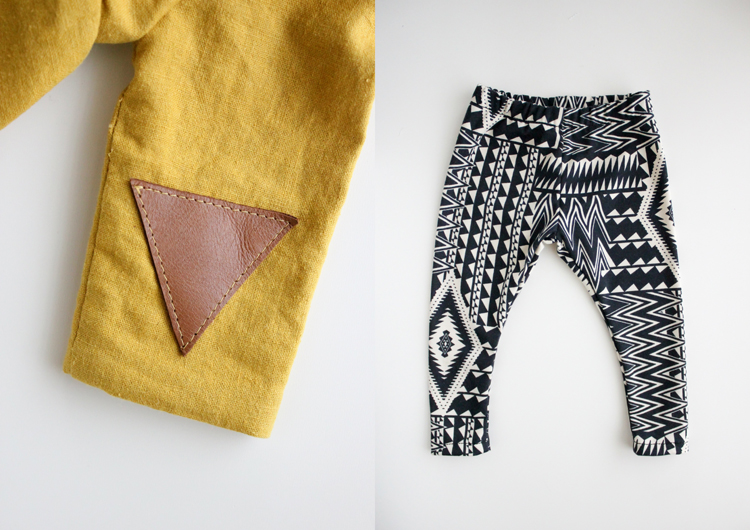 which complement her tribal print leggings (the pattern is from Go To Patterns found HERE, I cut a size 12 month waist and extended the length 4-5 inches to get it to fit Natalie's slender build),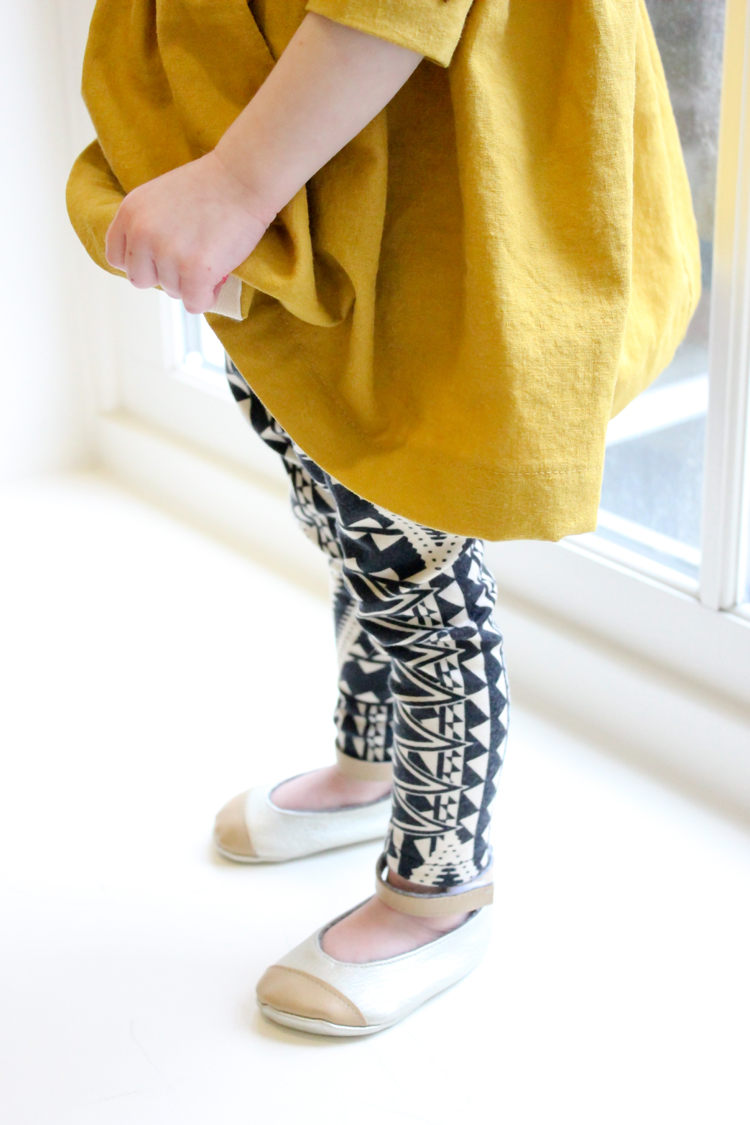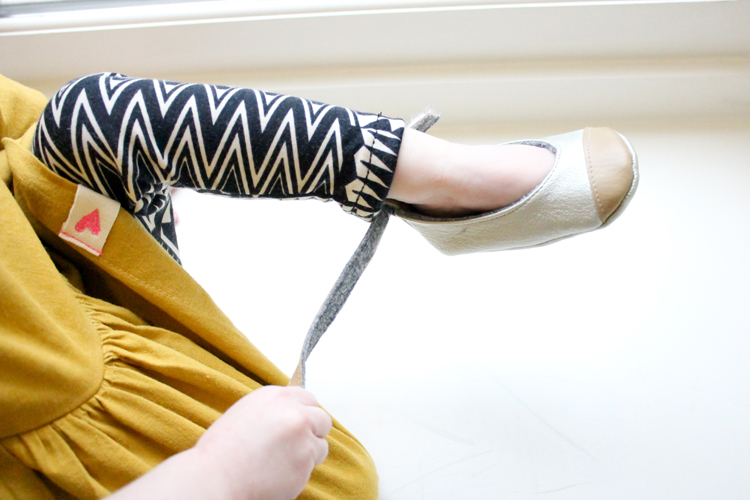 which match her tan toe capped T-strap shoes (made from my Natty Janes shoe pattern found HERE).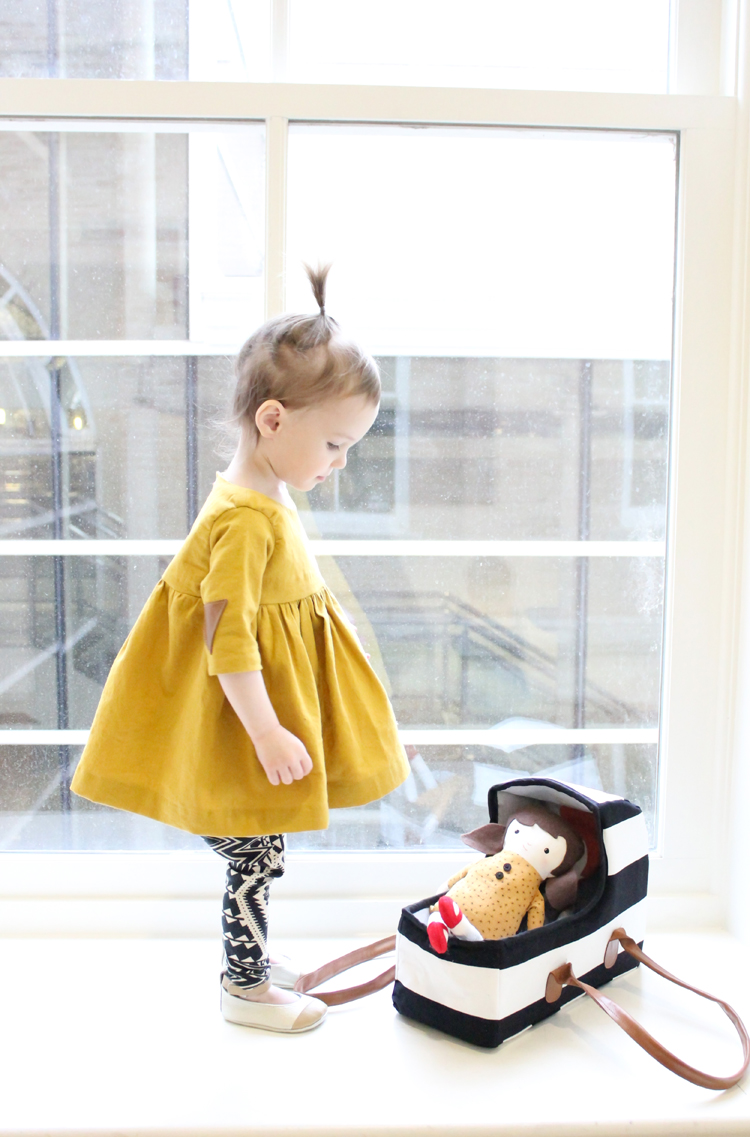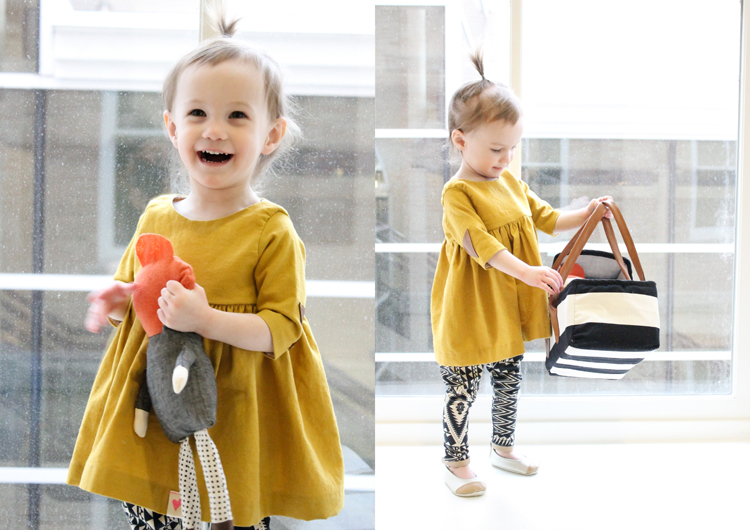 And I'm not done! I also made her dolls…TWINS of course… and a baby tote in which to carry them.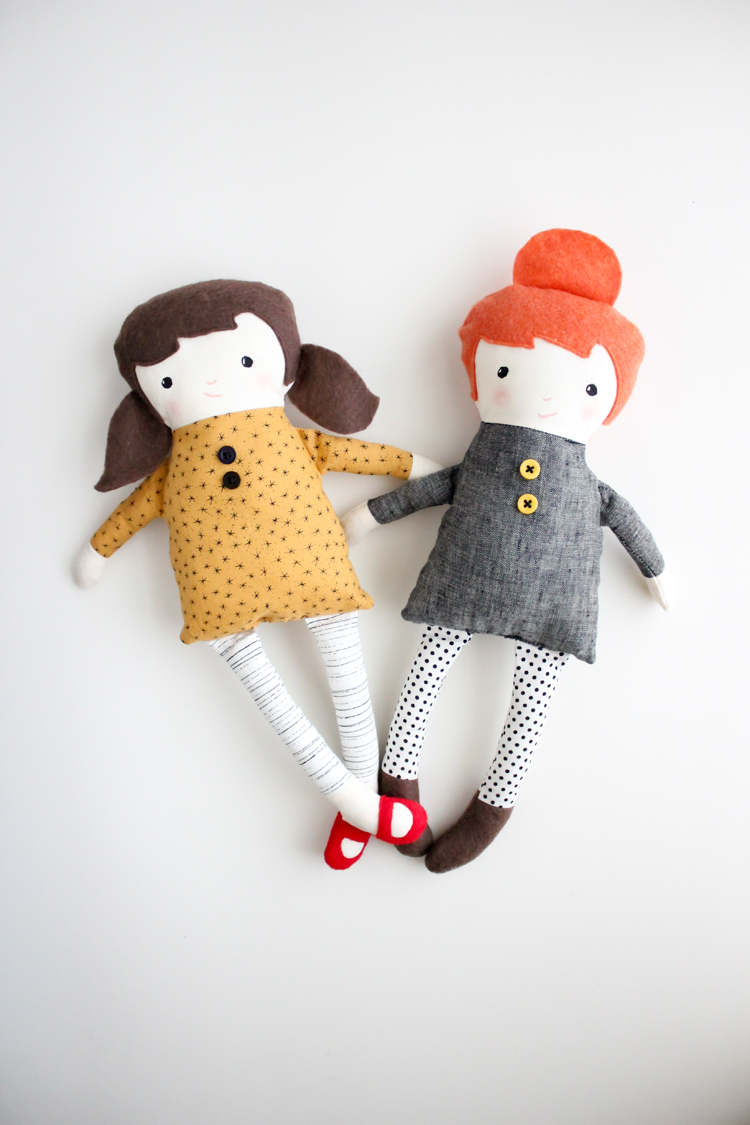 Is the tip of your tongue worn out yet?…good 😉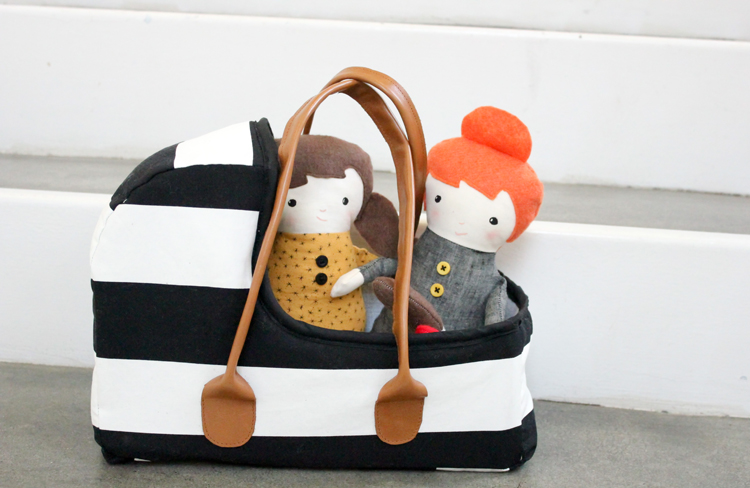 The dolls are fraternal twins of course, and made from the free Black Apple Doll Pattern from Martha Stewart found HERE. The tote was made using Dana's Baby Basket Pattern found HERE.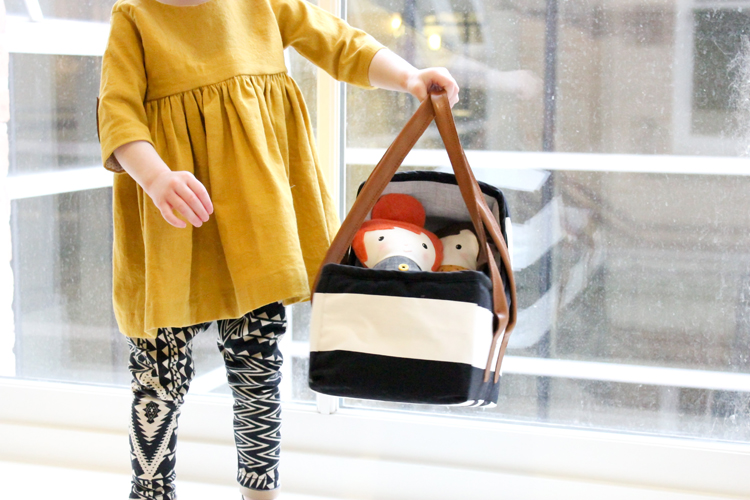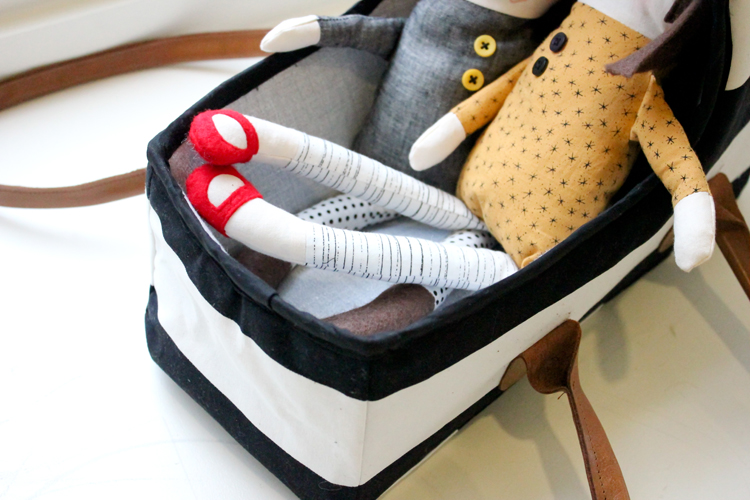 I sewed up the size small basket, which is easier for my petite Natalie to tote around.
I used the thickest, crispest fusible craft interfacing I could find. I also saved a few bucks on the high loft batting by finding it by the yard, using a coupon, and only buying the 1/2 yard I needed. It came to just over a couple bucks!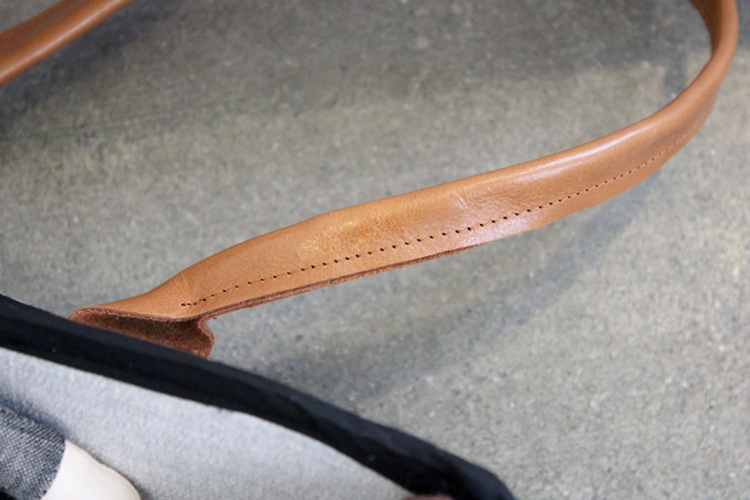 I interchanged the cloth straps for leather ones, sewed them into a partial tube and attached them like so…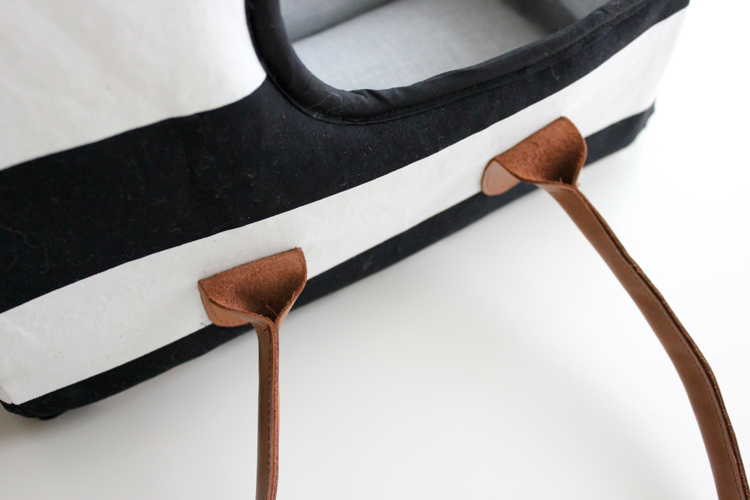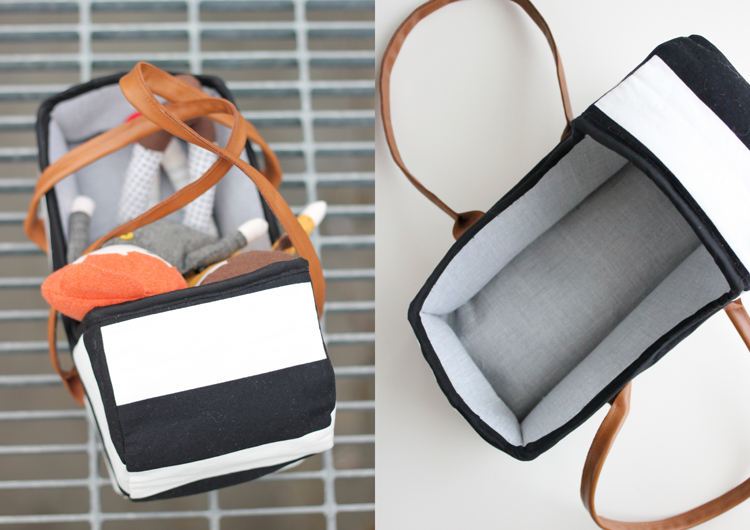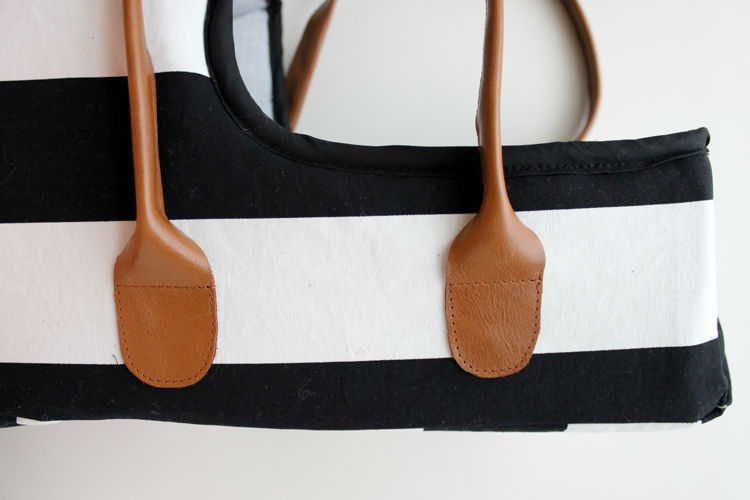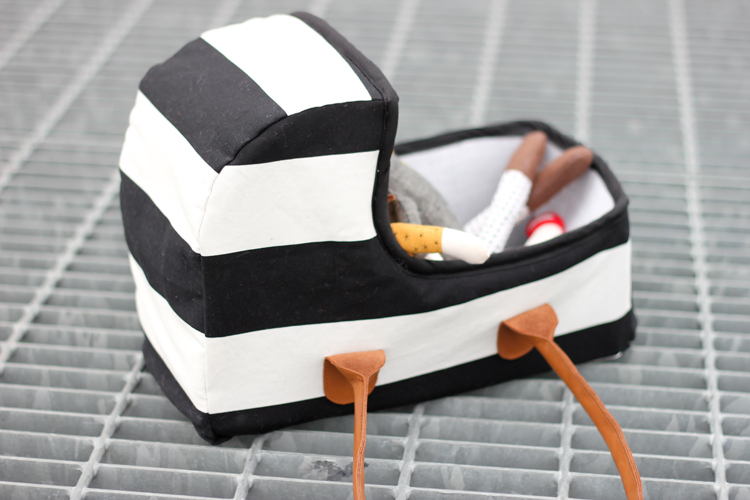 I tried to put Natalie's hair into a top knot (another T!) like the red headed doll, but it just kept popping out into a geyser. 😀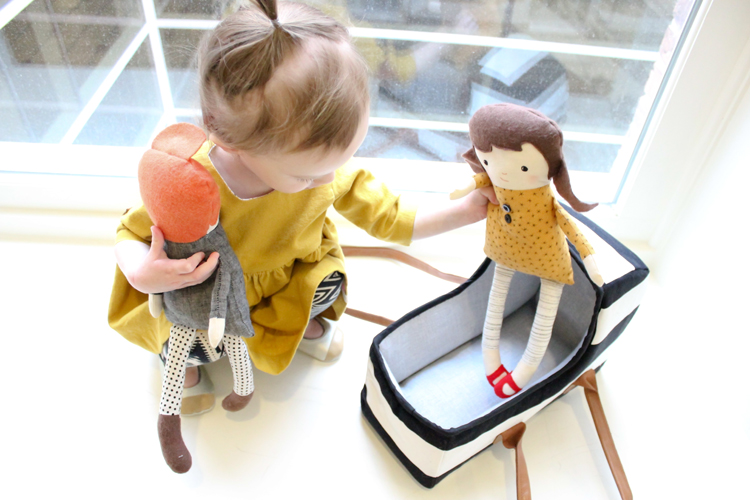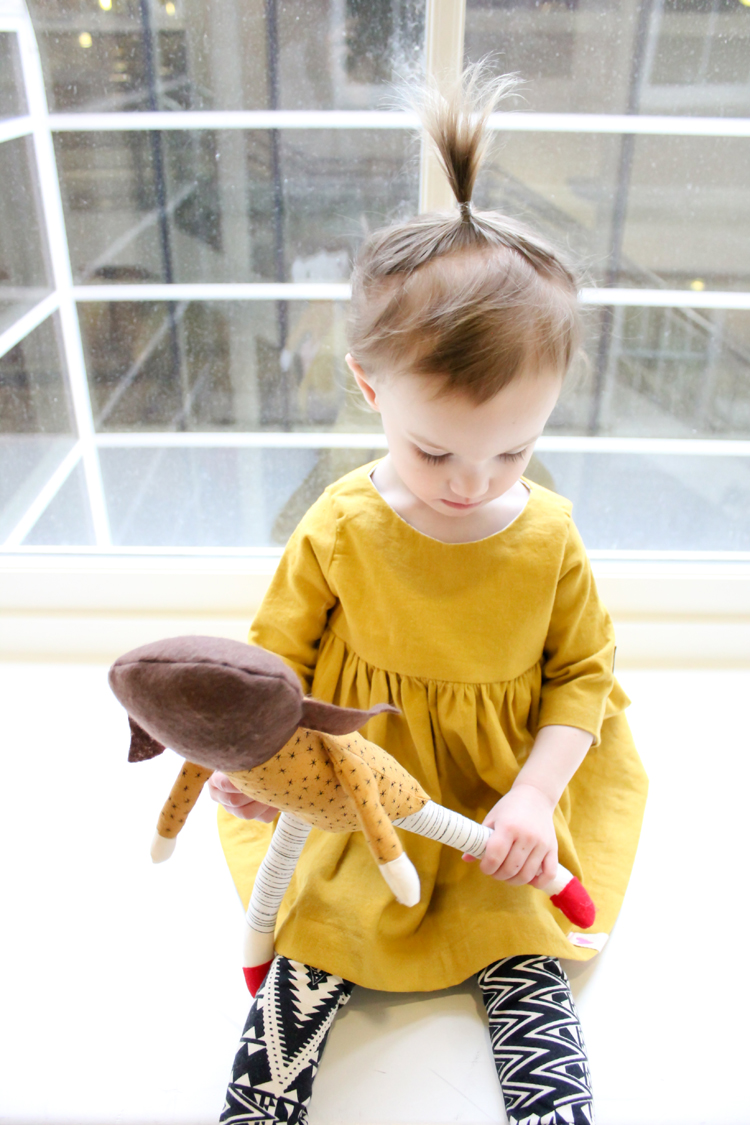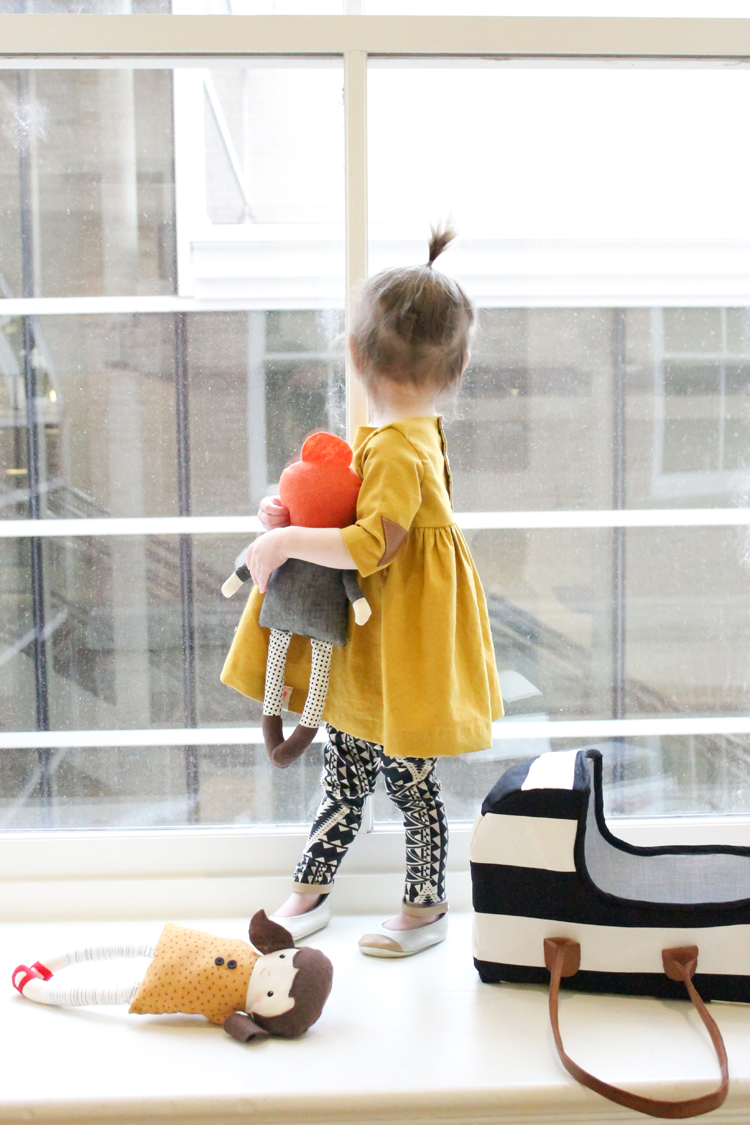 Okay, let's count all the T's shall we:
tunic, twirl, twill tape tags, tiny heart, three-quarter sleeves, triangle elbow patches, tribal leggings, tan toe cap t-strap shoes, twin dolls, one with a top knot, and a baby tote all for this sweet girl who is turning TWO!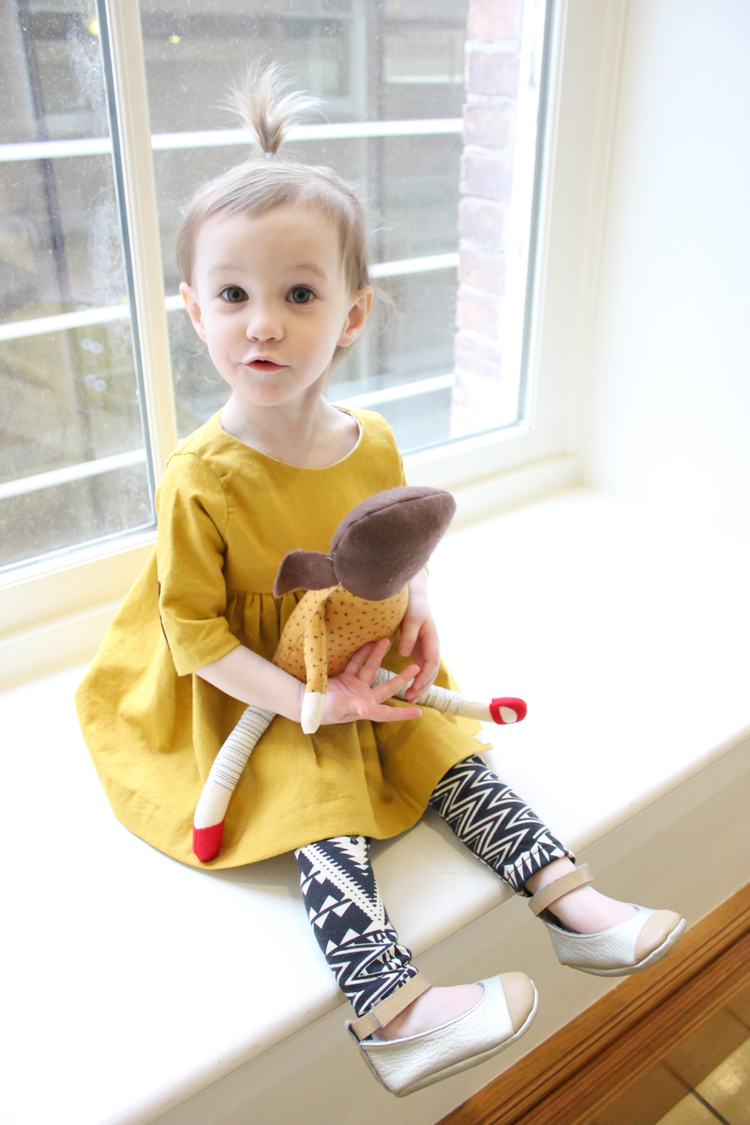 Not bad eh?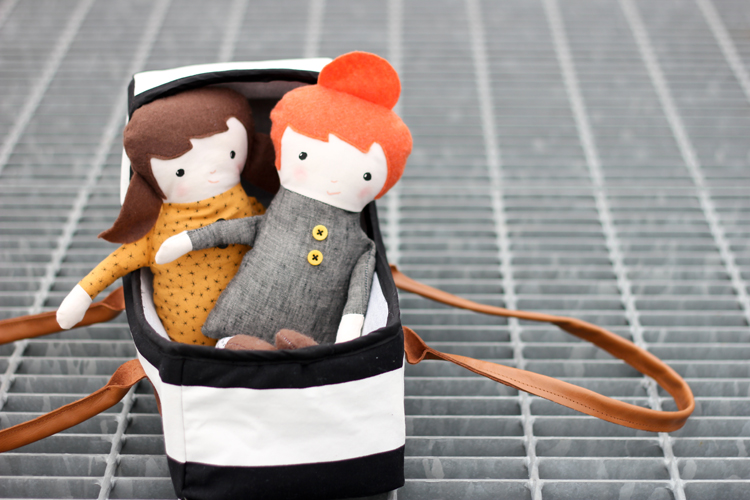 Fabric Sources: Tribal knit, Ponte De Roma from
Girl Charlee
Yellow linen from Jo-Ann Black and White stripe fabric from IKEA (gray liner from Walmart clearance) brown leather from
Leather Hide Store
And that's a wrap! 🙂 If you haven't been following along already, go check out what Katy from No Big Dill and her lovely guests have been sewing up for Sew All 26!
Ta ta then! (couldn't resist!)
P.S. Small leather details can be washed and dried in the washer and dryer. It will soften and wear over time, and possibly change color a bit, but should hold up well otherwise…in my personal experience. 🙂