We looooove popcorn around here. We usually stick to the ho hum butter and salt routine, but I thought I would spice things up (literally) and create some new recipes.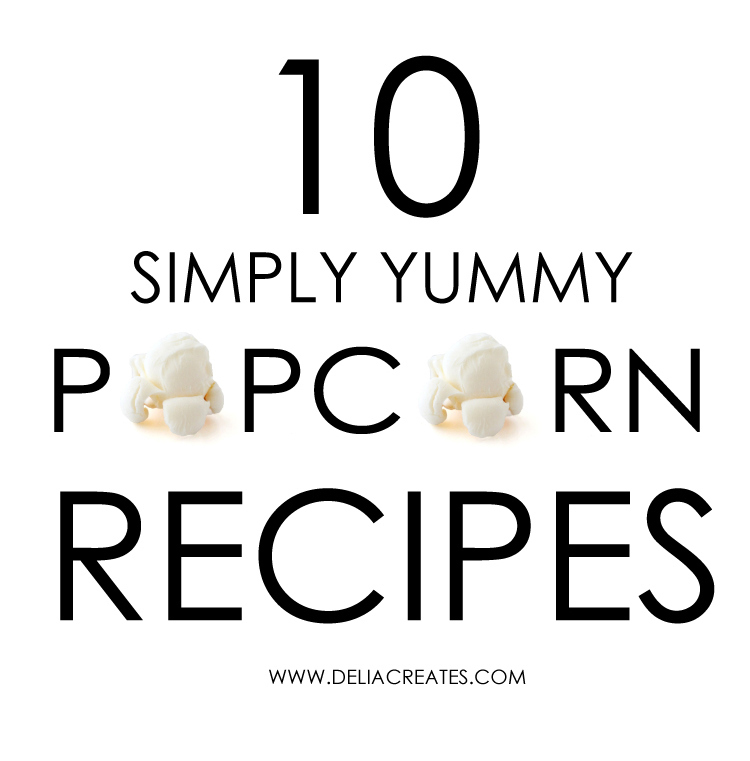 The hands down favorite in our house lately is marshmallow popcorn…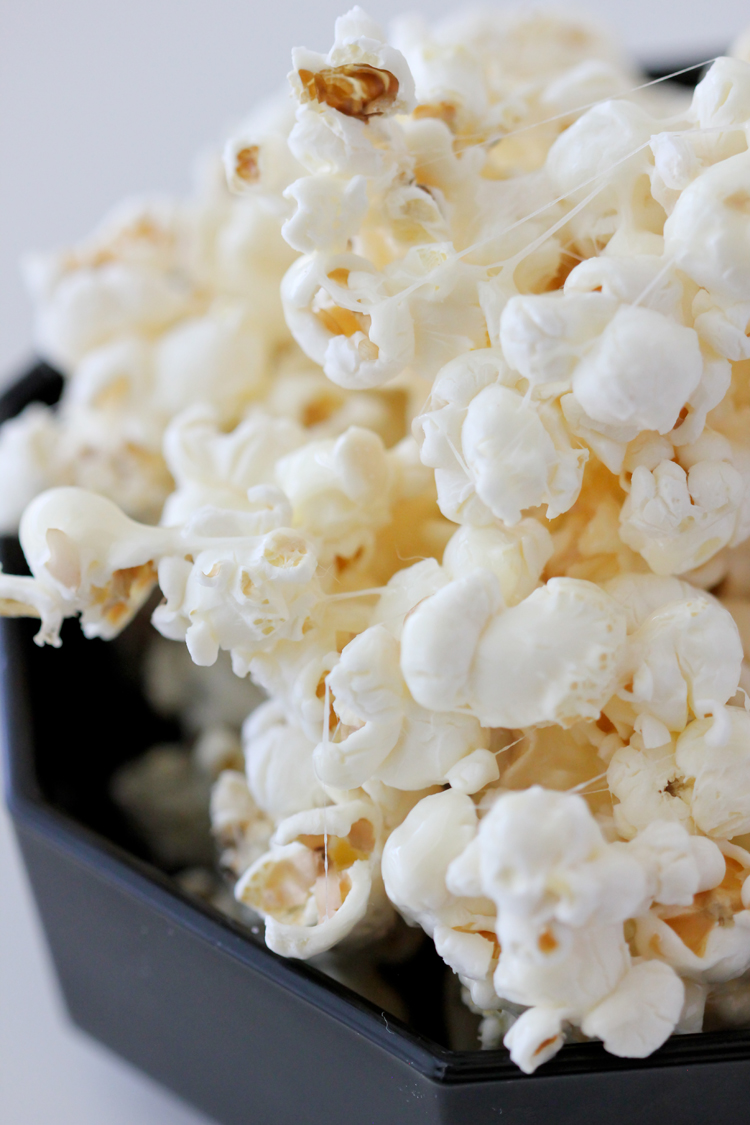 Gooeeey goodness.
But the others are finger licking good too.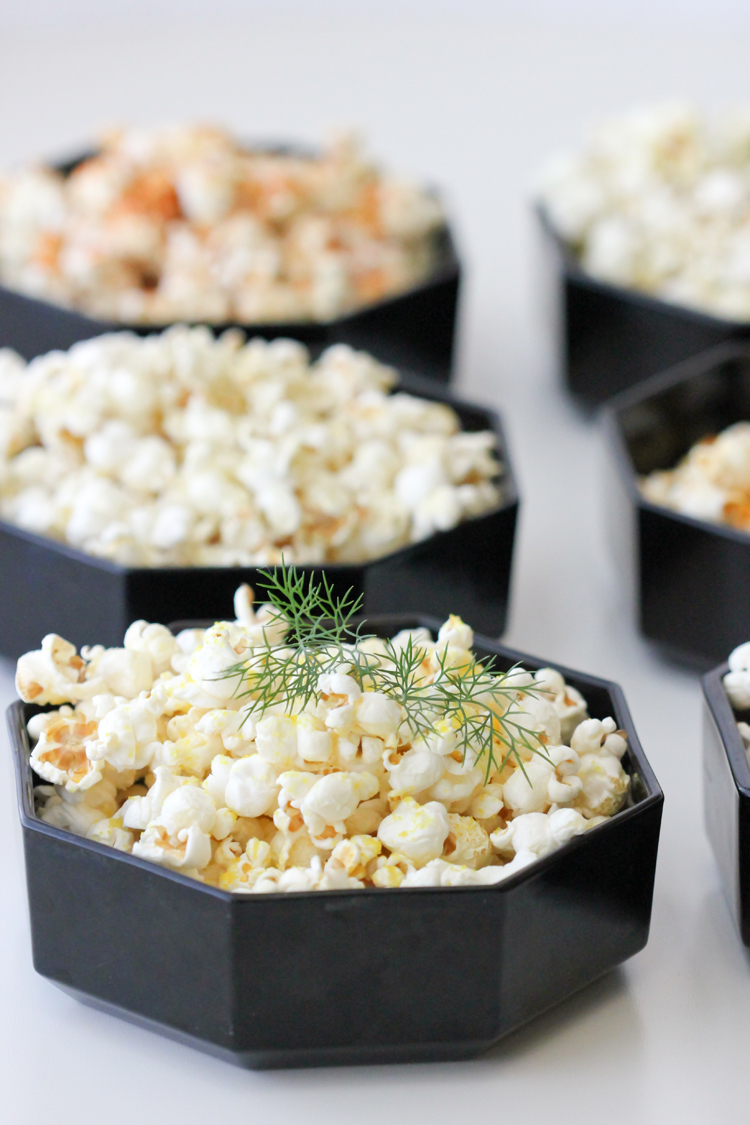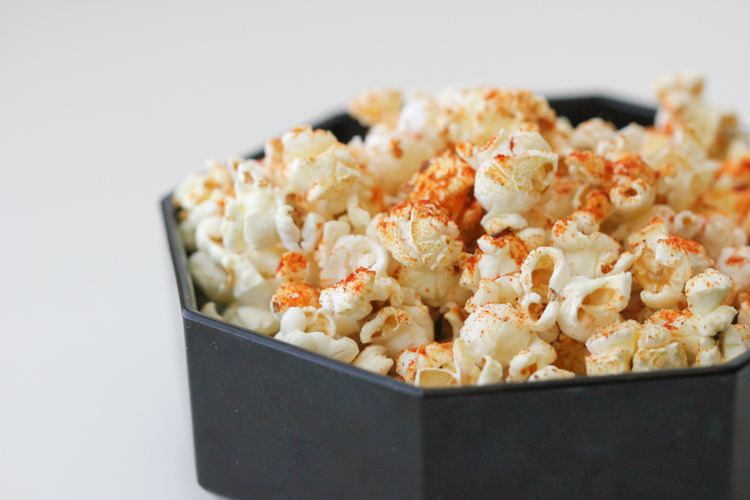 The recipes are all simple and flexible. It's easy to tweak the amounts to your taste. Make it saltier, sweeter, or spicier…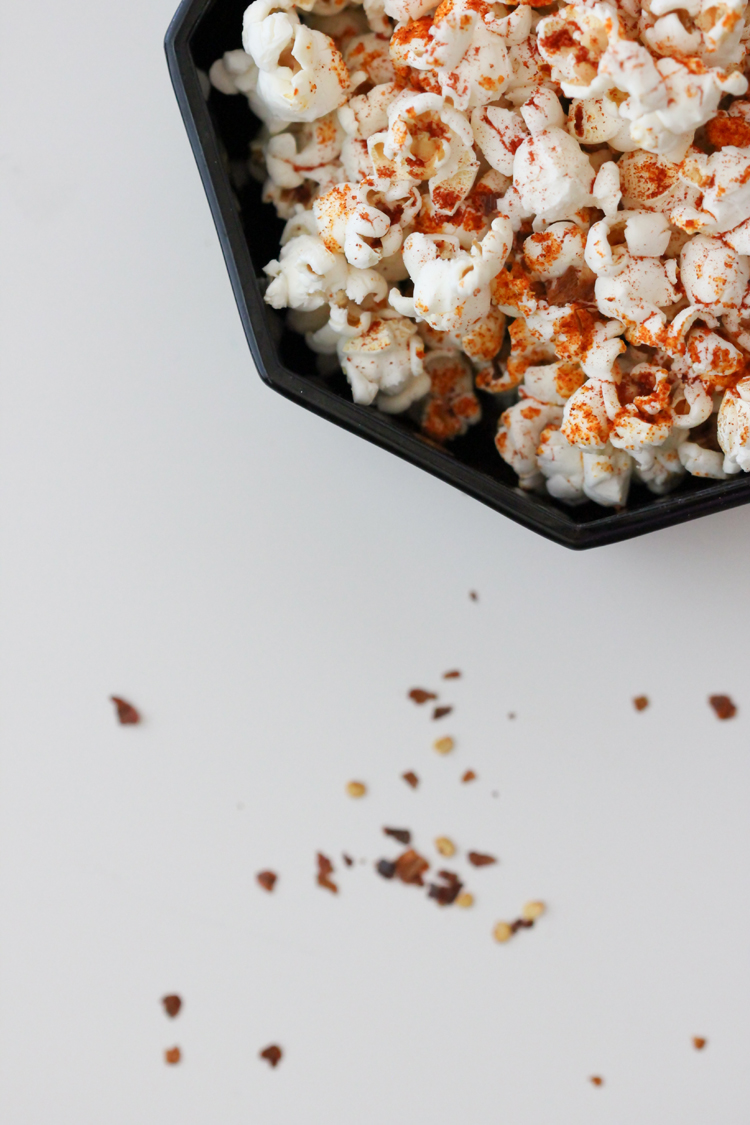 …or however, to get it just how you like it.
These recipes are just a basis or jumping off point.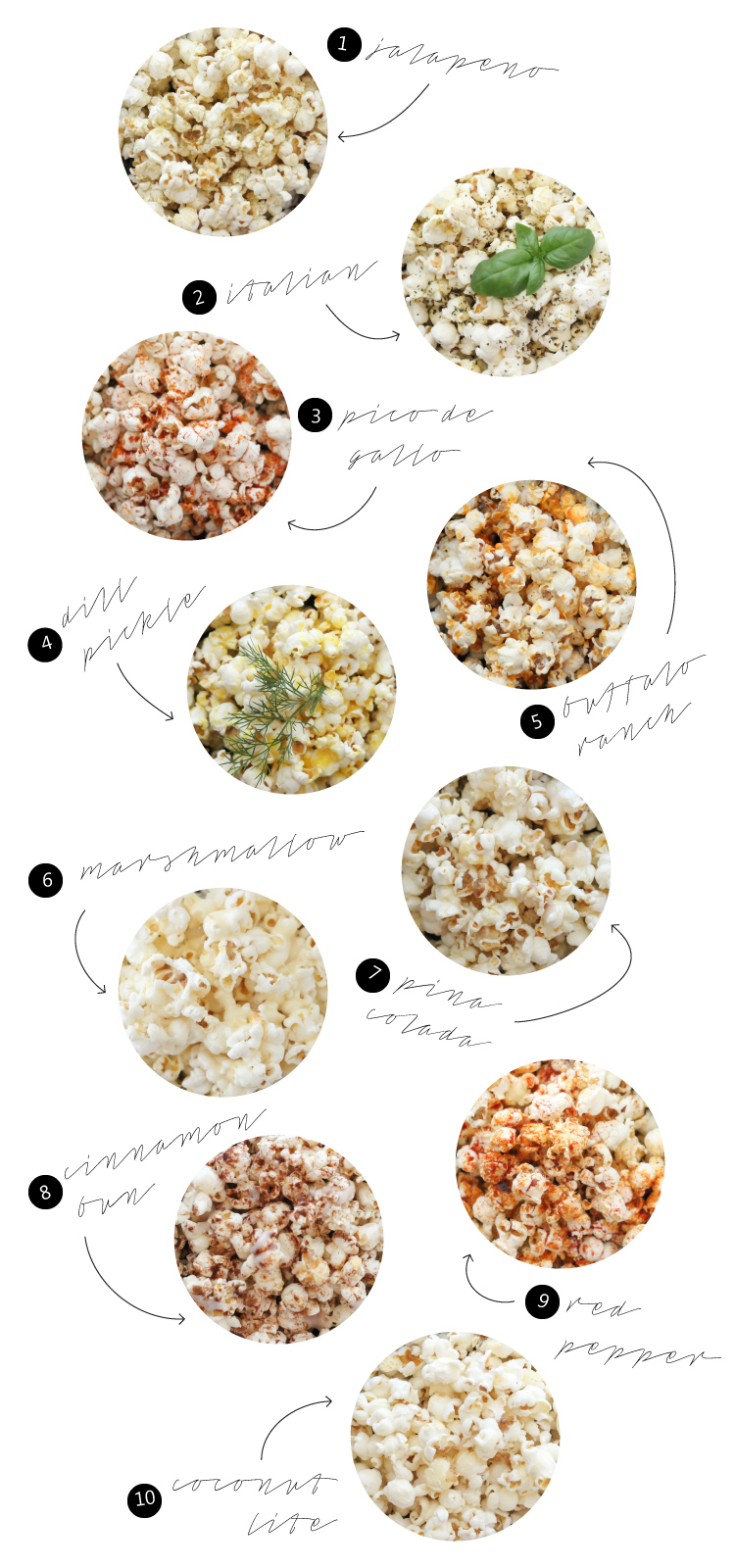 *All of these recipes, start with 5-6 cups of plain popcorn, popped in the popcorn popper.*
1. Jalapeno – Super easy! Just add 2-3 tbsp. melted butter (we use dairy free due to allergies) and this jalapeno salt to taste. *
2. Italian – I swear this tastes like yummy bread sticks. Drizzle hot popcorn with olive oil (about 1-2 tbsp.) and sprinkle with 1 tsp. garlic powder, 1 tsp dried basil, salt to taste.* Bonus: Add dried Parmesan cheese for extra flavor.
3. Pico de Gallo – Also super simple. Add butter and this pico de gallo salt. * (You have to buy it in bulk online, but in store it's around $2-3 for one)
4. Dill Pickle – Drizzle with melted butter or olive oil and sprinkle on some dill pickle canning spice mix to taste. Keep in mind that a little goes a long way! Increase the dill factor by adding some dried dill, if desired. *
5. Buffalo Ranch – My husband's favorite! Melt 2 tbsp. butter in a small sauce pan, add 2 tsp. of Frank's Hot Wing Sauce. Toss with hot popcorn and sprinkle powdered ranch mix on top  to taste. The popcorn may end up a little wet. If you want to add more heat, I suggest adding some cayenne, rather than more hot sauce. It should be served and consumed immediately so it doesn't become soggy.
6. Marshmallow – This recipe is much like making popcorn balls or rice crispy treats, but with a couple of small twists. Melt 3 tbsp. of butter in a medium sauce pan, add 10 oz. of marshmallows and mix until melted and smooth. While the popcorn and the marshmallow mixture is still hot, toss both together and sprinkle with salt to taste. The extra butter helps the marshmallow mixture thin out and coat the popcorn more easily; and the salt creates a sweet and salty element that is hard to resist! *
7. Pina Colada – Melt 2 tbsp. of coconut oil and toss into hot popcorn. Mix 2 tbsp. cream of coconut with 1 tsp. coconut milk. Add 1/2+ cup of powdered sugar to create a smooth, viscous glaze consistency. Drizzle and toss into popcorn and add salt to taste. This popcorn, like number 5, also may end up a little wet. Serve and consume immediately. *
8. Cinnamon Bun – This is my favorite. Toss popcorn with 2 tbsp. melted butter. Toss in 1-2 tsp. cinnamon. Optional: Add 1 tbsp. brown sugar (makes it pretty sweet). Create a simple glaze with 1/2 c. powdered sugar and 1 tbsp. milk (I use coconut milk due to allergies). Drizzle glaze on top. This popcorn is best served and consumed immediately (but does not get as wet as numbers 5 and 7). *
9. Red Pepper – Drizzle hot popcorn with 2 tbsp. olive oil. Sprinkle on cayenne pepper, garlic powder, red pepper flakes, and salt to taste. Remember that a little goes a long way.*
10. Coconut Lite –  Drizzle 2 tbsp. melted coconut oil onto hot popcorn. Sprinkle with 2-3 tsp. sugar and salt to taste. *
* All starred recipes indicate that the recipe is dairy free if you use dairy free butter (We use Earth Balance).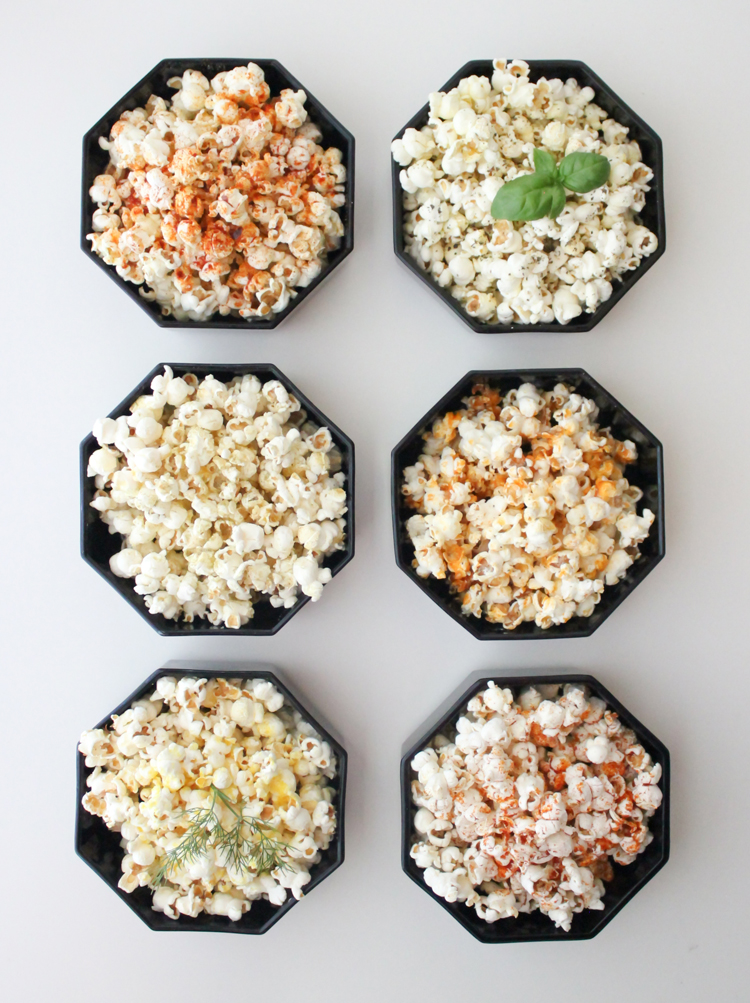 Notes:
– The quality of oils matters in these recipes because they are the basis of the flavor. High quality coconut oils are more flavorful and aromatic. The same goes for olive oil.
– Most of the ingredients I link to, take you to a page that sells each item by bulk. In store they are much more affordable!
As you can see, popcorn is full of possibilities and is SO fun to experiment with!
We have plans to try Jello popcorn (sprinkle with melted butter and jello packet granules), and maybe a honey popcorn. Yum.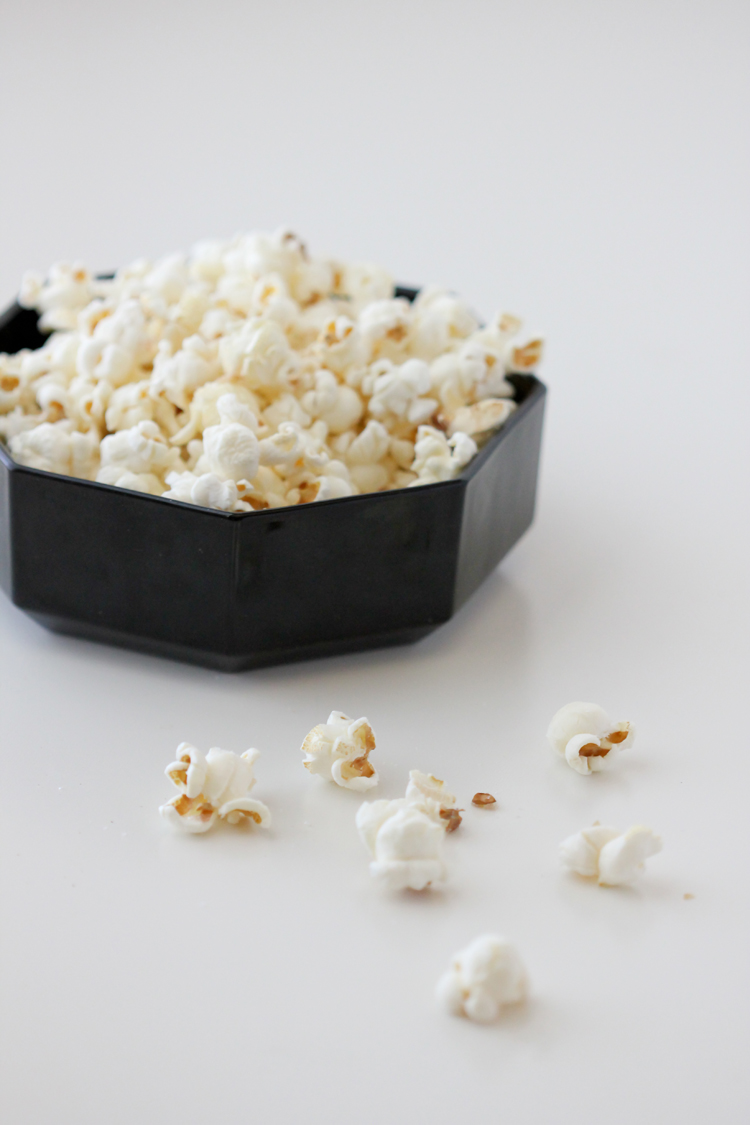 Enjoy!