I had never really considered buying or sewing a maxi anything for Nat before because she has always been too little and maxi skirts seem so "older kid" to me.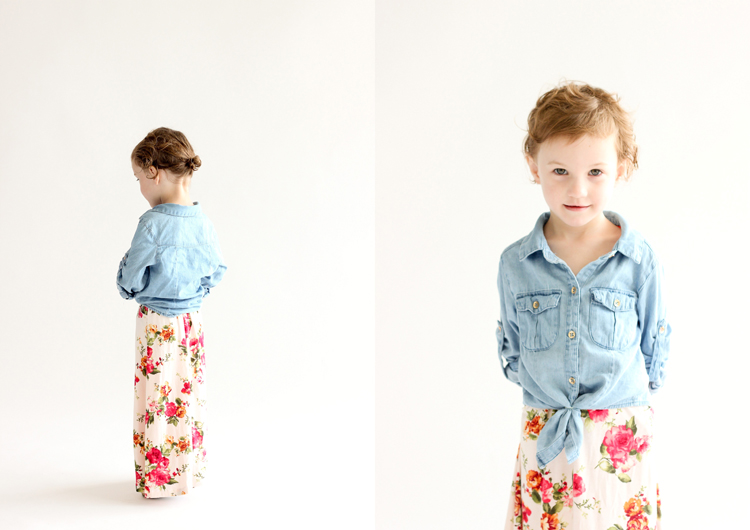 When I was browsing Call Ajaire's new Paneled Sunsuit Pattern and deciding what to sew for her tour, I decided to finally give it go. Nat is not so little anymore after all (sniff).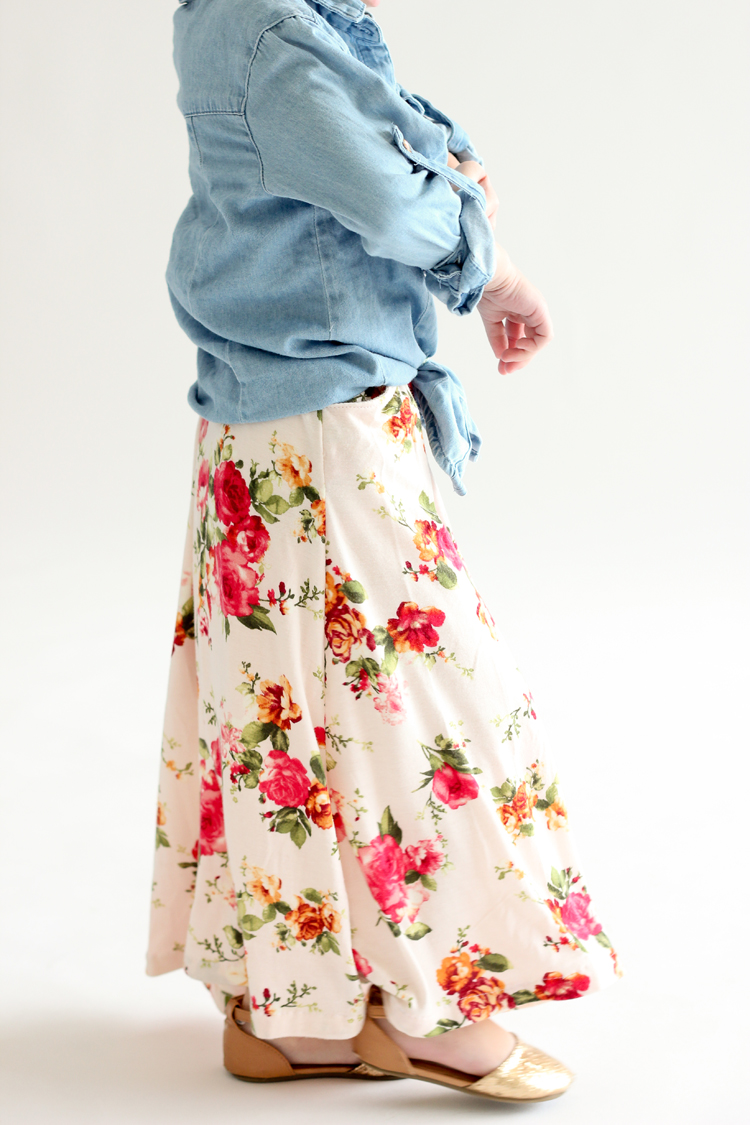 I'm glad I did, because it's adorable! …and it's great for Fall and beyond.
It's especially cute in this floral knit from Girl Charlee. I got it a while ago, so I don't see it in the shop anymore, but THIS knit is close.
Natalie loves it's swishability. 🙂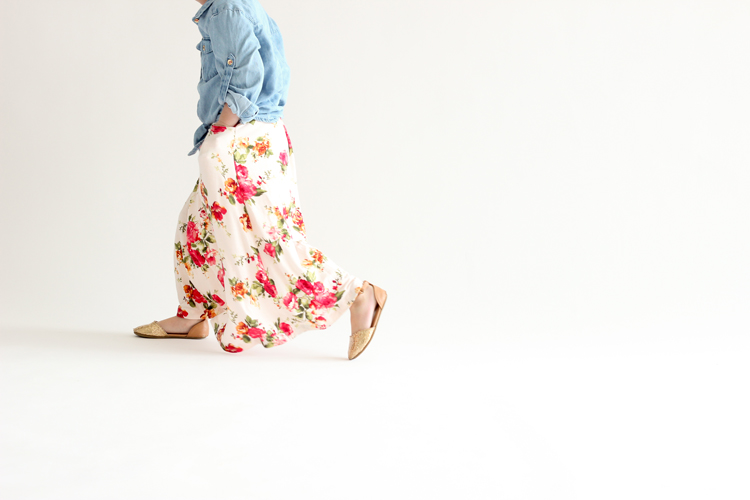 …And the pockets! Her hands always found their way to the pockets, even when the gummy bears, that I stashed in there, ran out. 😉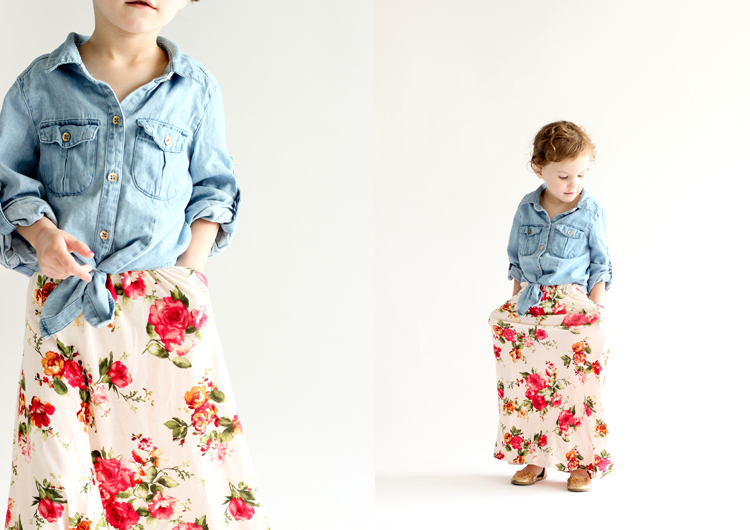 I'm the same way. I love me a skirt or dress with some pockets.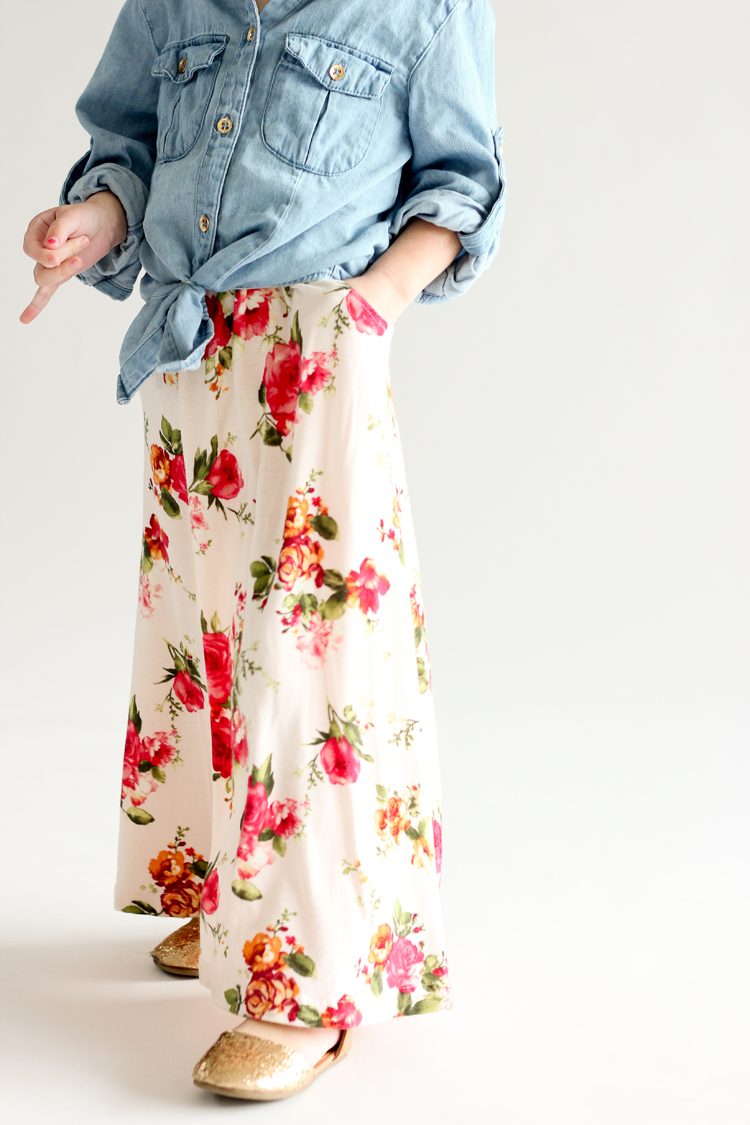 If you can believe it, this is only one of the TEN views in the Paneled Sunsuit pattern. There's a tank top, pant romper, shorts romper, short skirt, maxi skirt, maxi dress, short dress…you get the idea. AND…if you want to add sleeves there's a free complementary download for that! AND… it's for sizes NB to 12 girls.
Phew!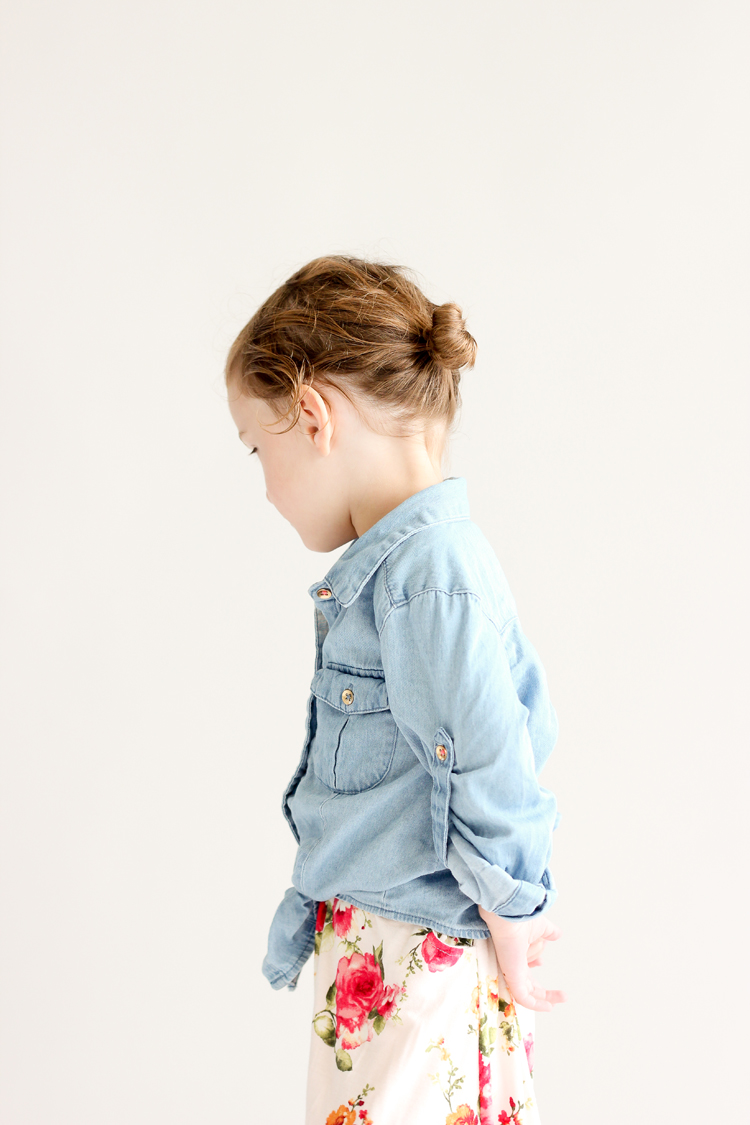 It's a great staple pattern to add to your collection. This maxi skirt was designed with just the right amount of flair and length. It drapes beautifully and is long enough to fit Nat for the year. I don't know if you can tell, but she is actually wearing it rolled up once at the waistband, so there's definitely room to grow. Even then, I wouldn't be opposed to her wearing it as a midi skirt either. ha!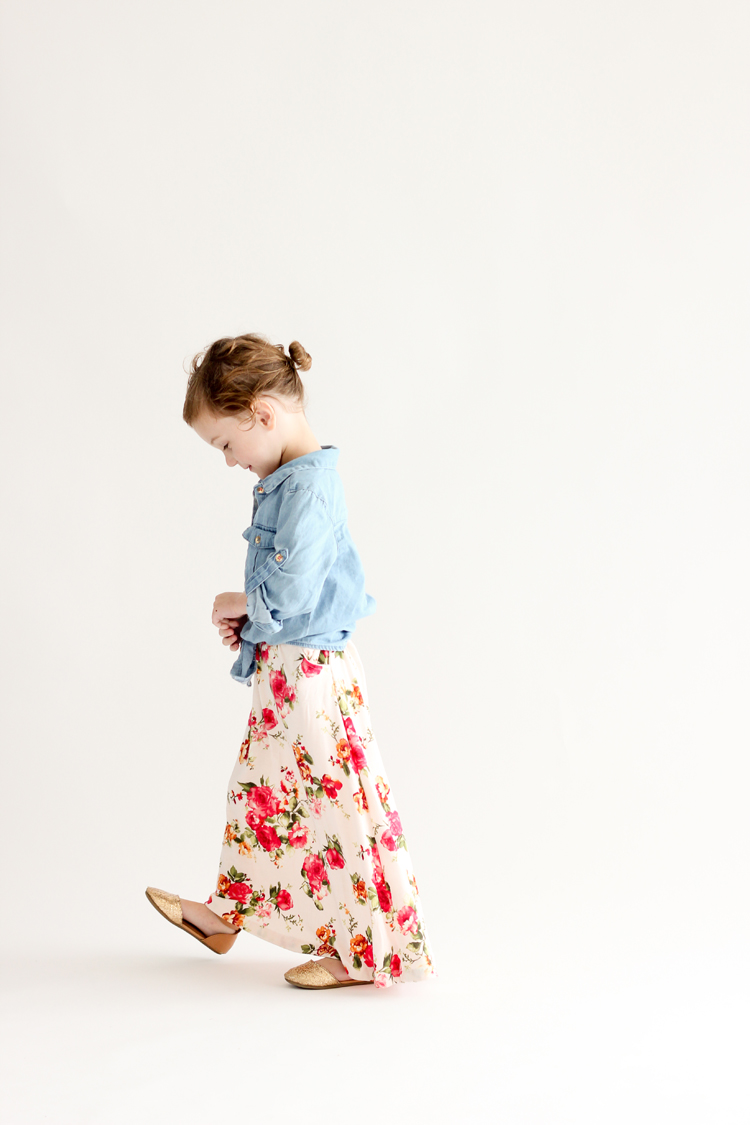 Tip: Because there are SO many views, the pattern layout graphic, toward the beginning of the pattern file, is your friend. It helps you see which pages to print, which can feel like a bit of a puzzle. While in print preview mode, filter through which of the large gray pattern numbers match with which actual page numbers, and you're gold!
For links for where to buy, pattern deets, and for the free sleeve download, check out Call Ajaire's shop page. 
She is generously offering 15% off of her pattern during the tour! So, be sure to take advantage of that.
Or you can win one of four copies Ajaire is giving away:
If you want to see more Paneled Sunsuit inspiration, check out how the rest of the tour has been shaping up:
Tuesday August 25th: Skirt Fixation | Gracious Threads | Kimmie Sew Crazy | Shaffer Sisters
Wednesday August 26th: Kid Approved | Pinkel | Falafel and the Bee | Once Upon a Sewing Machine
Thursday August 27th: Buzzmills | Pattern Revolution | Sprouting JubeJube | Mandmade Martini
Friday August 28th: That's Sew Kari | Lulu & Celeste | Paisley Roots | Modern Handmade
Monday August 31st: Sew Cool for the Tween Scene | Kadiddlehopper | Imagine Gnats | Nap Time Creations
Tuesday September 1st: My Sweet Sunshine | Straight Stitch Designs | Handmade Boy | That's What She Crafted
Wednesday September 2nd: Climbing the Willow | Rebel & Malice | GYCT Designs | Two-Many
Thursday September 3rd: The Crazy Tailor | sewVery | Just Add Fabric | Delia Creates
Friday September 4th: A Jennuine Life | Conversas de Hermanas | Made by Sara | Not Sew Fast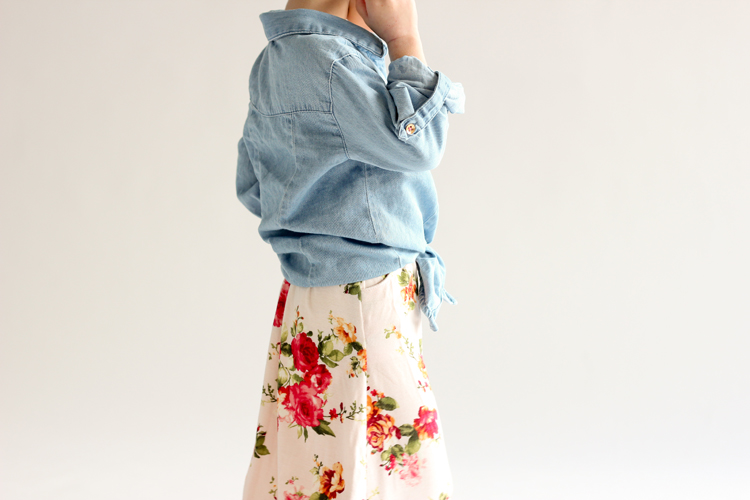 SOURCES: floral knit fabric c/o Girl Charlee, Paneled Sunsuit pattern c/o Call Ajaire, gold shoes – Old Navy, denim shirt – Target.  
Disclaimer: Pattern was provided to me for this tour. All opinions and content are sincerely my own. 🙂