Today's post combines two unlikely craft supplies into a useful, practical, cute, stylish little basket!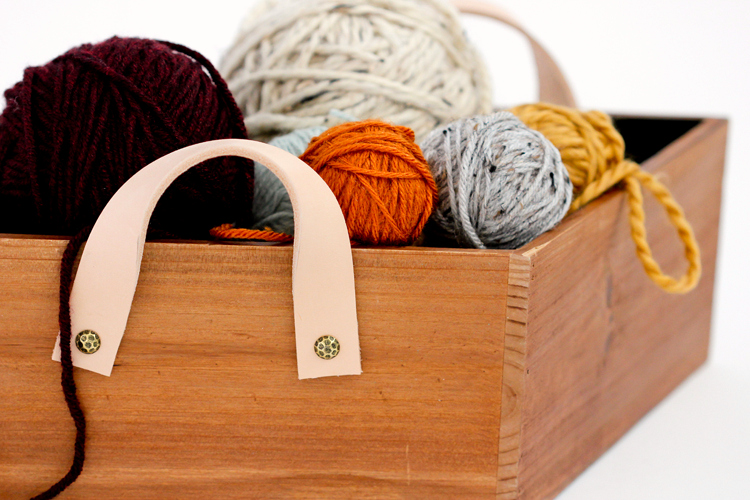 Okay…maybe not "stylish"… that's like what your mom used to say when she'd hold up something your 13 year old self would never ever want to wear while you finger gag yourself, and she'd say, "but it's so stylish!" (so sorry Mom!)
So, maybe more like…on fleek or snatched…is that what kids are saying these days? Ha! Now, I'm the dorky mom. 😉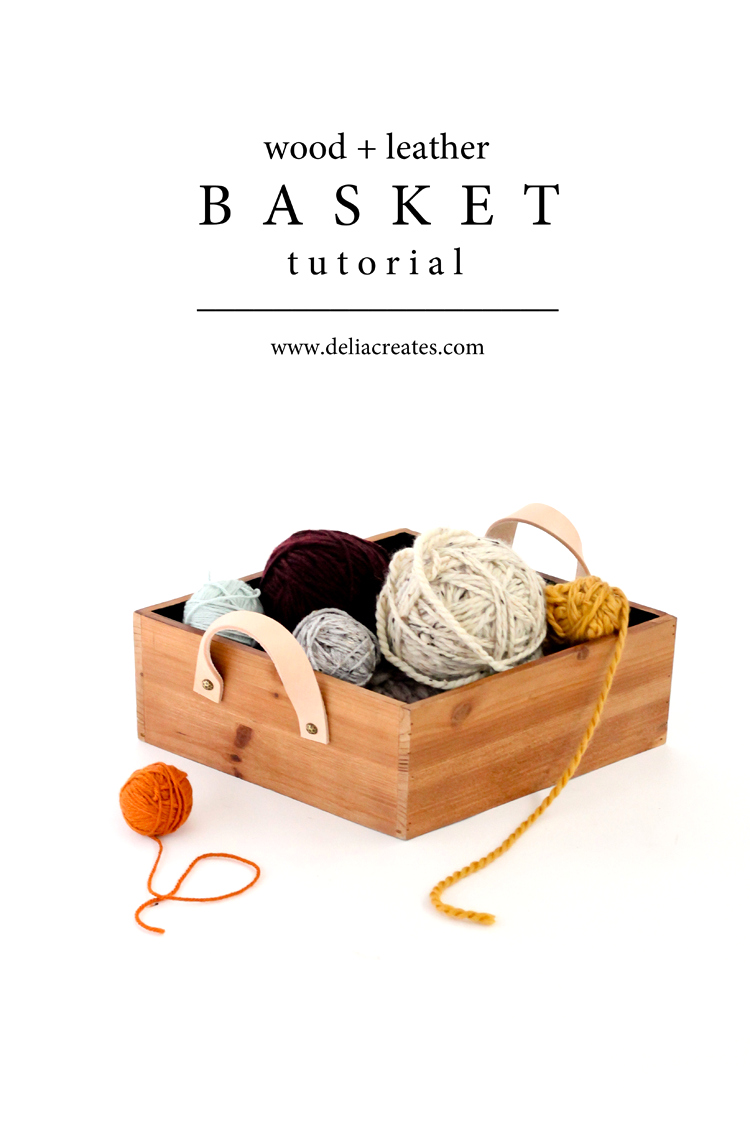 Well, whatever you want to call it, it's basically da bomb and it's a breeze to put together.
Cool beans? …Oh snap, I'm showing my age aren't I?
Well, what-ever, here's the 411… 😉
MATERIALS
Wooden box*
Vegetable tan leather strips**
Upholstery tacks
Hammer, pencil, ruler
Paint (optional, I used Americana Decor Deco Art Maxx Gloss paint)
Rotary cutter, self healing mat, quilter's ruler (optional)
*  You can use any wooden box but my box is actually a shelf! I snatched up this geometric rhombus shelf from Michael's new Cre8te line. 
** I used the vegetable tan leather belt kit sold on the leather aisle at Michaels.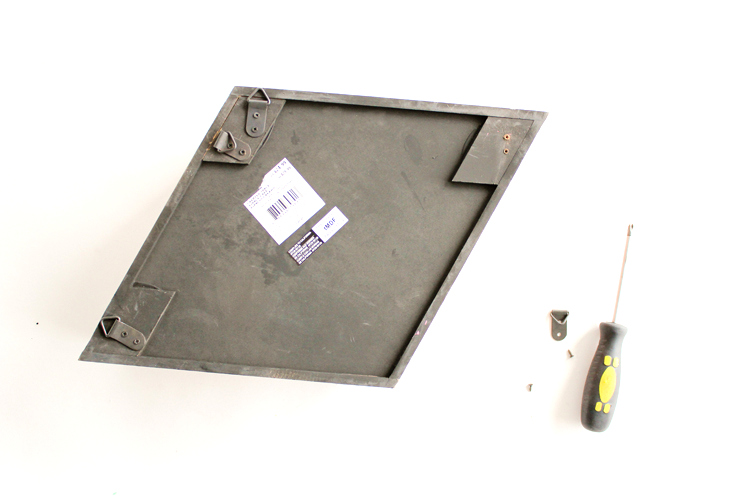 STEP ONE: Prep and paint box.
As I mentioned above, my box is actually a shelf. So, I had to remove the hardware from the back of the shelf so that it would sit level. I also painted the inside black to better match the decor in my house.
STEP TWO: Prepare leather straps.
Cut your leather straps to your desired length and width. I cut each of my straps into to 1 inch x 10 inches strips. You can use heavy duty scissors, but I find it's easiest to use a rotary cutter, self healing mat, and quilter's ruler if you have those supplies on hand. You may have to make several passes with your rotary cutter to cut through the leather, as it is quite thick.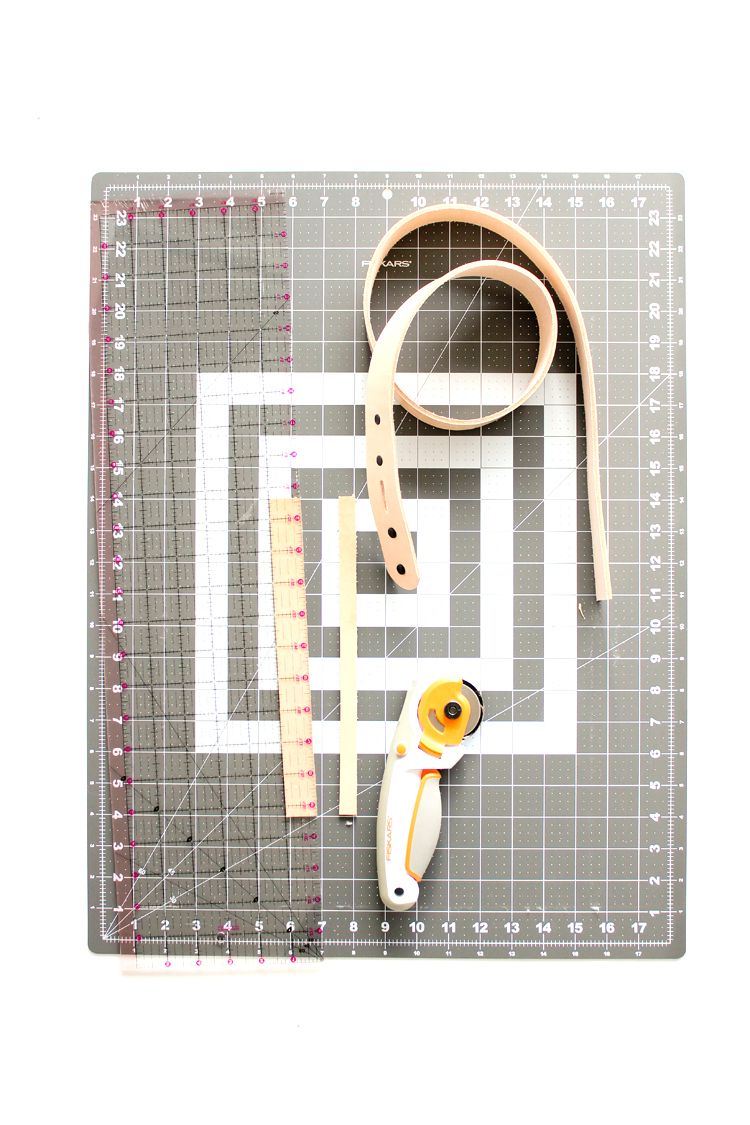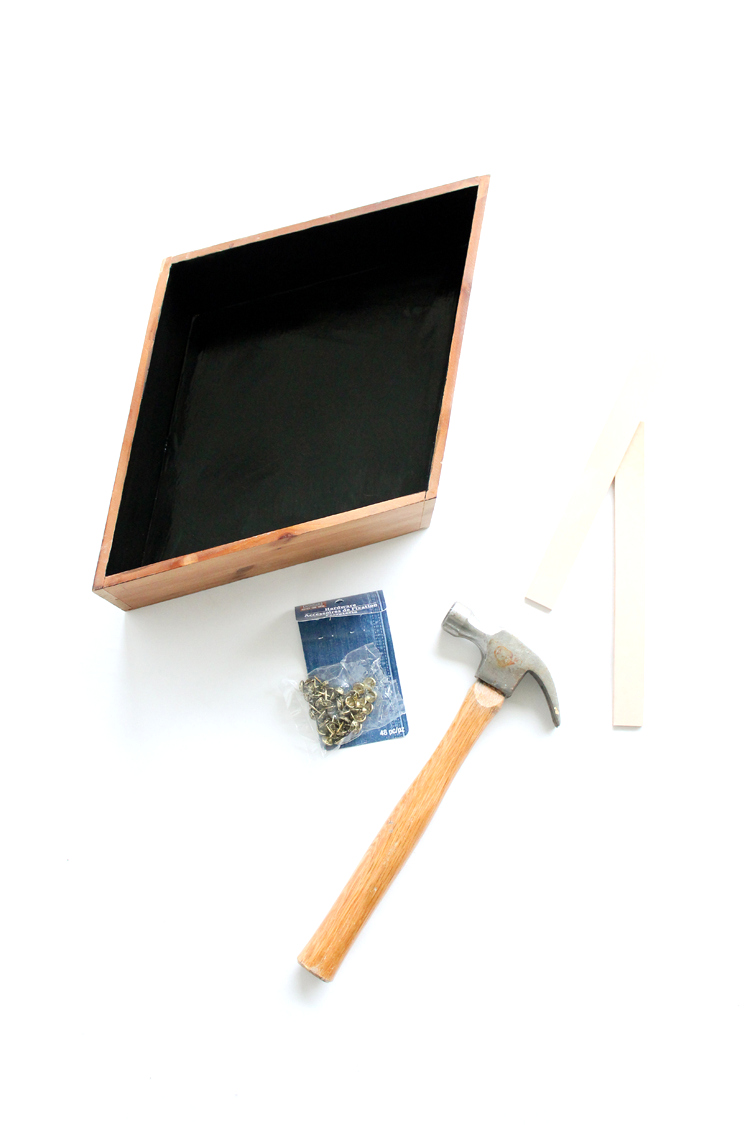 STEP THREE: Attach straps.
Pre-measure where you would like the straps to go and mark placement with a pencil. I spaced mine about 4 inches apart, from tack to tack.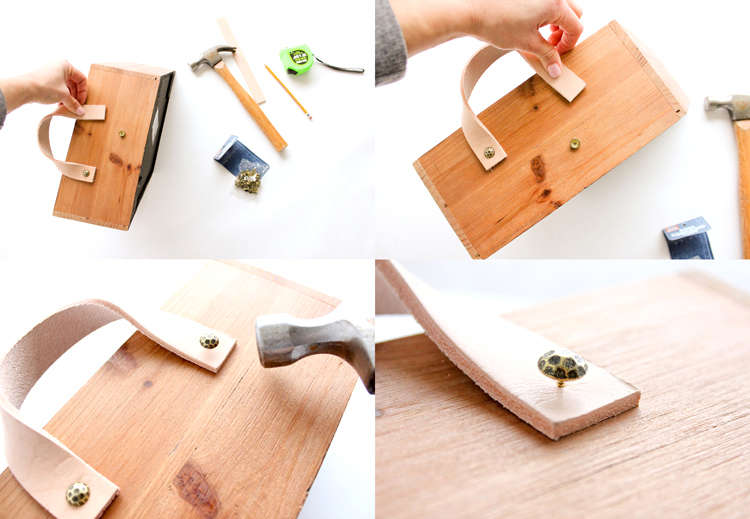 Placing one end of one of the straps against the side of the basket, hammer in an upholstery tack through the leather and into the wood box. Hammer gently at first as the tack will bend if you go at it too aggressively. It takes a while, but keep hammering until it pierces through the leather, and then you can hammer harder. You may pre-punch a small hole in the leather first if desired.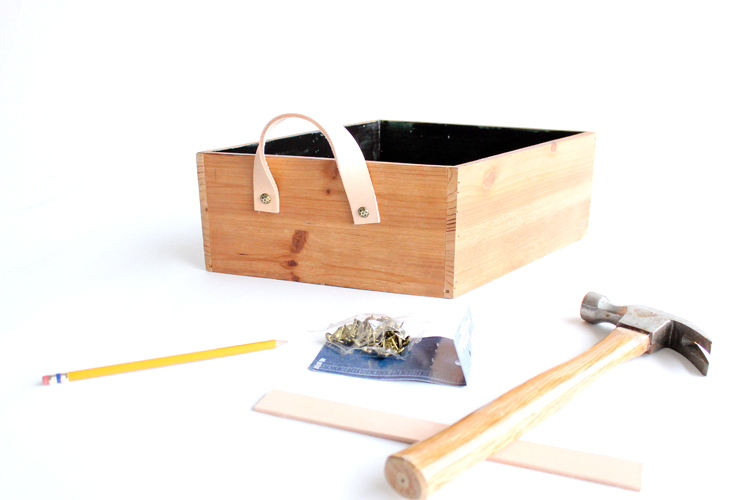 The tack may pop through the other side a little bit. Simply, turn the basket over and hammer from the other side to bend the end into the basket. Be sure that the tack head is supported by your work surface so that the tack gets pressure from both sides and gets sort of stapled in. Repeat with the other side of the handle and the remaining strap.
Touch up paint as needed.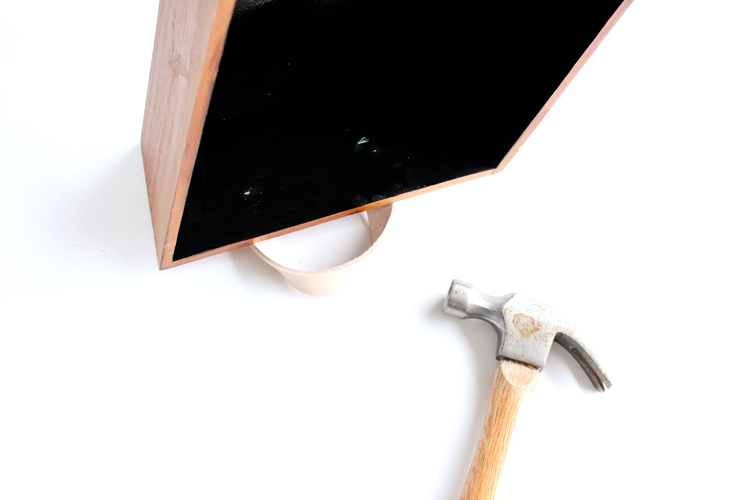 That's it!
Now, your basket is ready to party…
Fill it with goodies, or supplies…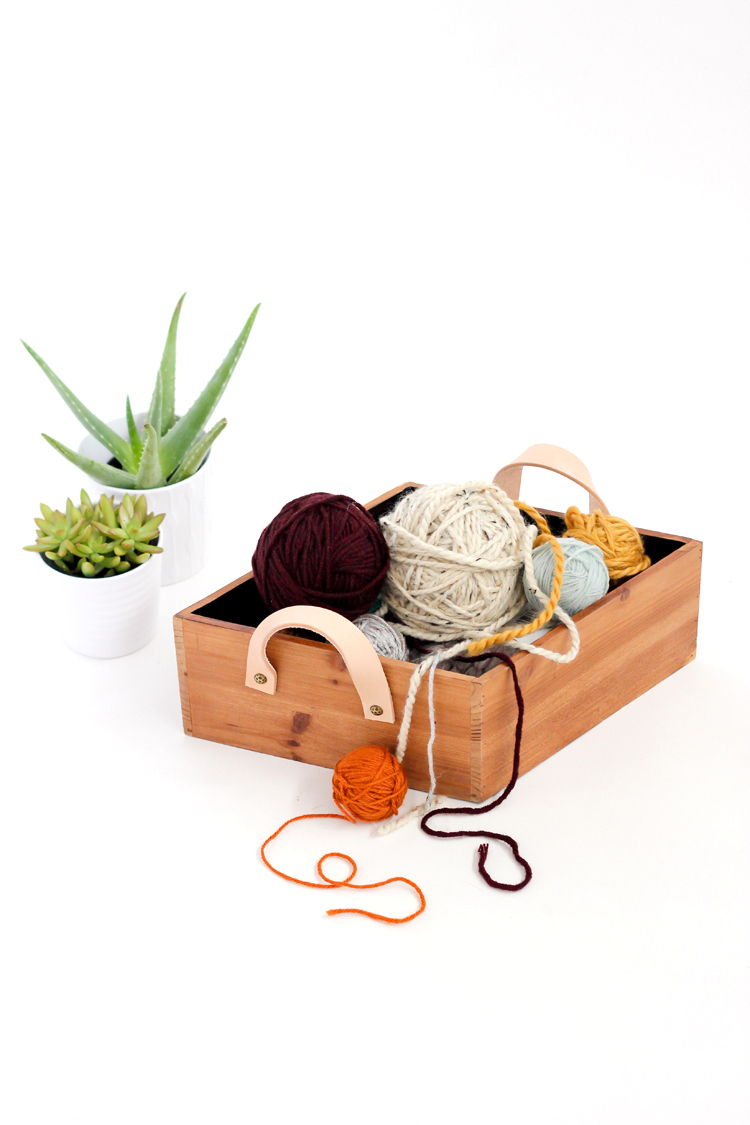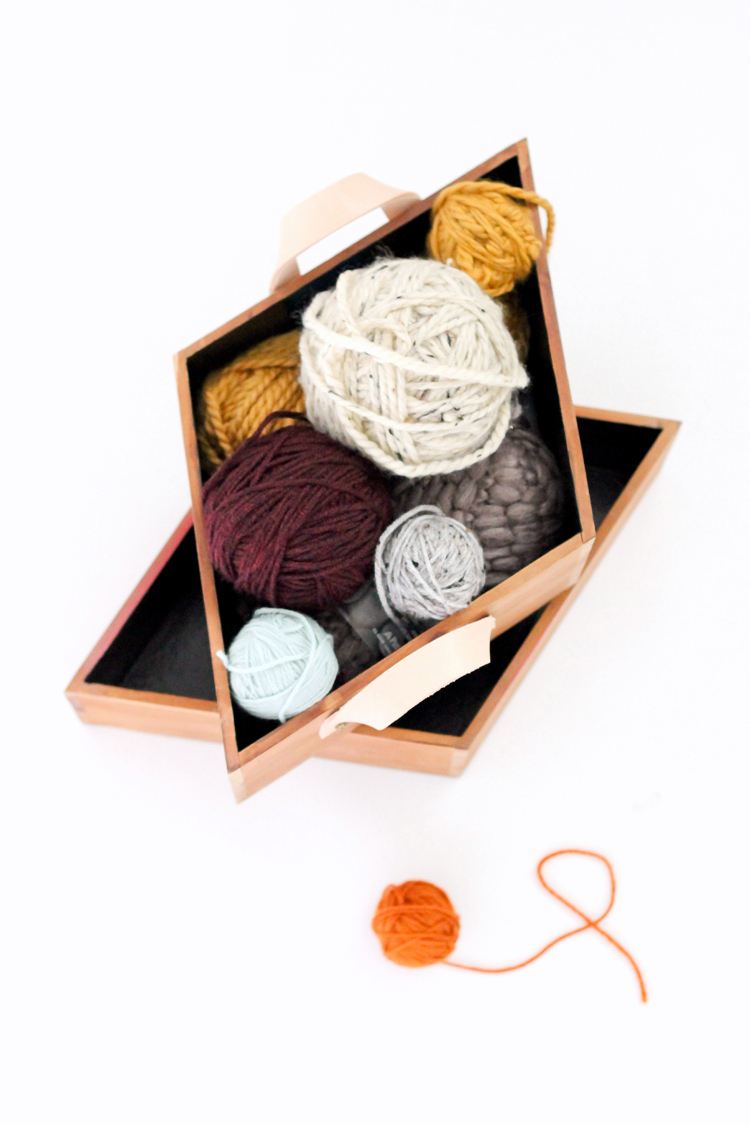 Or whatever needs some basket love.
My second basket is still waiting for handles. I'm kind of thinking I might do a handle over top instead…or maybe something entirely different. Planter…fruit bowl…so many fun possibilities! These shelves are so handy. I love them so much I actually got a few more to play around with and maybe some to actually put on the wall! 😉 Ha! Go figure.
Inspired to get crafty? Michaels is all about putting your own spin on a project. Whether it's re-imagining craft supplies or personalizing their new their new Alphabet Soup by Make Market™ line of products.
They have a whole collection of of surfaces, letters, frames that come in modern, eclectic or rustic styles. From natural and finished woods, to a variety of metals, resin and patterned styles, the possibilities are endless!
If you don't know where to begin, you can always take a look at some of the fun projects on Michaels.com

 

or the other 49 Makers' ideas on The Glue String for to see how they personalized their crafts!
Disclaimer: This post is sponsored by Michaels. All materials are from Michaels. All opinions and content are my own. Thank you for supporting brands who support this blog!