One of my favorite things about crochet, is that you can make projects as complicated, or as quick and easy as you want! This chunky crochet infinity scarf definitely falls into that latter category.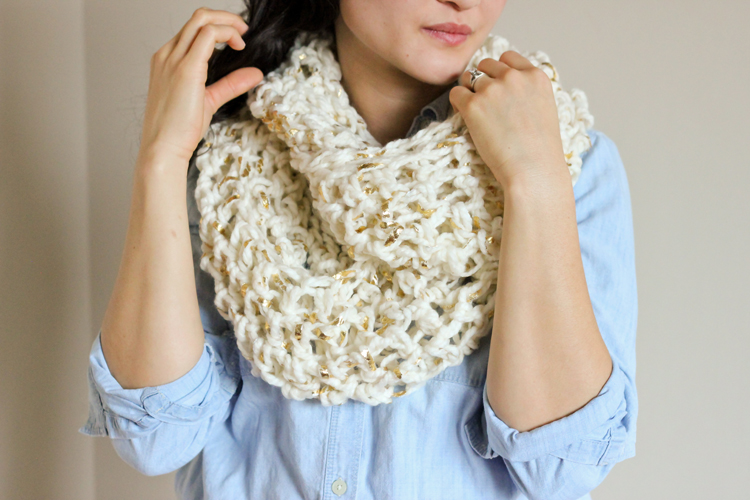 It's the perfect, quick and easy project to kick off Scarf Week.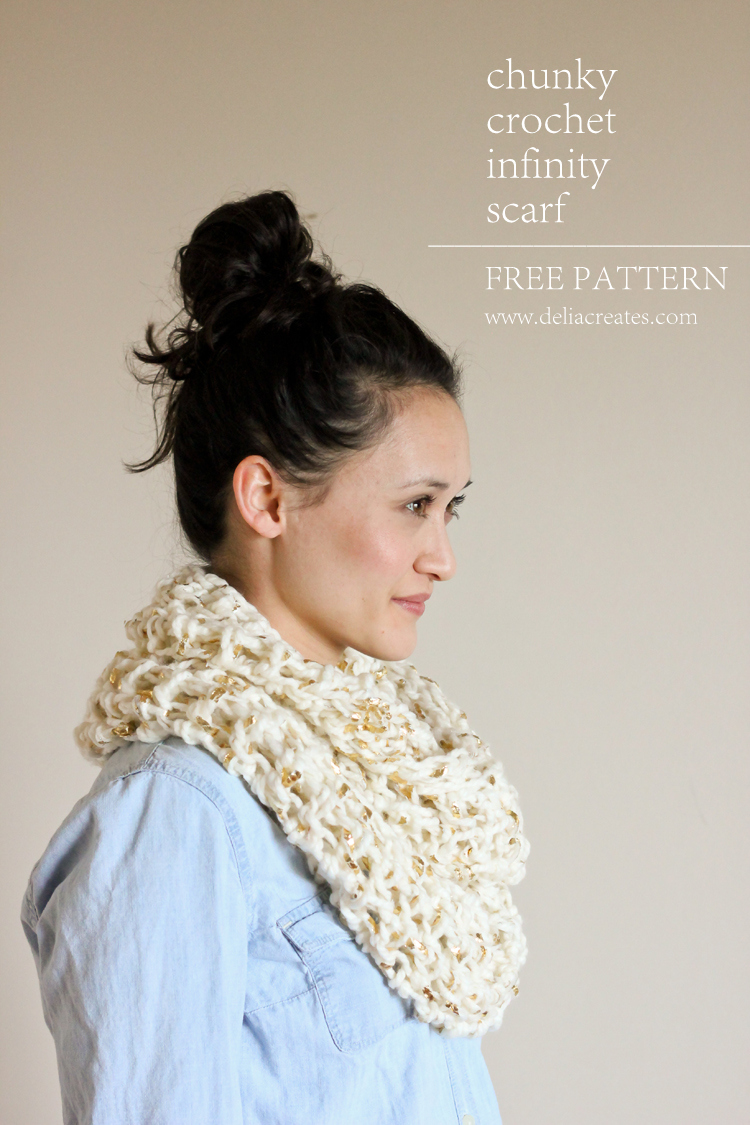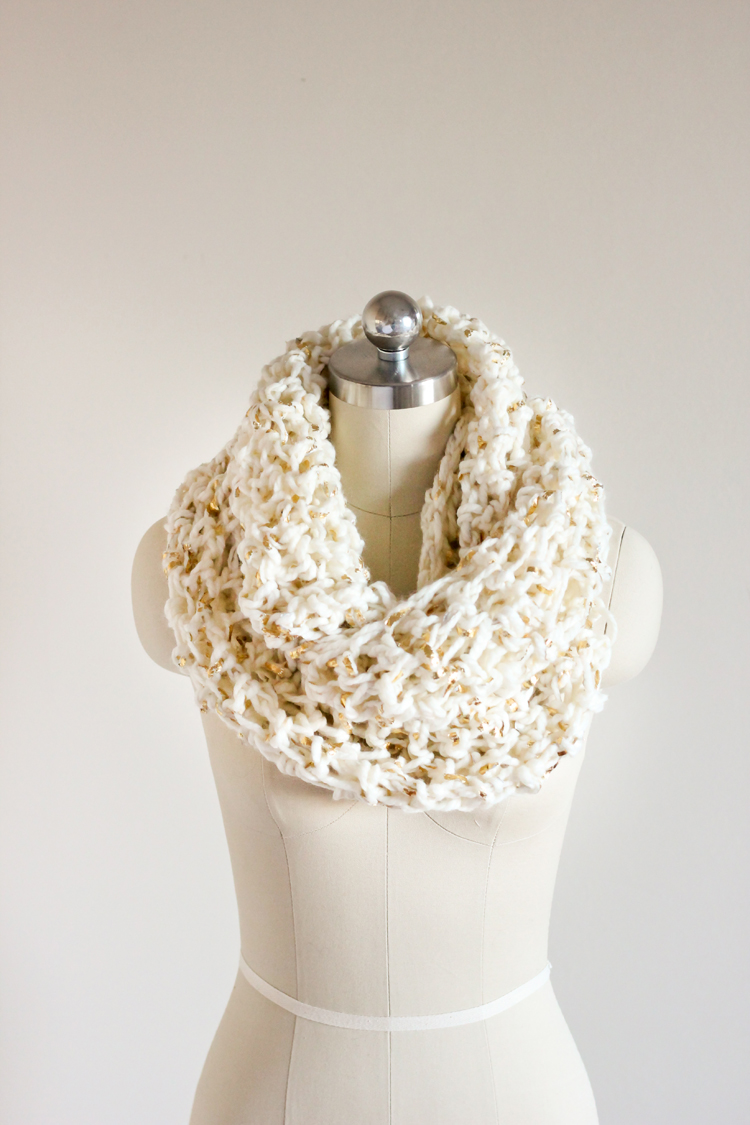 This scarf pattern works with any bulky weight (size 6) yarn, but I really designed it for this super cool gold leaf yarn from Lion Brand. Isn't it amazing?
I didn't want the flecks of gold to get lost into a tightly woven project, so I kept things loose and open to really let it shine.
GOOD NEWS! I know that not all craft stores carry this yarn, so I teamed up with Lion Brand to make it into an easy order kit! You get a little discount and comes with all the yarn you need plus the pattern in one tidy bundle. Click HERE to view the bundle and buy. :)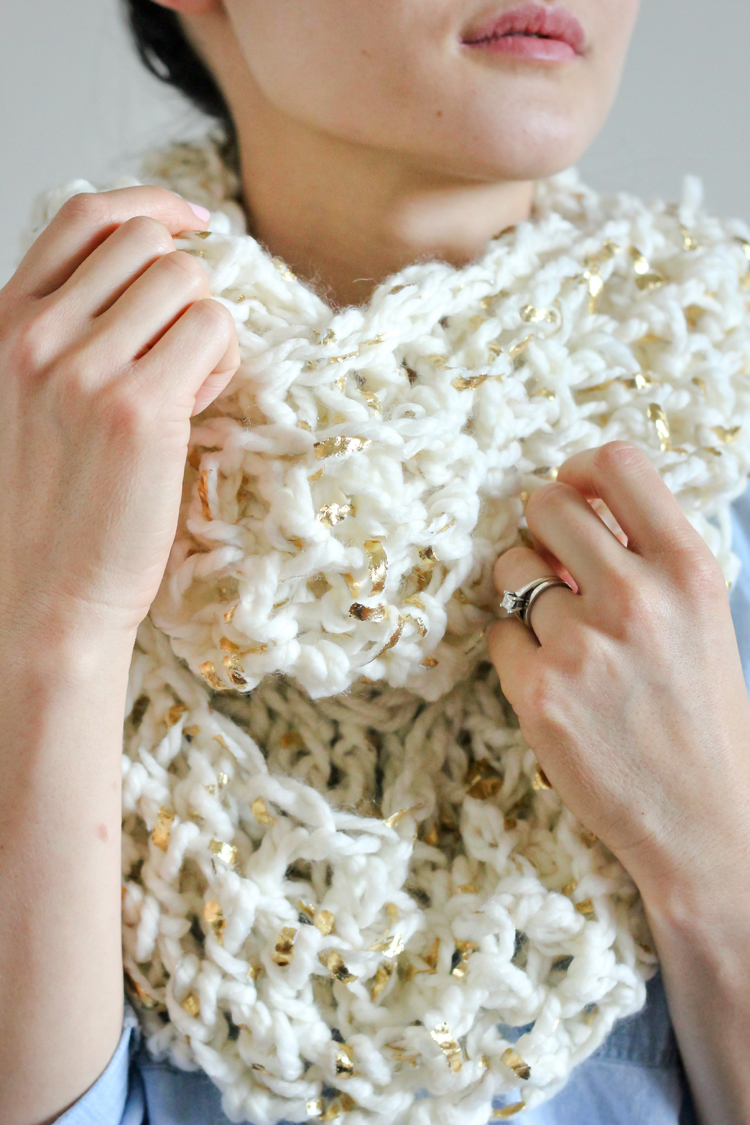 It's a really fun yarn, and the flecks aren't scratchy or uncomfortable to wear at all. They can peel off if you pick at them or tug on them too hard, but they otherwise hold up pretty well.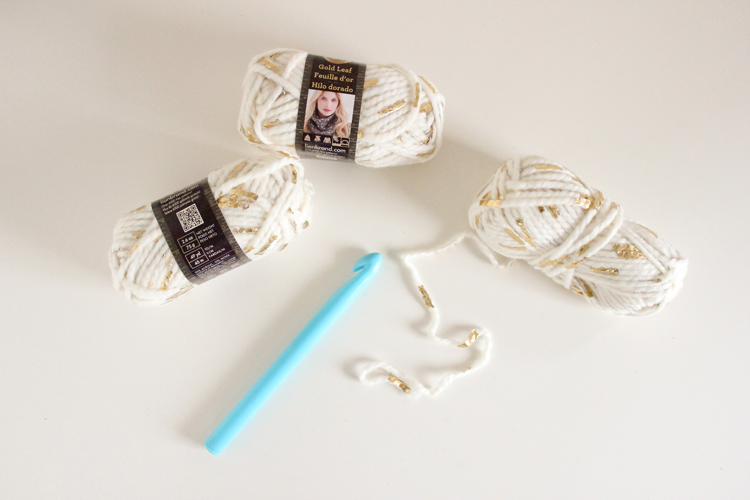 What makes this scarf so fast, and so chunky is, the bulky yarn and this oversized Wrights Plastic Crochet Hook, 15.75mm
 (affliate link).
It's a great project for beginners and a quick, 1-2 hour project for more experienced crocheters.
MATERIALS
3 skeins of Gold Leaf, Super Bulky Yarn OR 150 yards any kind of bulky weight yarn (size 6) 
Wrights Plastic Crochet Hook, 15.75mm
Yarn needle  
GAUGE
4 x 4 inch square = 4 stitches x 3 rows  Gauge is not really that important for this pattern though. Use this as a guideline, and just keep things loose.  
ABBREVIATIONS
ch = chain dc = double crochet  
NOTES 
You will notice that I chain two before double crocheting, instead of the traditional three. This is personal preference. I think, as long as you keep those two chains loose, the third chain is unnecessary and the resulting seams are cleaner. If you feel more comfortable with the traditional method, simply chain 3 instead of 2 at the beginning of each row.   
PATTERN
Foundation Row: Ch 65, slip stitch end to first chain, creating a loop. Be careful to not twist chain. You will now be crocheting in looped rows. Row 1: Ch 2 , dc in each stitch across, sl st into top of ch 2 from beginning of row. (65) Rows 2 – 8: Repeat Row 1 When you run out of yarn, tie the end of the finished skein to the next skein. Be sure to leave 6″ long tails and tie them with a
square knot
, so they don't come apart later. Optional: Crochet the tails into your work as you go, so that you don't have to weave those ends in later.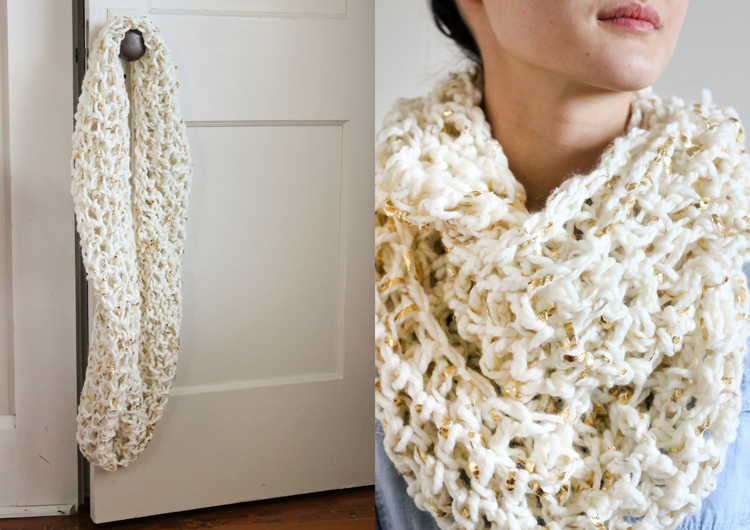 You're done!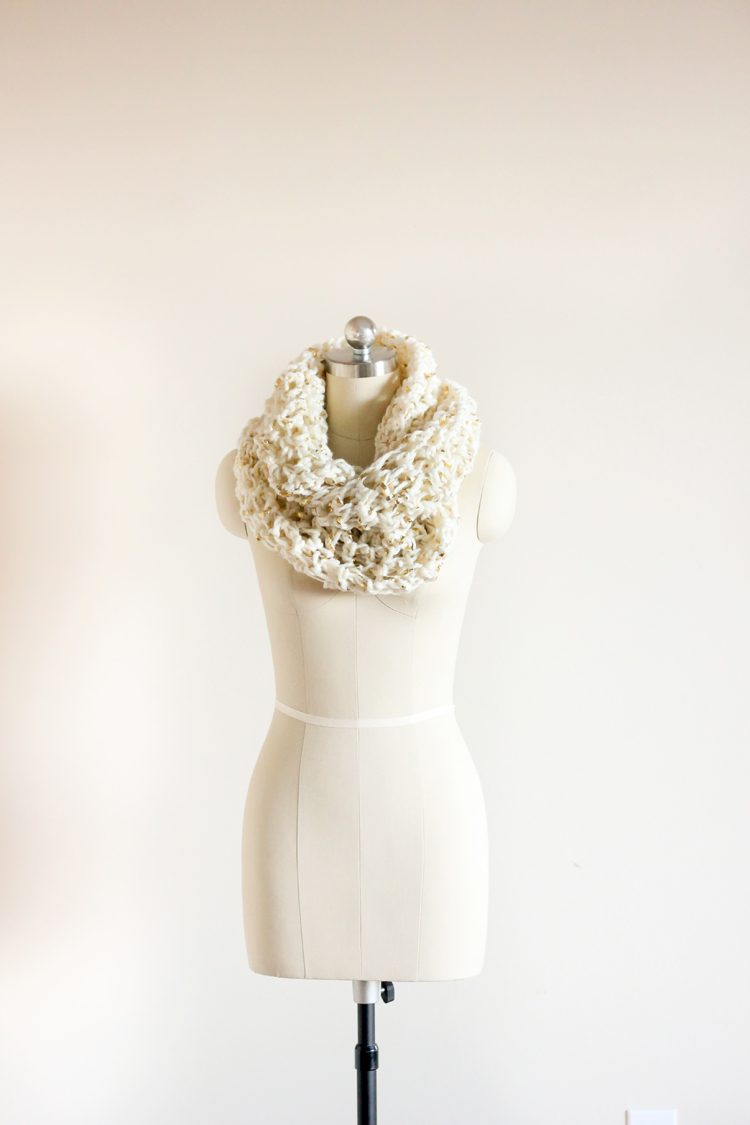 Bada bing, bada boom. Easy! Right?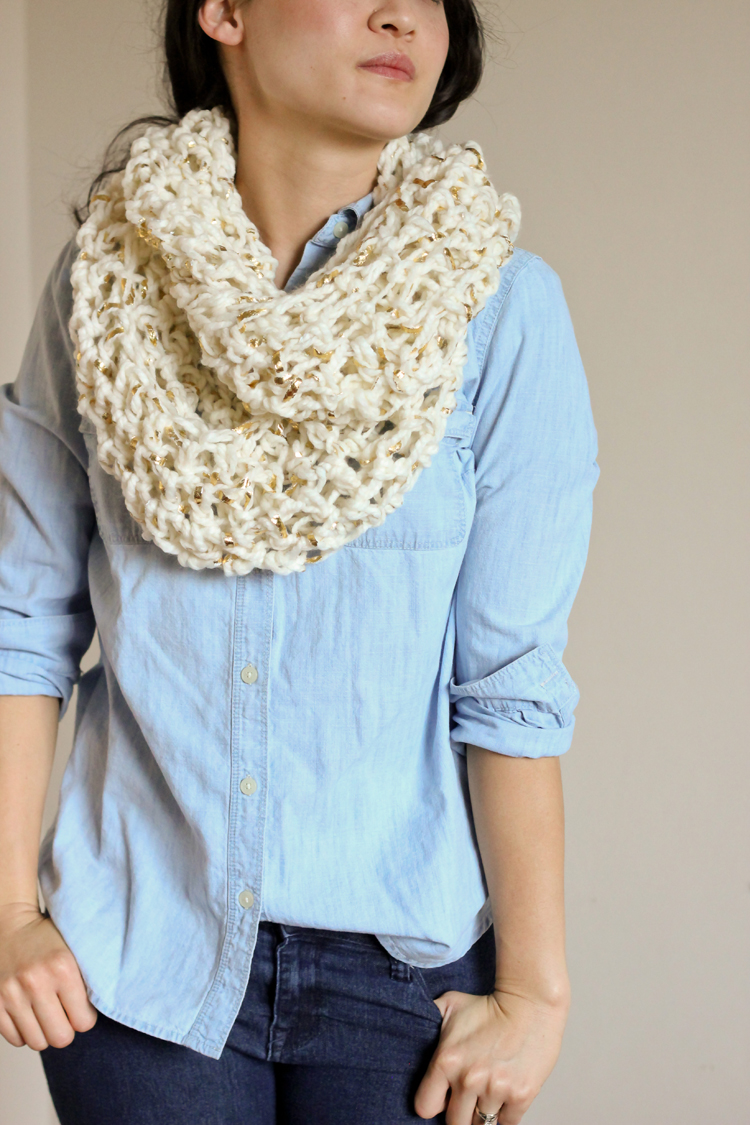 Loop it up and get cozy…
Or gift one to a friend. They are so fast and fun to make, you can whip them up as handmade gifts lickety split.
This pattern is pretty brief. If you are new to crochet and need some more tutorials and instructions, my basic double crochet infinity scarf is helpful and links to other great beginner tutorials. My mesh scarf is also a good one to reference as it is crocheted in the same looped row method.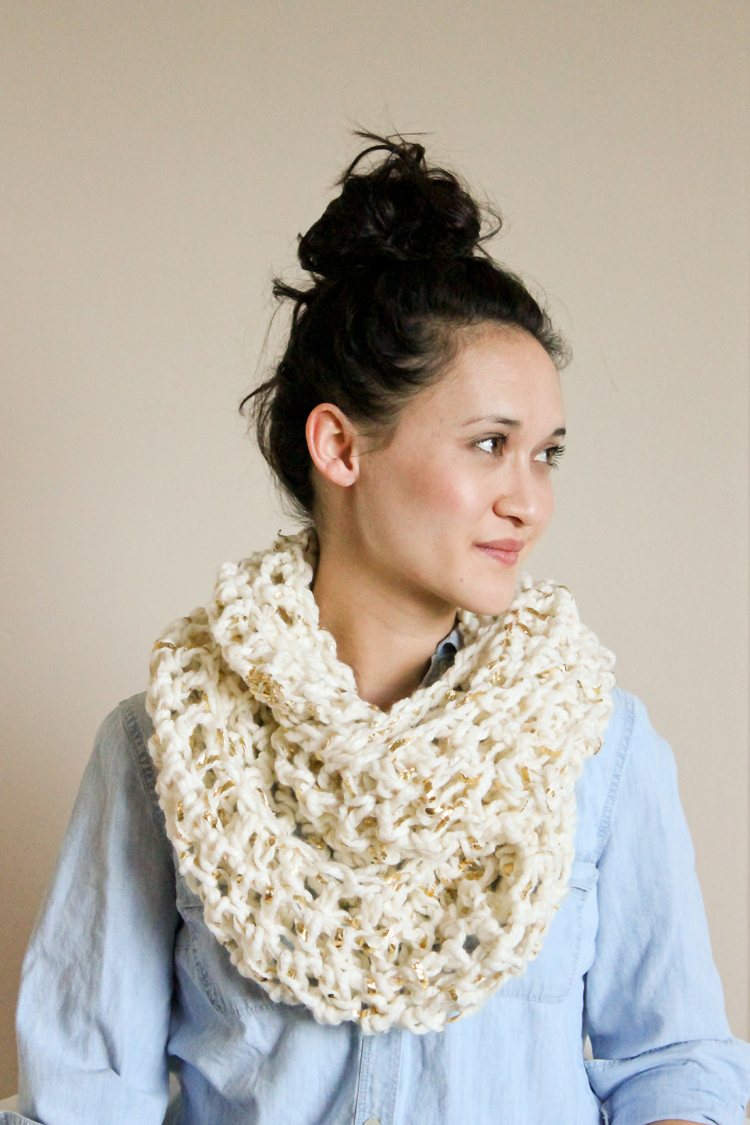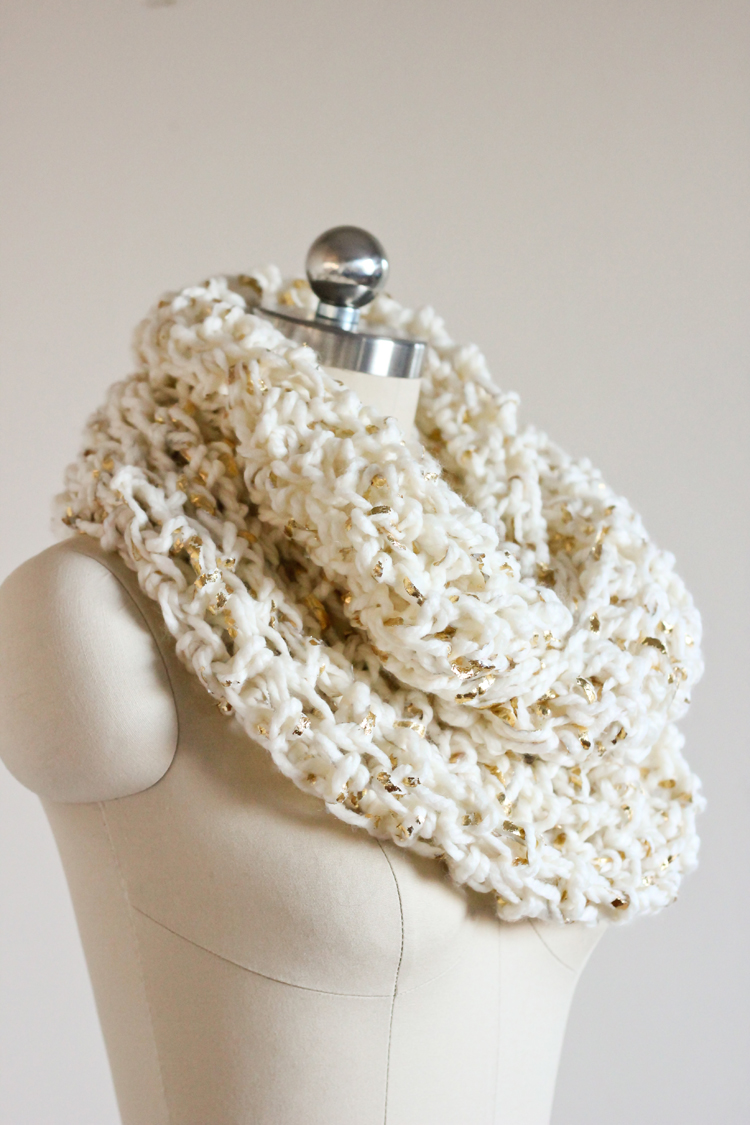 Happy hooking! ;)
Oh and remember, if you want to buy this as a kit (or gift it as one!) you can buy all the supplies to make this scarf HERE.