Please tell me I'm not the only parent who cringes at all the candy and cheap toys kids come home with after they've hit up their friend's birthday piñata? Plus, with the rise of food allergies, a once innocuous game, is now unsafe for some kids (including my own allergy kid).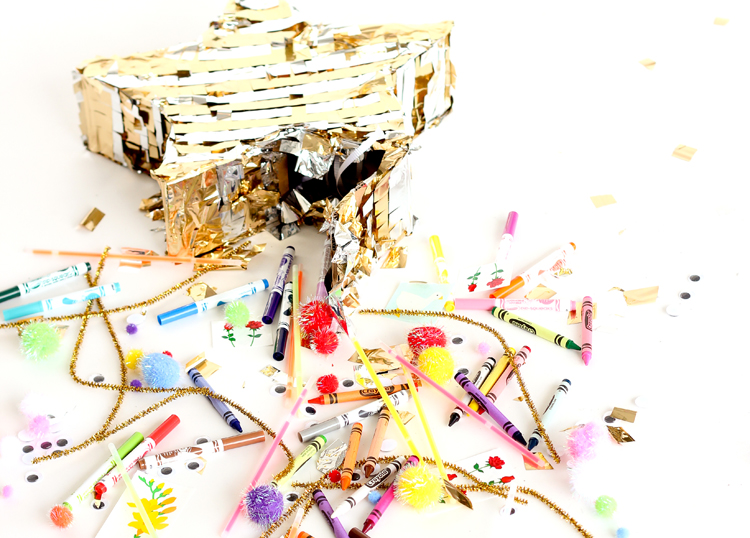 I'm all for indulging the kids with sweets at a party, but I often think, the piñata candy is unnecessary overkill…why not fill it with other stuff?
What stuff you say?
I've brainstormed 15 ideas to answer just that: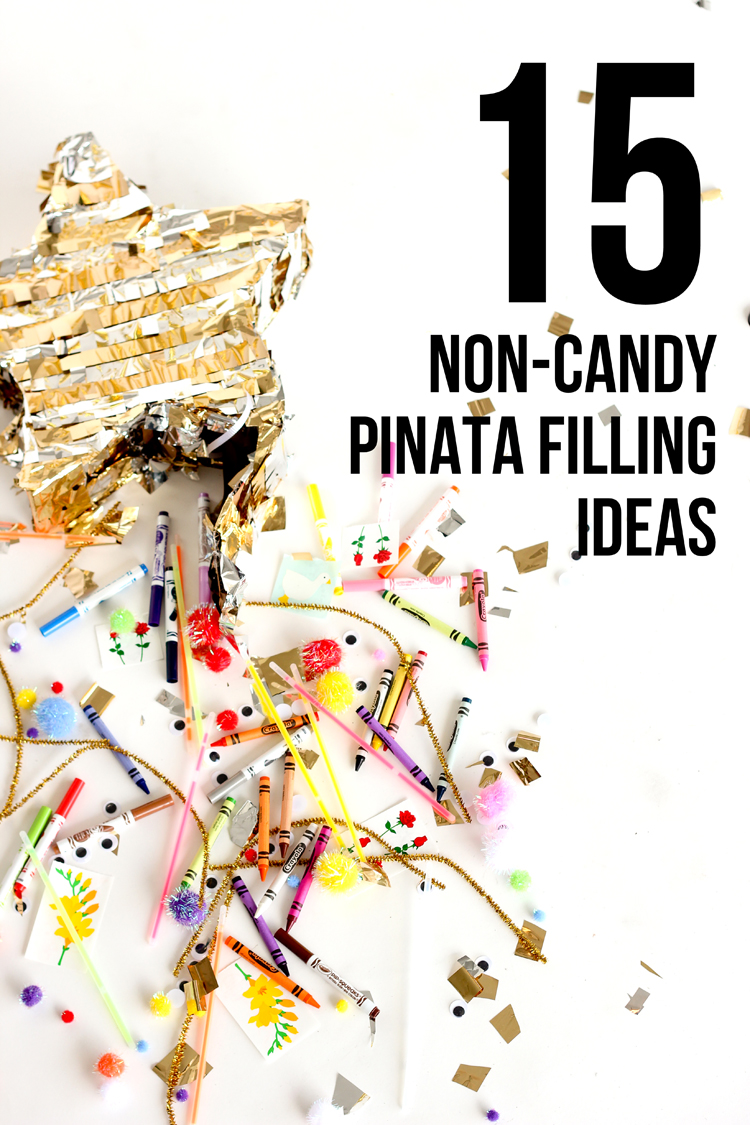 Legos – Fill it with a set or get a big pack of generic Legos to add to their own collections. You can also turn it into an activity. Have the kids design something from the Legos they collect. I feel a Lego Movie, master builder moment coming on with this one. 😉
Crayons and markers – Who doesn't need more crayons and markers? Maybe have coloring sheets ready for some post piñata coloring.
Pipe cleaners, popsicle sticks, craft feathers, googly eyes, pom balls – With all these items you've got a craft project in the making.
Straws – A fun, unique option for older kids… Inspire them to be engineers and make structures from all the bendy straws they can collect from the piñata. Tallest or strongest structure wins a prize.
Glow sticks – A fun idea for a glow in the dark, nighttime party. Use the glow sticks for games, or to wear during the party. Quick Tip: Be careful not to leave them in the sun for too long. The longer they are exposed to light before you crack them, the less they glow when you activate them. 
Temporary tattoos
Beads – Larger beads like pony beads or wooden beads are great for this. Add in some cording and then let them make friendship bracelets from their finds.
Deflated balloons or water balloons – What kid doesn't love balloons? Add them to a mix of other fun materials, or have them fill up the water balloons and have a water balloon fight.
Confetti – It's festive and so fun to stand underneath when it's falling, but it can be a pain to clean up. I suggest cutting up your own from metallic tissue paper (like I did for this piñata). Cut it big, so it's not as messy. Offer prizes to kids who clean up so many pieces of confetti. (Psst…This would be a great one to add to #13)
Stickers – Match the party's theme, add it to the #3 crafty piñata… or if you're throwing a girly spa party, add in nail files and pedicure toe spacers, along with some nail stickers and then do manicures and pedicures afterward.
Clues – Stuff a piñata with paper clues to find the cake.
Puzzle pieces – Similar to number 11, create a simple puzzle of a treasure map to their goody bags.
Pennies – good ole money. 🙂 You can bet you won't have to motivate the kids to pick up every single fallen penny.
Flowers – Fill it with fake flowers and then make flower crowns afterward.
Nerf darts – Have a Nerf gun war using the ammo they collect from the piñata.
Fun stuff, right? I say, let the cake work it's sugary magic. Leave the piñata for a higher purpose. 😉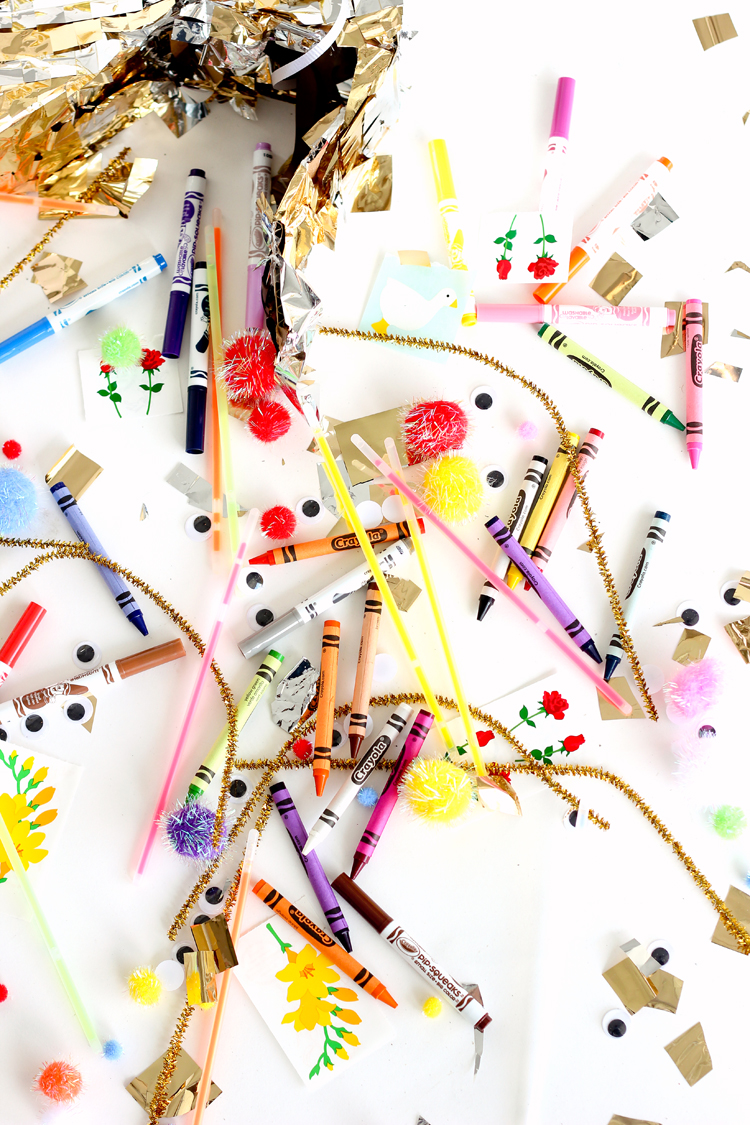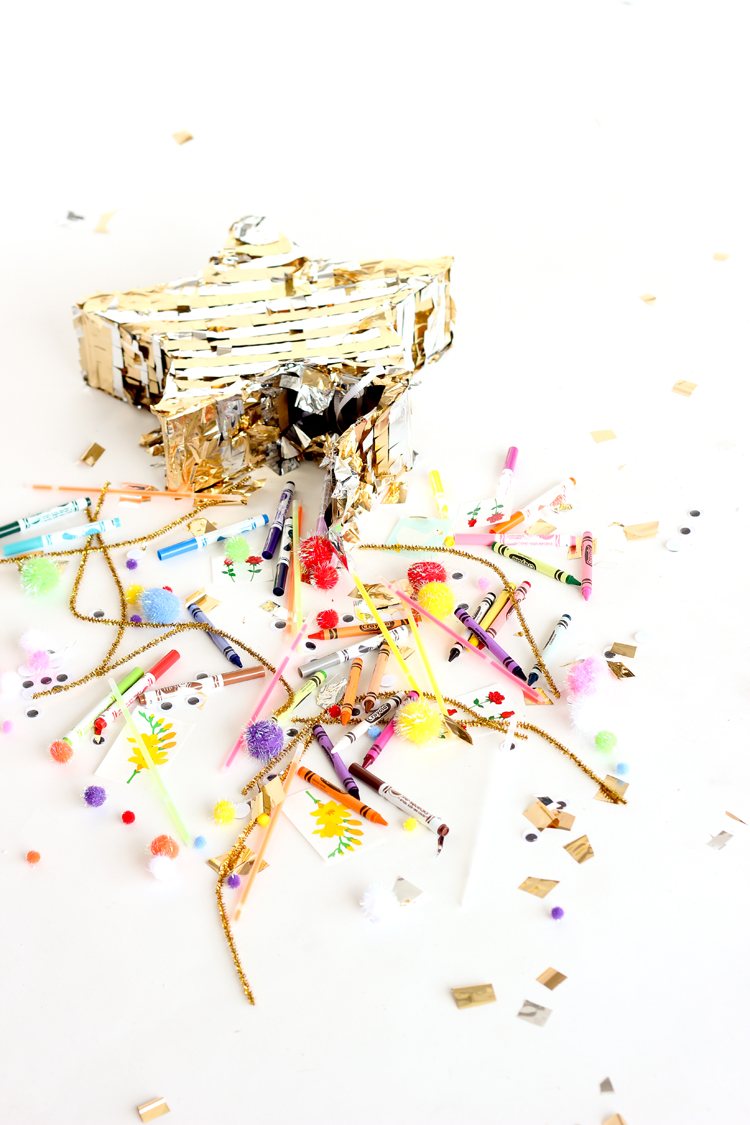 Tutorial for this shooting star piñata is found here.