I don't know who could be happier about the current cat trend, than my cute little fournager. She spends a good amount of time meowing around the house and insisting that we treat her like a cat. So, when trying to come up with a theme for her fourth birthday party, a "kitty cat" theme was just the ticket!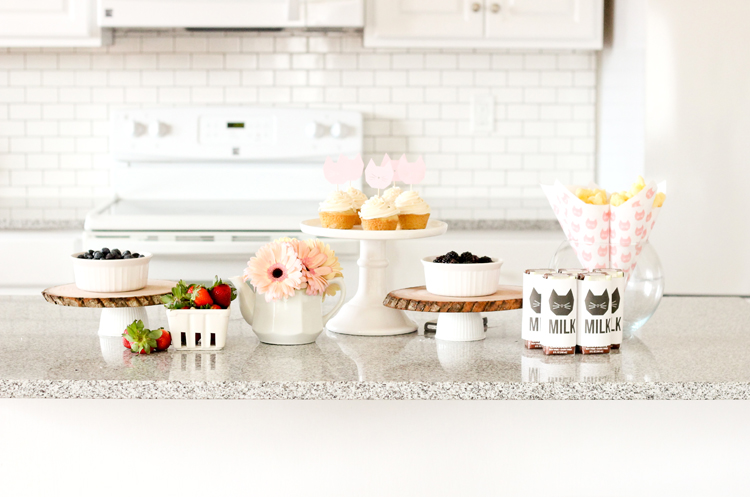 I didn't get too fancy or anything. I just whipped up some small paper details with my home printer and Silhouette to keep things fast and easy, but still festive.
I like to keep kid parties smaller, especially when they're younger. Our usual rule of thumb, is they can invite as many people as they are old + one more. Since about 3/4 of the kids show up most of the time, that turns out to be just the right amount of kids to have a fun, but manageable party.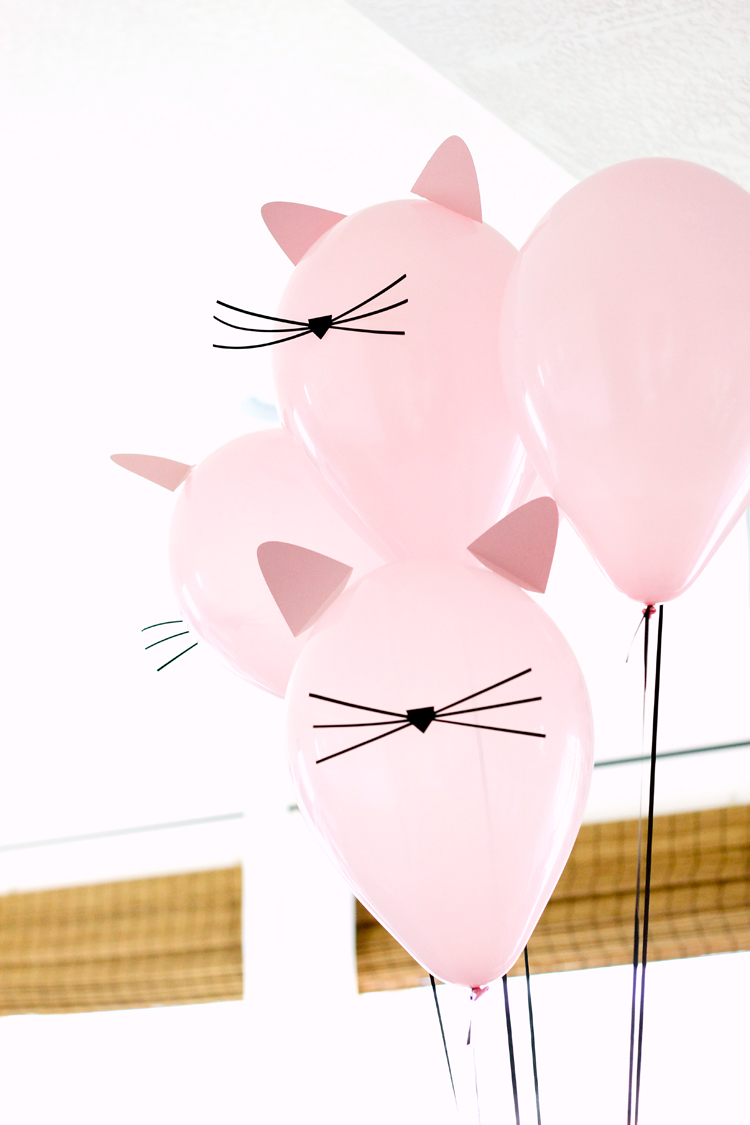 To kick off the party, I printed up some free cat coloring sheets I found online. I often like to start a party out with coloring, because it gives the kids something to do right away and they can keep coloring until everyone arrives.
I passed out some cat ears I made from headbands and pipe cleaners in lieu of party hats.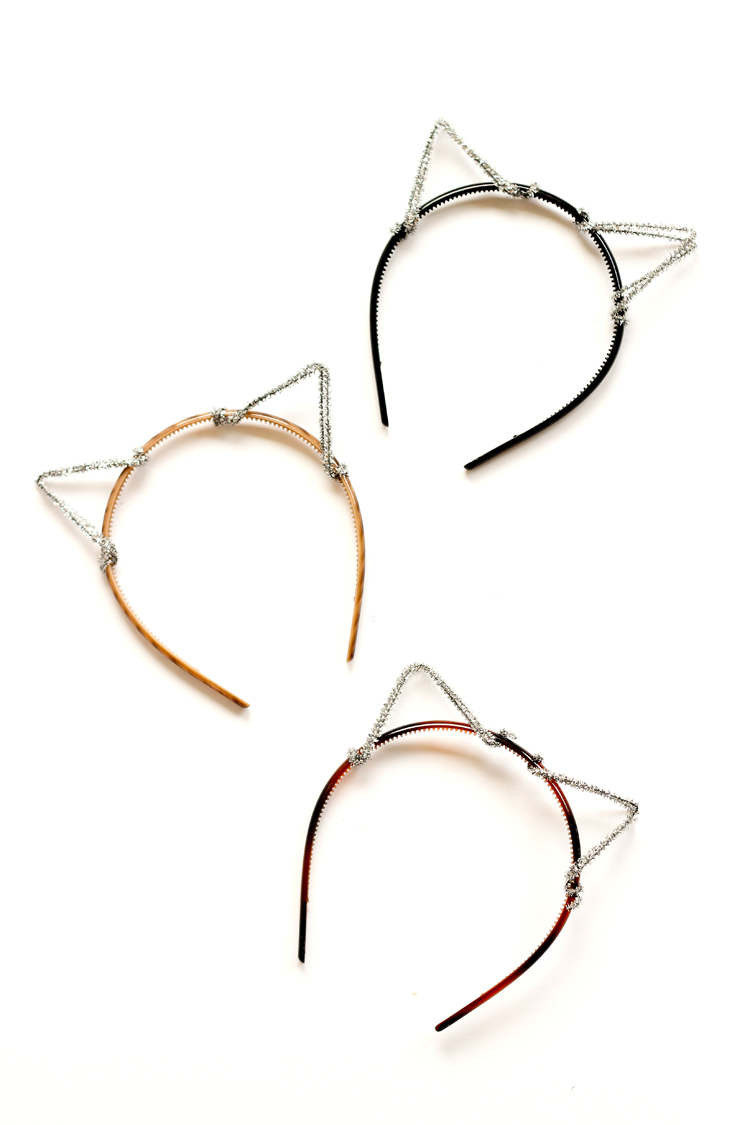 Then we drew on some whiskers with eye liner. This was the simplest idea of the day, but easily the most memorable. They loved this part! (Probably because it involved make up – ha!)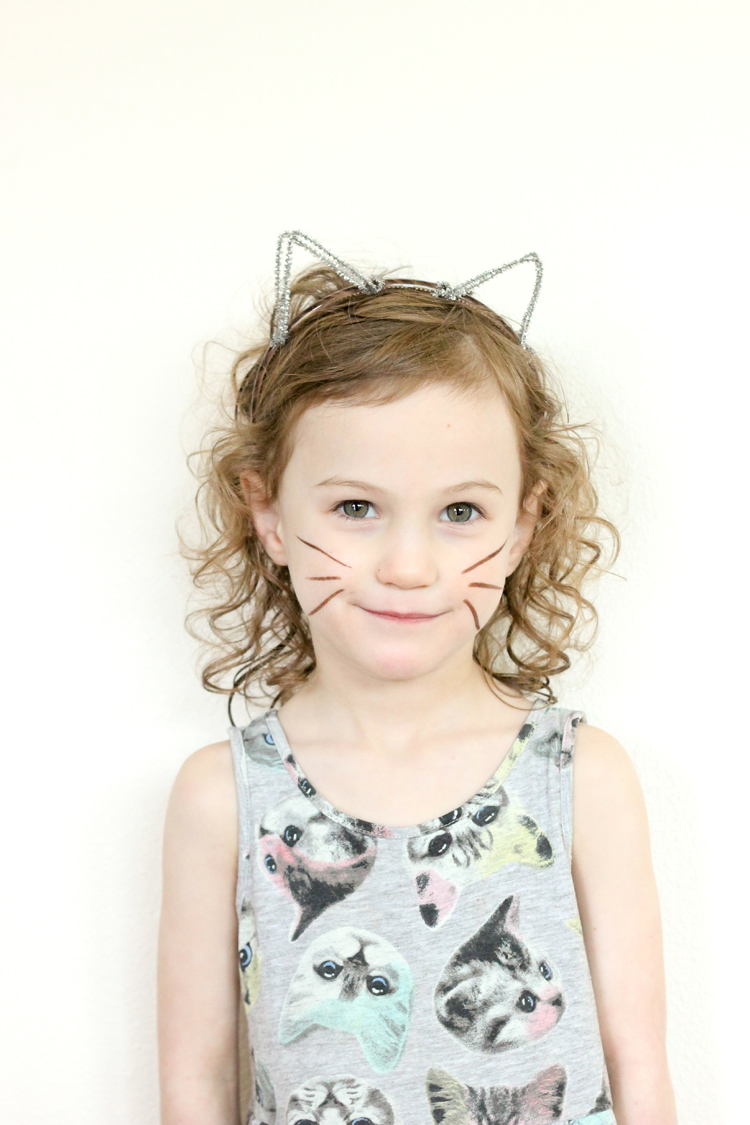 Once everyone was kitty-fied we played some of kitty-fied classics:
Kitty, Kitty, Cat (instead of Duck, Duck, Goose), Kitty Cat Says (instead of Simon Says), Pass the Yarn (played like Hot Potato).
Then the kids sang, ate, did the present thing, and then just played. It was mostly a low fuss party…just friends + sugar and lots of fun! 😉 Which turned out to be just right for this 3-4 crowd.
 For the treat table, I whipped up some paper cones for corn puffs.
 To keep them upright, I stuck them in a round goldfish bowl like vase.
I wrapped the milk in these labels…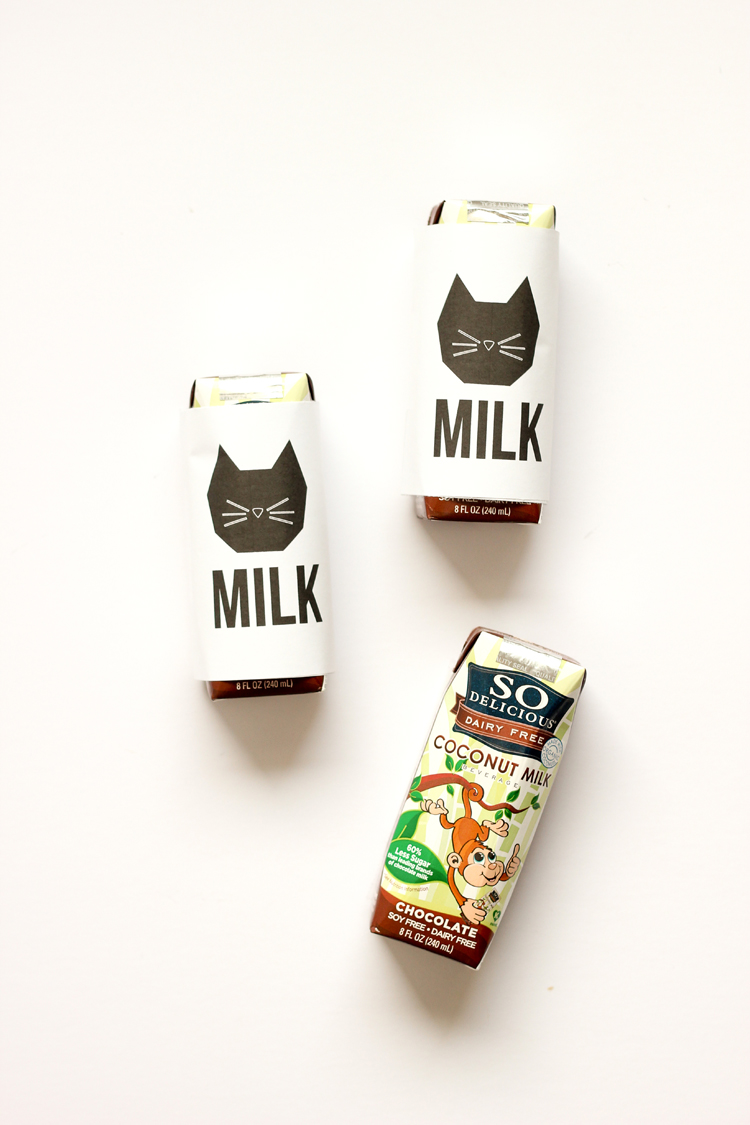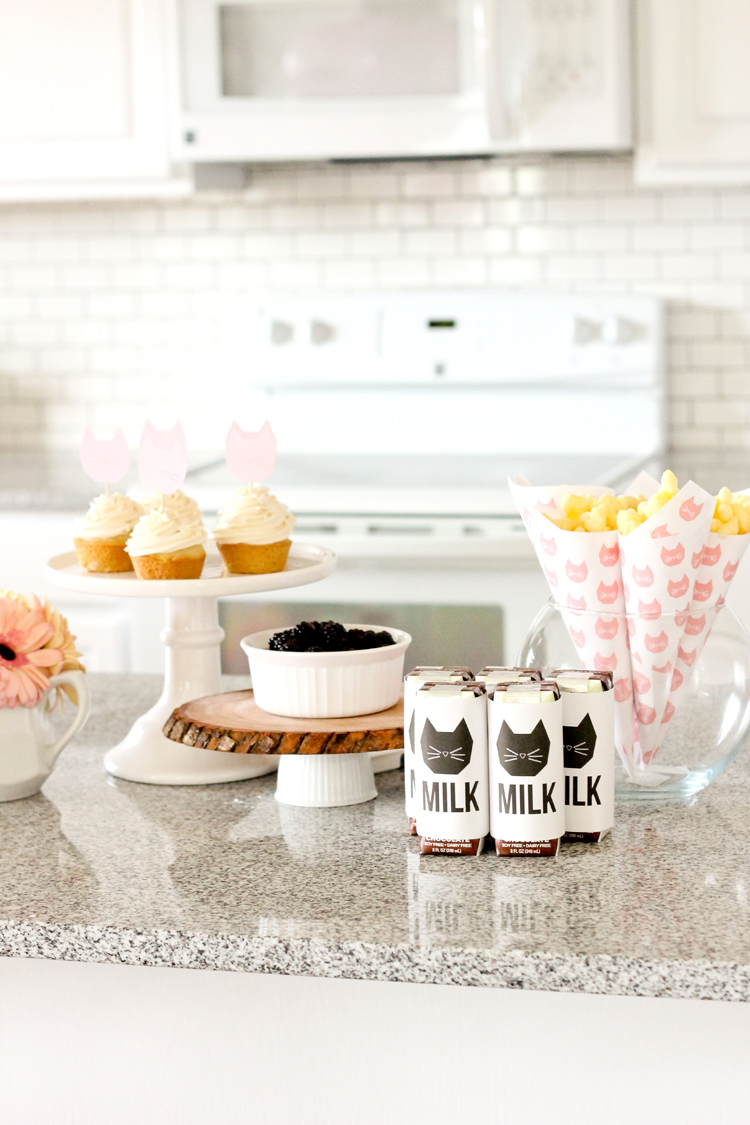 Nat's allergic to milk, so we used chocolate coconut milk. (plus, they're shelf stable!)
For the cupcakes, I whipped up my favorite vegan cupcakes and frosting and then stuck in these paper cat faces glued to toothpicks.
Of course, we had to keep the plates festive. I glued ears underneath the lip of the plate, so as not to interfere with the functionality of the plate.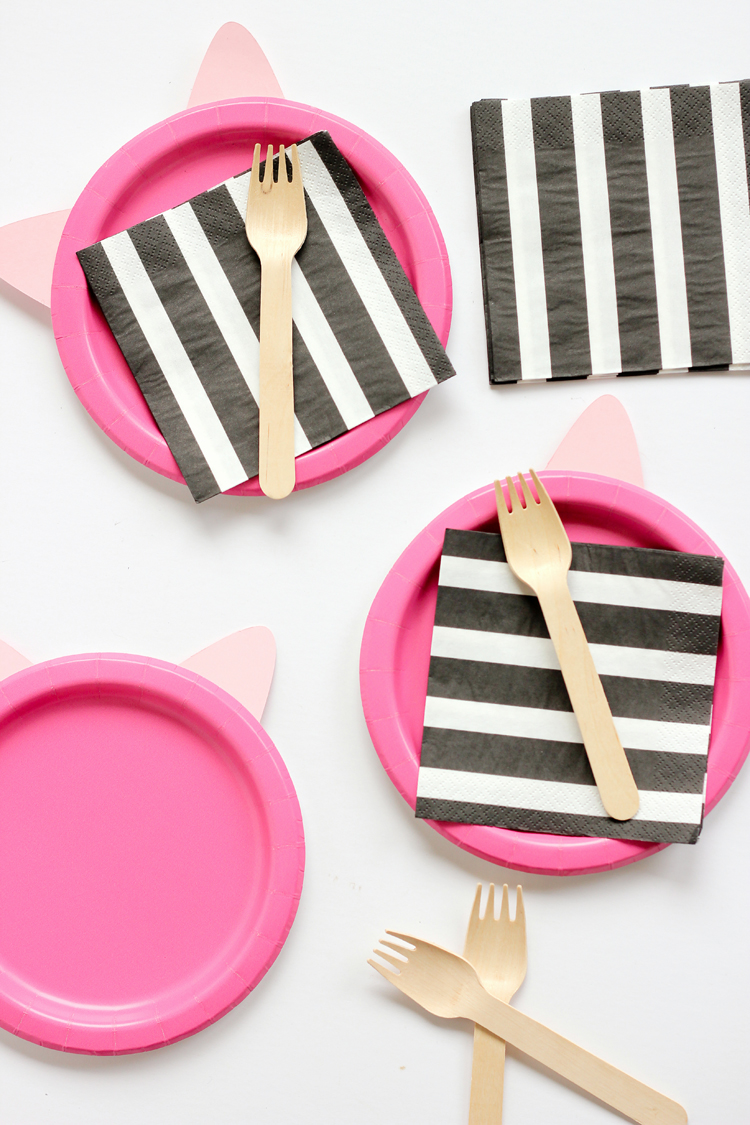 For decorations, I cut the same cat faces that I used for the cupcake toppers, only bigger. Then I strung them up into a garland and layered it with my wooden bead garland.
For the balloons, I simply cut some ears, and a nose/whiskers and taped them onto balloons in her favorite color…pink!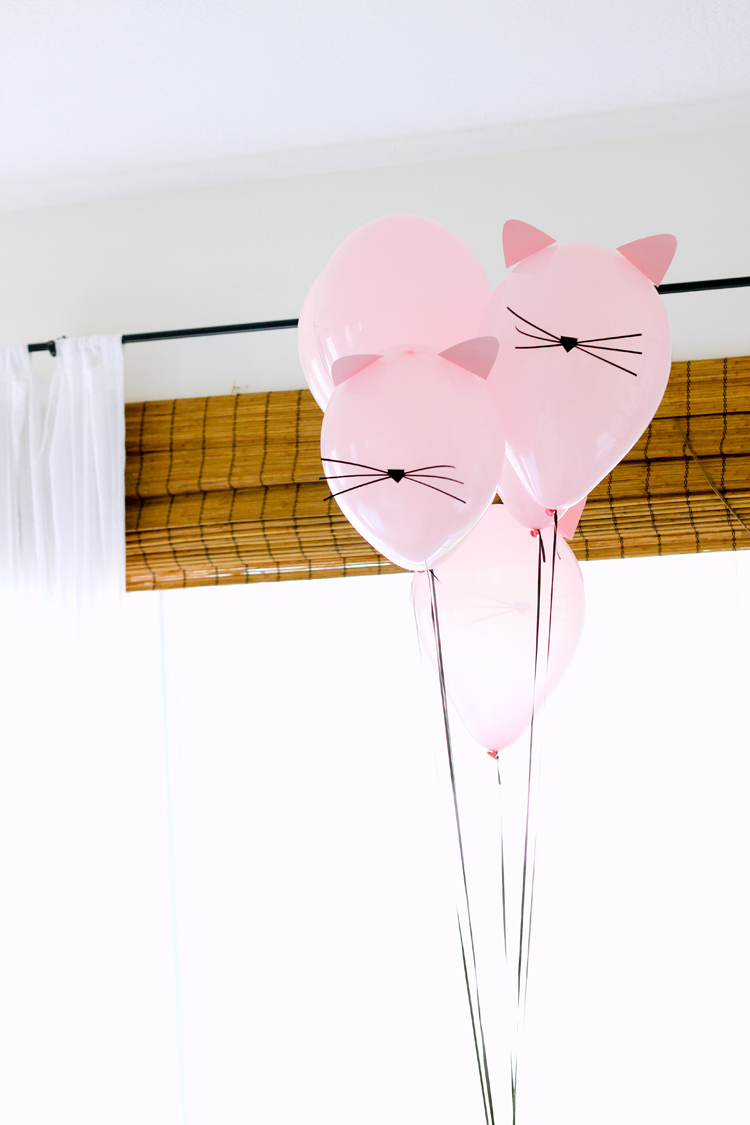 As parting gifts to our guests, we handed out cute little boxes (from Party City) with more cat cupcake topper faces on them, and filled with some pink polish, and cat face shaped nail decals.
If you would like to copy any detail of this party, I've created free printable and cut files for you to use…
PDF:
CUT FILES:
For personal use only please.
The PDFs are hosted on my site. Click on the link and it should open up the PDF for all the files used in this post. I included the files that require a lot of cutting as well, in case you don't have a Silhouette.
If you want to use the cut files, they were created in Silhouette's design software, so they are for Silhouette only. You can try to open the PDF versions in Illustrator and convert the files to another format if you like. The links to the files are hosted through Google Drive. If you have trouble accessing any of the files, I suggest trying to access them through another computer or device on a different server (sometimes servers, especially school servers, block access). If you still can't access the files, you can contact me at [email protected]. Please allow up to 10 business days for me to respond.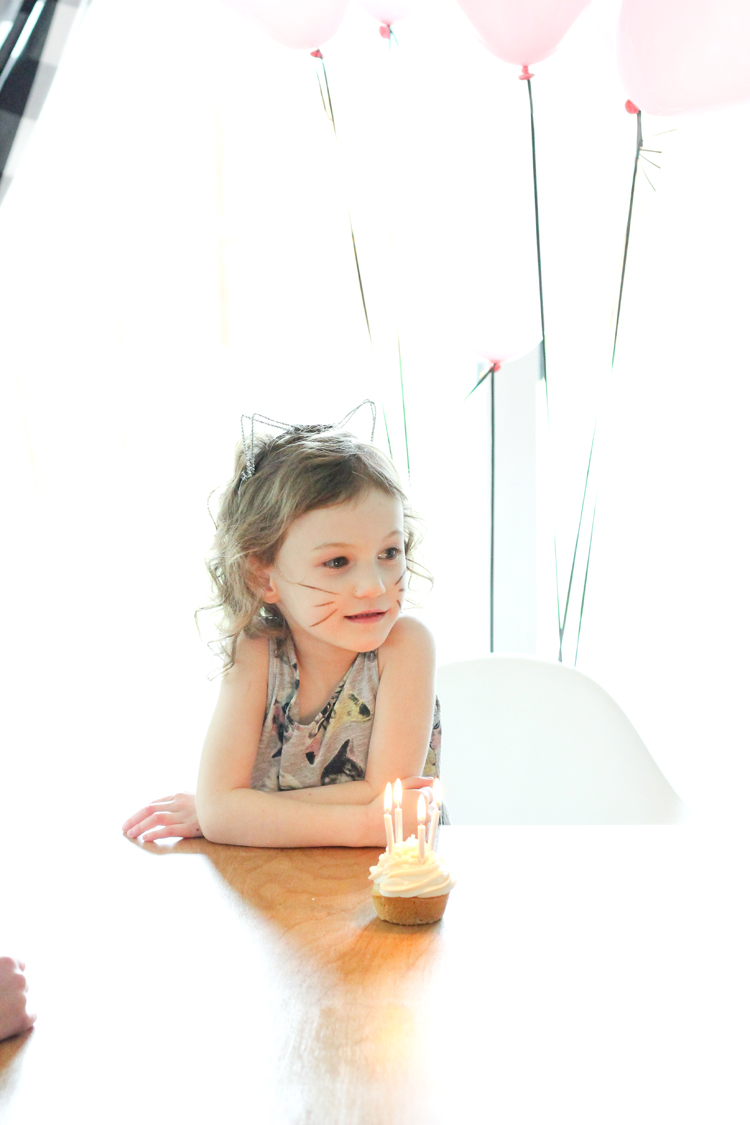 Happy planning your own purrr-fect party! 😉