Are you on a budget and shopping for someone "crafty?"
I've got you covered! Here are 25 practical and fun things you can buy the crocheter, sewist, knitter, crafter in your life. Many of them are under $10, under $15, and they're all definitely under $25.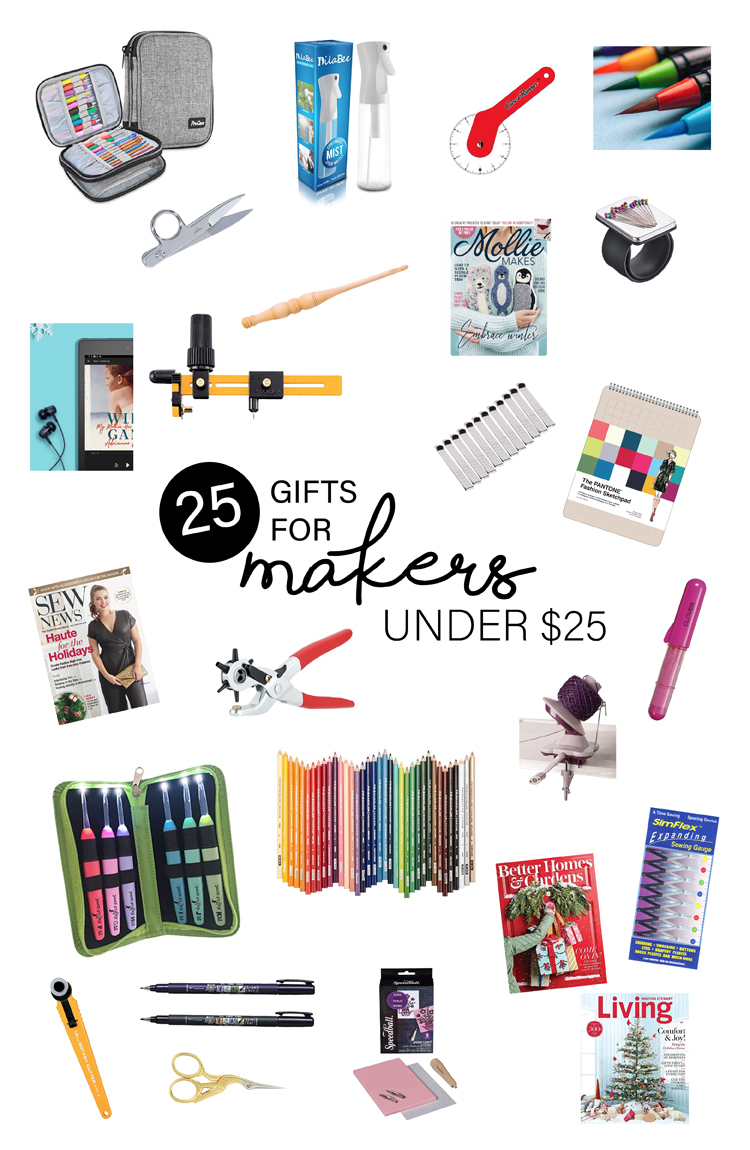 And!…all but one of them is something you can buy from Amazon. Yay for Prime shipping! (You still have plenty of time before Christmas!)
It can sometimes feel risky to give fabric, yarn, or most craft supplies unless you really know the person and what they already have in their stash. That's why most people resort to a gift card.
For that reason as well, this guide mostly directs you toward tools and gadgets that I have either personally used and loved, or that would love to have myself.
Please note: The links in this post are affiliate links, which means I get a small commission if you use them to buy something. This doesn't not affect your pricing.
Gifts Under $10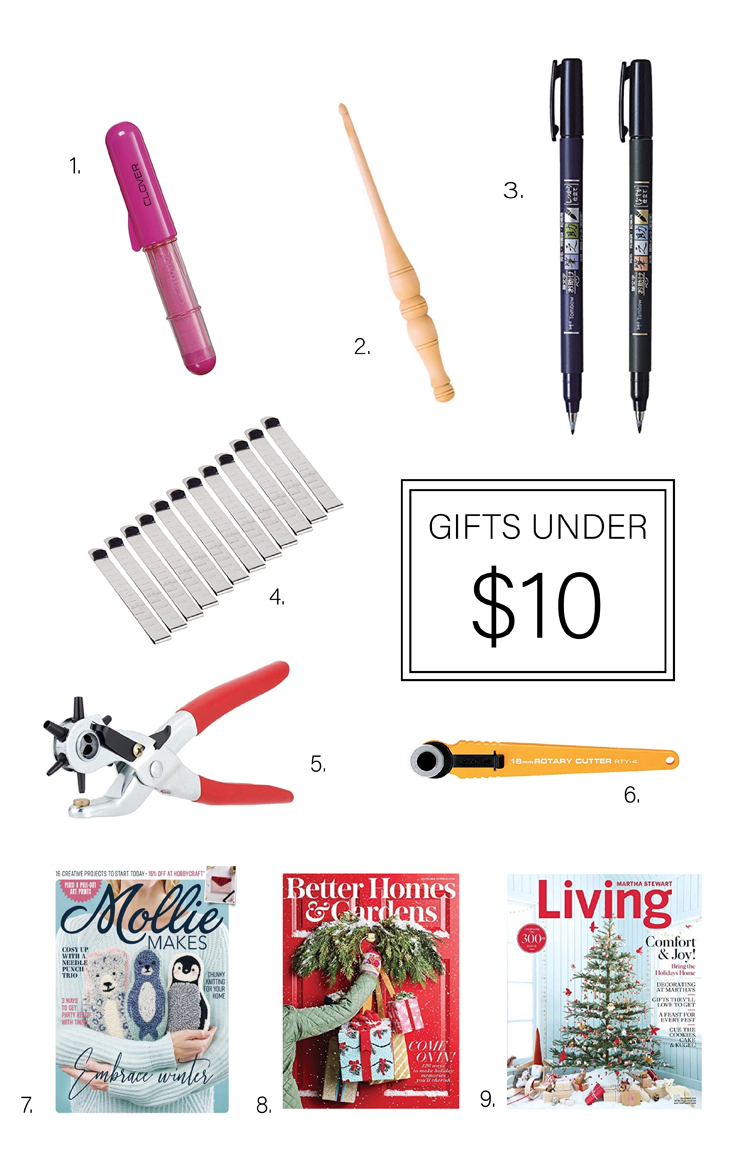 Gifts Under $15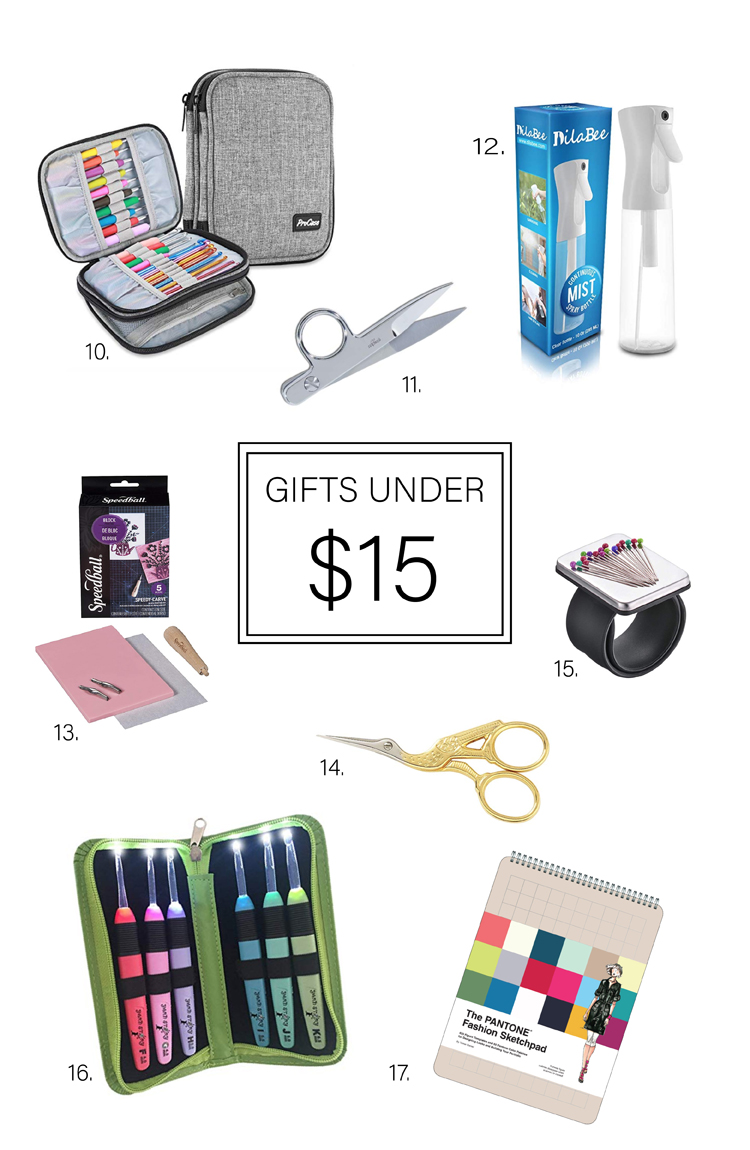 10. Crochet Hook Case – If your crafter is a serious crocheter, a case like this is a must have.
11. Gingher Thread Snips – Thread snips are great for all sewists, but especially quilters… And Gingher is the best brand of scissors for sewists.
12. Continuous Mist Spray Bottle – This little invention is super handy for lots of things. I first discovered it when I saw a hair stylist use it on my sons' haircut, but it also makes ironing an easier task. If you're a sewist you know that a big chunk of "sewing" is actually ironing! It saves your hands from having to pump the handle, and anything you can do to save your hands as a maker, is worth it!
13. Block Print Carving Kit – Whether your crafter has never tried block printing before, or just needs to refresh their stock of rubber blocks, this little kit is a welcome addition to any craft stash. The learning curve is fast and easy and it can be used to make prints for cards, labels, fabric…you name it!
14. Stork Embroidery Scissors – A crafter can never have too many scissors, especially when they are as cute as these.
15. Magnetic Pin Corsage – Helps keep sewing pins handy and organized so they don't end up under foot. I've also seen these used with bobby pins!
16. Light Up Crochet Hooks – Want to crochet while you cozy up with a movie? These let you turn the lights down and still see your stitches.
17. Pantone Figure Sketchpad – The figure blanks allow for easy garment design sketching.
Gifts Under $25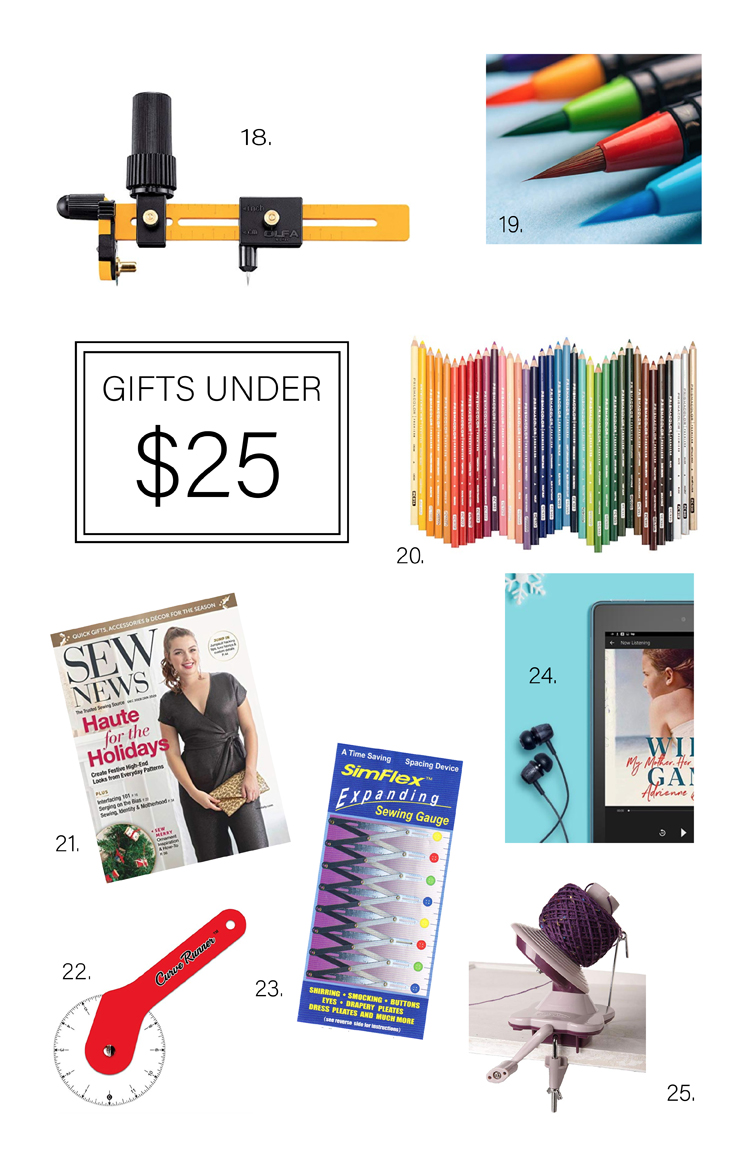 18. Circular Rotary Cutter – cut circles of fabric with ease.
19. Water Color Pens – These are just plain fun to use.
20. Prisma Colored Pencils – If you think all colored pencils are the same, you haven't use Prisma colored pencils. They draw like butta and the saturation is fantastic.
21. Sews News – This one gives you a lot of bang for your buck and comes with free patterns and tutorials.
22. Circular Measuring Wheel – I can't tell you how many times I've had to awkwardly try to measure curves. This little gadget is so clever and fun!
23. Button Gauge – If your sewist sews clothes, this gadget is super helpful!
24. Audible Subscription – Listening to a good book while working on a project = heaven.
25. Yarn Winder – Winding yarn into balls by hand can be tedious, but it's also so helpful when crocheting and knitting. This makes the winding step so much faster and easier!
Do you have a great gift idea under $25 to add to this list? Please let me know in the comments below!