Staying in with the kids for New Year's Eve? I have seven really easy and fun ideas that you can pull together last minute!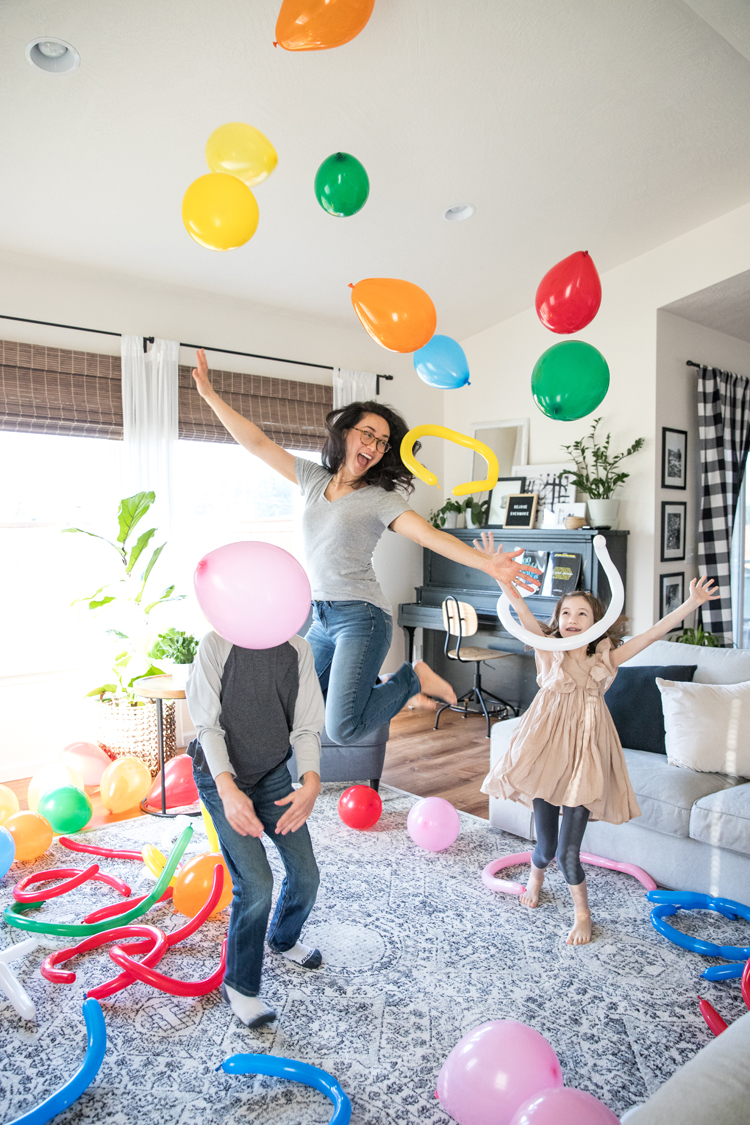 Some of the ideas require a bit of effort and some hardly any at all. I can attest that they are all kid tested and kid approved though! 😉 My younger two had a blast trying out all the ideas with me and taking pictures for this post.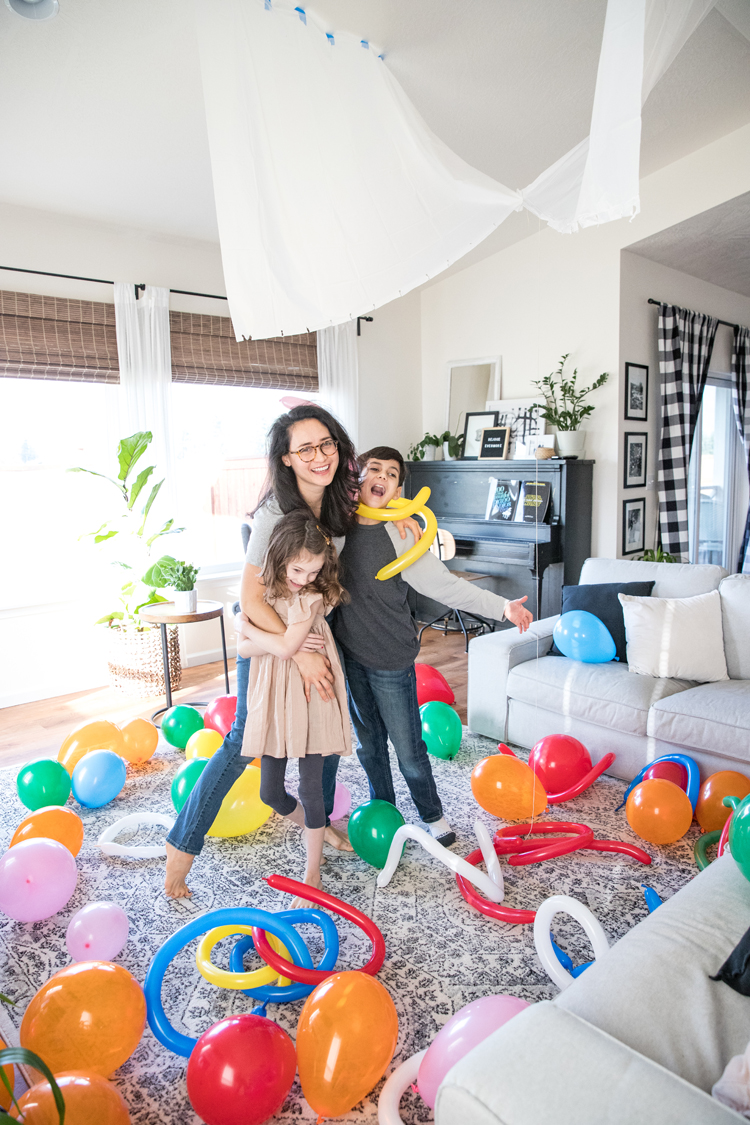 Over the years, I have learned that it works best to get all the high energy activities, like the countdown, done earlier in the evening…most kids really don't care when midnight is! Then we settle down for snacks and movies later that night. That way kids (or adults ;)) who can't make it until midnight, can feel free to zonk out watching a movie and we can ring in the new year with everyone happy.
1. Pull Piñata Countdown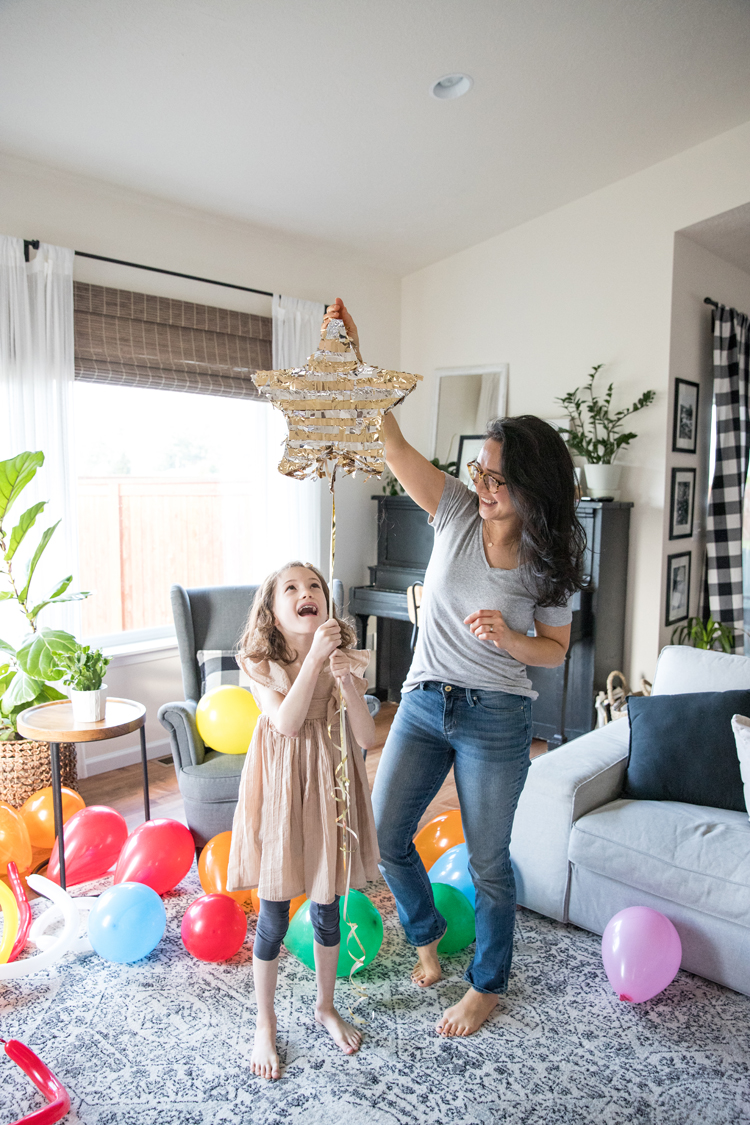 A great way to let littles ring in the new year is with a string piñata. Count down and them pull all at once!
You can pick up pull piñatas fairly inexpensively at most grocery stores or you can make one using my tutorial for this shooting star piñata – CLICK HERE.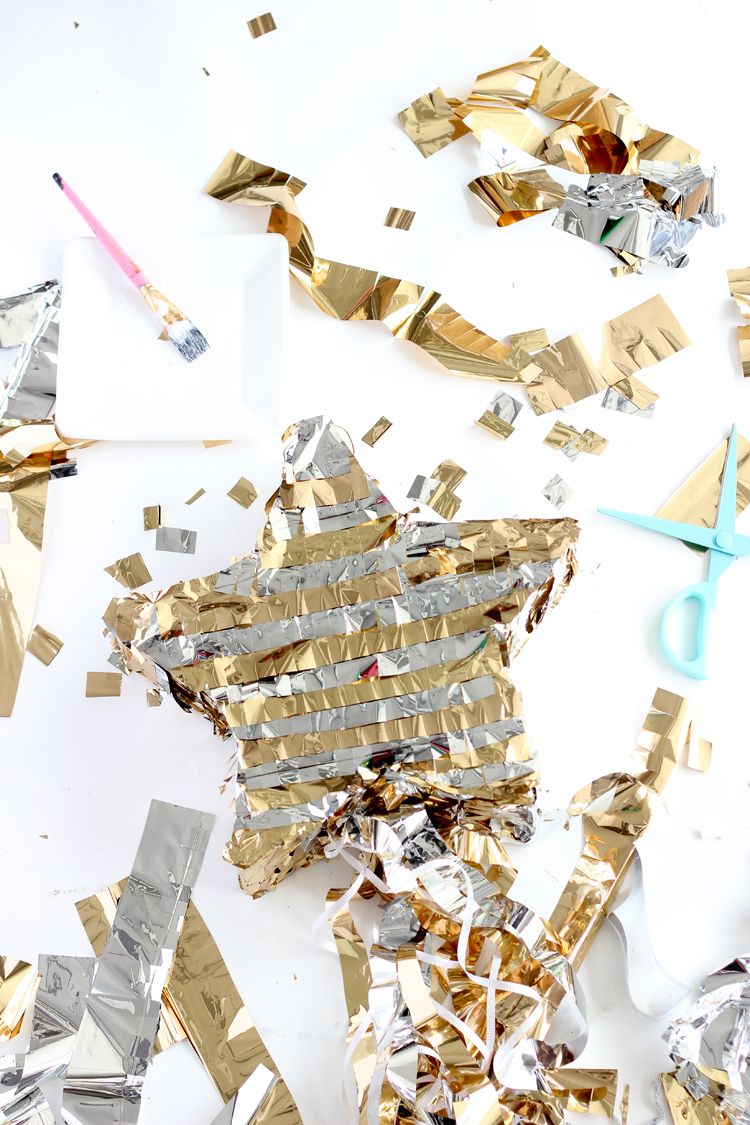 If you have some cardboard boxes (It's a great way to use up old Amazon boxes post the holidays), tissue paper, and school glue; you can whip one up pretty quickly.
Plus… pull piñatas are reusable! We've used this one for years.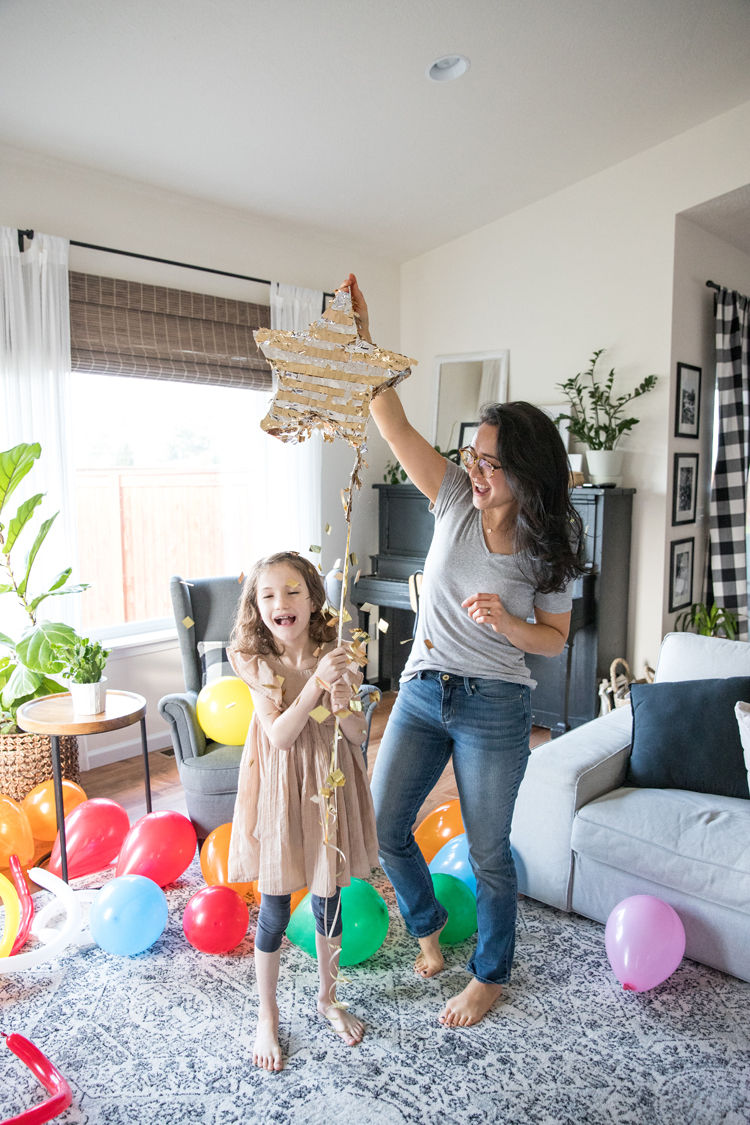 Fill with just confetti or go traditional and add treats.
If you want something even more festive scroll down to number 7. 😉
2. Guess the Memory – Play Headbanz with Photographs!
Print up some photographs from the year, blindly attach one to your headband, and ask yes or no questions to figure out the memory.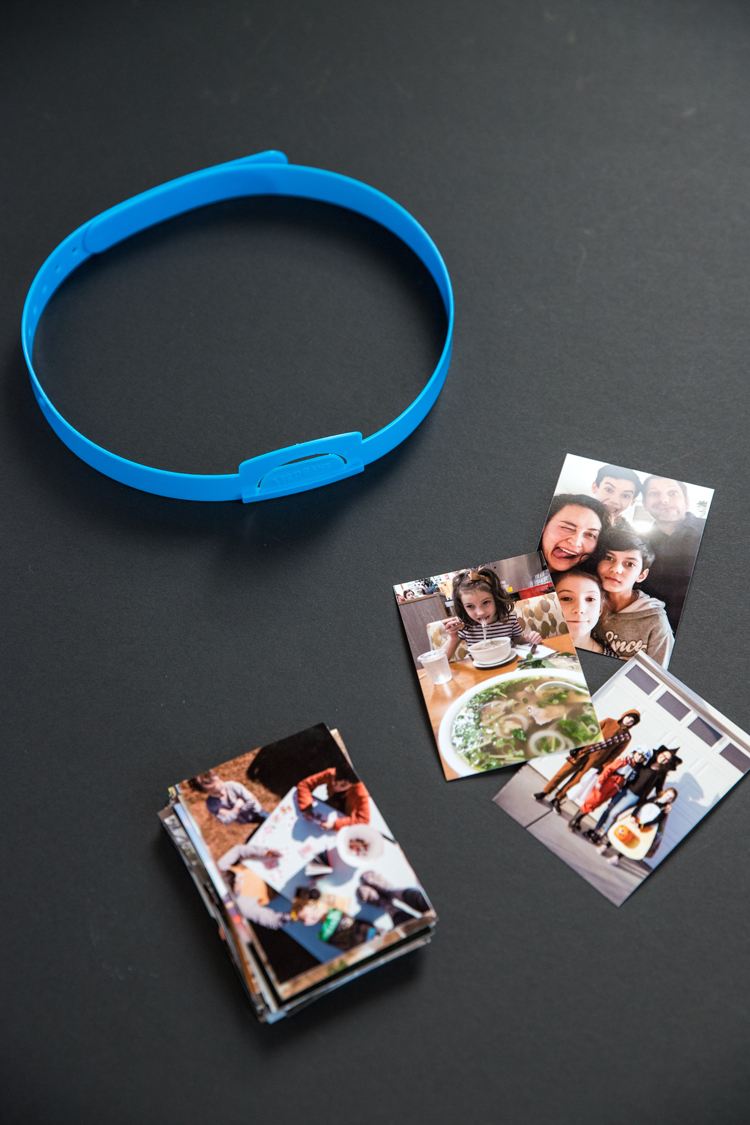 Sample questions may include:
Was it hot outside?
Was it during a holiday?
Was Dad (Mom, brother, etc.) there?
Did we do this activity inside?
You get the idea… It can be a really fun way to reflect on the year. Chances are, different people will remember the memory differently, but that's part of the fun!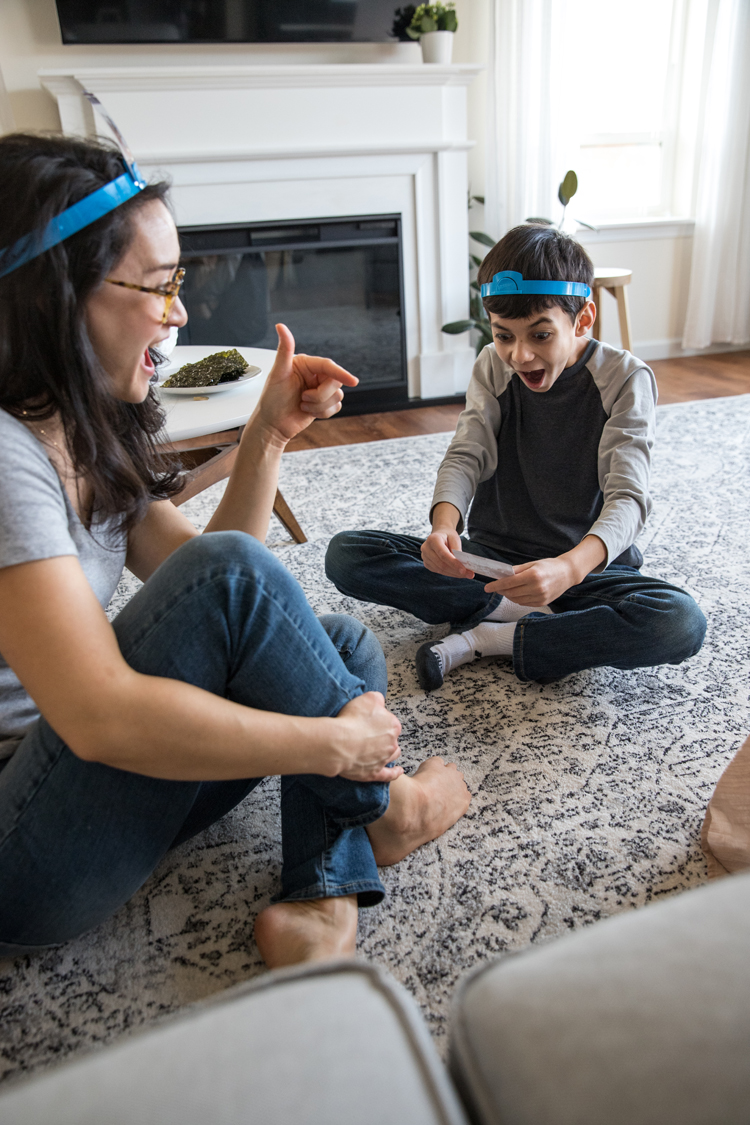 3. Play Apples to Apples with Photos.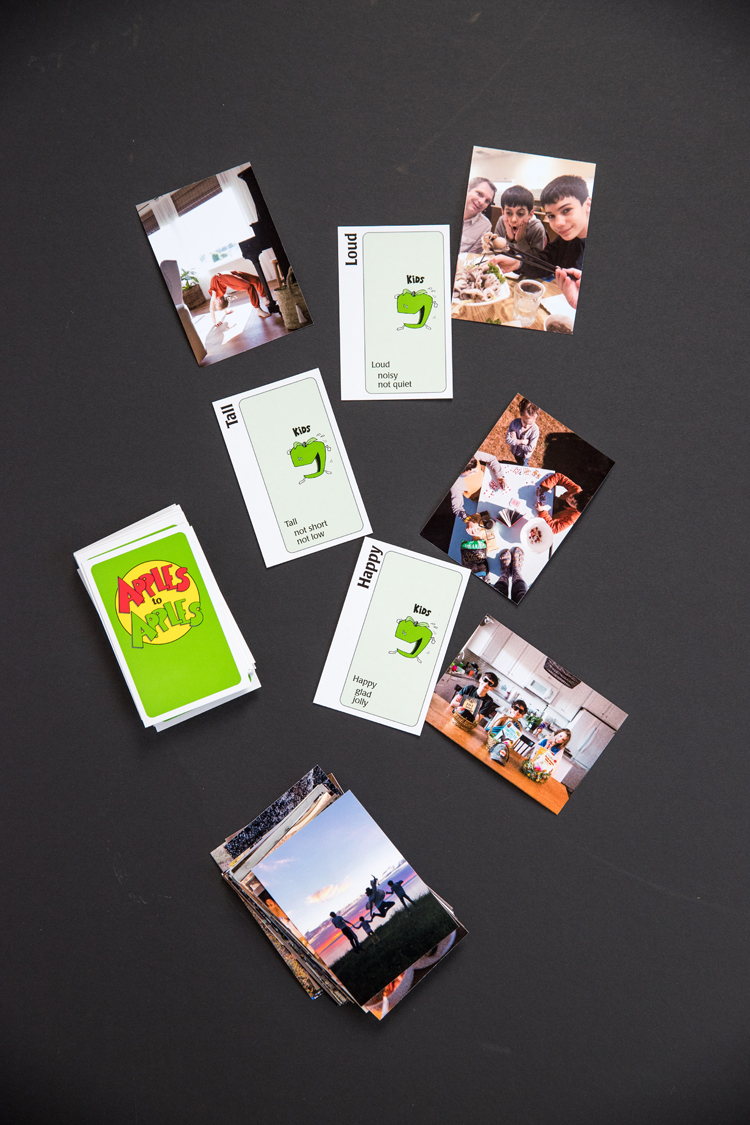 Just like with Headbanz, you can modify the game by using photographs in place of the noun cards in Apples to Apples.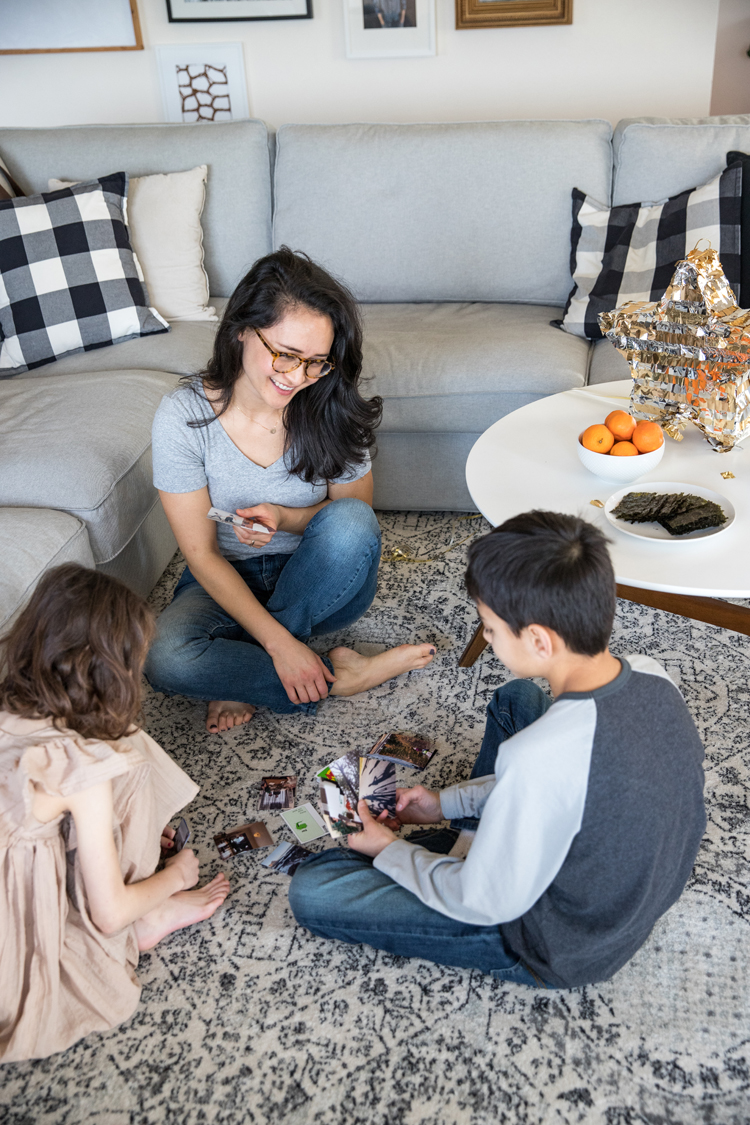 When one player puts down an adjective card, other players can use family photographs they think will fit with the word.
Be prepared for it to get really silly!
4. Photo Memory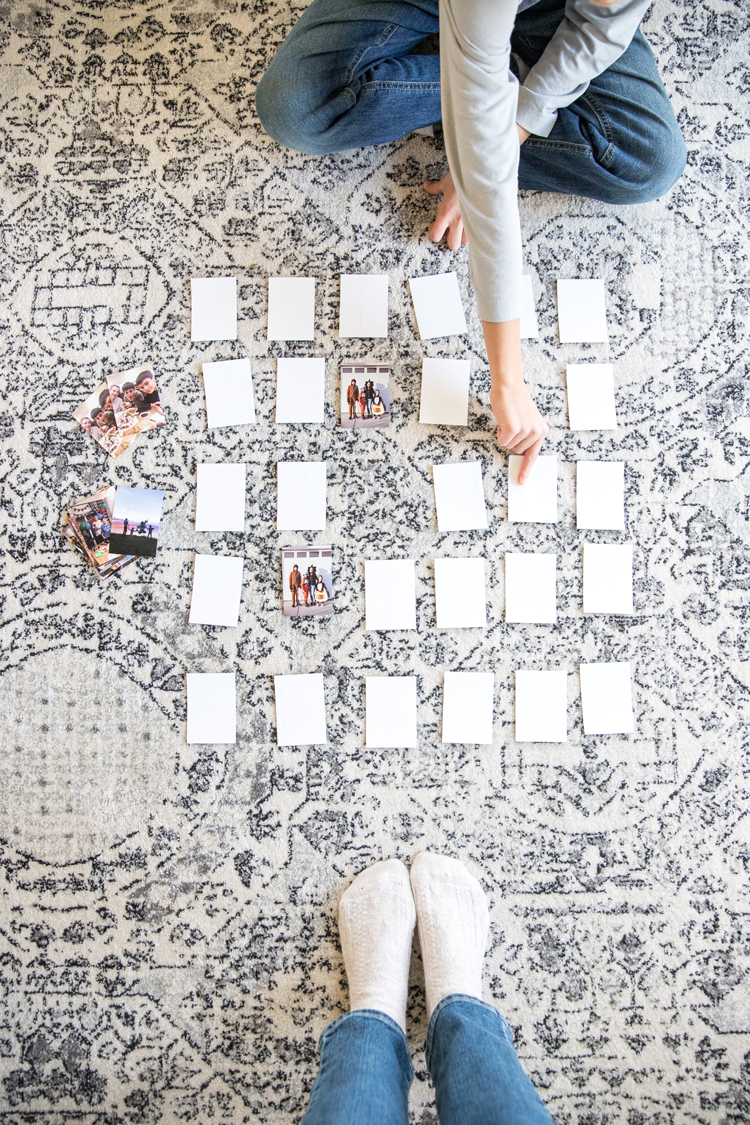 A different kind of photographic memory ;)… This one is especially great for younger kids. Play Memory with your photographs!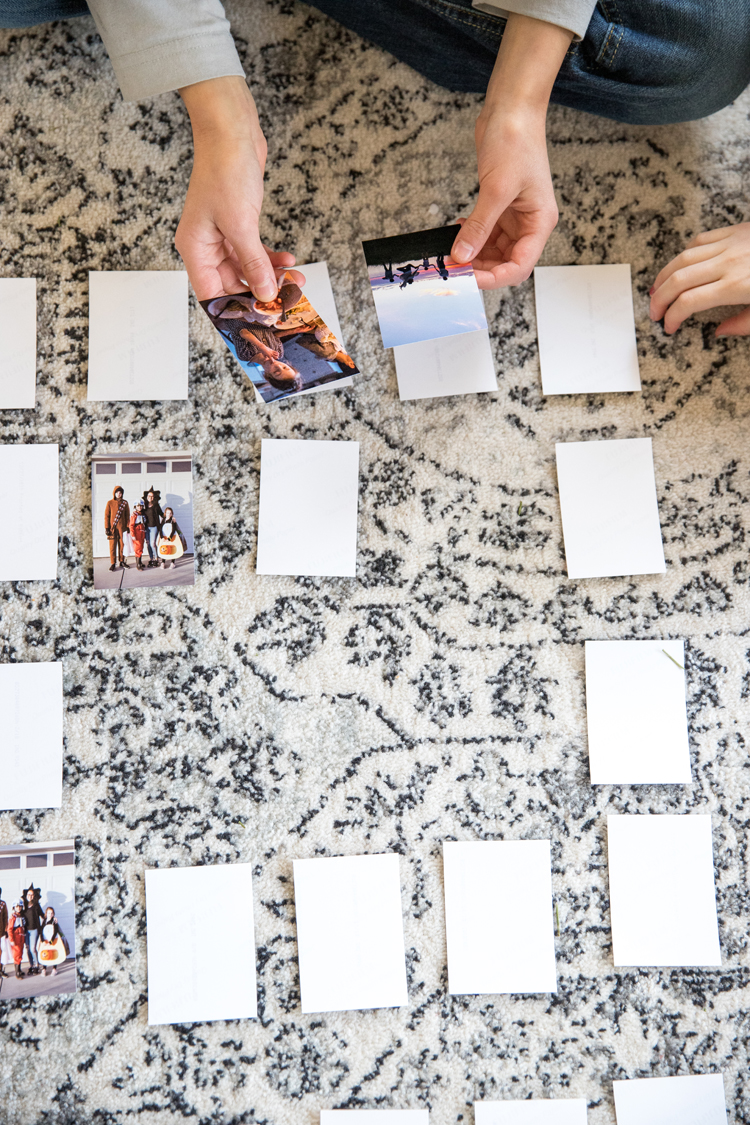 TIP: If you print them as wallets, they will come smaller and in pairs which is perfect for playing Memory!
5. Lucky Foods Snack Bar
Round, sweet fruits and greens are meant to represent money and prosperity for the new year. Seaweed is not a traditional green eaten this time of year, but it sure looks the most like money to me, so I included it in our movie snacks line up.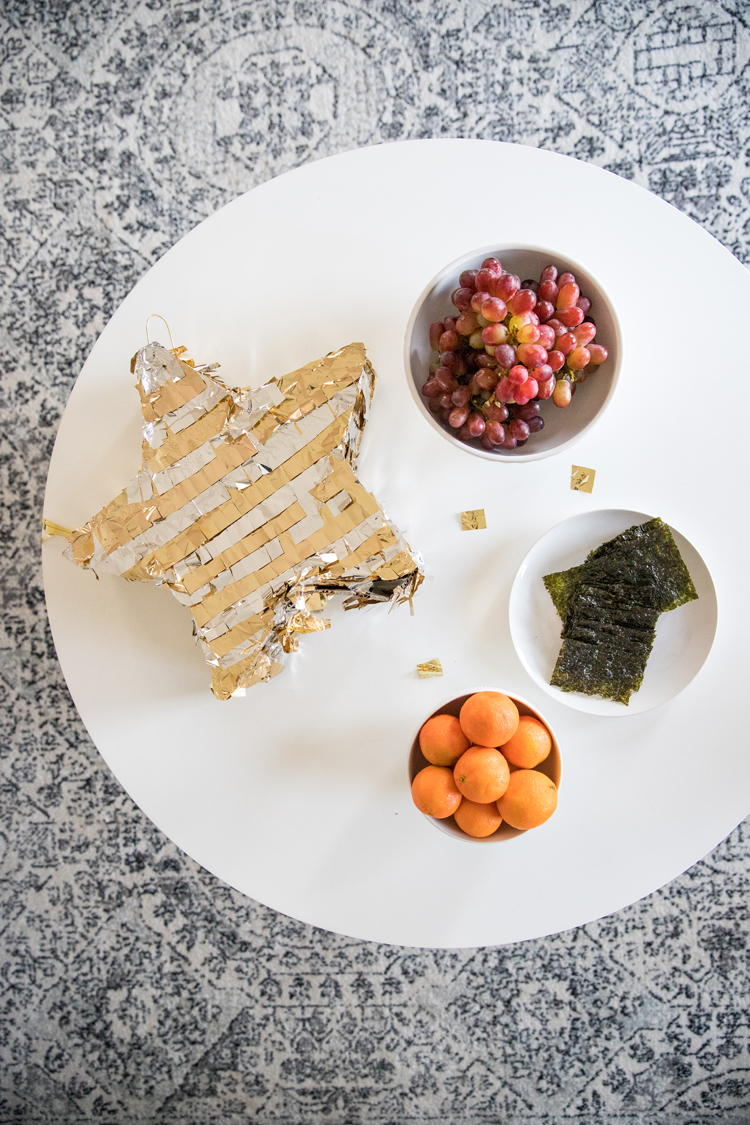 Other lucky foods can include beans, fish, pork, long noodles, and pomegranates.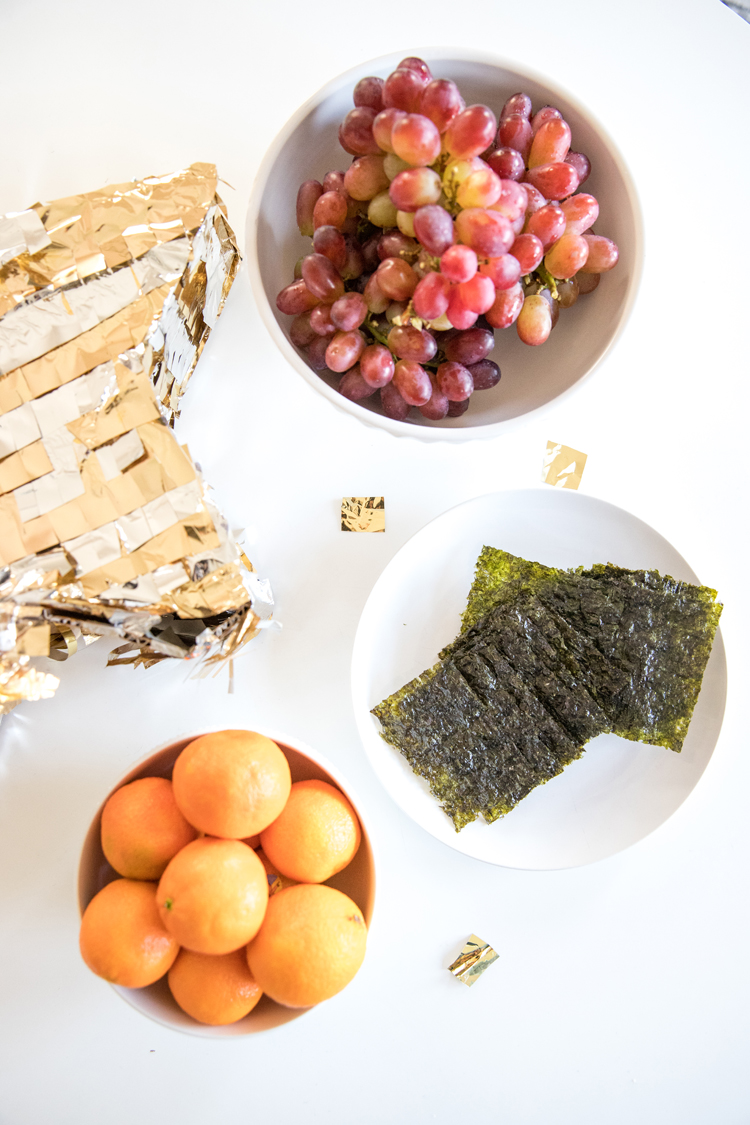 6. Glow Stick Dance Party
This is one thing our family has been doing at New Year's Eve for years and we all LOVE it! We break open a pack of glow sticks, turn out the lights, and crank up the music for a dance party.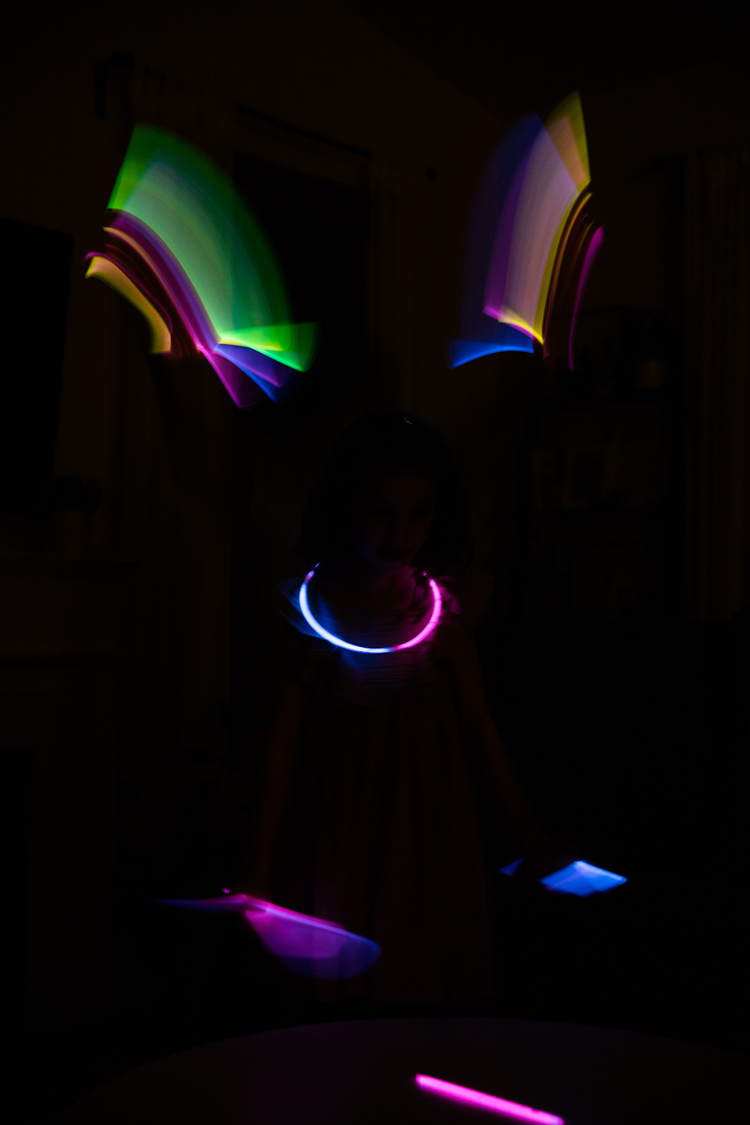 It is an excellent way to help little kids get their wiggles and excitement out in a positive way.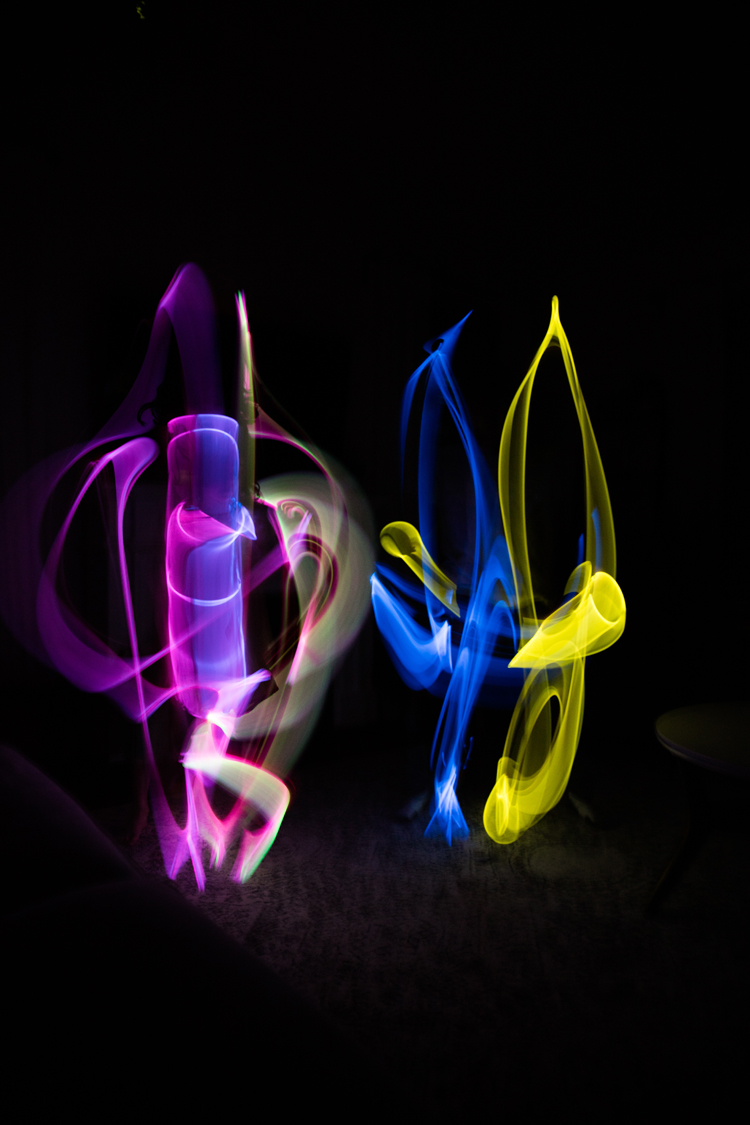 If you have a dSLR, trying slowing your shutter speed down to about 4 seconds to capture some really cool glow stick photography. My kids LOVE seeing the things they can "draw" with their glow sticks.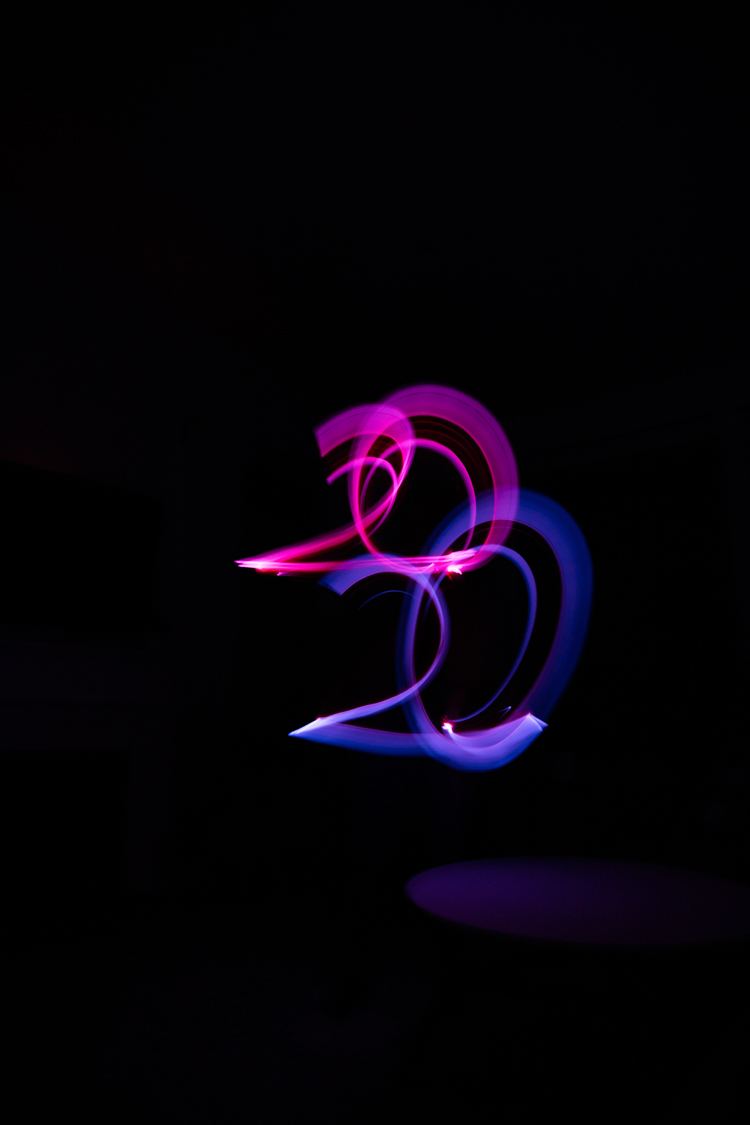 Pro Parenting Tip: After the dance party, I used to put the glow sticks in the bath tub too. It helped getting ready for bedtime feel like fun rather than a fight. That can feel like a huge parenting win on a night like New Year's Eve!
And if your kid bites through a glow stick and gets the glow juice everrrrywhere (been there! ha!) …don't worry. 😉 It's not nearly as toxic or scary as it seems like it could be —> here's an article from WebMD.
7. Set Up A Balloon Drop
I saved the best for last. Create a balloon drop! It is SO fun and it's no where near as hard as it may look.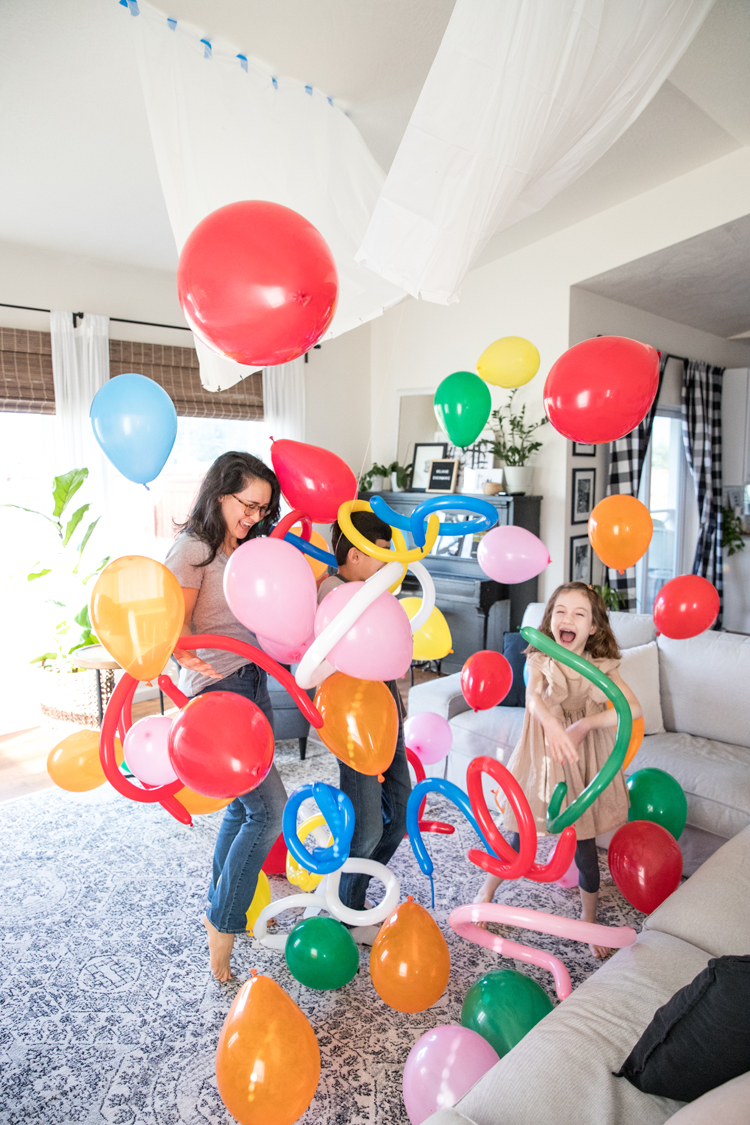 All you need is a $1 plastic table cloth, balloons, string, painter's tape, scissors and a hole punch.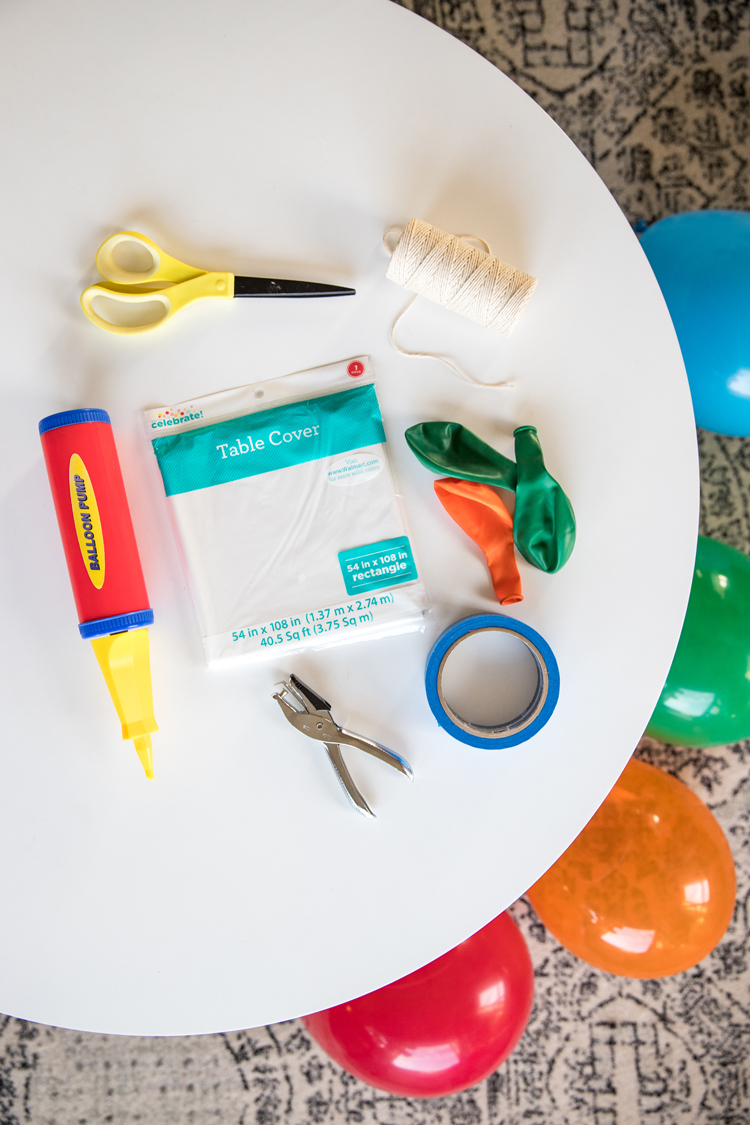 TIP: Get a pack of balloon animal balloons for variety.
Here's a quick video I whipped up for instagram (apologies for the vertical video) that shows you what a cinch it is.
Music is "On The Run" from Pleasant Pictures Music Club.
Note: You can also get pre-made balloon drop bags for $3-4. They are harder to hang, but they're more secure for large groups who might accidentally set off the balloon drop with this homemade  set up.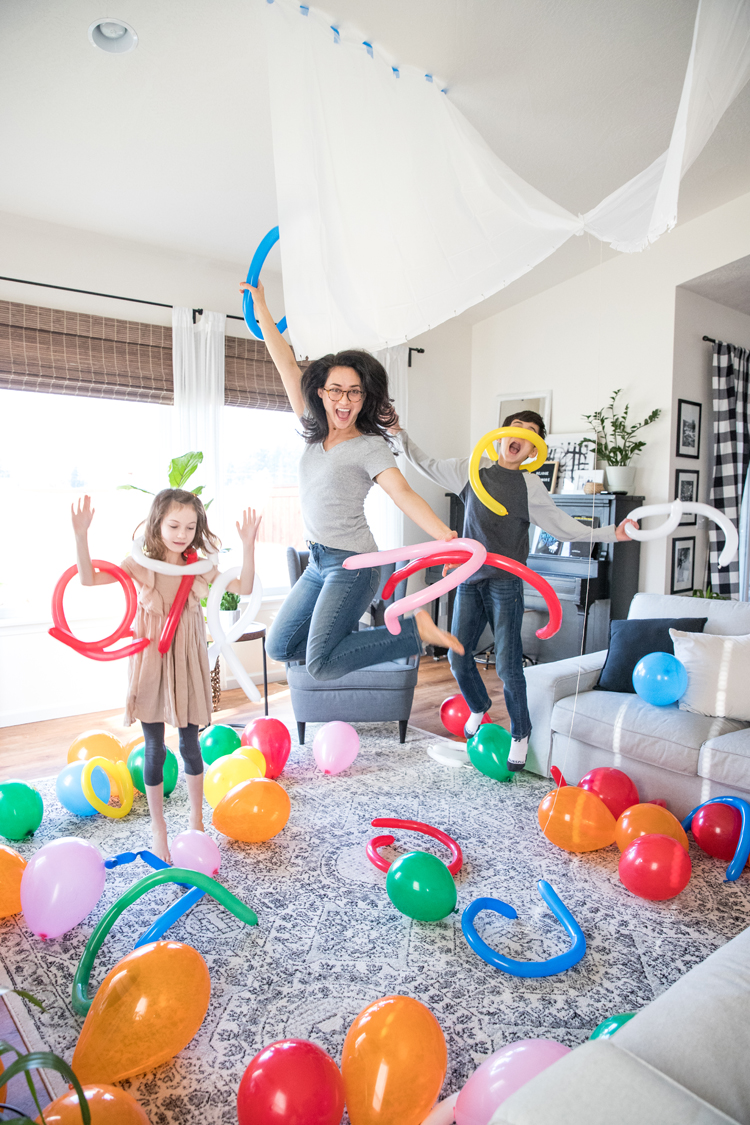 We hope you and your kiddos have an awesome new year!