It's going to look like an Indian summer on my blog for today!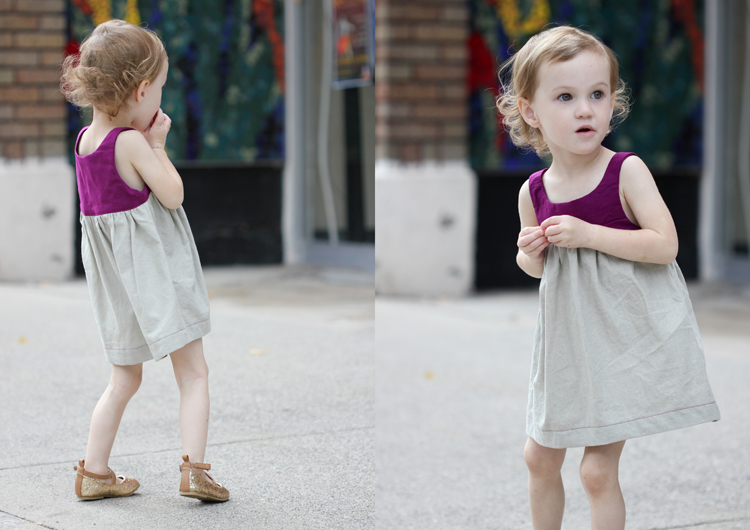 I sewed up two dresses from Heidi's lovely Bohemain Babydoll Dress and Top pattern for Natalie about a month before we moved…When it was still hot enough to wear them like summer dresses.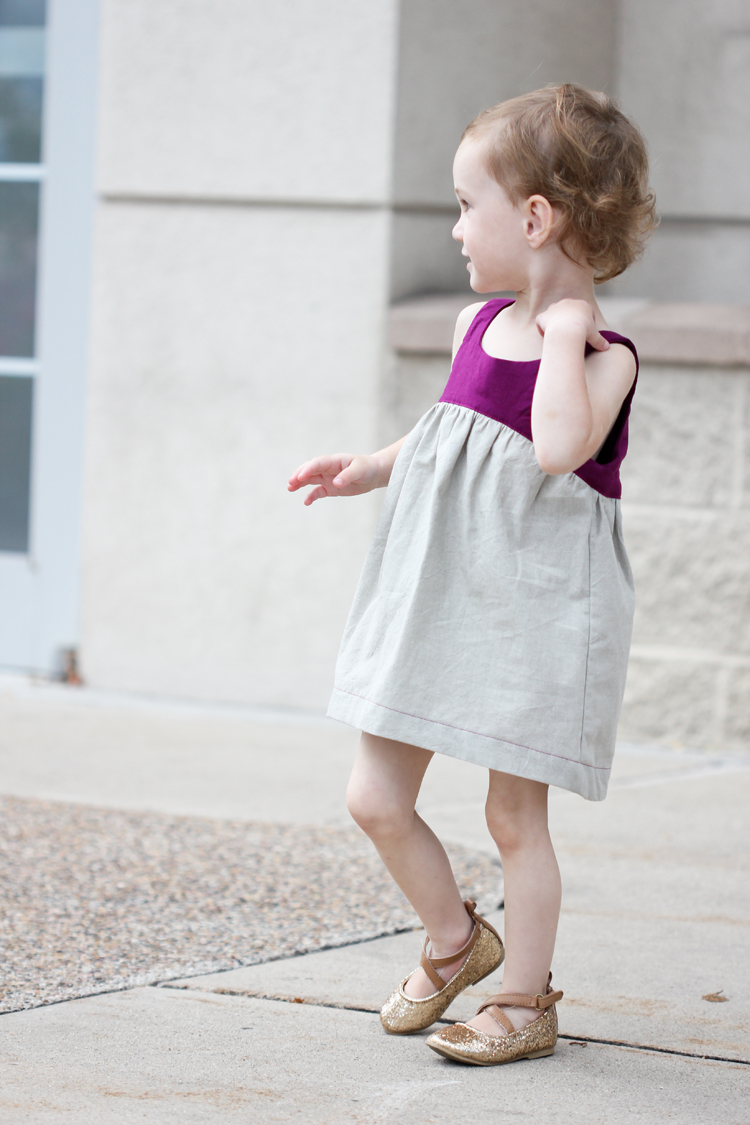 At first glance, the dresses look like  normal cute girl's dresses. But upon closer inspection, you wonder…where are the buttons, zippers, or snaps?
There are none! Heidi has done a fabulous job at creating a bodice shape that can fit over the head without the aid of closures. It's pretty genius if you ask me.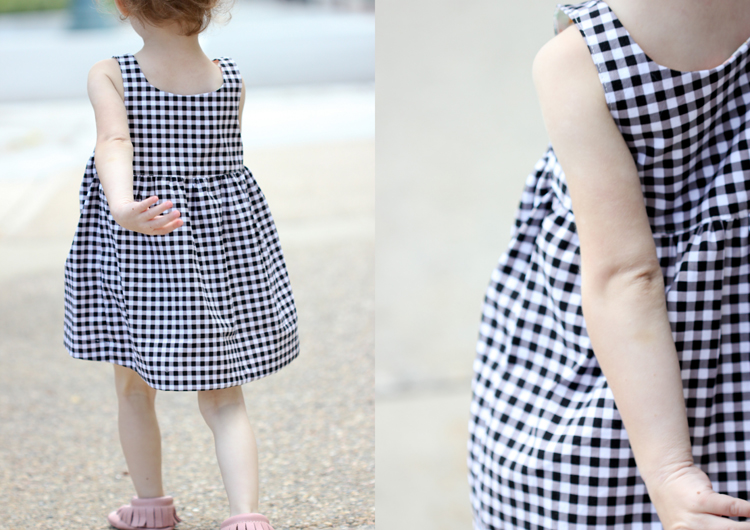 It does make for a roomy bodice, but that is nicely balanced by the  high low curve of the skirt at the high waist and hem.
Speaking of the hem, if you peek underneath…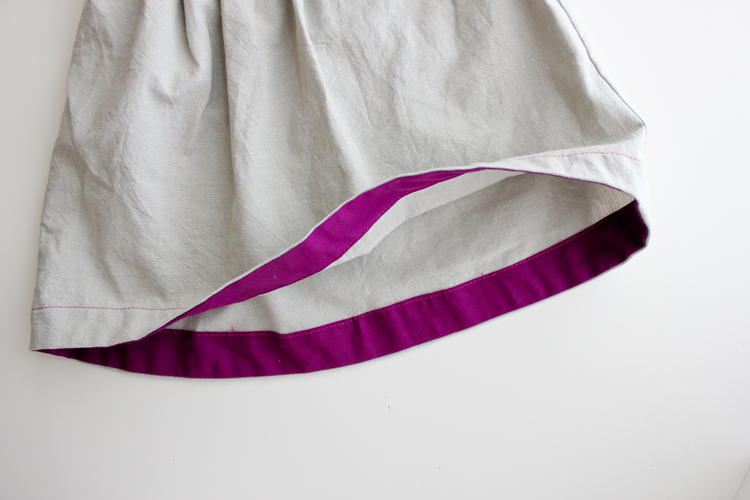 …a contrasting hem facing! Cute right? I think it's my favorite part of the dress.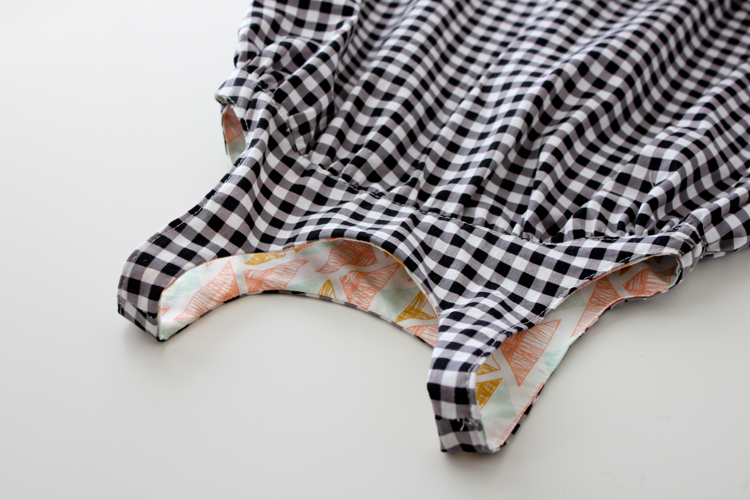 The pattern also includes a sleeve. You can choose a ruffle or a smooth cap sleeve. I chose to make both of the dresses sleeveless because I wanted them to be layering friendly for Fall.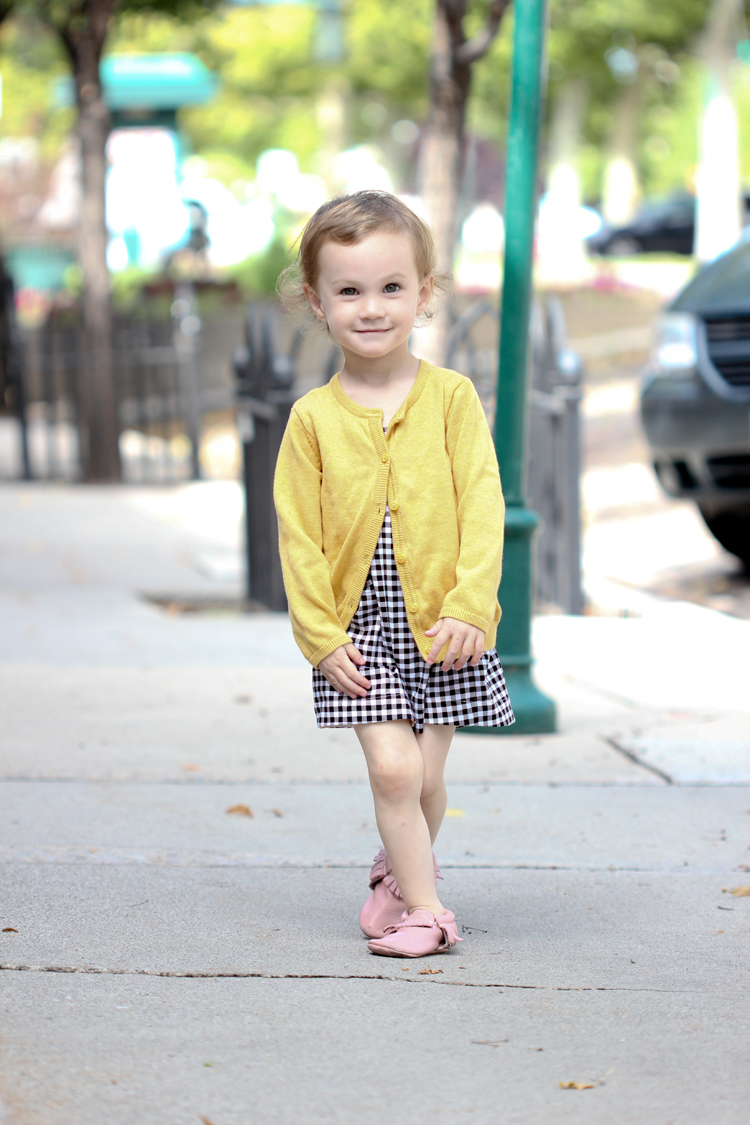 They are  super cute with a cardi over top.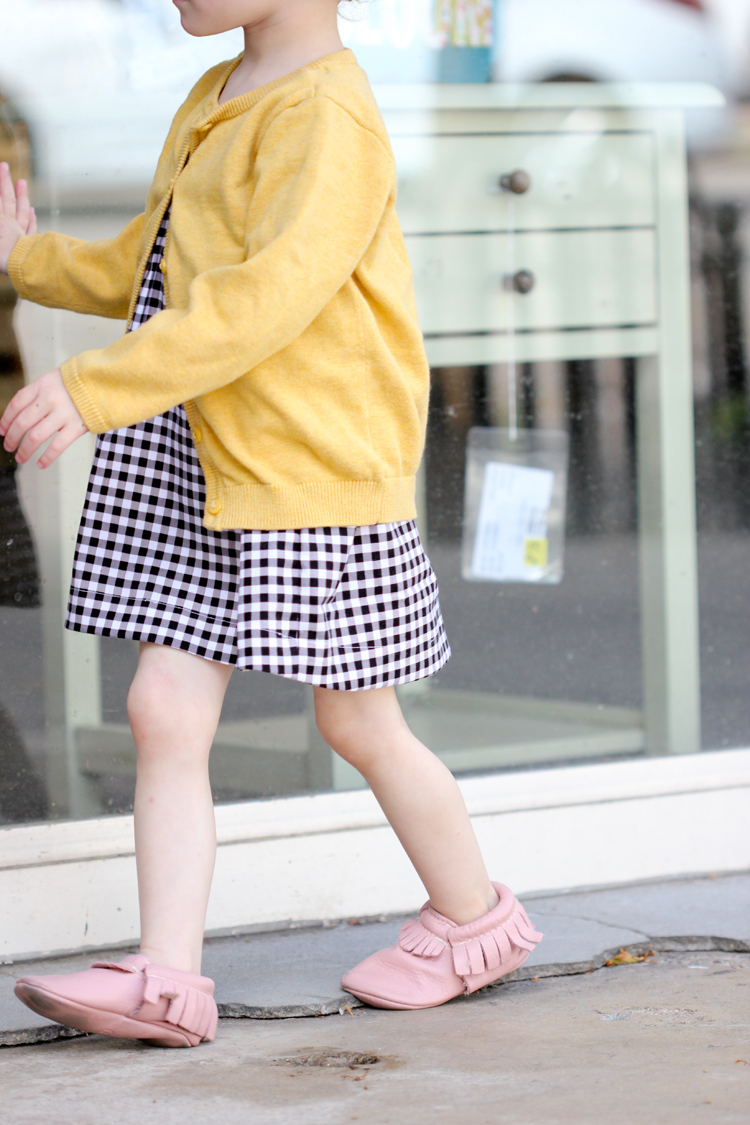 Since we have been enjoying crisp Fall weather here, we have found that they are also cute layered over long sleeve cotton shirts and denim button ups. No joke, Natalie wears one of these dresses at least once a week. So, it's safe to say she likes them. 🙂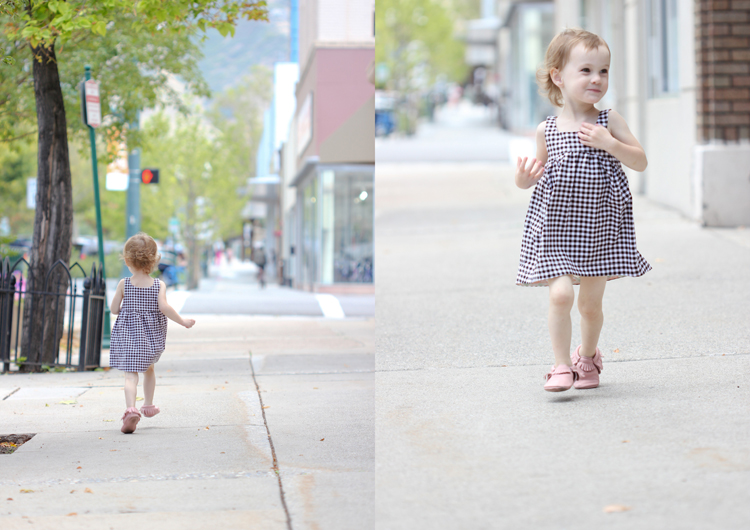 As for pattern logistics…I sewed a size 6-12 month bodice. I know that sounds crazy, since she is 2, but according to the pattern's measurement chart, that's where her chest measurement fits the best. Since the material isn't drape-y or forgiving like knit and the bodice is on the roomy side, I stuck by her measurements and didn't try to go up a size. The verdict? It fits perfect and is not too tight on her head when dressing or anything.
For the skirt, I cut out the size 2 skirt. She tends to grow tall rather than out, so I know it will turn into tunic length by year's end. In fact..it has already started to look too short to me lately!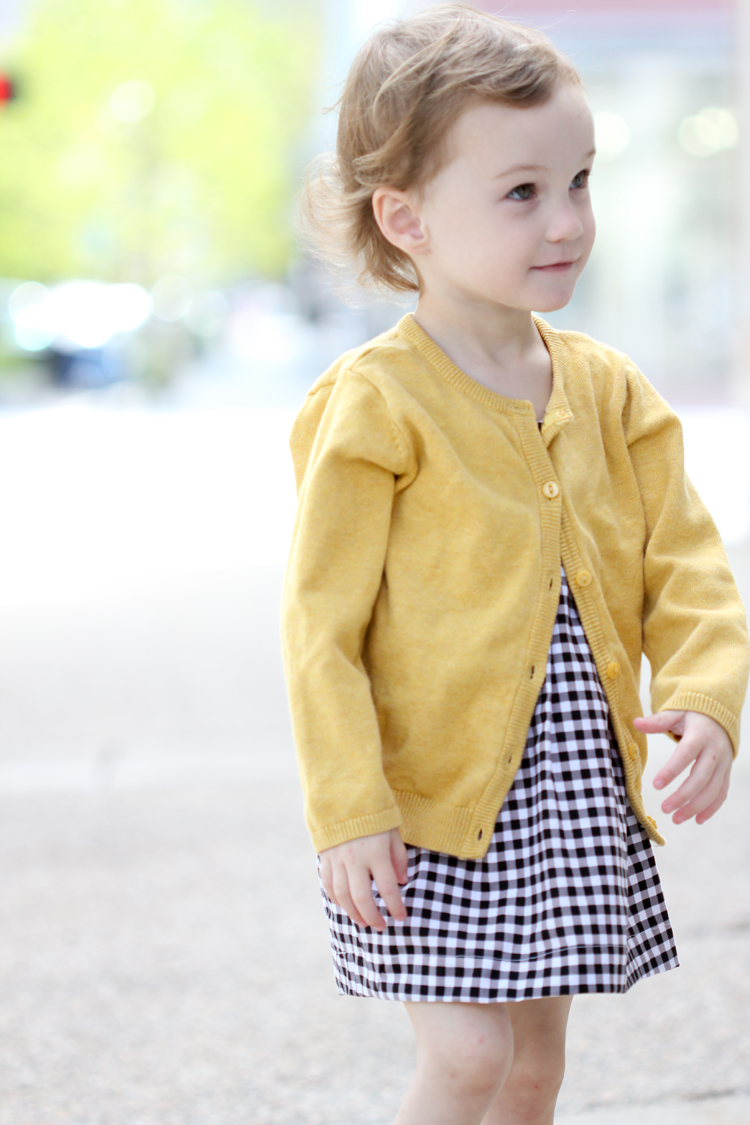 They grow up so fast. Sometimes I feel like I can't keep up! Did, I tell you? She also jumped from a size 3 to a size 5 or 6 in shoes just over the summer! It's fun to finally find non-baby shoes in the store for her.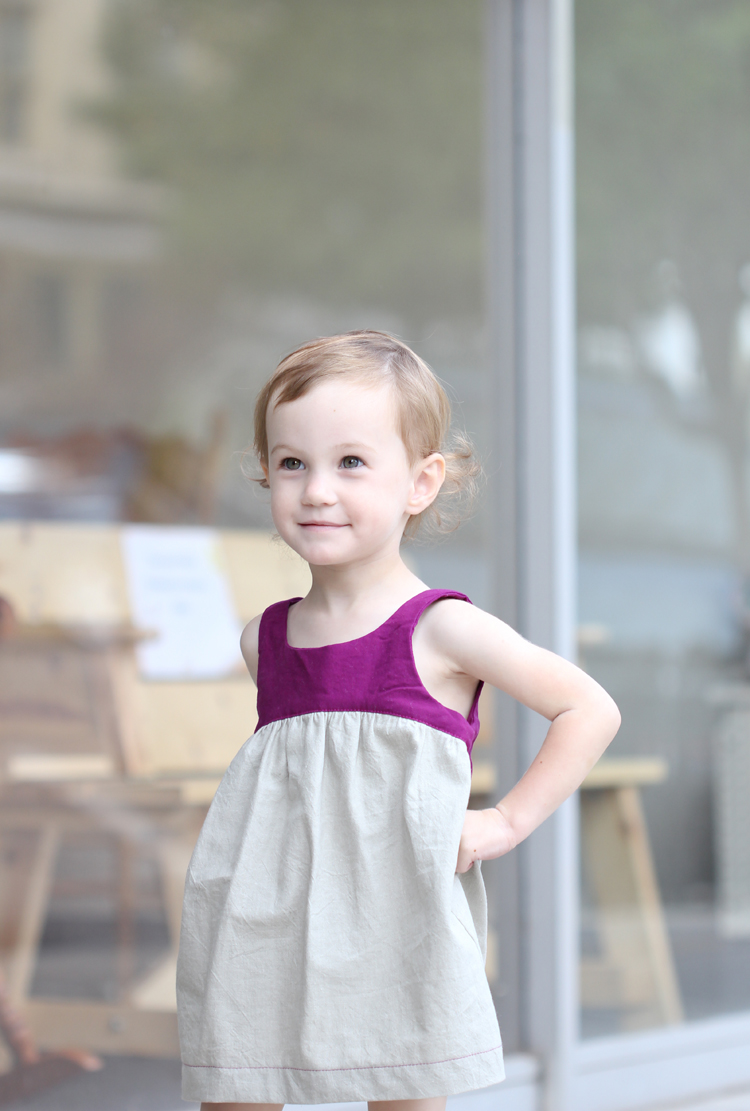 SOURCES: Sewing Pattern c/o Bohemian Babydoll Dress and Top pattern by Elegance & Elephants* || Black and White gingham quilter's cotton – Ribbon Retreat (sorry, they closed out their fabric section, but I think Jo-ann has a similar print) || Lining print – Arizona Crystal Arrowheads by April Rhodes || Purple basic cotton solid used for bodice and lining – also from Ribbon Retreat but no longer available || Gray skirt fabric – Chambray  by Andover Fabrics from LiMA Sews || Yellow cardigan – H&M || Gold shoes – last season from Old Navy || Pink Moccasins – Freshly Picked
*Pattern was provided by Elegance & Elephants but my review is an honest and thorough reflection of my opinion. 🙂