Whether you need a basket for gathering up a gift to give, or if you need a cute storage solution, today's tutorial has got you covered.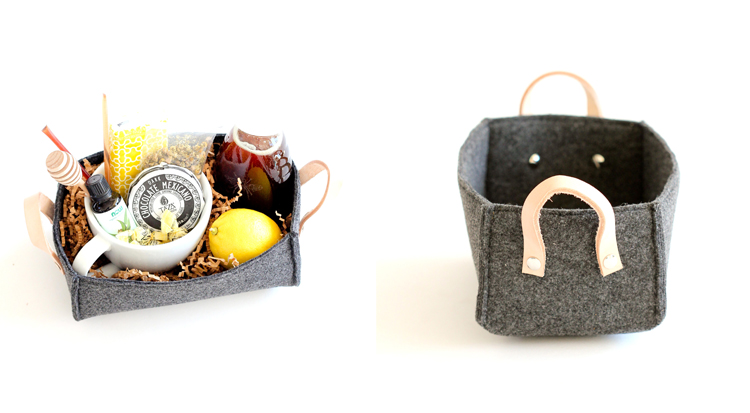 There is something about industrial felt that is so modern and classy. I've been wanting to sew with it for the longest time, but not only is the price tag a bit hard to justify, the available dimensions can be limiting as well.
As I was creating this project together for the Baby Lock Holiday Gift Guide (you can check it out HERE), I came up with a simple solution: an interfacing sandwich!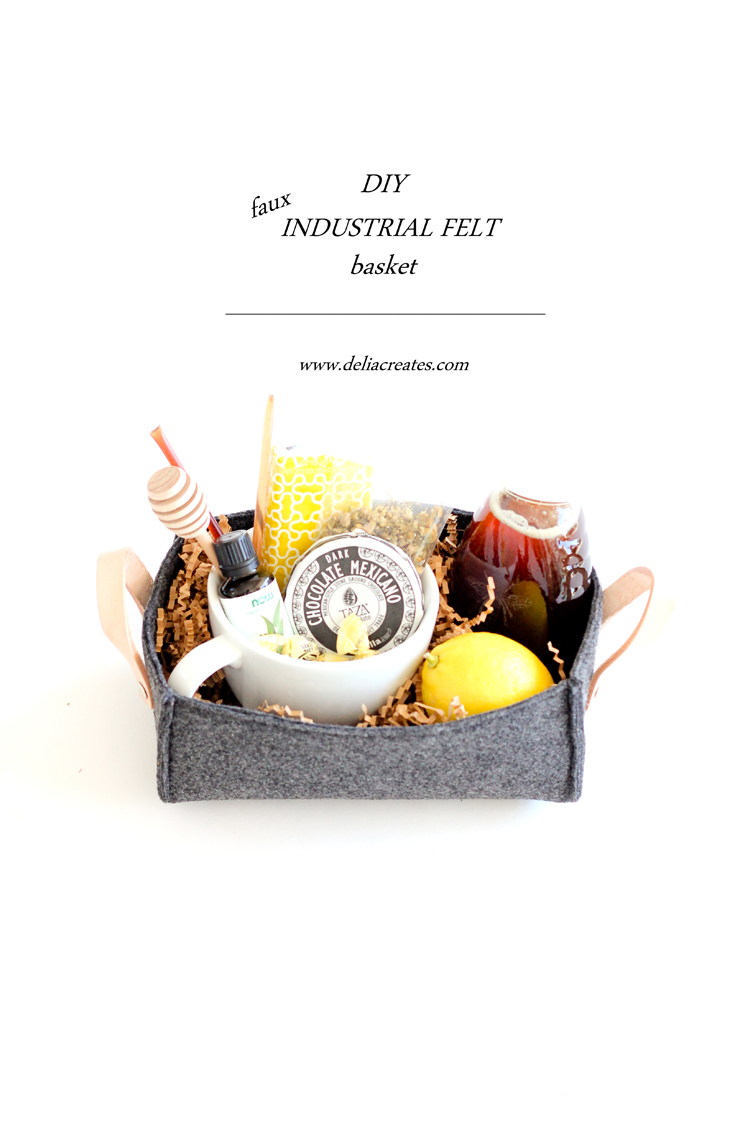 It uses two layers of more easily sourced felt by the bolt, with a layer of thick interfacing in between. I actually used this same method for this tablet case project as well.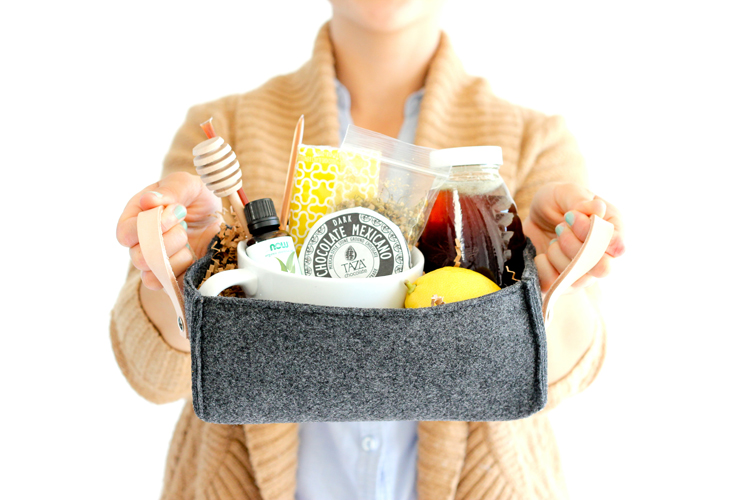 I have to mention really quick, how sturdy this basket is. I totally loaded this basket UP as you can see. That mug right there is an over-sized ceramic mug, and that bottle of honey weighs at least a pound+. This little basket easily handles that, plus all the other goodies, like a champ.
Let's make one, shall we?
Here's the break down…
MATERIALS__________________________________________________
1/2 yard of felt
fat quarter of very thick interfacing*
spray adhesive for fabric
quilter clips (or small paper binder clips)
leather straps**
leather screws
leather punch tool
matching thread (match felt)
Material notes:
* Baby Lock Stabilizer (BLC204) is great for this. I used Pellon brand Peltex 71F which provides great body and sturdiness but it does not fuse well to felt, hence the need for spray adhesive. Just remember, the thicker the interfacing, the better. 
** My straps are vegetable tan leather straps from Tandy Leather. If you cannot find leather straps, you may cut leather and sew them into straps. Be sure to use a leather needle and a lengthened stitch (recommended (3.5 mm)). You may also install large grommets and knot rope into the grommets for handles, as an alternative.
TUTORIAL_____________________________________________________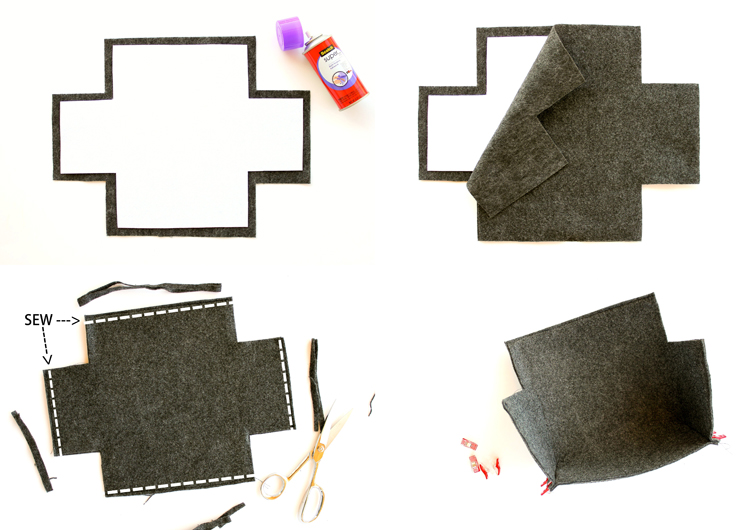 1. Cut felt and interfacing:
Cut felt and interfacing into 13×17 in. rectangles (two felt and one interfacing). Cut away 3.5 inch squares from each corner. Trim interfacing to 5/8 in. smaller than felt pieces all around.
2. Adhere interfacing to felt.
Center interfacing onto one piece of felt (wrong side facing). Secure placement with spray adhesive. Lay second piece of felt on top, enclosing interfacing in between layers of felt, and secure placement with spray adhesive again.
3. Sew felt layers together.
Sew along outer edges with 1/2 inch seam allowance. Trim seam allowances down to 1/8 inch.
4. Bring corner edges together with quilter clips.
5. Sew with 1/2 in. seam allowance.
Take care to sew close to the interfacing enclosed inside, but not through it.
6. Trim seam allowances down to 1/8 inch.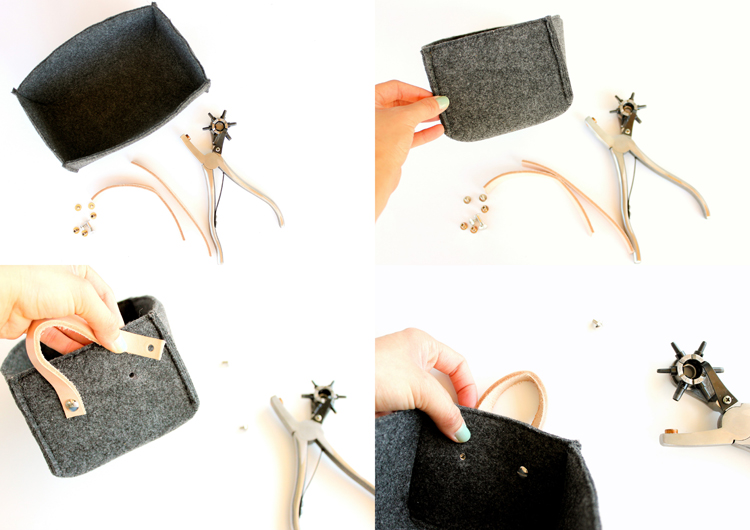 7. Attach leather straps.
Cut straps to desired length (Sample straps are 7.5″). Punch holes in felt with leather hole punch.  Secure straps with leather screws.
That's it!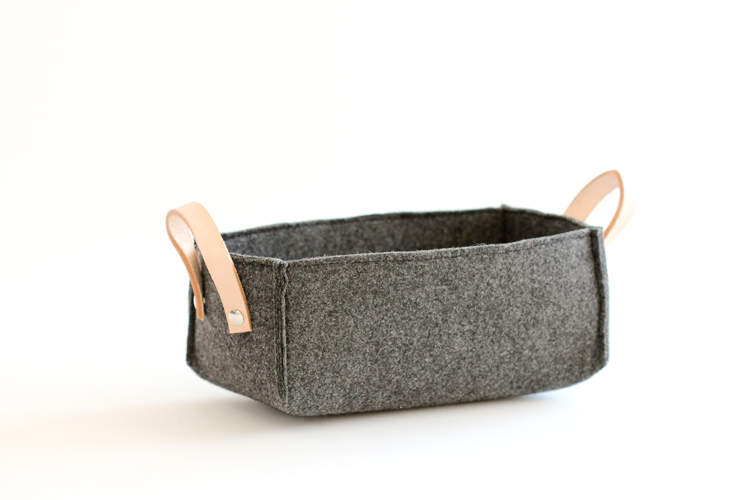 Load up your basket with comfort goodies for a sick friend…
'Tis the season! (I could have used this, this past weekend!)
Or add some holiday cookies instead for a festive gift basket.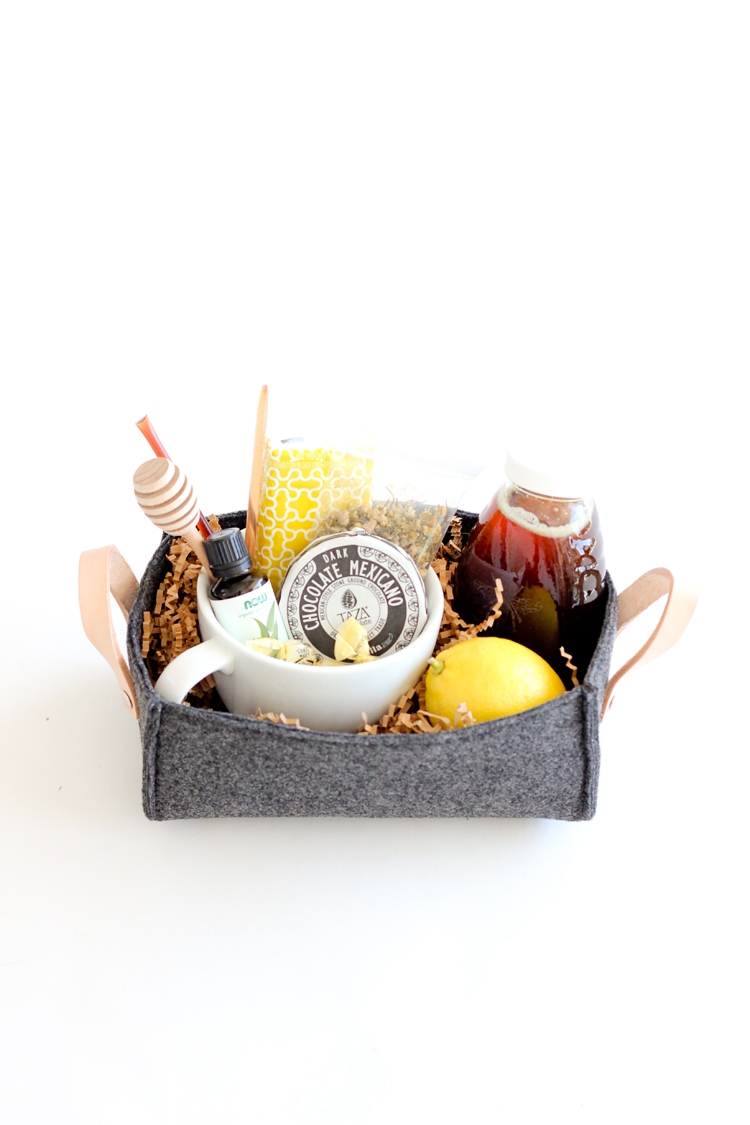 Or… skip the gift element all together, and keep it as a cute storage basket for yourself. No one will judge. 😉
For more great sewing gift ideas and projects, check out the Baby Lock 2015 Holiday Gift Guide!
Disclaimer: This post was created in partnership with Baby Lock. I am super excited to be working with Baby Lock on more projects like these. I'll be sharing more details very soon. Thank you for supporting the brands that help keep this site running.