Anyone else a Gilmore Girl fan?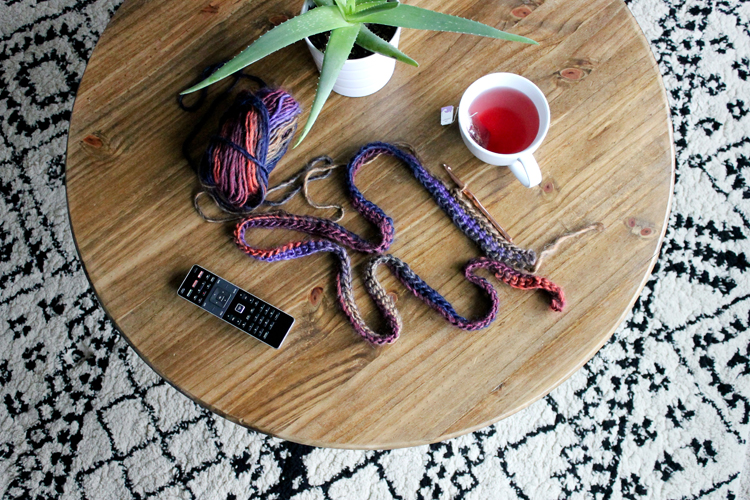 I don't get fan girly about much, but Gilmore Girls…I cannot help taking all those lame Facebook quizzes to see if I'm a "Gilmore Girls expert." Ha! It's like a moth to a flame.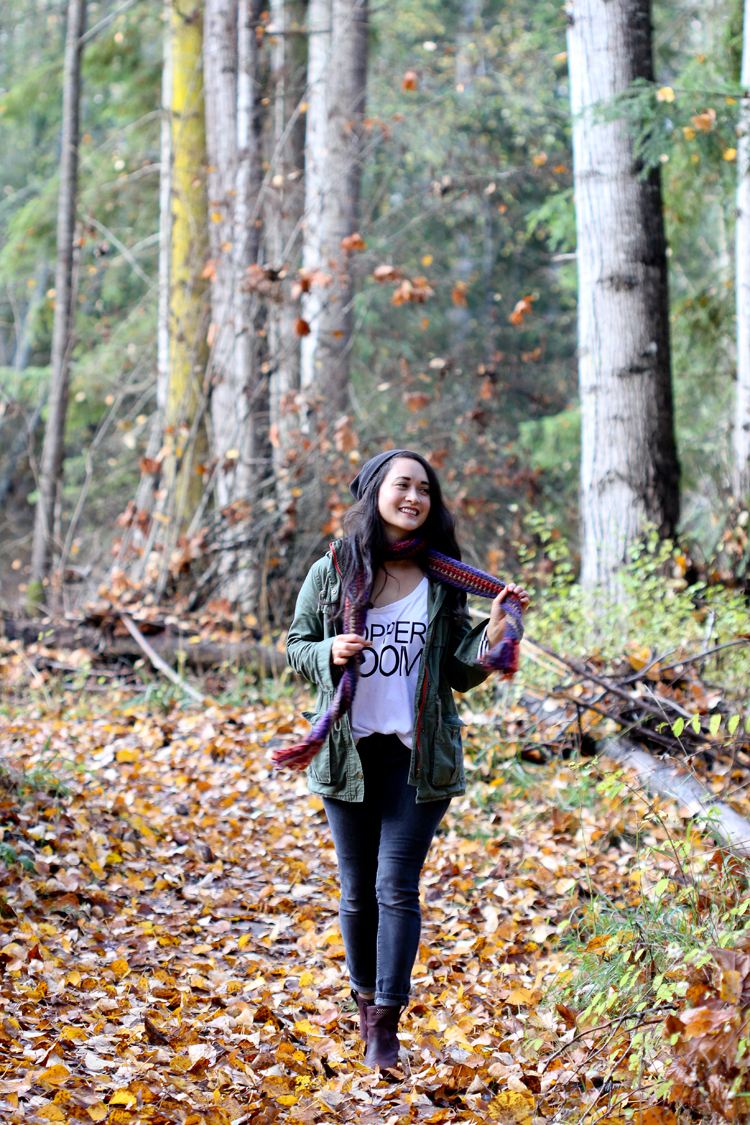 So, to say I'm looking forward to the Gilmore Girls Revival series is an understatement. But I'm not Team Logan, Jess, Dean, Luke, or Christopher. I'll tell you why in a moment.
This is a DIY post after all, so let's get to the scarf!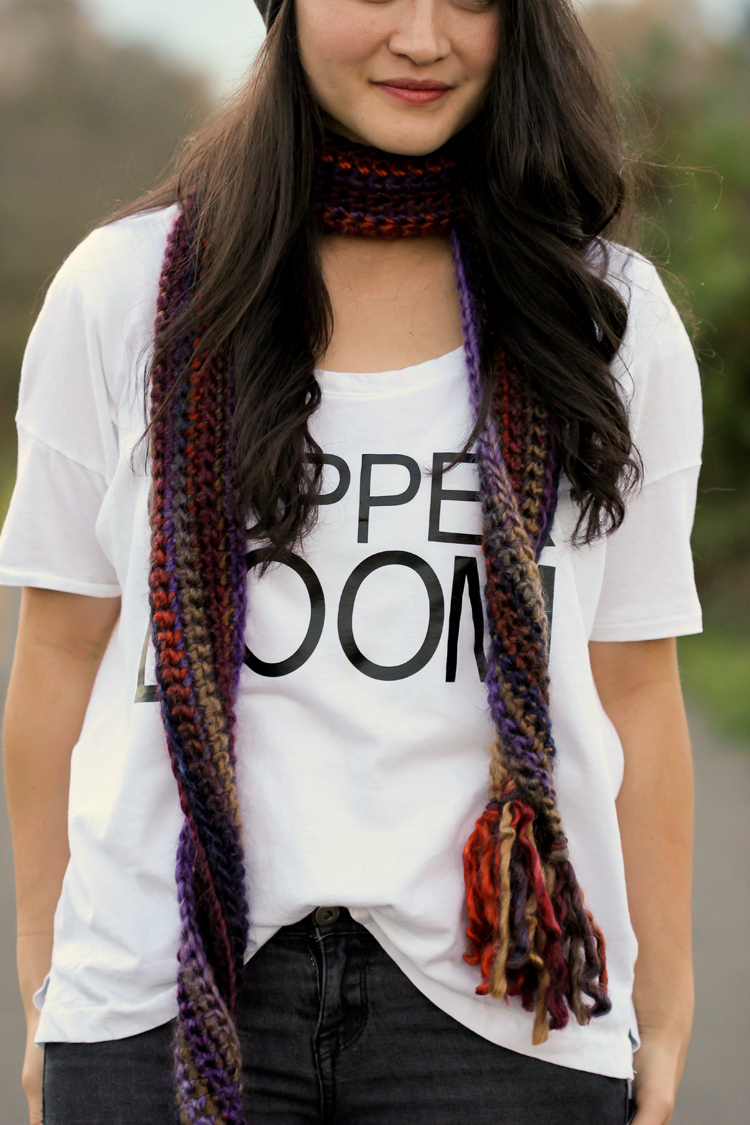 If there is one iconic thing about Gilmore Girls is all the skinny scarves Lorelai and Rory wore. I have to admit, I'm not a total fan of the OG Girlmore Girls wardrobe, but at the same time I love how real it looked. It was so anti-Hollywood which made the show that much more relatable and loveable.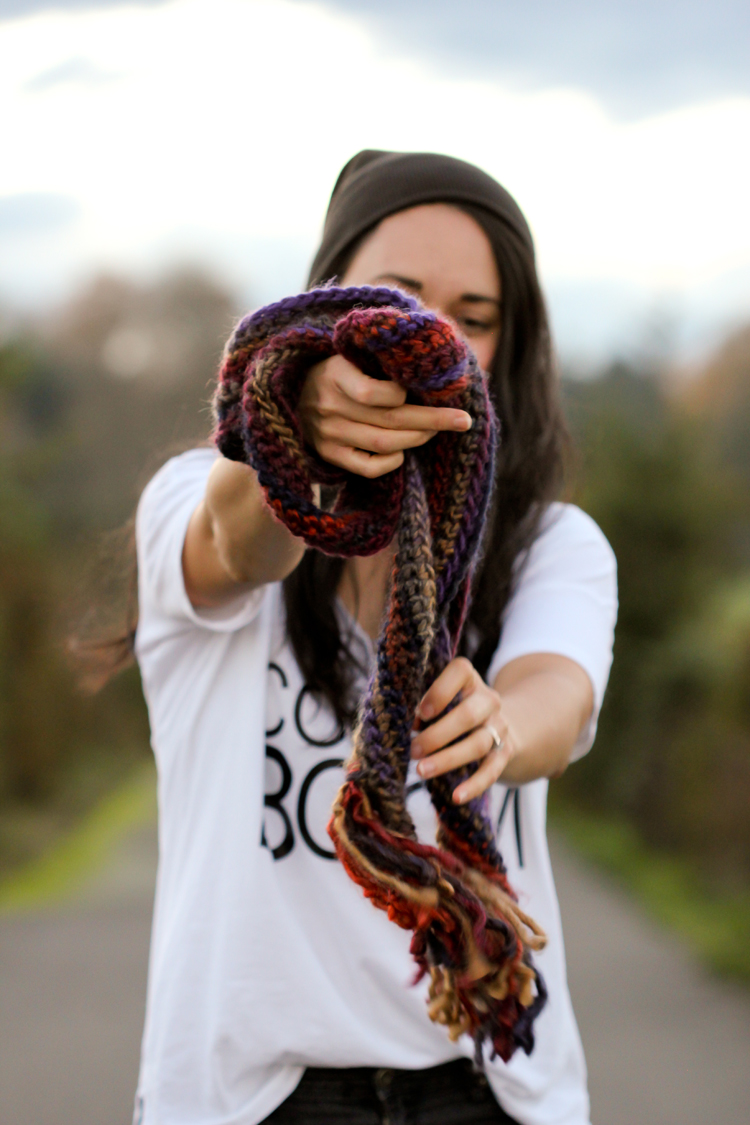 So, I created a SUPER easy Gilmore Girls skinny scarf pattern in honor of the revival this month.
And when I say EASY…I mean it's just single crochets and some fringe! Add in some multi-colored yarn for a touch of Lorelai-ness and you're gold…er copper…boom?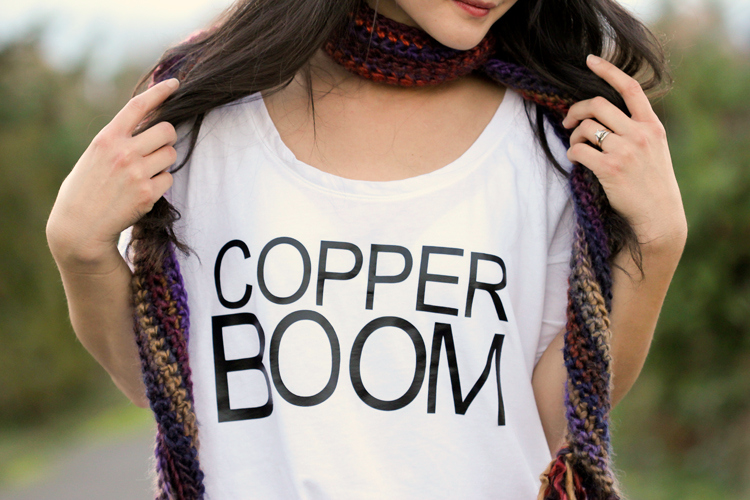 It's one of my favorite lines from the show. Essentially, it means to hustle.  So, I cut it out of some heat transfer vinyl with my new Cricut Explore Air and slapped it on a T-shirt. You can bet I'll be wearing it when I hunker down on the couch to watch the revival. 🙂
Alright…let's get down to business. Copper Boom!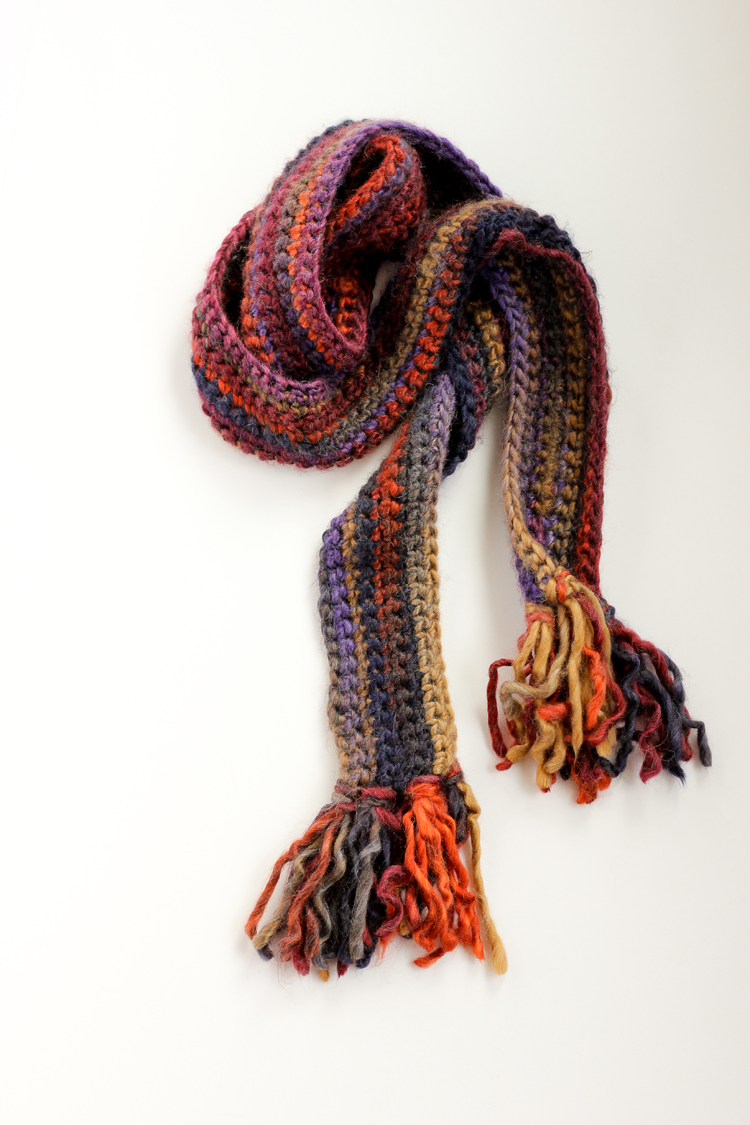 Lorelai Skinny Scarf Pattern
MATERIALS:
136 yards of super bulky (size 6) yarn*
9.00 MM hook
scissors 
*I used Issac Mizrahi Craft in Sutton.
ABBREVIATIONS: 
sc = single crochet
GAUGE:
2 x 2 in square = 4.5 sc x 5 rows (really not crucial though…just keep things consistent)
PATTERN:
ch. 152
Row 1: In 3rd chain from hook sc, sc across (150)
Row 2: chain 2, sc across (150)
Row 3-8: Repeat Row 2
Tie off.  No need to weave in ends, as they will blend in with the fringe.
Fringe: Cut 14 inch strands of yarn for fringe. Stack two or three strands together, fold in half, and pull through ends of scarf. Luggage tag tie (pull ends through loop) fringe, and trims ends as desired.
The ends of the scarf will likely curl. You can leave them as is (like I did) or you can block them flat.
Add a Luke jacket if you've got one. 😉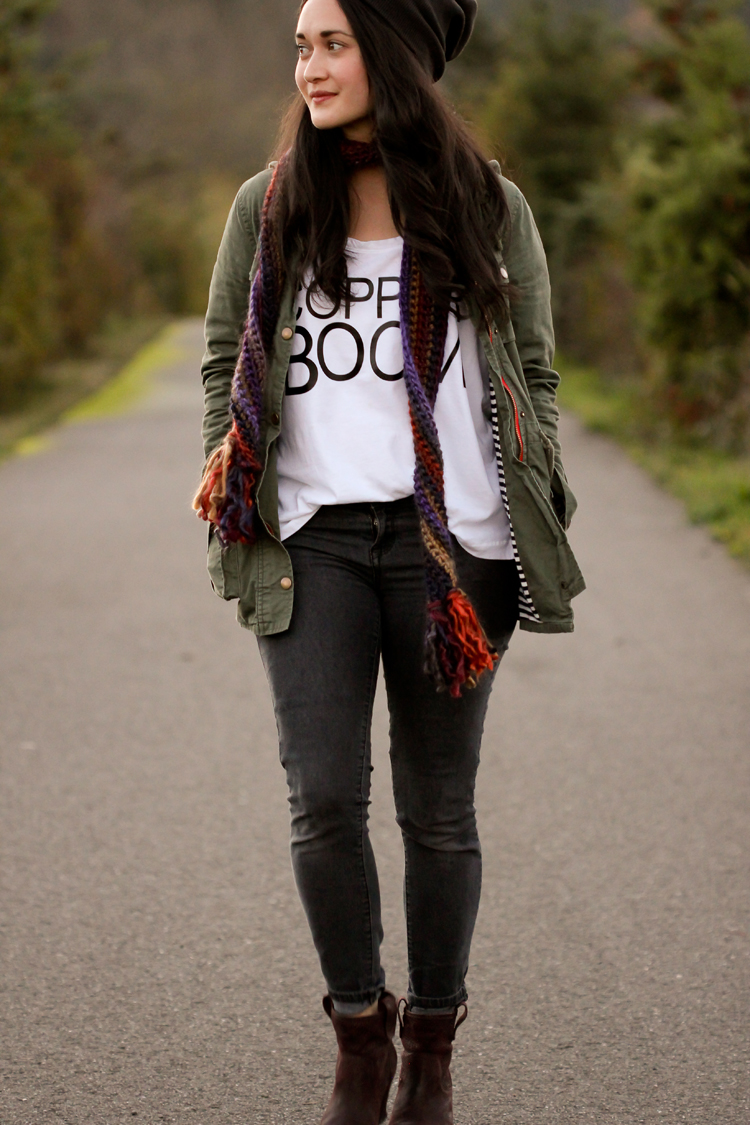 Alright, back to why I'm not Team Christopher/Luke or Team Dean/Jess/Logan. I think that while the love lives of each of the Gilmore girls has played a big role in the show and in the character development of each woman, it is not the ultimate point of the show. It may seem obvious, but I think the crux, the essence, of the show is in the title. It's all about the mother/daughter dynamic between Emily, Lorelai, and Rory.
So whether, Rory will end up with Logan, Dean or Jess, or whether Lorelai will stay with Luke, is not that essential…well I still want to know, don't get me wrong! Let's not get crazy here! But…I think this show has always been less about "him" and more about them….the Gilmore Girls. I predict the culmination of the show, the four final words Amy Sherman-Palladino said that series will end with, will be shared between or be about these women.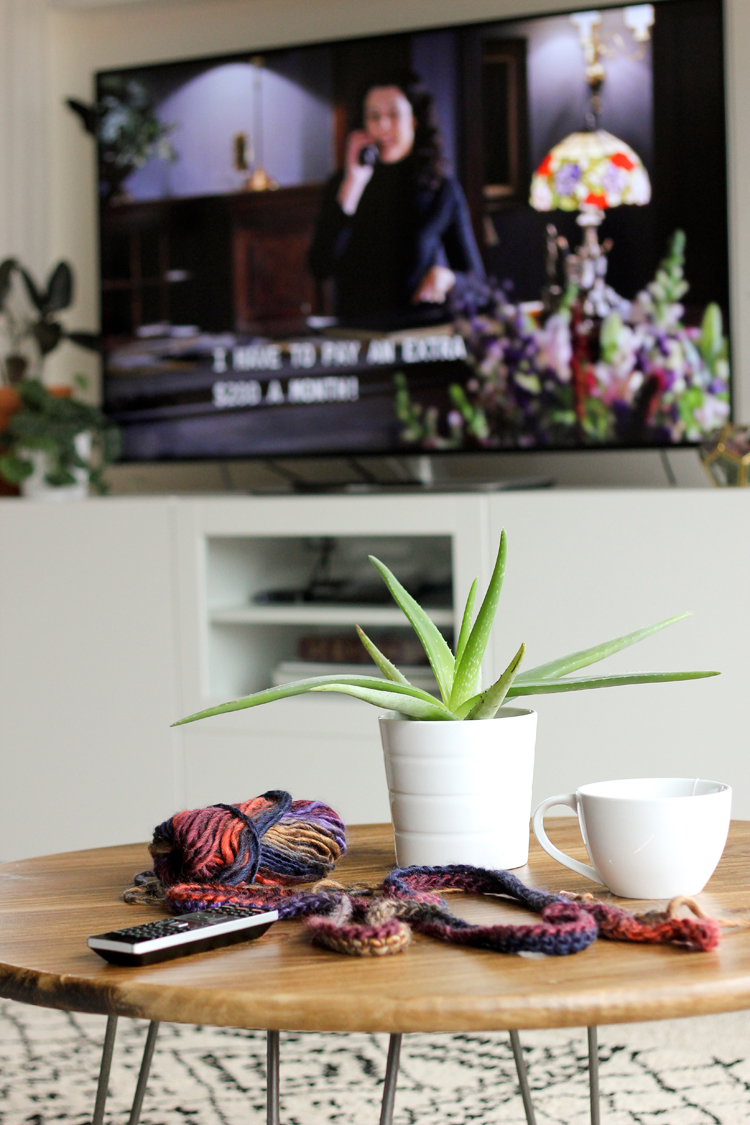 Now, there's just 11 days until we find out if my prediction is correct!
See you on the other side!