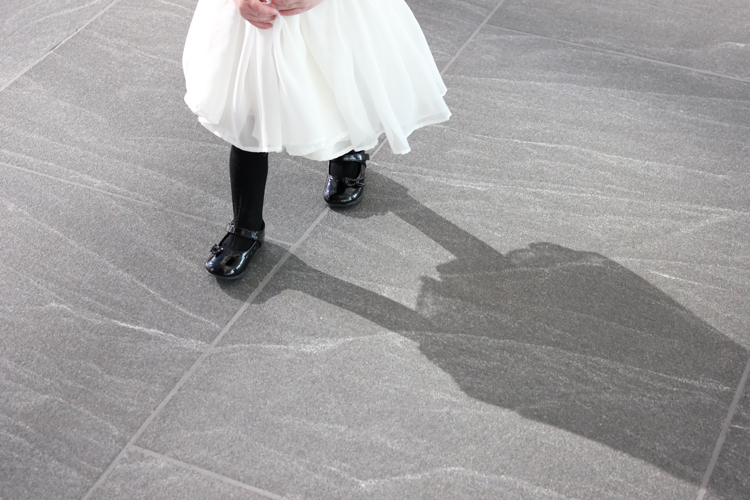 If you read Wednesday's post then you know that Five & Ten Designs now offers a FREE bonus sleeve pattern available for download on our site HERE!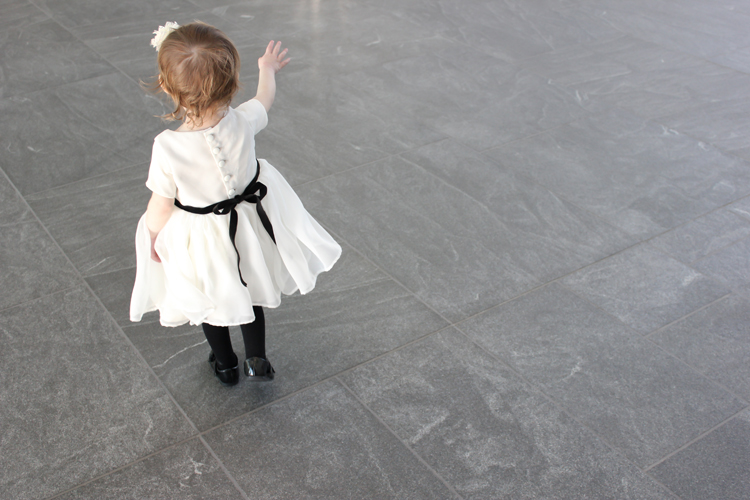 In addition to that excitement, today through Monday, December 2 our e-book is 30% off!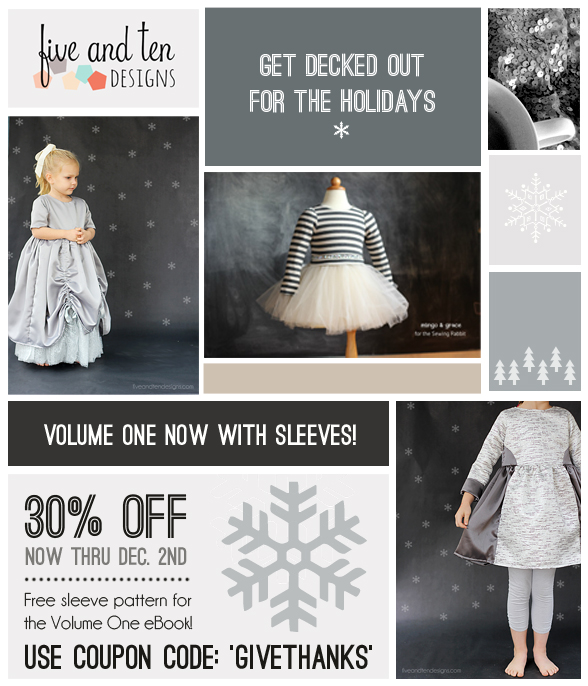 Sweet right?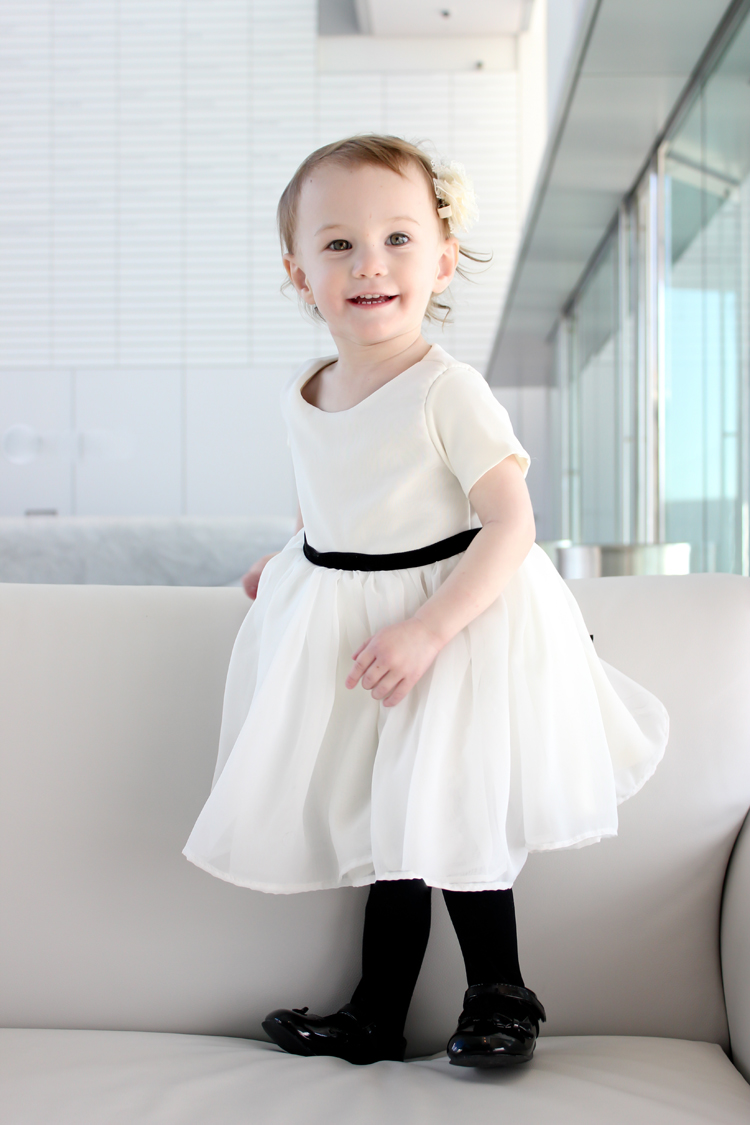 Just in time for holiday sewing!
If you already have the e-book. Don't fret! You can still download the sleeve pattern  for FREE by clicking on the pink banner below.

The sleeve pattern is for a short sleeve, a 3/4 sleeve, and a long sleeve. So you can make a dress for any season.
I made a long sleeve winter dress on Wednesday. Today, I'm sharing the short sleeve Christmas dress I made…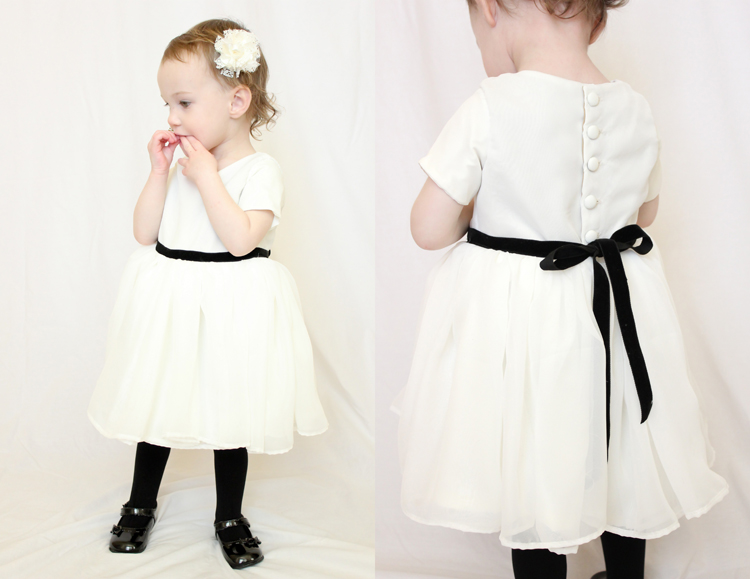 I wanted to go with a simple, classic look.
Black and cream with shiny black shoes.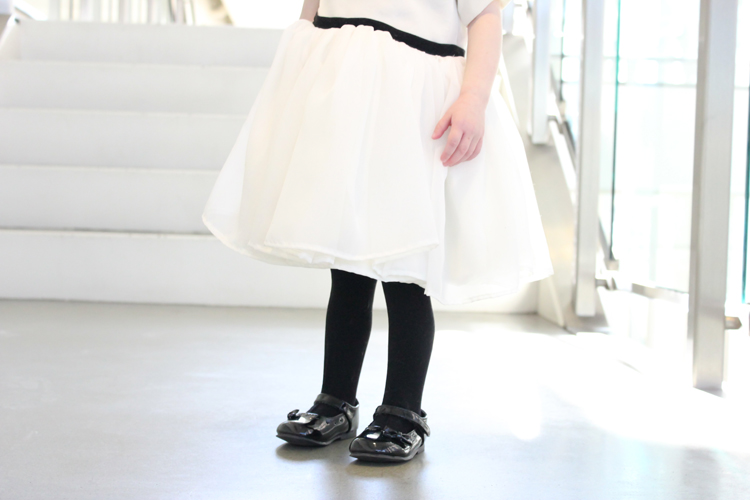 The shiny shoes were a must for this look, imo. 🙂
The shoes are from Payless in the baby pre-walker section even though is almost 21 months. Natalie has teeny tiny feet.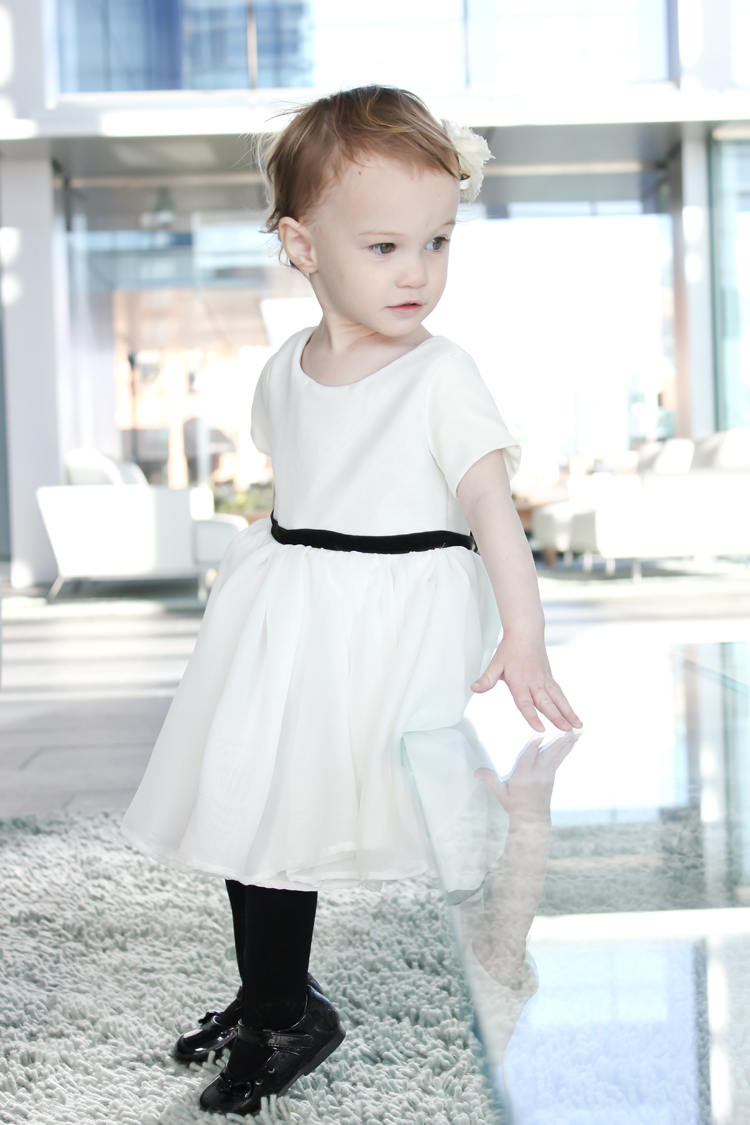 Actually, she is teeny tiny all around. I sewed this dress up in a size 12 months. She usually wears 12-18 months in commercial clothing and this fits her well enough to last her through the winter.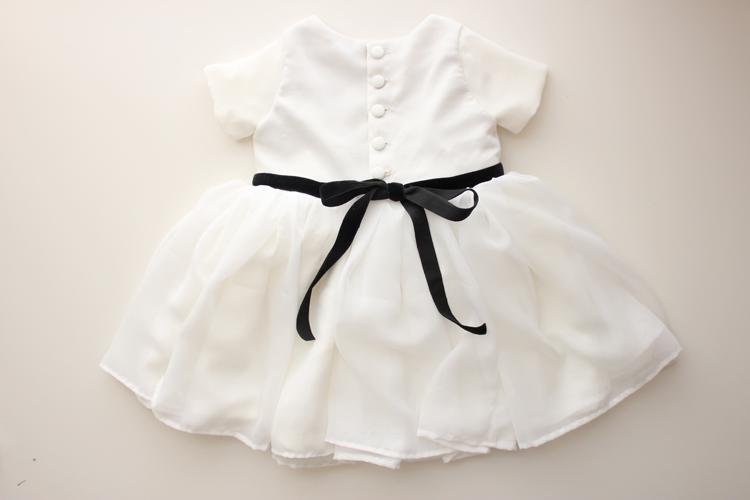 I sewed Look One, or the basic dress, with short sleeves.
The bodice is made up of a matte cream satin from Jo-Ann with a cream chiffon overlay, and lined on the inside with a tan polyester lining fabric also from Jo-Ann. The skirt is comprised of one layer of matte cream satin and two very full layers of cream chiffon from Michael Levine  (it's listed as Ivory chiffon HERE).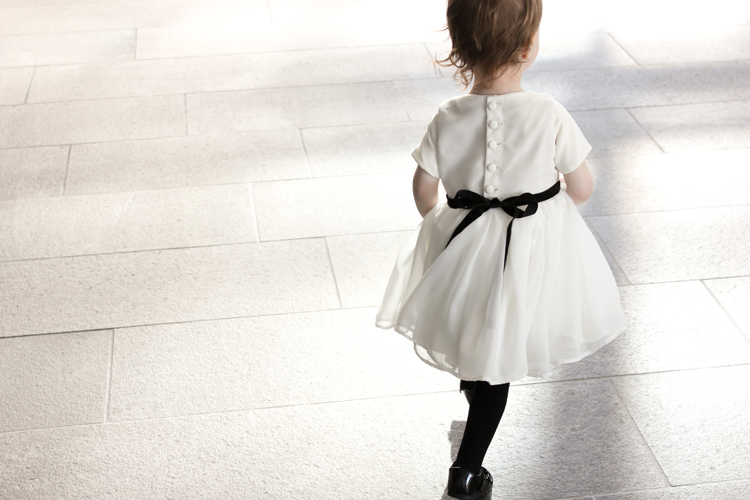 Sometimes sewing special occasion dresses can get really pricey. One way to get around that is to use chiffon. It's really inexpensive (mine was $3.00/yard and I used about two), yet still gives a fancy look. The cream satin I used underneath was just a step or two above a lining, so it was really affordable as well, especially with a coupon.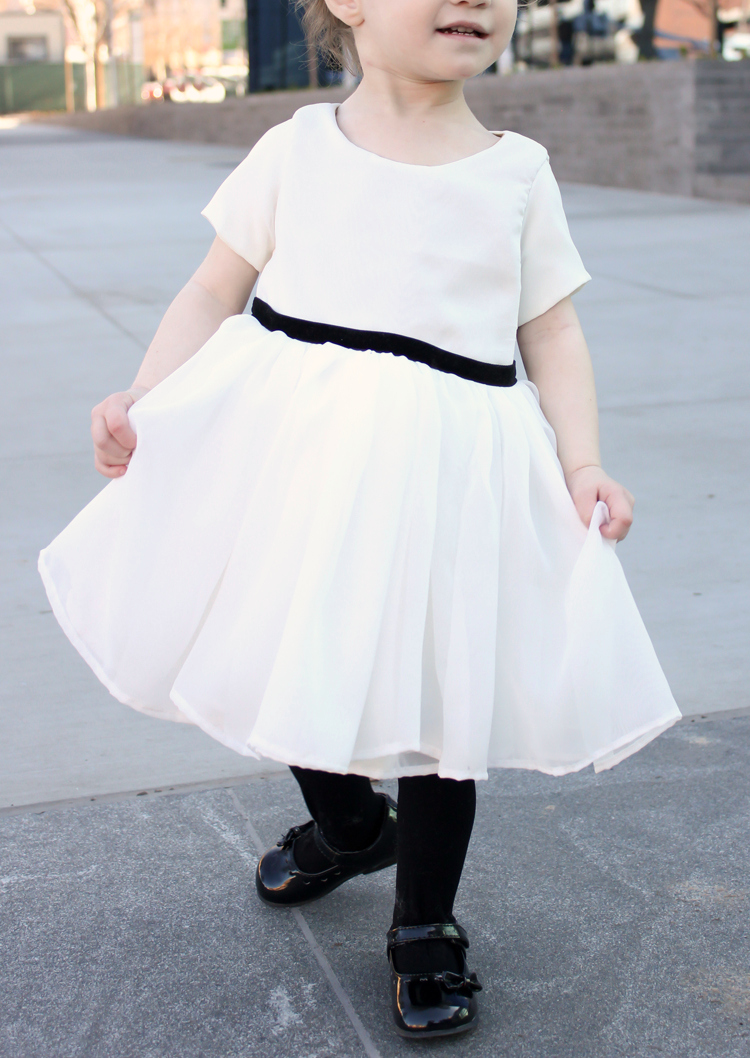 I will admit, that it can be fussy to sew though.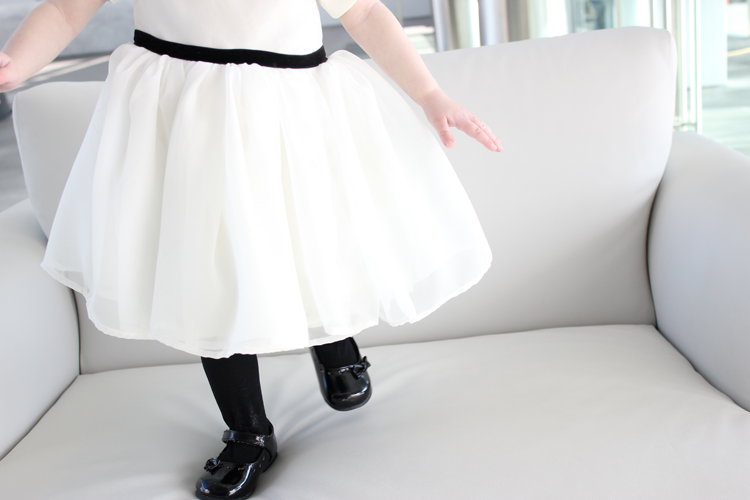 Sewing narrow rolled hems with chiffon is time consuming, but it is also not as bad as you think. My first yard of hemming was the most tedious. After that, I got a rhythm going and I finished about six more yards in about 10 minutes.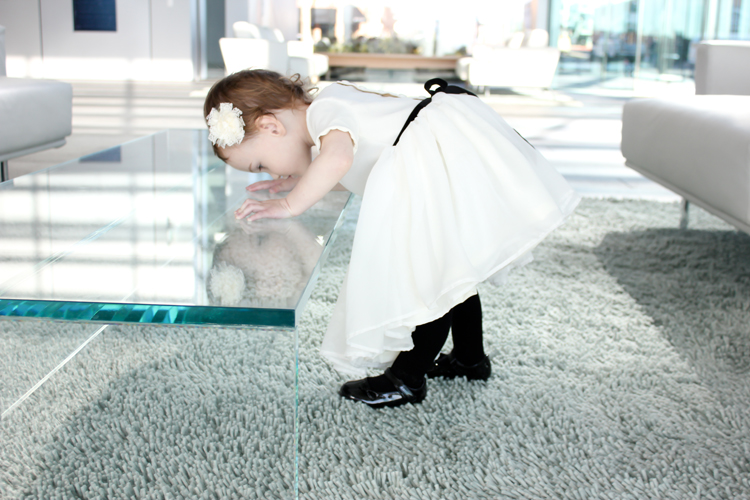 I tied off the bodice with some black velvet ribbon from Jo-Ann and buttoned up the back with matte cream satin covered buttons.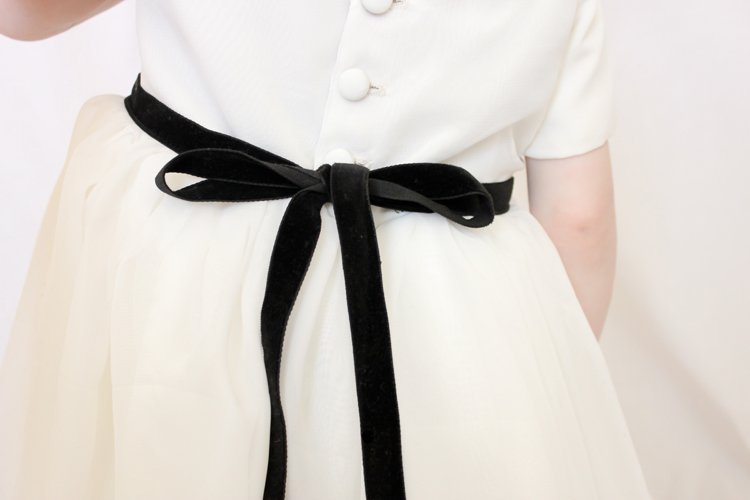 Oh and I have to tell you that the sleeves are lined! Jessica (The Sewing Rabbit) shares a really cool technique with the FREE sleeve download that gives you a fully lined bodice and sleeves with no visible seam allowances. What the what? Yes. You have to check it out.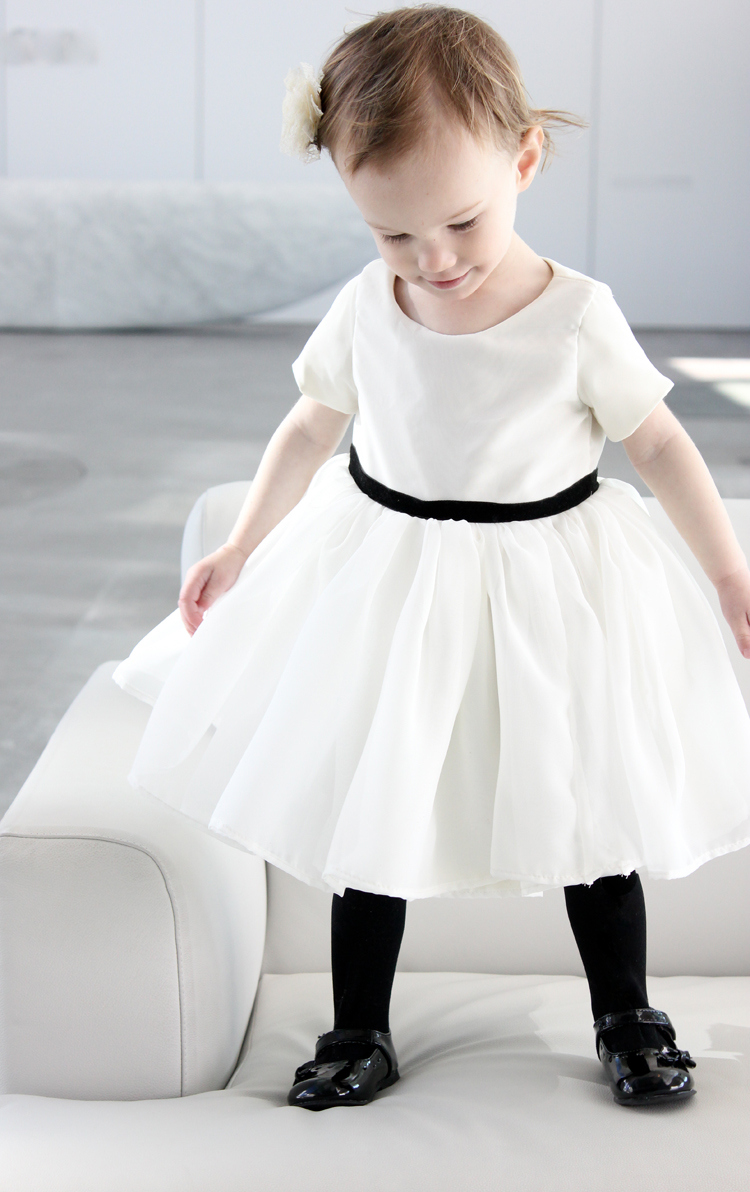 It will blow your mind.
Okay. So, remember the sale lasts from now until December 2 (Cyber Monday).

HAPPY HOLIDAYS!