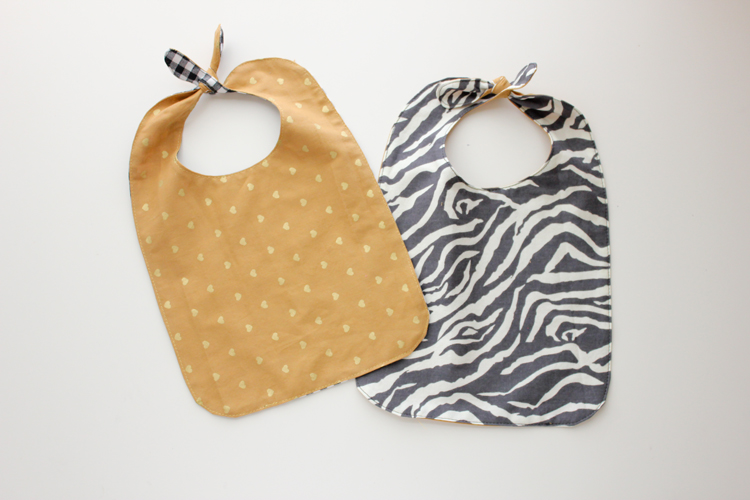 Baby bibs are the perfect baby gift to sew. You can easily customize them with fabric choice and they are fast, fast, fast to sew (love that!).
There are lots of versions out there and tons of possibilities. Make it double sided, add a pocket, add a snap, a button, velcro, or a knot! Or not….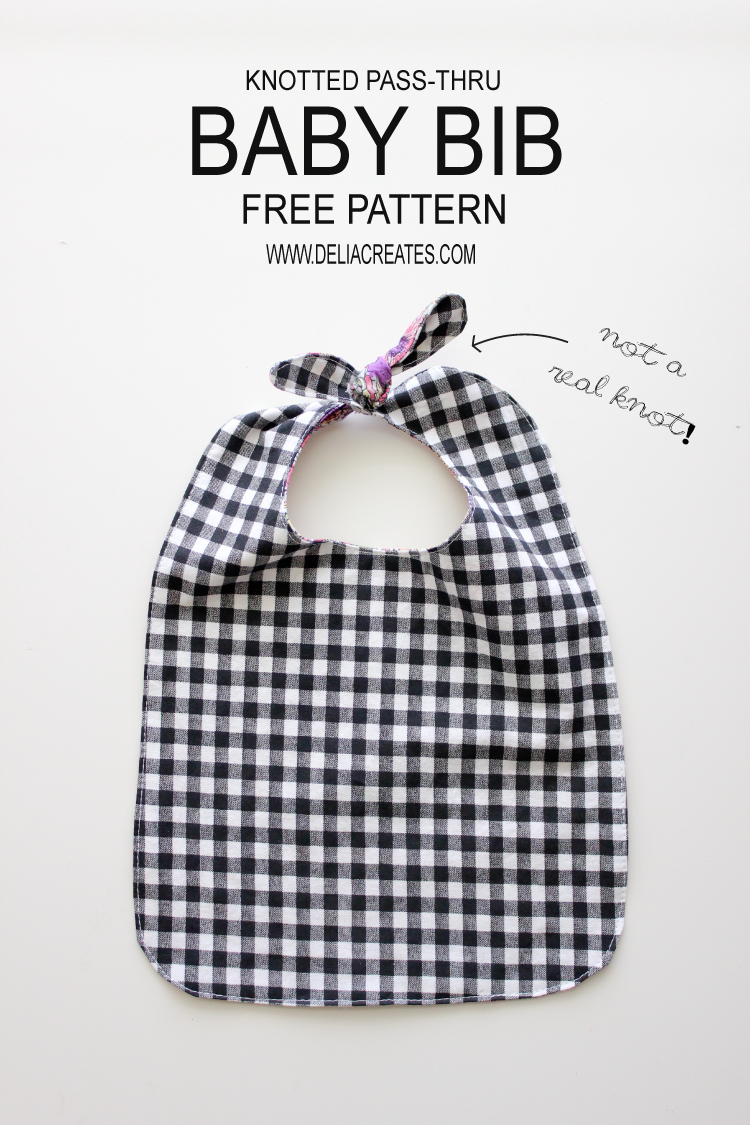 😉
You may remember my free Knot-knotted Cape pattern from last year. Well, this is the same concept.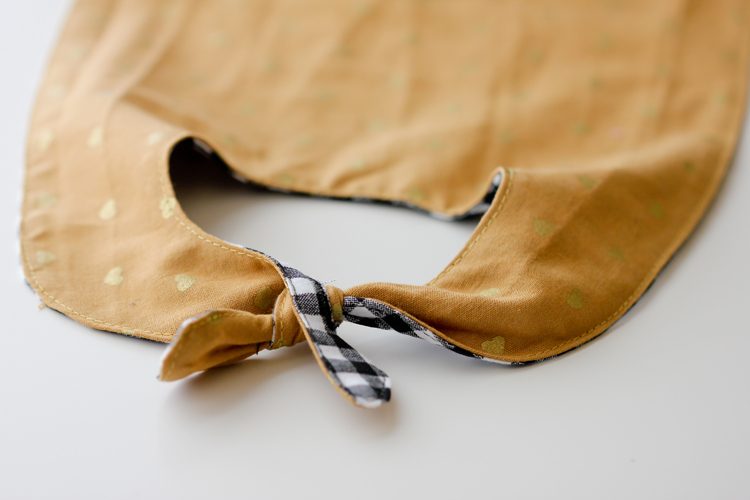 It's looks knotted, but it's just a knotted end that passes through a button hole.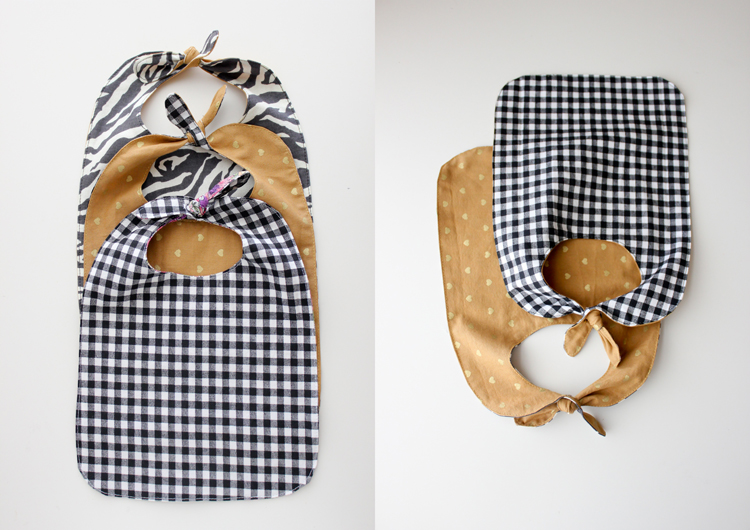 Ready to get started?
>>>SEAM ALLOWANCE: 1/4 inch<<<
MATERIALS
Free Knotted Pass-Thru Baby Bib Pattern
1/4-1/3 yard quilter's cotton, or a fat quarter – mix and match coordinating fabrics for a reversible look basic sewing supplies matching thread  buttonhole foot for your sewing machine  
STEP ONE: Prepare your paper pattern pieces.
a. Print your pattern on standard 8.5″ x 11″ or A4 paper. (GET PATTERN HERE)
b. Cut off the paper outside the gray border by cutting on the OUTSIDE edge of the gray border.
c. Match up pattern lines to form the bib. Tape all three pieces together. Cut the bib pattern out.
STEP TWO: Cut fabric.
Cut two mirror pieces from desired fabric.
The pattern just barely fits 1/4 yard of fabric. To be safe you can ask for 10″ or 1/3 yard, or use a fat quarter. Remember quilter's cotton will shrink a little after the initial washing and drying.
Grain doesn't matter for this project, but if your fabric has a directional pattern, you will likely need to get 1/3 yard or a fat quarter. You can see on the yellow and gold hearts fabric that I probably could have gotten 1/3 yard so that my hearts would be vertical.
STEP THREE: Sew bib together.
a. Sew around all raw edges of the bib except for a 3 inch opening at the bottom. There are quite a lot of tricky curves. Sew slowly and lift the presser foot often to make sure the fabric doesn't bunch up as you turn. Make sure that you are using a 1/4″ seam allowance.
b. Clip the seam allowance of concave curves and notch convex curves. Be careful not to snip through any stitches.
c. Turn the bib right side out through the opening. Use a point turner, or the blunt end of a paintbrush or chopstick to turn all the curves out nice and neat.
STEP FOUR: Top stitch bib.
a. Press the bib flat and in place. Fold under the raw edges of the opening and press them in place.
b. Pin opening closed.
c. Starting at the opening, top-stitch around the outer edge of the bib close to the edge, thus closing the opening at the same time. Sew slowly and lift the presser foot up often, to prevent bunching, as you did in Step Three.
STEP FIVE: Sew buttonhole.
a. Using a button hole foot, open the button gauge up to about 3/4″-1″.
b. Mark the buttonhole placement, using the pattern as a guide.
c. Sew a button hole.
d. Place a pin at one end of the buttonhole. Using a seam ripper, or sharp scissors, carefully open up the inside of the buttonhole. The pin acts as a safety precaution to keep you from ripping through the sewn button hole. Apply fray check to the inside of the button hole if desired.
STEP SIX: Complete the bib.
a. Knot the other end of the bib that has no buttonhole.
b. Pass it through the buttonhole and voila!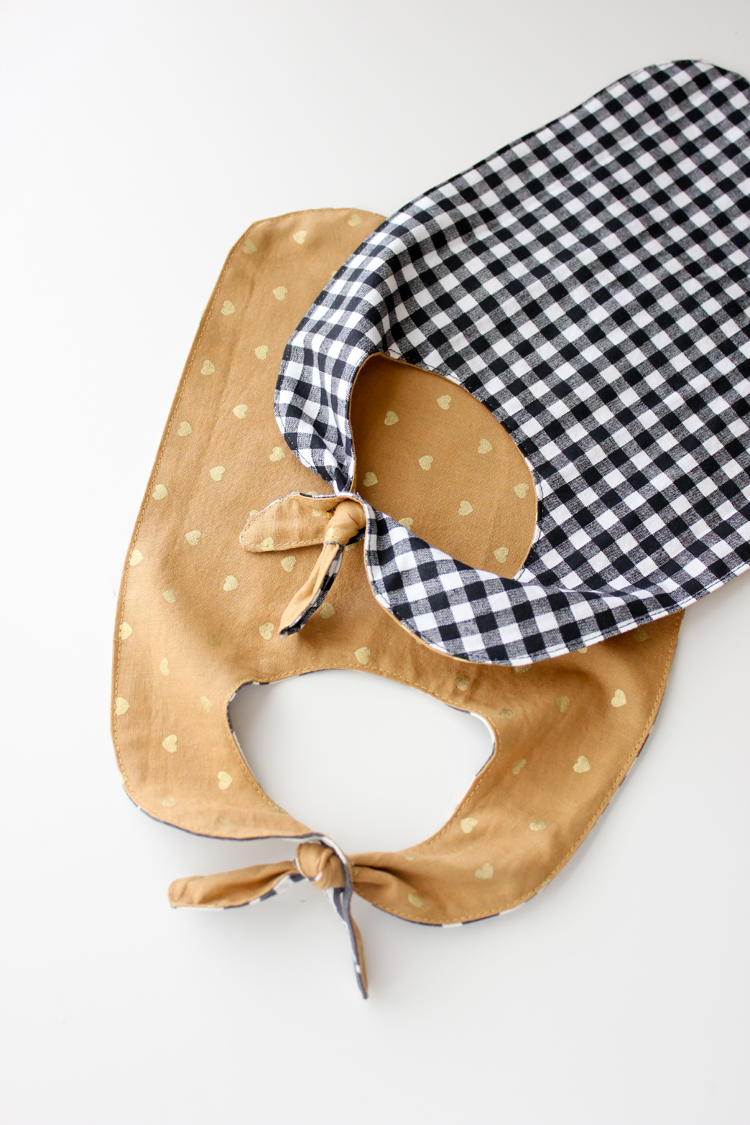 The buttonhole may be a little tight at first.
Make sure your knotted end is knotted very tightly. Then, pass the knot through the buttonhole several times to break it in. After that, you should be good as gold.
I like these bibs because they don't require notions, so not only does this bib have no choking hazards but it reduces strangulation risks. If you tug on the knot it will stay, but if the weight of a child got caught on the bib, the not knotted ends would most likely come apart. Kind of cool huh?
Disclaimer: of course, this is not a guarantee, please supervise your children when wearing these bibs and when eating.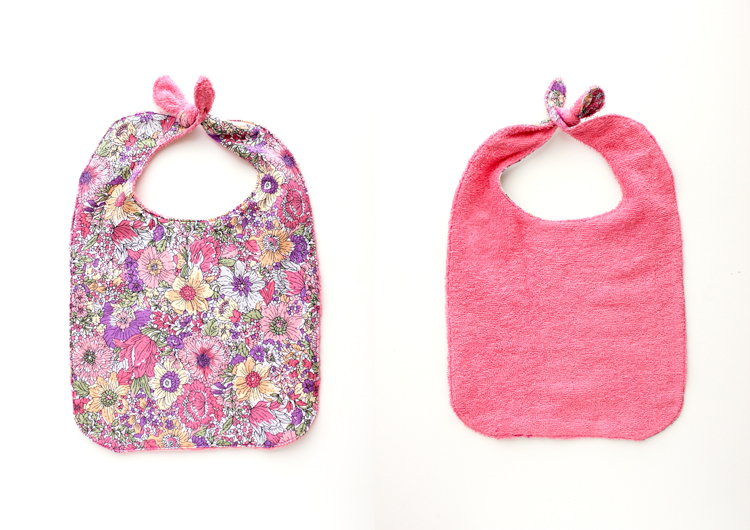 For kicks, I lined one of the bibs with some terry cloth. It is trickier to sew, but great for big messes.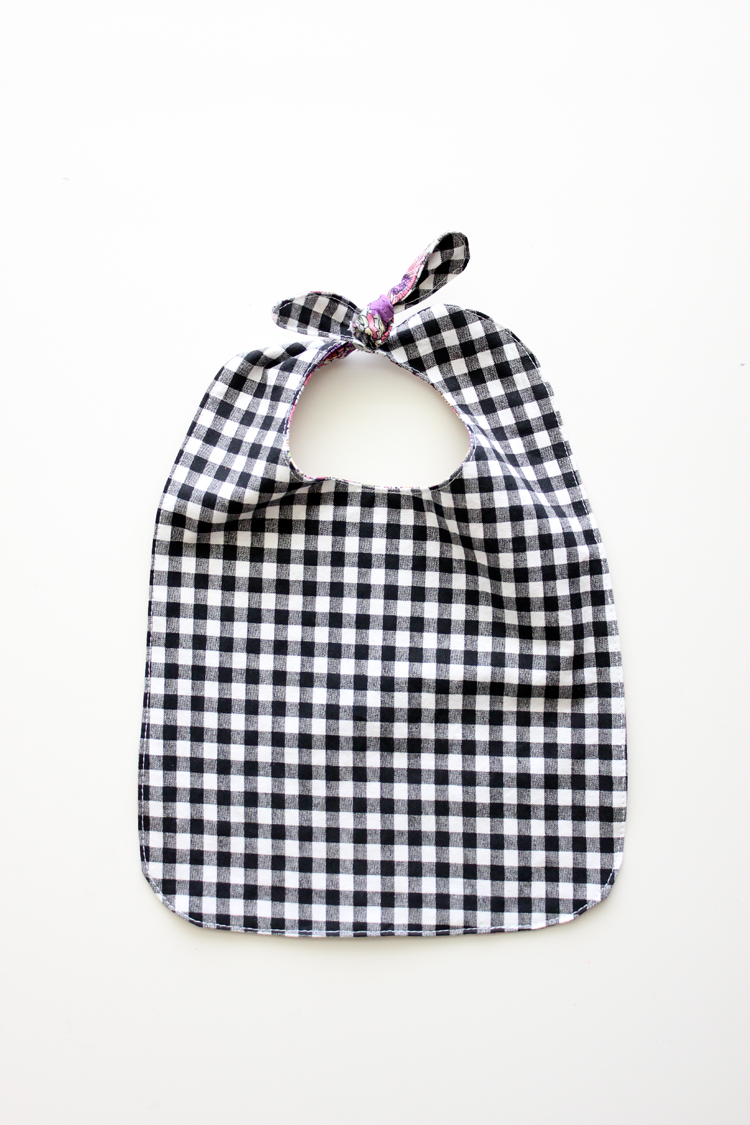 This post is part of the Jo-Ann Sew Your Style Contest, sponsored by Pellon.

In honor of National Sewing Month, Jo-Ann is challenging you to create something innovative using quilting fabrics. Enter the contest and you just might win $1000! Whoo hoo! Click on the image or link above to learn how to enter. Be sure to link your projects up on social media as well, using the hashtag #sewyourstyle.
Need some blogger inspiration? A new blogger is sharing a quilter's cotton project every day for the month of September. Check them out HERE. 
**Disclaimer: This post was sponsored by Jo-Ann. The tutorial content and all opinions expressed are absolutely and enthusiastically my own. All fabrics used in this post are from Jo-Ann.