There has been a bit of a cold snap around here with all the rain we've been having, which means…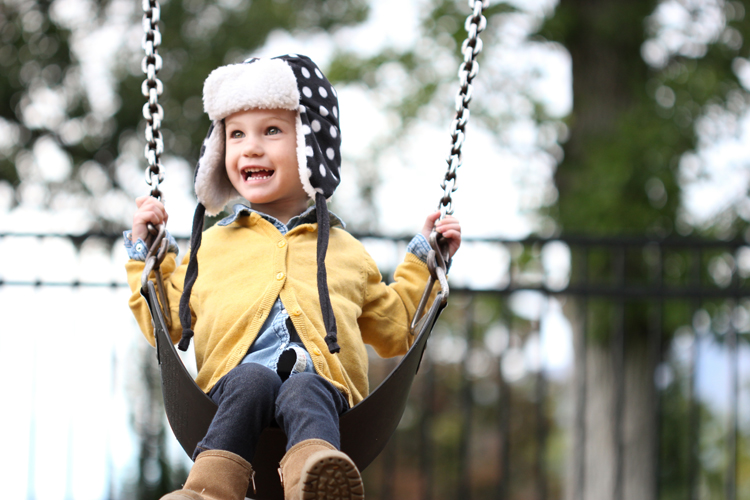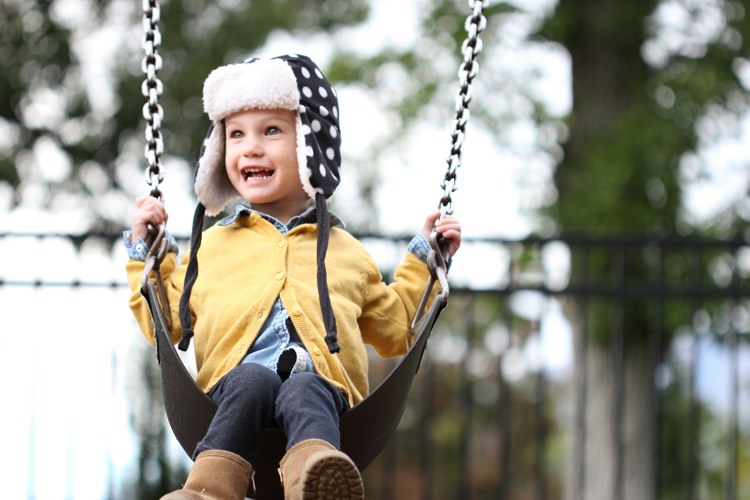 …it's time to break out the hats!
When digging in our hat bin, I found THIS Lumber Jack Hat I made for Reid almost four years ago. He was two! (feels like yesterday!)
It hasn't been worn in a few winters, because there has been no one to fit in it, but now that Natalie is two it's seeing some wear again! I totally let her wear the boy version, but I thought it would be fun to whip up some more hat, in more feminine prints.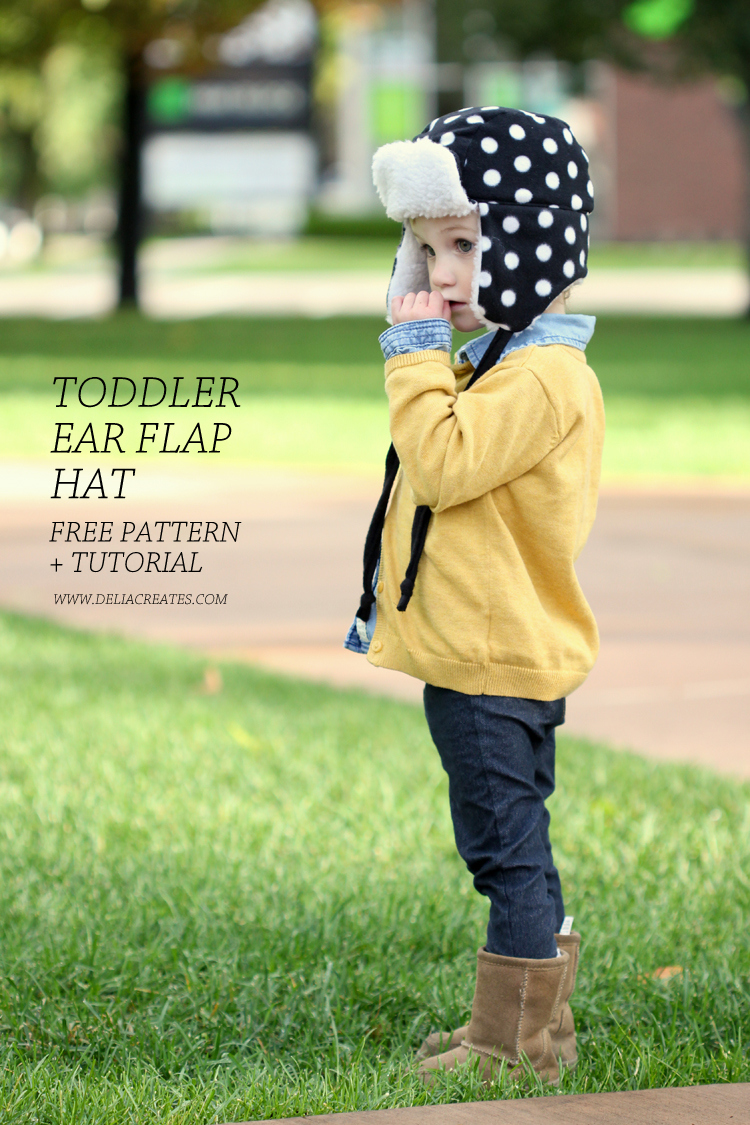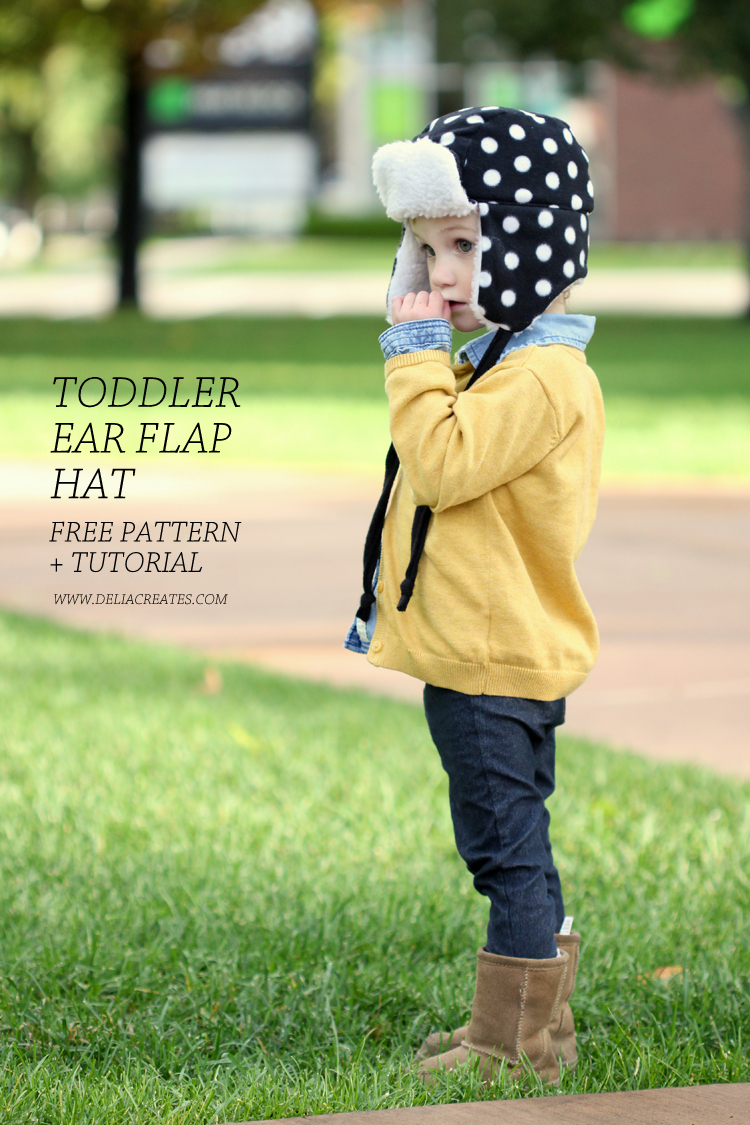 I also thought it would be a good time improve the tutorial and throw in a free pattern as well!
The pattern is just for the toddler size which fits an 18-19″ head. If you want to make it larger or smaller, the Lumber Jack Hat tutorial tells you how to create your own pattern using measurements.
First, things first, you need to go print off the pattern on the Craftsy website HERE.
Don't worry it's totally free. You sign up for Craftsy with basically just your email, if you haven't already, and then you're in!
Craftsy has a HUGE gallery of free sewing patterns HERE. So, after you print off my pattern, feel free to browse around for some more. Fill up your cart as much as you want….it's allll free! Seriously!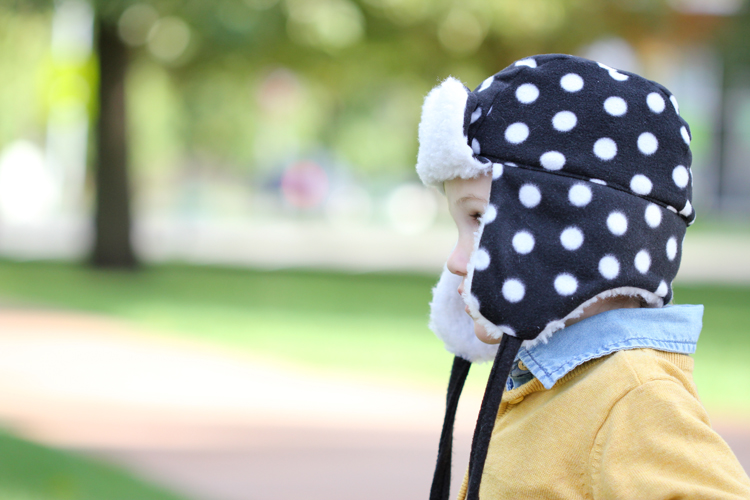 Okay, now we're ready to rock and roll….er cut and sew. ;)
>>>ALL SEAM ALLOWANCES: 3/8 inch<<<
MATERIALS:
1/4 yard main fleece, wool, bottom weight fabric with some stretch 1/4 yard lining fleece, sherpa, faux fur, etc.  matching thread basic sewing notions scissors hand sewing needle  
STEP ONE: Prepare your paper pattern.
All the piece will print on 8.5 x 11″ or A4 standard paper. There is no need for piecing (three cheers for that!). Just cut out each pattern piece. There are three: ear flap, front flap, and side hat, plus measurements for the hat top strip.
***PLEASE NOTE: The measurements for the rectangle strip piece is on the side hat pattern piece.*** 
STEP TWO: Using the paper pattern pieces, cut out your fabric.
When you're done, you should have:
2 main side hat pieces, 2 lining side hat pieces
1 main hat top strip, 1 lining hat top strip
1 main front flap, 1 lining front flap
1 main ear flap, 1 lining ear flap – both cut on the fold
2 – 12 inch x 1 inch strips of main fleece (not pictured below)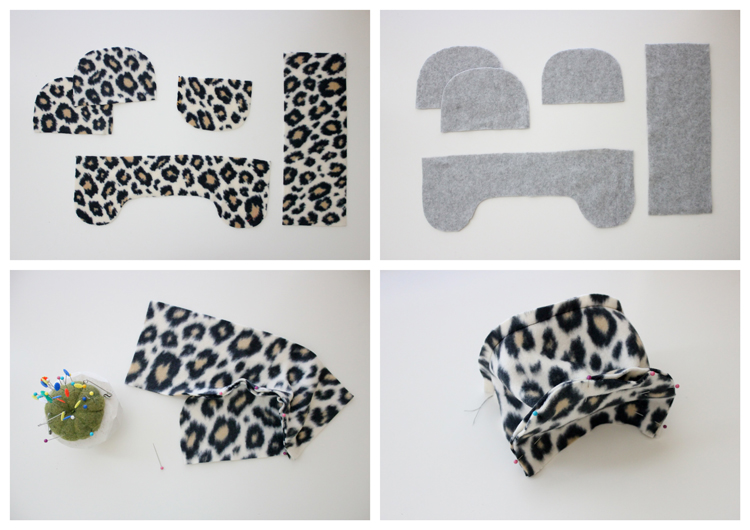 STEP THREE: Sew main hat pieces together. 
a. Take the top strip and pin it around the curve of one "side hat piece." Sew with 3/8″ seam allowance. Repeat for the other side hat piece.
b. Repeat for the lining top strip and side hat pieces. Trim seam allowance down and notch curves if desired. For instruction on notching curves see next step.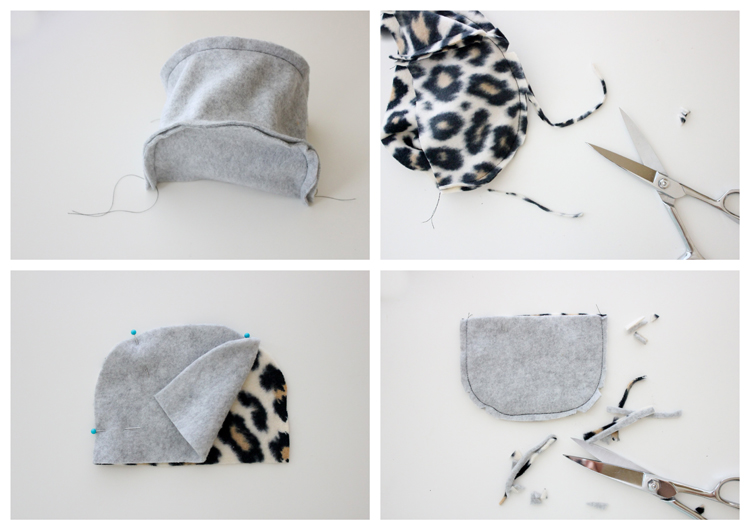 STEP FOUR: Sew front flap, ties, and ear flaps.
a. Pin lining and main front flap pieces together, right sides facing. Sew around, leave the straight edge un-sewn. Notch, or cut small triangles out of the seam allowance, around each curve. Be careful not to snip through stitches.
b. Fold 12″ ties in half, lengthwise, and sew close to the raw edges.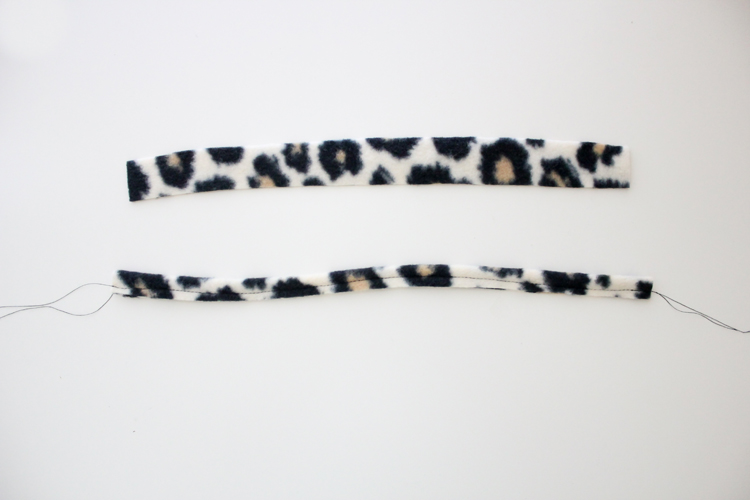 c. Pin ear flap pieces together, right sides facing. Sandwich the ties in between the two ear flap layers in the center of each ear flap curve. Make sure the end of the tie is flush with or just past the raw edges of the "ear flap" pieces so that it gets sewn in.
d. Sew around the ear flaps, leaving the long, straight edge un-sewn.
(I'm switching fabrics for these pictures because I forgot to take them with the other hat. Don't let that throw you. The process is the same.)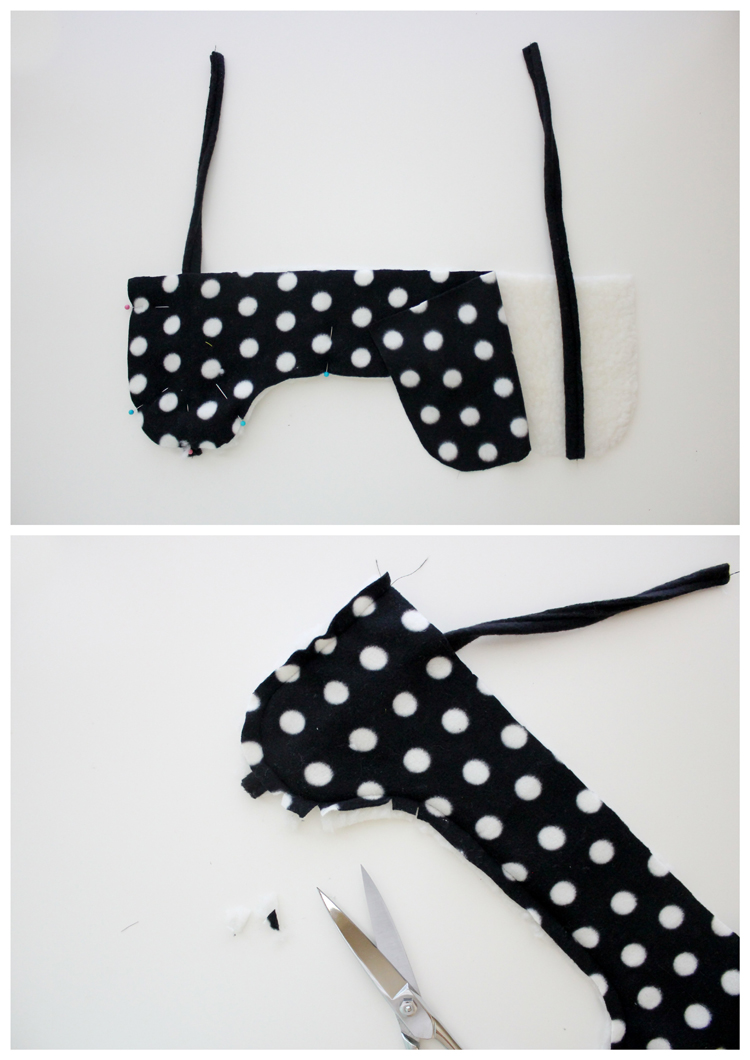 e. To help the pieces lie flat when you turn them right side out, clip concave curves and notch the convex curves. Then turn everything right side out.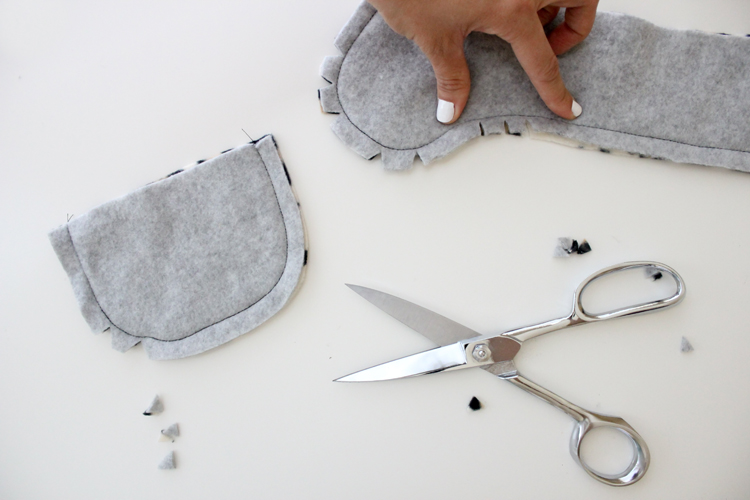 STEP FIVE: Sew main hat together. 
a. With all the pieces right side out, mark a pin at the mid point of the straight edges of the ear flap piece, front flap piece, and the top strip pieces.
b. Matching up the pins, pin the ear flap  piece to the main hat piece, with right sides facing. Pin the front flap on as well, making sure that everything is evenly spaced.
c. Baste the ear flap and the front flap pieces to the main hat.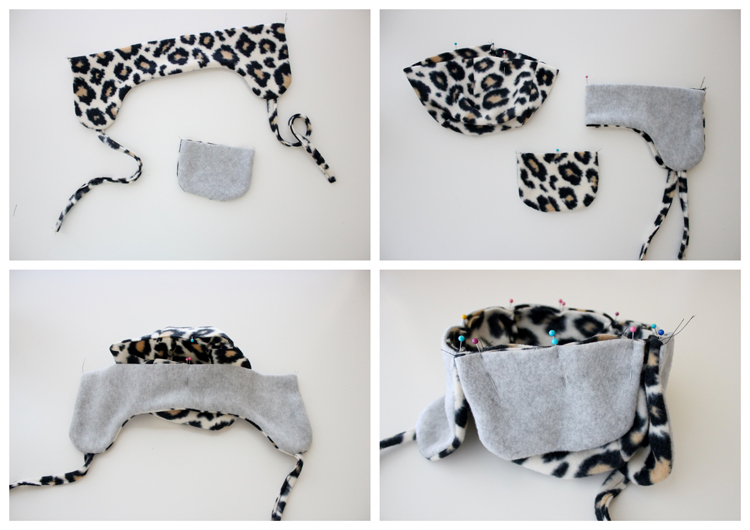 STEP SIX: Sew main and lining hats together. 
a. With the lining hat and main hat both wrong side out, nest the main had inside of the lining hat , so that right sides are facing. Tuck the flaps and ties out of the way of the raw edges.
b. Pin raw edges together, but leave an opening at the center of the top strip piece that meets the back of the ear flap piece. Sew around.
c. Pull the hat right side out, through the opening.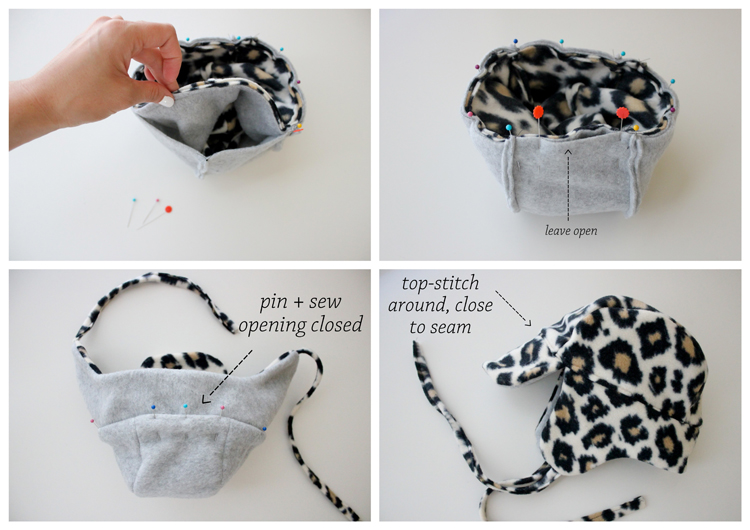 c. Fold the raw edges of the opening under. Pin the opening closed. Then pin the rest of the lining seam allowance around the perimeter of the hat to the main seam allowance.
d. Top stitch around the hat, close to the seam, thus closing the opening at the same time.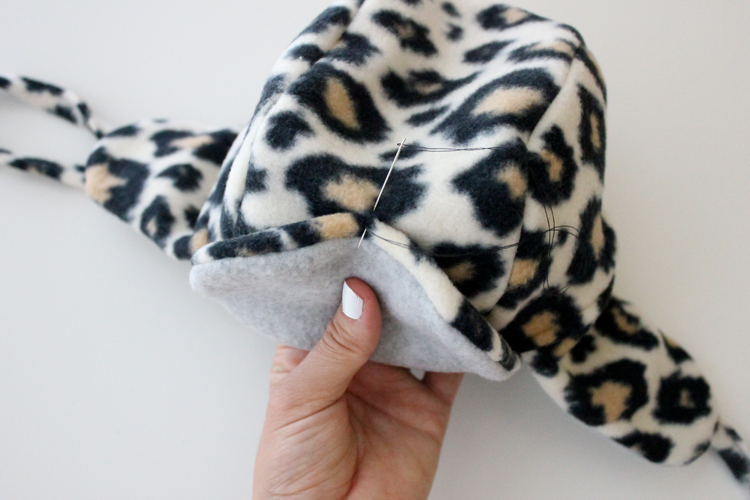 STEP SEVEN: Finishing touches.
a. Hand sew the main layer ONLY of the front flap to the main hat with a whip stitch, so that the front flap stays up.
b. Knot the ends of the ties to the length desired (not pictured).
All done!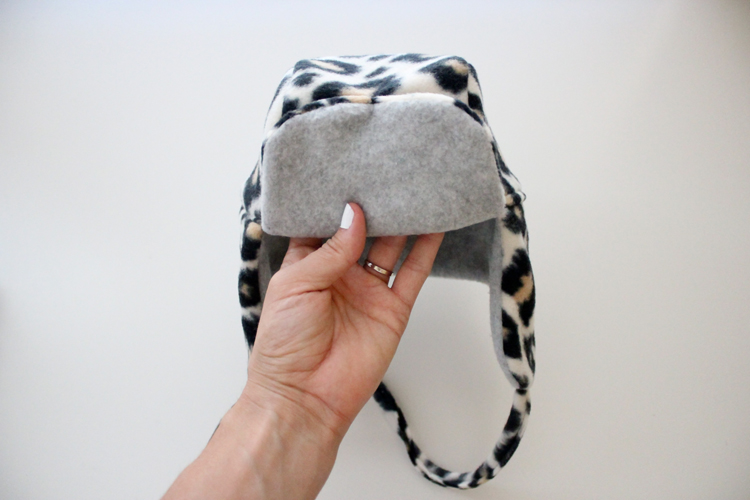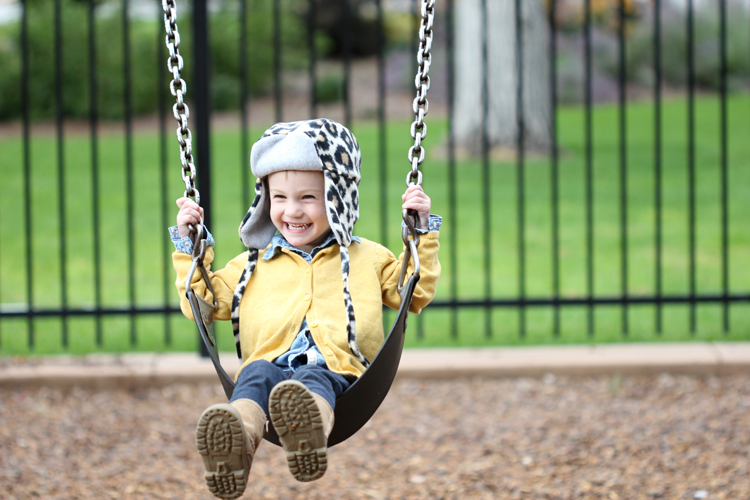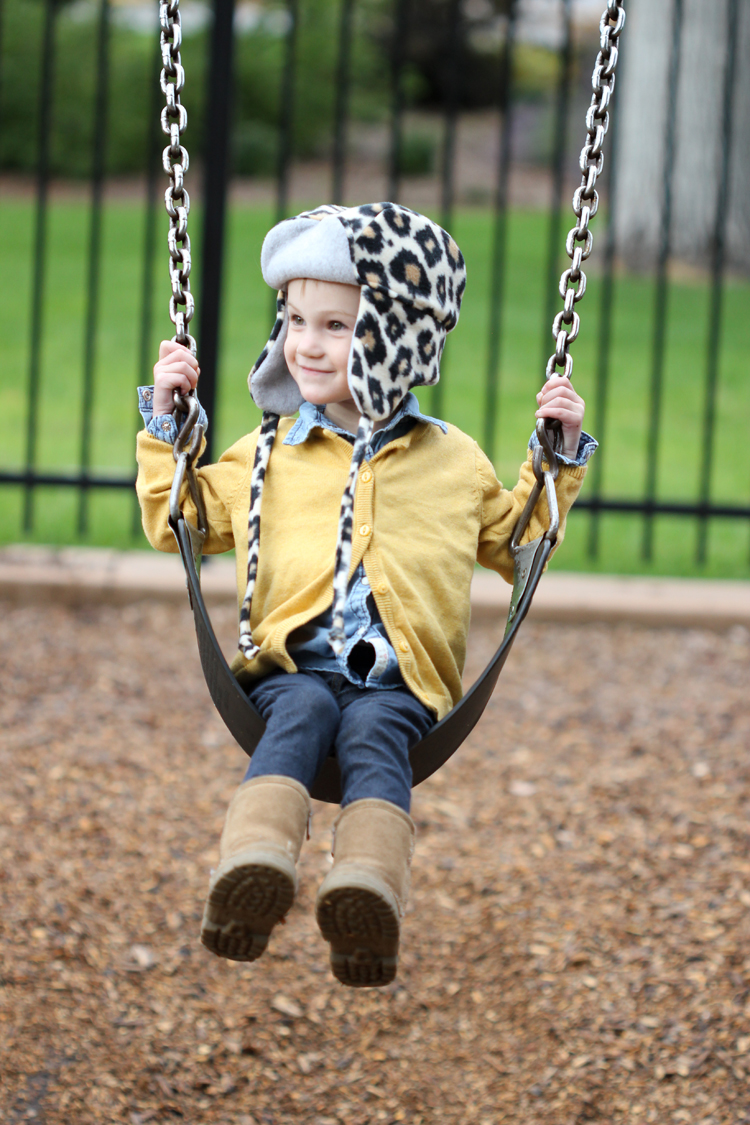 The fleece on fleece is nice and warm, and an easier sew; and I love the gray and cheetah together!
I do love the sherpa version best though.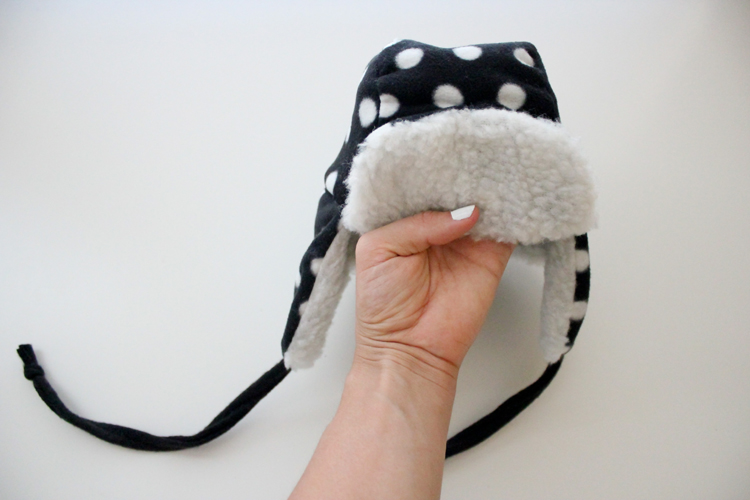 The sherpa lining nicely disguises the puckering on the front flap caused by the whip stitch, which you can see in the fleece version.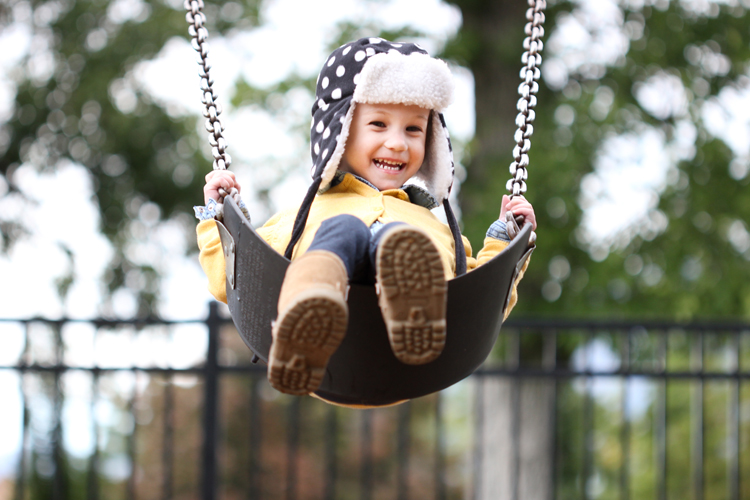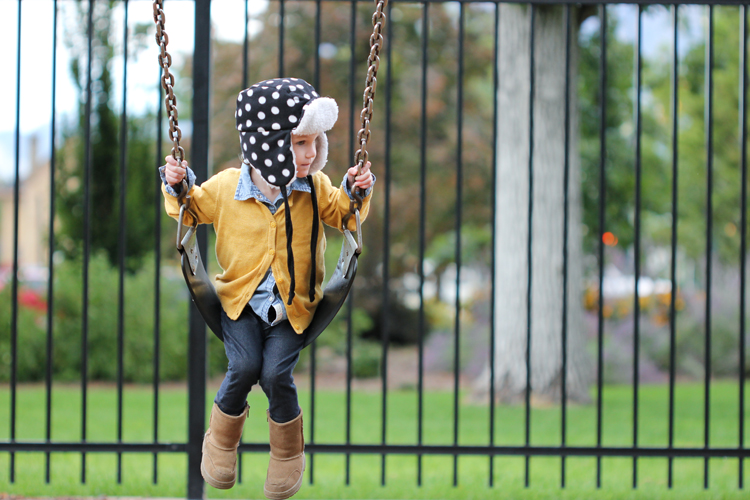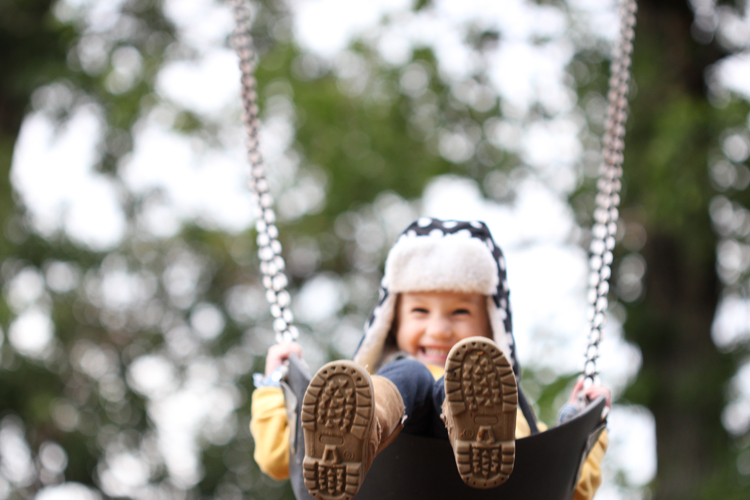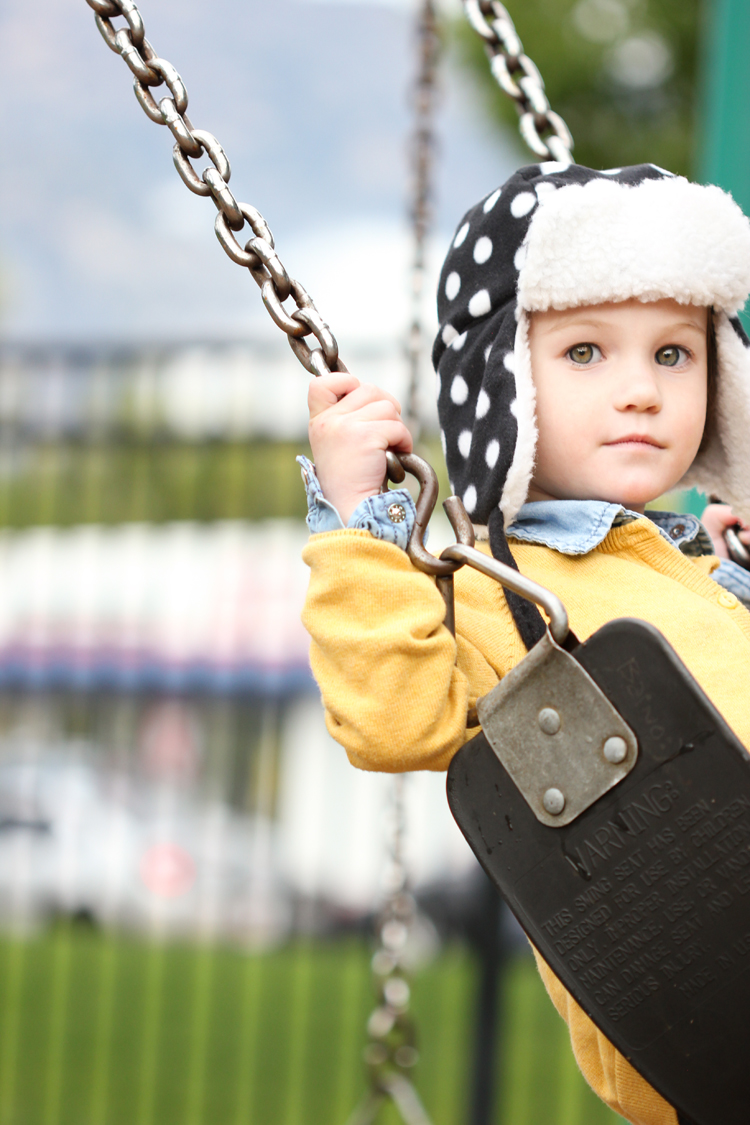 I love having this hat for my kids, because it keeps their ears warm and you can tie the hat on under their chin.
Or… tie the ear flaps up for a fun Sherlock type look!  Nat wouldn't let me do that for these pictures, but I have some of Reid with tied up flaps here.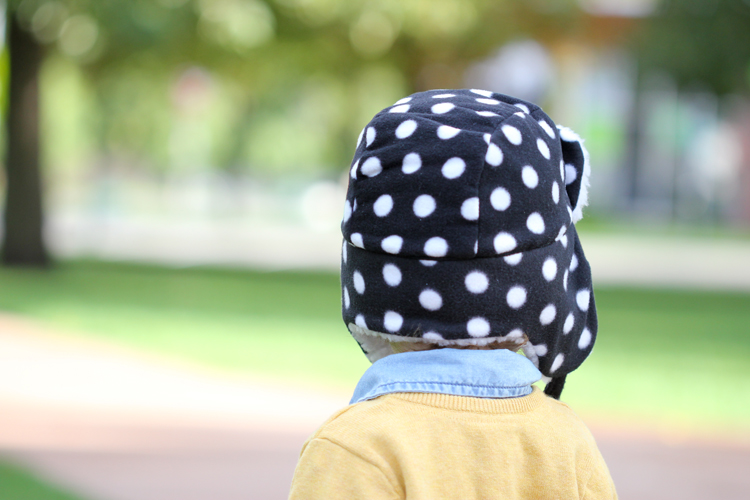 I think next time I sew this, I'll use wool and sherpa. Wouldn't that be beautiful?!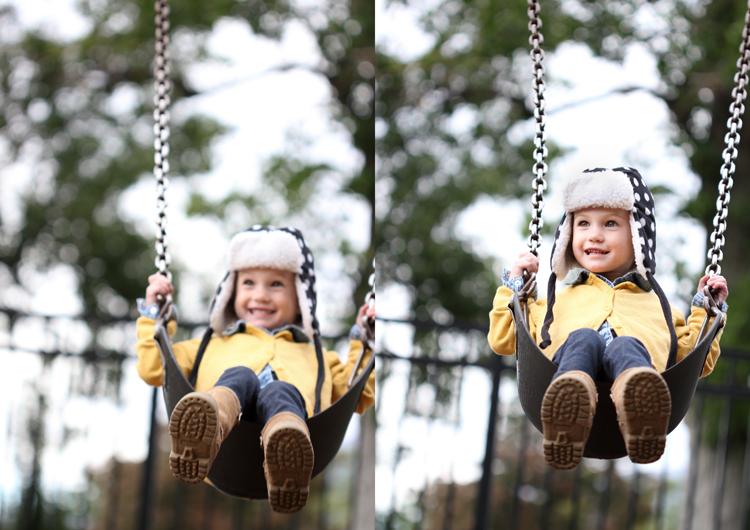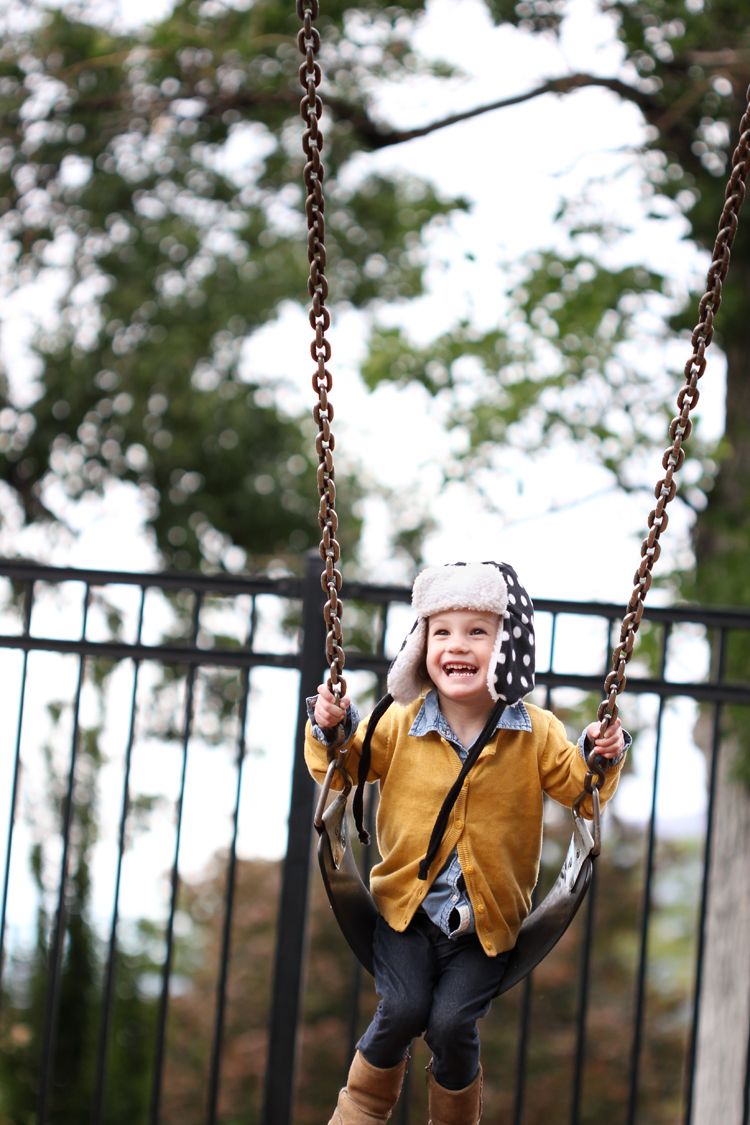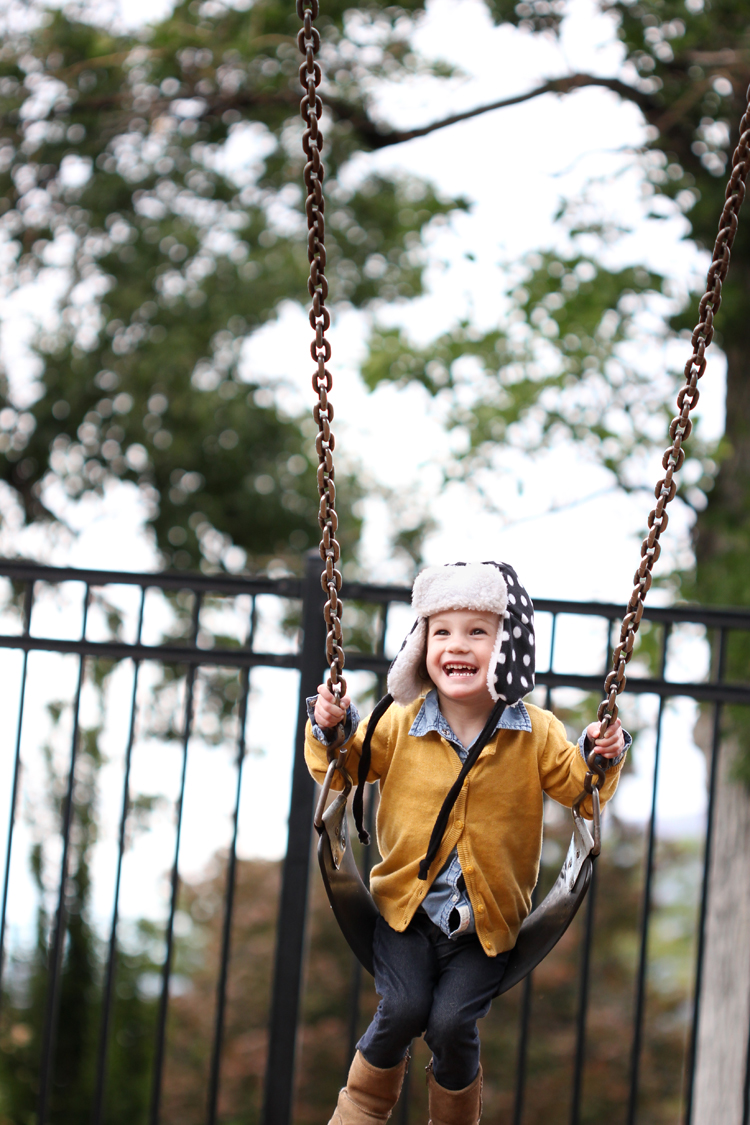 After you're all done sewing your hat, don't forget to stop by Craftsy for more FREE patterns in their Free Sewing Patterns Gallery. They have something for everyone! With free sewing patterns for home, women, boys, girls, men, and babies, why not go have yourself a free sewing pattern shopping spree!! 
If it's classes you're looking for, they have great free mini classes as well, like THIS Mastering Zippers course I blogged about a couple weeks ago. I have taken a couple classes myself so far and have yet to be disappointed. They are well organized and taught by knowledgeable experts. You don't have to stop at sewing either. They have great classes and patterns, including some more free ones, in almost every crafty avenue you can think of. Once you are signed up, you have access to all sorts of Craftsy goodness!
Disclaimer: This post was sponsored by Craftsy. The tutorial content and all opinions expressed are absolutely and enthusiastically my own.