This has been the skirt of my dreams.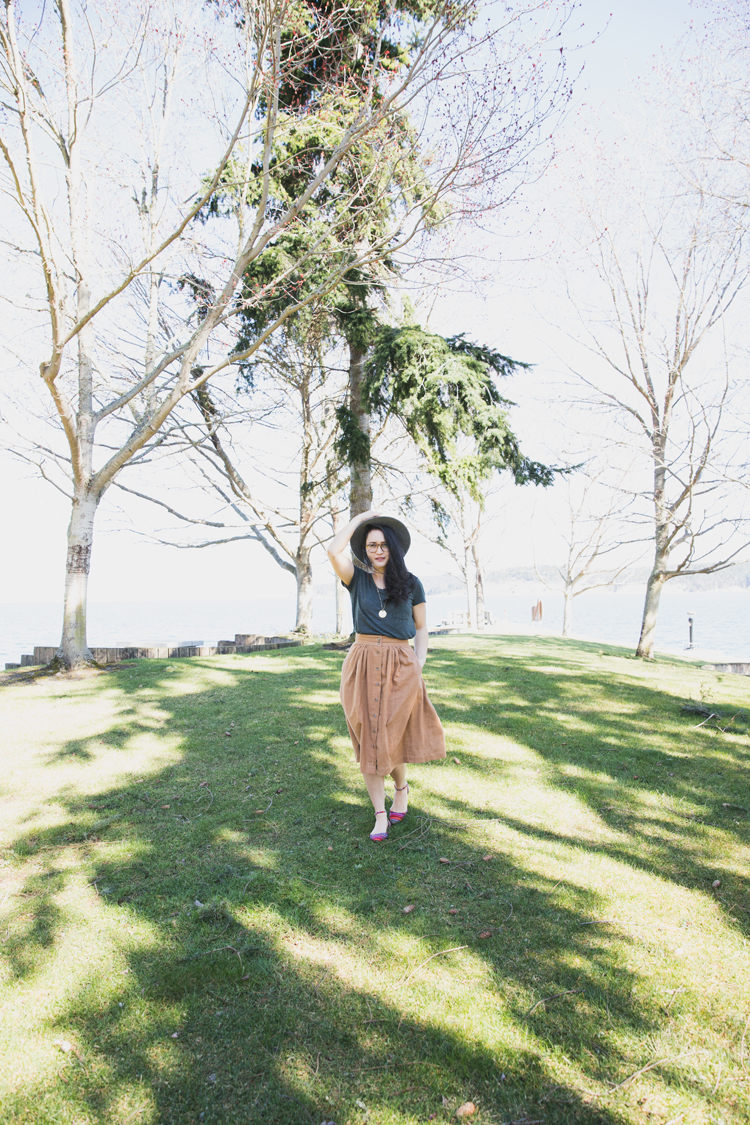 No really, I have been day-dreaming about making it for what seems like forever. I bought the fabric a full year ago and have put off making it because…mom-ing, procrastinating, it's so much easier to leave it as a pile of fabric to mock me, oh crap it's already the holidays…you know, life! 😉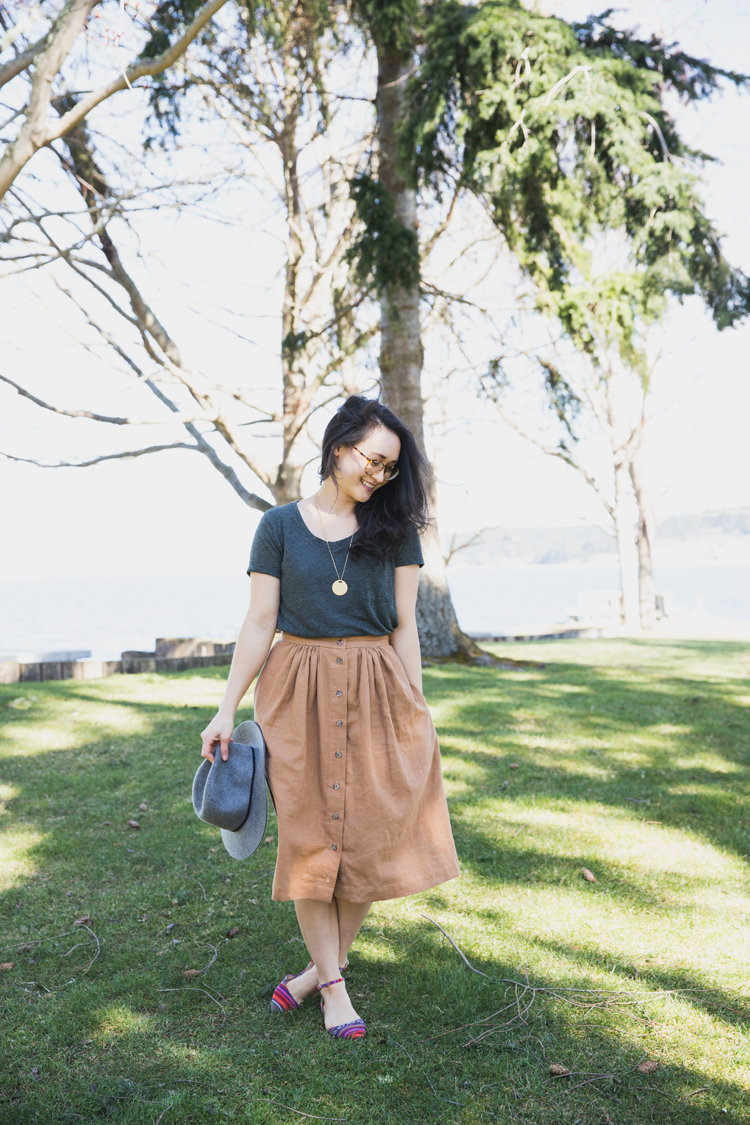 Well, not anymore! The pile of fabric has become my favorite skirt to date! And of course, it only took an afternoon to make. (face palm) So easy! The pattern is the Anywhere Skirt from Dana from Made Everyday.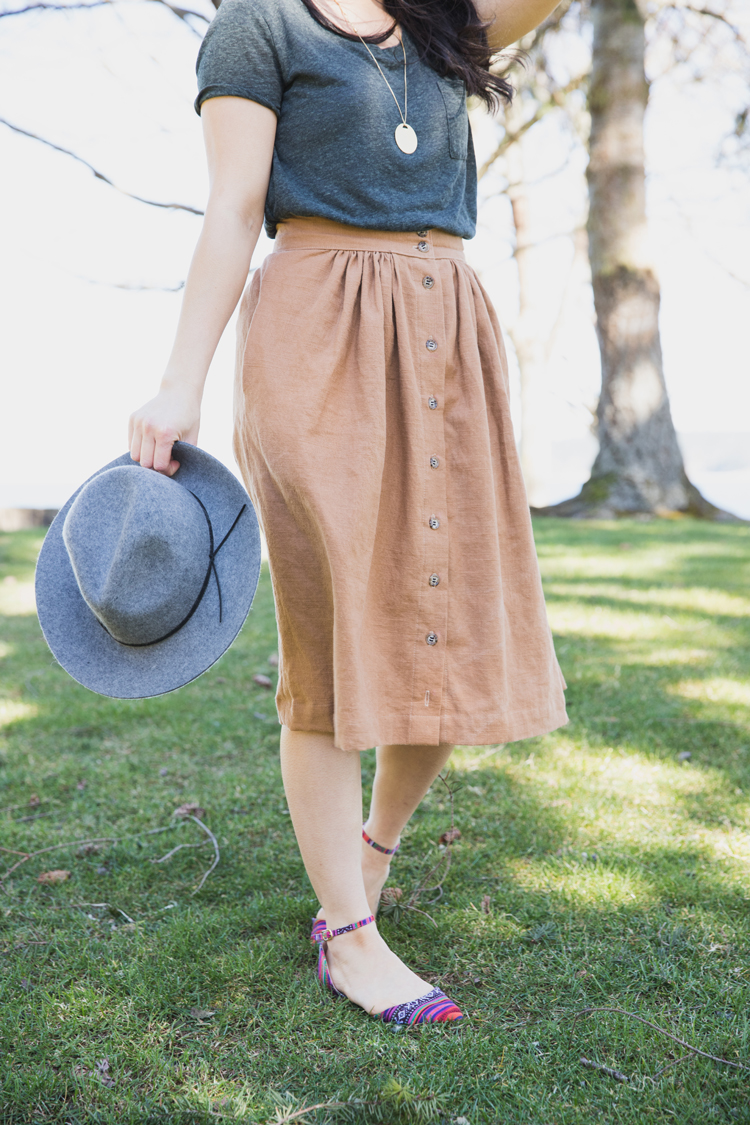 I made it in a rust colored linen blend fabric from Jo-Ann. I've really been digging rusty browns.
It's a great versatile skirt, with a very detailed tutorial on how to make a skirt in any size. I made the same skirt for Natalie last year from the same pattern!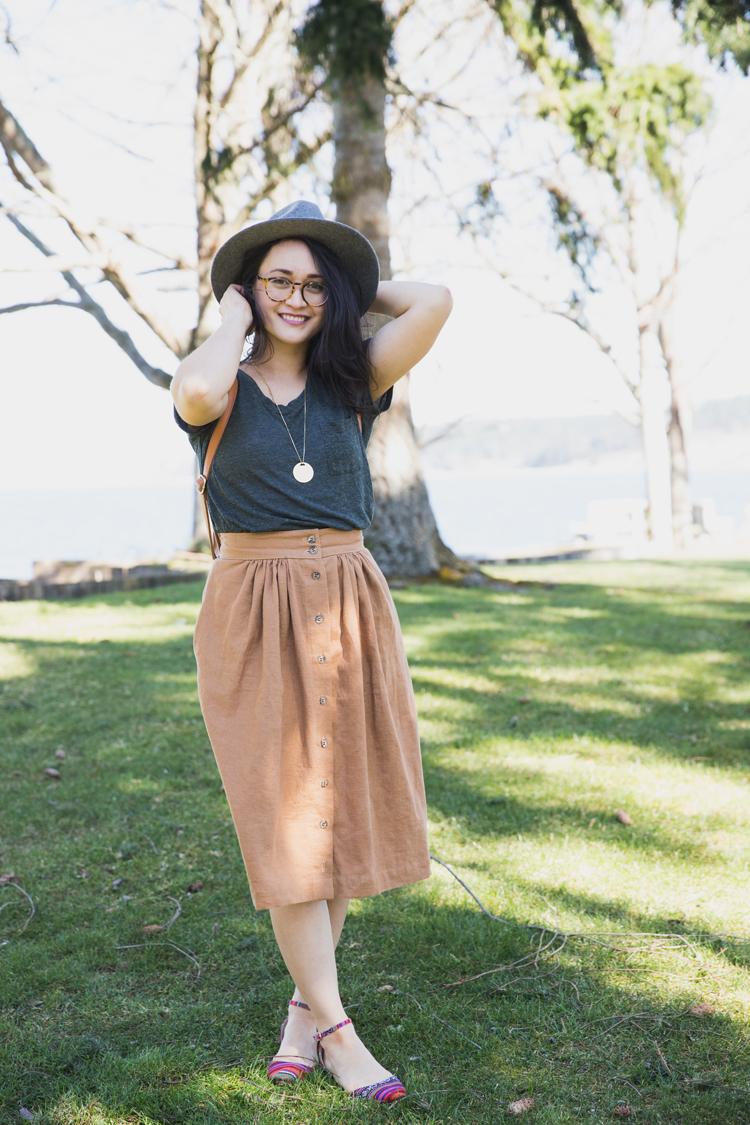 I just made a few tweaks, such as narrowing the waistband by about 1.5 inches (before folding). I like the thinner waistband a lot, and I think I'll narrow it even more the next time I make this…hopefully not a full year later. Ha!
I also made a little bit wider hem and I added a couple of inches to the length of the waistband, so that I could gather it in the back with elastic.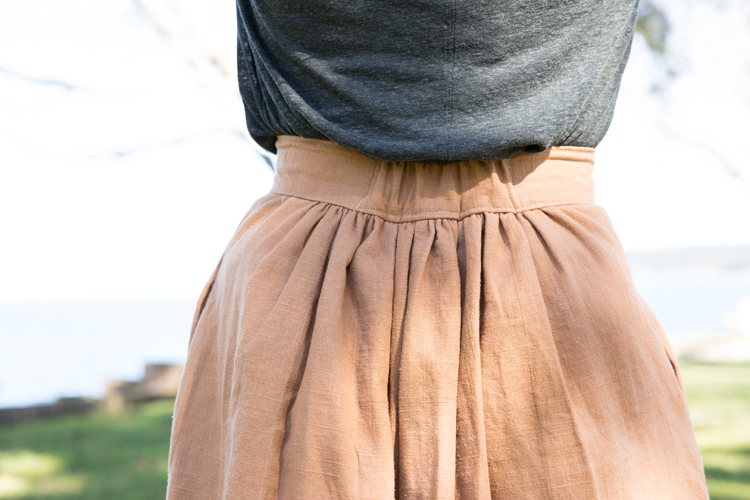 I did the same thing to Natalie's skirt so that it would grow with her. For me, I added it more as a comfort measure. I wanted a snug fit that wouldn't feel restricting when I sit down.
I find that it's easiest to add it at the end. I marked a 4-5 inch section centered over the back of the skirt. I unpicked the waistband only at two spots in the back, just before and after the spot I wanted the elastic to end. I threaded about 5-6 inches of elastic through those openings, sewed a vertical line of stitching just before one end, then pulled the elastic tight and sewed a vertical line to secure the other side. I trimmed off the extra elastic, you really only actually use 2-3 inches and then re-sewed the openings closed.
It's a little less elegant of a finish, but it seems to blend in with the gathering in the back of the skirt pretty well.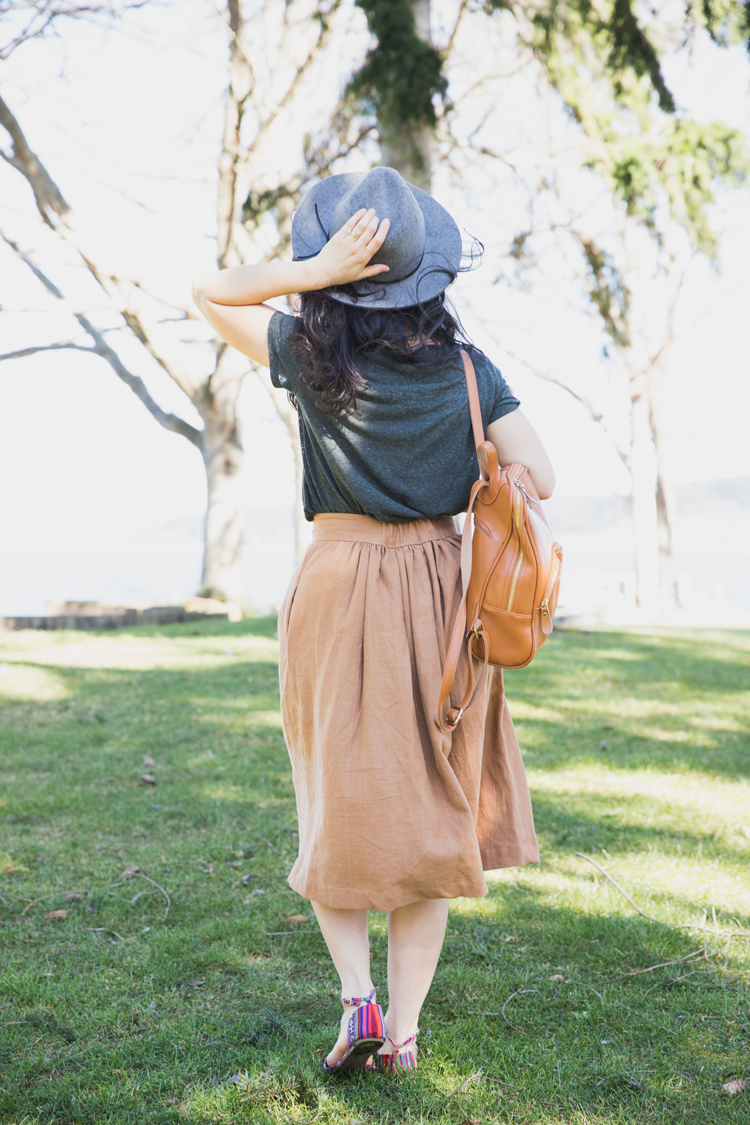 To keep things simple, I kept all my buttons the same size. I like to unbutton one at the bottom of my skirt, as a sort of little slit.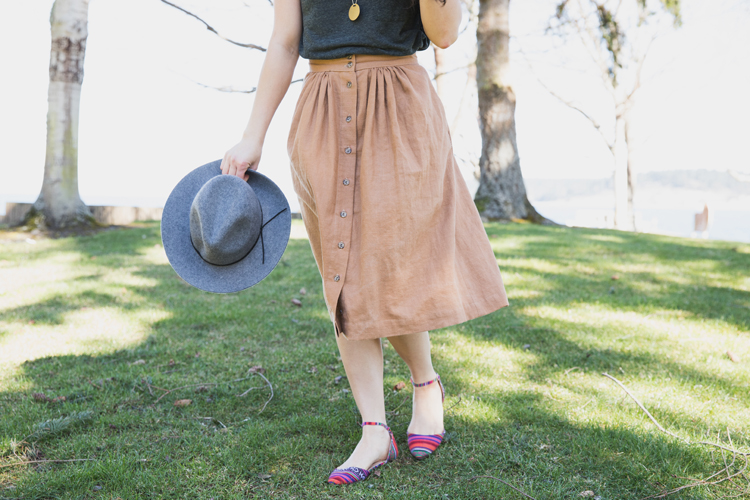 It's a versatile skirt that looks cute with most tops, collared button-ups and fitted shirts, but I really love it with a loose, blousy t-shirt.
I love them with my new David Kind glasses too (affiliate link). If you're a long time reader, then you know my obsession with David Kind glasses (just see this list of posts).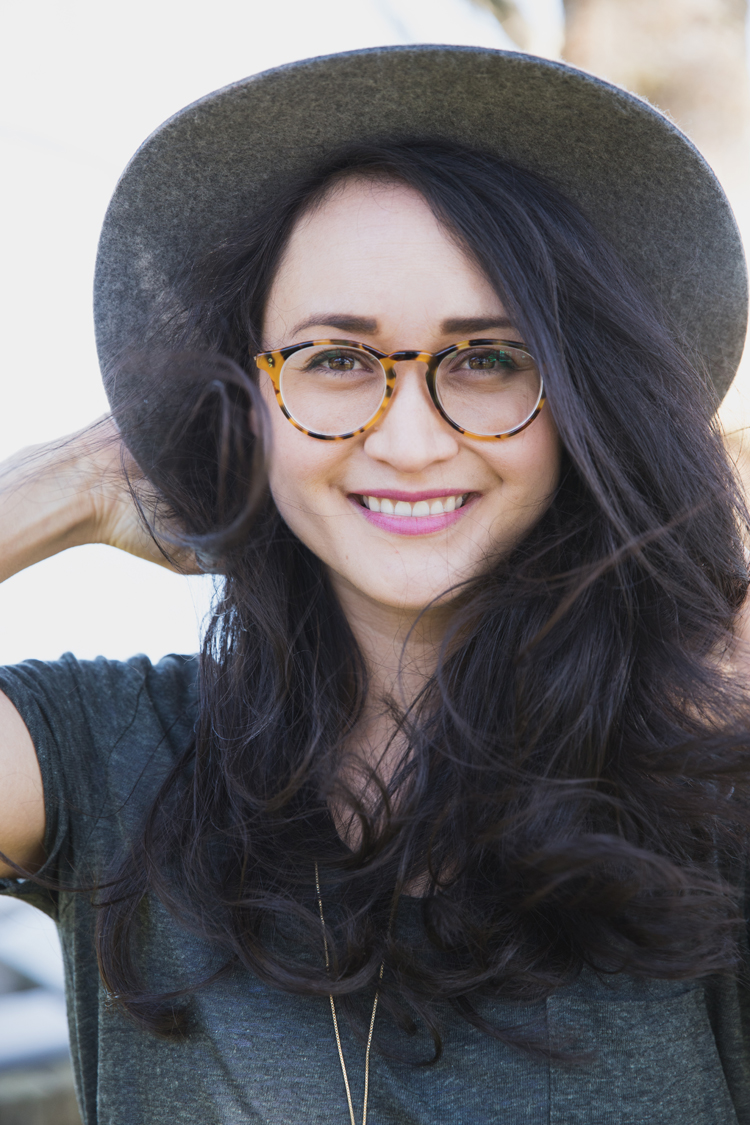 These ones are the Richmond in Tokoyo Tortoise and probably the lightest pair I own. For a girl who has to have a strong prescription, this is a big deal! Most of my glasses tend to feel pretty heavy by the end of the day, but these feel nice and light 'til the bitter end..aka the witching hour and bed time. 😉 My Katana's come in a close second in terms of comfort (but they're the most versatile).
If you're thinking about trying David Kind glasses, I have an affiliate link for their trade up program. You can turn in an existing pair for a $50 discount off a new pair. Don't forget that you can use your HSA funds to buy them too! Their glasses are a bit of an investment, but I cannot *gush* enough over how well made they are. I have yet to have a pair break/wear out/or even get scratched and I have some from 4 years ago. For something you wear everyday, they are very worth it!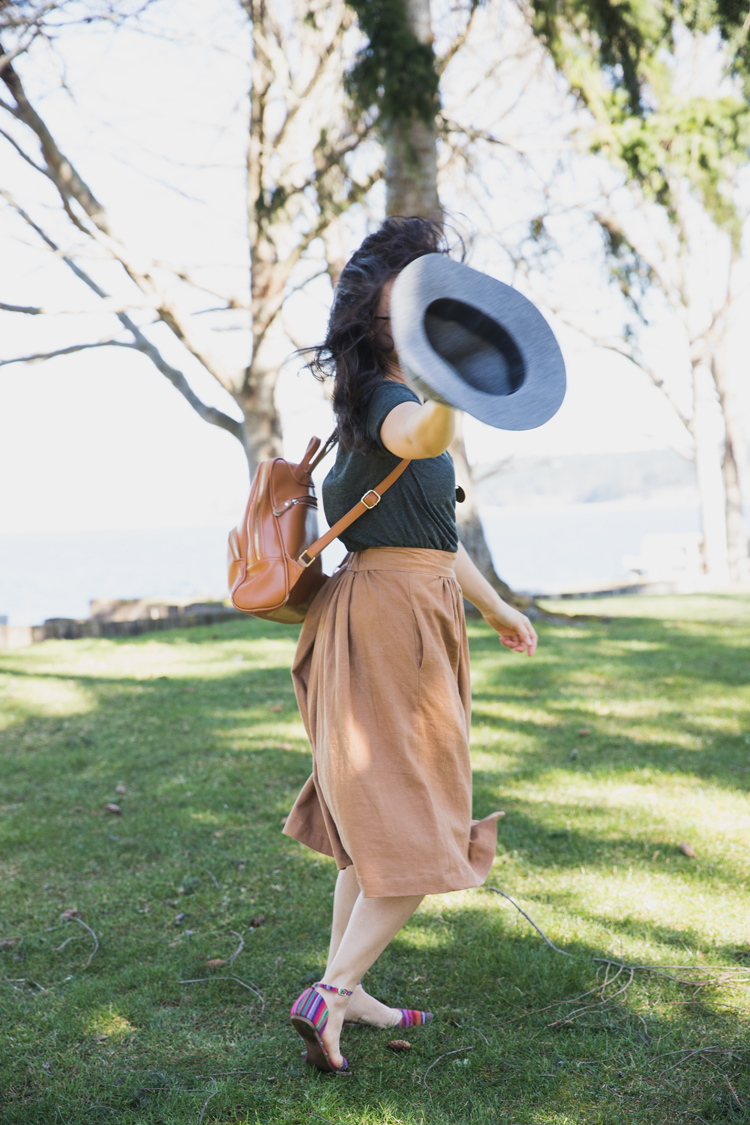 Sources: Skirt fabric – Linen blend from Jo-Ann || Anywhere Skirt Pattern – Made Everyday || Shirt – Old Navy || Necklace – Madewell (a gift from the lovely girls from The Merrythought, that I wear allll the time) || Shoes – Zulily || Backpack (also my everyday purse – also affiliate link) || Hat – Gap || Glasses – David Kind! <3