I love the tradition of new clothes at Easter. We don't always get around to it for all the kids, but I try to make sure each child gets at least something new, whether it be an accessory, or a new piece that fits in with what they already have.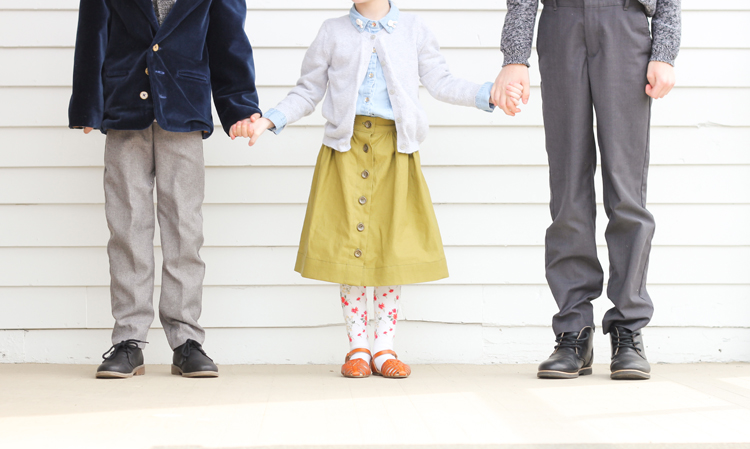 This year's Easter outfits are kind of a mixed bag of new and old. Ready made and handmade. Crocheted and sewn.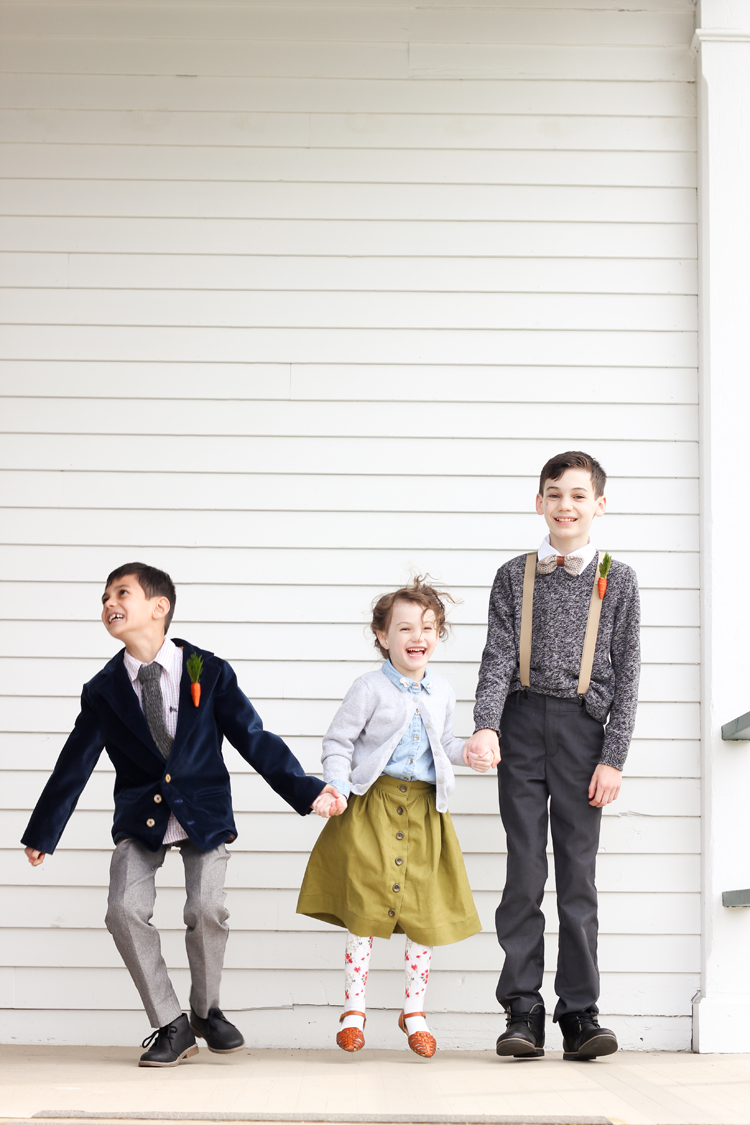 A blazer I made for my oldest several Easters back, now fits my middle child, which is blowing my mind and making me feel a tad…a lot nostalgic.
The best part of it all, is that I dusted off my machine and sewed again! Yay! I mean, I've sewed on Scout patches, and I sewed some baby blankets recently, but it's been a while since I made a garment come to life.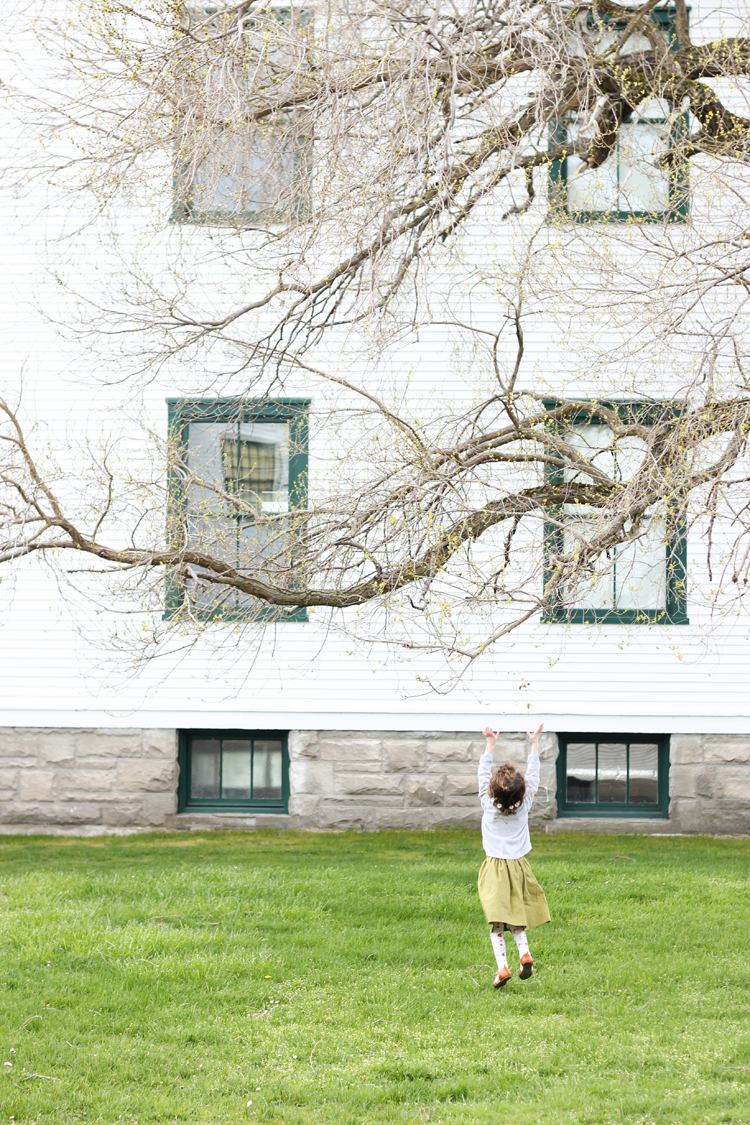 Man, on man…that never gets old. Sewing clothes is the best super power, even when you make something simple, like a skirt.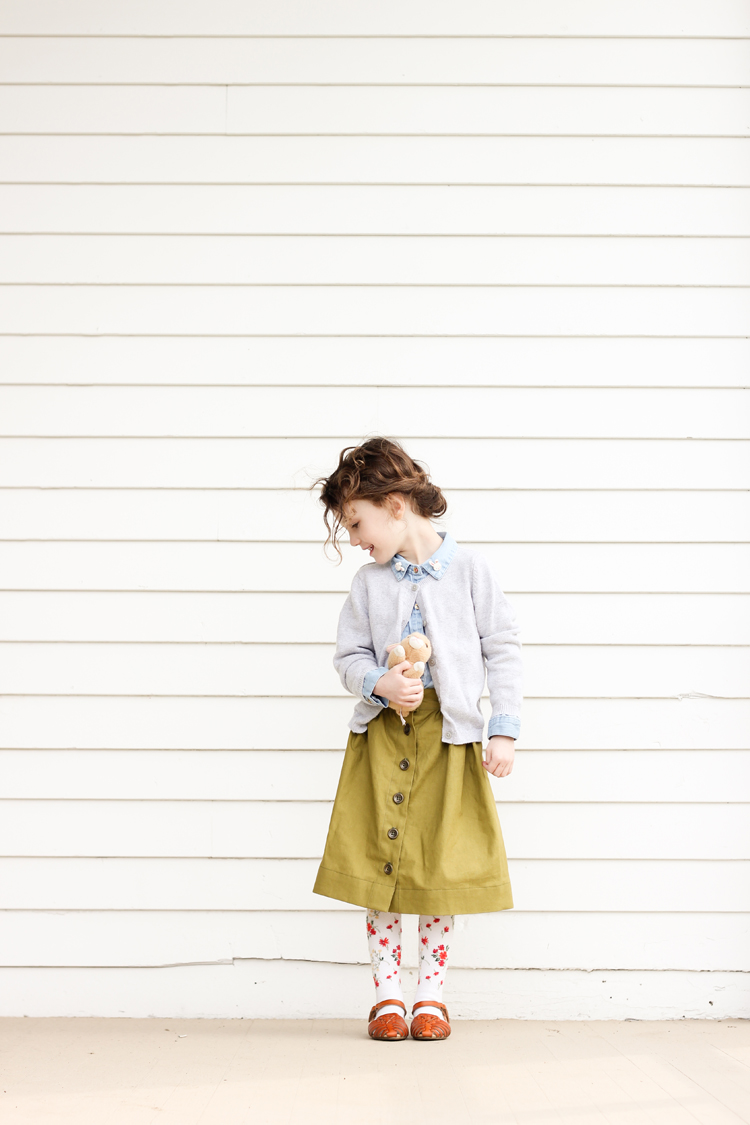 I had been wanting to make Dana's Anywhere Skirt Pattern since it first came out and I finalllly made it happen. And now I want one for myself, stat!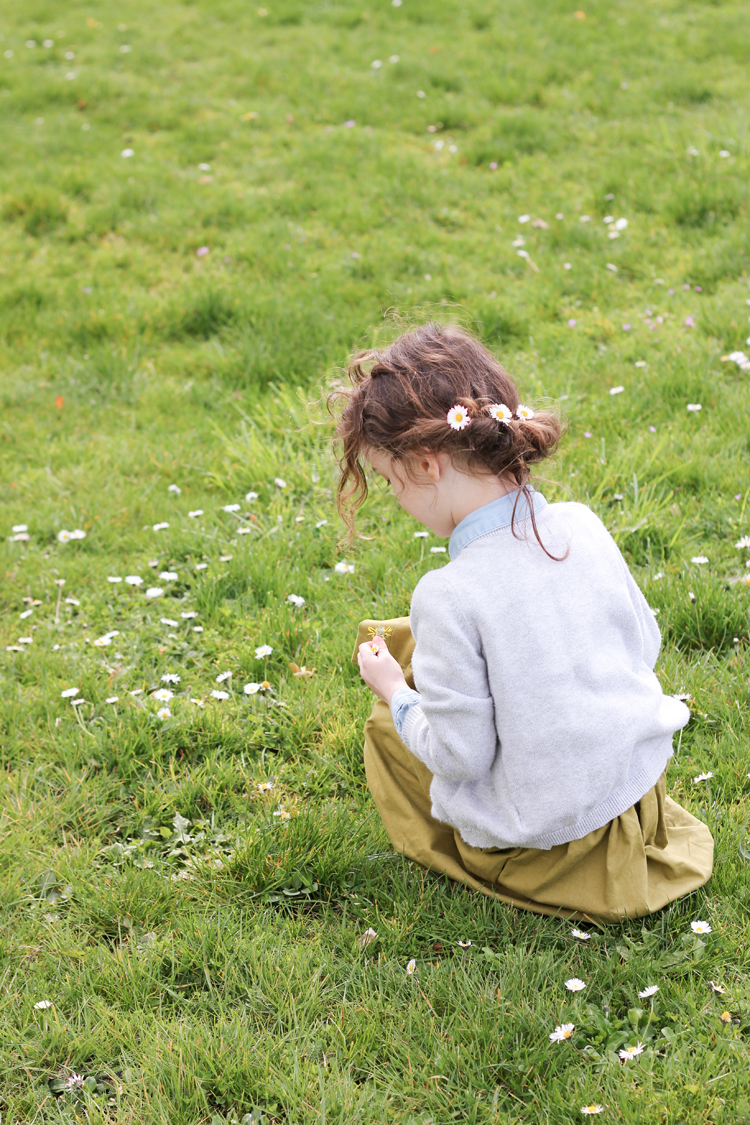 I used this lovely olive green linen from fabric.com (affiliate link), and some brassy buttons I found in the clearance section at Jo-ann. I hadn't planned to go in a military/vintage route, but I'm loving that that's how it panned out. (Unfortunately the fabric I used is on back order, so this one is pretty close in price and color)
I narrowed the waist band to about 1 1/2 inches in height and I made it a little larger than my daughter's waist measurements, so that I could add a strip of elastic to the back. Combined with its longer length, I think this skirt is going to last her for some time.
I paired it with some floral tights and shoes from Old Navy, a button-up denim shirt, and a gray cardigan. Then I made little Sculpey clay bunny pins for her to put on her lapels.
I have never really been into the enamel pin trend, but this little detail has won me over! Now I want to make and buy little pins to put on evvveeerything.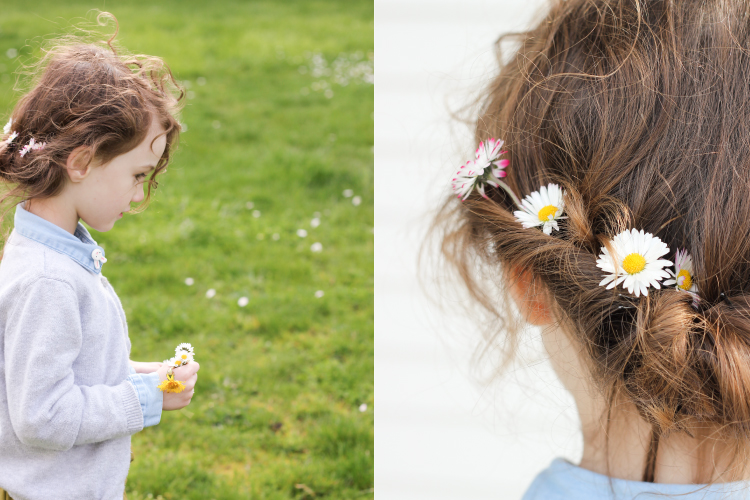 For my middle son, he's wearing the pants half of the suit I made him last Fall plus the blue velvet blazer I made out of some old drapes a few years back. All the pattern details are in those posts I linked to.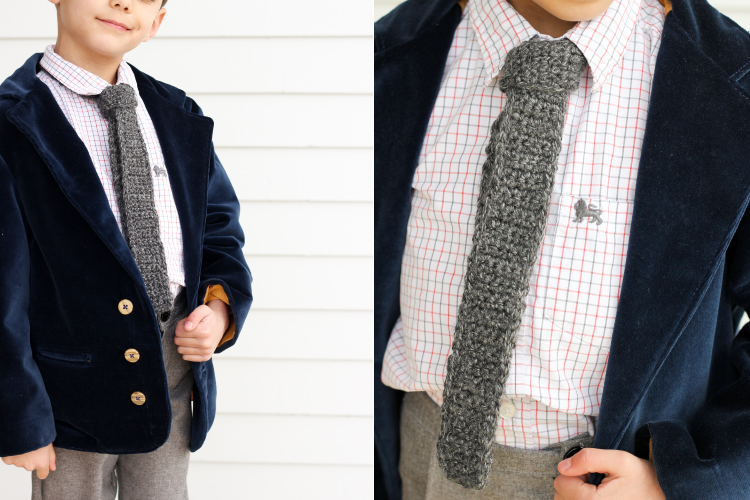 I crocheted him a squared off tie. I wrote a pattern for it, but I think it still needs some tweaking before I share it.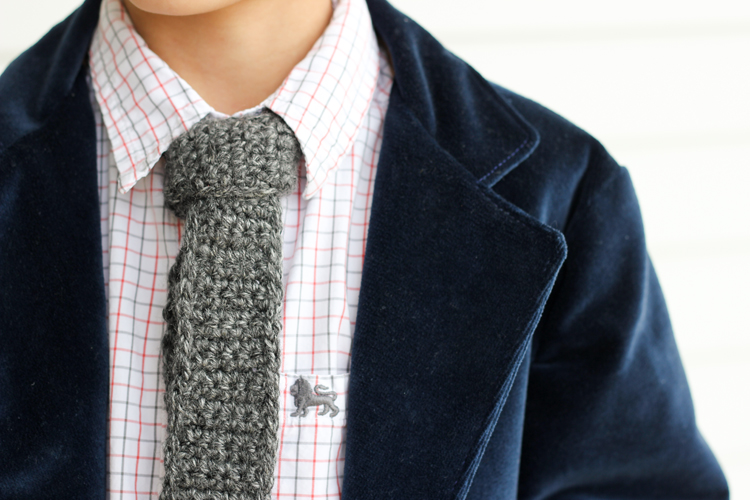 I also made him a bunny tie tack, but the ears broke off. I now realize why most pins are not made with clay. Or maybe more like how I shouldn't give semi-fragile pins to a rambunctious boy. 😉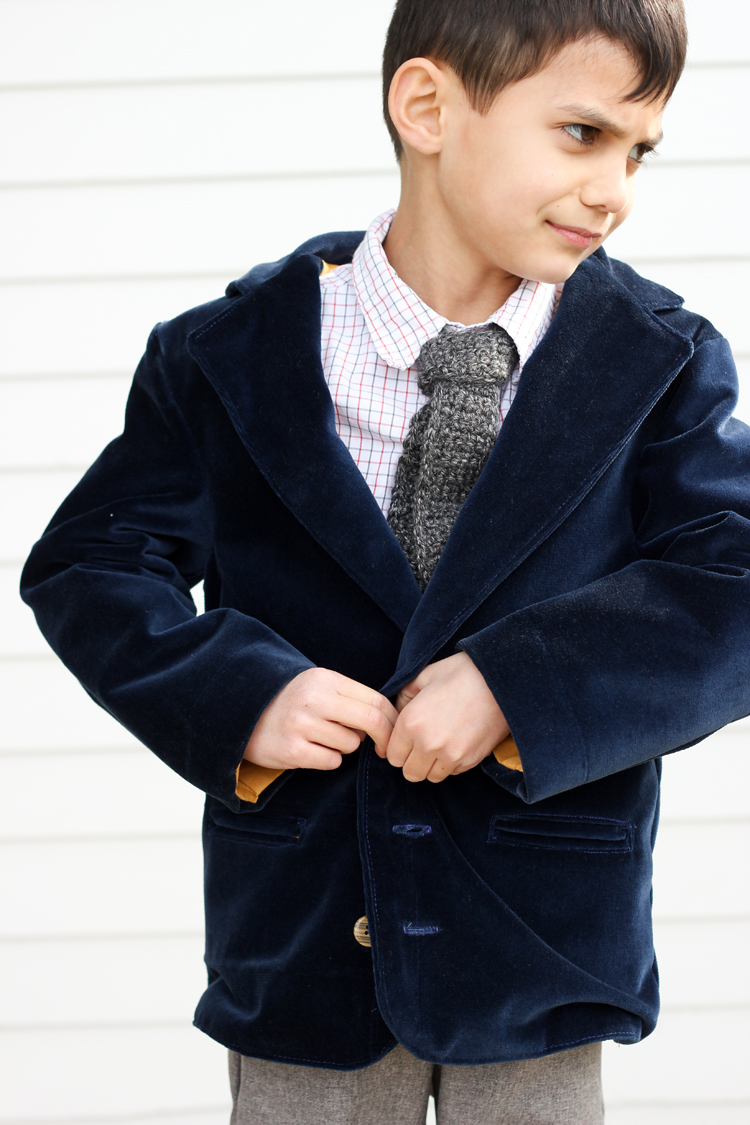 His shirt is old school Old Navy and his shoes are from Children's Place. They carry my favorite style of church shoes/boots for boys.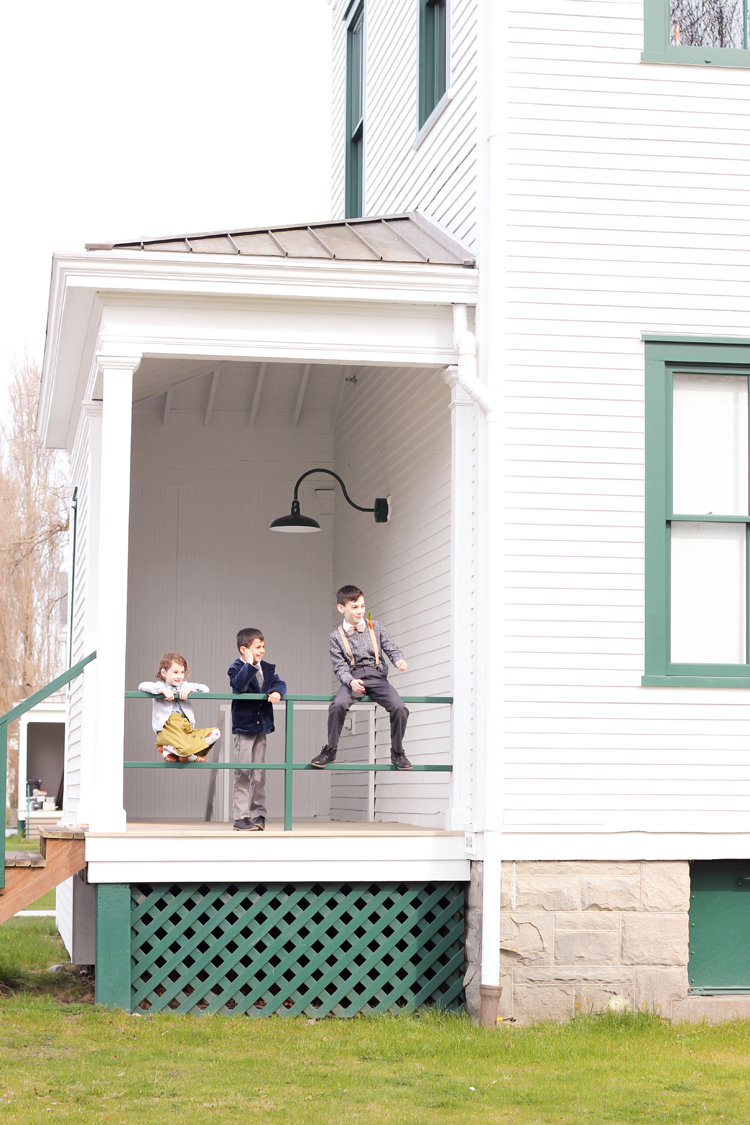 My oldest is in all ready to wear clothes, except for his suspenders and his bow tie.
Sources: Pants – JC Penny // Sweater – Old Navy // Shirt – Amazon // Leather boots – Famous Footwear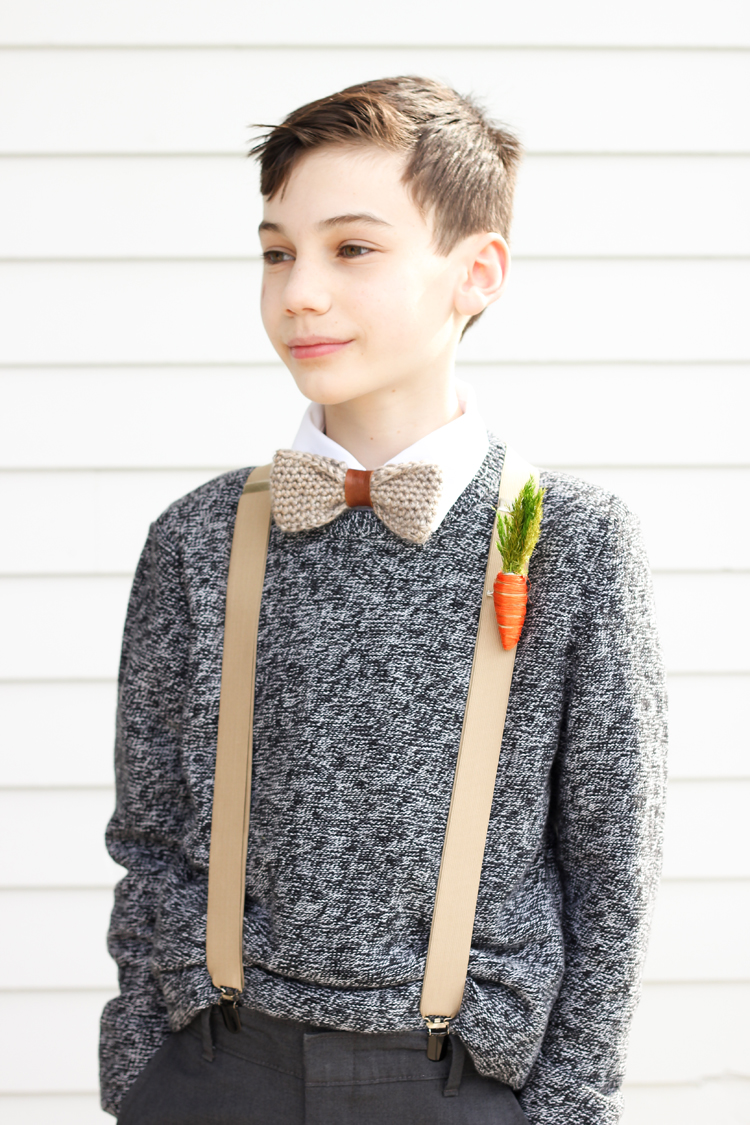 I seriously love love his suspenders. So much so, that I bought some elastic to make some for myself as well. I also have a tutorial in the works. UPDATE: You can find the elastic suspenders tutorial HERE. 🙂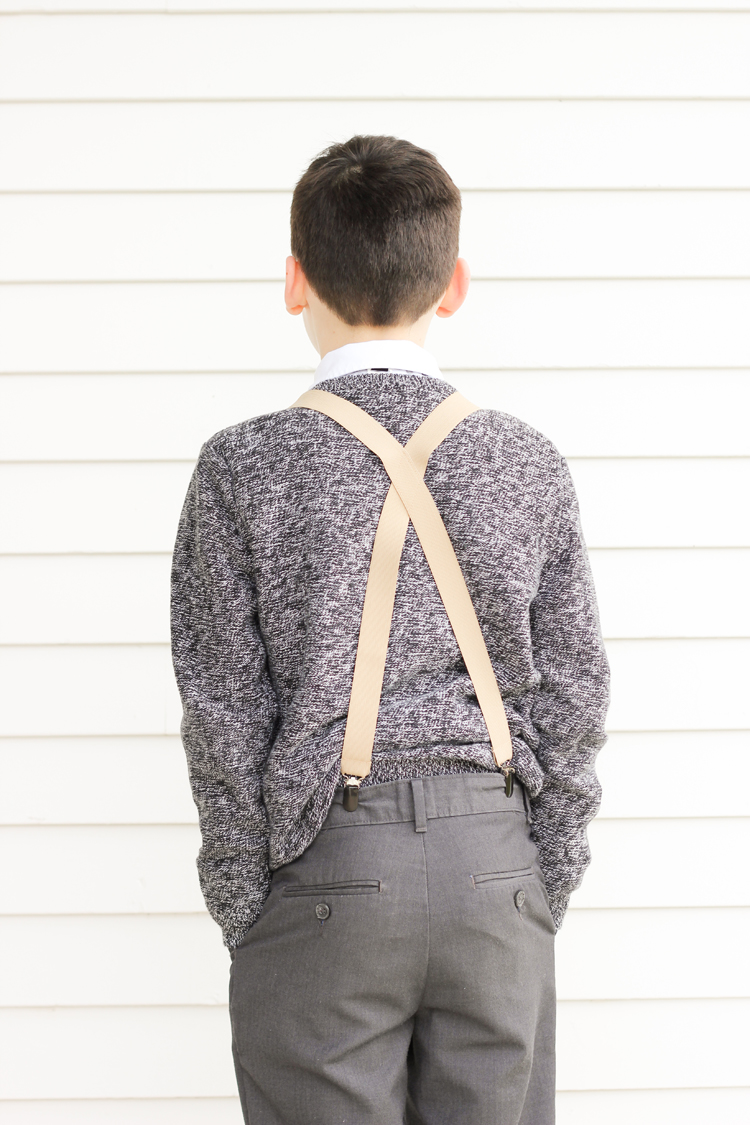 His bow tie is an update from these crocheted bow ties I posted when he was not much older than my youngest. Time. flies. people.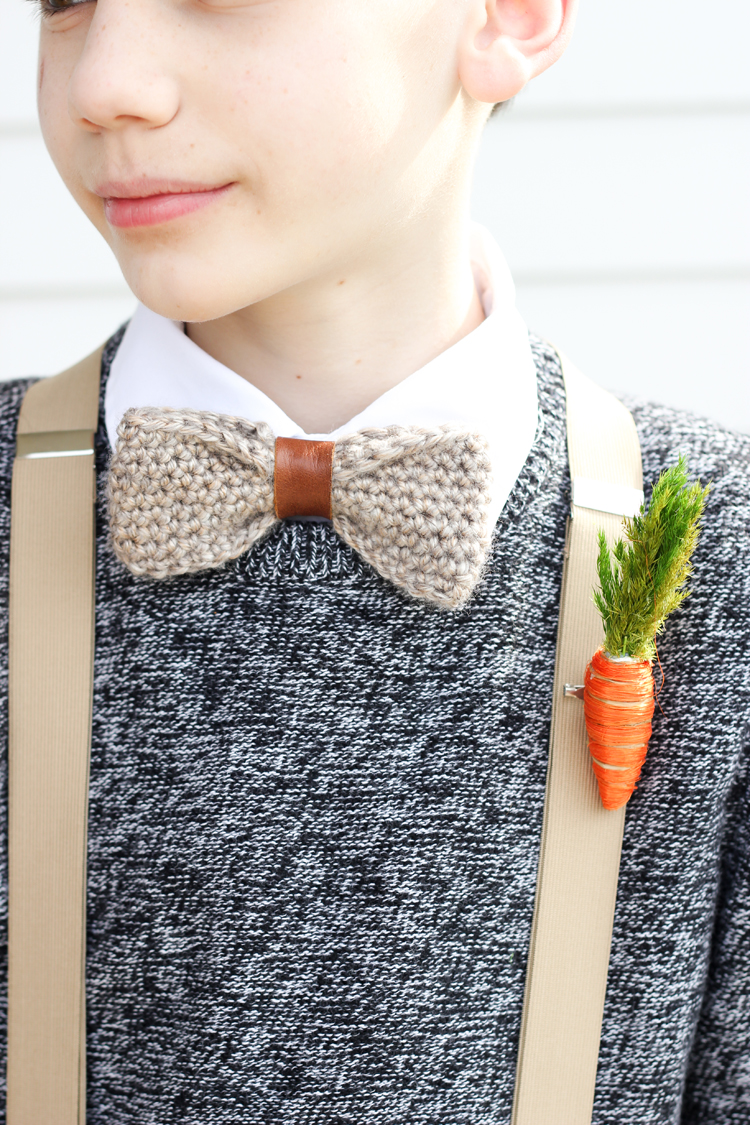 I have a tutorial/pattern in the works for it as well. Are you sensing a trend here? Too many things I want to share and just not enough time to share them all. #momlife. 😉 Anyway…It's a super simple project that's great for beginners. I'll link up to it here when it's ready.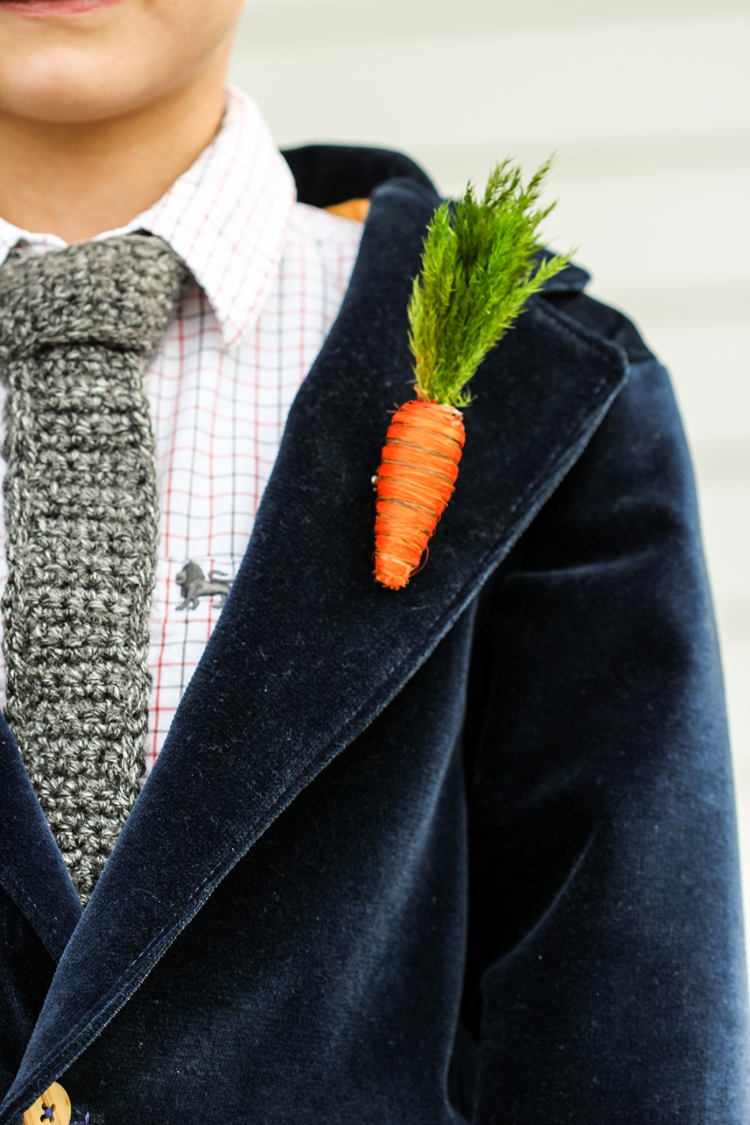 Both boys are sporting some of these cute carrot boutonnieres, for which I actually DO have a tutorial ready. Woot woot! Go here for the super easy tutorial.
And now for a shameless stream of cute pictures of my kids. I think it's apparent that the REAL reason I get them new Easter duds is so I have an excuse to get pictures of them. 😉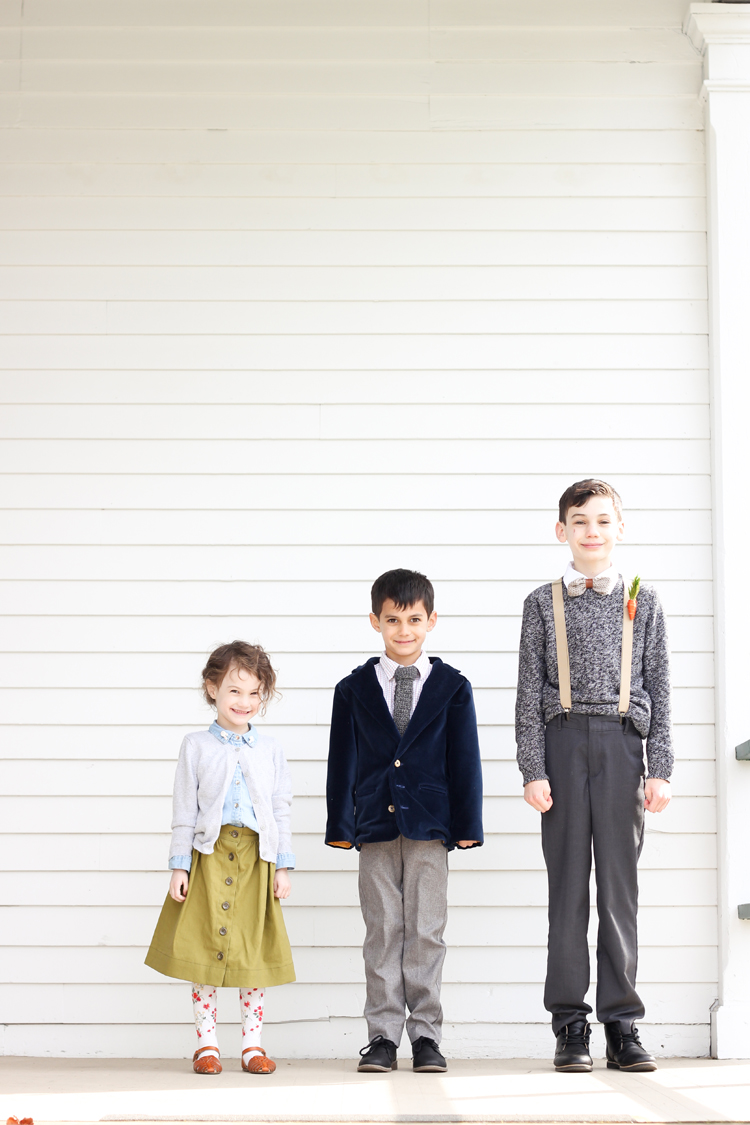 This moment lasted for exactly one second. Ha! But really, I like the ones with them squishing and poking each other and bouncing around better (just don't tell them that! ).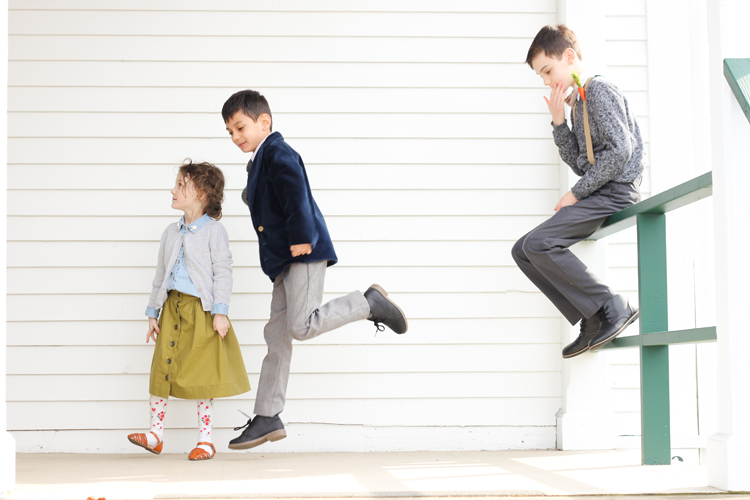 This picture is SO HER.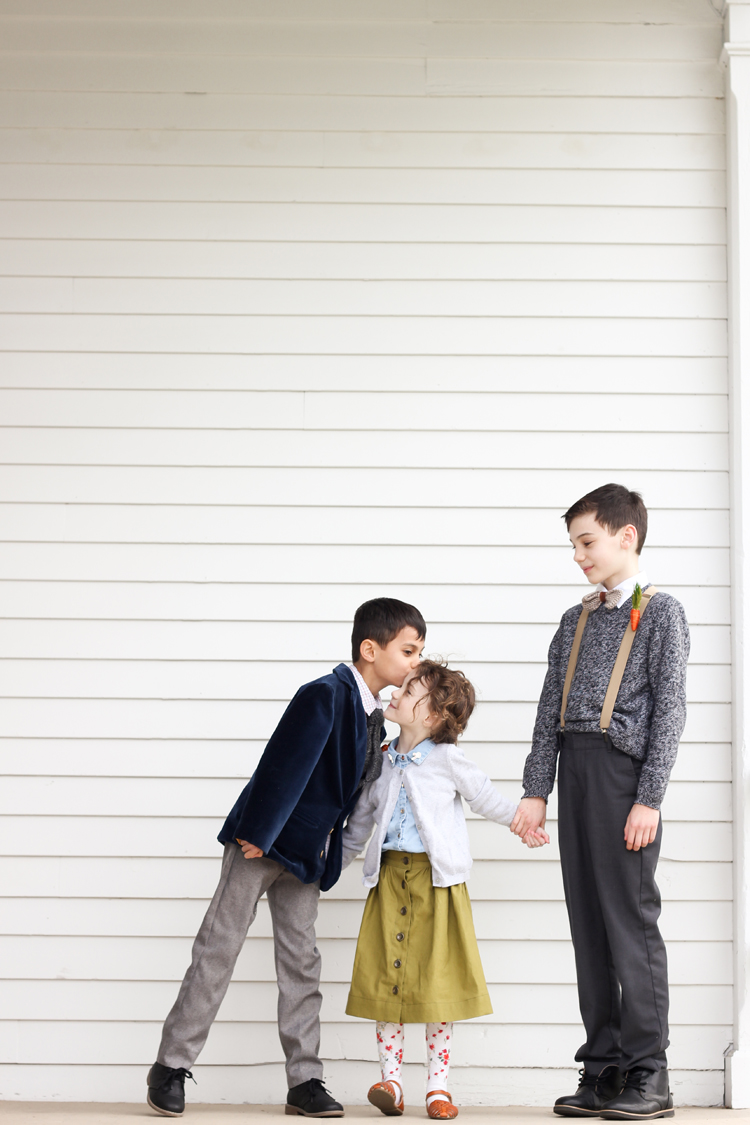 Happy Easter folks! Hugs and kisses and oodles of love to you and yours!