When I released my Natty Janes Baby Shoe pattern, I got a lot of requests for a boy version. Today's post is an answer to that. I'm sharing a free pattern and tutorial for a modern leather baby boy boot!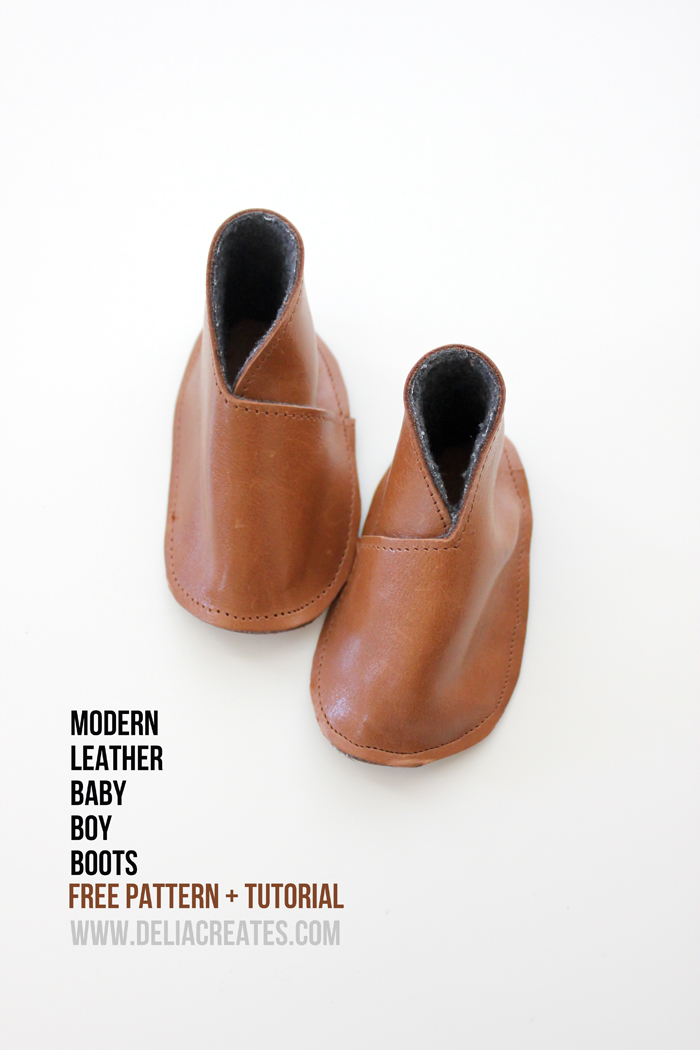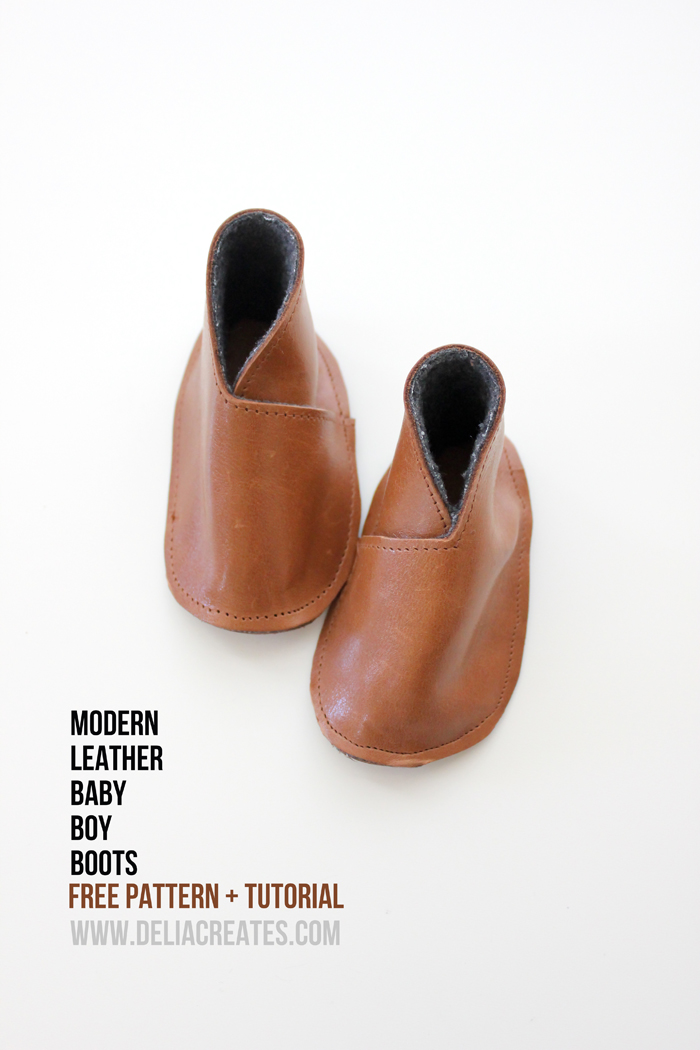 I actually first shared these shoes in THIS post. I was just playing around with the idea, liked it, and decided to make it into a pattern and tutorial.
It is not a graded pattern, but I'm offering it for free in size 1 or 0-3 months.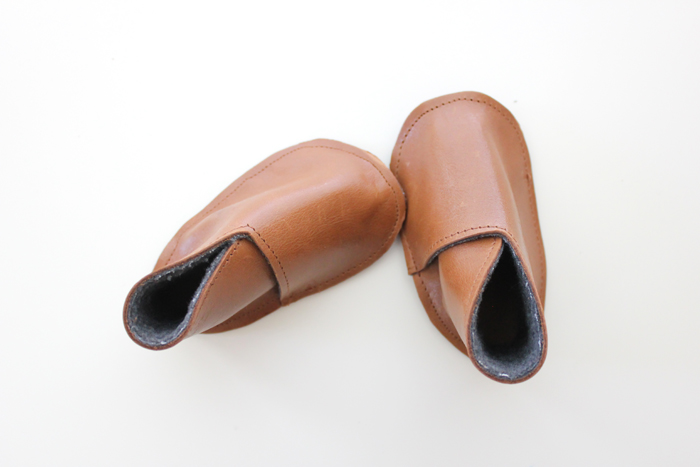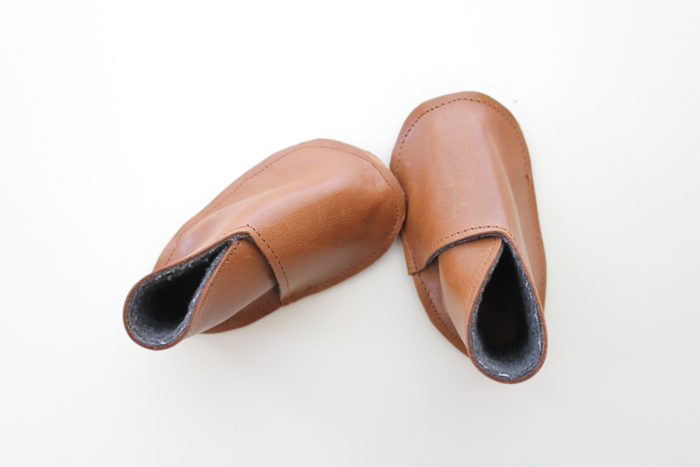 It has a minimalist, modern feel and really is simple to put together. It could easily be unisex, but I designed it to err on the masculine side.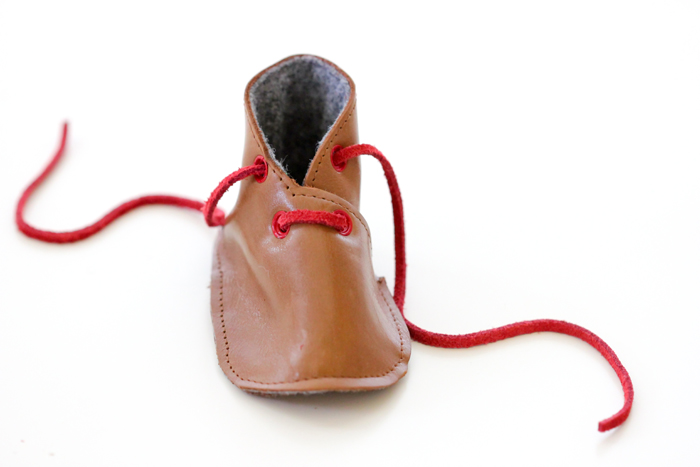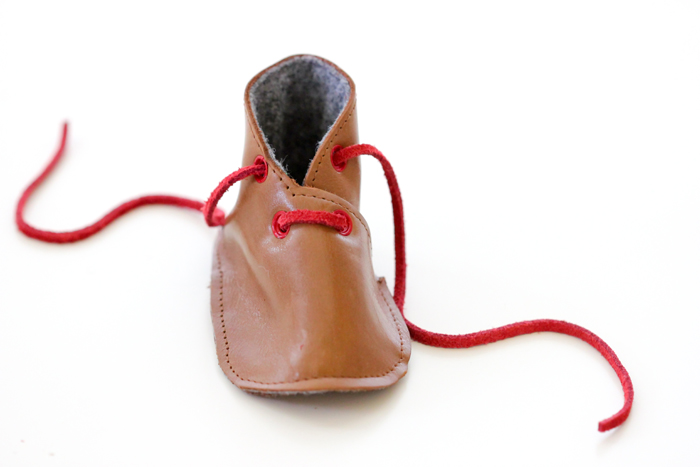 Laces are optional. They are super cute but mostly just for looks.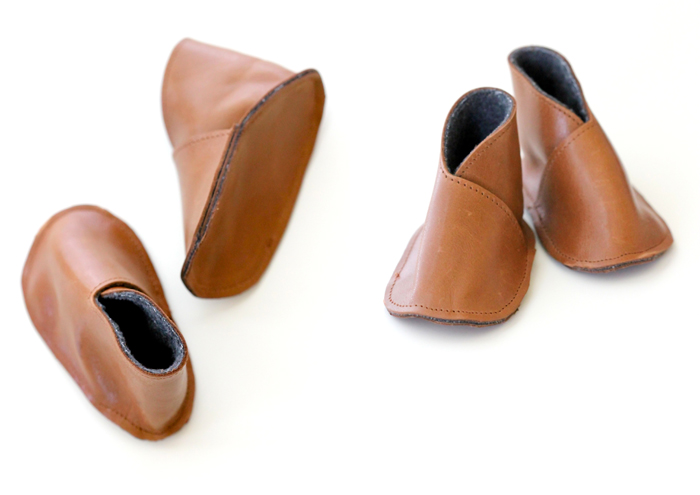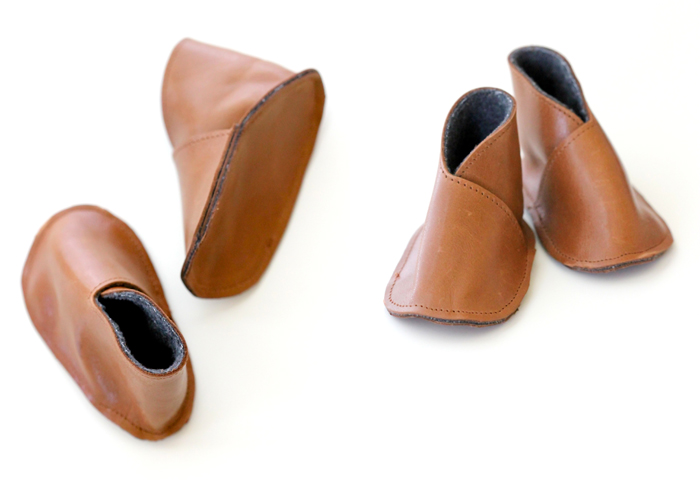 I tried the no laces version on the baby girl down the street and they fit great. If your baby's feet are close to 3.5″ in length then they should fit snug enough to not need them.
Ready to get started?
Materials…………………………………………………………………………………………
–
Leather
– You can buy a hide or reuse an old purse or jacket. Baby shoes are great because they require such small amounts of leather. You may also use pleather or vinyl. It will not look as nice as genuine leather, but still cute. If you are buying vinyl by the yard, 1/8 of a yard should be plenty.  –
Fleece or felt
– this will be used as a lining. Only a scrap is needed, or 1/8 a yard if you are buying yardage. –
High quality thread
– You don't need special thread but I highly recommend that you use a nice quality, all purpose thread. –
Leather needle
– You can get away with a universal needle, but you will experience less frustration and end up with a nicer looking boot if you use a leather needle. –
Clover clips or small binder clips
(pins do not work with this project) –
Sharp heavy duty scissors
–
disappearing ink fabric marker
–
optional:
leather laces or ribbon, metal eyelet grommets, and an eyelet punch, if you are adding laces.
Sizing…………………………………………………………………………………………………
This pattern is a free pattern for size 0-3 months or size 1 shoes. This shoe best fits a foot that is 3.5″ to 3.75″ from longest toe to heel.
HOW TO…………………………………………………………………………………………….
Step 1 – Print out the FREE pattern ———> HERE. *This pattern is offered through Google drive. If you have trouble accessing it, please make sure you are logged into your Google account and try again. If you are still having trouble, email me at delia.randall@gmail. Please expect up to a week for email pattern delivery.
Cut out the paper pattern and use it to trace and cut out your shoe pieces. You need two from each pattern piece cut out as mirror images.  Cut rough cuts of felt or fleece just larger than the shoe upper pieces. We will trim away the excess in a moment,
Step 2 – Lay the leather upper pieces on top of the fleece/felt. You can clip them together but I personally find it easier to just hold them in place by hand.
Step 3 – Switch the needle in your machine to a leather needle.
Step 4 – Sew the leather upper piece to the fleece/felt scrap just on the side that is curviest. (See above.) Do not sew all the way around. Just sew along the edge that will be the inside/top of the shoe.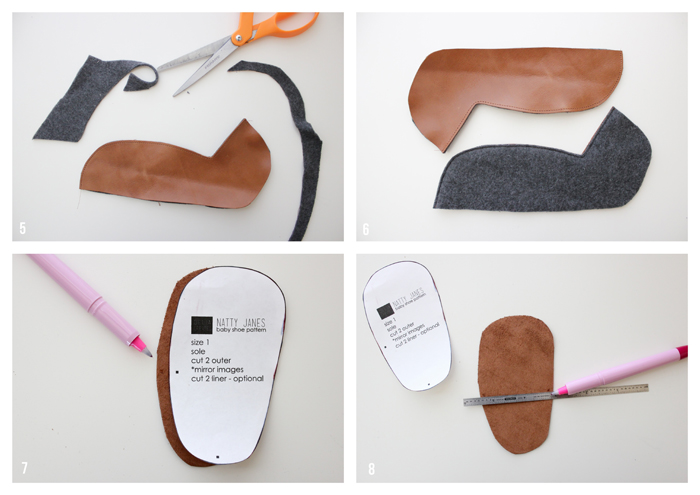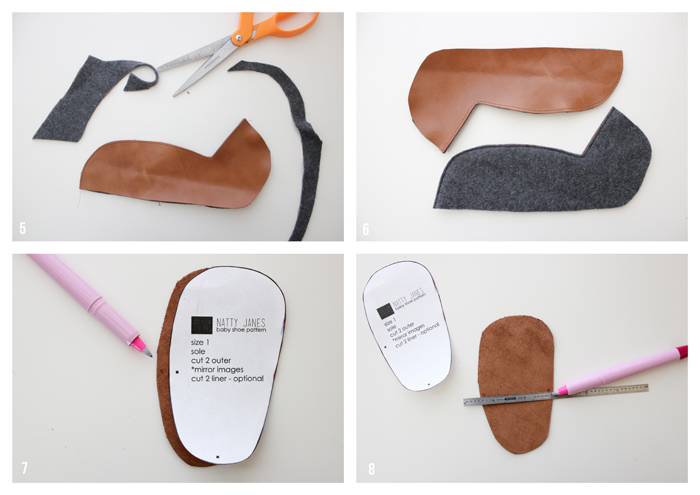 Step 5 – Cut away the excess fleece/felt.
Step 6 – See how nice it looks? It is so much easier to get a nice finish if you top stitch the lining on this way.
Step 7 – Using the sole pattern, mark the dot on the WRONG side of the sole. ( You can see that this is the same sole pattern from my Natty Janes Baby Shoe pattern :)).
Step 8 – Measure straight across, and mark again. This second dot is where you will start sewing. Flip your sole pattern over and repeat for the other sole piece.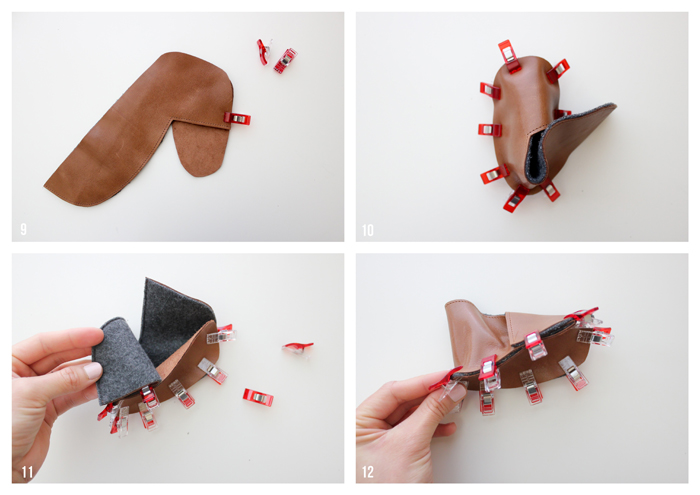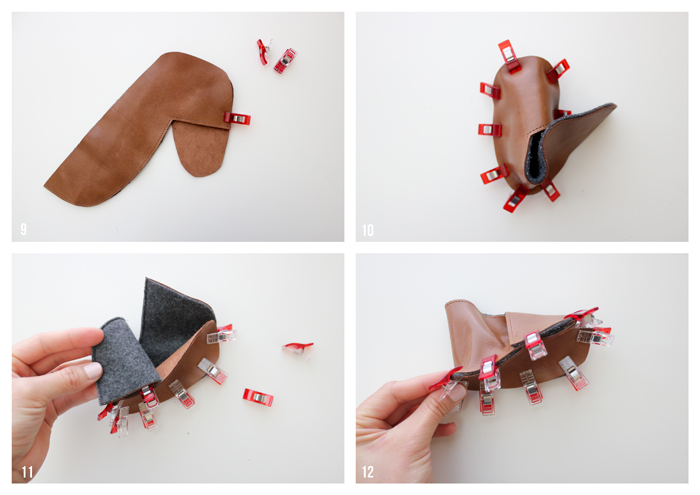 Step 9 –  Line the curved end of the upper piece up with the second dot you marked on your sole pieces.
Step 10 – Clip the upper to the sole all the way around until you get to the first clip. Remember to clip pieces together right sides facing out or wrong sides together. Be sure that the fleece/felt lining is flush with the leather upper piece as well.
Step 11 – Remove the first and second clips and position the end of the upper piece underneath the the top shoe portion you started clipping with. Lay that top shoe portion back in place on top of the end of the shoe upper and clip both layers in place.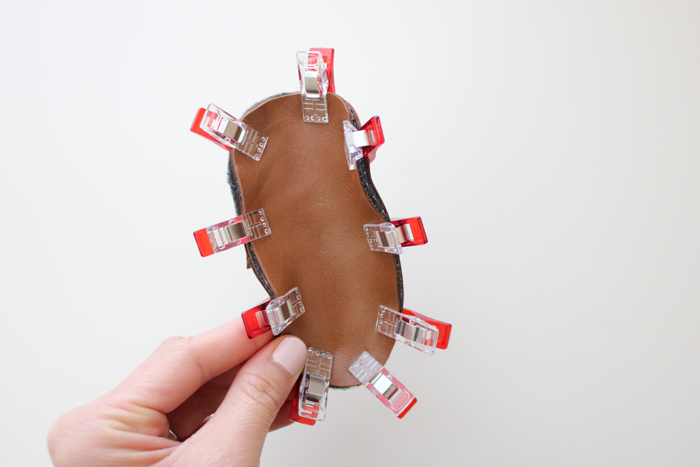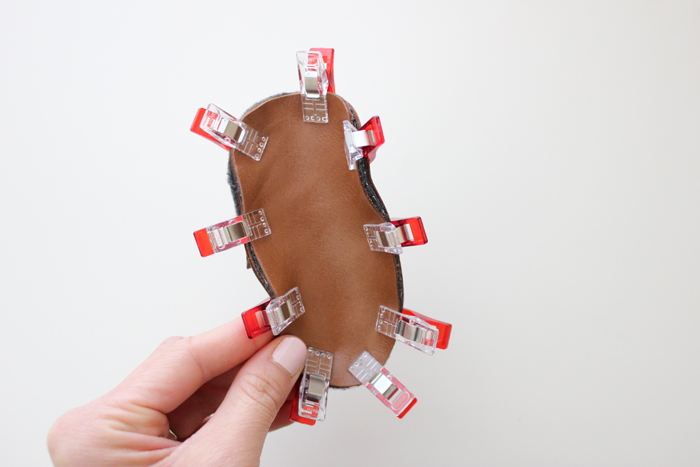 Sew all the way around with a 1/4 inch seam allowance.
Tips for sewing with leather: 
1. Sew SLOW! This really helps solve many problems.
2. I like to lengthen my stitch to 3 mm. This provides a nicer look and smoother feed through the sewing machine. You can even go up to 3.5 mm when top stitching the leather to the lining. I don't like to lengthen my stitch too much at the sole, because the strength of that seam is important and will be tested with the wear of the shoe.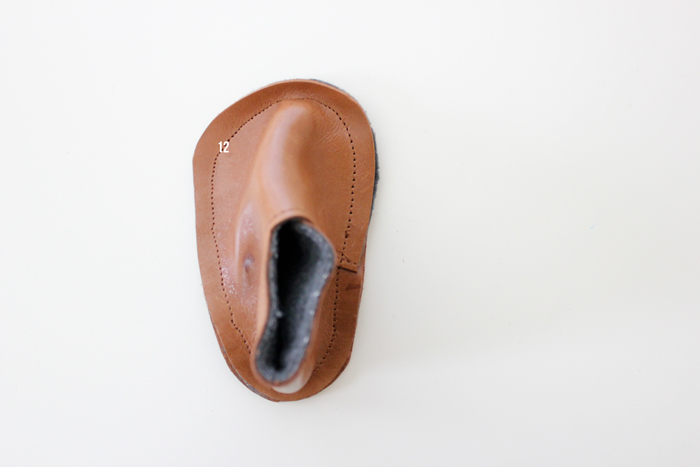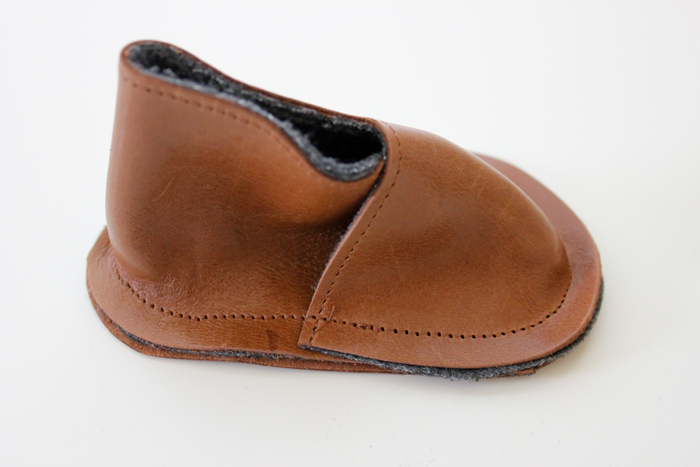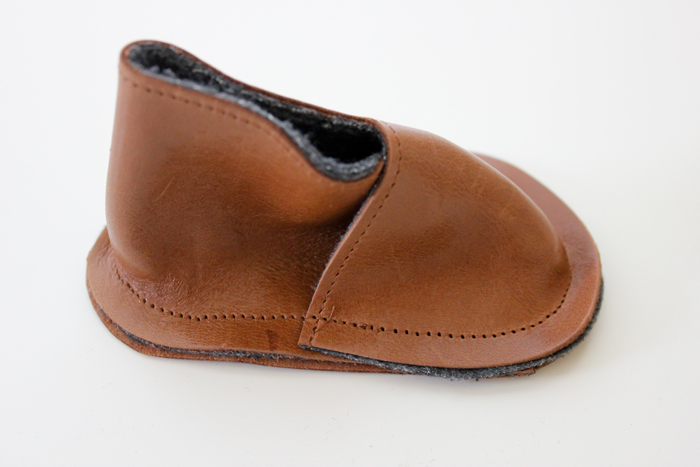 Trim the seam allowance back to about 1/8 inches.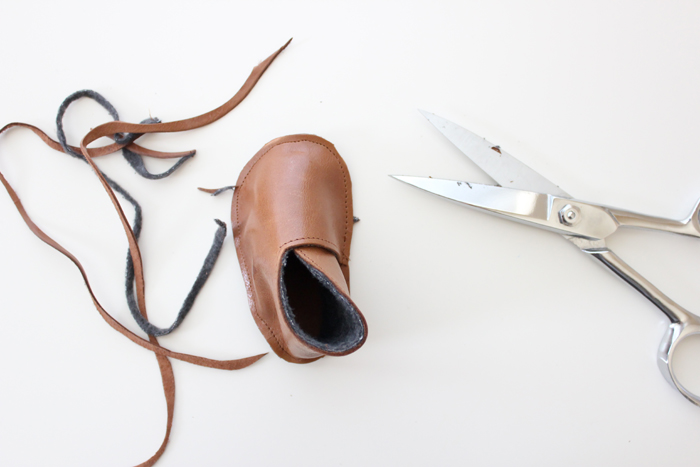 You're done!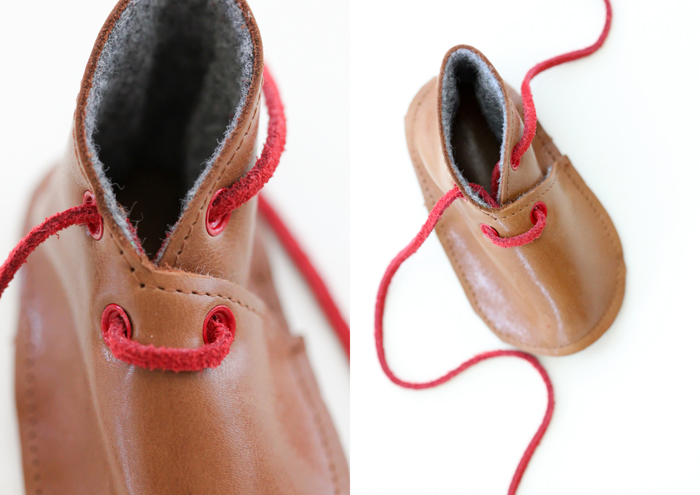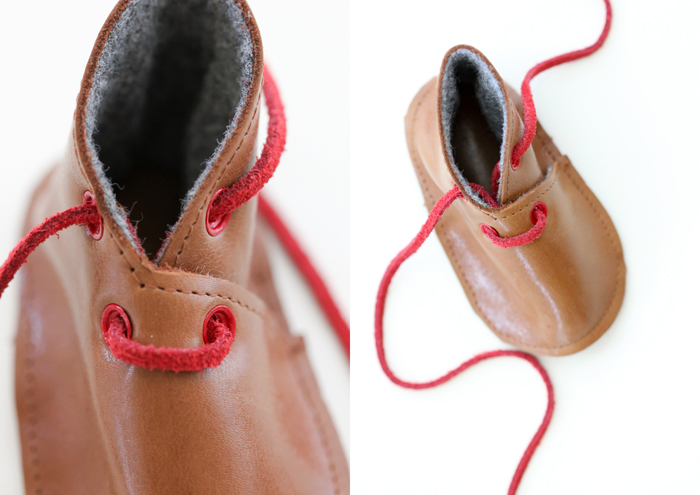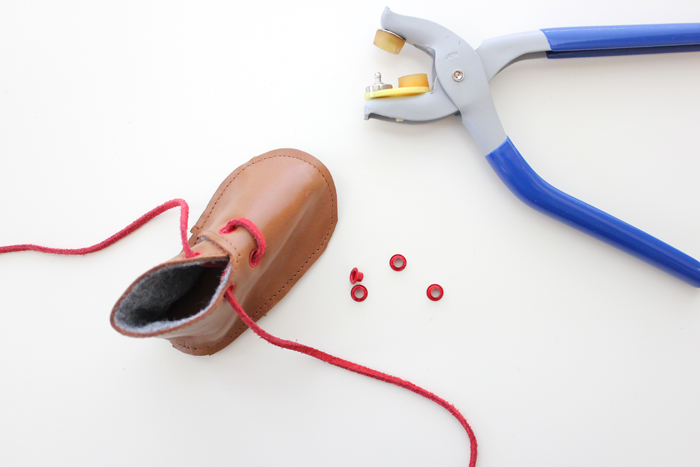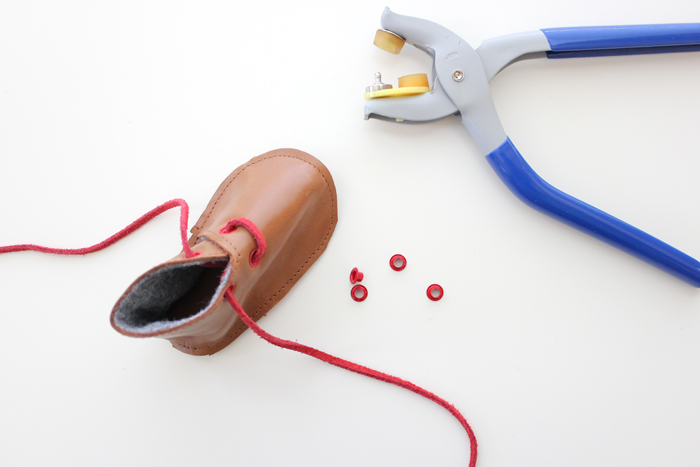 Simply punch holes with the eyelet punch where you want. Add metal eyelet grommets and lace your laces through.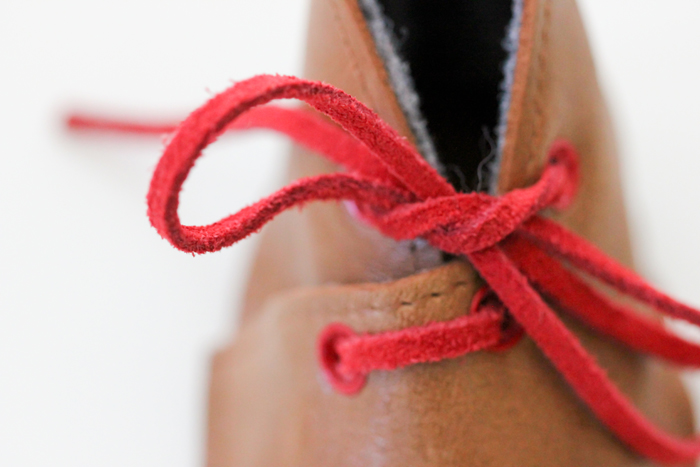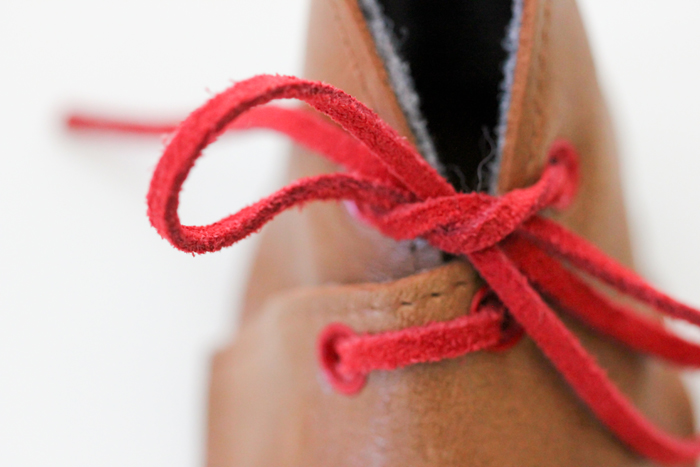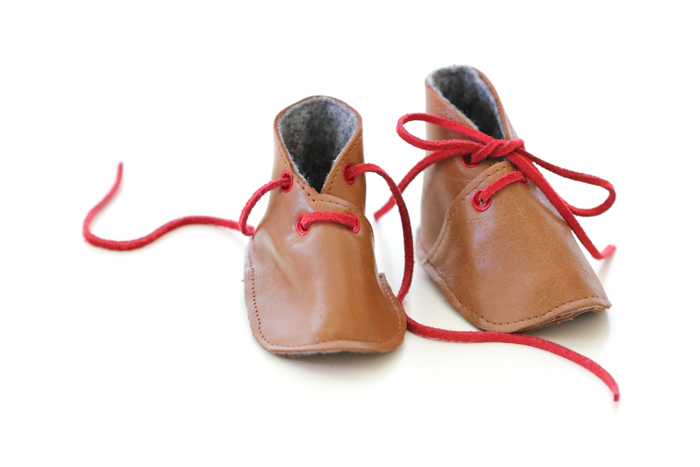 I have to say that I am really liking the minimalist, no laces version though.
If the exposed seam allowance bothers you, you can reverse the way you overlap the upper and sew the shoe on right sides together before turning it out. Having tried that, the fit is wider at the top, so you may require the laces option. Sewing it on right sides out, helps the shoe upper hug the foot better in this design.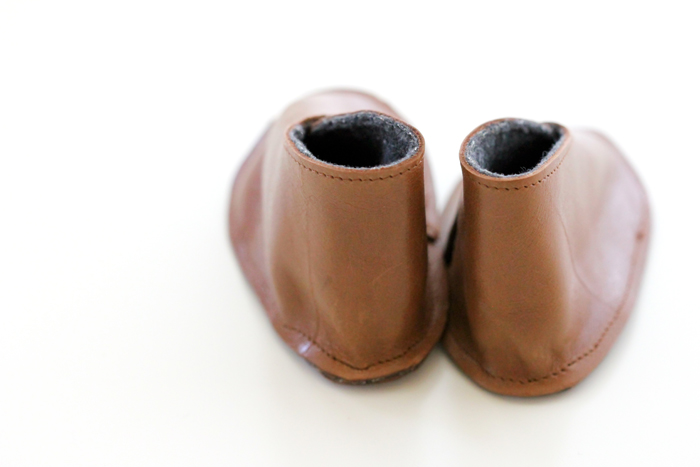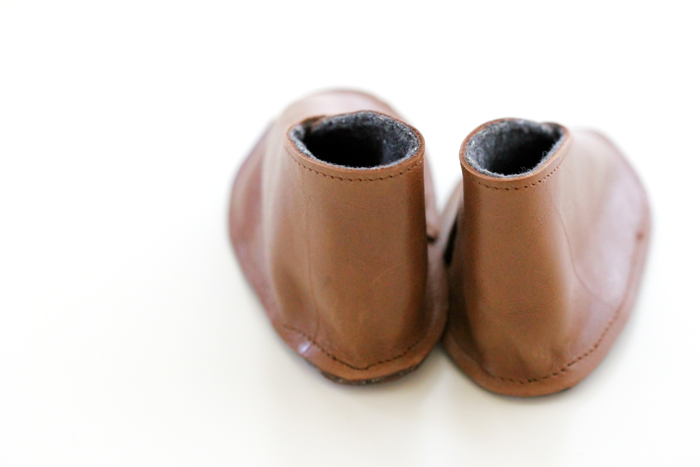 If I had a baby boy, he would totally be rocking these. :)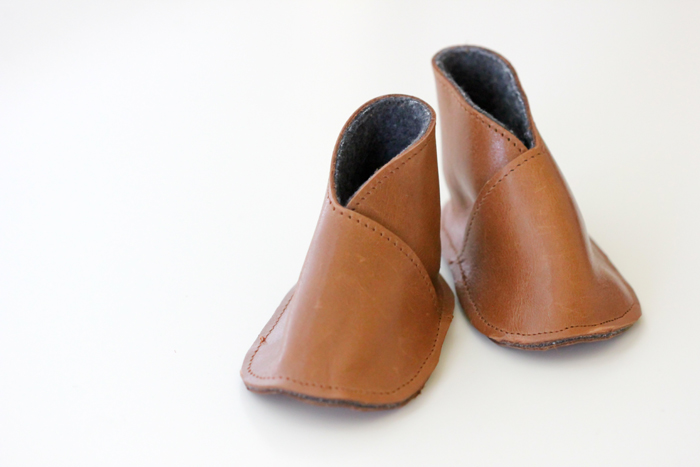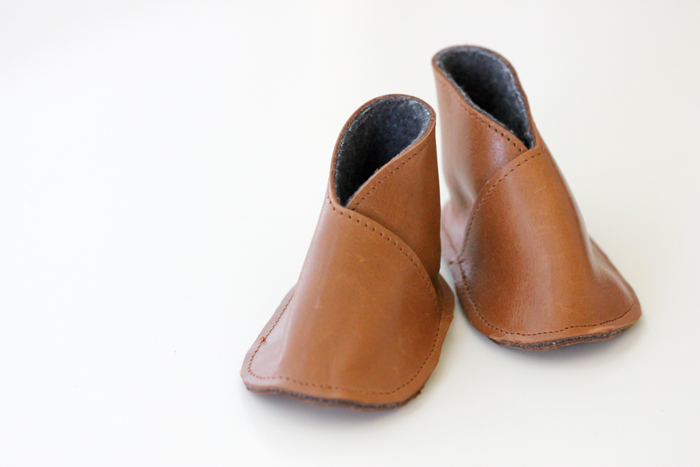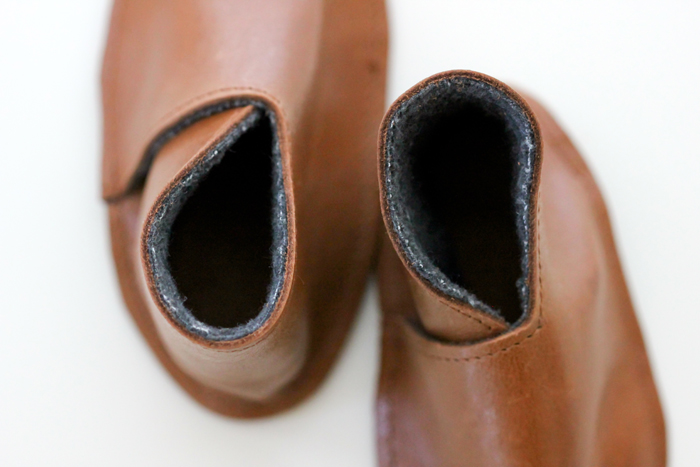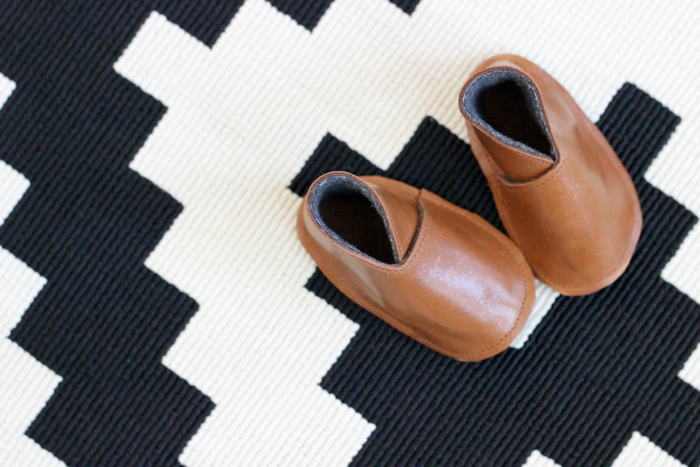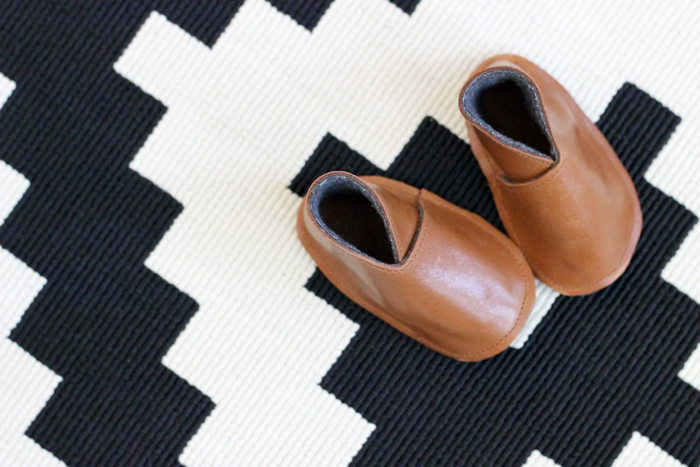 This post was created for Everyday's Art Little One series. Go check out more fun baby projects by clicking the graphic below.