I make Natalie a new dress almost every Christmas. Well, this year I decided to get in on the action too and made us mommy and me dresses!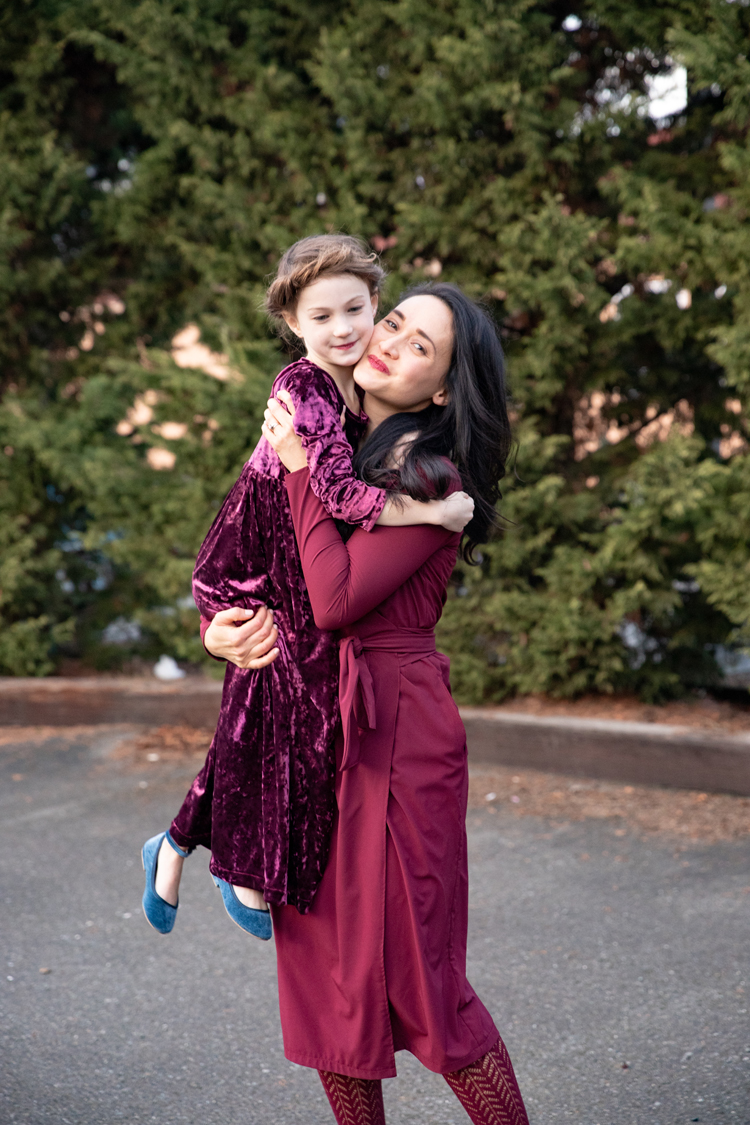 I didn't make us match exactly, although I thought about using the same crushed velvet fabric on my wrap dress. It's soo soft and drapey but I decided to try a lightweight stretch rayon I found in the formal wear apparel fabrics section from Jo-Ann. (The crushed velvet knit is also from Jo-ann). It was kind of surprising to find it there because it has a four way stretch, not a lot but still enough, and wasn't with the knits.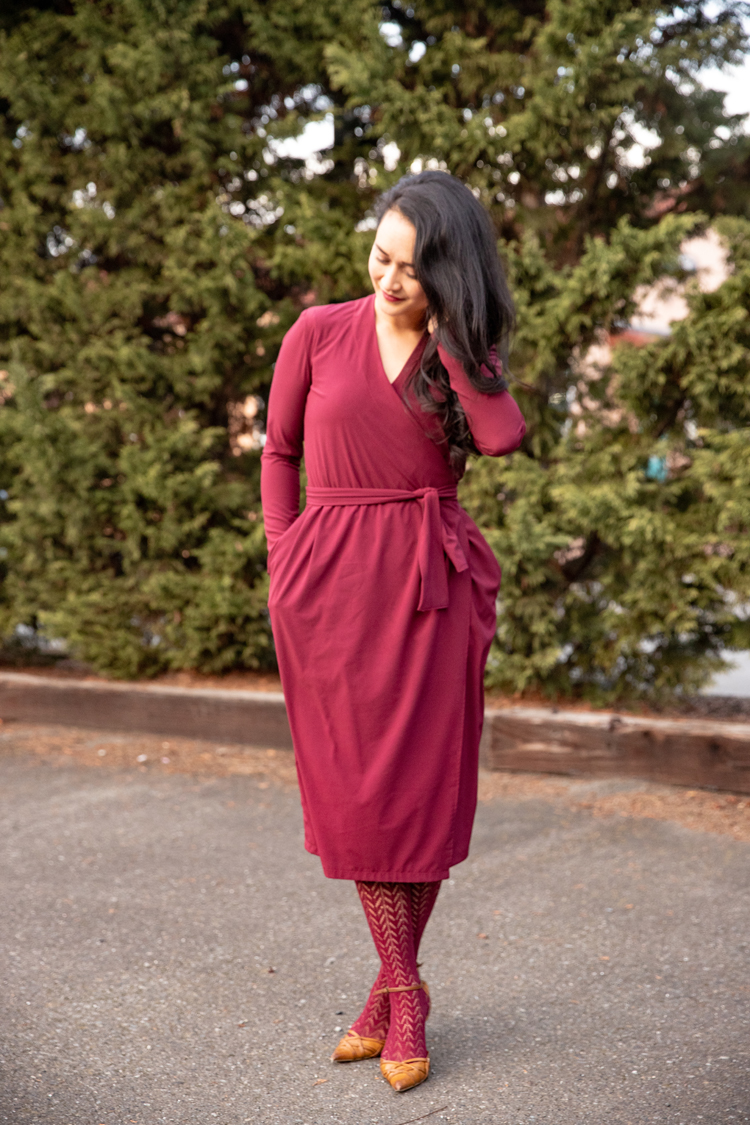 I love the matte finish on both sides and it's nice and opaque so I didn't have to worry about lining it. The only thing I don't like about the fabric is that right after washing it, it is really clingy until you've been wearing it for a couple of hours. I don't like to use fabric softener on my laundry and I've been wearing it with cotton tights, so that could be why too, but I fought with it for this whole photo shoot. I got the wrinkles out of it before we left the house by dousing myself in hair spray and then the car charged it up again or something. (forehead slap) If you all have any wrinkle releasing tips that don't call for fabric softener, I'm all ears!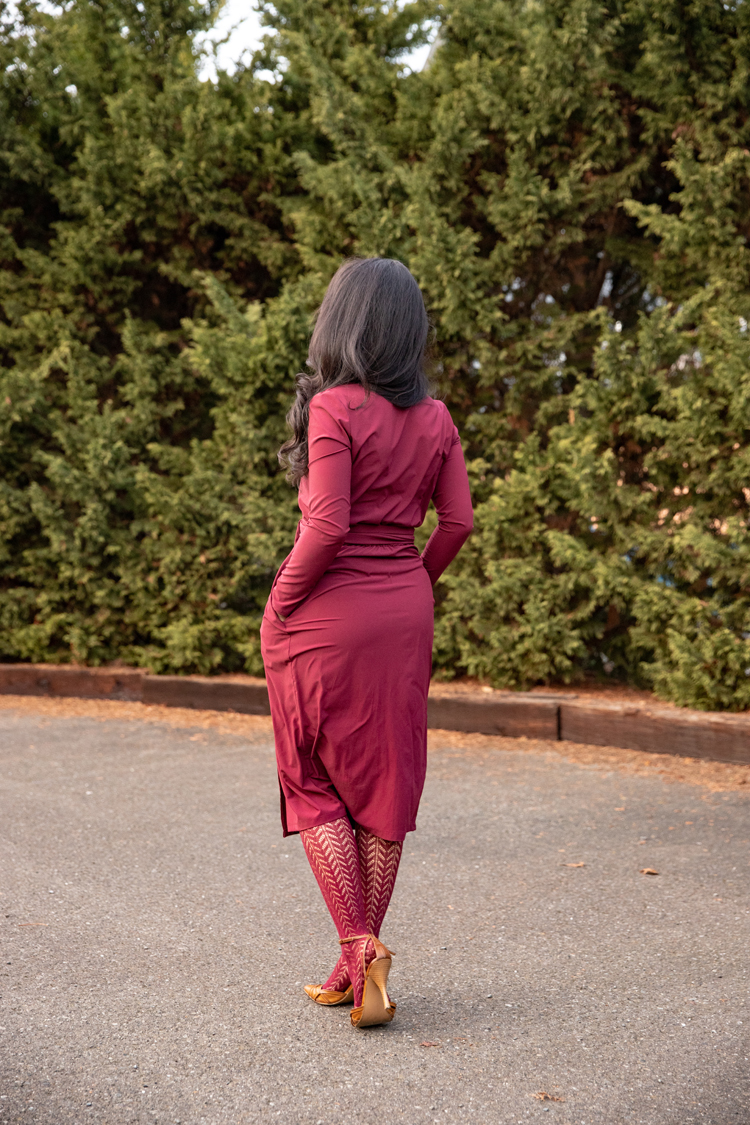 It is also preeeety close in color to Nat's dress so that it coordinates but doesn't make us look like we're in a wedding party. Or maybe we still do… ha! Anyway… It's a perfect fabric fit for the pattern I used which is the Olivia Wrap Dress pattern from Named Clothing.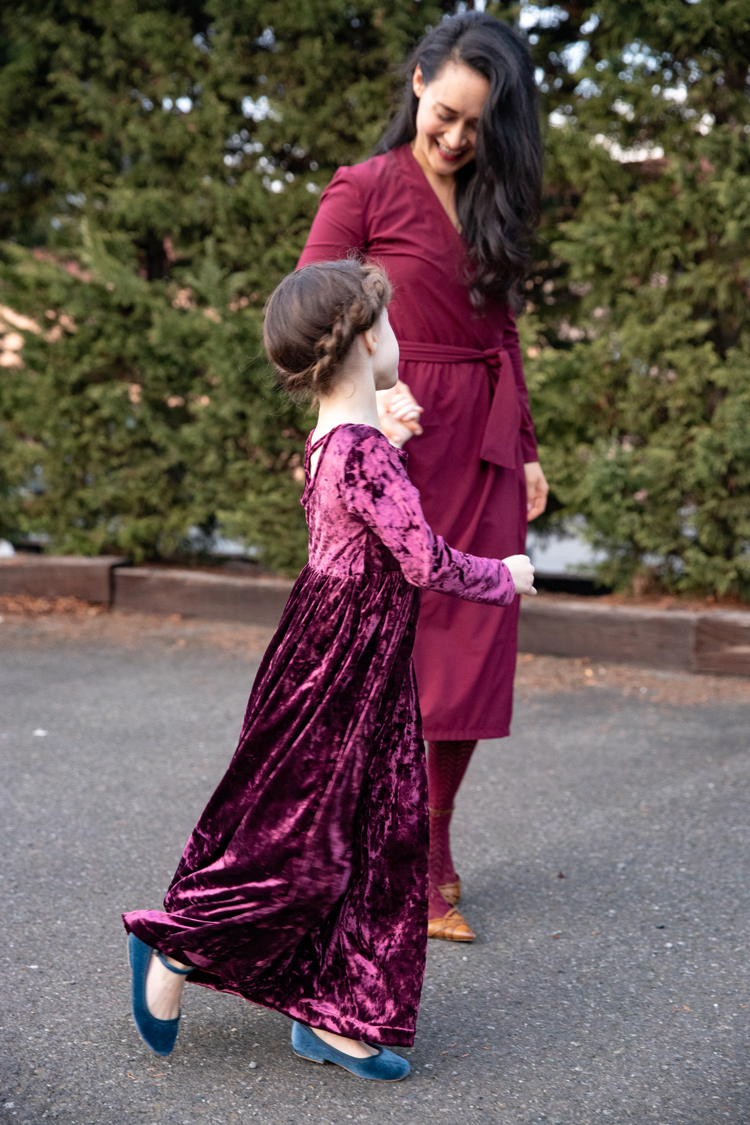 The fit of the pattern is great! It hugs all the right places, but is modest and it has a tulip shape to the skirt that adds a unique flair. I am pear shaped, so I was a little worried about the shape of this dress highlighting that pear shape too much, but I think it actually complements it. It does accentuates it, but not in an unflattering way. Best of all, it has pockets (!) and I feel comfortable in it. I feel like I can lean down and now worry about the neck line flopping forward or anything. The dip of the "v" is just right. I do have to be a little more mindful when I sit down (ha!) which I suppose are just the quirks of wearing this style of dress.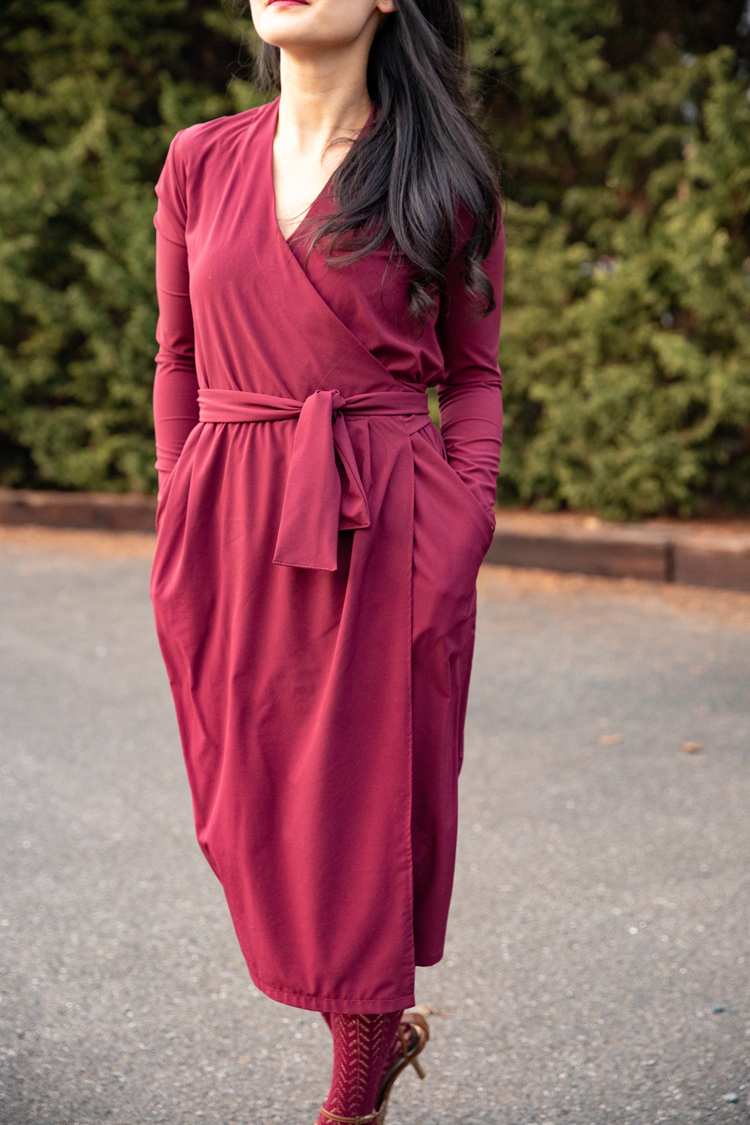 It calls for some elastic at the waist so that the shape of the dress doesn't rely completely on the ties, which I really appreciate. I do feel like the slit that you thread the opposite wrap tie through is a little wide. I really want to make this dress again, and will just make that slit maybe a 1/2 inch narrower when I do.
I'm 5'4″ so it hits me at about midi length which I actually prefer. The pattern listing shows a taller model and it hits her just below the knee. Otherwise, the fit is as expected. I made no alterations to the pattern.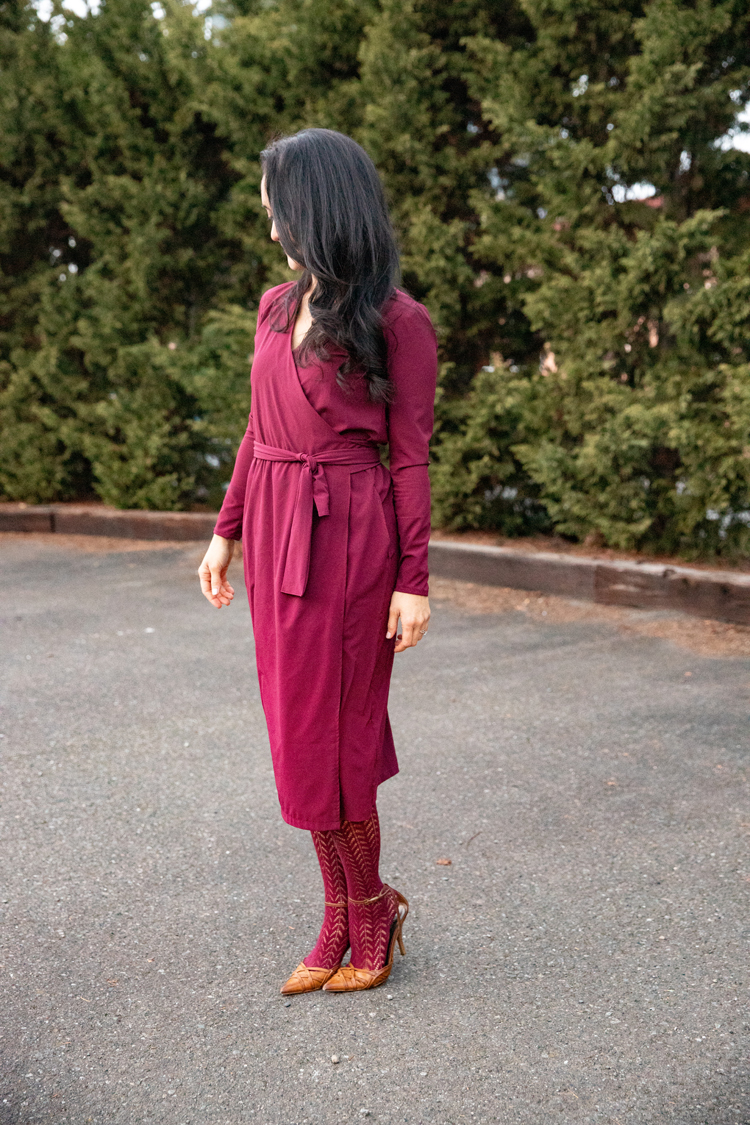 As for Natalie, I started with the Peekaboo Patterns Alex and Anna Winter PJ's top pattern and then kept altering it until I got a more fitted bodice.
I took in sides, the sleeves, deepened the scoop in the front, and then really scooped out the back. To add a little more interest I also added two strips of velvet to the back in an x pattern. I didn't need it for fit and wear purposes, but I felt like the deep scoop didn't look playful enough for a child. The x took care of that nicely and it's Natalie's favorite part.
I also lengthened the sleeves so that I could omit the sleeve band. I added the maxi length skirt and then reinforced the waist line with 1/4 inch wide elastic to help hold up the weight of the semi- heavy crushed velvet.
I'm usually such a procrastinator when it comes to sewing her Christmas dress, but we got tickets to the Nutcracker at the beginning of the month; so I finished them for that event. It was so fun to ring in the season with new dresses at the ballet. It was her first time going and I think it is both of our favorite memory for this year!