When we put up our Christmas Tree this year, I realized two things.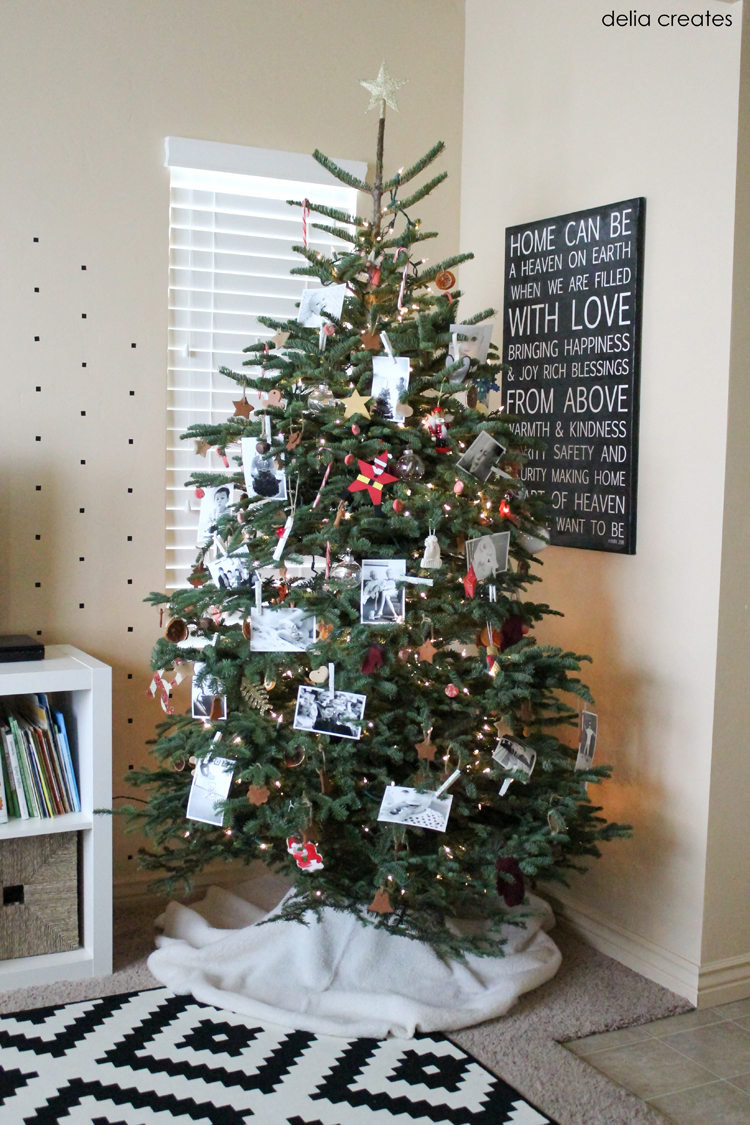 One…our old tree skirt is way too small for our tree.
Two…it also clashes with our living room rug (from Ikea).
Only way to fix that is to make a new one of course!
We like our tree to be full of memories, which means it looks busy, 😉
With the busy tree and our bold rug  competing for attention, I knew our tree skirt needed to be Switzerland.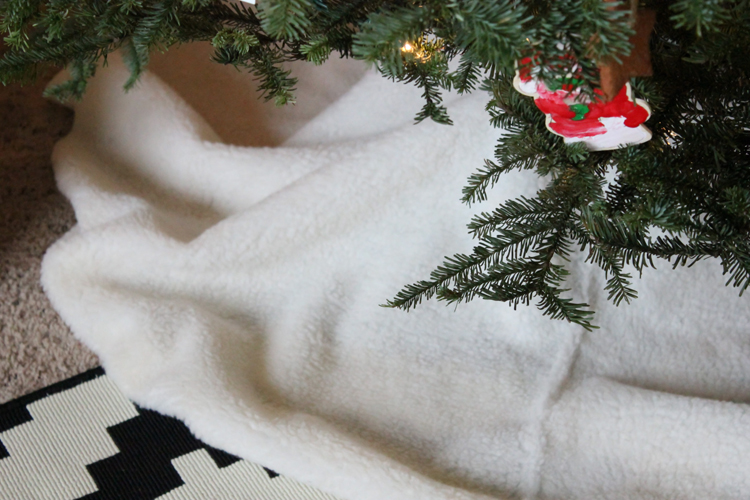 No fancy ruffles or patterns. But not completely plain Jane either.
My answer? Sherpa!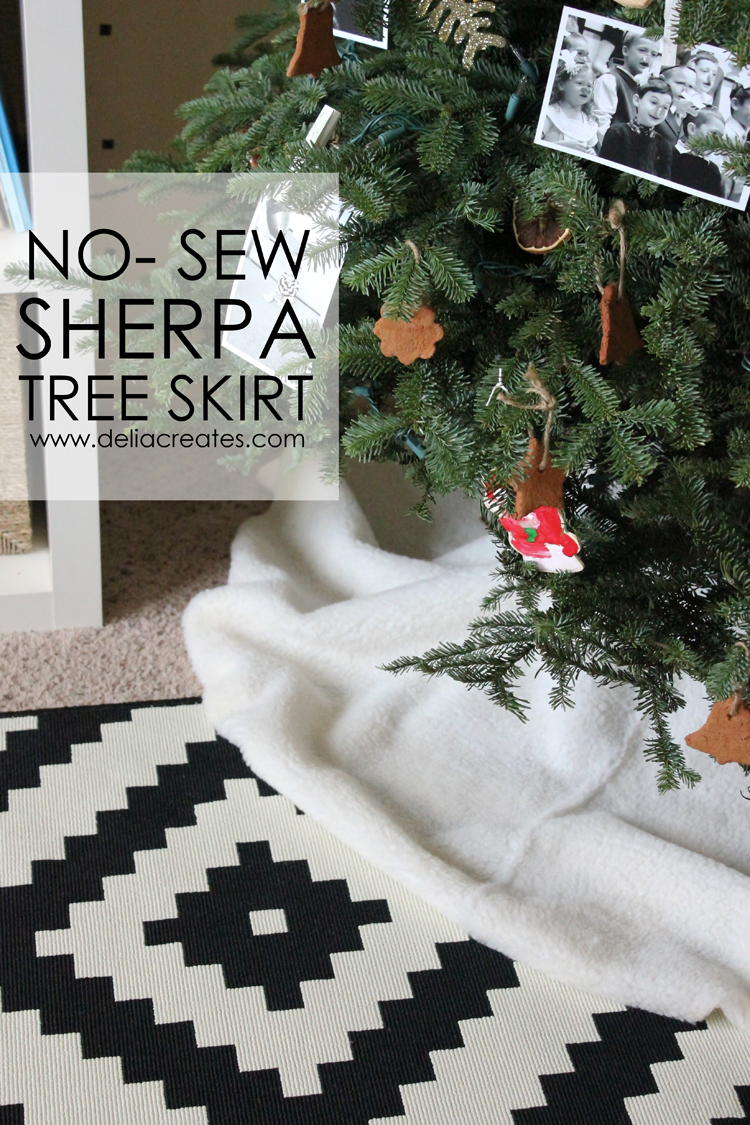 Faux fur would be awesome too, but the only fur I liked was the super expensive kind online. 🙂 So, I grabbed this faux sherpa from Jo-Ann which also happens to be 100% polyester.
Which means, I can singe it with a flame. Yes. This project just got even easier. 🙂
Here is the quick and easy how to:
MATERIALS
1 1/2 yards of Sherpa (it can get expensive so use a coupon!) sharp scissors (fabric scissors) seamstress measuring tape or a string fabric marking pencil lighter or matches
INSTRUCTIONS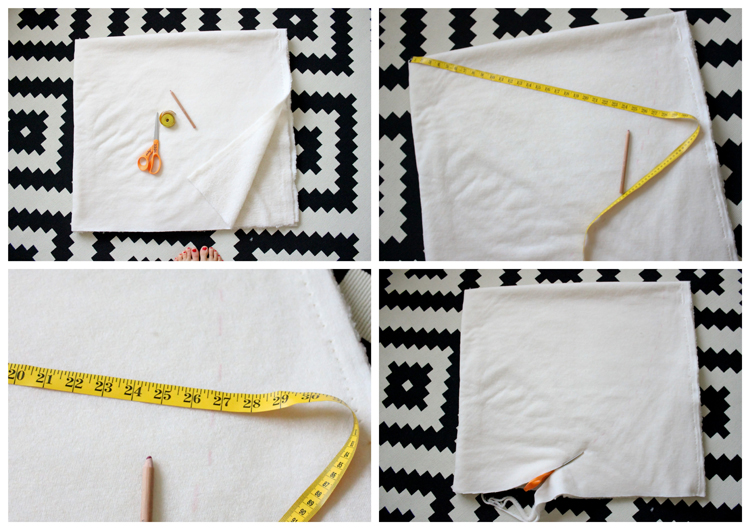 1. Fold your fabric into fourths, wrong side out (fold in half, and then half again).
2. Using a piece of string or measuring tape make a giant temporary protractor and, using a fabric marker,  draw a circle with about a 27 inch radius. You can adjust the radius and make it larger or smaller to your liking.
3. Cut the circle out.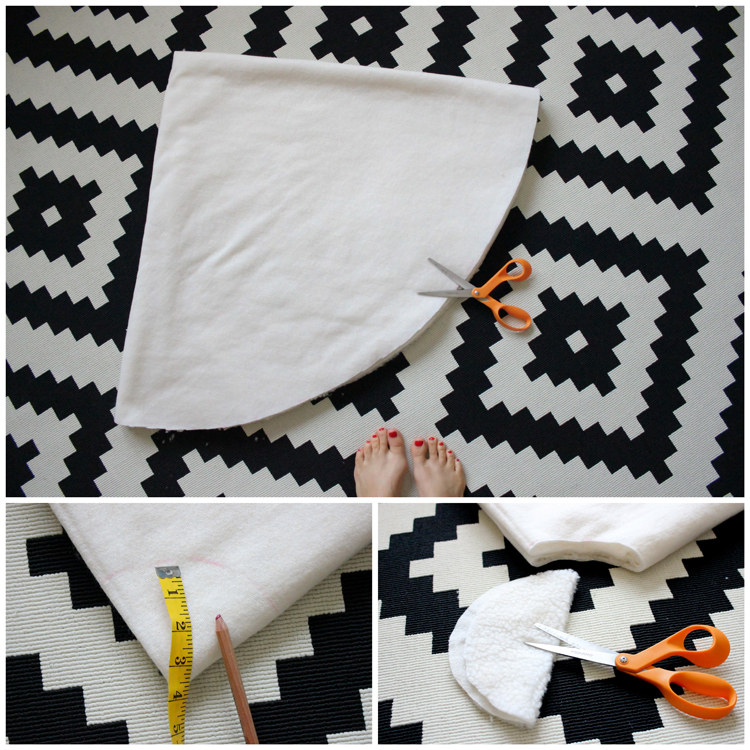 4. Now measure another circle in the middle. A 3.5 inch radius works great.
5. Cut that out.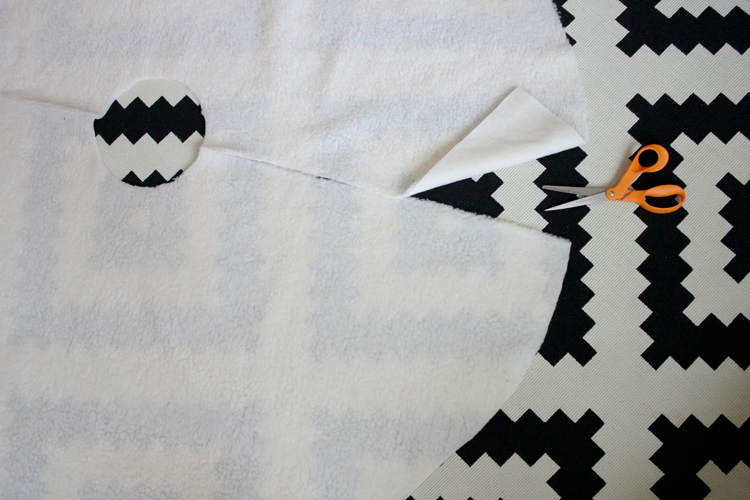 6. Open the tree skirt all the way up and cut a straight line into it from outer edge to inner circle.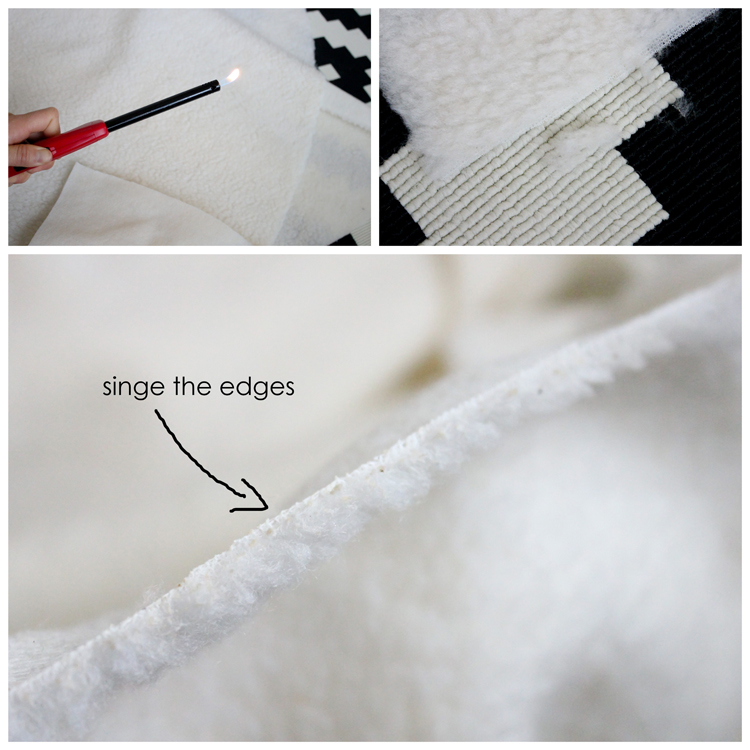 7. Finally, pull off loose bits of "fur," you have already likely made a bit of a furry mess. Then singe all of the cut edges with a lighter or matches.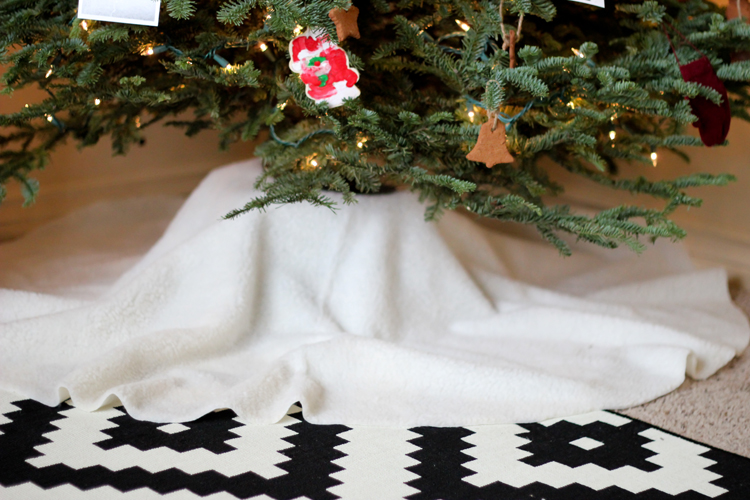 Done and easy!
It's simple yet adds a bit of texture.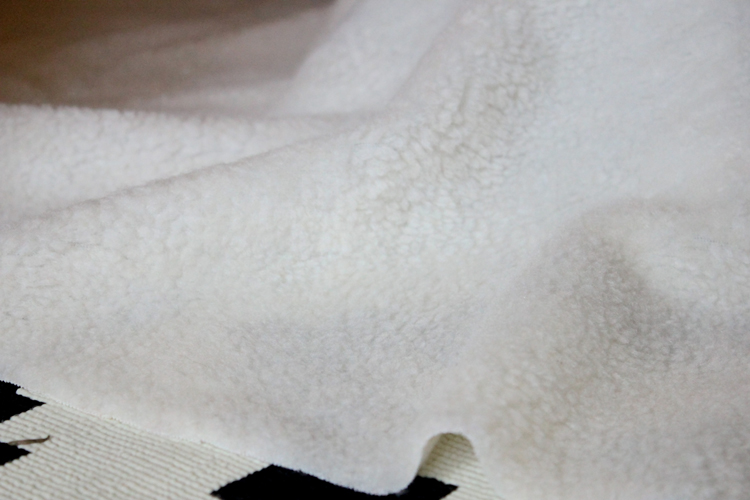 I like to fold the edges under just a bit.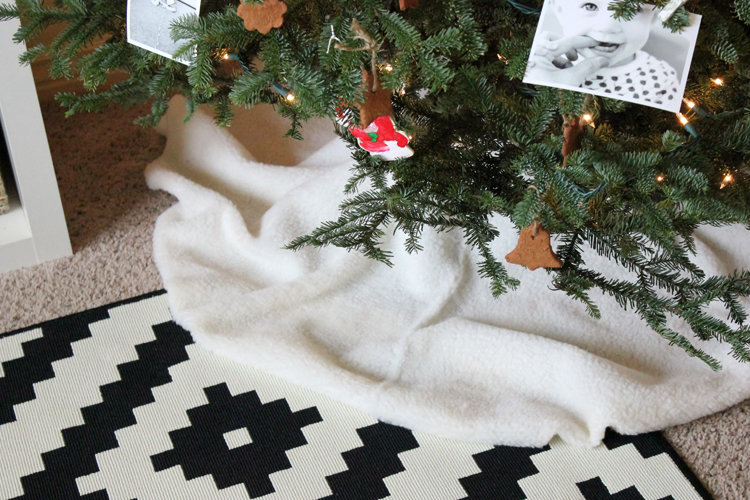 We don't put presents under the tree until Christmas Eve, but we did put out our basket of wrapped books for our book advent.
By the way…I love love this wrapping paper from the Dollar Tree. It's not with the Christmas stuff though. I had to dig through the bins in the back with the party supplies.
As a sewer, I've decided that if I ever get bored of this tree skirt, I can just cut it up into little Lumber Jack hats or something, or maybe a cute little DIY Teddy bear?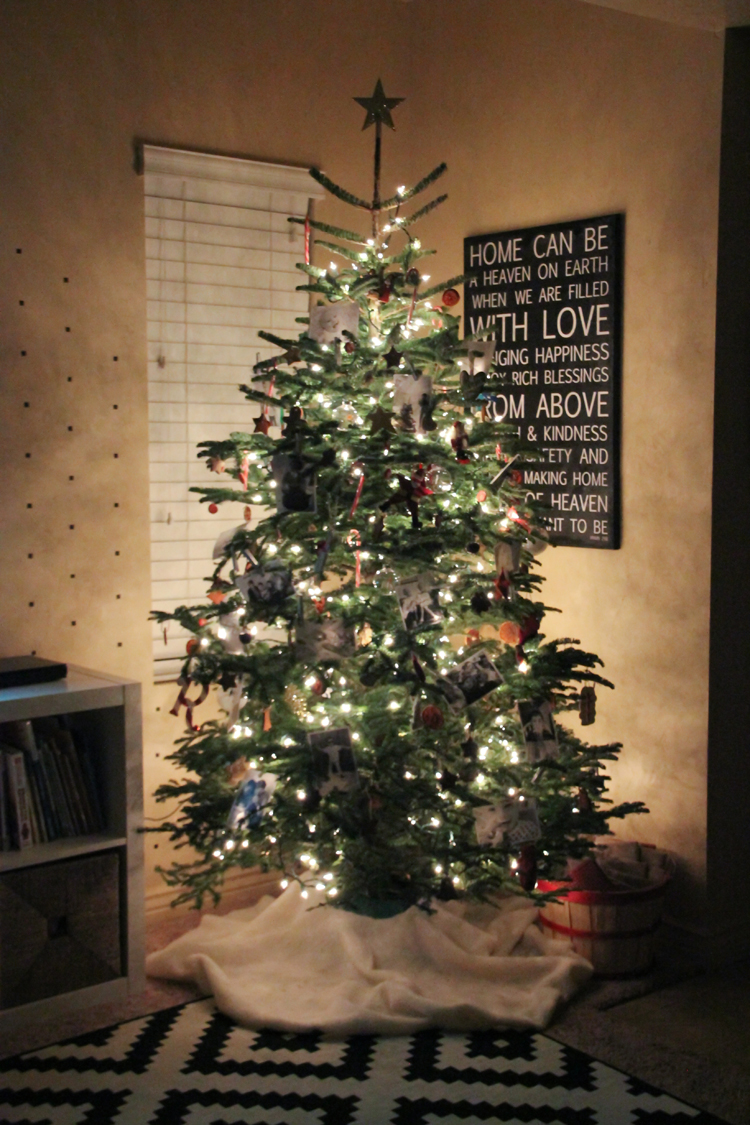 But for now…I love it right where it is. 🙂
And it only took me 10 minutes! At this busy time of year, that's priceless.