Giving out citrus during the holiday season is one of my favorite traditions. Not only is it healthy, but it's super easy!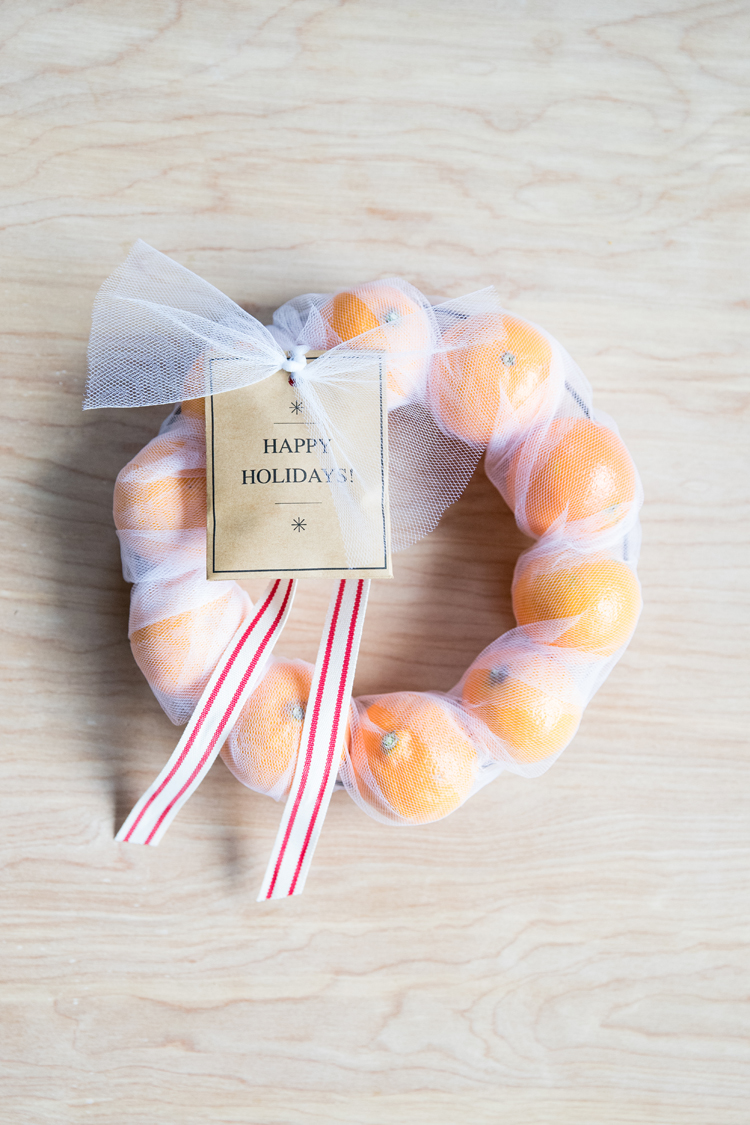 As I was looking for a more sustainable alternative to my usual cellophane clementine wreaths, I came up with a prettier version (in my opinion) that also uses re-useable materials.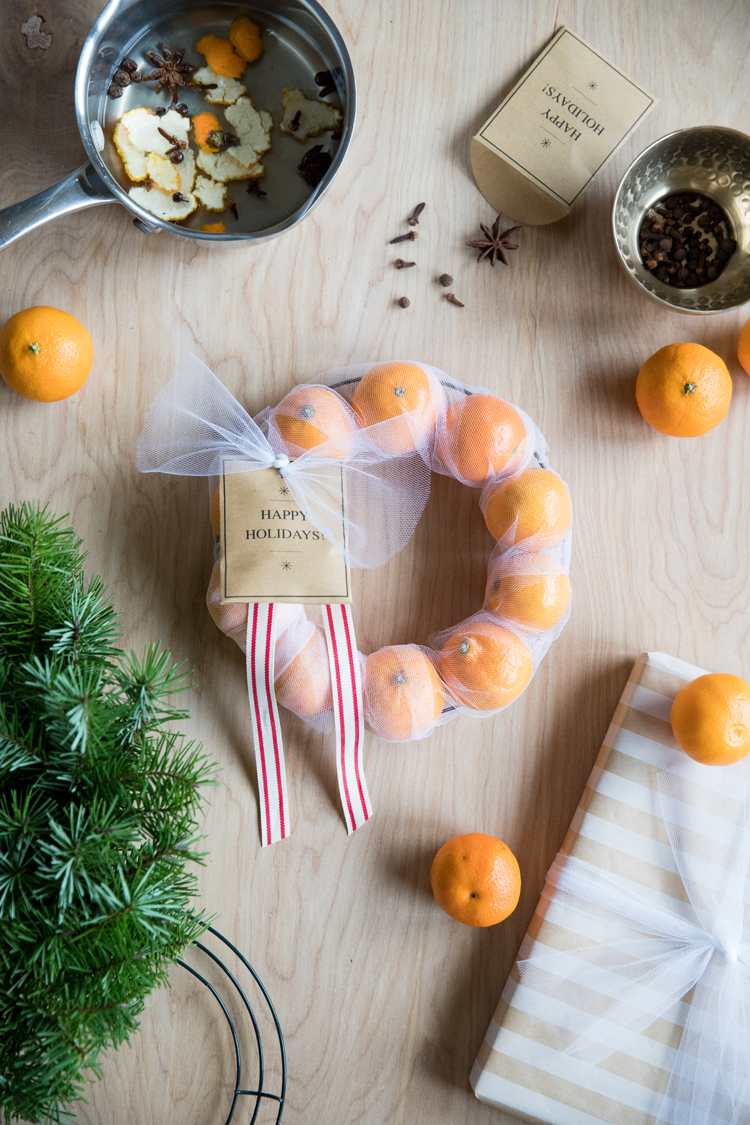 The tulle can be reused as ribbon for gift wrapping, the wreath form can be used as well…a wreath form ;), and even the orange peels can be used again in a stove top simmer or potpourri, which is another one of my favorite holiday traditions, as you can see HERE and HERE. The tag doubles as an envelope that holds spices for the potpourri.
So, it's a gift and a gentle reminder to waste less this holiday season.
P.S. I did look into compostable, plant based cellophane, which is super cool that it exists! But…it's hard to source and it can be expensive. If you can find it though, it can be an even better alternative to the polyester tulle that I use here.
Materials
Small wire wreath form
Tulle ribbon, 6 inches wide
Whole spices – Cloves, All Spice, Star Anise, Etc.
Clementines
Card stock (and my free printable below)
Glue/tape, scissors, hole punch
Material Notes
-I found 8 inch wire wreaths 2 for $1.25 at the Dollar Tree!
-The tulle ribbon is $3.99 at Michaels pre-coupon is enough to wrap about 8 wreaths. Each roll is 20 yards, and each wreath needs 2.5 yards.
-The envelope tags are not very big. When choosing spices, smaller is better. In other words, maybe skip the whole cinnamon sticks. Cloves and allspice are super fragrant though, and a little goes a long way. Star Anise barely fits, limit it to 1-2 pieces.
-Try to select smaller clementines. Larger ones have trouble fitting in the form.
FREE Tag/Envelope Printable
Download the free tag/envelope printable by clicking the download button below. It is designed to be printed on 8.5 x 11 inch card stock paper.
NOTE: When you cut it out, don't forget to cut out the Stove Top Simmer recipe as well.
Tutorial
If the video tutorial hasn't popped to the top or side of your screen yet, it will as you scroll below. Note: It will play after the initial ad.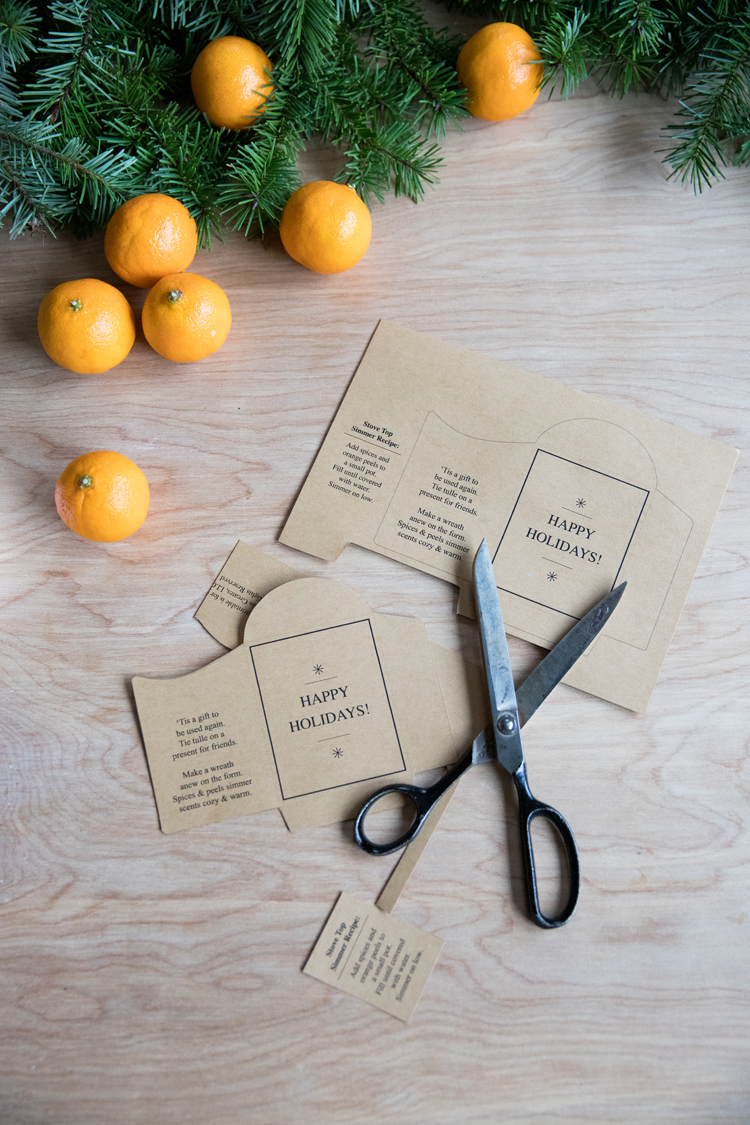 ONE – Print the envelope tag. Cut it out, fold it, and glue it or tape it together. Fill with spices, and the stove top potpourri/simmer recipe) and tape it shut.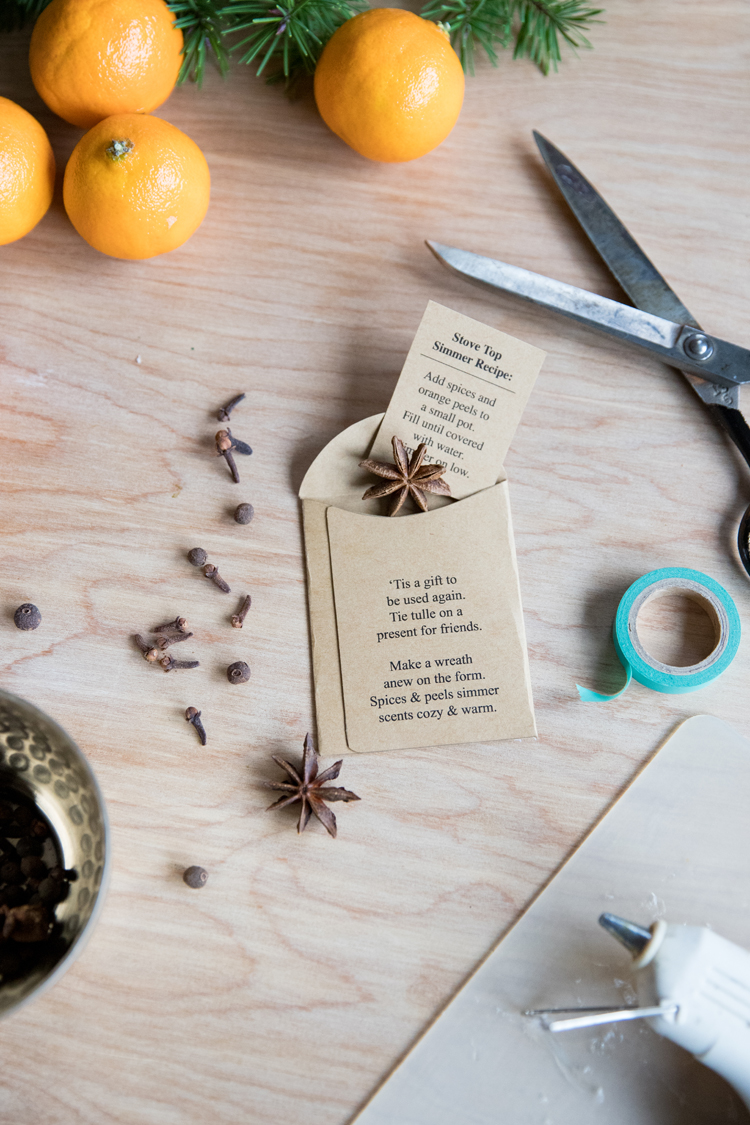 TWO – Fill the wire form with clementines. Cut tulle to 2.5 yards long. Fold it in half and thread onto wreath.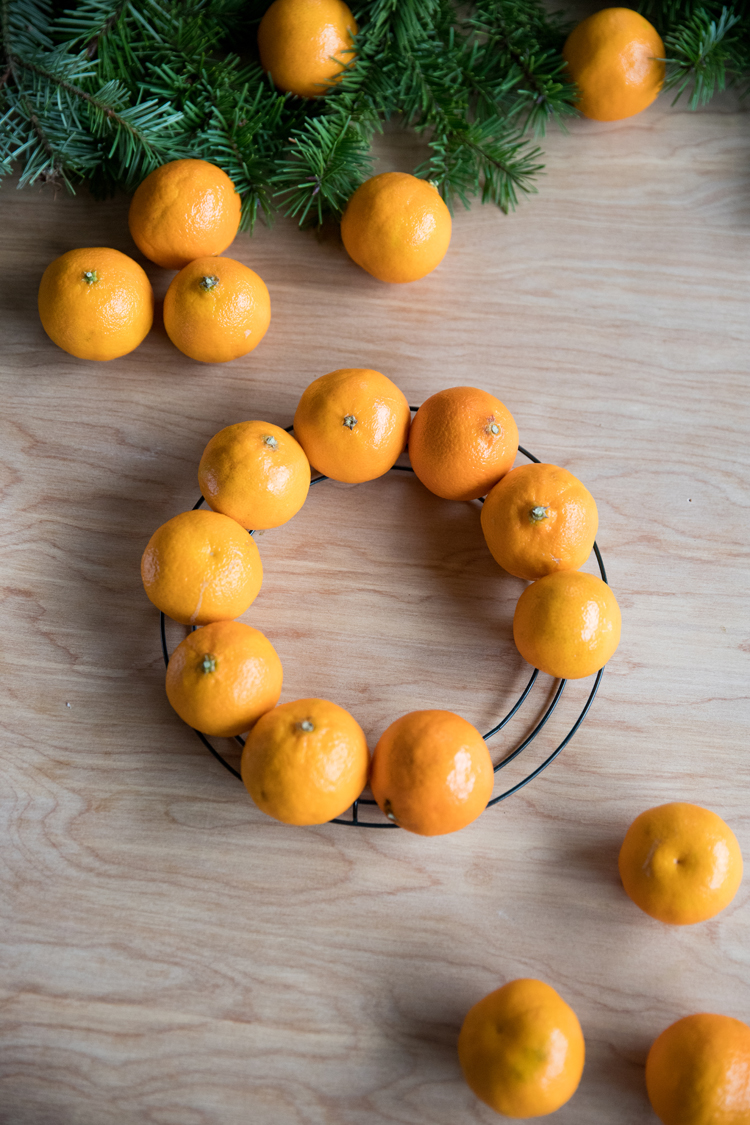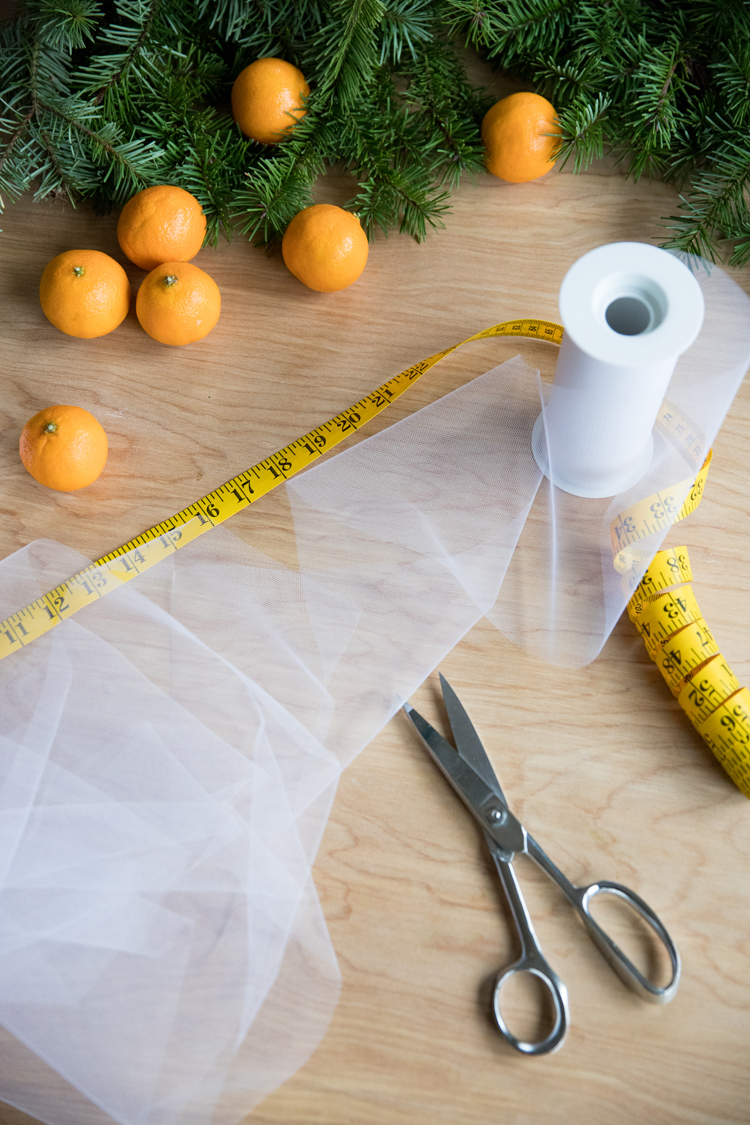 THREE – Working with one side of the tulle ribbon at a time, wrap it around the oranges and wire form very gently so as to not tear the tulle. After each wrap of tulle, pull it tightly to make sure the clementines are secure. Make sure the tulle stays flat and open and take care to overlap it over the previous wrap of tulle. Once both sides are wrapped, tie the ends together.
If you pulled the tulle tightly enough and properly overlapped it, the clementines should be secure enough to pick up the wreath and hold it vertically.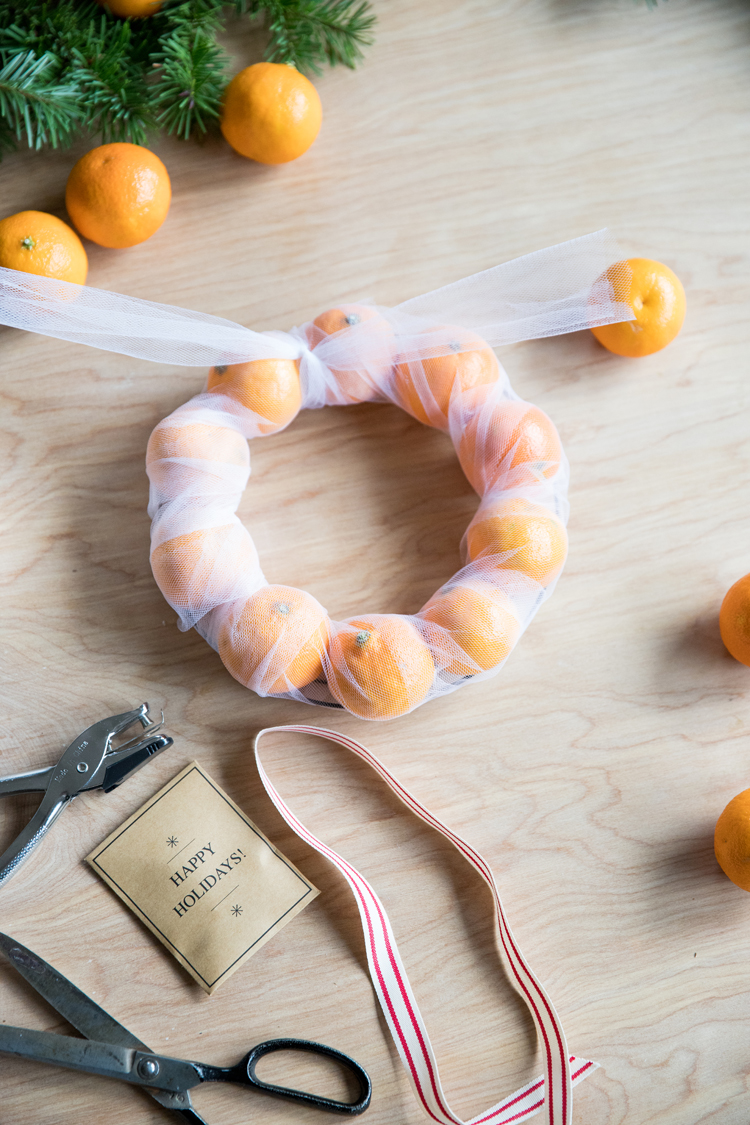 FOUR – Hole punch the top of the tag/envelope and string it onto the tulle. Optional: Add a decorative ribbon. Then knot it again and trim the ends to look like a bow.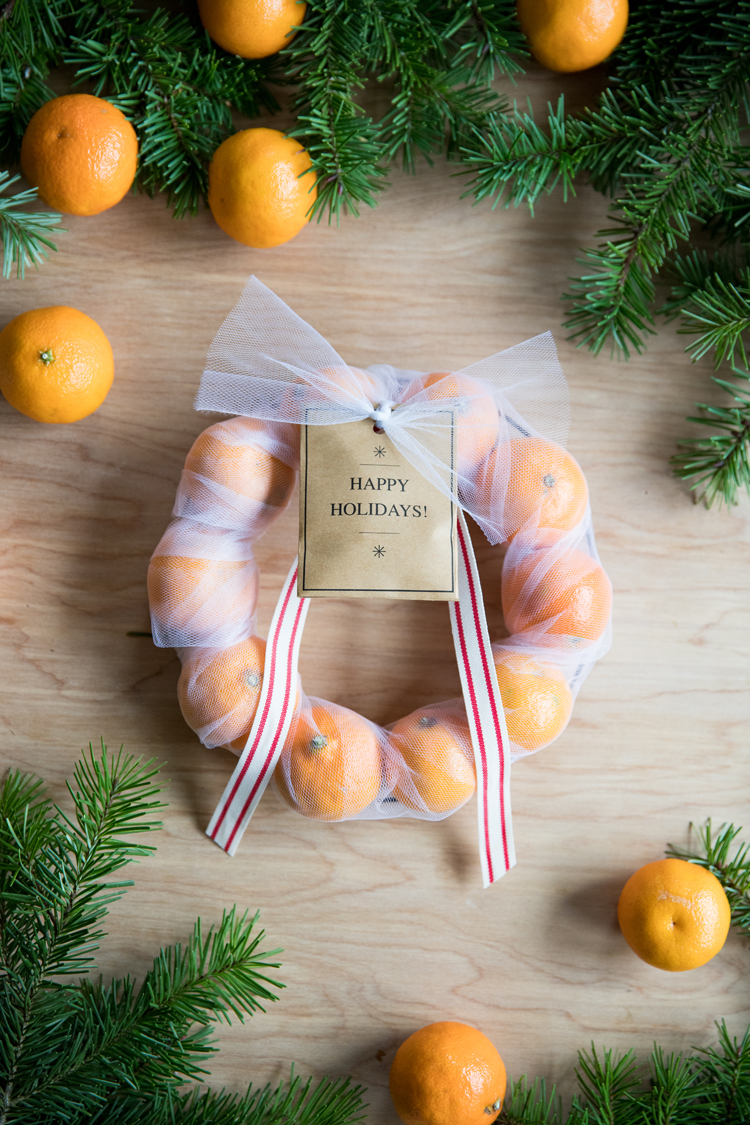 Now it's ready for giving some holiday cheer!
The poem on the back of the tag provides encouragement to re-use each of the items:
'Tis a gift to be used again.

Tie tulle on a present for friends.

Make a wreath anew on the form.

Spices and peels simmer scents cozy and warm.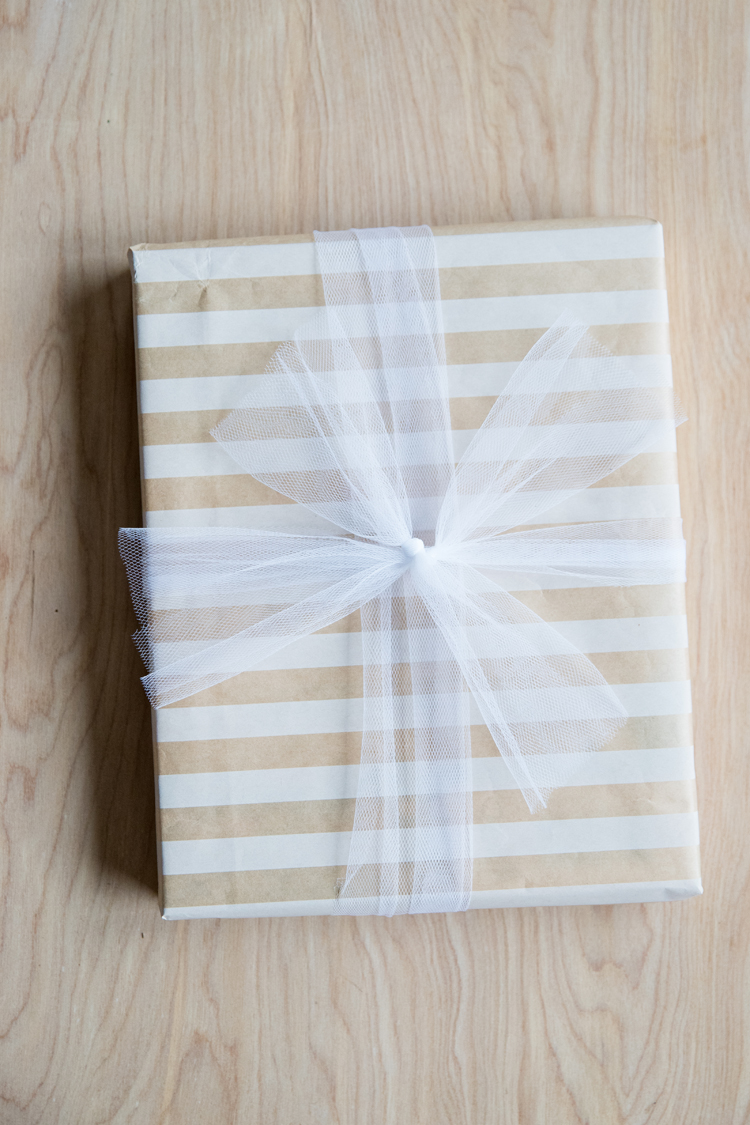 For more holiday project ideas, click HERE.
Happy holidays!