One of my favorite, favorite things to do during the holidays is make stove top potpourri.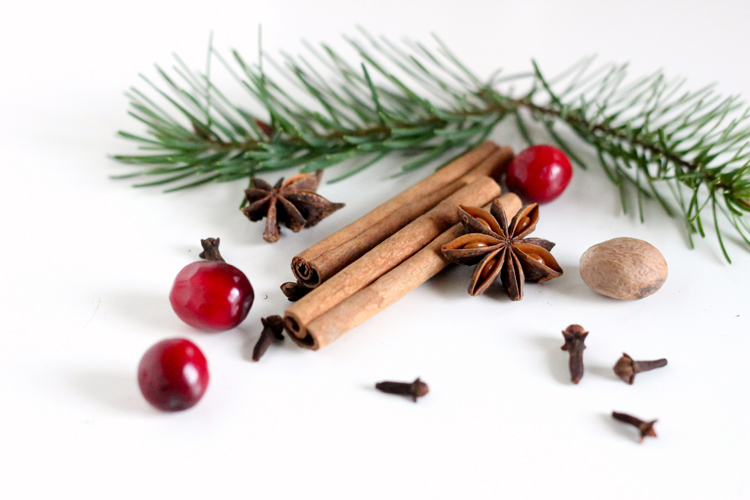 Memories are so strongly linked to smells. One whiff of some whole cloves and orange peels, and I feel cheerful coziness wrap my heart up in Christmas memories. It's the best!
This year, I figured…why not share this happy tradition with our neighbors?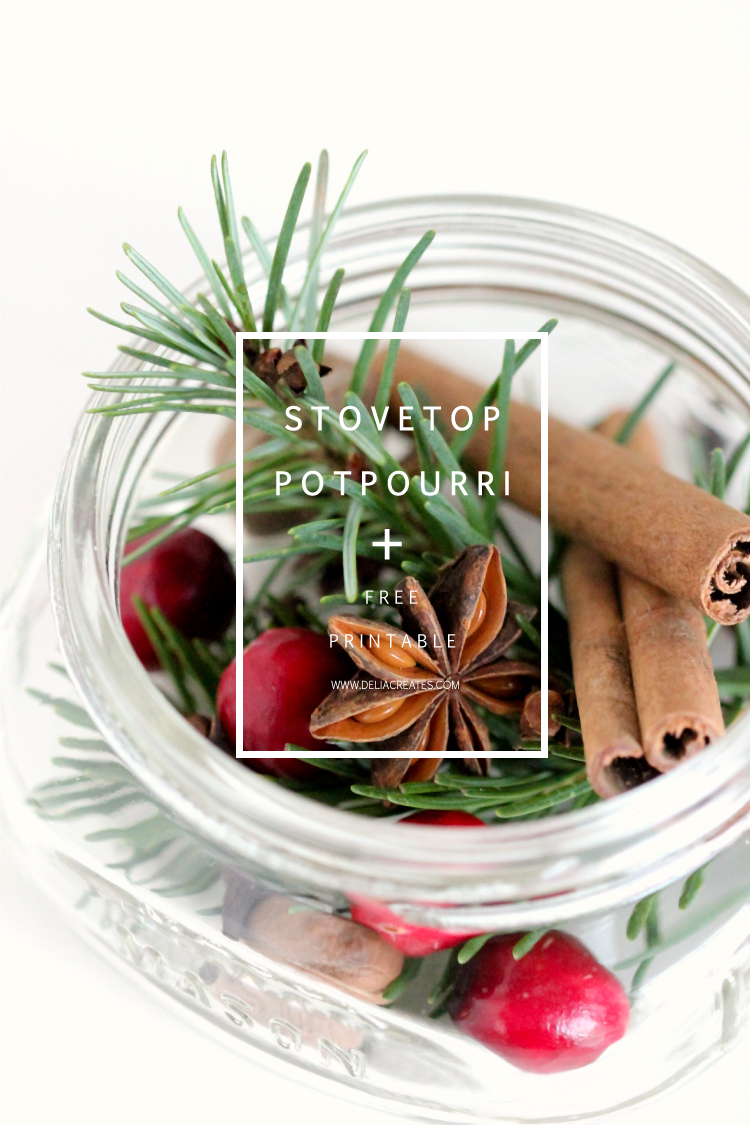 Stovetop Potpourri in a jar…coming up! 🙂
I can't figure out if I should put a space between stove and top…spell check says yes. I say no. So, you'll see me waffle back and forth between those spellings because…meh. Doesn't really matter. What matters is how magical your house is going to smell…or your neighbor's house is going to smell after simmering a jar full of these pretties…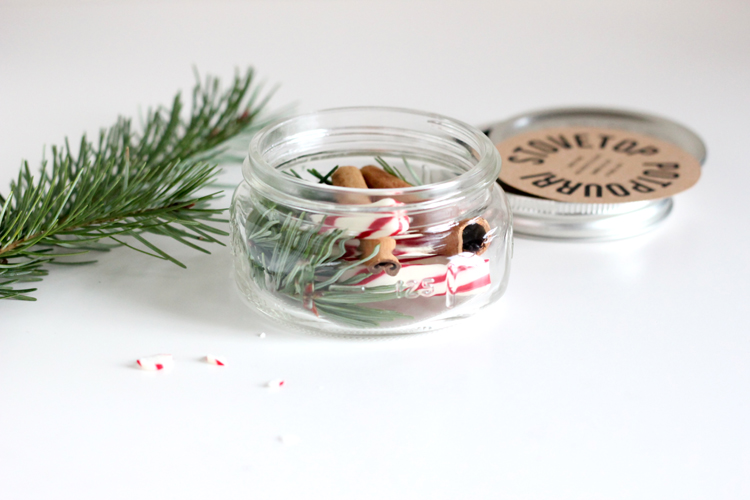 First things first. Print up the free printable label by clicking on the link below.
stovetop-potpourri-printable
  Please note that these printables are for personal use only and are not to be copied, redistributed, or hosted on another site other than mine without written permission. 🙂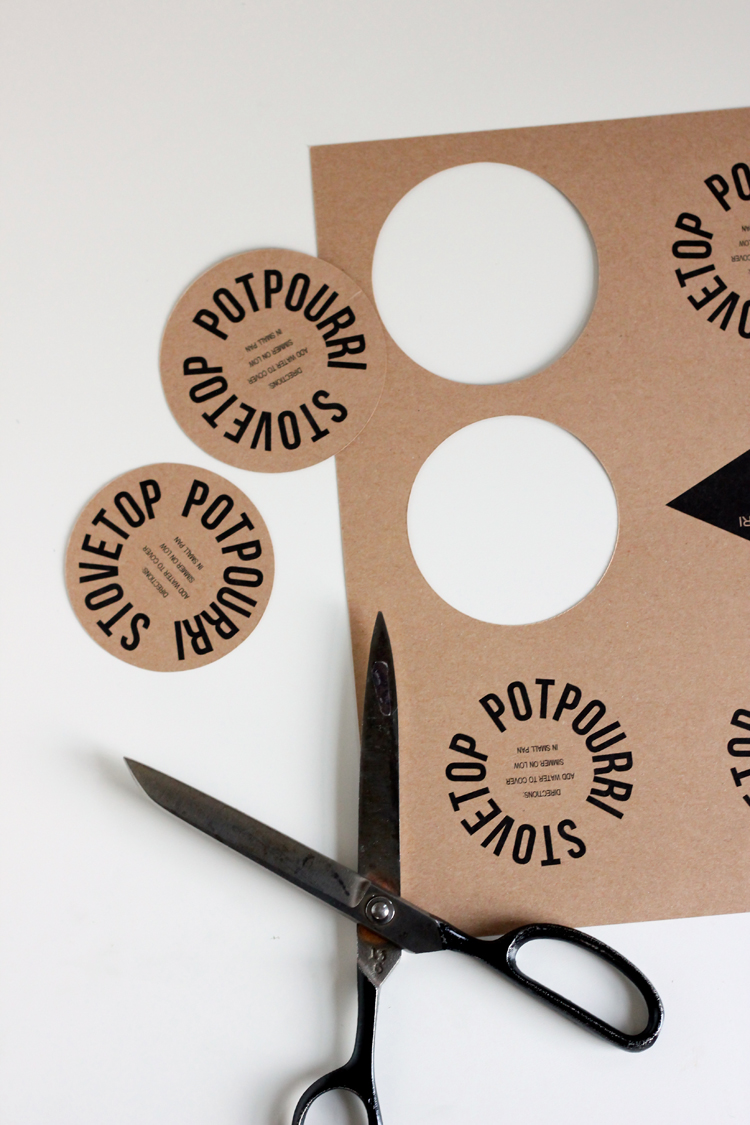 Then cut the labels out to fit your jar. You can trace circles and cut them with scissors, or use a circle cutter if you have one large enough.
They fit a wide mouth lid perfectly if you leave about 3/8″ white space around the outer rim of the label. For narrow neck lids, consider cutting them a little smaller and tying them to the jar with string (I show examples in pictures further down in this post).
Now for the recipes. There are THREE!
First up….
Sweet, festive, and really inexpensive if you have a pine tree in your yard. 😉 Or trim if from your Christmas tree.
You really can't go thaaat wrong if you mess around with the recipe, so change it up and experiment if you like.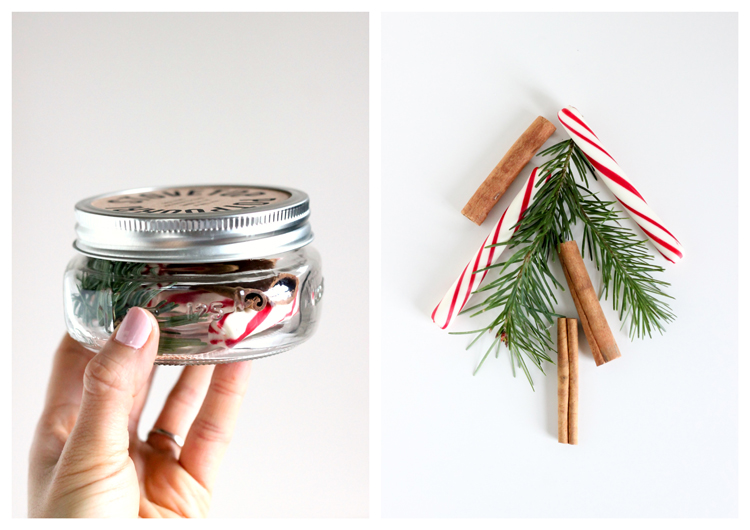 2 peppermint sticks (make sure it has peppermint oil in the ingredient list) + 2 sprigs of pine + 2 cinnamon sticks =  one jar of potpourri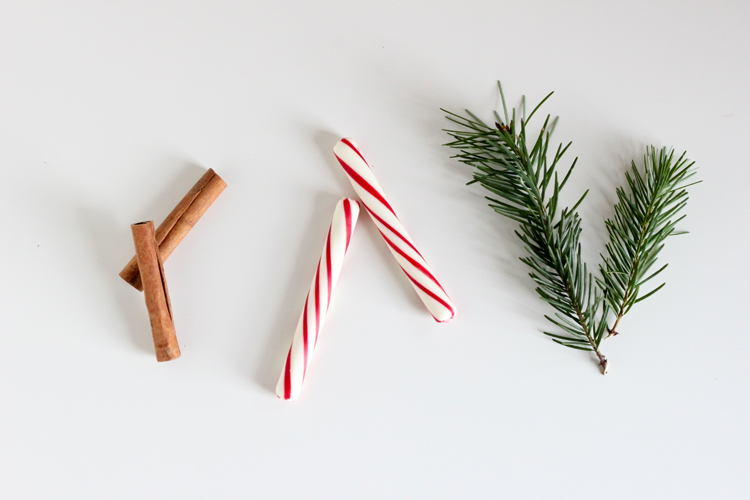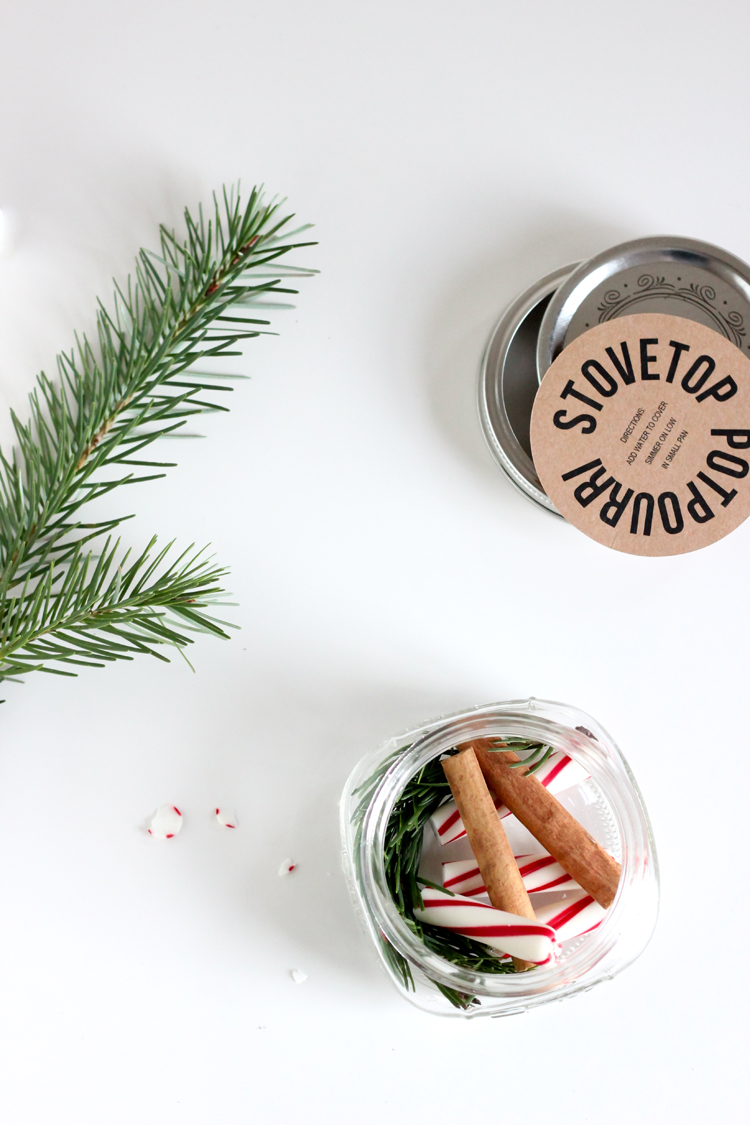 The next recipe creates a nice fresh scent, that is a little less holiday heavy.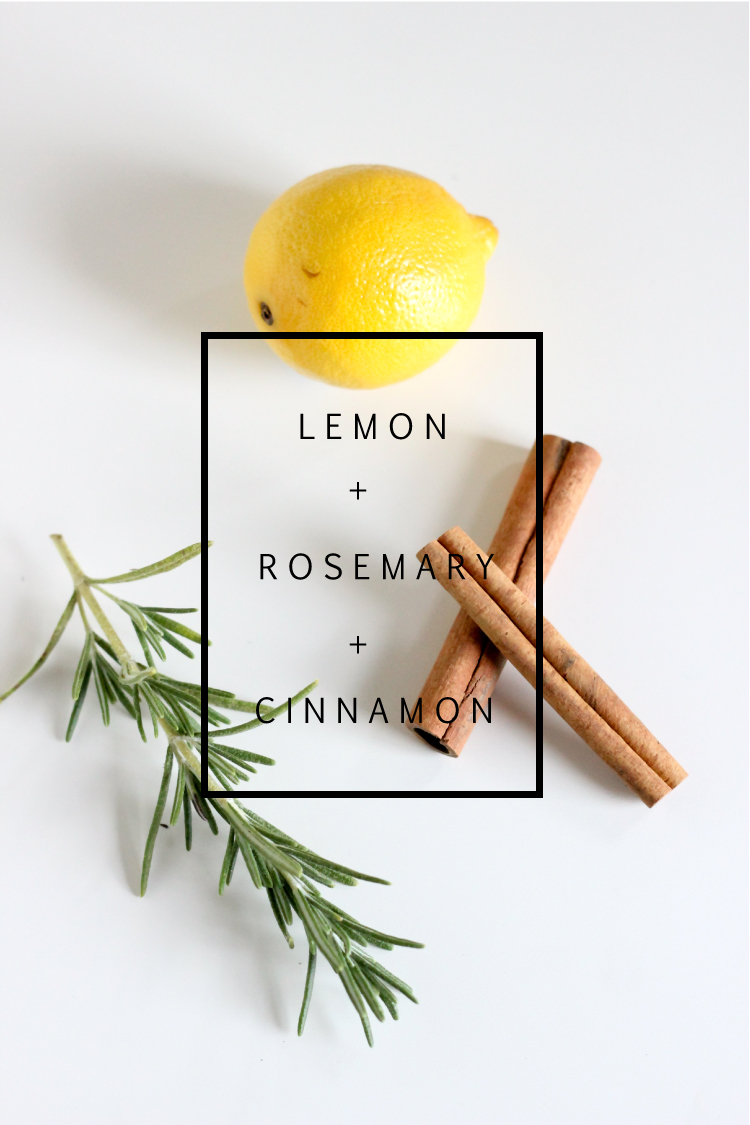 You can substitute the cinnamon stick for a vanilla bean if you have one. It's a versatile potpourri that nicely carries over into Spring.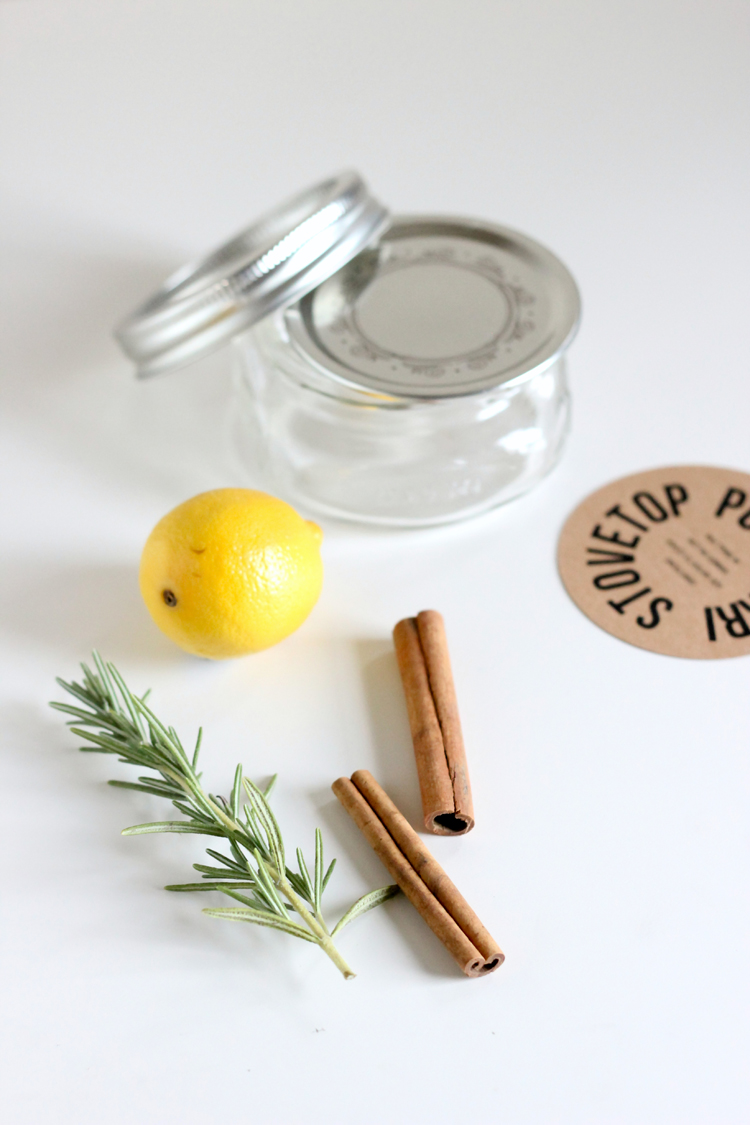 1 sprig of fresh rosemary + 2 cinnamon sticks + peel of one lemon = one jar of potpourri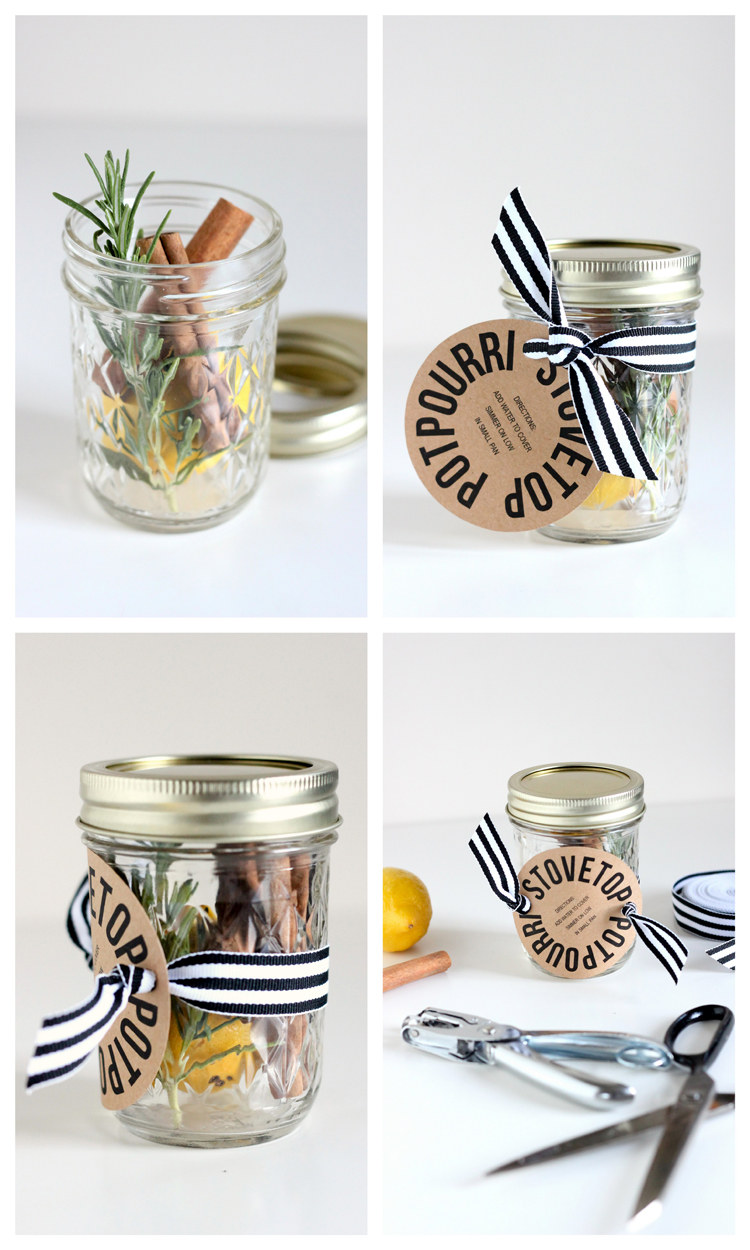 I used a small Meyer lemon, so it fits in a narrow 1/2 pint jar. You can also tie it to the top of a shallow jar, if that's what you're using.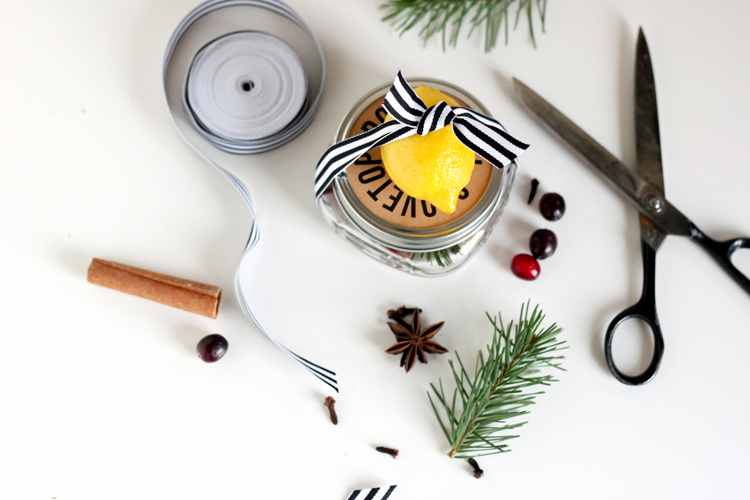 Technically the recipe calls for lemon peel, but sliced lemon wedges work fine as well. It's hard to mess up a stovetop potpourri recipe.
The last recipe is my favorite…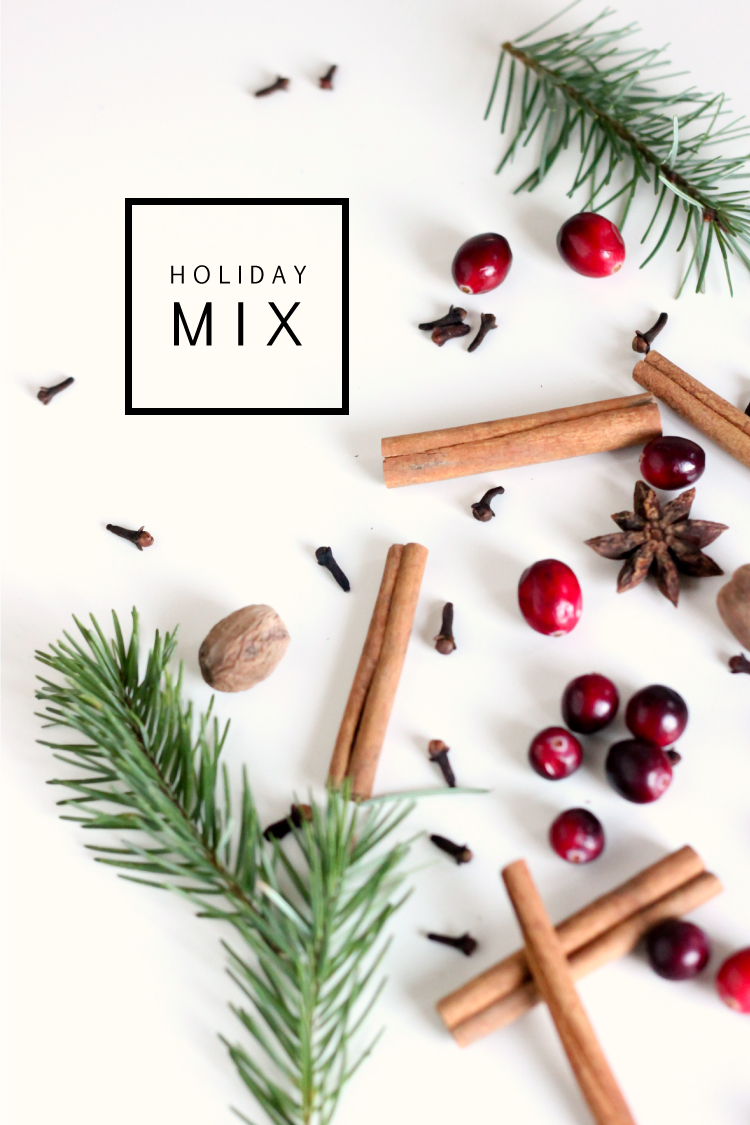 2 cinnamon sticks + 2 sprig of pine + 1 TBSP. of whole cloves + 1 whole nutmeg + 1/3 cup cranberries + 1 star anise pod + 1 orange = 1 jar of potpourri.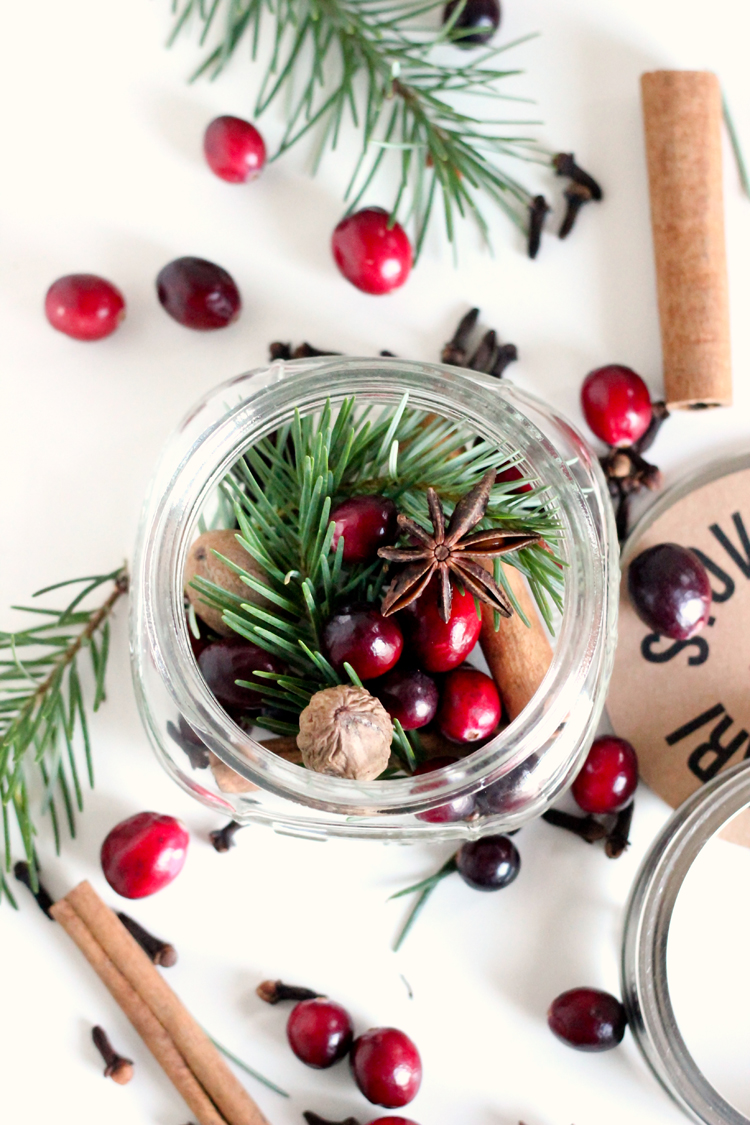 This recipe has a lot more ingredients, but it's also super flexible. You can take out any part of the recipe and it will still smell great.
You can use powdered or grated nutmeg as well, if you can't find it whole. If you don't have an orange, use a lemon! It all works.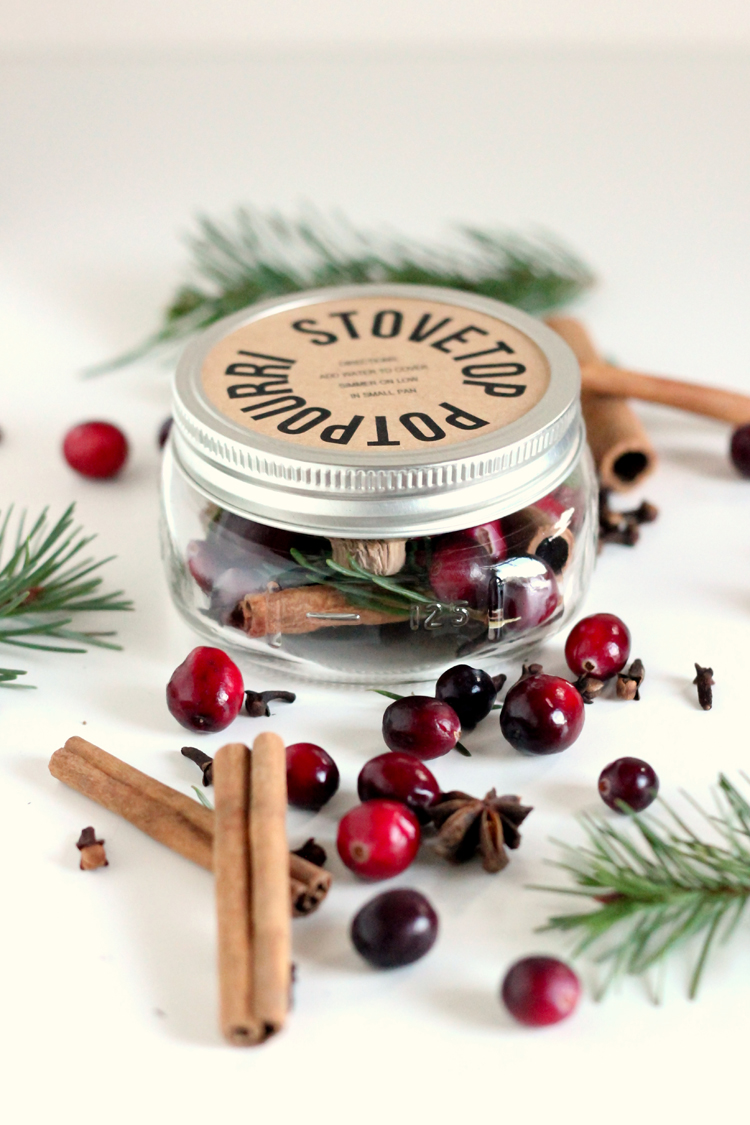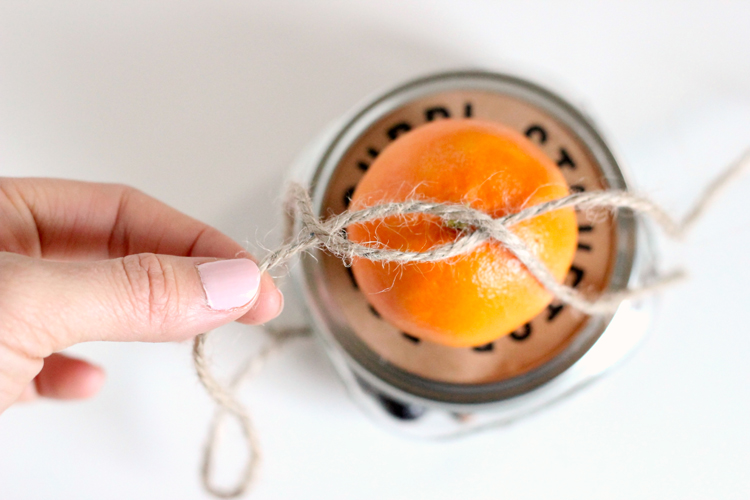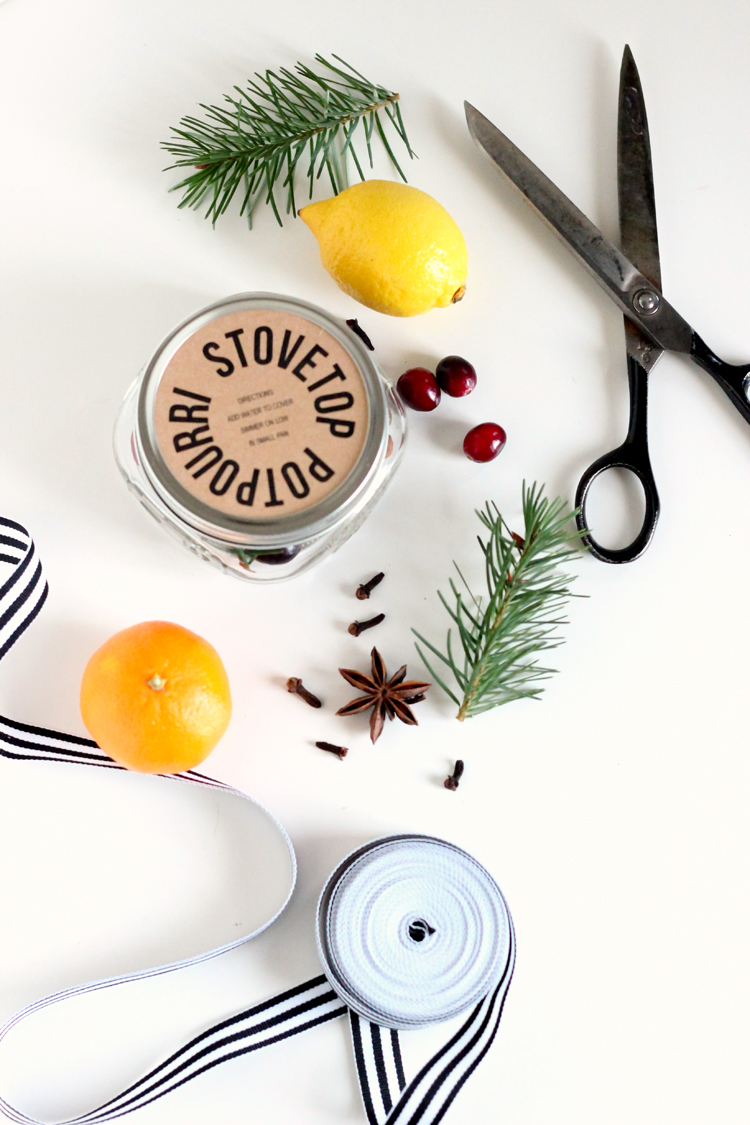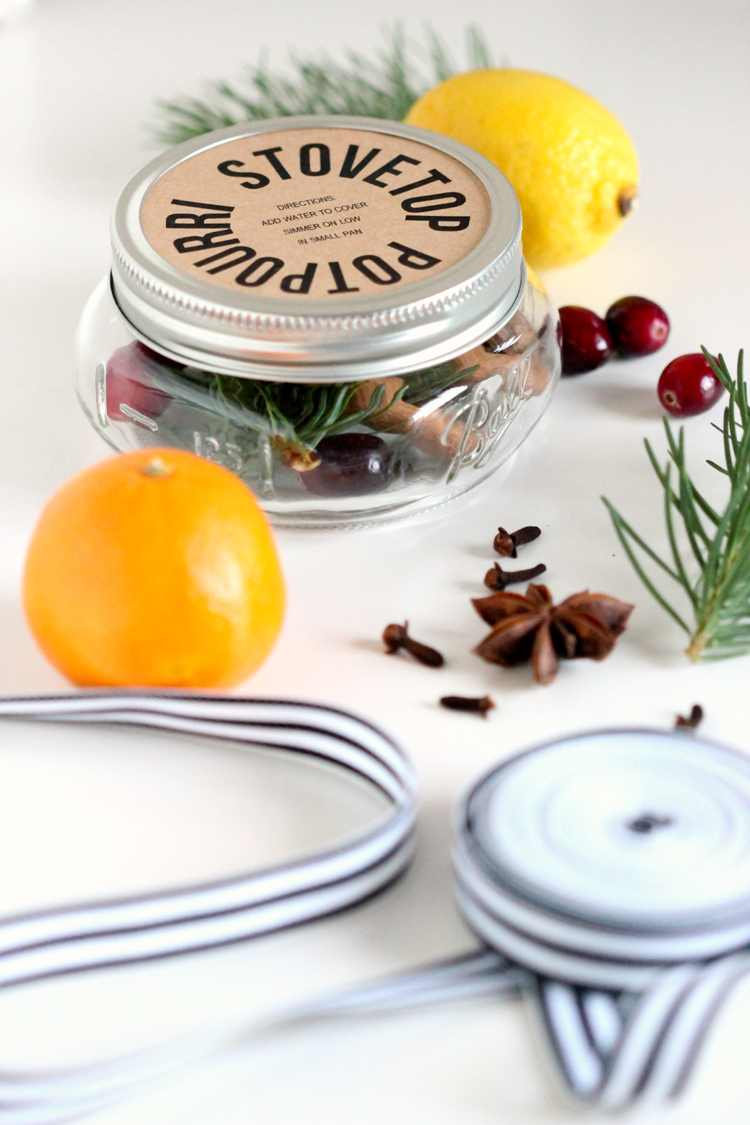 Make it all just spices even! Nutmeg, cinnamon, and cloves…yum!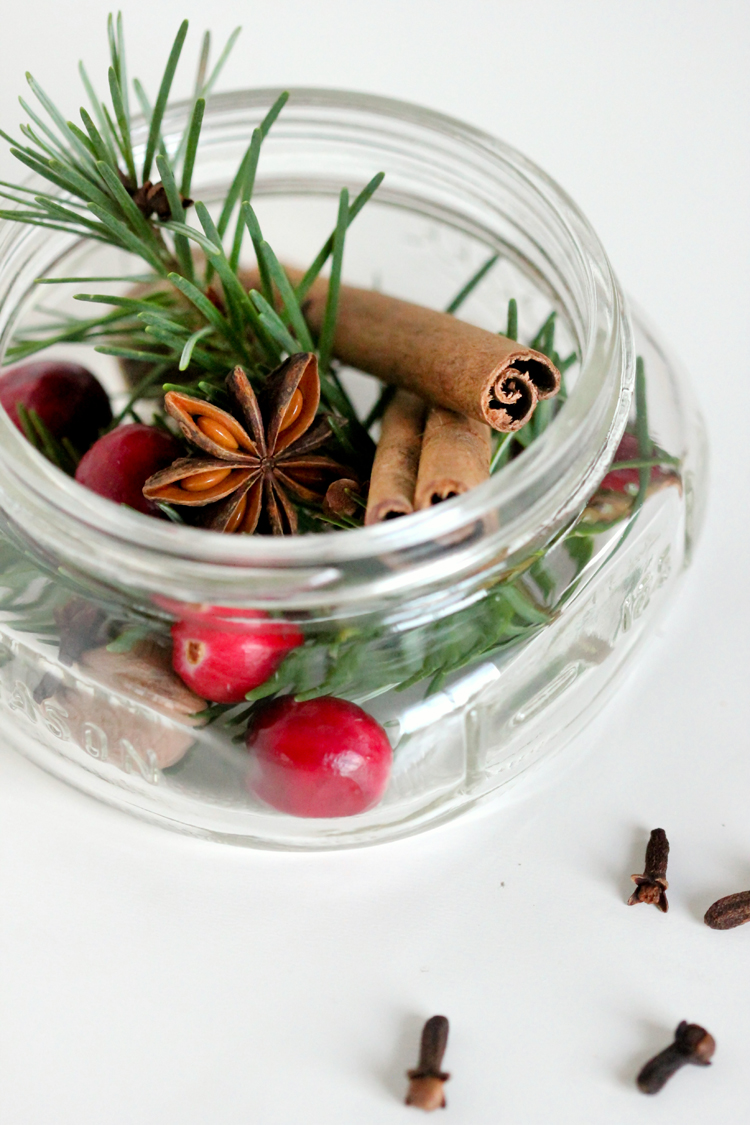 TIPS FOR BUYING SPICES:
I know that spices can get pretty expensive, especially when you are buying them fresh or whole.
– Check the bottom shelf for bulk containers of cinnamon sticks. I bought a large container of nice, fragrant cinnamon sticks at Walmart for $5.
– For whole star anise and whole nutmeg, I had to go to a health food store that sells spices by weight. Even then, it was only $1-2 for the amount of spices I needed (handful). If you can find a health food store, or whole foods type grocery store, it is likely they will have the spices you need for less than buying name brand bottles of it in a major chain.
– For fresh rosemary, buy the plant not the pre-cut bunch! They will most likely cost the same, but with the plant you can continually use it and trim sprigs from it. Rosemary winters well, so your local store may still be selling it in the produce section, or check your local nursery.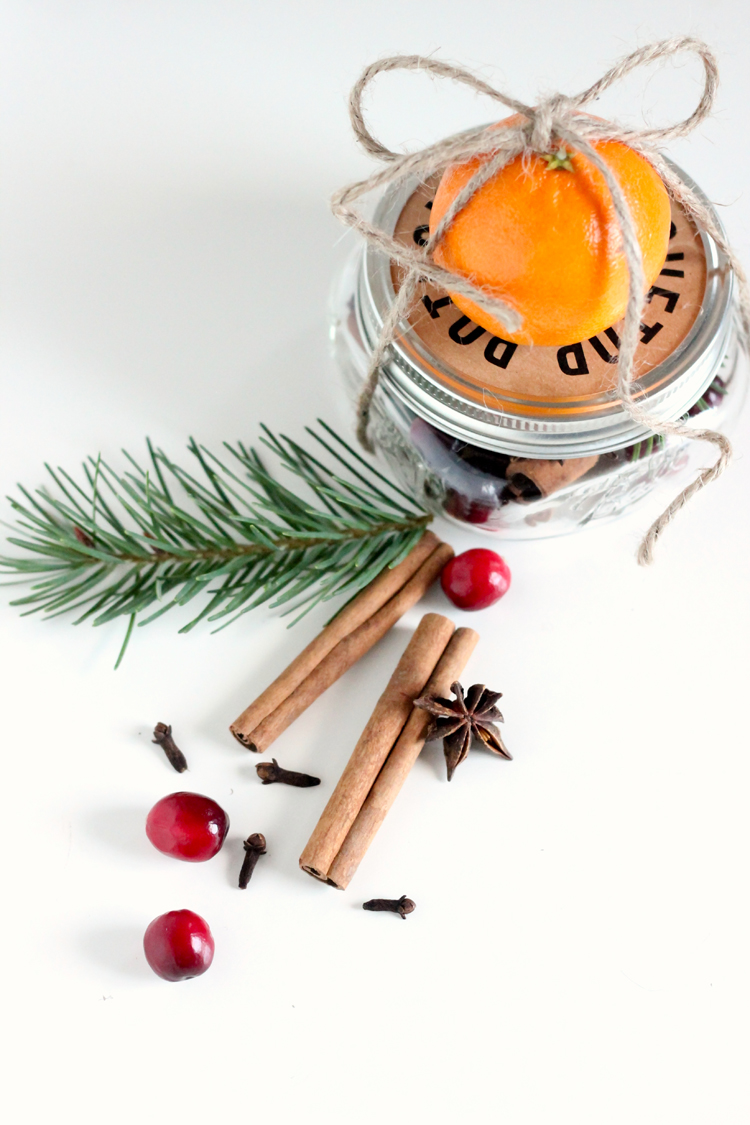 Cuties or clementines are the perfect orange for potpourri because the peels are very fragrant, and they are small enough to package up  in a cute way.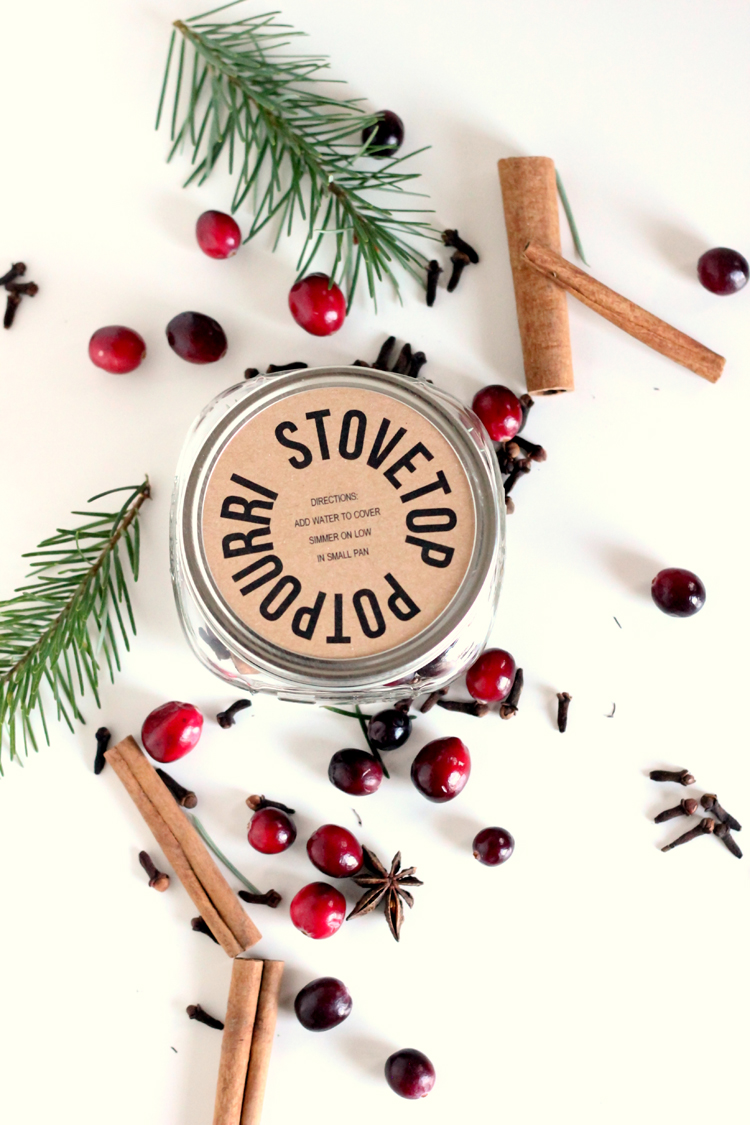 To use the potpourri, simply put everything into a small pan, cover with water and simmer on low.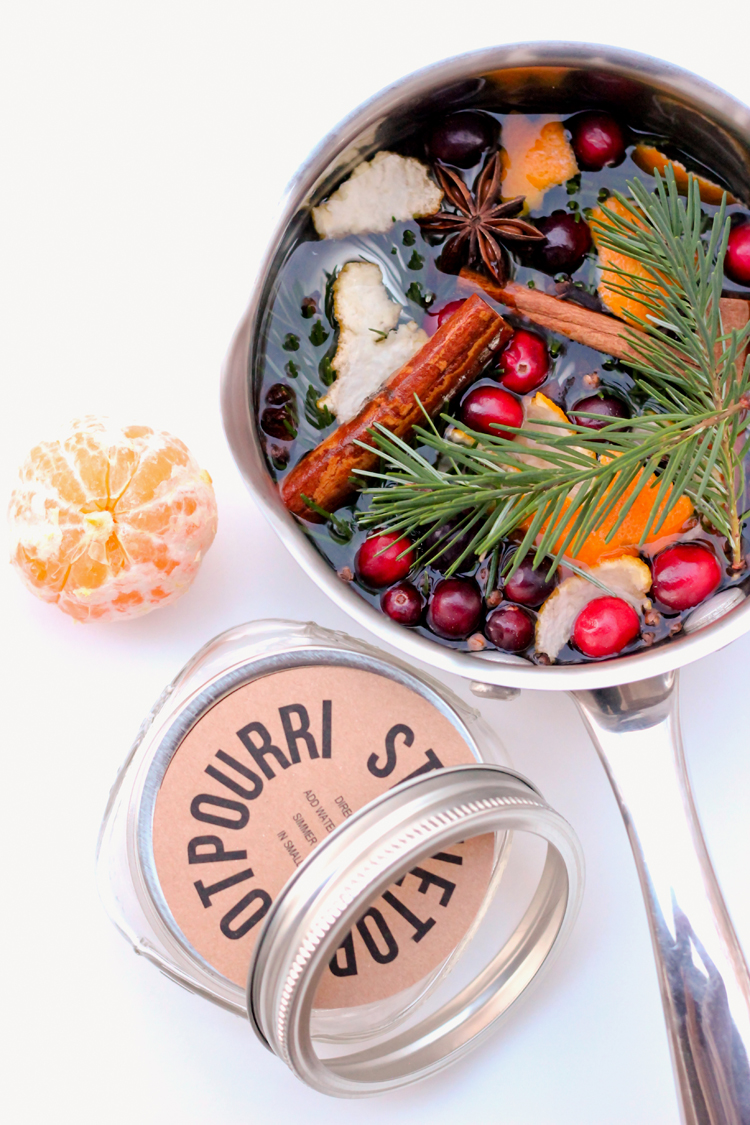 …and let the holiday memories seep in. 🙂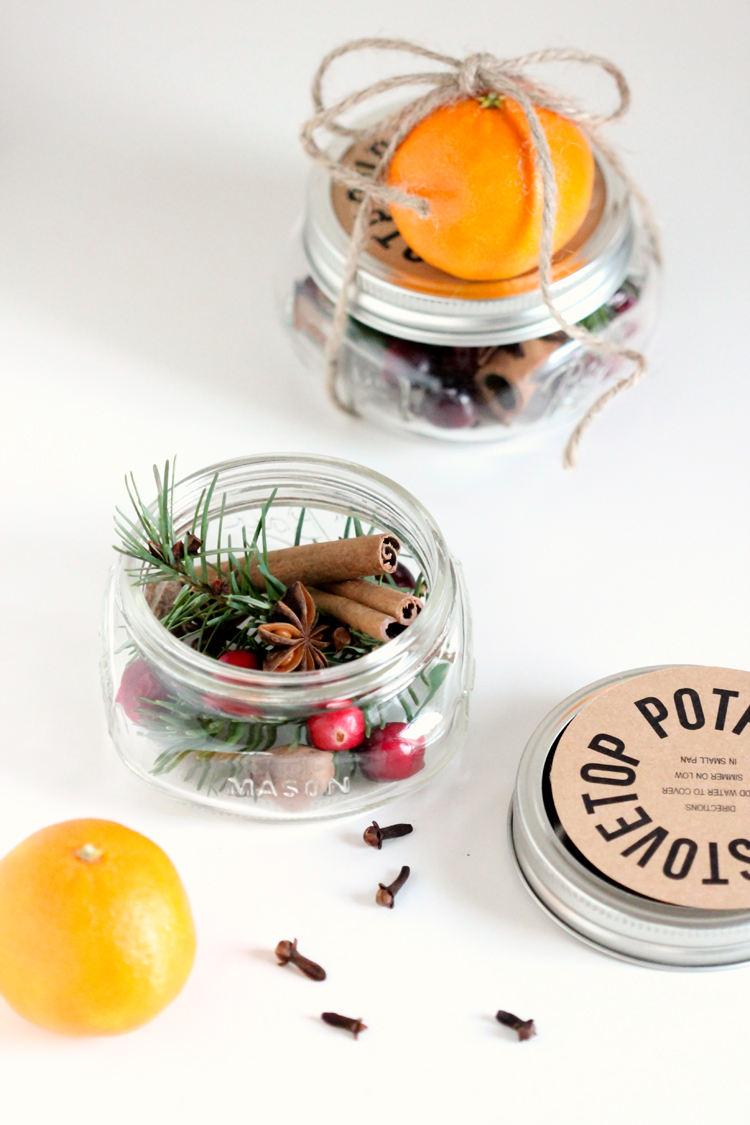 I kept the instructions simple on the label, so it would suit any kind of stove top potpourri. You could add words about peeling the citrus to the back of the label if you want, but it's not really necessary. Whether they slice it or peel it…it will work great.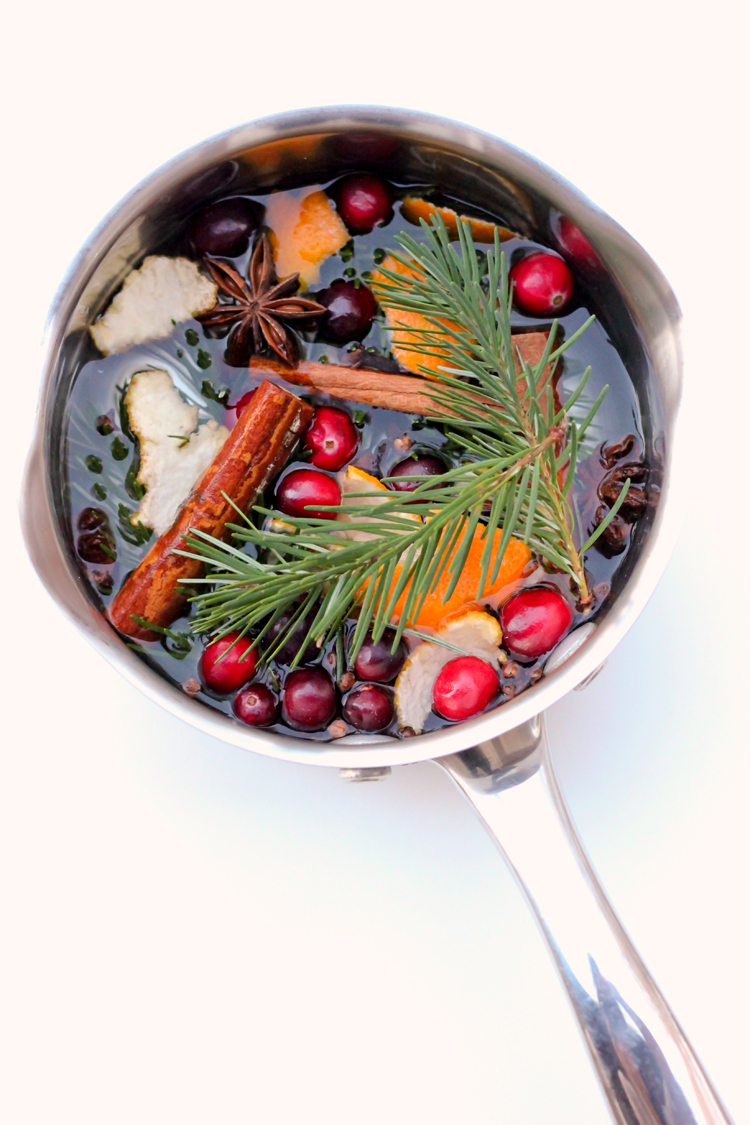 Happy merry making!
P.S. Here's a download button for the label file in case you missed it: