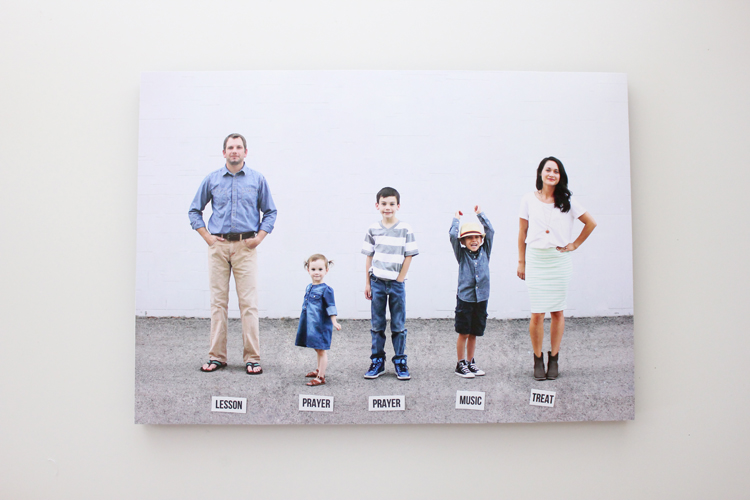 One night a week, usually on Mondays, families apart of my church hold a family night. There are prayers, singing, a lesson and/or activity, and a treat. It's a simple weekly gathering designed to help families stay strong and happy. It's called Family Home Evening or FHE and there are about a million different FHE boards and ideas to be found on Pinterest.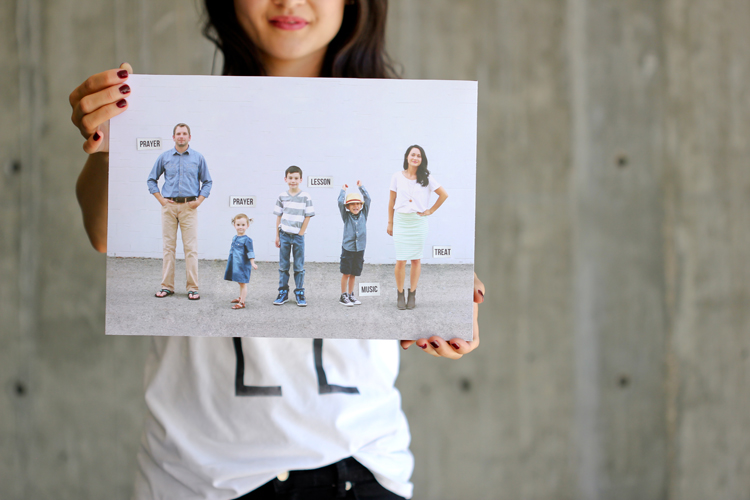 I too wanted a board to help keep family assignments organized, but I wanted it to flow naturally with our decor.
So, I came up with this photo FHE board: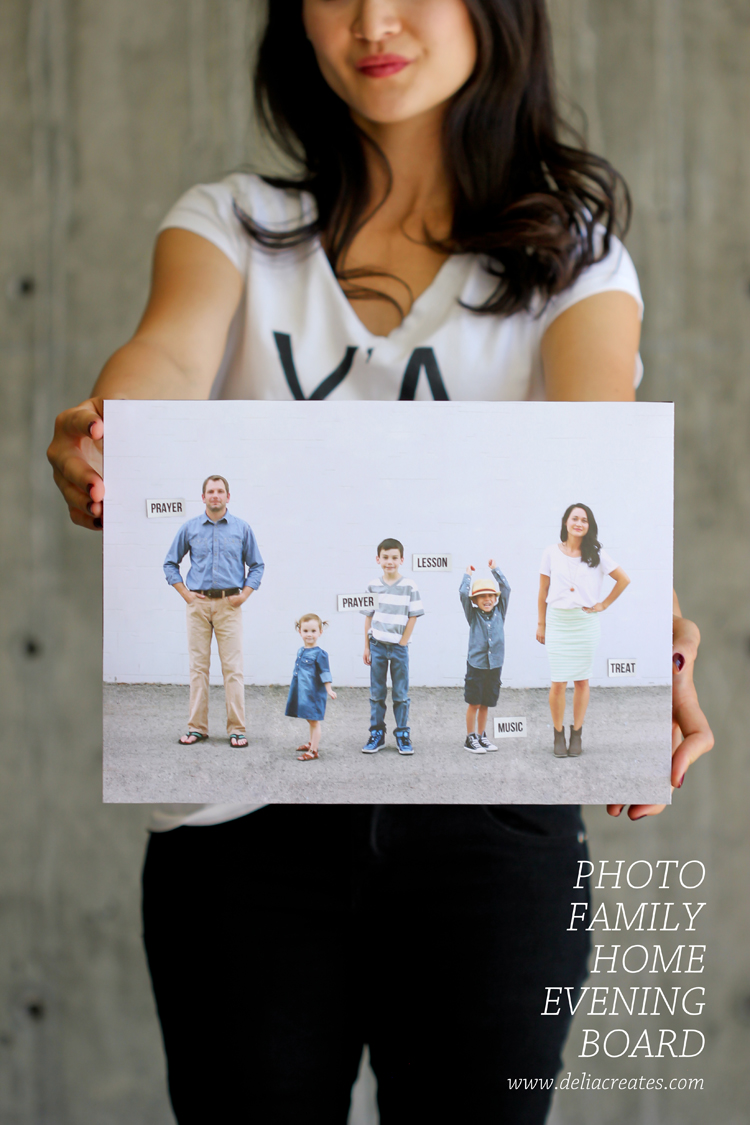 The design is really flexible. Just a photo mounted to a magnetic canvas, with magnetic words for the assignments.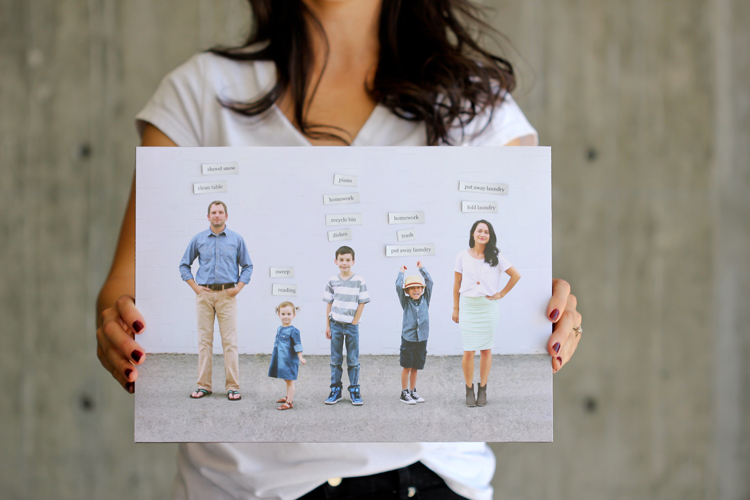 It doubles as a chore board as well! Simply move the chores around each day as needed.
Let's make one shall we?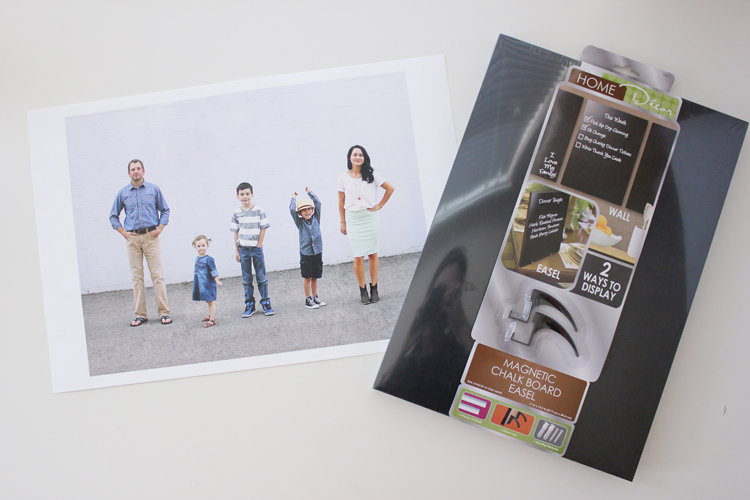 1. Get a magnetic board/surface. I bought this magnetic chalkboard/message board at Target. You can use any magnetic surface. I chose this one, because it was already prepped and ready to be mounted. I think it was inexpensive as well…maybe under $10?
2. Print your family photo. I printed up a family photo to the exact size of the board: 15.5 x11 inches.
Any family photo should work, but it helps when the subjects are spaced out. I have a tutorial on how I created my family photo HERE.
You may print it at a photo lab, but I prefer to print it at a print shop like Kinkos, The UPS Store, Staples, etc. Their quality is quite nice and the paper is easier to work with.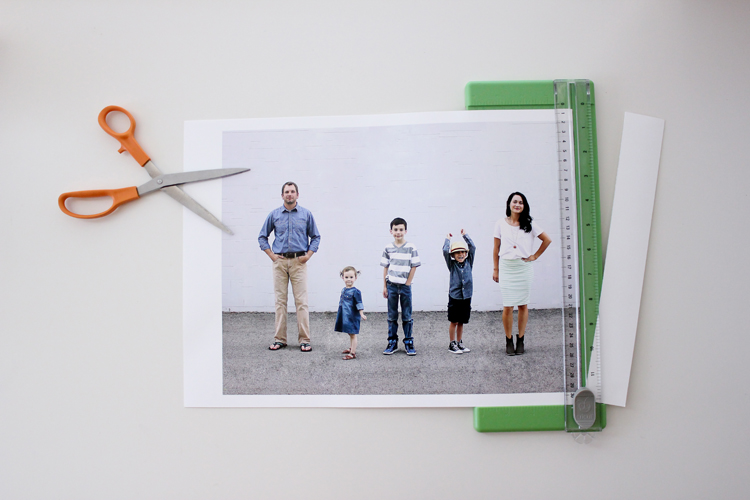 3. Prep your family photo. 
There are no standard papers sized to 15.5 x 11 that I know of, so I had to print my photo on 12×18 inch paper and then trim it down. Most printers are unable to bleed to the edges as well, so it works out perfectly to have some white space to work with.
Originally, I wanted a larger piece of paper so I could wrap it onto the canvas. Prints larger than about 12×18 inch paper, at most print shops, have to be moved to a larger, more expensive printer. It ends up making the photo about seven or eight times the cost. So, I stuck to the smaller size and cut it to the exact size of the canvas instead.
Mount the photo to the magnetic board with your adhesive of choice: spray adhesive, hot glue, mod podge, etc. I chose double sided tape because I want something less permanent. I plan on changing out the photo as my kids grow, and the flexibility of the tape allows me to do that.
I don't show it in these photos, but it is a good idea to spread a light coat of mod podge or gel medium clear coat onto the surface of the photo. If you use a real photo with photo paper, this would be a bad idea, as the finish would ruin the photo. But for a paper photo, this can help protect it from wet fingers or smudge stains.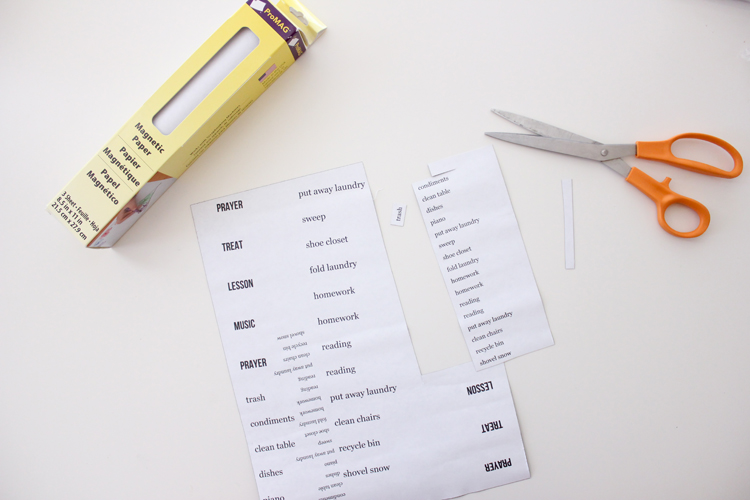 5. Prepare the magnetic word strips. 
I used magnetic paper. It fed funny into my printer, hence the crooked text. That ended up not mattering though, as I cut out each word individually anyway. I found that the best size for the text is 14-16. I know that isn't very big, but it's proven to be just big enough without encroaching on the photo's aesthetic too much.
A coat of mod podge on the words isn't a bad idea either. Just be sure that the ink is completely dry before you add a clear coat, so the words don't bleed.
That's it! Your board is ready to use!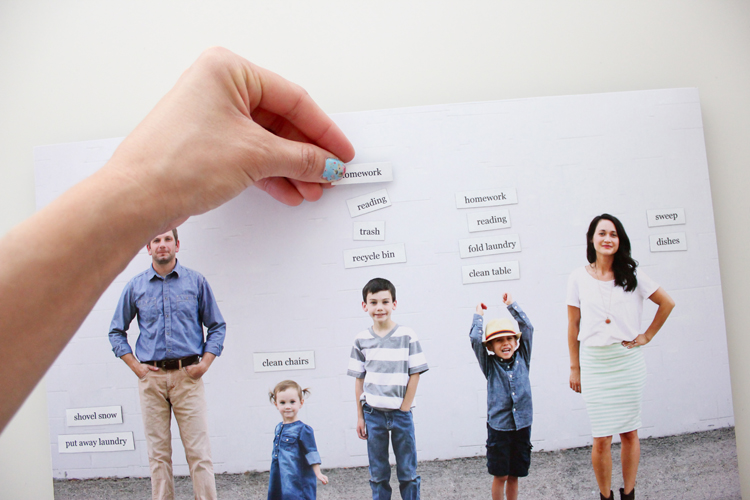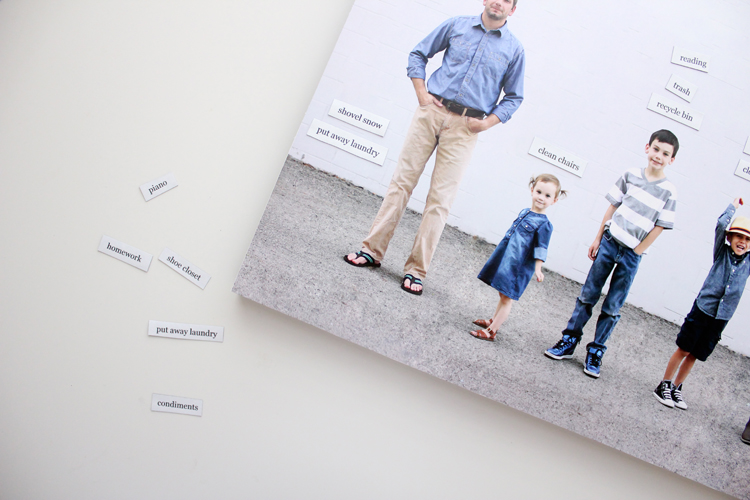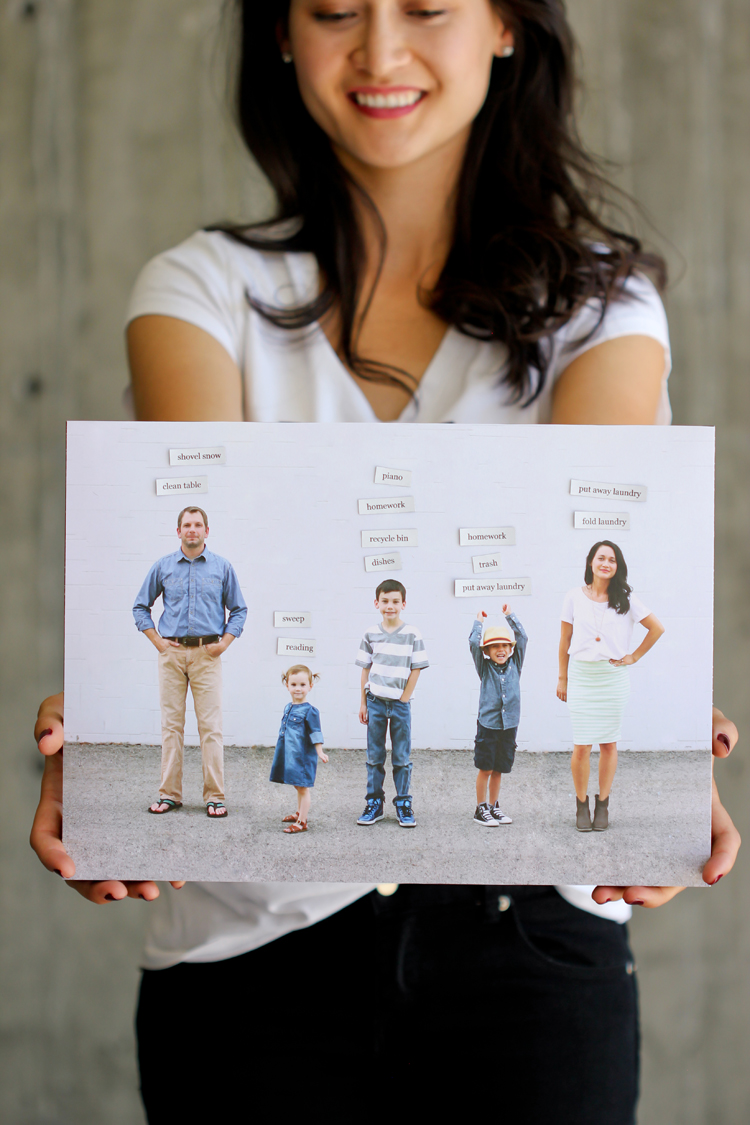 When you aren't using the chore strips or the FHE labels, you can easily store them on the side of the canvas. Easy…right?!
It's simple, easy to use, and a harmonious edition to your home decor.
Ironically, I haven't hung ours up yet, because we are planning on moving soon. This magnetic board comes with a little kick stand so you can prop it up like a framed photo though, which helps a lot.