I put ornaments in quotations because they're more photo than ornament. Like, they are literally just photos I printed at the grocery store, did nothing to them, and then stuck them in my tree. 🙂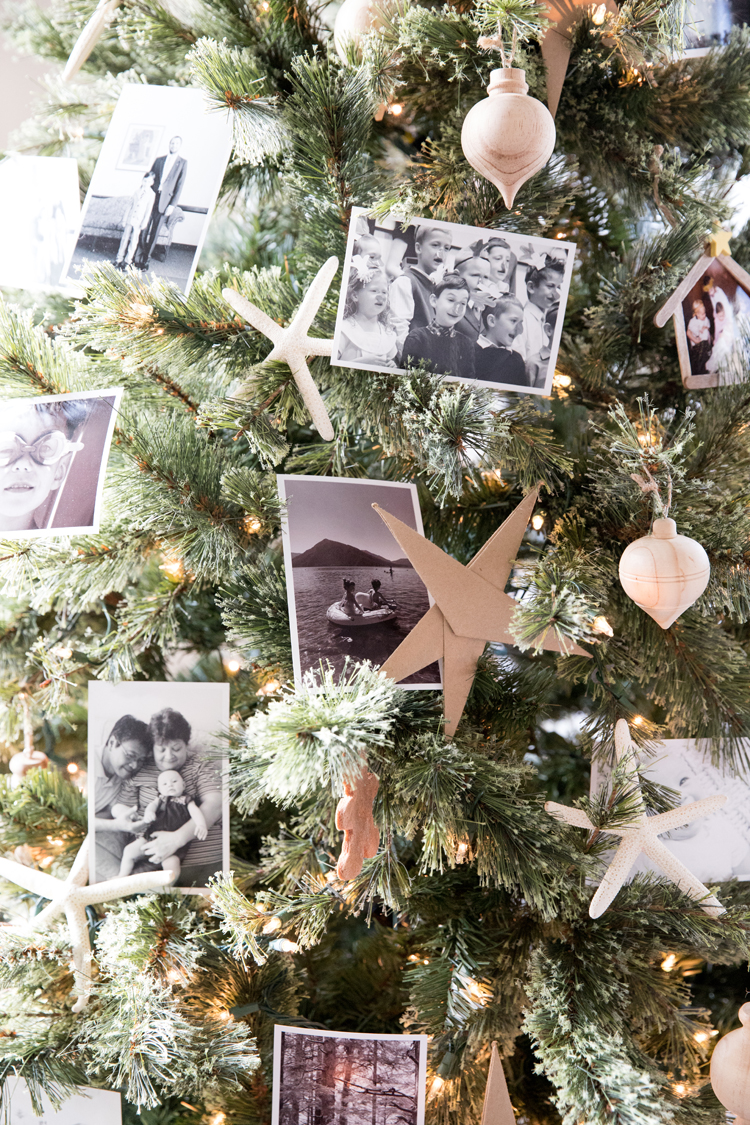 And they are my favorite tradition five years running.
We did take a break from them last year, and not having them made me realize how much they really make the season more meaningful. They have been the perfect way to pull our focus to family and the memories we share…which is what Christmas is really all about! And it makes the perfect segue into the new year as we reflect on how much we've grown.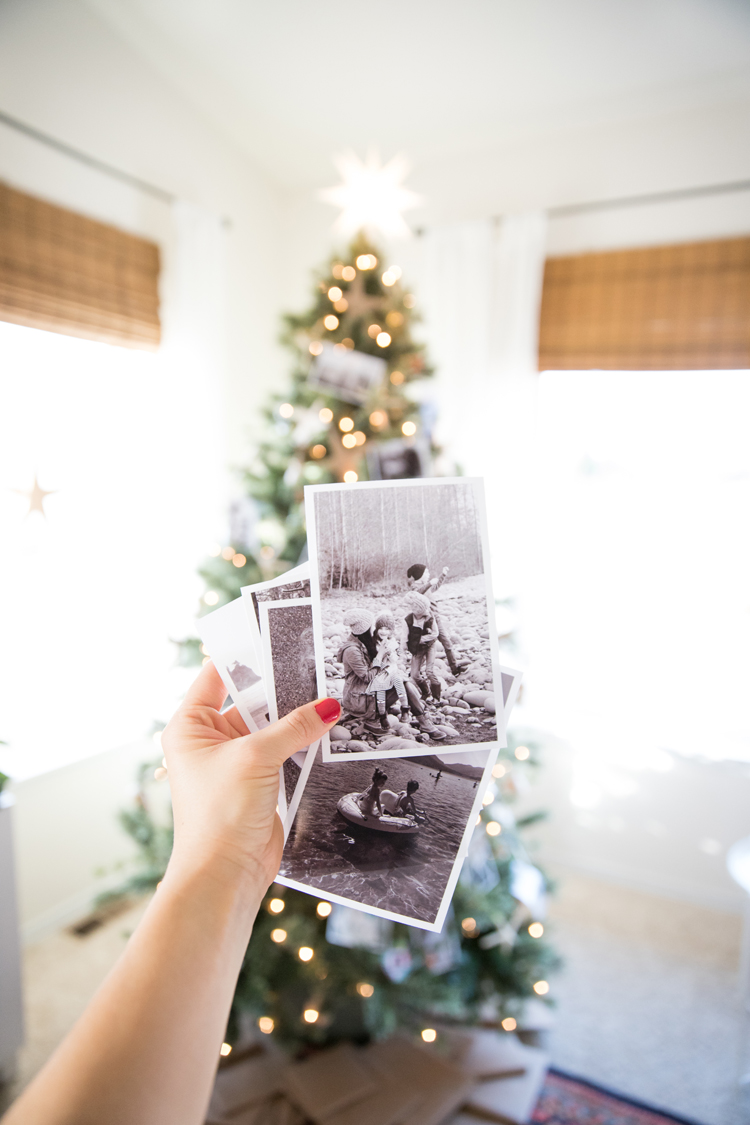 My kids get so excited to see the new pictures I add in, and they relish in asking about photos from when they were "little." If you're looking for a simple, easy way to add a little family focus to your holidays, this is a good one.
Plus, it doesn't hurt that it makes our mismatched collection of ornaments look a little more cohesive. 😉
I first posted about them with a few other ideas when we lived in Utah in our little apartment, but I feel like they really needed their own post. Now, living in our little house in Washington, some of the photos from that first year are still going strong.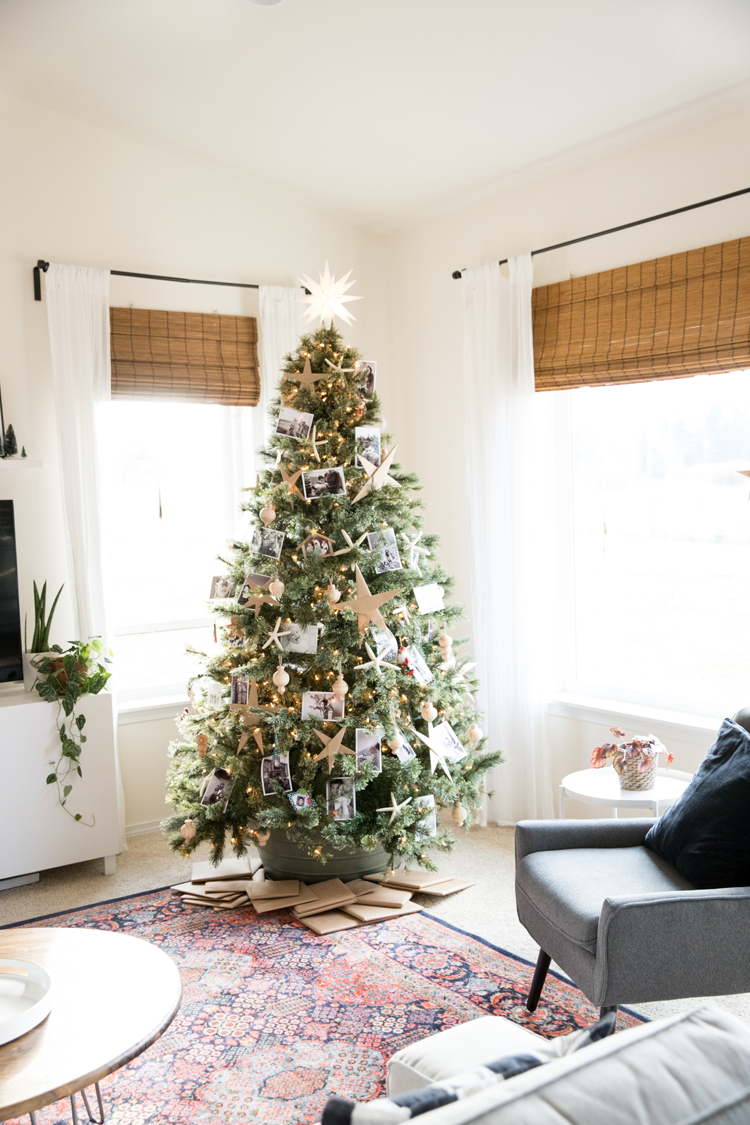 What I do is print up a dozen or so new photos every year and mix them into photos from years past.
Any photos that don't get put on the tree get added to a stack that we can flip through as well.
To keep things looking cohesive, I print all my photos in black and white with a white border. I've printed pictures at Sam's Club, Costco, Walgreens, and Walmart. They all have those options, you just might have to dig for them. I printed mine at Walmart this year and I had to select each photo individually and go into the editing tools to add the border…for every.single.photo. It's tedious but worth the consistent look from year to year.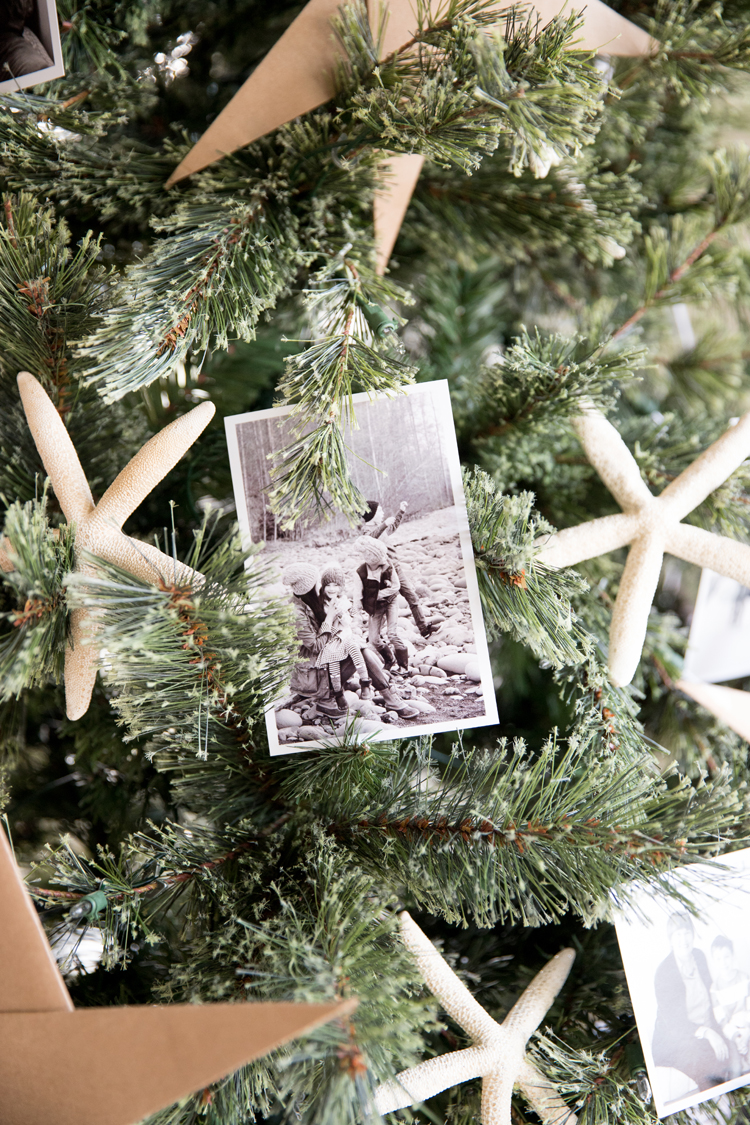 Also, be sure to get a matte finish. Glossy photos show fingerprints, and these photos are meant to be touched and admired. You don't have to add anything to them. Just print and hang. Our photos from five years ago, still look great.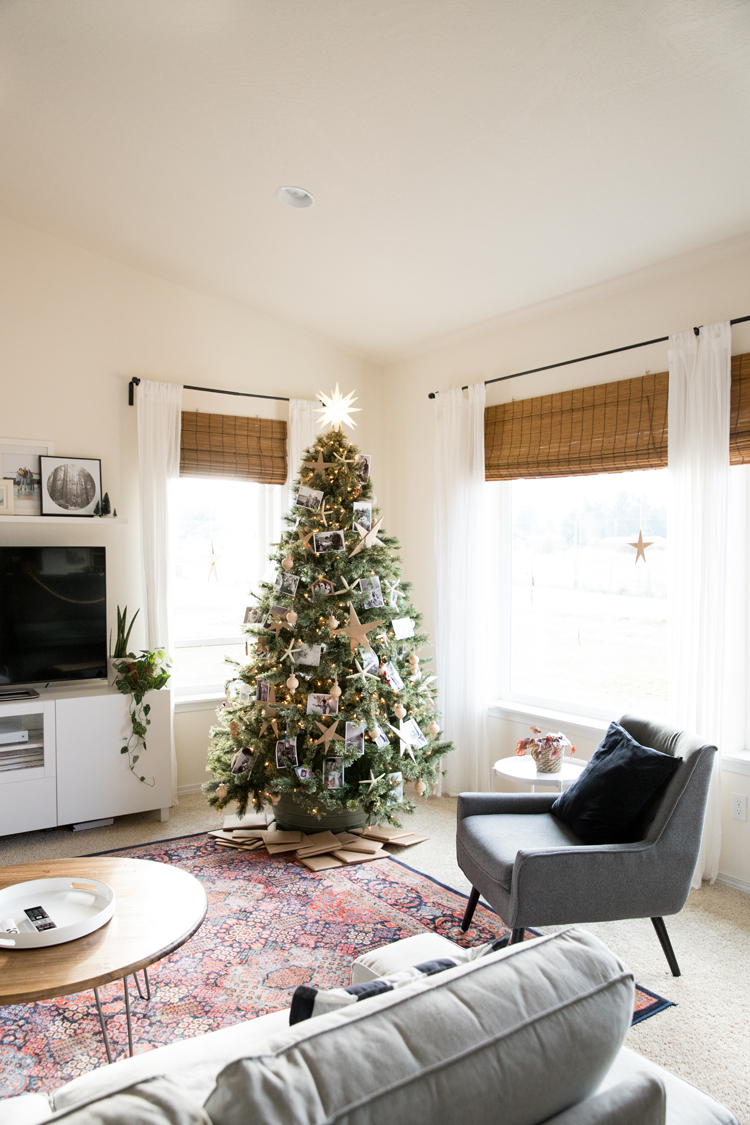 If they get a little mangled…I started this tradition when my youngest was 9 months old so we've had a few get a little too loved…simply print some more. It only costs about 20 cents to replace.
With real trees, you will likely need to clip them in place. I usually just use clothes pins. With an artificial tree, which we are using this year, you can just stick them around your tree and bend the branches to hold them up.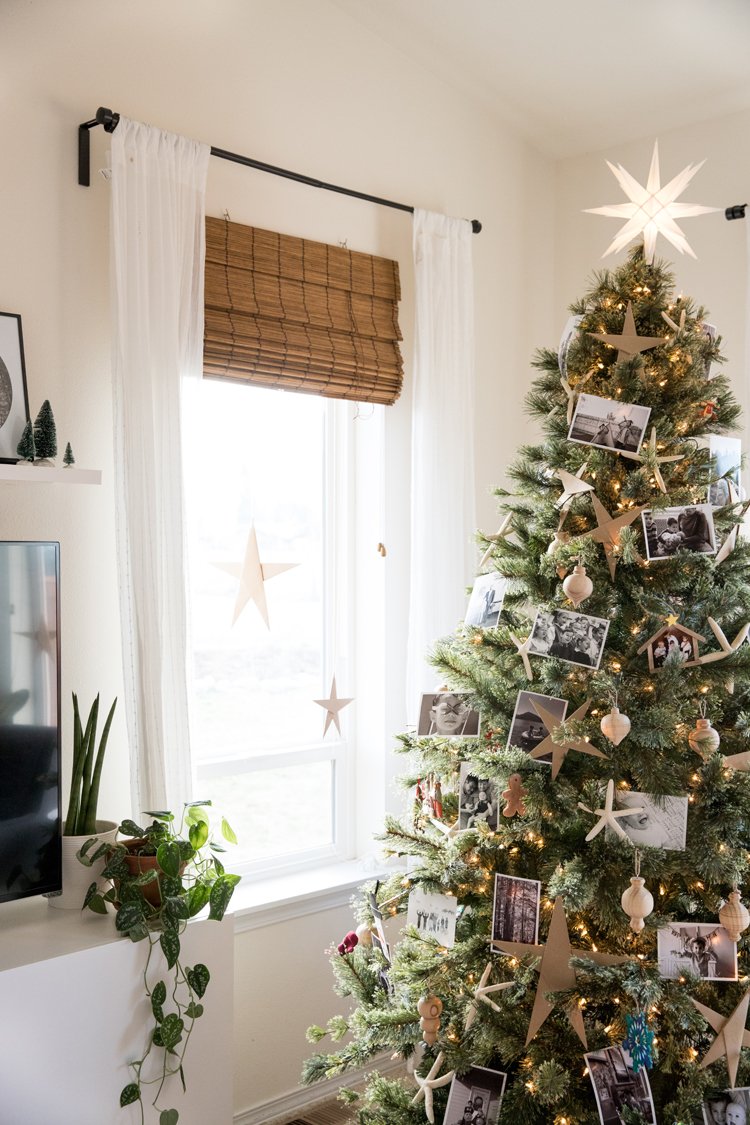 Super simple!
And it takes memorable ornaments to another level.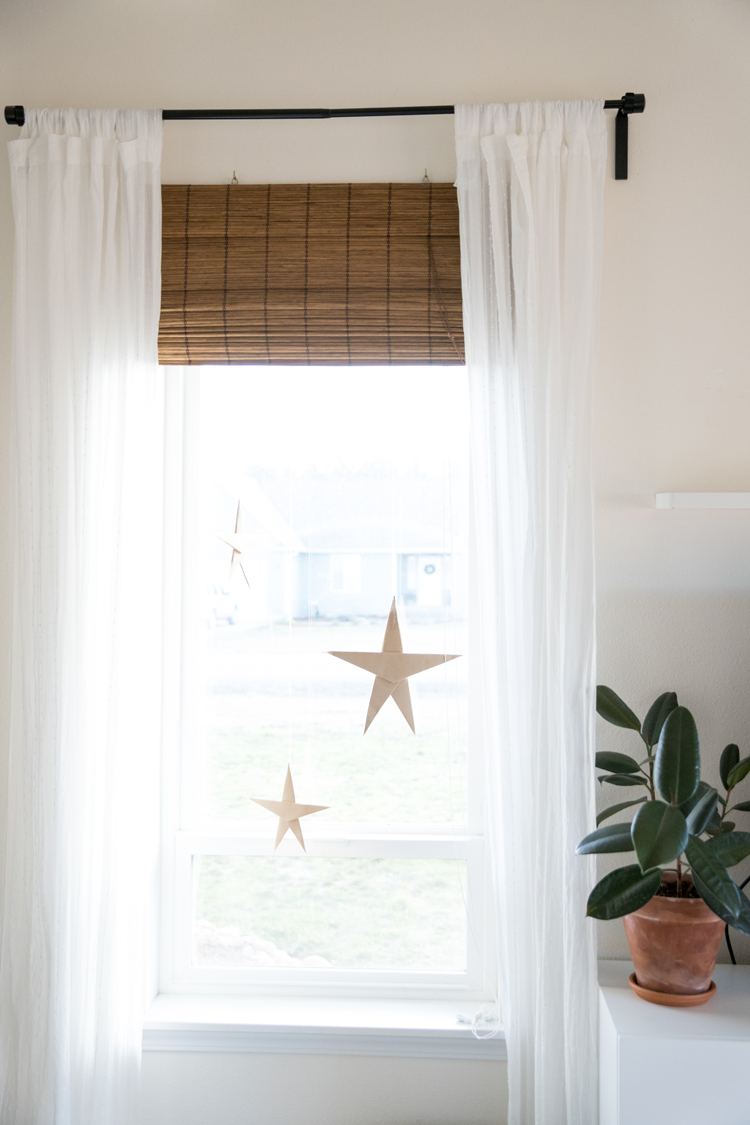 As for the stars in our window and on our tree, those are just card stock! They are also an oldie (is four years old? ha!) but a good, inexpensive Christmas staple that has held up great over the years. They are surprisingly sturdy. Check out the full tutorial HERE.