When I shared my chunky crochet garland last year, I got a lot of comments on instagram about how much it looked like a string of popcorn. I figured, why not lean into that look even more and add some "cranberry" wooden beads too!
Of course, you can add any color of beads or bare wood beads and in any size! It's totally customizable.
This is also a great project for beginners. You don't have to worry about how big or tightly you're crocheting, and the end result is very forgiving, so you don't have to stress if each puff stitch isn't perfect.
If you're still not sure and want something easier to start with, you can try it without the beads first. I also have a beginner crochet series you can check out here: Crochet Basics.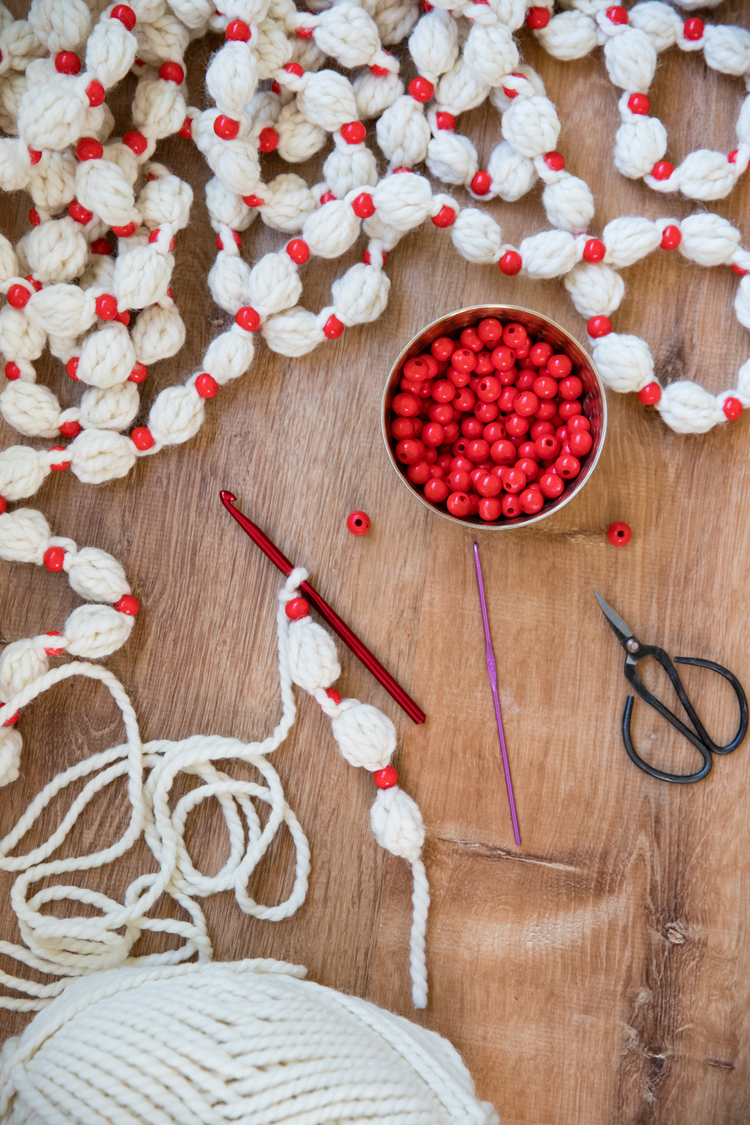 MATERIALS
Super Bulky or size 6 yarn* (I used 2 skeins of 106 yds each to fill a 7 foot tree)
6.5 mm and 3.5 mm hook**
Wooden beads*** (I used 172 for a 24 ft. long garland)
Scissors
Optional: Jar opener or deflated balloon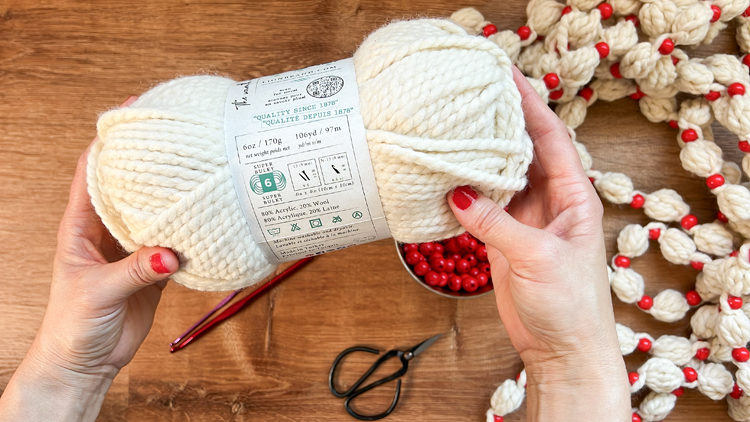 Material Notes:
*I used Lion Brand Wool Ease Thick and Quick yarn in "Fisherman" which I think gives off a pretty convincing popcorn color. You can choose "Oatmeal" if you want some brown flecks mixed in as well. I wanted a likeness to popcorn but also a clean look, so I stuck with the creamy "Fisherman."
**The K/6.5 mm hook is for the yarn portion and the F/3.5 mm hook is for the beads because it's small enough to fit through the bead opening.
***These are the beads I used. (Affiliate link which gives me a small commission if you buy but doesn't affect your price). They are 12 mm with a 3 mm opening (my 3.5 hook fits in the opening though? Just use what you have that works). You can choose a darker red to make it look more realistically like cranberries. Again, this was a style choice. I prefer the brighter red.
They come in a pack of 300. I used 172 for one skein of yarn, 106 yards long.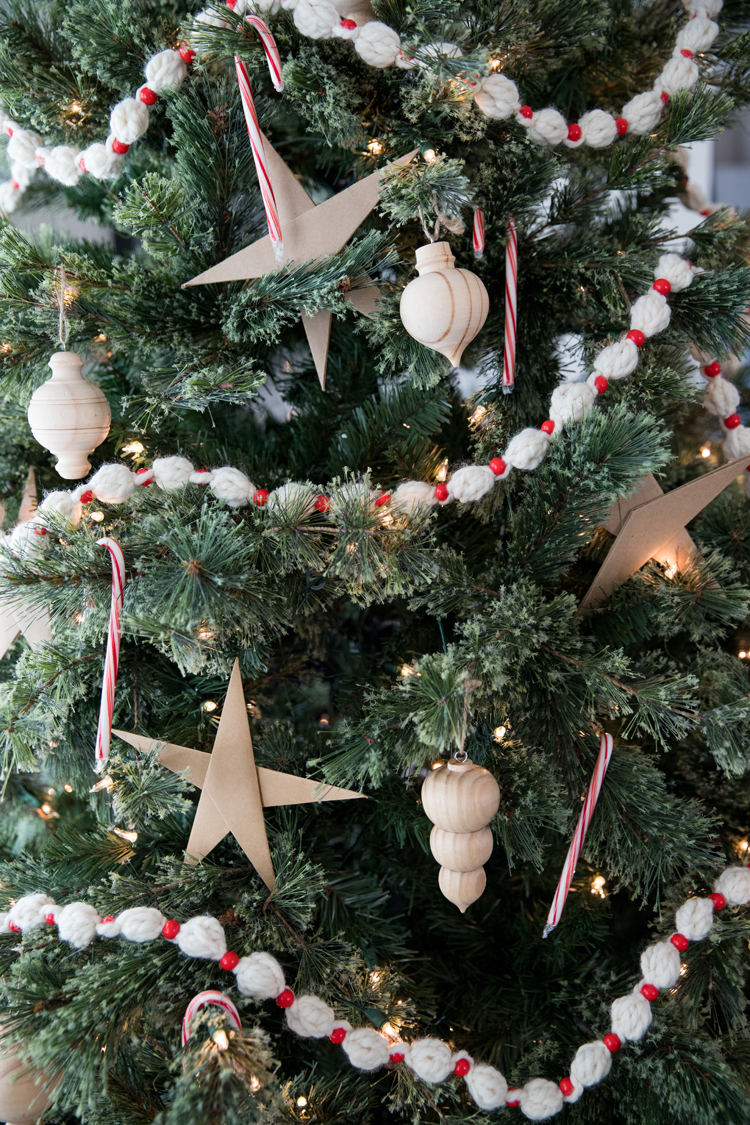 SIZING
One skein of super bulky yarn that is about 106 yards long, worked with 1 bead in between each puff stitch (172 beads total), equals about 24.5 feet long. Depending on how densely you want your garland laced around your tree, I would recommend 2-3 garlands for a 7-8 foot tree.
ABBREVIATIONS & GAUGE
There is no real need for abbreviations because we are only working chains and puff stitches in a straight line. Gauge is also moot. The sizing information will be more helpful to you for this kind of project.
VIDEO TUTORIAL
If the video has not already popped to the top or right side of your screen, it should play below. It will play after the initial ads.
WRITTEN TUTORIAL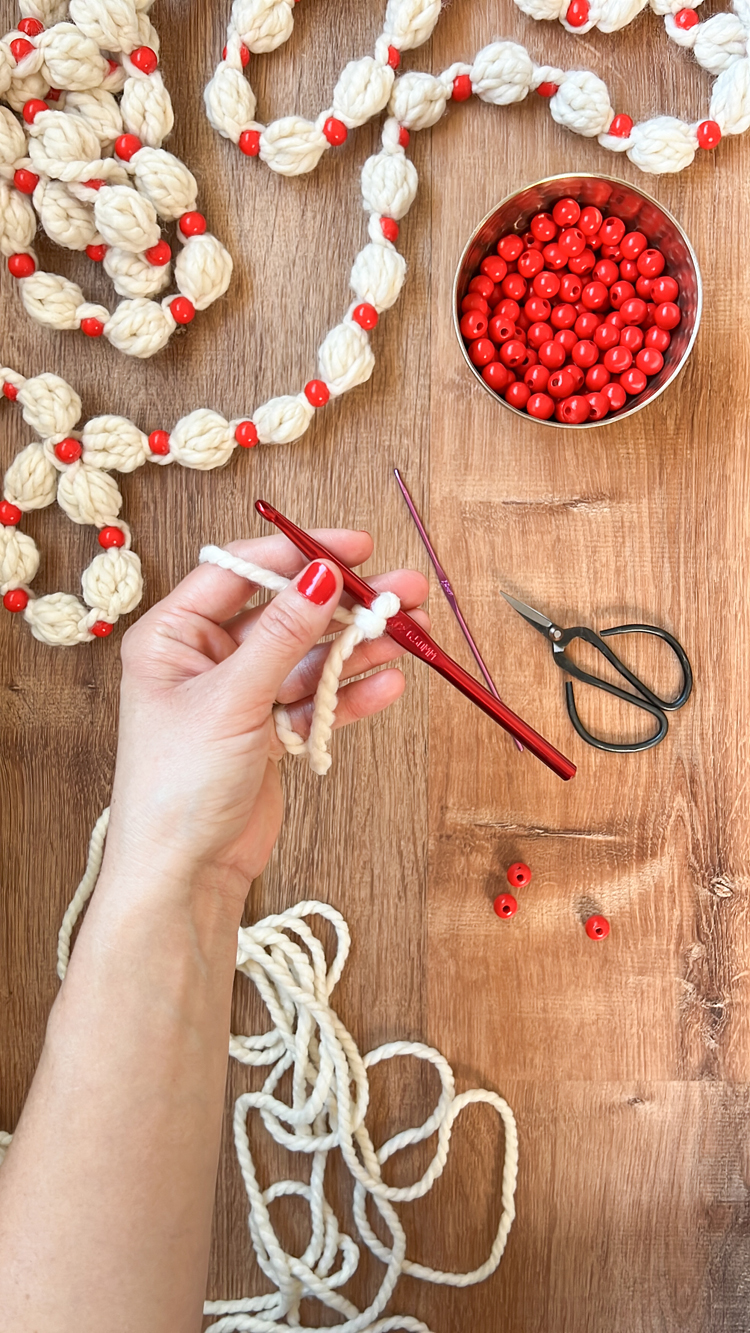 Leaving a short tail and using the 6.5 mm hook, tie a slip knot.
Chain 1. Pull up a look about 1 inch tall.
Yarn under (or over… genuinely either way works, but yarning under for this project can feel easier on the hands after you've worked a lot of puff stitches). Hold the loop in place with your index finger and insert the hook into the chain again.
Pull up another loop to the same height, and repeat one more time for a total of three times.
You should now have 7 loops on your hook. Yarn over and pull through all 7 loops.
Chain 1 to complete the bubble puff stitch.
TO ADD A BEAD: Pull up another tall loop and switch to the smaller 3.5 mm hook.
Thread a wooden bead onto the smaller hook.
Insert the hook into the loop and pull it through the bead. Because it's a tight fit and the bead openings can be a little inconsistent, sometimes it helps to use something with grip, like a jar opener or a deflated balloon, to help pull the yarn through. NOTE: If the yarn separates as it comes through the bead, pull it out with the previous puff stitch, smooth out the yarn, and try again until it comes through with the yarn intact.
Go back to the larger 6.5 mm hook and work a chain stitch to secure the bead.
Work another puff stitch, add a bead, and repeat this pattern until you run out of yarn.* Tie off the end and you're done!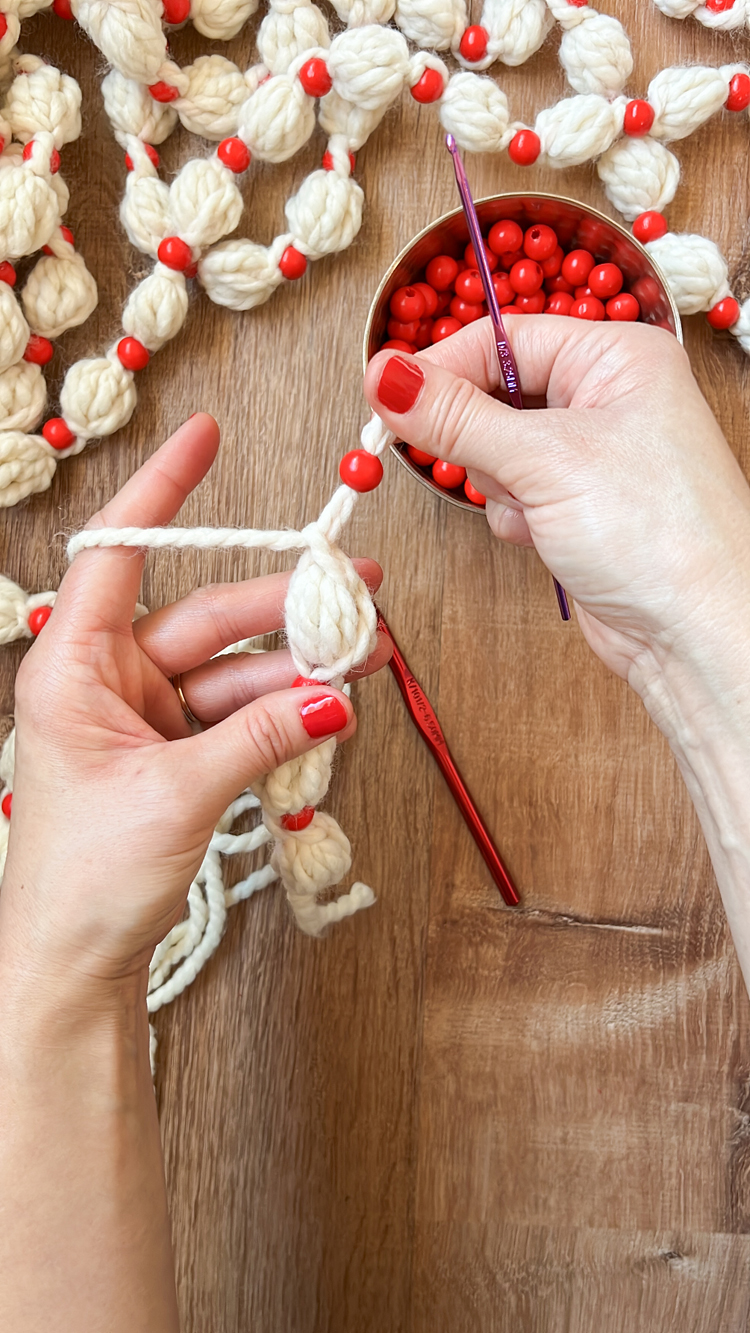 *Variations: Try different ratios of beads to puff stitches to achieve a different look, or to conserve beads.
You can also add larger beads or use other yarn and bead colors.* Make this project truly yours!
*Note: This may alter the length of the garland a little bit.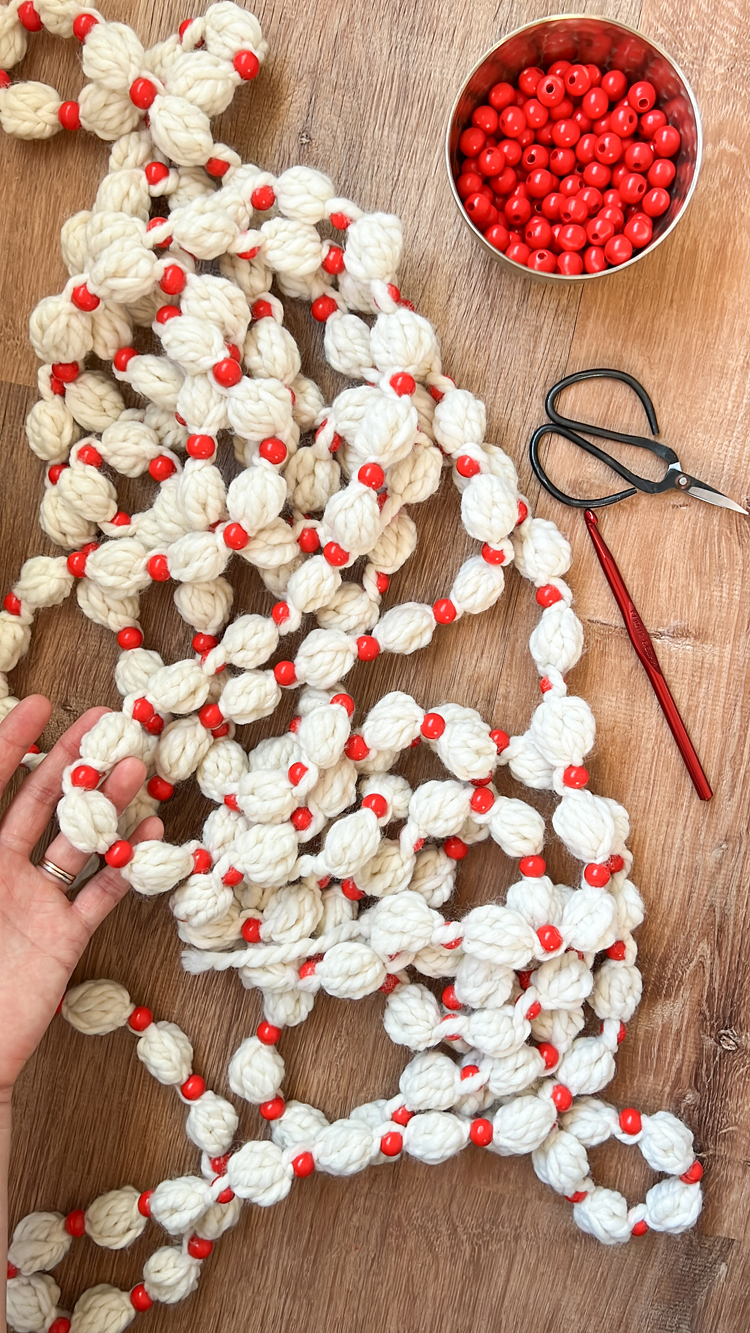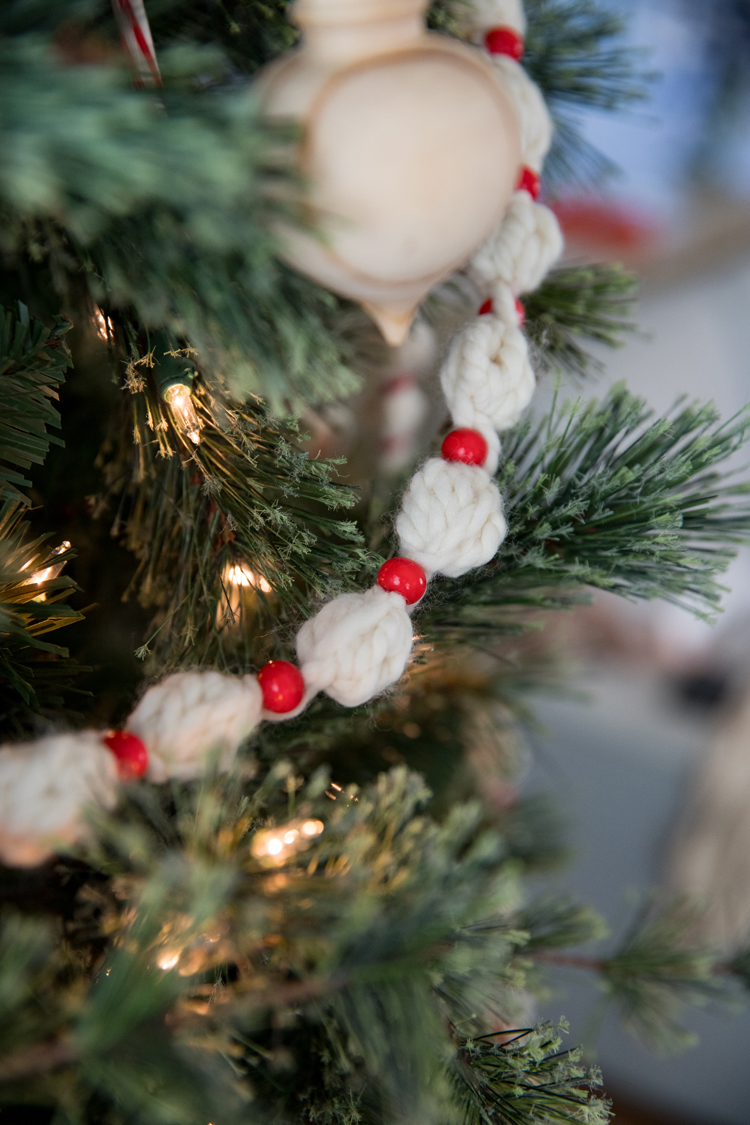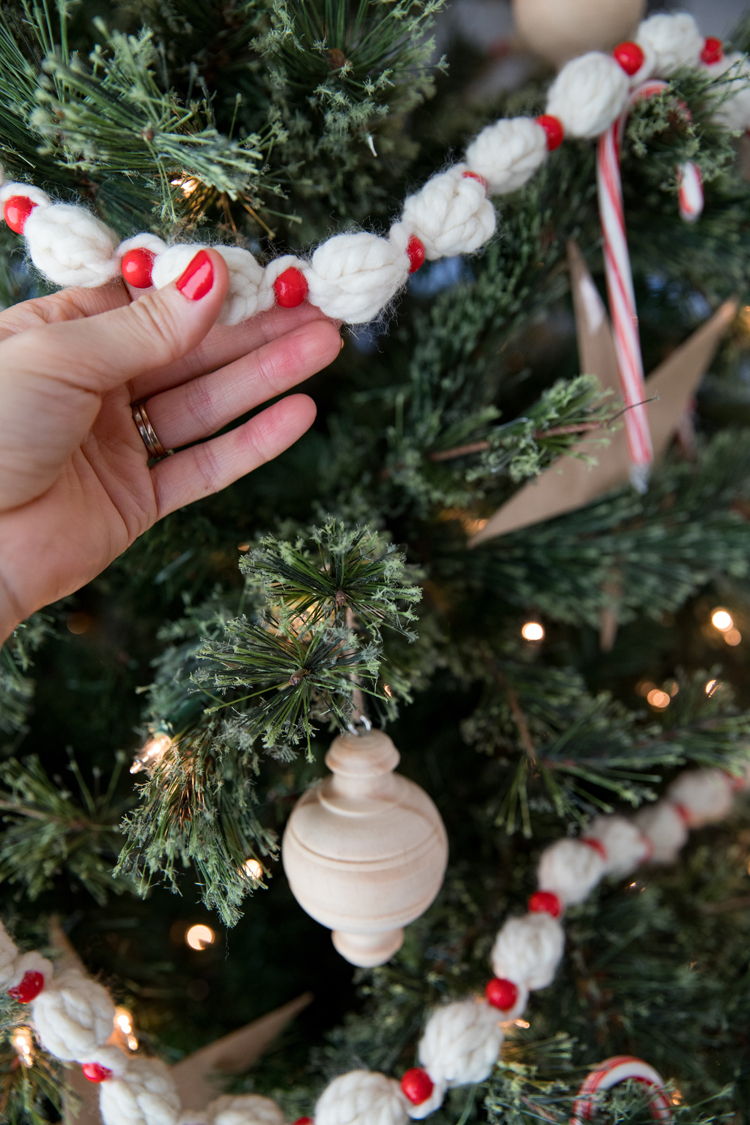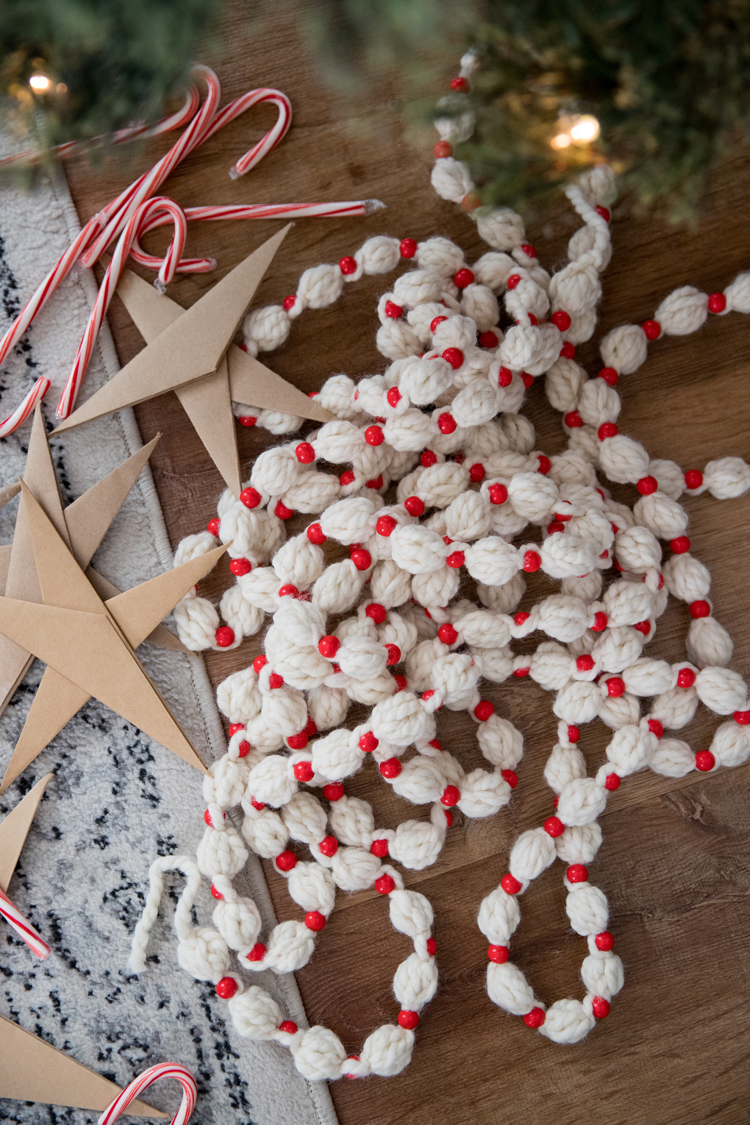 Confession time: I haven't decorated for Christmas yet. I just can't bring myself to do it too early otherwise it spoils the magic for me. I did put up the tree though!… so enjoy these closely cropped shots that give the illusion that our tree is already fully decorated. 😉