I am super excited to talk about my new partnership with Baby Lock today!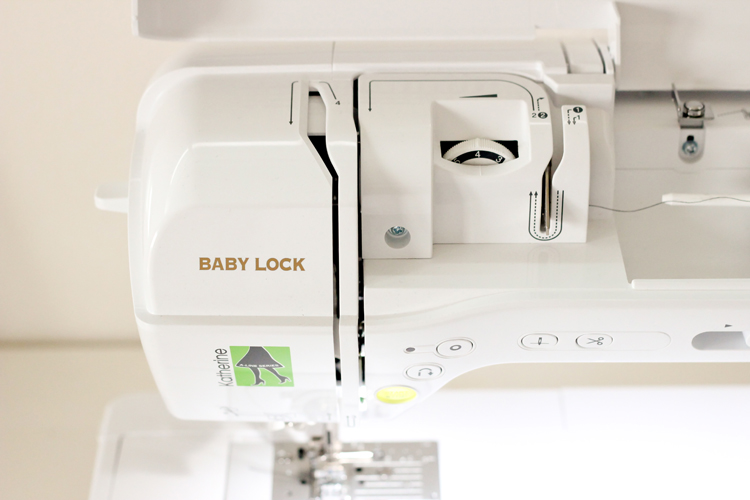 If you aren't familiar with Baby Lock yet…it is a sewing machine company who specializes in the most amazing home sergers on the market (hence the "lock" as in overlock stitch). They also make great sewing machines like this little lady here…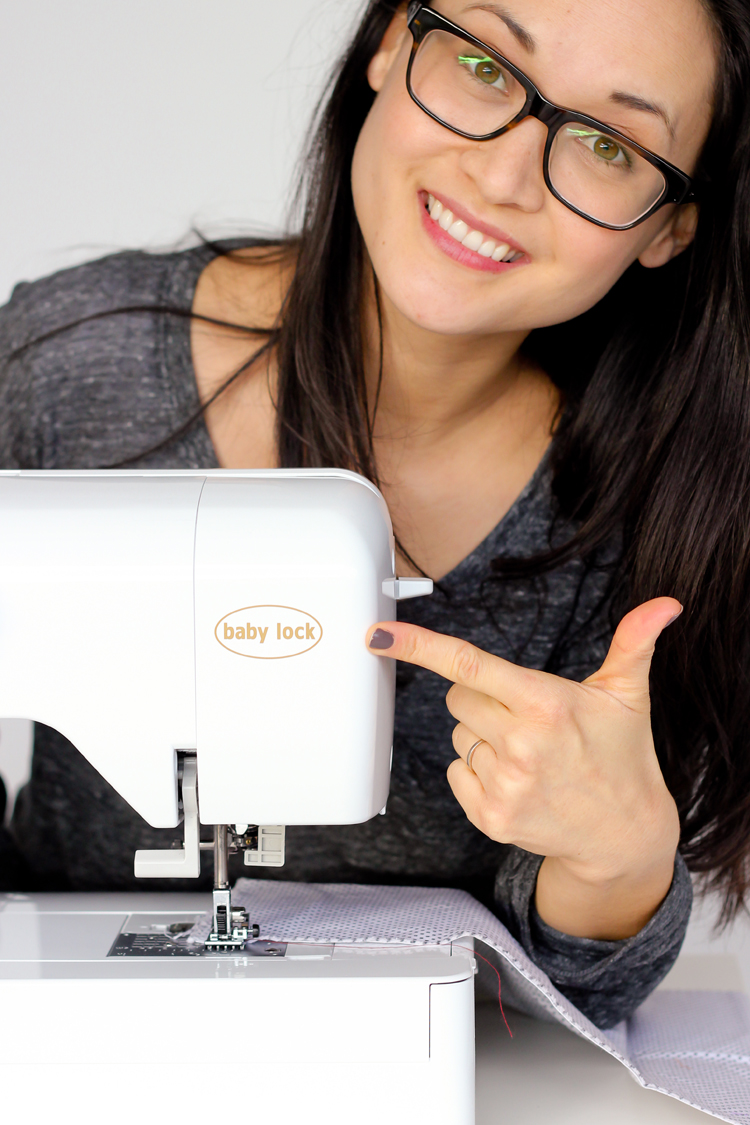 Her name is Katherine, but I call her Kathy for short. 😉 (I seriously love that they give all their machines cute names. )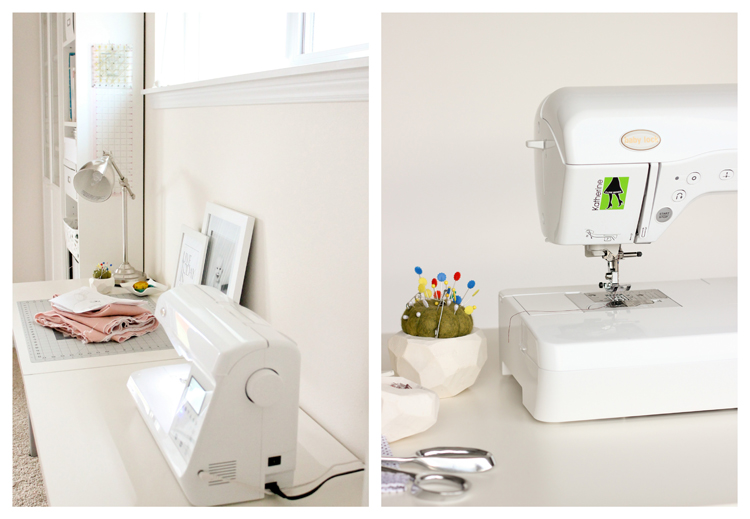 I actually started working with Baby Lock in August, but I wanted to give Katherine a good test drive before I shared my review so that I could be accurate.
The verdict: pretty great! I never really doubted though. 🙂
Let's break it down…
PROS
Tension: I swear I have perfect tension every time. It's so refreshing!
Automatic threader: I know many new machines have this feature, but it has never worked so easily for me than with my Baby Lock. It works so great, I haven't bothered to hand-thread since I got her.
Options: There are PLENTY of stitch options to choose from and then some. And did I mention the tension is perfect with those stitches? Yep, it's perfect.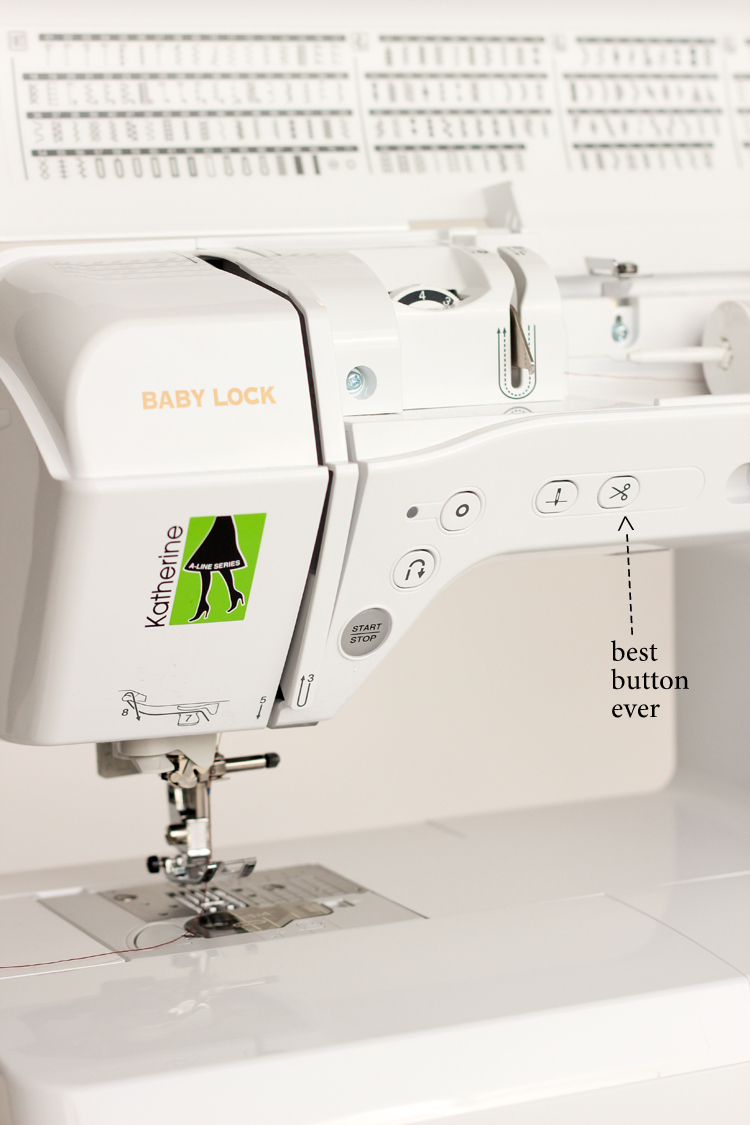 THREAD CUTTER: I put that in all caps because it deserves extra attention. Once you use the automatic thread cutter you won't ever want to go back. Just press that button and it cuts your thread for you!! And it doesn't leave a too short tail that will un-thread itself when you go to sew again. I have so much love for this feature!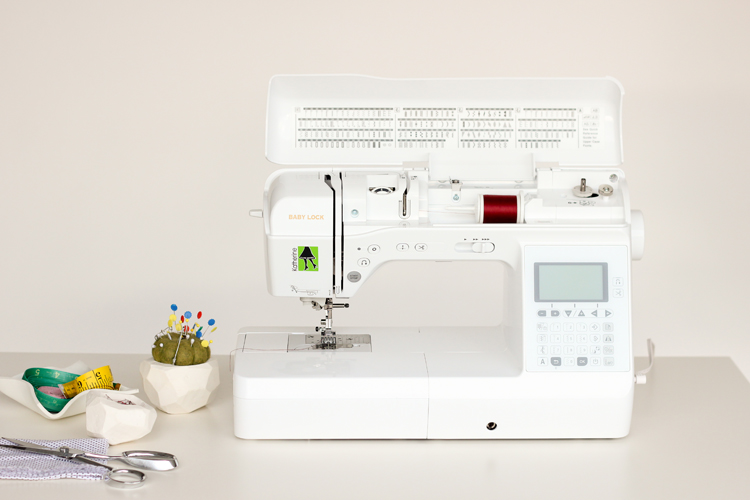 CONS
No machine is perfect, so I have a couple cautions to share about my Katherine.
Thick Fabric: Katherine can handle leather and thick fabric no problem but you absolutely HAVE to use heavy duty leather needle to make it work. Even with lightweight leather…things may get dicey. I felt like I could wrangle my cheaper machine into submission with a universal needle if need be, but Katherine makes you use the proper tools every time. Not that that's really a bad thing (since that's probably why it yields a better tension), but it's worth keeping in mind that if any part of your project uses leather or has a thick seam, you'll need to switch needles. If only a small cross section of say…a pant's inseam has a thick portion that can be a little cumbersome. I usually just sew the whole seam with a stronger needle.
Bobbin winding: With certain threads I feel like I need to pull on the thread (just barely!) to get proper winding tension on my bobbin. This isn't true with all threads, but some slicker/finer threads need it.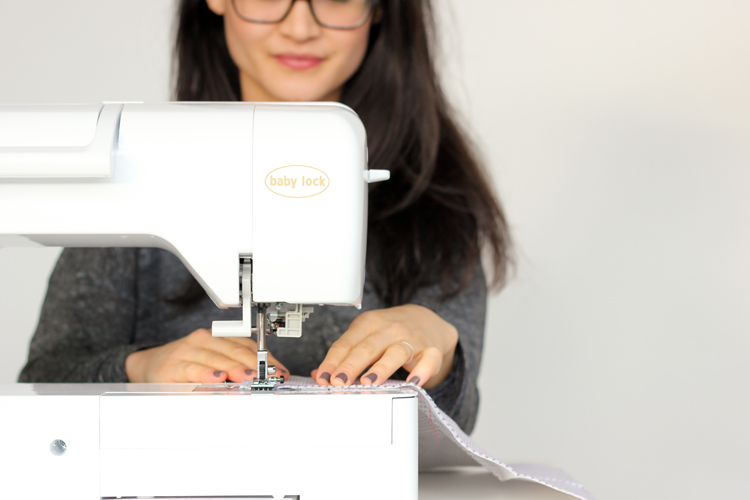 OVERALL
Sewing on the Katherine makes sewing more fun and less frustrating. I could especially feel the difference the first week after I made the switch. I would get the funniest looks from my husband when I would squeal with giggles after finishing a seam and inspecting it. Who gets that excited about perfect tension…this girl. 😉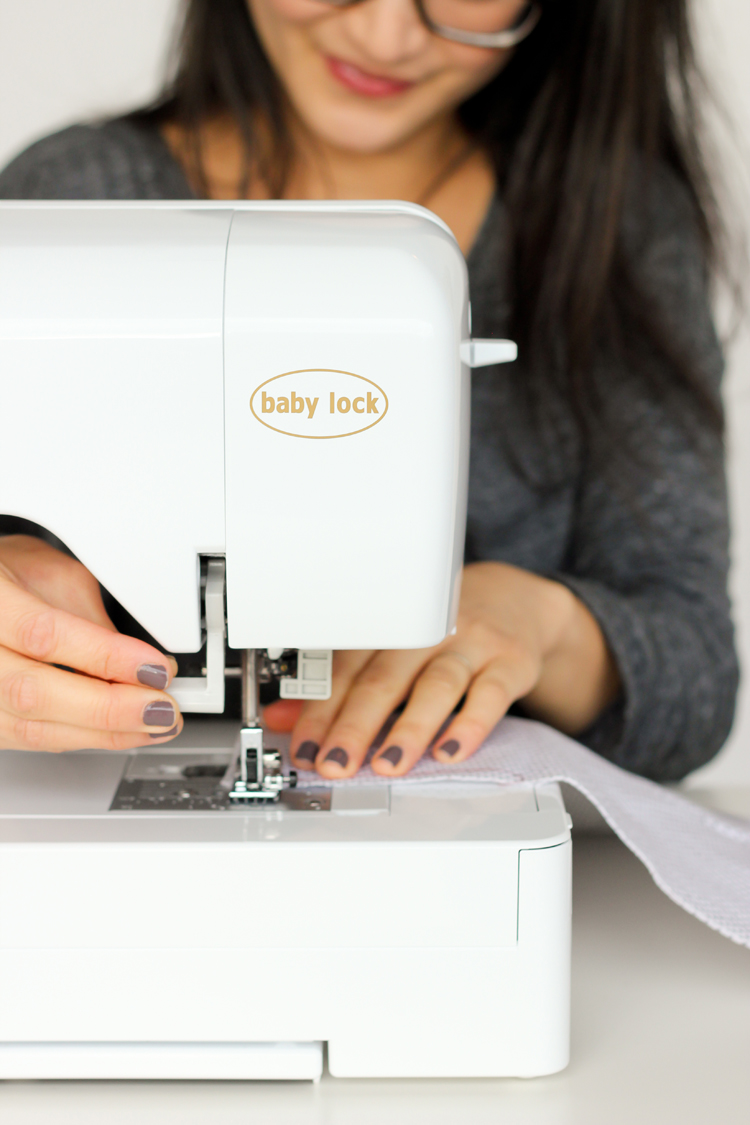 In full disclosure, I think less problems and easier sewing is probably a common attribute for most machines that are an upgrade from entry level machines, but I'm only guessing. What I do know, is that having sewn on the Katherine, as well as the Elizabeth, and having tried a Baby Lock serger at a conference, I have yet to meet a Baby Lock machine I don't like.
Now, you may be wondering…why Baby Lock?
Honestly, I think there are a lot of great sewing machine companies out there. I approached Baby Lock about partnering (not the other way around) because I was (and am) impressed with the consistent quality I see in their machines. I also like that they invest in bloggers and small businesses in inspiring and meaningful ways . They are a company who cares about who they work with, and they like to use their connections and sewing powers for good.
I feel good sewing on a Baby Lock, not only because it's almost effortless, but also because I know there is a family of good people behind the brand who care about their customers and want to inspire them.
All the heart eyes folks.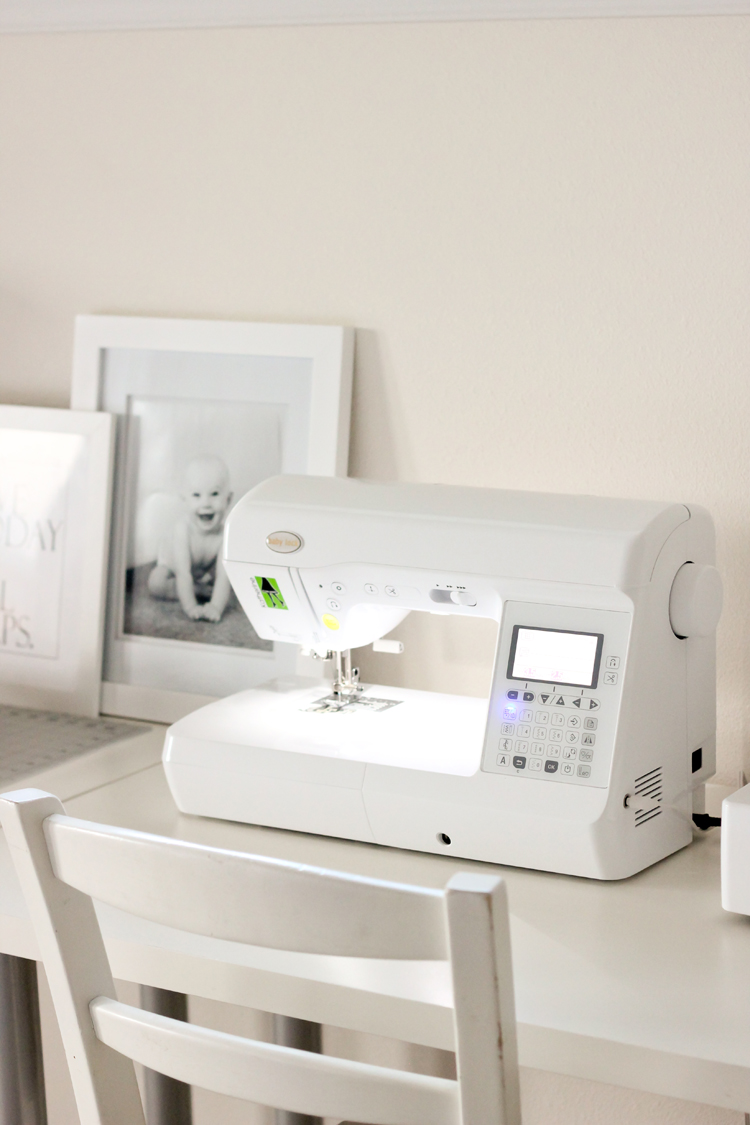 Last week they wrote an article about little old me on their Baby Lock blog, Totally Stitch'! Interviewing with them was really fun and I think they nailed my profile down pretty well.
Now…for a small peek at how Kathy looks in my office space…
I am not quite ready to show more because my "office" is still not done. It shares a space with our master bedroom so organization has been a little trickier than when I had my own dedicated space. It's been good at helping me purge though!
In the meantime, I grabbed a few shots of her for this post, in my photo studio/garage. Shhh…I am totally fake sewing in this shot because there was no nearby plug. Ha!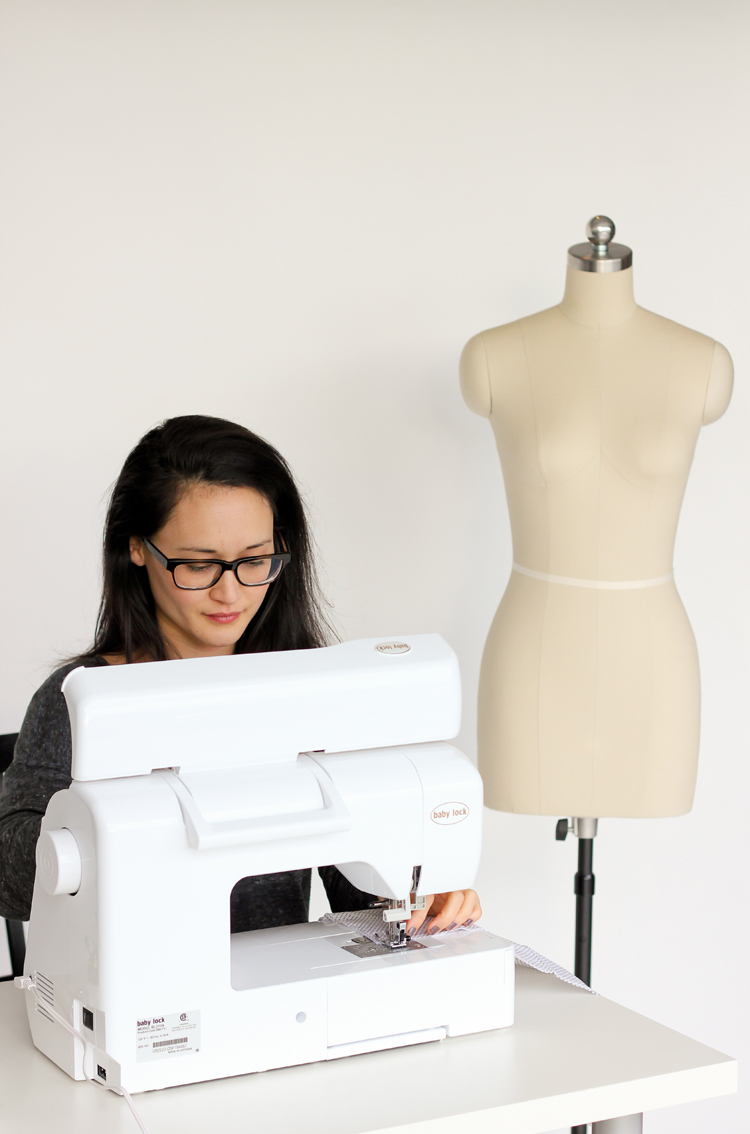 I shared a project for Baby Lock for Christmas just last month, but it's totally great for any time of year. Go HERE to check out my faux industrial felt basket tutorial or go HERE to see it in their Holiday guide.
I can't wait to share more Baby Lock projects with you this year!
Happy Sewing!